TRAVEL NEWS   .   .   .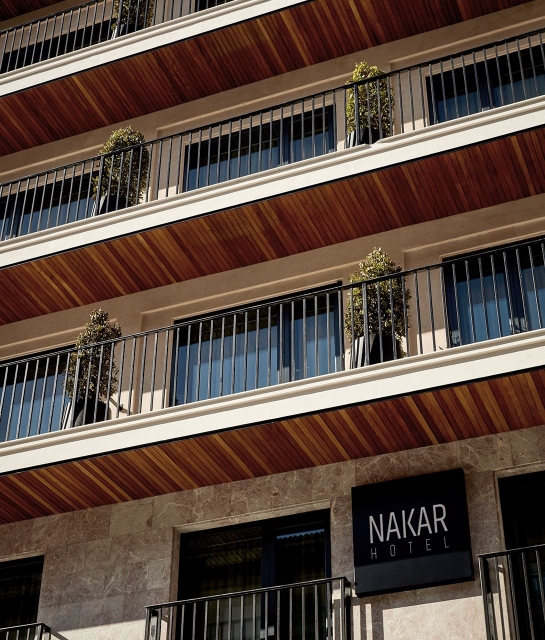 Design Hotels™ NAKAR HOTEL OPENS IN MALLORCA
Overlooking Palma's sweeping bay, Nakar Hotel's eighth-floor restaurant and bar CUIT is a love letter to "Urban Majorquine" cuisine and produce. Overseen by renowned Mallorcan chef, Miquel Calent, the varied menu celebrates locally sourced and organic ingredients, while breathing new life into traditional recipes sourced from all corners of the island. Dishes such as monkfish with Mallorcan almonds are complemented by a carefully curated collection of Spanish wines. A small tapas menu is also available at the bar and poolside. CUTT overlooks the historic center, Cathedral, Bellver Castel ad the bay of Palma. Guests can follow the church bells to the waterfront 13th-century Palma Cathedral, while the beaches of Ciudad Jardín and Can Pastilla are only a 15-minute walk away.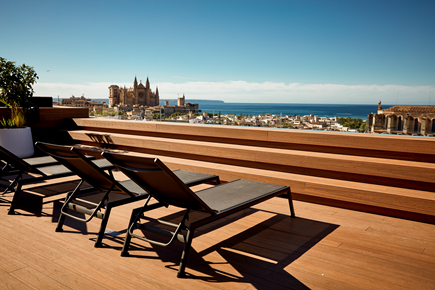 Taking things up a level, the rooftop sundeck and pool is exclusively for residents during the daytime hours. However, sundowners come with an open invitation to the neighborhood, transforming the terrace into one of the city's hottest haunts for guests and locals alike. With panoramic views over the gargoyle-studded architecture of the city's old town, the infinity pool provides the ideal setting in which to soak up the ambrosial musical stylings of renowned DJ Toni Jimenez at one of his weekly sets.
When indulging in the eternal cocktail hour of the Balearics becomes a little too

much like hard work, the hotel's spa is perfectly placed to ease away the strains of everyday life. The subterranean space includes an indoor pool, the only one in Palma's Old Town, steam bath, sauna, and two massage rooms. Treatments using a holistic range of products by Comfort Zone include the "Aromasoul Mediterranea" and "Algae Facial".Restaurant at Nakar Hotel: "CUIT Bar and Restaurant" run by the renowned Mallorcan chef Miquel Calent. The restaurant serves locally sourced, organic Majorquine cuisine. The restaurant and bar are located on the 8th floor, with a view over the historic centre, Cathedral, Bellver Castel and the bay of Palma.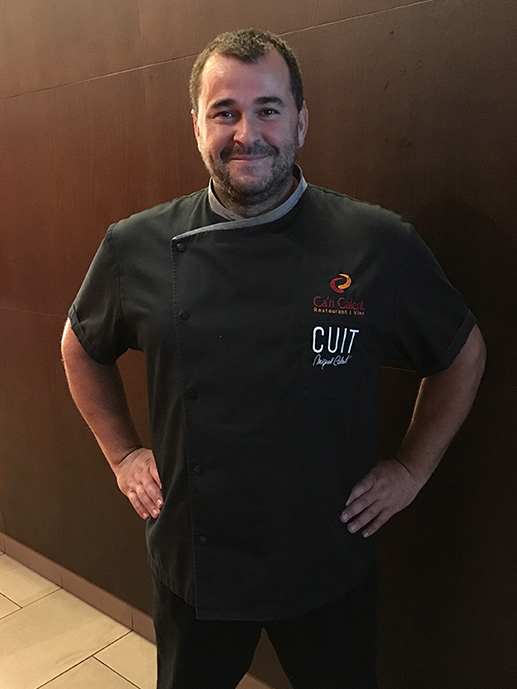 Chef Miquel Calent
Nakar Hotel also has spa facilities including a heated pool, a relaxation area, sauna, Hammam, showers, 2 treatment cabins (1 double), changing rooms and lockers. The spa menu offers therapeutic treatments, sports massages and muscle contraction treatment. Beauty treatments such as facials, manicures and pedicures are also offered. This is the perfect respite following a shopping spree in the lovely boutiques, art galleries and shops near the hotel.
Ideally located on the chic shopping precinct of Jaime III Avenue, the Nacar building has been managed by Ramis' family for three generations, and has undergone a renaissance with each generational change. The latest incarnation pays tribute to the spirit of the original Pension Nacar, while embodying the zeitgeist of modern day Palma. Together with acclaimed architect Magi Margués and designer Marga Rotger, Ramis has created a bold new lifestyle boutique hotel that blends sophisticated design with local flavor. Locally sourced oak and stone contrasts with industrial tones of black-lacquered iron and glass in the light and airy public spaces, while the aesthetics of the rooms and suites are defined by earth-tone fabrics and a neutral color palette.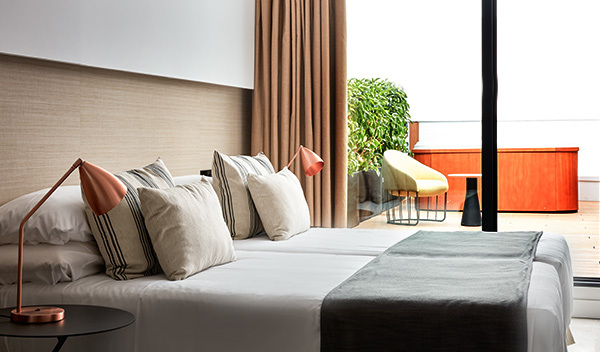 Thoughtfully designed with the modern traveler in mind, guestrooms have been outfitted with state of the art media systems including screen-mirroring AppleTV, which are Netflix and Spotify enabled, Nespresso machines, and spacious bathrooms with luxurious Molton Brown amenities. While in-room Jacuzzis and private terraces lend the Deluxe Rooms more than a little romance. designhotels.com/nakar.
NAKAR HOTEL
Avenida Jaime III, 21,
Palma de Mallorca 07012,
Spain
_____________________________________________
TRAVEL ADVENTURES   .   .   .
TERAMO, ITALY
Center of Ceramics in Abruzzo
By Bonnie Carroll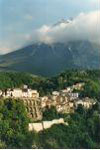 Rising from a rock dominated by Mount Camicia is a small village set between the Rio and Leomogna rivers. Its beauty and the friendliness of the locals make it a favorite destination place for tourists. It is home of the Art Institute and a fascinating Ceramics Museum, and is located on the eastern side of the Gran Sasso.
Teramo has existed since pre-Roman times, and in the XI century flourished under the influence of the Benedictine Abbey of San Salvatore. The monks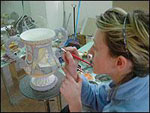 introduced the local people to ceramics, and since the XVI century has been acclaimed by the Grue Brothers, Gentili, and Pompei families, who are considered masters in the art of ceramics. Elegant dinnerware by Castelli was commissioned by noble families, including the Aragona, Orsini, Farnese and others.

Archeological research is ongoing in this area, and the Museo del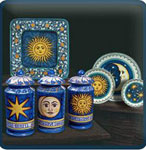 le ceramiche is located in the cloister of an ancient convent just outside the town. The San Giovanni Battista contains a XII century wooden statue of St. Anne and XVII century ceramics works. Frescos by renowned Italian artists are also visible in many of the local village venues.

This is an exquisite area to visit, especially if you enjoy climbing and feeling one with nature. In August there are to major events for tourist enjoyment: August 15 features the Lancio del piatto on the river Leomogna, and it is a traditional popular game that Italians enjoy. The second is a festival that runs from August 1-31 August a Castelli, a Market Fair of traditional ceramics along the streets of the village.
This lovely Castelli village area is also home of Simonetti Ceramics, a place of business that was a perfect spot for a quick visit to watch craftsmen at work creatin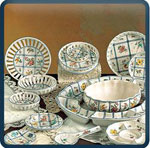 g their beautiful and artistic designs before our eyes.
From the awesome expanse of the Gran Sasso to the intimate restaurants with delicious local fare, and the various sites filled with local history, this is simply not a part of Italy you would ever want to miss. Be sure to include Teramo on your traveling schedule when you book your next vacation to the Abruzzo are in Italy. It is enchanting. For information visit: www.Italiantourism.com. For direct flights to Pescara in Abruzzo visit: www.Alitalia.com
__________________________________________________________________
Bavaria's Holiday Routes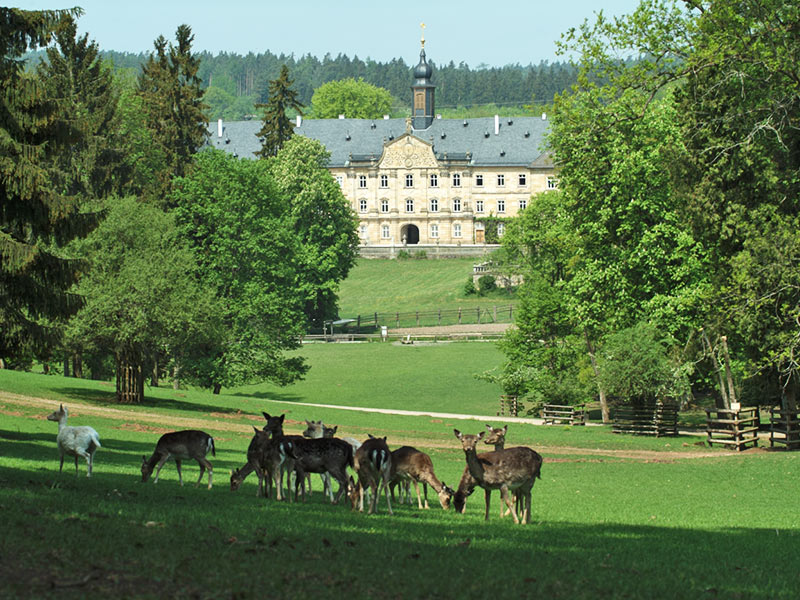 Tambach Palace

Themed routes provide a myriad of ways to discover Germany's most popular holiday destination
From medieval fortresses to crystal museums, magnificent castles and places of religious pilgrimage, Bavaria has it all and more. The state's numerous vacation routes provide visitors with an extensive network of tourist routes and itineraries linking some of Bavaria's most appealing and interesting sites.
From Mannheim to Prague, seventy castles line the Castle Road which follows the Neckar River and winds its way through upper Bavaria. History comes alive while the past has left its imprint on the towns of Nuremberg, Bamberg, Coburg, Rothenburg, and Bayreuth. www.castleroad.de Thick walls and eighty ancient towers surround Nuremberg's old quarter including the Kaiser Fortress, a former residence of German kings. The Documentation Center and its permanent exhibit, Fascination and Power, are vital for anyone interested in the period of National Socialism. www.tourismus.nuernberg.de
Also on the Castle Road is Rothenburg ob der Tauber, famous for the Kaethe Wohlfahrt's Christmas Stores and Christmas Museum www.bestofchristmas.com, and for its medieval atmosphere, stately towers, massive fortifications, churches and patrician houses. www.rothenburg.de Further north in the Franconian region of Bavaria, is Bamberg. Perched along the River Regnitz, Bamberg is home to Germany's famous smoky beer and the town's many fine breweries that welcome visitors. Unbeknown to most, Bamberg was for a short time the capital of the Holy Roman Empire. Today, the city is a UNESCO world heritage site and visitors relish the romantic, medieval setting and beautifully preserved buildings. www.bamberg.info
Still deep in the Franconian countryside is the town of Bayreuth famous for its annual Wagner Festival in the baroque opera house funded by none other than the famous King Ludwig of Neuschwanstein fame. In Bayreuth, the gardens, courtyard, and the orangerie of the Hermitage and the Old Palace form one of Germany's top gardens.
www.bayreuth-tourismus.de
Close by, the aristocratic city of Coburg is home to many fine castles including the Veste Coburg fortress which today houses internationally-acclaimed art collections from the private collections of the Coburg dukes. In the orangerie in the Rosenau Castle, the boyhood home of Prince Albert and a favorite spot of Queen Victoria, is the Museum of Modern Glass which is part of the Veste Coburg's collection. At one point, Coburg was also the center of toy and doll making. Next year, the International Doll Festival will take place April 27 to May 4. www.coburg-tourist.de
Glassblowing is a centuries-old tradition and still an important part of the East Bavarian economy today. Along the Crystal Road, which runs through the Bavarian forest, there are museums, galleries and glassworks where you can take lessons in glassblowing and visit courses or just shop. www.cometogermany.com Passau is a famous stop along the route with its three rivers, large square and baroque buildings. A highlight in Passau is the Glass Museum where over 30,000 examples of glassware for the past 250 years are on display. Since May, a new crystal boat, the Crystal Cruiser, exclusively made out of crystals by the famous Swarovski Company, cruises the Bavarian-Austrian Danube Region on a daily two hour roundtrip. www.passau.de
Regensburg, further down the river Danube, is home to two thousand years of living history. Some of Europe's most important architectural and cultural monuments, plus fascinating museums and art collections make this an attractive place to spend some time. The History Museum in the former Minorite monastery houses art and cultural history collections from the Stone Age to the 19th century. The Thurn and Taxis Museum is a private collection of priceless furniture and decorative objects from the 17th to 19th centuries. www.regensburg.de
Visitors to Bavaria can also follow in the Footsteps of Pope Benedict XVI along the Benedict Trail . In 2005, Josef Ratzinger was elected Pope Benedict XVI and head of the Catholic Church. Now pilgrims and travelers can trace the life and career of Pope Benedict XVI to places along the 'Benedict Trail' where Pope Benedict spent his childhood and youth. The churches, abbeys and historical towns in the region are filled with cultural treasures and exquisite works of art. www.benediktweg.info As a boy, the Pope made the pilgrimage to Altötting, the home of the black Madonna. www.altoetting.de
Visitors can also hike the German Alpine Road, learn about the white gold along the Porcelain Road, cycle along the German Danube Trail, experience European history and culture along the Route of Emperors and Kings, follow in the footsteps of the Empress and Queen Elisabeth on the Sisi Road and discover hidden treasures on the Toy Road. For more information about holiday routes in Bavaria go to www.bavaria.by   BC
_________________________________________________________________
TED TURNER EXPEDITIONS LAUNCHES
HOT AIR BALLOON ADVENTURES OVER
NEW MEXICO'S ARMENDARIS RANCH 
Ted Turner Expeditions
, the newly launched eco-adventure and hospitality company, 

has announced the addition of hot air balloon tours over Armendaris Ranch in southern New Mexico to its growing list of activities for visitors.

Many American landscapes have been compared to the Serengeti, but the Armendaris Ranch, with its 360,000 acres of wild Chihuahuan desert and own mountain range, the Fra Cristobals, could easily be mistaken for this iconic destination. Home to Ted Turner's bison herds, big horn sheep, African Oryx and mountain lion, among others, the ranch is larger than Canyonlands National Park, and is accessible only to Ted Turner Expeditions guests.

Guests participating in the new ballooning adventure will depart from their home base of

Sierra Grande Lodge & Spa

in Truth or Consequences (located between Ted Turner's Armendaris and Ladder Ranches) in the early morning, arriving at Armendaris Ranch at dawn to view the first rays of sunlight striking the jagged Fra Cristobal crest, while the expert pilot and ground crew inflate the balloon and ready the gondola.
Once in the air, participants will float over the sprawling Armendaris Ranch with the chance to spot wildlife and survey the desert flora. In the distance, guests can see the historic El Camino Real Trail and Elephant Butte Lake. Each hot air balloon adventure will end with a traditional Champagne toast and light continental breakfast.
The Armendaris Balloon Adventures are priced from $2,000 for one to four passengers.
Additional Ted Turner Expeditions offerings in Truth or Consequences and at Armendaris and Ladder Ranches include hiking, mountain biking, visits to Spaceport America, paleontology and photography tours, spa treatments, hot spring soaks, viewing the seasonal bat flight and more.
For more information about the

Armendaris Balloon Adventures

and Ted Turner Expeditions,

visit

www.tedturnerexpeditions.com or call 1-877-2TURNER.
ABOUT TED TURNER EXPEDITIONS (TTX):               
Introduced in 2015, Ted Turner Expeditions' (TTX) eco-conscious journeys are individually crafted and tailored to their specific North American locales: Turner's Ladder, Armendaris and Vermejo ranches and Sierra Grande Lodge & Spa in New Mexico, and St. Phillips Island off the coast of South Carolina. These unique adventures are intended to deliver insightful and exhilarating experiences, while also providing extraordinary guest service. Ted Turner Expeditions is committed to making a difference by inspiring individual action to preserve the integrity of our earth and the creatures that inhabit it.
___________________________________________________________________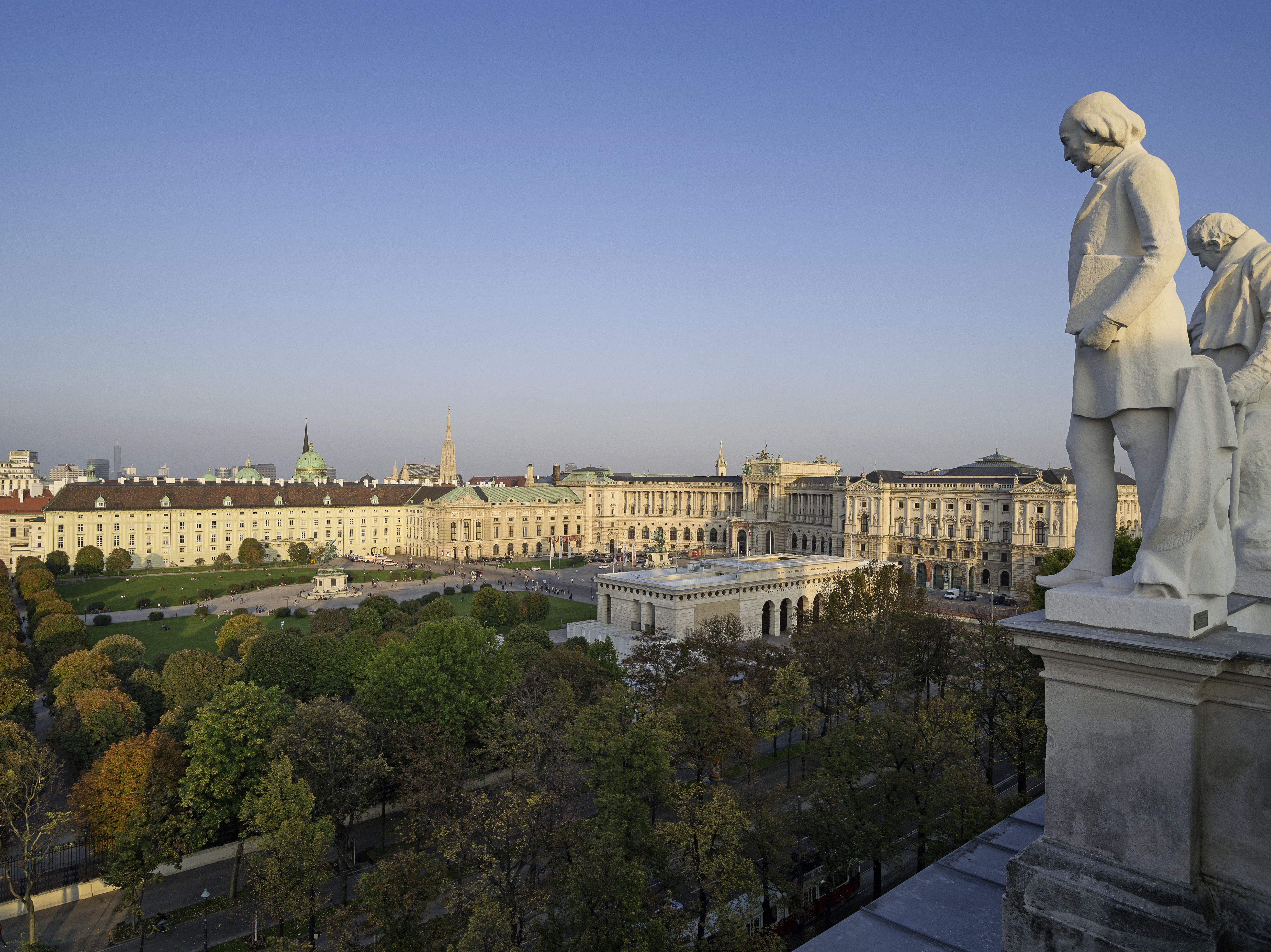 VIENNA TOURISM GUTEN NACHTEN

Vienna recorded around 6.6 million visitor bednights between January and June 2016 – about 4.9% more than in the same period the previous year.

"Vienna demonstrated its tourist attraction in the first half of 2016 with an increase of 4.9% to some 6,640,000 visitor bednights," according to Norbert Kettner, the Vienna Tourist Board's director. Vienna's most important source markets in the first half of 2016 were Germany with 1,382,000 bednights (+8% on the same period the previous year), followed by Austria (1,370,000, +10%), the USA (367,000, +6%), Italy (316,000, -4%), and the United Kingdom (295,000, +24%). Places 6 to 10 were taken by Switzerland (213,000, +2%), Spain (177,000, +13%), France (173,000, +5%), Russia (157,000, -28%) and China (121,000, +9%). The city also recorded strong growth compared to 2015 from India (56,000, +39%), the Netherlands (111,000, +16%) and Turkey (80,000, +13%).

Vienna currently has about 63,400 hotel beds, and its hotel rooms had an average occupancy rate of 67% from January to June 2016. Around 80% of all bednights were accounted for by international guests. "This not only reflects Vienna's continued attractiveness, but also shows that our systematic internationalization strategy of diversifying into many different markets is paying off," explains Kettner. Vienna's objective now is to increase bednights to 18 million by the year 2020. Congress tourism will also play an important role here, accounting for 12% of the total volume of bednights in 2015. Some 3,700 congresses, corporate events and incentives were held in Vienna last year – a new record.
___________________________________________________________________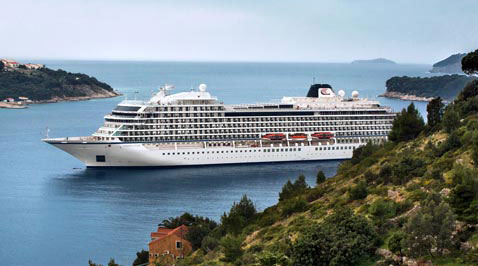 WHEN SHOULD YOU BOOK A CRUISE?
Booking Your Cruise on the right day of the week can be very cost effective!
Not unlike the best day to book an airline ticket or perfect time to book a summer hotel, there's now reason to believe there is an ideal time to book your next great cruise deal as well. According to a study from cruisewatch.com, the search engine for cruise deals (and price deals), fares dip 17 percent on Thursdays.
Collected ata, based on an analysis of more than 600,000 cruise price reductions over the past few years, showed that there were more than twice as many price drops on Thursdays than there were on Sunday, considered to be the slowest day for bookings. Many of us only get to booking travel on weekends, however, there is only a 13.5 percent drop on Saturday and 7.8 percent drop on Sundays. Wednesday is considered the priciest day of the week to book your cruise. Supposedly, thirty-four percent additional price hikes happen on Wednesday.
"Cruise lines invest massive amounts of resources into revenue optimization. We are leveling the playing field and offering consumers up-to-date technology to make the right decisions," said Britta Bernhard, cofounder of cruisewatch.com, in a statement. "Most people do not realize that they can save based on the date they book.      BC
_____     _____     ______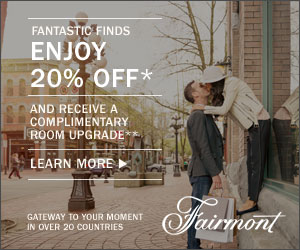 ---