HOTEL HANA-MAUI AND HONUA SPA
RECEIVES TOP HONORS
Culinary Program and Romantic Seclusion Recognized
The Hotel Hana-Maui and Honua Spa, a consistent award-winner since its 2002 renovation, announces that it has garnered six awards this year, securing its place among the world's best destinations for secluded romantic getaways and culinary excellence. 2007 also marks the hotel's highest honors yet.
In August 2007, under the direction of Food and Beverage Director Brian Hunnings and Executive Chef David Patterson, Ka'uiki, the hotel's main restaurant, was honored with the Wine Spectator Award of Excellence. This was the first time in the hotel's 62-year history that its restaurant has received a Wine Spectator Award. There were 36 restaurants recognized in all of Hawaii and 18 on Maui, and Ka'uiki was one of only two new award recipients this year.
Since joining the Hotel Hana-Maui in 2005 as executive chef, Patterson has redesigned the hotel's culinary program to put a strong focus on sustainability by working with local artisan farmers, fishermen and producers. His efforts and dedication were recognized in 2006 with the first annual 'Friends of Agriculture' award from Maui County as well as an invitation to host the 'A Taste of Maui,' a dinner at the prestigious James Beard House.
Recognizing the hotel as a leading romantic destination combining a top-notch spa, culinary experience, accommodations, and service with a secluded Hawaiian location, Modern Bride also published its World's Best 50 Honeymoons this August: Hotel Hana-Maui and Honua Spa was ranked as the number 3 "Ultimate Resort for Seclusion" as voted by a panel of Virtuoso travel agents. It was the only Hawaiian hotel to be named.
Travel + Leisure just released its World's Best List, ranking the hotel number 8 on "Top 25 Hotels - Hawaii," up four spots from 2006, a testament to the increasing excellence in the level of service and quality. Additionally, the Hotel Hana-Maui is one of American Express' Fine Hotels and Resorts for next year and retains its AAA Four Diamond rating.
Over the last four years the hotel has received over 22 awards and accolades, including a spot on the Conde Nast Traveler Gold List; the number 2 spot on "World's Best: Top 10 Hotel Spas - Hawaii" by Travel + Leisure Magazine; listing as one of Robb Report Luxury Resort's "100 Best Places to Stay"; and designation as "The Most Excellent Spa Hotel in the USA" by Conde Nast Johansens.
---
The Balmoral's Traditional Hogmanay Gala Ball

The Balmoral hosts the most sophisticated and glamorous black-tie Hogmanay celebration in Edinburgh. Start your evening with a glittering Champagne and Canapés Reception in one of our Castle-view Suites, overlooking the biggest New Year celebrations in Scotland. Enjoy a sumptuous four-course menu created by our Michelin-starred Chef, Jeff Bland, accompanied by a selection of fine wines, hand-picked by our dedicated Sommelier. Dance the night away and on the stroke of midnight, watch the breathtaking festive fireworks display over Edinburgh Castle. At the end of the night retire to your luxury bedroom or suite.
Champagne reception: 7.30pm
Dinner: 8.00pm
Entertainment: until 2.00am
The Balmoral's Traditional Gala Ball Experience costs from £575.00 per person for a two night stay in a classic room, based on two people sharing. The Experience includes Bed and Breakfast on 30 and 31 December 2007, tickets to the Gala Ball and complimentary use of The Balmoral Spa (excluding treatments). To book, please call Reservations on 0870 460 7040.
For Edinburgh residents who wish to attend the Gala Ball only, the cost is £225.00 per person, excluding accommodation. Please call our Events Team on 0131 622 8843 or email events.balmoral@roccofortecollection.com
Menu
Seabass cooked in Saffron, Coriander King Prawns, Langoustine and Lime dressing
Bollinger Champagne Sorbet
Roulade of French Chicken, Wild Mushroom, Foie Gras and Apple with a Trio of Vegetable Fondant and Herb "Café Au Lait" Sauce
Pineapple Confit, Pineapple Sorbet, Dark Chocolate Crème Brulée with Blackberry Sauce
Coffee and Handmade Chocolates
Vegetarian Menu
Marinated Wild Mushroom Timbale, Dill Crème Fraîche, Blinis and Fennel Dressing
Bollinger Champagne Sorbet
Asparagus Mousse, Grilled Asparagus, with Winter Truffle Butter Sauce
Pineapple Confit, Pineapple Sorbet, Dark Chocolate Crème Brulée with Blackberry Sauce
Coffee and Handmade Chocolates
---
Escape Into Nature at Costa Rica's Rancho Naturalista
Situated in the lush Costa Rican rainforest with views from 3,000 feet, Rancho Naturalista offers its guests a truly natural vacation. This intimate and unique all-inclusive lodge is located in 120 acres of land and rainforest and not only offers world class bird watching, but a number of other activities, such as horseback riding, hiking and tours of the area. Or, for those so inclined, just relax in the lodge's gardens and stare at the captivating views.
Rancho Naturalista is an escape from the stress of everyday life into a naturally beautiful habitat for exotic birds, rabbits, reptiles and plenty of other interesting creatures. Owners John and Kathleen Erb founded the nature lodge in 1984 as a place to view moths and butterflies. They soon learned that there were many additional inhabitants of interest to vacationers and modified the ranch in 1987. "Rancho Naturalista is more than just a nature lodge; it is a way of life. We raise our own meat. We raise horses for riding and cows to make our milk and yogurt. We preserve and live off the land around us. It is a truly unique experience," explains proud owner Kathleen Erb.
The lodge is designed to draw many different species of birds and animals. Hummingbird pools and feeders bring many varieties of hummers within a few feet of lodge guests. Packages for guests at Rancho Naturalista include a resident expert bird watching guide available to take guests on tours throughout the area. Other than the famed Snowcap species, guests are almost guaranteed to see many species, including a White-crowned Parrot and a Keel-billed Toucan.
Rancho Naturalista not only affords their guests the best bird watching opportunities, but also a comfortable stay, excellent service and added amenities. The lodge is at a high elevation, for perfect weather both day and night. Stunning balcony views can be enjoyed from the many public spaces throughout the lodge. Guests and their guides can choose from rooms within the main lodge or can choose to stay in one of the more private casitas, located in the gardens of the lodge. With only fifteen suites, Rancho Naturalista provides an intimate atmosphere for guests and ensures a pleasurable, educational experience while protecting the ecosystem.
Kathleen Erb, expert chef, directs the experienced staff of chefs who heat up the kitchen with delicious Costa Rican and international cuisine. The fare has been called "the best in Costa Rica." All meals are included with the lodge package.
For an additional cost, guests can also enjoy whitewater rafting on the Reventazon or Pacuare Rivers, visit Lankester Gardens and plan day tours to nearby national parks or Indian ruins. Individuals can also learn Spanish or take photography lessons. Adventures await you at Rancho Naturalista!
To learn more about Rancho Naturalista and see photos of the lodge and the over 400 exotic birds seen there, please visit www.ranchonaturalista.net.

---
WORLD TRAVEL MARKET
Don't miss World Travel Market 2007, the global event for the travel industry, held 12-15 November at ExCeL London, UK.
World Travel Market is the biggest event of its kind for travel industry professionals. With 5,500 exhibitors representing 202 countries and regions.

This year WTM will be dedicating Wednesday 14 November to World Responsible Tourism Day, highlighting key issues including water, poverty reduction, destinations and carbon offsetting and how all of us in the travel industry can make a difference. Vist: World Travel Market.
---
WINTER WONDERLUST HITS A HIGH NOTE IN MONTEREY COUNTY
- From Historic Candlelit Adobe Tours to Nature on Full Parade, 'Tis the Season–
Go wild this winter – while taming the wallet – with a seasonal visit to Monterey County. Ripe with outback adventures, a hot line-up of holiday festivities and soothing spa treatments, a stay along Monterey Bay is the perfect Rx for urbanites seeking an escape from the hectic holiday season.
November – January, visitors can slip into this sanctuary without breaking the bank. Countywide, hotels from Big Sur to Salinas have stepped up with seasonal rates well below $120/nt. Add to that the natural rush of nature on parade, world-class wine tasting and a stint with Santa and the season seems well… a bit more within reason. More info: www.montereyinfo.org.
HISTORIC HOLIDAYS
Rich with rewards, Monterey is steeped in culture, history and holiday good cheer. One of the season's
top picks are the 24rd Annual Christmas in the Adobes (December 6 & 8). Link the dots on a leisurely evening stroll through 20 of Monterey's top historical sites including the Custom House, Cooper-Molera Adobe or Casa Soberanes. Illuminated with candles and luminaries, Christmas in the Adobes steps up with period music, living history decorations, carolers and hot cider in historic downtown Monterey. Tickets ($20/adults, $2/children 6-17) 831.649.7111; Info: 831.649.7118; www.parks.ca.gov.
Pack those chaps and spurs for the 9th Annual Monterey Cowboy Poetry and Musical Festival (December 7-9) for a wranglin' good time with some of the nation's top balladeers and cowboy/girl poets featured in a three-day weekend event that also includes a western art and gear sale, a Saturday night western ho' down and "cowboy" church service among other festivities. Tickets (price varies) 800-722-9652; www.montereycowboy.com.
ECO ESCAPES
Park the holiday gifts and set off for a little eco-time this season. Options include a seasonal outback estuary safari, naturalist-led kayak tour, hike to the famous cypress gardens at Point Lobos or trek through the ancient volcanic ruins called Pinnacle National Monument, just outside of Soledad. From birders to botanists, Monterey is one of the nation's top migration treks for a variety of birds, whales and butterflies. Bald eagles, sea otters and a litany of lively critters make a stay along the bay a true outback adventure. Factor in 99 miles of prime Pacific coastline, the Monterey Bay National Marine Sanctuary, and a string of national parks from Big Sur to Moss Landing, and winter on the coast is a win-win.
Wild Things
Lions, tigers and…reindeer. Take a walk on the wild side and meet 110+ wild animals that have been trained to appear in films, television and advertising. Kangaroos, primates and reptiles round out the two-hour visit led by a trainer/naturalist. During the holidays, Christmas flashlight tours are a fun way to celebrate the season with the kids and cash in on a photo with Rudolph -- a real, live reindeer! Couples can opt for an overnight stay in a safari tent with breakfast delivered by a resident pachyderm. www.wildthingsinc.com.
Monterey Bay Aquarium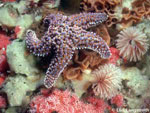 In the Rocky Shore gallery
Dive in for a day of play at the nation's top-rated aquarium, home to 250,000+ animals and plants representing more than 550 species of invertebrates, mammals, reptiles, birds and plants. Book a Morning Rounds: Behind-the-Scenes Tour for a rare opportunity to interact with the aquarium's exhibit animals as an aquarist would with the daily sea otter feeding and training session, rare look at food preparation and chance to feed some of the animals in the aquarium's Discovery Lab classrooms. www.montereybayaquarium.org.
Elkhorn Slough Safari
All aboard this thrilling pontoon ride scouting some 1,400 acres established as a Globally Important Bird Area. Reaching nearly seven miles inland from the coast, the slough's freshwater wetlands and marshes are home to some 340+ types of birds, 400 plant species and 80 species of fish. This is an excellent tour for birders.
www.elkhornslough.com.
Whale Watching
Nutrient-rich and naturally wonderful, the Monterey Bay National Marine Sanctuary is the United States' largest protected region and a prime viewing area for exotic species including blue, humpback, minke and orca whales. Winter delivers the magnificent California Gray Whales on their annual migration south from Alaska to Baja, California. www.montereywhalewatching.com.
Sea Kayaking, Surfing, Biking
Rock the boat aboard a guided sea kayak tour of Monterey Bay National Marine Sanctuary. Adventurers after a true adrenalin rush can hit the surf solo or take to the two-person kayak for a little speed at sea program. Surf lessons and biking rental/tours along the popular waterfront Recreation Trail round out the offer. www.adventuresbythesea.com.
Sailing the Bay
Take the helm aboard a yacht and delve into the deep under the command of one of the region's top captains. Abundant marine mammals and avians await the avid enthusiast. www.montereysailing.com.
SYBARITIC STOPS
Prefer to enjoy the outdoors from a spa suite? The holiday season is the perfect excuse for a rejuvenating spa day or sensual foot massage after all that ground-pounding for gifts.
Allegria Spa at Ventana Inn
Beat it to Big Sur's Ventana Inn's Allegria Spa for the El Sur Grande Hot Stone Therapy, a combination of nature's heated basalt stones and massage to release stiff muscles and relieve joint pain. Hot stone therapy may be performed in the Zen Garden (upon request, weather permitting). www.ventanainn.com/spa.
Spa on the Plaza
The Rain Drop Therapy treatment at the Portola Plaza Hotel's Spa on the Plaza begins with a cleansing sea salt aromatherapy bath followed with a soothing aromatherapy treatment of organic essential oils to relax and revitalize the body. In the tradition of Monterey County's Esalen Indians, the body is saged with a Californian sage "smudge stick" for enhancing the body's etheric shield. www.montereyplazahotel.com/spa.
The Spa at Bernardus Lodge
The spa at Carmel Valley's Bernardus Lodge offers an Ancient Volcanic Ritual treatment designed to purify, revitalize and tighten the skin. The ritual begins with a geranium grape seed body scrub then aromatic botanical mask made from volcanic ash and china clay, two of nature's most powerful detoxifiers. This ritual is completed with a moisturizing geranium lotion application. www.bernardus.com.
FREE FOR ALL
Hit the ground running this winter via a free self-guided nature adventure at one of these top stops.
Bald Eagles Retreat at Lake San Antonio
One of the largest winter habitats for bald eagles in Central California, Lake San Antonio is also home to deer, rabbit, quail, and a variety of other wildlife. The lake covers 5,000 acres and birders can explore 40 miles of hiking, biking and equestrian trails and 60 miles of shoreline. www.lakesanantonio.net.
Ventana Wilderness Society
High tail it to Big Sur or the Pinnacles National Monument for a glimpse of the majestic California Condors overhead. Both parks are successful designated release areas for the recovering native species. Or, visit the Ornithology Lab at Andrew Molera Park in Big Sur to watch bird banding activities. Winter banding is weather dependent, but normally takes place on Mondays and Tuesdays. www.ventanaws.org.
Pt. Lobos State Reserve
Hike the scenic trails of the 554-acre state preserve. See wandering deer, watch sea otters and sea lions frolic in the surf. Pt. Lobos is also a great picnic or day hike destination. www.parks.ca.gov.
SCROOGE COULD NOT REFUSE
Indulge in the County's rich abundance of yuletide cheer this year, full schedule at www.montereyinfo.org.
10th Great Wine Escape Weekend (November 9-11): Celebrate the vendange at Monterey County wineries and restaurants as they roll out the red carpet for a weekend of self-guided and narrated bus tours, open houses, winemaker dinners and live entertainment. 831-375-9400; www.montereywines.org.
13th Annual Cannery Row Holiday Tree Lighting (Nov. 23). Santa sleighs in for a full day of play along legendary Cannery Row. The festivities begin at 6:00 p.m. at Steinbeck Plaza overlooking Monterey Bay when Santa flips the switch on a 25-ft. holiday tree and makes a return visit every weekend until Christmas Eve. Free www.canneryrow.com.
Reindoggie Parade (December 8): "On Dasher, on Dancer, on Donner, on…Fido?" Owners and dogs don their holiday haute as they parade along Carmel's luxury-lined Ocean Avenue. Judges will bestow various honors upon the canine contestants including honors for "Best Dressed", "Cutest Costume", "Most Festive", "Fastest Wag" and "Best of Show". 831-626-0600; www.mackiesparlour.com.
Holiday Spectacular at Château Julien (December 2): Guests will enjoy acoustical perfection in the winery's Chai as music resounds among aging oak barrels of wine. A holiday reception of unique holiday gift ideas and wine tasting follows in the beautifully decorated Great Hall. 831-624-2600; www.chateaujulien.com.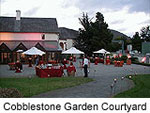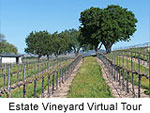 Wild Things Holiday Tours (throughout December): This Christmas, take a walk on the wild side with the holiday nighttime flashlight tour of Wild Things Wild Animal Park. Reservations required. Warm refreshments and candy canes served after the tour. Photos available with live reindeer! 831-455-1901 ext. 3; www.wildthingsinc.com
Christmas Night at The Farm (December 7): Drive out to The Farm and gather around the bonfire to sing Christmas carols, sip homemade cider, nibble cookies—and even take a moonlit hayride—in the Salinas Valley. 831-455-2575; www.thefarm-salinasvalley.com
Carmel Walks (Ongoing): Discover the unique charms of Carmel on a two-hour guided walking tour through secret pathways, hidden courtyards, award-winning gardens and enchanting fairytale cottages...the homes, haunts, and history of famous artists, writers, and movie stars. 831-642-2700; www.carmelwalks.com.
Whale Watching at Julia Pfeiffer Burns State Park (Weekends throughout January): Don't miss these California State Parks ranger-guided whale watching presentations. Celebrate the migration of the California gray whales off the Big Sur Coast. Meet at the vista point on Highway 1 at mile marker 37, just north of Julia Pfeiffer Burns State Park. 831-667-2315; www.parks.ca.gov.
VISITOR INFORMATION
Monterey County is located 120 miles/192 km south of San Francisco and 345 miles/552 km north of Los Angeles along the classic California corridor. The region boasts 99 miles of prime Pacific Coastline, the Monterey Bay National Marine Sanctuary, three historic missions, 45,000 acres of premium vineyards, 25 golf courses and 250+ accommodations. Monterey County includes the Monterey Peninsula, Big Sur, North County and the Salinas Valley. The Monterey Peninsula Airport (MRY), just three miles from historic downtown Monterey and minutes from the area's major attractions, is served by non-stop flights to and from Denver (DIA), Salt Lake City (SLC), Las Vegas (LAS), Phoenix (PHX), Los Angeles (LAX and ONT), San Diego (SAN) and San Francisco (SFO).
---
OCEAN BLISS --
FLOATING IN THE HYDROPOLIS UNDERWATER HOTEL IN DUBAI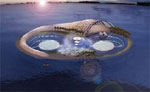 The gigantic Hydropolis Hotel is on its way to explore the underwater ecstasies of the Arabian Gulf, off the Jumeirah Beach coastline in Dubai. The unique £300 million underwater hotel is all set to realize its dreams of surfacing under the Arabian Gulf by 2007 end. The luxurious Hydropolis hotel is supposed to be the first luxury sub-marine hotel in the world, consisting a land station, a connecting tunnel and the exclusive 220 suites. These three will embody the entire hotel with the land station welcoming the guests, and the connecting tunnel, transporting them to the prime location of the hotel.
The Hydropolis Land station is supposed to be the first step towards embarking upon the journey to the surreal underwater arena. The guests would first have to move into this 120 meter woven, semi-circular cylinder to begin their trip to the actual destination. From there, they can board a sound proof train to reach Hydropolis. Along with these functional features, the land station also holds a luxurious restaurant for the welcoming guests, as well as, a high-tech cinema hall to educate the people about the whereabouts of the marine world.
Built on one of the precious beach properties of His Highness General Sheikh Mohammed Bin Rashid Al Maktoum, Crown Prince of Dubai, the Hydropolis Underwater Hotel extends over 260 hectares. Joachim Hauser, the developer and designer of the hotel, is the master-brain behind the innovation of such a unique form of architecture. His incessant quest for marine and underwater sphere has actually motivated him towards the idea of the construction.
The Hydropolis will represent the human physiology through its exclusive architectural form. A figure eight inscribed in a circle will best define its geometrical structure. The exquisite restaurants along with bars, the meeting rooms and the beautifully-themed suites shall be placed on the functional areas around the interiors of the hotel. They are more like the motor functions and the nervous and cardiovascular systems of human body, all connecting and running the pulse of the system. On the other hand, the ball room located on this nerve centre will actually get connected to the different storeys of the building.
Hauser has incorporated in the architecture of the hotel with all the magical varieties of the ocean life. From the food to the cinemas that will come on air on board the hotel, he has made it a point to retain all the exquisites and exclusives of the sea culture. According to him, even those who do not enjoy swimming or diving across the sea can take the exuberant pleasure of the sea diversity through the hotel's unique construction and exotic ambiance. In a way, he tries to remind human souls of the various dangers and problems that might lead to with the rapid destruction of the marine life.
However, it must be acknowledged that a dream can never see the face of success without the aid of proper funds and sponsors. Initially it was a hard time finding an investor for the project, with no one seeming to risk their organization on the never-heard plan of an under water hotel. However, at last, with the official assistance of the Dubai Development & Investment Authority (DDIA), the project took off its flight on summer 2005.
Amongst the key players of the project include the Crescent Hydropolis Holdings LLC, the original intellectual property rights developer and project developer; the SIBC Industrial Building Consultants being the global project managers; the Q3A+D Limited as architecture and design consultants; the OSTSEE-KONTOR GmbH, providing the marine and naval surveying services; and Siemens I&S IS Facility & Systems Engineering as the technical engineering consultants; the 3-Deluxe System Modern GmbH providing with the architecture, design, and interior scenery of the entire hotel; and DCN Duik Combinatie Nederland B.V making the underwater foundation, tunnel and access way to the hotel.

---
Westin Celebrates the Opening of its 150th Hotel:
The Westin Lombard Yorktown Center
The New Westin Offers Premier Conference Facilities, Superior Dining,
and Renewing Services, Just 20 Minutes from Downtown Chicago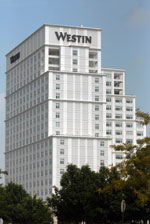 Starwood Hotels & Resorts Worldwide, Inc. (NYSE:HOT) announces the grand opening of The Westin Lombard Yorktown Center, an upscale hotel located just outside of the city of Chicago in the rapidly growing suburb of Lombard, Illinois. Operated by a wholly owned subsidiary of Starwood Hotels & Resorts Worldwide, Inc, The Westin Lombard Yorktown Center is the 150th Westin hotel to open worldwide, a milestone that the brand celebrated with the release of 150 butterflies at the ribbon cutting on Wednesday, August 22, 2007.
Owned by The Village of Lombard, The Westin Lombard Yorktown Center offers a refreshing blend of downtown sophistication, superior facilities and sensory-rich products and services. The hotel is ideally situated in the heart of the Lombard/Oak Brook business and shopping corridor, 12 miles southwest of O'Hare airport and 21 miles from Chicago Midway Airport. Nearby attractions include upscale shopping, the Brookfield Zoo and Wrigley Field – home of the Chicago Cubs. Just 20 minutes from downtown Chicago, The Westin Lombard Yorktown Center offers easy access to numerous attractions including the Art Institute of Chicago and Sears Tower.
"With its sophisticated style, instinctive service and distinctive, local cuisine, The Westin Lombard Yorktown Center is a highly anticipated addition to our growing portfolio," said Sue Brush, senior vice president at Westin Hotels & Resorts. "Guests can now choose from six hotels in the Chicago area making it the city with the most Westin rooms in the world. We're thrilled The Westin Lombard Yorktown Center is our 150th hotel."
In the lobby, the Westin "sensory welcome" evokes a sense of tranquility with its combination of white tea scent, music and mood lighting. Inviting guests to relax and restore themselves while on the road, the hotel offers 500 beautifully appointed guest rooms and suites, all outfitted with The Westin Heavenly Bed®, Heavenly Bath® and high-speed Internet access. A variety of innovative services and amenities are available including the Westin in-room spa program, and Unwind - A Westin Evening RitualSM, which transforms the hotel lobby into a gathering spot where guests can enjoy activities such as wine tastings, live jazz or massage clinics. Additional amenities include the Westin WORKOUT® Powered by Reebok fitness center and a heated indoor lap pool.
Top notch dining at The Westin Lombard Yorktown Center includes Chicago's legendary Harry Caray's Italian Steakhouse, specializing in aged prime steaks, chops and Italian favorites. A Chicago original, Harry Caray's offers award-winning food and a veritable museum of baseball history in an energetic, casually elegant setting. Adjacent to Harry Caray's is Holy Mackerel!, a fresh seafood restaurant with a modern vintage feel. The Westin also offers a lively cocktail lounge and 24 hour in-room dining.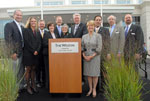 "We are excited to be a part of the growing c ommunity here in Lombard," said Brent Menzel, general manager of The Westin Lombard Yorktown Center. "We believe that business travelers, meeting planners and visitors will be delighted with the Westin emphasis on personal renewal and the innovative signature services that have earned Westin worldwide recognition."
Designed to be the premier hotel and conference center in Chicago's Western suburbs, The Westin Lombard Yorktown Center offers 39,000 square feet of elegant meeting and event space, including 26 function rooms and the largest grand ballroom in the area. Also available is a junior ballroom with floor to ceiling windows overlooking the reflection pond – a perfect venue for weddings and banquets. All areas of meeting space are equipped with state-of-the-art audio-visual facilities, a public address system and complimentary, wireless high-speed Internet access.
"We are confident that our abundant conference space and renewing signature services will make this hotel the first choice for corporate events, meeting planners and business executives," said Sara Marach, Director of Sales and Marketing of The Westin Lombard Yorktown Center.
The Westin Lombard Yorktown Center will be implementing many new green initiatives throughout the hotel including hotel-wide recycling, green laundry and kitchen elements, energy-saving lighting and carpet to improve indoor air quality. Guests can opt to reuse towels and linens and recycling bins will be available in rooms and common areas. The hotel will also be one of the first Westin hotels to use environmentally friendly products in its laundry and kitchen facilities
For more information or reservations, please call1-800-937-8461,
or email at westin.lombard@westin.com, or visit www.westin.com/lombard.

---
15th Annual Underwater Pumpkin Carving Contest Scheduled for October 2007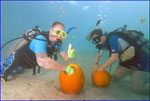 (Tumon, Guam) Every October, on an island world renowned for the exquisite clarity of its deep blue seas, the water turns orange in places and from its depths a variety of unusual, clever, and downright hilarious creatures pours forth. No, it is not the opening moments of the latest horror movie at sea, but rather the results of the annual Underwater Pumpkin Carving Contest, held every year by the Guam Tropical Dive Station.
The carved pumpkin, or jack-o-lantern, is an important part of the American holiday, Halloween. To make a jack-o-lantern, the inside of a pumpkin is scooped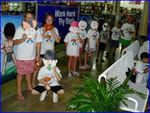 out, a face carved in to the skin of one side, and typically, a candle is placed inside to give it a scary Halloween glow. Guam Tropical Dive Station organizes an annual jack-o-lantern carving competition with a wet and wild twist – all of the scooping, carving, and creating is done beneath the sea!

The 15th Annual Underwater Pumpkin Carving Contest will happen at 9 am on Saturday, October 27th at the USO Beach in Piti with judging to follow at the Guam Premier Outlets (GPO) in Tamuning at noon. There are two age groups, children and ad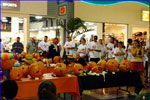 ults, and more prizes than even the largest "Trick or Treat" bag could carry! Entry for children, aged 2 – 10, is $5 USD and includes a free t-shirt. The kids can take part in the Pumpkin Hunt and the Scariest Mask contest. The scary masks must be homemade.
The entry fee for adults is $10 USD and includes a t-shirt, a pumpkin, and a raffle ticket for the Halloween prizes. Adults must be certified divers and all the pumpkin cutting and carving must be done underwater. There are three Pumpkin Carving categories and a fantastic prize from Continental Airlines for the winner of each. Winner of the Funniest Pumpkin receives a trip to Chuuk, winner of the Scariest Pumpkin receives a trip to Palau, and the winner of the Most Orig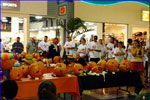 inal Pumpkin gets a free trip to Australia!
Judging takes place at GPO, where all of the pumpkins will be displayed for the public to enjoy. Judging for the children begins at noon and the adult categories will be judged at 1 pm. The pumpkins will be on display at GPO for the remainder of the day for everyone to see. The Underwater Pumpkin Carving Contest is an anticipated part of Guam's annual Halloween celebration and is popular with both divers and non.
The Guam Tropical Dive Station would like to thank Continental Airlines for its continued support over the years of the Underwater Pumpkin Carving Contest. Special thanks also goes out to the Guam Premier Outlets, Guam Visitors Bureau, Mares Dive Gear, PADI and the USO Beach in Piti for their annual support.
For more information about the 15th annual Underwater Pumpkin Carving Contest, contact Belinda Berg at belinda@gtds.com Sign up now for the most unusual dive experience in the world at the Guam Tropical Dive Station's 15th annual Underwater Pumpkin Carving Contest.
---
ATLANTIC CANADA COMES ALIVE WITH MUSIC, BRILLIANT COLOR
Fall Means Lower Prices and Fewer Crowds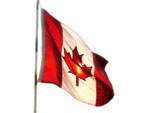 This fall the rolling hills and charming valleys of Atlantic Canada will be alive with the sounds of music – and awash in fiery crimsons and scarlets along with the bright yellows and golds of autumn. Savvy leaf peepers know that come October there are fewer crowds, lower prices and plenty of elbow room in New Brunswick, Newfoundland and Labrador, Nova Scotia and Prince Edward Island. Prices go down – not up – during the fall foliage period which is off season here in Atlantic Canada.
And there's plenty of traditional music on tap in all four provinces. At Fredericton's Jazz and Blues Festival September 10-16 there will be gritty blues, spicy Cajun, slick jazz and traditional Acadian music. From October 3-7, the Kedgwick Fall Festival celebrates New Brunswick's gorgeous fall colors and harvest time with music, dance, fireworks and a parade. In Charlottetown, "Anne of Green Gables – The Musical™" runs through September 29 and throughout Prince Edward Island on weekends in September there are ceilidhs, kitchen parties and step dances with Acadian and Celtic music. Melodic voices and the sounds of pipes and fiddles fill the air in Nova Scotia's Cape Breton Island during the 10th annual Celtic Colours International Festival, October 5-13. Celebrating Celtic music and culture, this world-class event features more than 300 performers in up to seven concerts a day. Enjoy cinematic arts in Newfoundland and Labrador at the St. John's International Women's Film Festival, October 16-20 or join the fun at the annual Halloween Mardi Gras with its spectacular costumes and great music October 27 and 28.
Active visitors can take in the region's stunning scenery while hiking, biking or kayaking. Atlantic Canada's sunny days and fresh air make fall the perfect time for playing golf on some of Canada's best courses. History buffs can hear sagas of Vikings in Newfoundland, stories about the Acadians in New Brunswick, Nova Scotia and Prince Edward Island and tales about the Scottish and Irish in all four provinces. Families will discover picturesque villages and quaint fishing ports, historic lighthouses and harvest-ready farms. Gourmets will enjoy the freshest imaginable seafood – straight from the ocean. And since Canadians celebrate their Thanksgiving on October 8, Americans visitors can even indulge in an additional holiday feast.
Maxxim Vacations offers reasonably-priced packages that include airfare to all four provinces of Atlantic Canada. "Voyage of the Vikings," a seven-night self-drive itinerary in Newfoundland and Labrador features visits to two UNESCO World Heritage sites: L'Anse aux Meadows, North America's only authenticated Viking site and the stunning Gros Morne National Park. The package includes roundtrip airfare to Deer Lake, six nights in a Canada Select-rated inn, a six-day car rental with unlimited mileage and a whale watching tour and starts from $1,099, per person, double occupancy. Departures are available from New York, Boston, Atlanta, Miami, Chicago and Los Angeles. www.maxximvacations.com
A long allée of Scotch pine leads to the delightful Normaway Inn dating from 1928. Tucked away on 250 acres of woodland and fields deep in the Margaree Valley, the green and white shingled main lodge and its cabins – many with fireplaces and Jacuzzis – has been welcoming guests with warm hospitality, delicious meals of Atlantic salmon and garden vegetables and performances by some of Cape Breton's leading recording stars. Through September, the "Three Night Getaway" package includes accommodations, a half day bicycle excursion and a canoe trip, full breakfast daily, two four-course candlelight dinners and a picnic lunch. Guests also choose between a whale watching excursion, a cruise around the Bras d'Or Lakes or a tour of the Bird Islands – all for only $660 plus tax. www.normaway.com
Admire Prince Edward Island's spectacular colors from 700 feet in the air, when you book the "Fall Tour Air Getaway" from Forest and Stream Cottages. The bed and breakfast and its cottages are nestled on 20 forested acres next to a private lake. Guests can hike or bike part of the 180-mile Confederation Trail or opt for leaf peeping by canoe, then return to the County Charm B&B for a well-deserved four-course dinner. Available through October 31, the two-night package features: a half-hour flight, a wine-tasting at the Rossignol Winery and a bottle of wine, two nights' accommodations, breakfast and dinner daily and an evening treat of hot chocolate and cookies and costs between $485 to $514 per couple, plus taxes. www.forestandstreamcottages.com
In the serene fishing village of St. Martins in New Brunswick, just 150 feet from the Bay of Fundy where the world's highest tides sweep in and out each day, sits the century-old Quaco Inn. A prosperous ship building community, Quaco, as it was called in the early 1900s, saw more than 500 sailing ships launched from its beaches. Once home to a wealthy local family, the inn has 12 elegant rooms furnished with antiques and all modern conveniences. Through the first week in November, the "Three Night Hikers Package" includes accommodation in a deluxe room, full breakfast daily, two four-course dinners, two trail lunches and a multi-day pass to the Fundy Trail from $510 to $605 per couple, plus tax. www.quacoinn.com
Travelers can download guides and find more information about fall packages, accommodations and events by going to the four provincial web sites:
www.tourismnewbrunswick.ca,
www.newfoundlandandlabrador.com,
www.novascotia.com/fall and www.gentleisland.com/fall.
The Atlantic Canada Tourism Partnership (ACTP) is a nine member pan-Atlantic partnership comprised of the Atlantic Canada Opportunities Agency, the four Atlantic Canada Tourism Industry Association and the four Provincial Departments responsible for tourism of New Brunswick, Newfoundland & Labrador, Nova Scotia and Prince Edward Island.

---
SET A COURSE FOR "WITHIN" WITH THE REJSE PA
PACKAGE AT CANEEL BAY, A ROSEWOOD RESORT
– Unplug from the stresses of the 21st-century with private therapies and soothing wellness treatments at the Self Centre at Caneel –

St. John, U.S.V.I. (September 2007) – Take your Caribbean holiday one step inward with the Rejse På package at Caneel Bay, A Rosewood Resort on St. John, U.S.V.I. Created by Jan Kinder, founder of the renowned Self Centre at Caneel, Rejse På is a thoroughgoing, four-day program of private therapies, wellness treatments and sensua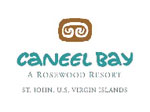 l amenities set amid the alluring natural beauty of the Caribbean. Rest assured, you'll leave Caneel Bay rejuvenated, balanced and in harmony with the world around you.

With its name taken from the Danish meaning "Journey Within," the Rejse På package offers guests all the benefits of the Self Centre beginning before they've even boarded their plane. To ensure maximum benefit, Kinder arranges a telephone consultation with individual guests to gauge their requirements and desires. The program offers a selection of private Self Centre programs and Wellness treatments, including yoga classes, meditation, "breath walks," tuning, Keike Sho, Inner Body Fusion, and a "Blissful Body" program.

Upon arrival each guest will be greeted in their room with a scented candle, a music CD mixed by Kinder, a special "revival" kit with eye pillow and other delights personally selected by the Self Centre's founder, and a journal to record their experience. Special Caribbean iced tea will be presented for welcoming refreshment, as will bottled water and ice. Also included are a presentation on the Danish heritage of the U.S.V.I.'s, including the sugar mill ruins at Caneel Bay, as well as a class in water color painting so guests can have a creative take-home keepsake reflecting their newfound inner calmness.

Taken together, Rejse På is the perfect way to experience the beauty and tranquility of Caneel Bay's unspoiled corner of the Caribbean.

From $4,145 per person for four nights, including accommodations, breakfast and dinner daily, and round trip ferry transfers from St. Thomas. Available through December 31, 2008.

For more information or to reserve a Rejse På package at Caneel Bay, A Rosewood Resort, please contact (340)776-6111 or visit www.caneelbay.com.

Caneel Bay, A Rosewood Resort has been an alluring escape for loyal guests since its founding 50 years ago by Laurance Rockefeller. Set on 170 acres in Virgin Islands National Park on the island of St. John, the resort's pristine natural surroundings and low-key luxury are its coveted signatures. One hundred and sixty-six charming guest rooms blend seamlessly into the landscape in close proximity to any of seven white-sand beaches that frame the resort. Four distinct restaurants and a private Wine Room offer an array of dining experiences and cuisine that honors the destination. Other amenities include The Self Centre, which is dedicated to nurturing the mind, body and spirit in addition to a fitness center, 11 tennis courts and Turtle Town, a dedicated facility just for kids. For additional information, please visit www.caneelbay.com.

Headquartered in Dallas, Texas, Rosewood Hotels & Resorts manages properties worldwide including The Mansion on Turtle Creek and Hotel Crescent Court in Dallas, The Carlyle in New York, CordeValle in San Martin, California, Inn of the Anasazi in Santa Fe, Las Ventanas al Paraíso in Los Cabos, Mexico, Hotel Seiyo Ginza in Tokyo, Japan, and a triumvirate of world-class Caribbean properties – Little Dix Bay on Virgin Gorda, Caneel Bay on St. John and Jumby Bay on Antigua. For more information on Rosewood Hotels & Resorts, please call 888-ROSEWOOD, or visit www.rosewoodhotels.com.
---
Singles Travel International Announces Luxurious Fall Getaways From Savannah to the Greek Islands, travelers
will find a trip to remember
Singles Travel International (STI) announces its fall 2007 travel getaways for single adults who enjoy traveling The escape options include luxurious cruises and tours as close to home as Savannah, Georgia, to exotic locations such as the Mediterranean, China, Greek Islands and Ecuador.
STI (www.SinglesTravelIntl.com) develops travel packages for single, adventurous and active adults. Specially designed with single travelers in mind, the trips incorporate numerous excursions and events in a group environment. The getaways might include trekking, river rafting, mountain climbing or even a shopping spree at a nearby market. At the end of each day, travelers will enjoy returning to their comfortable accommodations. While much of the activities are done as a group, there is always free time scheduled so travelers can enjoy time to explore on their own.
More than 2,000 single travelers enjoyed an STI tour last year. STI also offers informational events at cities around the world so those interested in the programs can learn more – at no charge. The informational event calendar is listed on www.SinglesTravelIntl.com.
"Our goal is to make planning memorable trips as simple as possible," said Tammy Weiler, founder of STI. "Many of our guests enjoy the camaraderie we build when we travel, eat and explore together."
Singles will have a variety of trips from which to choose this fall season and are able to book their trips online immediately by visiting www.SinglesTravelIntl.com. The listing of travel destinations currently available include:
Transatlantic Crossing on QM2 (September 22-28) Starting at $1,059*. From Southampton England to New York, think of this experience as a 5-day visit to a luxury spa with no interruptions.
New York Splendors of Fall Cruise aboard the QM2 (September 28-October 7) Starting at $2,069*. A fall colors cruise from New York to Quebec with exciting stops in Newport, Boston, Halifax and Bar Harbor.
Five Star Imperial Jewels of China (October 2-11) Starting at $2,958*.
View China's most imperial treasures, an exciting 3 night tour along the legendary Yangtze River, stay in beautiful Beijing, spend a night in Xian, and enjoy the skyline of Shanghai.
Greek Island Cruise (October 20-27) Starting at $930*. This magnificent cruise departs Venice, Italy, on Royal Caribbean's Splendour of the Seas, and visits the fascinating Greek ports of Athens, Mykonos, Katakalon, Corfu, and Split, Croatia.
Sweet Savannah Weekend (October 25-28) Starting at $829*. Enjoy one of the most beautiful cities in the world. The historic district of Savannah, Georgia, is buzzing with creativity, art, culture, and live theatre and is the perfect place for you to spend an enjoyable weekend.
Ecuador Adventure – All Inclusive with Rare Early Signup Bonus (November 24-December 1) Starting at $1,865*. A home away from home at Mountain Views Inn, located in the center of the Andean heartland. Enjoy specially-designed excursions for singles with visits to Quito, Pre-Incan Pyramids, and the Equatorial Monument.
Holiday Cruise (December 20-January 3) Starting at $1,999*. Cruise the holidays like a star aboard the grandest vessel afloat. Visit the unique ports of Tortola, St. Maarten, Curacao, Grenada, Barbados, Dominica, St. Kitts and St. Thomas. Round-trip from New York.
New Year's Eve Caribbean Cruise (December 29-January 5) Starting at $1,869*. Set sail from Miami aboard Royal Caribbean's Liberty of the Seas. Visit RCCL's private island in Labadee, Haiti, Montego Bay in Jamaica, Grand Caymen and Cozumel, Mexico.
Eastern Caribbean Cruise for Singles in 50's & 60's (January 6-13) Starting at $625*. A seven night Eastern Caribbean cruise aboard the Mariner of the Seas. While in San Juan visit El Yunque Rainforest, once considered to be the fountain of youth. Travelers also will visit St. Maarten, St. Thomas, and enjoy some "duty-free" shopping.
*Rates are per person based on double occupancy.
About Singles Travel International
With over 25 years experience in travel consulting and a 75% repeat clientele, Singles Travel International(STI) leads the singles travel profession with worry-free travel that meets the unique needs of our discerning solo travelers. Every group with 20 or more guests is accompanied by at least one STI escort who is available 24 hours a day to provide assistance and create a fun-filled environment. Although an STI trip is a terrific way to meet people, it's not to be confused for a dating service. STI offers age-specific excursions so guests can share their incredible experience with others just like them. Travelers can be as involved as they'd like in the multiple tour activities organized daily by the STI staff, spending time with the group or relaxing and exploring on their own. STI guarantees solo travelers a roommate when requested, provided the traveler signs up and pays in full by the final payment date for each program.
Singles Travel International contact: Tammy Weiler, (877) SOLO-TRIP, (877) 765-6874. Visit www.SinglesTravelIntl.com to view the entire 2007 trip calendar. Please note additional trips will be announced soon.
---
IT IS A "HAUTE" DOG'S LIFE AS THE FASHIONABLE CARLTON ON MADISON AVENUE OFFERS SPECIAL POOCH PACKAGE
-Special "Haute Dog" package and "Yappy Hour" social event featured as The Carlton on Madison Avenue unveils signature guest "Experience Program"-
As The Carlton on Madison introduces its new monthly signature "Experience Program" showcasing the very best that New York City has to offer including art, history, cultural events, literature and photography, the hotel now invites man's best friend to enjoy a cultured weekend escape to the city with its special "Haute Dog" package. This dog-friendly package is now being offered to coincide with Madison Square Park's video art display, "Around the Park," showcasing renowned artist William Wegman's work with Weimaraner dogs. With rates starting at just $339 per night, the package is valid Thursday through Sunday from September 20 through October 21, 2007.
With this unique package, guests and their dogs will enjoy deluxe accommodations in one of New York's most sophisticated hotels. In addition, guests will receive an autographed copy of William Wegman's book, Polaroids. To ensure that each four-legged friend is well rested during their big city escape, pets will receive a special welcome kit with various doggy surprises upon arrival, as well as a comfortable doggy bed to rest their paws after an exciting day in the city.
In addition, the hotel will celebrate these four-legged guests each Saturday afternoon as it hosts a welcoming "Yappy Hour" social event in which dogs and their owners are invited to a special meet and greet. "Yappy Hour" will be held on the sidewalk outside the lobby doors from 3-4 p.m. each Saturday from September 22 through October 20. The Carlton's concierge will also be able to provide additional activities and services catering to dogs.
As this unique neighborhood of New York is one of the city's most dog-friendly areas, The Carlton on Madison Avenue encourages guests to visit the nearby Madison Square Park, which is located on 23rd to 26th Streets between 5th and Madison Avenues. Now through October 28, 2007, the park will present the William Wegman video art project, "Around the Park." The exhibition will feature four video monitors of William Wegman's favorite characters as they enjoy a fall day in Madison Square Park. The videos will run from 8 a.m. to 8 p.m. daily and there will be a brief retrospective of Wegman's video work each afternoon at 1 p.m. In addition, the park will showcase The Hardly Boys and Dog Baseball videos each Saturday and Sunday at 1 p.m. during the exhibition. For more information on the park and this art exhibition, visit www.madisonsquarepark.org.
"Haute Dog" Package (Valid September 20-October 21):
Package Inclusions:
Deluxe accommodations for two
Signed copy of William Wegman's Polaroids book (while supplies last)
The Carlton's "Haute Dog" Welcome Kit
Participation in The Carlton's "Yappy Hour" event, held each Saturday at 3 p.m.
Doggie bed for pet (while supplies are available)
Pet-friendly concierge services
Located just minutes from area attractions including The Empire State Building, Grand Central Station, Union Square, Macy*s at Herald Square, Madison Square Garden and the shops on fashionable Madison Avenue, The Carlton on Madison Avenue is the perfect hotel to enjoy all that the city has to offer. After completing a multi-million dollar renovation and refurbishment process, the 316-room Carlton on Madison Avenue opened its doors with a completely new look that marries old world elegance with a modern New York feel. Luxury accommodations feature mahogany furnishings detailed with rich soothing earth tones that exude serenity and tranquility with a touch of elegance and modern luxury. Plush new bedding adds an element of comfort, drawing guests into the warmth of beautiful duvets and soft pillows. Elegant, spacious bathrooms also help to create an ambience of refinement. Guest amenities include luxury Penhaligon's bath products and Apple iHome® alarm clocks that offer guests the convenience of listening to their personal music library by docking their Apple ipod®.
Rates are per room, per night, and are subject to availability and all applicable taxes. There is also a $50 fee per stay for guests with dogs. Rates are not applicable to groups of 10 rooms or more.
To book the "Haute Dog" package, visit www.carltonhotelny.com
or call (800) 601-8500
The Carlton Hotel on Madison Avenue is located in Midtown South Manhattan, between New York City's Gramercy Park and Murray Hill neighborhoods. Situated in the heart of Manhattan's business, shopping and entertainment districts, the hotel is within walking distance from the Empire State Building, Times Square, Madison Square Garden, Jacob Javits Convention Center, the Broadway theatre district and Fifth Avenue shopping. The hotel is managed by Gemstone Hotels & Resorts.

---
FALL INTO SUMMER
Fend off the Winter at Frenchmans Lookout in Tortola

Tortola, British Virgin Islands, September 2007…Frenchmans Lookout in Tortola presents the "Fall into Summer" special. This is an invitation to fend off the dark days and bitter winter winds by taking advantage of extended summer prices and more beach time. The sun is still shining and the balmy breezes are still blowing on this hilltop villa overlooking the British Virgin Islands and the Caribbean Sea.
Through mid-December, Frenchmans Lookout is available for five nights at the summer rate of $10,500 per week for 10 people. ($210 per person per day!) This price includes five perfect days of sunrises and sunsets, breakfasts cooked and served each morning, one dinner prepared and served by a gourmet chef, 10 hours of massages anytime, anywhere and one full day on a 35 foot yacht.
On arrival in Tortola, the driver, meets you for the transfer to Frenchmans Lookout, on the island's west end. Upon arrival Gloria greets and settles you into your new home. You have time to relax and prepare for the first evening's dinner cooked and served by a private chef. During your stay, you enjoy one full day on Frenchmans 35-foot yacht, Contender, with Captain Simon. You are also treated to 10 hours of spa treatments from massage, yoga to manicures, given by owners of the nearby Serenity Spa, an Indian trained couple, Appu Ganesan and Monali Bhatewara. And, of course, there is also plenty of time to explore the island and be left completely alone.
Frenchmans Lookout is a two story Carolina house with a grand wrap around porch on each floor. It is caressed by constant trade winds, sitting on one of the highest points on Tortola's west end. The second floor corner honeymoon suite has six sets of French doors that open onto the verandah affording nearly a 360 degree view of the British and US Virgin Islands beyond. On the main floor are a comfortable living room with music and entertainment center and a newly renovated, well equipped kitchen. Across the spacious foyer is the dining room where dinners are served by a private chef and staff. Off the living room is the meticulously kept garden framing the L shaped swimming pool and barbeque gazebo high above the harbor and small village of Soper's Hole.
The five-night package is $10,500 up to 10 people until December 22, 2007. Price does not include 4% gratuities and 7% tax. Since Frenchmans Lookout takes only one small group at a time, you are able to tailor your activities to suit your needs and desires. Prices will be adjusted accordingly.
For information and reservations call 866-940-0020 or visit our website at www.frenchmanslookout.com
---
Bavaria's Holiday Routes
Themed routes provide a myriad of ways to discover Germany's most popular holiday destination
From medieval fortresses to crystal museums, magnificent castles and places of religious pilgrimage, Bavaria has it all and more. The state's numerous vacation routes provide visitors with an extensive network of tourist routes and itineraries linking some of Bavaria's most appealing and interesting sites.
From Mannheim to Prague, seventy castles line the Castle Road which follows the Neckar River and winds its way through upper Bavaria. History comes alive while the past has left its imprint on the towns of Nuremberg, Bamberg, Coburg, Rothenburg, and Bayreuth. www.castleroad.de Thick walls and eighty ancient towers surround Nuremberg's old quarter including the Kaiser Fortress, a former residence of German kings. The Documentation Center and its permanent exhibit, Fascination and Power, are vital for anyone interested in the period of National Socialism. www.tourismus.nuernberg.de
Also on the Castle Road is Rothenburg ob der Tauber, famous for the Kaethe Wohlfahrt's Christmas Stores and Christmas Museum www.bestofchristmas.com, and for its medieval atmosphere, stately towers, massive fortifications, churches and patrician houses. www.rothenburg.de Further north in the Franconian region of Bavaria, is Bamberg. Perched along the River Regnitz, Bamberg is home to Germany's famous smoky beer and the town's many fine breweries that welcome visitors. Unbeknown to most, Bamberg was for a short time the capital of the Holy Roman Empire. Today, the city is a UNESCO world heritage site and visitors relish the romantic, medieval setting and beautifully preserved buildings. www.bamberg.info
Still deep in the Franconian countryside is the town of Bayreuth famous for its annual Wagner Festival in the baroque opera house funded by none other than the famous King Ludwig of Neuschwanstein fame. In Bayreuth, the gardens, courtyard, and the orangerie of the Hermitage and the Old Palace form one of Germany's top gardens.
www.bayreuth-tourismus.de
Close by, the aristocratic city of Coburg is home to many fine castles including the Veste Coburg fortress which today houses internationally-acclaimed art collections from the private collections of the Coburg dukes. In the orangerie in the Rosenau Castle, the boyhood home of Prince Albert and a favorite spot of Queen Victoria, is the Museum of Modern Glass which is part of the Veste Coburg's collection. At one point, Coburg was also the center of toy and doll making. Next year, the International Doll Festival will take place April 27 to May 4. www.coburg-tourist.de
Glassblowing is a centuries-old tradition and still an important part of the East Bavarian economy today. Along the Crystal Road, which runs through the Bavarian forest, there are museums, galleries and glassworks where you can take lessons in glassblowing and visit courses or just shop. www.cometogermany.com Passau is a famous stop along the route with its three rivers, large square and baroque buildings. A highlight in Passau is the Glass Museum where over 30,000 examples of glassware for the past 250 years are on display. Since May, a new crystal boat, the Crystal Cruiser, exclusively made out of crystals by the famous Swarovski Company, cruises the Bavarian-Austrian Danube Region on a daily two hour roundtrip. www.passau.de
Regensburg, further down the river Danube, is home to two thousand years of living history. Some of Europe's most important architectural and cultural monuments, plus fascinating museums and art collections make this an attractive place to spend some time. The History Museum in the former Minorite monastery houses art and cultural history collections from the Stone Age to the 19th century. The Thurn and Taxis Museum is a private collection of priceless furniture and decorative objects from the 17th to 19th centuries. www.regensburg.de
Visitors to Bavaria can also follow in the Footsteps of Pope Benedict XVI along the Benedict Trail . In 2005, Josef Ratzinger was elected Pope Benedict XVI and head of the Catholic Church. Now pilgrims and travelers can trace the life and career of Pope Benedict XVI to places along the 'Benedict Trail' where Pope Benedict spent his childhood and youth. The churches, abbeys and historical towns in the region are filled with cultural treasures and exquisite works of art. www.benediktweg.info As a boy, the Pope made the pilgrimage to Altötting, the home of the black Madonna. www.altoetting.de
Visitors can also hike the German Alpine Road, learn about the white gold along the Porcelain Road, cycle along the German Danube Trail, experience European history and culture along the Route of Emperors and Kings, follow in the footsteps of the Empress and Queen Elisabeth on the Sisi Road and discover hidden treasures on the Toy Road. For more information about holiday routes in Bavaria go to www.bavaria.by
---



---
Air New Zealand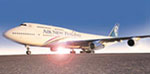 Air New Zealand is an international and domestic airline group which provides air passenger and cargo transport services within New Zealand, as well as to and from Australia, the South West Pacific, Asia, North America and the United Kingdom.

Air New Zealand also encompasses business units providing engineering and ground handling services. Subsidiaries extend to booking systems, travel wholesaling and retailing services.
visit: wwwairnewzealand.com.
---
JetBlue Appoints Russ Chew President

JetBlue Airways (Nasdaq:JBLU) today announced the appointment of Chief Operating Officer Russ Chew to President. With his added responsibilities as President, Mr. Chew will work directly with Chief Executive Officer Dave Barger to execute the Company's vision and strategic plan.
"Since Russ joined our team, we have established the right foundation for continuous improvement," said Mr. Barger. "Russ will help lead ourefforts to develop JetBlue's long-term business strategy that values our culture and takes full advantage of our financial opportunities."
"I am honored to take on this additional responsibility," Mr. Chew said. "JetBlue has incredible talent and vision, and bringing that vision to life for our customers and crewmembers, especially in today's competitive and operational environment, will depend on our ability to set the right course for our future. JetBlue crewmembers have demonstrated their unique ability to tackle challenges, especially when given the right tools and resources, while staying true to our company's values. I am committed to serving our crewmembers so they may continue to serve our customers with signature JetBlue service."
Mr. Chew joined JetBlue after four years with the Federal Aviation Administration as Chief Operating Officer, following a 17-year career with American Airlines in their Operations and Planning units.
New York-based JetBlue Airways has created a new airline category based on value, service and style. Known for its award-winning service and free TV as much as its low fares, JetBlue is now pleased to offer customers the most legroom throughout coach (based on average fleet-wide seat pitch for U.S. airlines). JetBlue is also America's first and only airline to offer its own Customer Bill of Rights, with meaningful compensation for customers inconvenienced by service disruptions within JetBlue's control. Visit www.jetblue.com/promise for details. JetBlue serves 54 cities with up to 575 daily flights. With JetBlue, all seats are assigned, all travel is ticketless, all fares are one-way, and an overnight stay is never required. For information or reservations call 1-800-JETBLUE (1-800-538-2583) or visit www.jetblue.com.
The JetBlue logo is available at
http://www.primenewswire.com/newsroom/prs/?pkgid=795
DIRECTV(r) service is not available on flights outside the continental United States; however, where applicable FOX InFlight(tm) is offered complimentary on these routes. FOX InFlight(tm) is a trademark of Twentieth Century Fox Film Corporation. JetBlue's in-flight entertainment service is provided by LiveTV, a wholly owned subsidiary of JetBlue.