TASTE OF SOLVANG
A 16TH ANNUAL IN CALIFORNIA
by Bonnie Carroll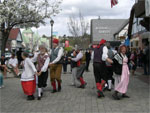 The SolvangDanishVillage is filled with wonderful history, and the Santa Ynez Valley was settled by these hard working people in 1911. Solvang means "Sunny Field" and many of the buildings are of typical German design.  
Each year Solvang host "The Taste of Solvang" which begins with a wonderful dessert tasting at a local hotel. The Scandinavian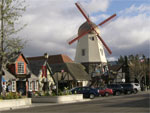 Inn was the host this year, and the event included live entertainment by the Solvang Jazz Quartet, and included delicious desserts from area business owners and vintners. Our vote for best dessert went to the Olsen B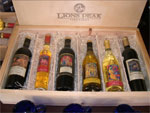 akery apple strudel…das was sehr gut!
One of my favorite spots in this charming destination city is the Red Viking Restaurant on Copenhagen Drive. It is very authentic in design and menu selections. The owners Bend and Suzy Olsen and their children also operate the renowned Olsen's Bakery, where tourists line up to enjoy their typical Danish breakfast, which consists of cheese, fresh baked bread, Danish pastry, jams, butter, Coffee and juice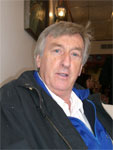 . During our visit Bent was in the back of the bakery making a birthday cake for a 90 year old Solvang resident.
The Red Viking restaurant serves some of my favorite dishes, including red cabbage with sausage or pork, and their Danish tr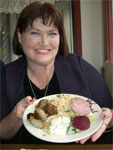 aditional desserts with strawberry sauce are sweet and filling. The smorgaasbord table is an amazing collection of authentic recipes, and is very popular with visitors of all ages.
One whole afternoon of this annual event is devoted to a walking smorgasbord, where people follow a map and go from place to place to savor food samples, taste wine and get great discounts in the area shops. Local performers in costume demonstrate Danish dances and invite tourist to join in. The walking wine tasting tour in the evening included many enthusiastic participants, who walked place to place despite the rain, and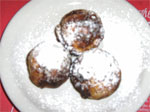 seemed to be having a wonderful time.
The variety of shops in this little community is impressive. Everything from a fantastic knife shop to a store cramped with barrels of candy. Lovely jewelry, ceramic shops, and numerous women's shops with great lo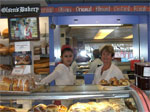 oking clothes line the busy streets. Naturally, there are many food and wine shops, as well as novelty and souvenir venues in Solvang.
The 17th Annual Taste of Solvang will be held next year on March 20-22, and this is something no one should miss. We thoroughly enjoyed our stay at the Wine Valley Inn and Cottages. The community is really beautiful and clean, while the people are extremely hospitable. Everything is within walking distance. A visit here is like taking a trip to Denmark for the weekend. It is only forty minutes from Santa Barbara, and it is a great escape. For information visit www.solvangusa.com.
---
HOPING TO FIND A FAMILY TO TRADE HOMES
WITH THIS SUMMER?
About HomeExchange.com
Home Exchange is the leading vacation alternative where two families agree to swap homes for a vacation... "You stay in my house while I stay in yours." HomeExchange.com currently has over 20,000 Listings in 110 countries around the world, most in desirable and preferred locations. HomeExchange.com makes it tremendously easy to plan and enjoy a vacation. With just a few clicks on your computer, one can Search, Select and Contact a home swap listing in almost any country, city or area of interest. Experienced exchangers have found that other than the cost of getting there, a home exchange vacation almost anywhere in the world doesn't cost much more than staying at your own home and you get to live like a local, not a tourist. HomeExchange is located on the World Wide Web at www.HomeExchange.com.
---
TIPS FROM MAGELLAN'S
How To Pack Like the Pros

Wrinkling is caused both by under packing (which allows clothes to shift) and by over packing (which squishes clothes). To avoid wrinkles, pack lightly but tightly. Use bags inside bags. For clothes that don't wrinkle easily, evacuate the air to compress them into the least space. (Check out the Pack-It Compressor! It gets almost all the air out of your suitcase).

For garments that are more prone to wrinkles, use Packfolio organizers to keep them crisp and fresh, and avoid a cluttered jumble in your suitcase. Fold clothing uniformly using the special folding board, then insert the stack inside the case, zip closed, and stash in your suitcase. When you arrive, just place the Packfolio in a dresser drawer.

Roll clothes such as socks, underwear, and shorts and place them in Packing Cubes, creating compact packages for wedging around the edges of your suitcase. To roll a T-shirt, lay it face down on a flat surface, fold the sleeves inward, and roll up from the bottom. For non-wrinkling pants, start with the cuff end and roll upward. Packing cubes are also perfect for storing smaller items that might be easily lost in your bag.

To guard against dirt, pack shoes inside Shoe Bags. Shoe bags not only keep your footwear from soiling your clothing, they also keep your shoes from getting scratched and scuffed.

Keep liquids from leaking. Remove enough liquid from each container to leave about a half inch of empty space. This will allow the liquid to respond to changing cabin pressure without bursting the container. Place the containers in Spill Proof Pouches or Dry Cases.

Protect your sensitive electronics and fragile souvenirs from the "bumps in the road". Surround them with socks and tees, or keep them protected and organized in Padded Packing Cubes.

Plan your travel wardrobe around a basic color, and choose lightweight, space-saving fabrics, and reserve your heaviest items to wear on-board the airplane.

It's in the Bag

1. Place the closed suitcase on the bed, and lay out your clothes and other items for packing.

2. In the outside pockets, insert things you'll want handy: novel, guidebooks, maps, etc.

3. Open the suitcase. Place smaller items like jewelry case, toiletry bag and pouches in the interior pockets. Extend your belt along the inside walls. Place your heaviest items (shoes, clothes steamer, etc.) along the edge near the wheels. (The goal is to keep heavy items from shifting every time you pick up or roll the suitcase.) If your luggage is designed with special compartments that accommodate your packing organizers, place them in the appropriate pockets. If not, arrange your filled Packfolios, cubes and compressors in the middle area.

Your suitcase is now organized, and will stay that way through security inspection, and for the duration of your trip. For more packing ideas and detailed information on planning your travel wardrobe. For more packing information visit: www.magellans.com.
---

UNION AGREEMENT COULD CREATE
WORLDS LARGEST AIRLINE
If the airlines' pilots unions agree to be integrated, and If approved by regulators, the combination of Delta and Northwest would result in the largest airline, with revenues of nearly $31 billion.
---
BRITISH AIRWAYS LAUNCHES EUROPE SALE
$378 roundtrip fares between New York and London with $50 off land arrangements


The Europe seat sale, with $50 bonus offer on land arrangements, is being extended today by British Airways.

Fares are available for sale through Tuesday midnight (EDT), Apr. 15, 2008. Travel is valid through May 25, 2008.  Sale fares are also available for travel May 26, 2008, through Sep. 3, 2008.

Roundtrip airfares begin at $378 between New York (JFK or Newark) and London, with comparable sale fares available to other cities including Brussels, Paris, Amsterdam and Prague.

Travelers also have the option to upgrade to World Traveller Plus, the airline's premium economy cabin, starting from $125 each way from select U.S. gateway cities to London.

Travelers purchasing roundtrip tickets within this period will also receive a $50 discount per person on land arrangements throughout Europe, including hotel, car rental, airport/hotel transfer and sightseeing, such as London Sightseeing Pass, Paris Express City Tour, Amsterdam City Sightseeing Tour, and the Prague Vltava River Lunch Cruise.

Further information on this promotion and other British Airways offers are available by visiting the airline's website, www.ba.com/april.

Comparable airfares are available from all 18 British Airways' U.S. cities to destinations across the U.K. and Europe.  Sample roundtrip fares include Boston/Brussels starting at $495, Miami/Zurich beginning at $723, Dallas, Ft. Worth/Frankfurt starting at $623 and Denver/Istanbul starting at $879.

World Traveller roundtrip fares must be booked and purchased seven days in advance and are nonrefundable. World Traveller Plus roundtrip fares must be booked and purchased 21 days in advance.  Fares may be higher for other travel dates, from other U.S. departure gateways and to other destinations. Weekend (Thursday-Sunday) surcharge applies at $30 each way. Fares are subject to government approval and do not include government fees and taxes from approximately $165 to $250 and a $2.50 September 11 Security Fee. Minimum stay of Saturday night is required and maximum stay is 11 months. $50 savings must be purchased with British Airways roundtrip published airfare originating in the U.S.  Other significant restrictions apply.
---
CSA TRAVEL PROTECTION OFFERS STRESS-
REDUCING TIPS FOR ANXIOUS TRAVELERS

Thousands of flights have been cancelled at the last minute in just the past week, which means thousands of travelers are finding themselves spending much more time in an airport than they planned. To alleviate some anxiety, and help these travelers make the most of this unexpected "time off," CSA Travel Protection offers stressed-out travelers some resourceful tips for keeping themselves entertained while stranded at the airport.

Creative Diversions When Stranded in an Airport
1.    Hound your CPA to finish up your tax return so you can get your refund    earlier.
2.    Create intriguing, soap opera-like background stories for other waiting passengers.
3.    Play the "count the Starbucks® in the terminal" game.
4.    Count how many times in one hour the "do not leave your bags unattended" announcement.
5.    Count how many people you can get to smile back at you.
6.    Check the payphones and vending machines for change.
7.    Count - and admire - bad ties.
8.    Hog all power outlets by charging your phone, laptop and iPod at the same time.
9.    Buy $15 margaritas and $10 sandwiches for all your "new friends".
10.    Return all the unclaimed smart carts.

CSA Travel Protection knows this is one of the most difficult and nerve-racking times for both business and leisure travelers. While travel insurance can't stop the unexpected from happening, it can protect and support travelers when mishaps occur, such as flight delays and missed connections.

About CSA Travel Protection
CSA Travel Protection is dedicated to providing affordable travel insurance and emergency assistance services to protect travelers' valuable investments and provide the peace of mind one deserves while traveling. Since its inception in 1991, CSA has developed a reputation for standing behind its customers and evolving products and services to meet their needs. Through superior customer service, extensive experience and industry-leading innovation, CSA is with its clients every step of the way whenever and wherever they are needed.
---
PUT A SPRING INTO YOUR STEP
WITH TWO SEASONAL PACKAGES
FROM MANDARIN ORIENTAL, PRAGUE

The arrival of Spring is welcome everywhere, but doubly so in Prague. In addition to cloaking the city's hills in a mantle of leaves and blossoms and opening the gates of its lovely gardens, the new season also heralds the renowned Prague Spring International Music Festival (May 12 – June 4).  Two new packages from Mandarin Oriental, Prague promise an unforgettable experience in springtime Prague - whether it's romance or music that sets your heart aflutter.
The Perfect Kiss is a two-night romantic getaway that's uniquely Prague:  While staying in a specially selected room or suite (either with a view or unique features like ancient roof beams, vaulted ceilings or a sunken bathroom), guests are pampered with the following special touches:
80 minutes' customized massage for two at the award-winning Spa at Mandarin Oriental, Prague (or two massages for one)

Choice of gourmet picnic in one of the beautiful gardens nearby (a detailed map is provided; basket delivery is optional) or afternoon tea for two served in the hotel's stunning Monastery Lounge

One romantic evening turn-down service with candlelight, flowers, champagne, delectable finger food, and chocolate-dipped fruit

Special booklet describing Prague's 'Ten Best Places to Kiss', including a map and directions

Return airport transfers in style via Mercedes S-class limousines.
Many concerts of the Prague Spring Festival have already sold out, but music lovers visiting Prague still have a chance to hear this year's most celebrated performers courtesy of the Prague Spring Festival package featuring prime tickets to selected performances. The two-night package includes:
luxury accommodation with daily breakfast

one three-course dinner at the hotel's Essensia restaurant (pre- or post-performance)

transfer to the concert of guests' choice

special music-themed amenity 
Both The Perfect Kiss and the Prague Spring Festival package can be booked online at www.mandarinoriental.com.


---