TRAVEL ADVENTURES . . .
VIKING STAR COMPLETES SUCCESSFUL SEA TRIALS
New Video Showcases Open Water Tests for Viking's First Ocean Ship Launching this Spring
Viking Ocean Cruises® (www.vikingoceancruises.com) today released a new online video documenting the recent successful sea trials of its first ship – the 930-passenger Viking Star – set to debut in April. The trials, which took place in the Adriatic Sea in mid-December, represented the vessel's first voyage in open water.
During nearly a week of intense diagnostics, maritime experts executed more than 80 different tests designed to evaluate everything from Viking Star's engine and propulsion performance to her navigation systems and cabin acoustics. Following the trials, Captain Gulleik Svalastog deemed her "one of the most agile, state-of-the-art and seaworthy ships on the water, destined to exceed the expectations of the most well-traveled guest."
"Following six months of nonstop construction since her float out, this was a major milestone for Viking Star, and we are proud to be another step closer to launch," said Torstein Hagen, Chairman of Viking Cruises. "Now we can focus on the finishing touches, and we look forward to welcoming guests onboard in two months' time."
Currently back at Fincantieri's Marghera shipyard for final outfitting and interior decorating, Viking Star will take on her first guests on April 11. She will then set sail from Istanbul, making her way through the Mediterranean and into the Atlantic on her way to be officially christened in the homeland of the Vikings. On May 17 in Bergen, Norway, guests onboard will be treated to a celebration that will be seen throughout the world. One of the most important days of the year in Norway – Norwegian Constitution Day – dignitaries from around the country and thousands of Bergen residents will gather along the waterfront to welcome Viking Star to port and to share in the festivities. Bergen Mayor Trude Drevland will serve as godmother to Viking Star and will officially "name" the ship during its christening ceremony.
About Viking Cruises
Viking Cruises offers destination-centric river and ocean cruising designed for experienced travelers with an interest in geography, culture and history. Featuring onboard cultural enrichment and included shore excursions, Viking's journeys are competitively priced for genuine value. Debuting its maiden season of ocean cruising in 2015, the sophisticated state-of-the-art Viking Star will host 930 guests on itineraries in Scandinavia and the Baltic; the Western and Eastern Mediterranean; and the British Isles. Two additional ocean ships, Viking Sea and Viking Sky, are also on order. As the world's leading river cruise line, since its 1997 inception the company has grown to a fleet of 60 river vessels (in 2015) offering scenic cruising along the rivers of Europe, Russia, Egypt, China, and Southeast Asia. Viking has been honored multiple times in Travel + Leisure's "World's Best" Awards and Condé Nast Traveler's "Gold List" as well as recognized by the editors of Cruise Critic as "Best River Cruise Line," with the entire Viking Longships® fleet being named "Best New River Ships of 2012" in the website's Editors' Picks Awards. The travel trade has ranked Viking as the "Best River Cruise Line" by Travel Weekly, Recommend and Travel Agent magazines, "Best Cruise Line for Luxury River Cruises" at the Luxury Travel Advisor Awards of Excellence and as "Best Overall Cruise Line for River Cruising," "Best New River Cruise Ship" and for the sixth consecutive year, "Best River Cruise Line for Travel Agent Support" in the 2014 TravelAge West's WAVE Awards. For additional information, contact Viking Cruises at 1 855 8-VIKING (1 855 884 5464) or visit www.vikingcruises.com. To join the Viking Cruises community online, visit www.facebook.com/vikingcruises, www.facebook.com/VikingOceanCruises and www.facebook.com/vikingrivercruises.
_________________________________________________________________

LOS ANGELES TRAVEL & ADVENTURE SHOW AWARDS TAIWAN TOURISM
AS BEST OF SHOW FOR FOURTH CONSECUTIVE YEAR
The nation's largest travel show, the
Los Angeles Travel & Adventure Show
, returned to the Long Beach Convention Center over the weekend on February 21-22.
Taiwan Tourism Bureau
in Los Angeles hosted an innovative and festive Taiwan Pavilion where it showcased the six themes from the "Time for Celebration 2015 - Taiwan Tourism Events Calendar", including Time for Love, Time to Marvel, Time for Two Wheels, Time to Shop, Time to Eat and Time for Nature.  
With its unique and thoughtfully designed activities,
Taiwan Pavilion
is this year's winner of the Best of Show Award for the fourth consecutive year.  
"Once again,
Taiwan Tourism
stole the show this past weekend at the
Los Angeles Travel & Adventure Show
," stated John Golicz, CEO of
Unicomm
. "They executed their front row pavilion well, but it was the energy of the very friendly, informative and hospitable experts manning the Taiwan booth that drew non-stop crowds all weekend. I believe thousands of San Diego and Los Angeles travelers have put Taiwan on their must visit list!"  
This year, the Taiwan Pavilion featured all-time favorites such as the Three Techno Prince dance performances, Taiwan bubble tea tastings, bubble milk tea shaking competitions, live musical performances of Taiwanese traditional, pop and folk music by String and Bamboo Music, and the Taiwanese night market beer bottle game.  
In addition, a brand new interactive photo booth was created for event attendees to enjoy a virtual Tour Taiwan experience. Participants chose their favorite photo backgrounds from a wide selection of the breathtaking Taiwan sceneries. Special edition "Year of the Ram" lanterns with interchangeable designs were also available at the event and were the most popular and beloved items at the event.  
Authentic Taiwanese chef, Bruce Chen, also did a special demonstration at the culinary stage and taught the audience to cook and experience Taiwan Popcorn Chicken, a beloved Taiwanese snack. Participants that engaged online on the official "Tour Taiwan" Facebook page received Taiwanese restaurant dining coupons (sponsored by Culture Center of Taipei Economic and Cultural Office in Los Angeles) and a lucky red envelope according to their zodiac sign in celebration of the Lunar New Year.  
According to Trust Lin, Director of the
Taiwan Tourism Bureau
in Los Angeles, the Bureau is promoting a limited incentive package, the 2015 Sample Taiwan 3D/2N Special Offer, which runs through March 31 and is specially designed for North American travelers.  
Visitors that are traveling with a partner (sharing a room together) can receive free airport pick-up service, two nights' accommodations at a Taiwan five-star hotel (including breakfast for two, taxes and service fees), a limited edition Taipei MRT Card (NT $50 stored value) and a Taiwan giveaway voucher booklet (valued at over $300) at a special promotional rate of $100. *Both persons should be entering Taiwan with a valid U.S. or Canadian passport. For full details, please visit
http://www.go2taiwan.net/b2c/Registration.php
.  
At the Taiwan Pavilion, travel agents and airline representatives were on-site to provide in-depth information about Taiwan and Taiwan tour packages for event attendees. Audiences also had the chance to enter grand prize drawings for amazing giveaways by collecting stamps from participating travel partners. The grand prize this year was a Los Angeles-Taipei roundtrip flight ticket sponsored by EVA Air and China Airlines. China Airlines also offered five LAX/JFK to Taipei premium economy class upgrade coupons per day for the raffle.  
____________________________________________________________________
HOW TO DEAL WITH ANNOYING PASSENGERS
Jacqueline Whitmore, an internationally-recognized etiquette expert, author and founder of The Protocol School of Palm Beach, who is also a former flight attendant, offers these tips on how to deal with some of the most annoying airline passengers: 
-          The Armrest Hogger: If the person next to you commandeers your armrest, simply inch your way in by placing just your elbow next to theirs. This should leave plenty of space for your greedy neighbor's elbow. Armrest rules: When you have three seats next to each other, the person in the middle seat gets to claim the armrests. 
-          The Chatterbox: If your neighbor strikes up a conversation, be polite and exchange a few pleasantries. Then say something like, "It was nice speaking with you, but if you don't mind, I have to get some work done (or some much-needed rest)." Closing your eyes generally does the trick. Note: Always travel with earphones and eyeshades. 
-          The Space Invader: If this person invades your personal space with his newspaper or carry-on bag, say something like, "It seems that these planes are getting smaller and smaller. Would you mind moving your arm (or bag) over just a touch?" 
-          The Seat Recliner: If someone reclines too far while you're trying to eat, work on your laptop, or watch a movie, you have two options. 1. You can recline your seat for more space or 2. Say something like, "Would you mind pulling your seat forward a little bit." The person in front of you most likely doesn't know she's inconveniencing you. Note: When you recline your seat, always glance back and make sure the person behind you isn't using his tray table to eat or work. 
-          The Snorer: It's best to always travel with a good pair of noise-cancelling earphones. Otherwise, you can ask the flight attendant if you can relocate to another seat. 
-          The Sleeper: If you need to use the lavatory but your aisle seatmate is sleeping, gently tap him on his shoulder and say, "Excuse me." No other explanation is necessary. Never attempt to crawl over him. 
-          The Unruly Child: Never discipline someone else's child. Your best bet is to move to another seat, if available, or alert a flight attendant. Never try to intervene yourself. 
-          The Seat Kicker: If a child is kicking the back of your seat, simply turn around and glance at the child and the parent. The parent will oftentimes get the hint and ask the child to stop. If this doesn't work, kindly speak up and ask the child to stop kicking your seat. 
-          The Surly Flight Attendant: It's best not to challenge a flight attendant unless you want to be thrown off the plane. If you encounter a rude flight attendant, jot down his name, your flight number, and email a letter to the company as soon as possible. Better yet, share your grievance on Twitter for faster results. 

________________________________________________________________
TAKE HER TO SANTA BARBARA FOR MOTHER'S DAY
VIA MAESTRO 42 ...
THINK ITALIAN FOR MOTHER'S DAY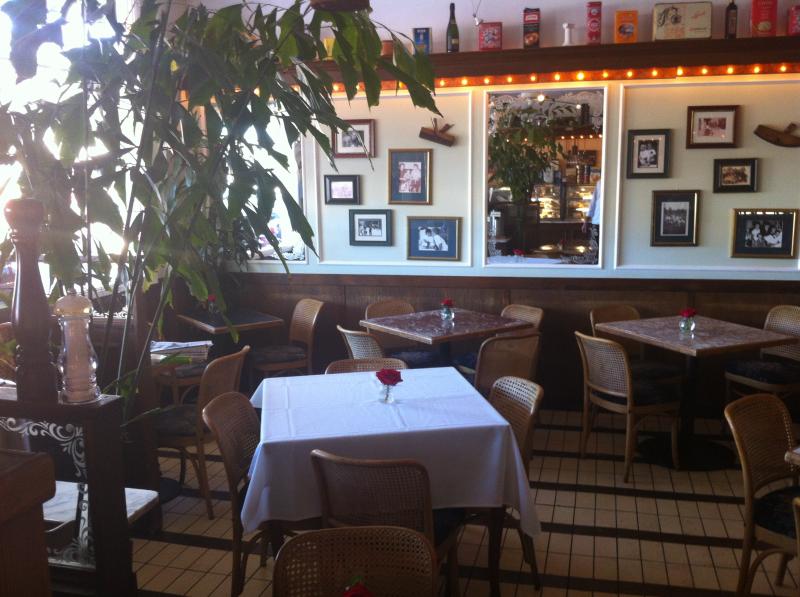 Share a delightful Mohter's Day lunch or dinner in Santa Barbara's sweetest and most authentic Italian venue. Via Maestra 42 was named for the owner's family home address in Piedmonte, Italy, and the dishes are from original family favorites. Enjoy breakfast, a lunch inside or on the patio, and dinner in the cozy diningroom. Wines are perfectly paired with signature dishes, and the gelato or sweet endings are amazing. Buon Appetito!
Via Maestra 42  3343 State St
Santa Barbara, CA 93105
(805) 569-6522
---