TRAVEL  .  .  .
FOUR SEASONS PRAGUE  'ROOM WITH A VIEW'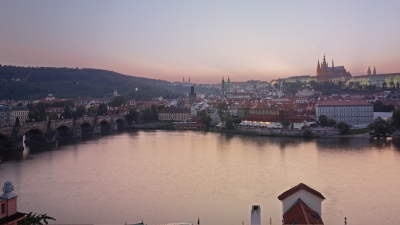 Four Seasons Hotel Prague new signature package: Room with a View gives guests opportunities to experience the Hotel and the City of the Hundred Spires at their best.
Guests can indulge in a one-of-a-kind fairy tale view of Prague, including the largest medieval castle complex in the world, the 14th century Charles Bridge and Vltava river - all from the comfort of the Hotel's Premier River Rooms. The Room with a View package includes luxurious accommodations and daily breakfast for two. A scented candle in porcelain with traditional Czech motifs carrying the scent used in the Hotel is included as a keepsake gift. This unique offers also includes tickets to Prague Castle, with highlights including St. Vitus Cathedral, Old Royal Palace, The Story of Prague Castle exhibition, St. George's Basilica, Golden Lane with Daliborka Tower, Powder Tower and Rosenberg Palace.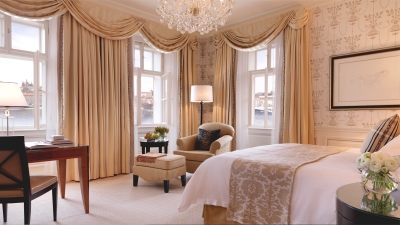 The offer can be booked with rates starting at EUR 635 per night.
René Beauchamp, General Manager at Four Seasons Hotel Prague, comments: "The unique location of Four Seasons by the Vltava river and our beautiful city views inspired us to create this package. The views of Prague are one of the premium features of our Hotel and thus the package reflects our signature experience."
Petr Zezula, Chef Concierge at Four Seasons Hotel Prague, adds: "Our guests can not only enjoy the views of the Prague Castle but also appreciate its highlights when exploring the city. Tickets for the seven unique sights at the Castle will be waiting in their room upon arrival."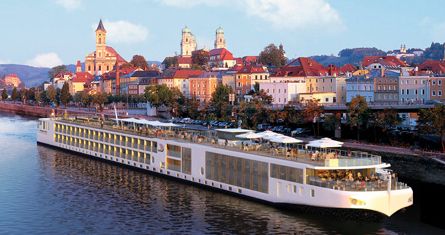 If you are traveling on Viking River Cruise up the Danube a visit to Prague can be a delightful start or ending to your experience. Check the Viking schedule to see how a few days at the Four Seasons Hotel Prague might be the perfect ending to a river cruise in Europe. www.vikingrivercruises.com. For hotel reservation information at Four Seasons Prague visit www:fourseasons.com/Prague. Visit: www.VikingRiverCruises.com
______________________________________________
FALL FOOD TOURS IN OJAI CALIFORNIA
Eating

Ojai

"My husband and I went on the Ojai Food Tour and our expectations were exceeded! Our host, Allison, was so nice and enjoyable to be with. She led us to various locations where we had the opportunity to meet chefs, restaurant owners and employees who gave us back stories and history of the people, food and beverages that we encountered. It was such a delight and the food was delicious." - Wendy



Our Eating Ojai Tour gives guests an up close and personal look into the culinary scene in Ojai, a quaint little town 17 miles inland from Ventura. On this tour, guests will walk through downtown Ojai, stopping at six different shops and restaurants for tastings and conversations with many of the shop owners and chefs that make Ojai the great dining destination that it is. Beer, wine, baked goods, tamales, paninis, and locally made artisinal foods are amongst the offerings.
Tickets are $54 per person. Price includes tastings at six different locations, all sales taxes and all tips.
Any cancellations made less than 48 hours before a scheduled tour are not eligible for a refund. Cancellations made more than 48 hours in advance of a scheduled tour will be eligible for a full refund.
Tours begin at 10:30am in Downtown Ojai and will run to approximately 1:30pm.
This tour is not suited for vegans, lactose intolerant individuals, or a gluten-free diet. Visit website for some of the foods you may be introduced to on your tour. If you or anyone in your group is a vegetarian or has any food allergies, please let us know in advance of the tour. Because we notify all of our restaurants and partnering businesses the day prior to the tour, we are not able to accommodate any last minute dietary requests. There will be a wine tasting as part of this tour, please note that guests will be required to show ID.
 
We suggest all parties plan on booking a week in advance to ensure getting the desired reservation. In order to ensure a spot on the tour (and to give us adequate time to notify our restaurants), reservations will be closed 24 hours prior to each tour. For information visit: www.Ojaivisitors.com.
_________________________________________________________________

__________________________________________________________________
MUSEUM OF CONTEMPORARY ART
Museum of Contemporary Art Santa Barbara Celebrates New Genres
of Performance Art with 2nd Annual On Edge Festival in October 2015
From left to right: Luke Savisky, E/x MN, 2014, Installation, Courtesy the Artist. Photo: PJ Raval; Margaret Noble. Photo: Mark Hamburg; Dynasty Handbag, talk show hostess with the leastest. © Paula Courty
Museum of Contemporary Art Santa Barbara (MCASB) brings internationally renowned performance artists to Santa Barbara in October 2015 for the second annual, four-day cultural celebration, On Edge Festival.  The festival will take place from the night of Thursday, October 15 through Sunday, October 18, 2015.  Launched in the fall of 2014, the festival is a consolidated form of MCASB's historically popular 1st Thursday program, Forum Lounge, which exposed hundreds of Santa Barbara audiences to the best in contemporary performance art practices from around the world over its ten year history. This fall, On Edge Festival continues to offer a wide variety of cutting-edge performance art events in beautiful Santa Barbara, from operatic theater to contemporary dance to new genres in multimedia work. The festival is an all-ages extravaganza, featuring eleven spellbinding performances at local venues, including the MCASB galleries, The Goodland, Santa Barbara Museum of Art (SBMA), Center Stage Theater, and more. Almost all of the performances and educational events will be completely free of charge.
The four-day weekend kicks off on Thursday, October 15th with an exciting opening night party co-presented by New Noise Festival, featuring site-specific work by Austin-based multimedia artist Luke Savisky. Exploring the spectrum of the human experience through film and art, Savisky stretches the limits of visual media using sculptural forms and unusual projection surfaces in unlikely environments. Savisky will transform the unique organic architecture of the iconic Ablitt House into a glowing column of light, color, and dynamic imagery against the Santa Barbara night sky, reflecting the natural beauty of the area and its unique cultural contrasts. This engaging kickoff event for the On Edge Festival also includes a commissioned musical composition and ethereal sound accompaniment by Savisky's friend and collaborator Brian McBride, founding member of ambient icons Stars of the Lid. 
In addition to Savisky's piece, the festival features Minneapolis-based contemporary dance choreographer Rosy Simas, whose work draws on her Seneca heritage and investigates how culture, history, and homeland are expressed through the body; Seattle-based choreographer and performing artist Heather Kravas, whose 2011 work The Green Surround was named one of Artforum's top ten choreographic works of the year; a sound art styled "rock opera" by award-winning multimedia artist Margaret Noble; a special projection and soundscape performance at The Goodland by electronic music duo Quindar, a collaborative project of Mikael Jorgensen, a member of the Grammy award-winning alternative rock band Wilco, and James Merle Thomas, a Los Angeles-based musician, curator, and arts scholar; an operatic, high-drama theater work from Jennifer Vanderpool and Elizabeth Paige Bossier; and comedian-artist Dynasty Handbag performs her live, one-hour hybrid talk show, Good Morning Evening Feelings, recently presented at The Kitchen in New York. The performances by Devin Kenny and Xavier Cha, which coincide with MCASB's Then they form us exhibition, will explore the impact of digital culture on identity and corporeal experience. 
These are all complemented by ancillary public programming that allows audience members to explore the history of performance art. This includes a special performative talk from prestigious author and USC Professor Josh Kun that focuses on California-Mexico border music and sound, from Herb Alpert to electronic music and narco-ballads. The performance will be presented in collaboration with Santa Barbara Museum of Art at the SBMA Davidson Gallery as part of MCASB's festival. The festival also brings Los Angeles-based performer Luis Tentindo to Santa Barbara for an artist workshop at The Goodland hotel, in addition to a presentation of his object-theater performance titled Liquid Past. 
MCASB Executive Director Miki Garcia says, "We are thrilled to present the second iteration of the On Edge Festival this October, a program that exemplifies MCASB's commitment to providing world-class, accessible programming as a stalwart of cultural happenings in the Santa Barbara community." The festival represents MCASB's mission to encourage new forms of creative expression and increase public engagement in today's ever-changing cultural landscape, establishing the museum as a relevant and articulate champion of contemporary art. On Edge Festival provides a platform for unconventional practices within the burgeoning field of performance art and, in doing so, marks Santa Barbara as a city that is at the forefront of experimental and new genres of art.
___________________________________________________________________
TRAVELING ALONE? Life Bites Helpful Hints for Singles
by Bonnie Carroll

If you are a traveling lady like me, someone who moves from place to place without a guy to carry your luggage, park the car, hold the money, hail the taxi or drive you in and out of airports, perhaps the following suggestions will provide a traveling safe check list for use on your next trip.

The key word here is ALERT! Many police departments offer classes in personal safety to neighborhoods watch groups, and the one thing they keep repeating is to be very aware of your surroundings. Develop the skill of being aware of what is happening around you at all times. Don't do things that will attract thieves, and place you or a traveling companion in danger.  Expensive jewelry, designer luggage, furs and flashy handbags without secure clasps can be an advertisement for disaster.

Parking lots in airports can be dangerous. I prefer to park my car in one of the hotel parking lots, one with a van that take me to my airline for check-in, and the van takes me back to the hotel when I return. Whenever possible have a friend drive you to the airport, or take a taxi or airport van service.

When arriving at your hotel destination hand over the keys to valet with caution. At check-in it might be wise to leave the Ms. or Mrs. selection void. Try registering under your first initial and last name only. Check out your room thoroughly, while the bellman is still there. Bad guys can be lurking under the beds, in the closets, bathroom, on the patio or behind the drapes. Be sure all the door locks work for in-room safety, and lock the door when the bellman leaves. Try to avoid staying on the ground level in a room with sliding glass doors. A room close to the elevator is generally considered a safe bet, and one close to a back staircase or entrance should be avoided. Use the hotel safe for your valuables, and get your own personal insurance policy on your good jewelry. Place valuables in a sealed envelope or container and get a receipt with the valued amount written on it. Many state and country laws have different liability limits for loss, but if you specify in writing the full value when you make the request for your safe deposit box, the hotel may opt to increase the liability.

Make photocopies of all important documents; passport, travelers checks, credit card numbers, prescriptions to keep at home. Carry a second copy with you, but do not carry them in your purse. Make a list of important contact numbers for any unexpected emergency scenario that includes allergies, prescriptions, medicines and numbers of contacts, as well as the emergency 800 number for your travel agency. A money belt can be worn, out of sight under a sweater, and is recommended by seasoned travelers as the best way to carry credit cards, passports and other valuables; carry only a small amount of money in your purse when out sightseeing or shopping.

The hotel concierge is your friend. As well as making dinner reservations, and getting theatre tickets, he will tell you the best routes to and from desired destinations, as well as the average taxi price for the ride. Many will give you a map, and draw out a direct route to be taken. Whenever possible take a limo or taxi, and unless you know the city well do not rent a car. Discretion is key here, place your purse or briefcase on the floor of the taxi next to you, but not in the view of pedestrians who are passing by.

Bon Voyage!
__________________________________________________________________
---