TRAVEL ADVENTURES  .  .  .
VIKING EVENING OF CELEBRATION AND EXPLORATION
Adventurous Options For Travelers in 2020-2022 Revealed
by Bonnie Carroll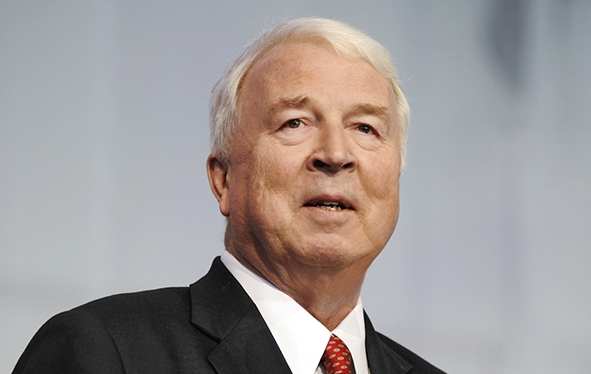 Torstein Hagan, Viking Chairman
Torstein Hagan, Viking Chairman and his daughter Karine Hagen, Executive Vice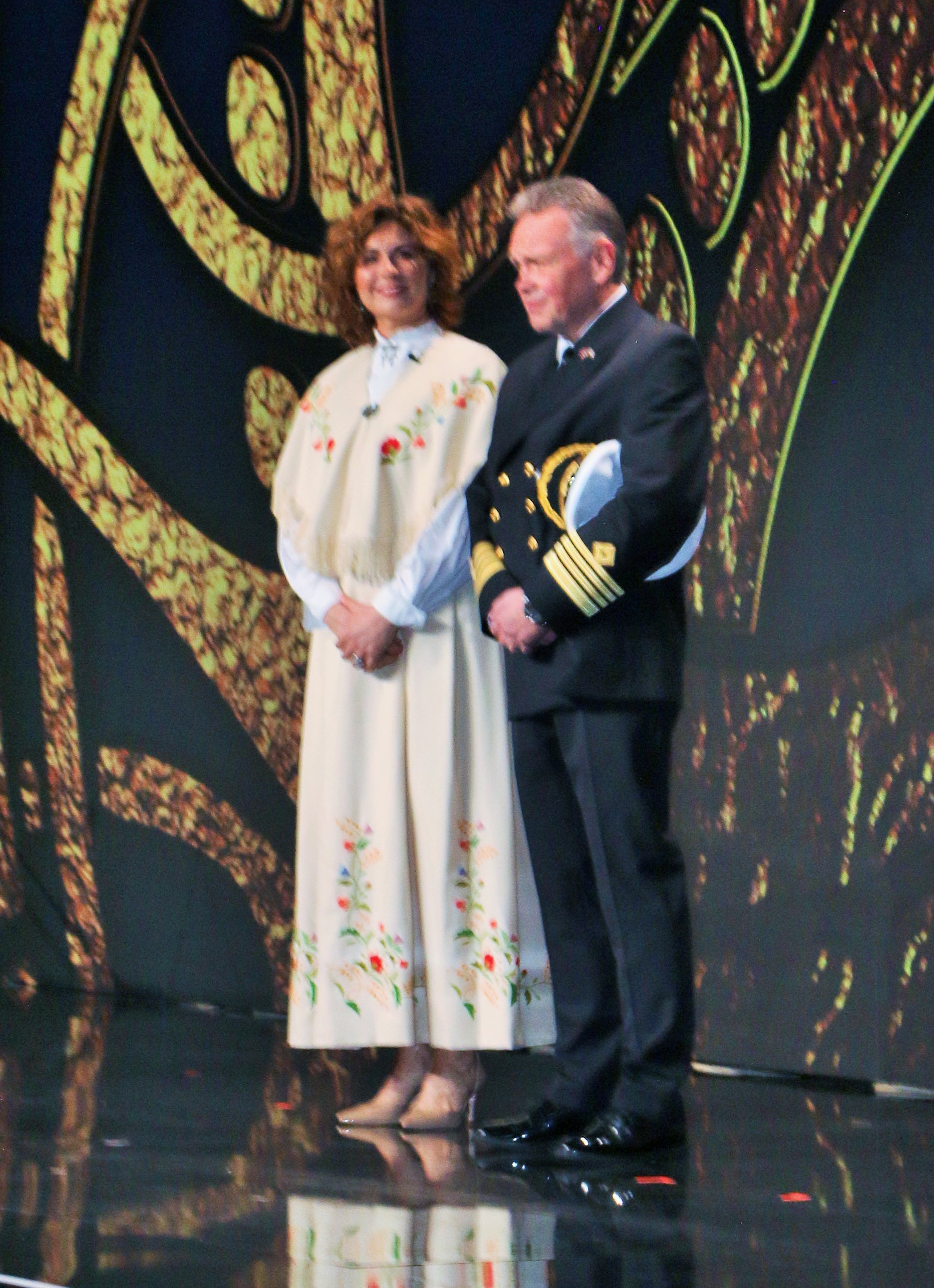 President of Viking hosted a magnificent celebration in the Beverly Hilton Hotel to take their invited guests and Viking family members to the far end of the Americas to experience their sixth and latest ocean ship unveiling, the Viking Jupiter which launched 2019 as she sailed toward Cape Horn and was officially named by her godmother Sissel Kyrkjebo and Captain. Sissel is recognized as one of the world's leading crossover sopranos and responsible for many of Norway's most treasured musical memories. She is also known to Norwegian, Danish and Swedish audiences as the voice of Ariel in Disney's Film The Little Mermaid. The godmother blessing for a ship, its crew and passengers is a must for ships entering service in the maritime tradition. Instead of champagne, Viking does this blessing before the inaugural sail with Gammel Opland aquavit to name their ships.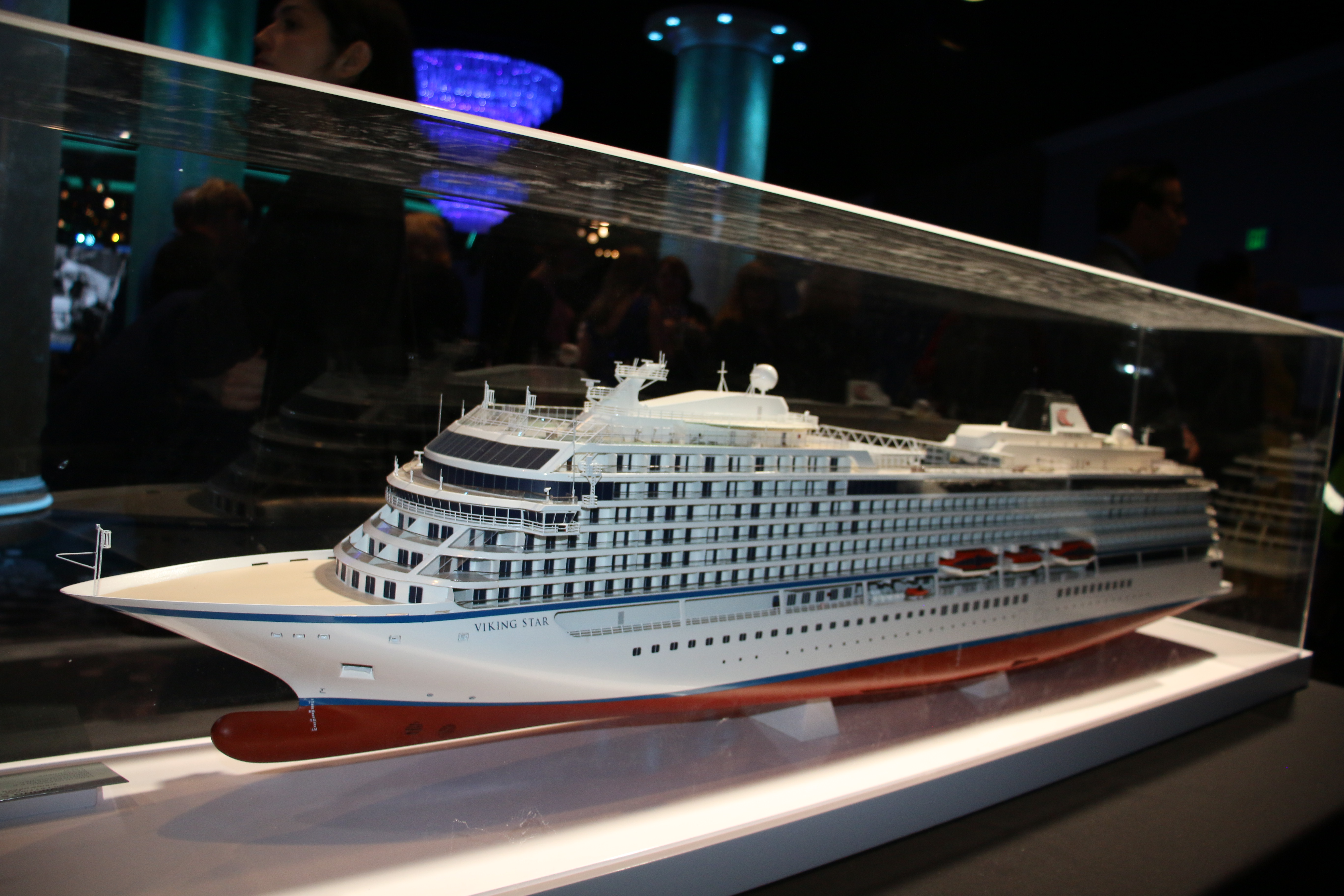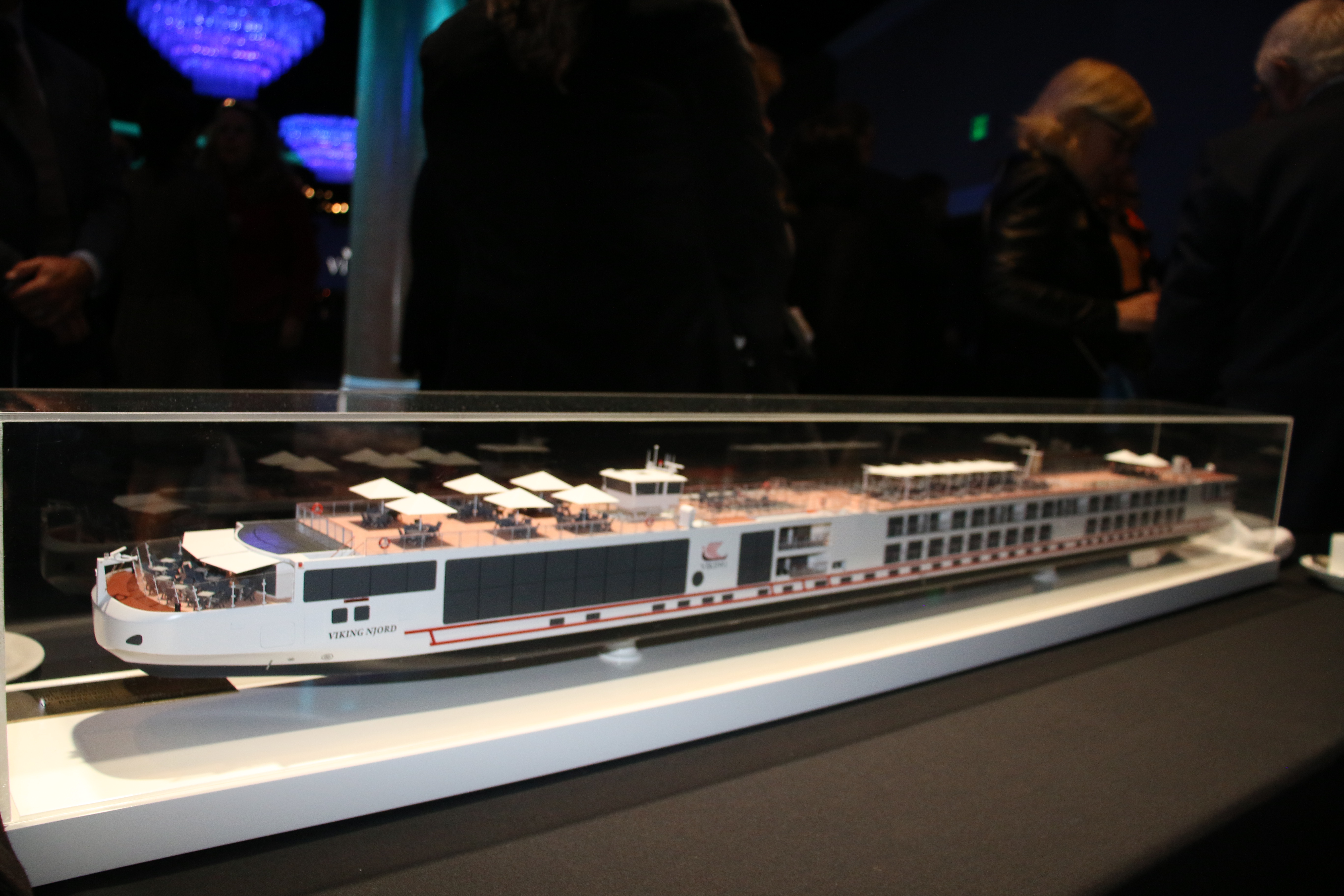 The evening was also an opportunity for guests to learn from Torstein Hagen of Journeys to the Ends of the Earth and Closer to Home, including the launch of Viking Expeditions with the unveiling of the Viking Octantis and Viking Polaris, their first Polar Class vessels to debut in 2022, with amazing video of the fabulous ships in the Antarctic. Viking dinner attendees were delightfully surprised to see the Polar Class Vessels contain a yellow submarine that guests can experience while on this cruise. Liv Arnesen, world-renowned Norwegian explorer, lecturer, author and educator and Ann Bancroft, world's preeminent polar explorer were special guest at the Viking event. They were both participants in the Viking Antarctica trip in 2019.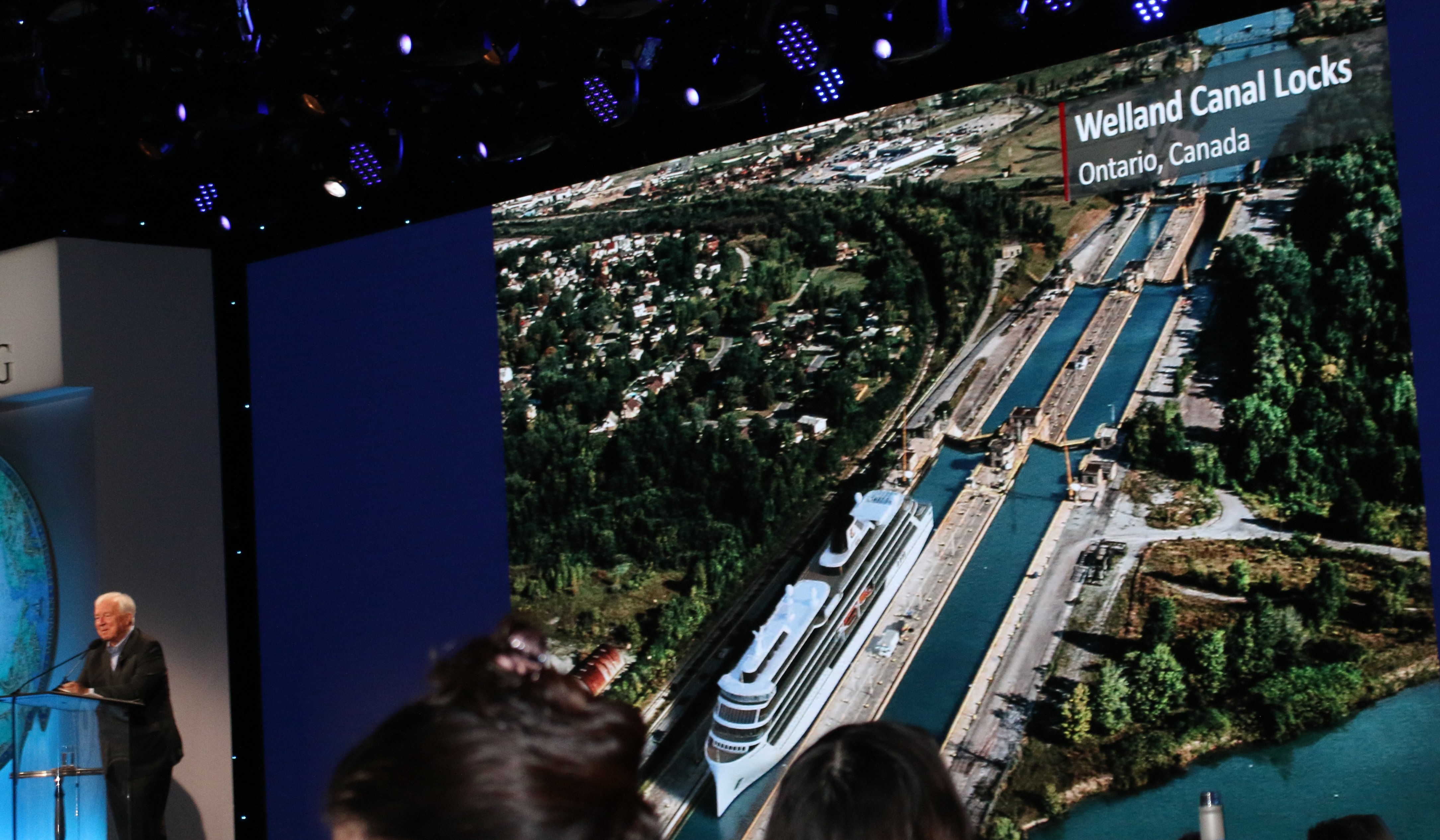 Chairman Hagen Announces Ontario Plans
Devoted Viking travelers in attendance were not surprised to learn that since it's inception Viking has grown at an unprecedented rate, they have added so many additional ships each year, included so many desirable destinations, and continue to be rated #1 in the cruise industry by travel experts and satisfied guests. Future plans being considered for Canada and Great Lakes cruises were shared with dinner guests with great enthusiasm. CEO Hagen is a no nonsense business man who's vision has lead the way for Vikings success and created a travel experience for people 55+ that is comfortably elegant and very educational, but does not include gambling, kids or dogs. He views it as a travel experience for educated thinking people who are interested in learning about the world they are living in and enjoy quiet and relaxation.
It is interesting to note that Torstein Hagen has a degree in physics from Harvard University and is now partnering with several world-leading academic institutions, Scott Polar Research Institute, University of Cambridge, and the Cornell Lab of Ornithology to develop a comprehensive research program encompassing marine biology, ornithology, glaciology, oceanography and atmospheric sciences. To support Vikings scientific program, each expedition ship is equipped with a wet and dry laboratory as well as a suite of sensors, instruments and marine field support equipment, including submarines and oceangoing jet RIBs.
A beautiful and elaborate bunad, Norwegian national costume, was worn throughout the celebration evening by Viking Executive Vice President Karine Hagen. This costume is formal wear and is worn during festive occasions such as weddings, anniversaries and birthdays, and also for religious occasions including baptisms, confirmations and Christmas. The bunad has its roots in 19thcentury National Romanticism, which included an interest in traditional folk costumes in Norway and neighboring countries such as Denmark and Sweden. Often the bunad is considered a family heirloom, and the design indicates the country of origin of the person who wears it, and is passed on from generation to generation.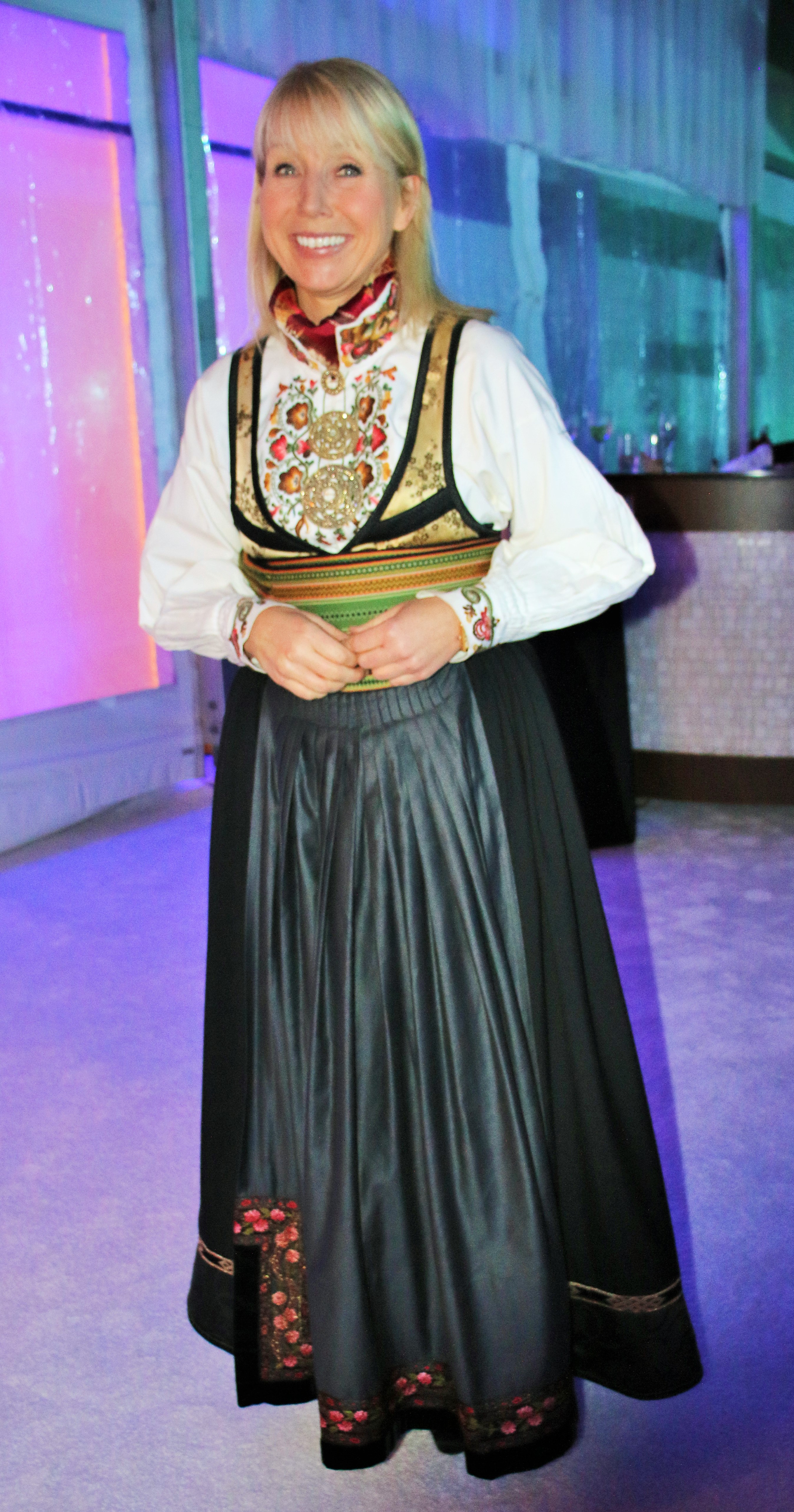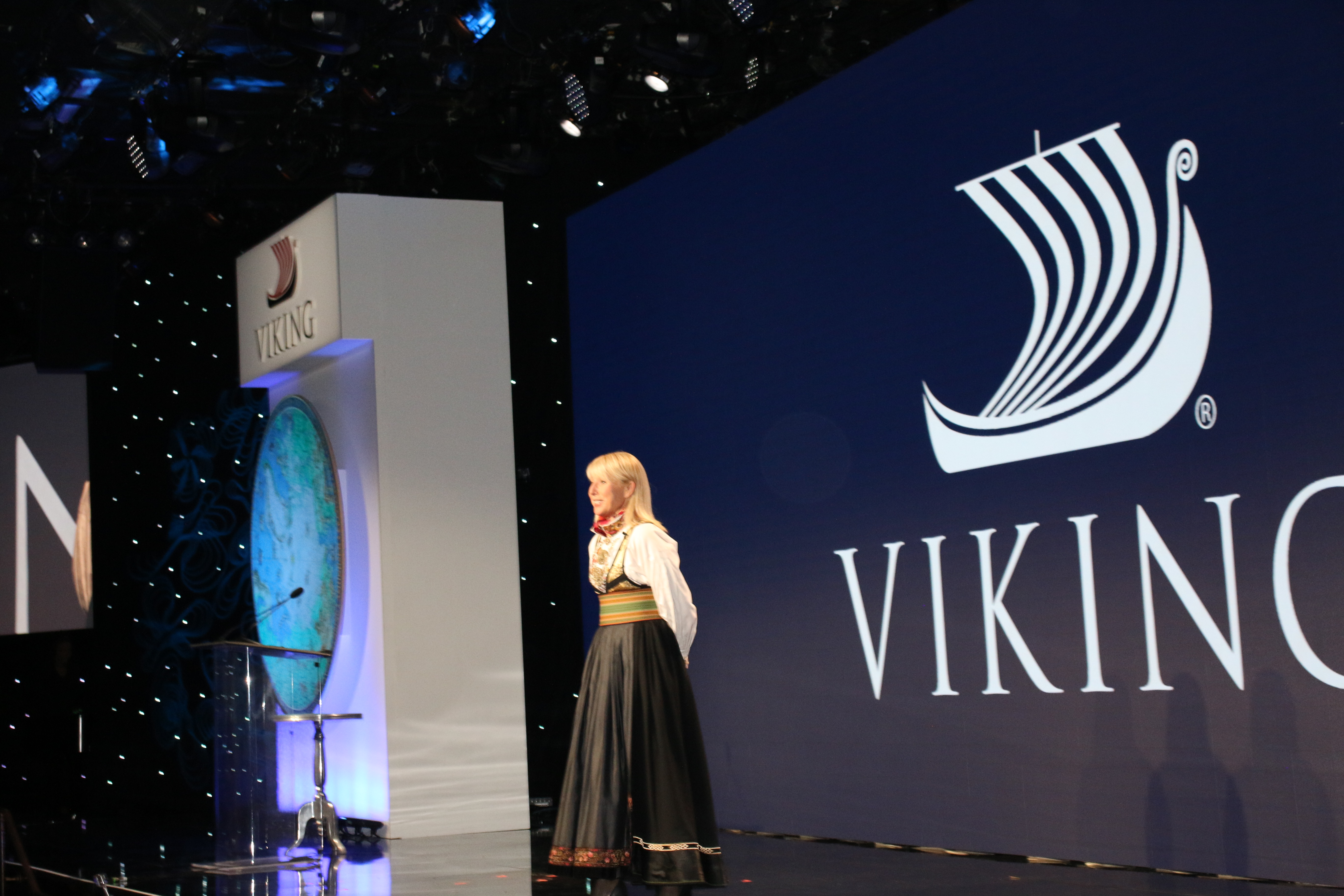 Viking Executive Vice President Karine Hagen wearing a Norwegian Bunad
Dinner was preceded by an opulent cocktail party where guests enjoyed an amazing offering of seafood hors d' oeuvres with cocktails and wine under the bows of two ancient Viking ships, followed by an elegant dinner in the mostly blue and white International Ballroom where guests enjoyed a root vegetable salad with choice of poached salmon, rib eye steak or oyster mushroom "scallops" that were outstanding. The sublime surprise of this beautiful dinner filled with exciting news on Viking 2020 and soul touching entertainment by soprano Sissel Kyrkjebo, and a renowned violinist from Norway was a wall of divine desserts inspired by those served on Viking ships. (please see desert video below).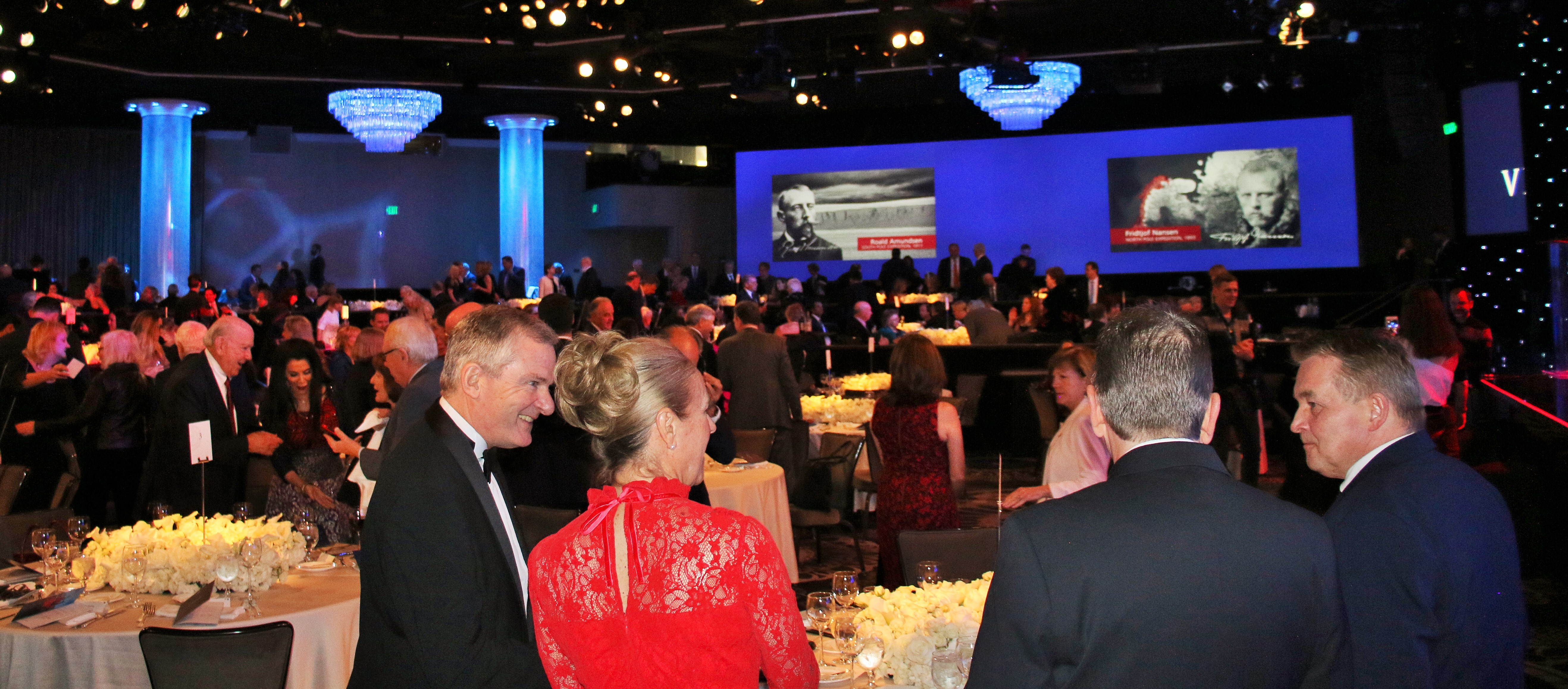 Viking Dinner International Ballroom Beverly Hilton Hotel
A delicious and informative evening concluded with an intimate Q&A with Torstein Hagen and Viking Executives who answered questions from the media in the International Terrace which provided a bevy of thought provoking information from the talented CEO on fuel practices and new information that will be available to the public on clean fuel requirements for the future. As a huge fan of Viking I found the evening of celebration to be simply delightful and look forward to possibly finding myself on yet another blissful trip with the Viking family in the near future, perhaps on a ship with a yellow submarine.
History of Viking: Viking River Cruises was founded in 1997 with the purchase of four ships in Russia. The company expanded into the American market in 2000, establishing a sales and marketing office in Los Angeles. Through rapid expansion, the company has become the largest river cruise line in the world, with double-digit growth in recent years. With the launch of Viking Ocean Cruises in 2015, the company expanded its global reach to new destinations and new guests. In 2016 we began offering a dedicated river cruise product designed specifically for Chinese travelers who wish to sail Europe's iconic waterways. For cruise information visit: www.viking.com.
____________________________________________________________________
EMIRATES FIRST REMOTE CRUISE CHECK-IN TERMINAL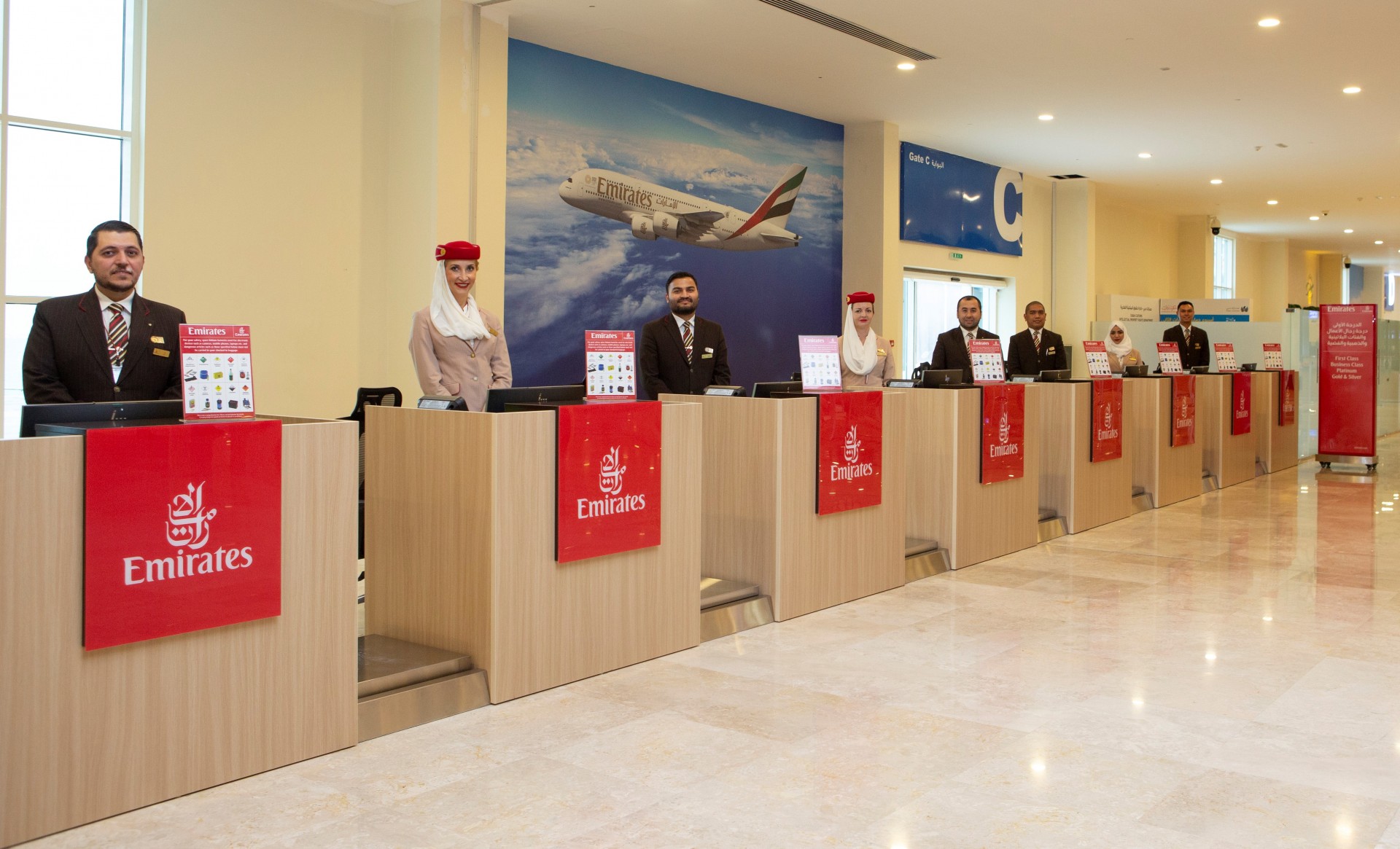 Emirates Cruise Check-in Counters at Port Rashid
Emirates' first remote check-in terminal, outside of the airport, was opened today to provide seamless connections for cruise passengers. The Emirates check-in counters, located at Port Rashid, will allow passengers who are disembarking from their cruise ships to check in for their onward Emirates flight at the same facility.
The new service will further enhance Dubai's position as a premier international cruise destination, and provides greater convenience for Emirates customers. With complimentary flight check-in facilities located at the same location as their cruise disembarkation point, customers will have the convenience of exploring Dubai without their luggage before heading directly to the airport for their flight.
The Emirates check-in facility at Port Rashid will have eight counters where Emirates staff will check-in customers' luggage and issue boarding passes up to 4 hours before flight departure. The facility will be open during the sailing period from October to April. In the next 6 months, 198 cruise ships are expected to dock at Port Rashid where approximately 280,000 passengers will have onward Emirates flights.
Mohammed Mattar, Divisional Senior Vice President, Emirates Airport Services said: "We are committed to provide a seamless and hassle-free travel journey for our customers. With the increasing popularity of Dubai as a cruise tourism destination, we have ensured that every touch point in our customer journey for this important traveller segment is thoughtfully served. Our first remote check-in facility at Port Rashid will allow cruise passengers with onward flights the freedom to explore Dubai during their short transit having dropped their luggage and completed check-in formalities."
The new service complements Home Check-in, launched last year, which allows Emirates passengers to check in for their flights from anywhere in Dubai for a fee. Other luggage handling services available for Emirates flights in Dubai include a concierge service to handle their luggage at the airport.
For Emirates passengers arriving in Dubai, there is a luggage storage facility for those who wish to leave their bags and explore the city. Emirates also offers a Home Delivery service where luggage is retrieved, cleared at customs and delivered to the customers for a hassle free travel experience.
___________________________________________________________________
 Las Vegas commemorates the Chinese New Year with an array of decadent culinary offerings, breathtaking décor and lively entertainment for visitors throughout January and February. Remembering the significance of the sacred Spring Festival, Las Vegas will extend good fortune and prosperity to all who revel in the destination's cultural festivities.
Décor
The annual celebratory dragon display returns for another year at The Forum Shops inside Caesars Palace. The 22-foot-long dragon is not only a great photo opportunity for visitors, but is also a traditional symbol of power, strength and good luck. The decorative display is dressed in 30,000 red and amber  LED lights, flickering to give the mythical creature a vibrant look and dynamic feel.
Bellagio Conservatory & Botanical Gardens celebrates the Year of the Rat with a captivating Lunar New Year display open from Saturday, Jan. 11 through Saturday, March 7. Designed to bring prosperity and good fortune to the 20,000 visitors who visit daily, the gardens radiate hues of gold and red with picture-perfect botanical creations made from flowers, seeds, silks and plants. The result of collaborative efforts between designer Ed Libby, Bellagio's horticulture team and Feng Shui Master George Yau, the intricate creation is layered with meaningful features honoring The Year of the Rat. The centerpiece of the Conservatory is a gilded gold rat that sits on gold ingot bowls – a symbol of wealth and prosperity – atop a golden staircase. Four golden rats are seen frolicking up the staircase bringing more ingot bowls. Two grand 20-foot gold coin trees stand tall on both sides of the garden symbolizing prosperity.
To commemorate the Year of the Rat, The Venetian and The Palazzo's horticulture team consulted a feng shui master to transform the waterfall atrium with an installation of a colossal 2,000-pound golden rodent sculpture, on display beginning Wednesday, Jan. 15. The featured sculpture stands 18 feet tall and will be surrounded by green gardens brightly blooming with red and orange bromeliads, red calandiva, golden yellow chrysanthemums and red and yellow orchids, shipped from around the country, including citrus and lucky bamboo from Florida. Additionally, nine smaller versions of the rat will be placed throughout the waterfall atrium and the resorts' lobbies.
MGM Grand will transform into a Lunar New Year spectacle with vibrant displays of eye-catching floral décor and playful panda bears surrounding the resort's iconic lion. The displays will abound with over 4,000 live plants, including 1,400 yellow chrysanthemums grown specifically for MGM Grand, with each plant selected for its special meaning in Chinese culture. The resort will be adorned with yellow and red-colored flowers, bamboo for good luck and money trees offering blessings of wealth and good fortune. The displays will be open for enjoyment Wednesday, Jan. 15 through Tuesday, Feb. 4.
The Shops at Crystals will display a 25-foot-tall and 55-foot-long custom-designed Golden Dragon adorned with 28,000 LED lights through the holiday beginning Friday, Jan. 17.
On display at Wynn Las Vegas starting Wednesday, Jan. 15, will be two eight-foot golden dragons that will spread good luck to visitors outside, while inside the resort the Wynn main atrium will feature spectacular 45-foot long silk dragons hanging above 7,000 vibrant orange, yellow and red mums, begonias and calandivas. Additionally, the resort will be dotted with 60 tangerine trees honoring the traditional gifting of this fruit to others as a wish of good fortune.
Entertainment
Spreading wishes of prosperity throughout the valley, CNY in the Desert™ will host celebrations in Downtown Las Vegas. The parade, now in its ninth year and sponsored again by the Vegas Golden Knights (VGK) for 2020, will feature Chance, the Knights' mascot, Knight Line, the team's drumline, and other members of the VGK cast, as well as gorgeous floats, elaborate costumes and dragons is quickly becoming a Las Vegas tradition that entertains thousands who come to watch. The ninth annual Las Vegas Spring Festival Parade will take place on Saturday, Jan. 25 at 9:30 a.m., beginning at the intersection of Utah Street and Main Street and will march through the heart of downtown, followed by a parade after-party until 2 p.m. The family-friendly celebration will include lion dances, a youth hockey clinic by the Vegas Golden Knights, martial arts demonstrations, traditional Chinese music performances and folk dances.
The Venetian and The Palazzo will offer a variety of entertainment, events and special offers in honor of Lunar New Year, including a Chinese fan dance at noon on Saturday, Jan. 25, on the second level of the Grand Canal Shoppes, followed by the annual eye-dotting ceremony and ceremonial lion dance at 3 p.m. in The Venetian porte cochère. Later that night, Grand Canal Shoppes will host the official Las Vegas opening ceremonies and ribbon cutting for the city's ninth annual CNY in the Desert™ celebration. The event will be held on the second-level North Canal Turnaround at 6 p.m. followed by a traditional lion blessing and dance, cultural performances the Shirley Chen Dance Troupe, and a special appearance by the Shoppes' Love Vespa couple Vespacho and Vespalina. From Thursday, Jan. 23 – Sunday, Jan. 26, visitors can also enjoy four days of live entertainment including the all-new Wishing Tree installation located in the heart of the Shoppes in the Palazzo tower, where more than 200 red envelopes filled with special prizes, from gift cards to chocolate gold coins and more, will be given out at 2 p.m. and 3 p.m. daily except Thursday and Friday, which will be at 5 p.m. Additional activities include a lion dance at The Sky Garden at 6 p.m. nightly; a Chinese drummer parade at 5 p.m. on Saturday and Sunday featuring 10 live drummers, a spectacular lion dance performance, and a Chinese fan dance; and Joey Yung in concert at The Palazzo Ballroom, Saturday, Jan. 25, at 8 p.m. and Sunday, Jan. 26, at 6 p.m. Grand Canal Shoppes will offer a special gift with purchase, Friday, Jan. 17 through Saturday, Feb. 1 from noon to 6 p.m. Guests who spend $350 at stores and restaurants may receive a $50 dining gift card at select restaurants by visiting the pop-up Grand Canal Shoppes concierge location.
Fashion Show Las Vegas will kick off the festivities in The Great Hall on Saturday, Jan. 25 with its "Yoga for Locals" event. Guests will be able to enjoy a special yoga experience and welcome in a year filled with good luck, happiness, self-care, and true alignment. On Sunday, Jan. 26, Fashion Show Las Vegas also will host the ultimate Chinese New Year celebration with a variety of cultural performances designed by Entertainment Plus Productions. The two-hour spectacle will feature a customary lion and dragon dance on stilts, followed by a selection of cultural dances and a one-of-a-kind lantern light show. In addition, several pop-up lantern ceremonies at surprise locations throughout the venue will be available during the 15-day celebration.
In celebration of the Lunar New Year, The Cosmopolitan of Las Vegas will host a dragon and lion dance, beginning at the Las Vegas Boulevard entrance on the first floor of the Boulevard Tower Tuesday, Jan. 28 at 2 p.m.
A dramatic and mystical traditional Chinese dragon dance symbolizing the spread of good luck and prosperity will take place at the Wynn Las Vegas, on Saturday, Jan. 25. Also, select retail outlets in Wynn and Encore Esplanades and Wynn Plaza will be offering exclusive apparel, accessories, in-store events or gifts with purchase in celebration of Chinese New Year.
Celebrating Chinese New Year from Saturday, Jan. 25 through Saturday, Feb. 8, Rampart Casino will celebrate the Year of the Rat with casino games and events, beginning with a traditional lion dance on Saturday, Jan. 25. Additional festivities include a bamboo plant giveaway on Monday, Jan. 27; commemorative Year of the Rat $5 chips available from 10 a.m. – 10 p.m.; and $5,000 red envelope table games drum giveaway on Monday, Feb. 4.
Honoring Chinese tradition, Caesars Entertainment resorts will host nine lively lion dances and feature elaborate decorations in the lobby and common areas including hanging lanterns, banners, firecrackers and floral arrangements, to bring good luck across Las Vegas. At each of the nine resorts, the lion dance performances will start at the porte cochère and make their way through the casino beginning Saturday, Jan. 25 until Wednesday, Feb. 5. On Saturday, Jan. 25, participating resorts include Planet Hollywood Resort & Casino (noon), Paris Las Vegas (1 p.m.), Bally's Las Vegas (2 p.m.) and Caesars Palace (5 p.m.), followed by Harrah's Las Vegas (2 p.m.), The LINQ Hotel + Experience (3 p.m.), Flamingo Las Vegas (3:45 p.m.) and The Cromwell ( 5 p.m.) on Saturday, Feb. 1 and Rio All-Suite Hotel and Casino (6:30 p.m.) on Wednesday, Feb. 5.
Dynamic and colorful dragon and lion dances will commemorate the Year of the Rat at MGM Grand Las Vegas Saturday, Jan. 25 at 2 p.m., Park MGM Saturday, Jan. 25 at 5 p.m., ARIA Resort & Casino Sunday, Jan. 26 at 4 p.m. and Bellagio Hotel & Casino Monday, Jan. 27 at 6:30 p.m., all performed by Yau Kung Moon in a traditional Southern Shaolin Kung Fu system with a modern flair. Known for its trademark gold uniforms and innovative routines, Yau Kung Moon has been recognized internationally for being the first U.S. team to compete in the 1990 Invitational World Lion Dance Festival in Malaysia. 
Tropicana Las Vegas will celebrate Chinese New Year and ring in the Year of the Rat with a live authentic lion and dragon dance, held on the casino floor on Wednesday, Jan. 29 at 5 p.m.  
On Sunday, Jan. 26, The Shops at Crystals will host the country's largest Yusheng noodle toss at 11 a.m., where store managers will gather and toss noodles in unison as a symbol of prosperity and luck in the New Year. Immediately following the toss at 12:30 p.m., guests can enjoy a traditional Lion Dance performance by World Dance Champions and America's Got Talent finalists Yau Kung Moon Martial Arts Studio.
For the 24th consecutive year, The Forum Shops inside Caesars Palace will welcome students from the Meadows School, who will perform the traditional dragon parade throughout The Shops on Wednesday, Jan. 29. The cast of singers and dancers includes 120 Meadows students – 60 from kindergarten and 60 from fifth grade.
This Chinese New Year, Papillon Grand Canyon Helicopters will offer an 8% discount in celebration of the Year of the Rat. Decorated in red and gold, Papillion helicopters will surround patrons with good luck and fortune. The discount will be applied to bookings made directly on the Papillon site now through Feb. 8, 2020 for travel between Jan. 22, 2020 to Feb. 8, 2020.
Cuisine
Patrons can indulge at China Poblano by José Andrés at The Cosmopolitan of Las Vegas, with a special menu available Monday, Jan. 20 through Sunday, Feb. 2. Specialty dishes include "Secret Garden" with black sesame fried tofu, seasonal greens, pear, almond and sesame dressing; "Dragon's Pearl" with scallop and pork dumpling wrapped in daikon; and more. The Cosmopolitan's luxury Cantonese restaurant, Red Plate will be open Saturday, Jan. 25 through Wednesday, Jan. 29 in honor of Chinese New Year, with special operating hours for lunch (11:30 a.m. – 2:30 p.m., daily) and dinner (5:30 p.m. – 11:30 p.m., daily).
In honor of the Year of the Rat, Caesars Palace will delight guests for the Chinese New Year holiday with a selection of festive dishes and fresh seafood at multiple restaurants, including Beijing Noodle No. 9, MR CHOW and the award-winning Bacchanal Buffet.
Guests will be treated to a special menu commemorating the Year of the Rat at Mott 32, from Friday, Jan. 17 through Sunday, Feb. 2, and Hong Kong Café, beginning in early January, at The Venetian.
The beloved Chinese New Year Dim Sum Brunch will return to Wing Lei at Wynn Las Vegas, the only Chinese restaurant in North America that holds a Forbes Five-Star rating. With a masterful mix of Cantonese, Shanghai and Szechuan flavors, guests can indulge in a selection of dishes butlered tableside, while others are presented on an extravagant buffet and carving station.
Due to popular demand, weekend festivities for CNY in the Desert™ will conclude with a traditional nine-course family-style dinner at Ping Pang Pong restaurant located inside of the Gold Coast Hotel at 5:30 p.m. on Sunday, Jan. 26.
Select MGM Resorts International restaurants will honor the Year of the Rat with festive menus and specials. Highlights include Ginger Scallion Lobster Noodles at Lemongrass at ARIA Resort & Casino, Fresh Abalone with Sea Cucumber at Blossom at ARIA Resort & Casino, Japanese Uni Sashimi at Morimoto Las Vegas at MGM Grand, and Roasted Duck at Avenue Café at MGM Grand.
Additional authentic Chinese restaurants in Las Vegas include:
___________________________________________________________________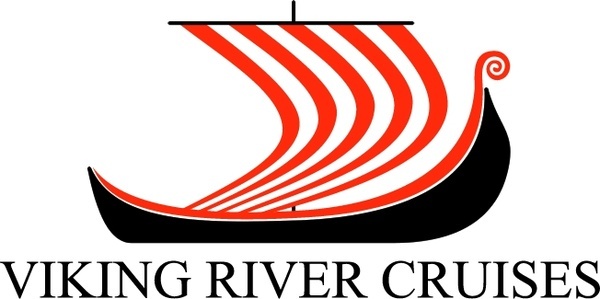 OSSO BUCO A FAVORITE ON VIKING CRUISES

Viking Chef Osso Bucco was the hit on a recent river cruise through four cities. The recipe, which is a standard on Viking ships was enormously popular and I personally will be using the Viking recipe to duplicate it in my own kitchen.
Below please find my video interview with Viking Executive Chef Bobby during our Paris to Swiss Alps Cruise 2019 on the Viking Kvasir.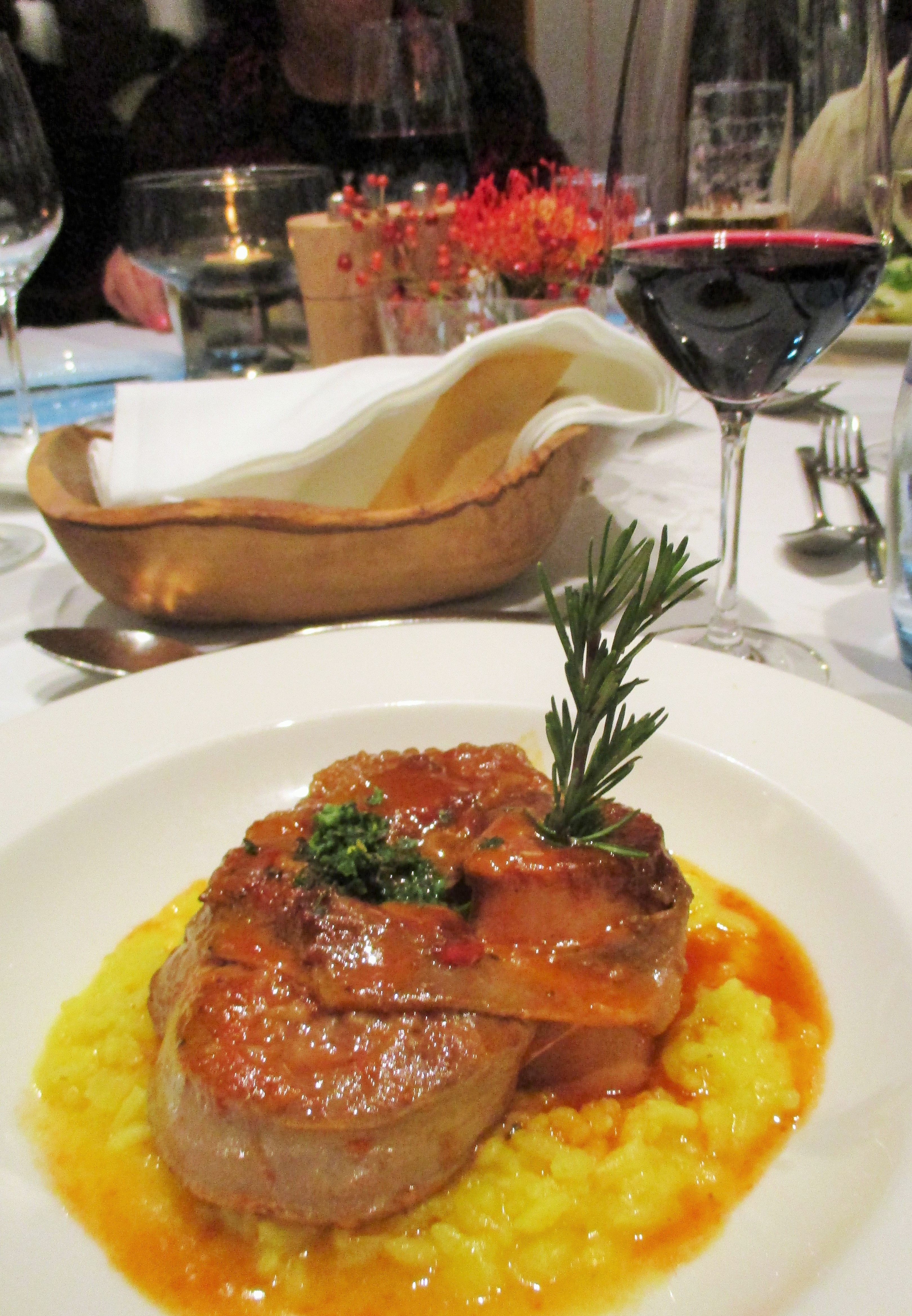 The Osso Buco was quite large, melted in our mouth and rested on a rich risotto. The best preparation of this dish I've ever tasted. This recipe can be found on the Viking website. www.vikingcruises.com.
___________________________________________________________________
Twelve Airlines Flying to a Variety of Cities from Santa Barbara

---