CARNIVAL IN ANTIGUA
by Bonnie Carroll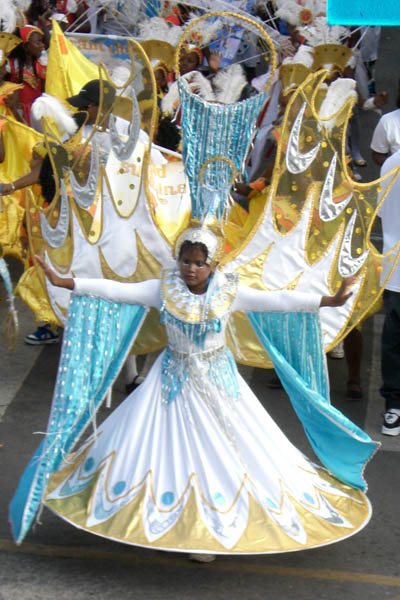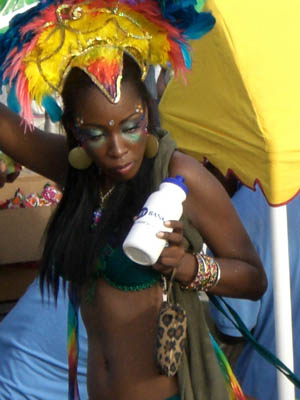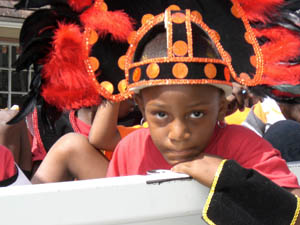 I hope my photos can give you the story on this amazing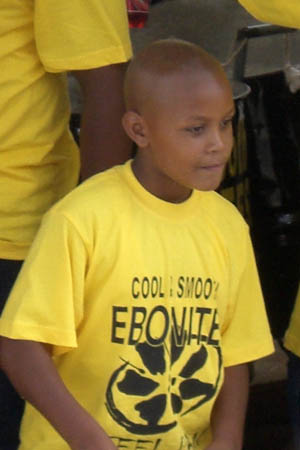 experience, because I am still a bit dumb founded by what I saw during Carnival in Antigua. This is one of the biggest festivals on the island of Antigua, and everyone participates in some way. The streets are filled with food and beverages vendors, home owners along the main routes provide viewing windows for friends and invited guests, security is seen throughout the route, while men, women and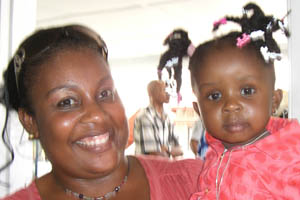 children celebrate as musicians and performers all afternoon. Many equate Carnival with the historic day of Antigua-Barbuda Freedom Day August 4,  1834. In traditional Catholic countries these festivities marked the beginning of Lent. The word carnival is associated with the Latin word Caro-Carnis, meaning flesh, and Carnival has historically been considered a time of reckless abandon.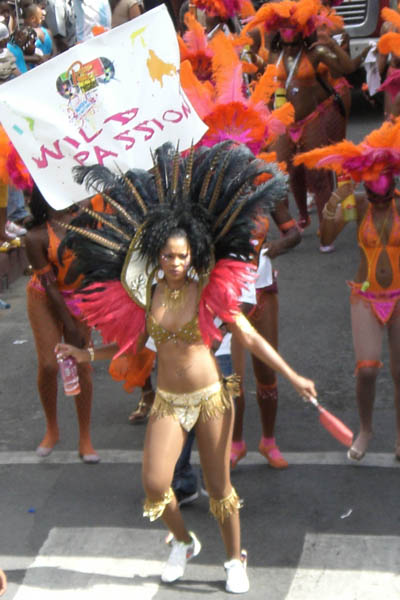 This is a time when people who were born on Antigua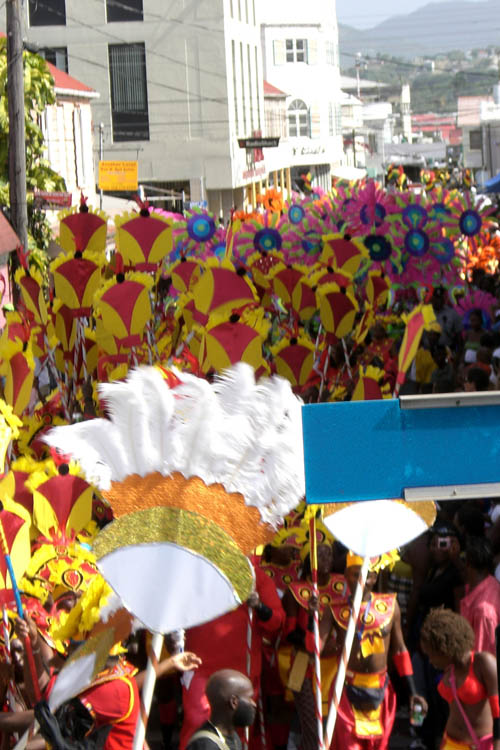 come home to visit with their families, and celebrate the love and peace of Carnival with everyone on the island. I was told participants in the individual troops begin working on their costumes six months before the event. Each group selects a theme and color for their participants and the designs are vibrant in color and decorated with sequins and feathers to match. There are adult troops and special themes for children that are happy and fun, as well as a queen selection for the parade.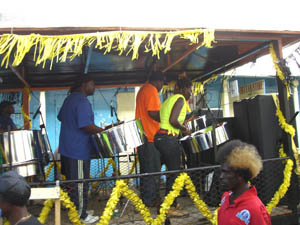 J'Ouvert is a parade in the streets, where people spray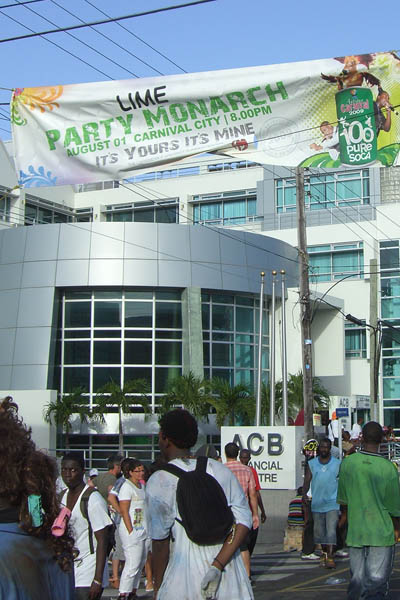 color on themselves and dance down the street. This event sets the pace for fun to come two days before the big Carnival annual event. Trucks carrying the various bands featuring the strains of island favorites travel through St. John with dancers following.
Visitors sit or stand along the route greeting family and friends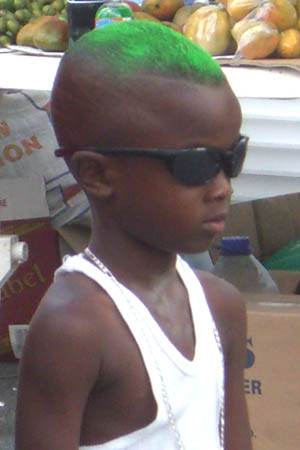 or taking photos. Many of these musicians perform in the Lime Party Monarch Competition, featuring a variety of categories including original versions of calypso and steel band music; the winners being presented with a new car. I attended the finals for Lime Party Monarch, which was held in the main cricket stadium, and the production numbers were creative and simply fantastic. The audience of men, women and children were completely thrilled by the talented performers on stage.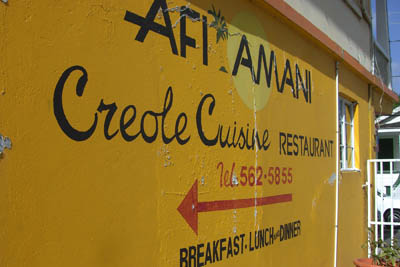 A favorite brunch I enjoyed in St. John during J'Ouvert was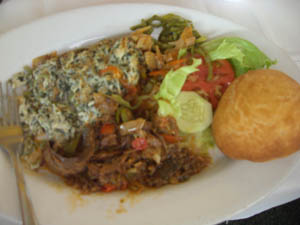 at AFI AMAN, a delightful Creole style restaurant, with very authentic faire. The omelet with spinach and fresh vegetables was outstanding, and was served with salty fish and fresh baked muffins with butter and jam. This was a pleasant escape venue to refuel during the parade, and the staff were completely charming.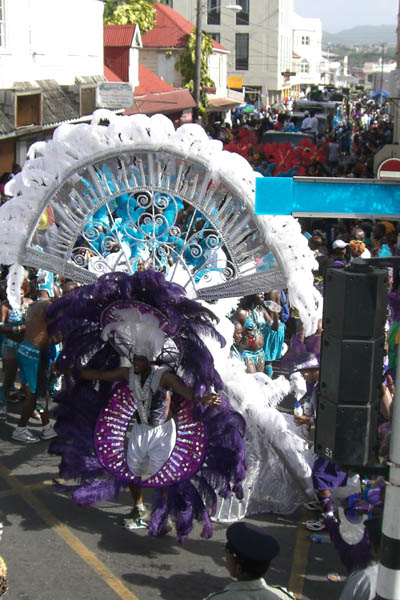 All of downtown St. John was rocking in the vibration of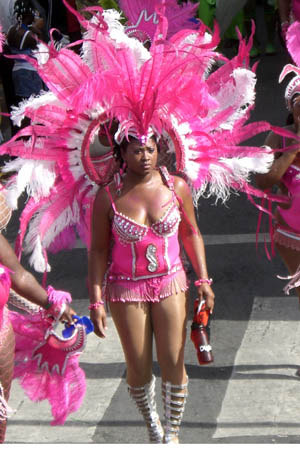 the many bands playing as Prime Minister Spencer and the colorful groups came traveling down the main street, and slowed only to turn in front of the local Police Station. Everyone's having fun, dancing, singing, laughing and this was not an easy fete on such a hot and humid day. Marchers carried bottles of water to stay hydrated, as they danced their way along the route. I was especially fascinated by the children attending with their parents, who were watching the festivities, but also how well behaved the children participating in costumes carried themselves throughout the day.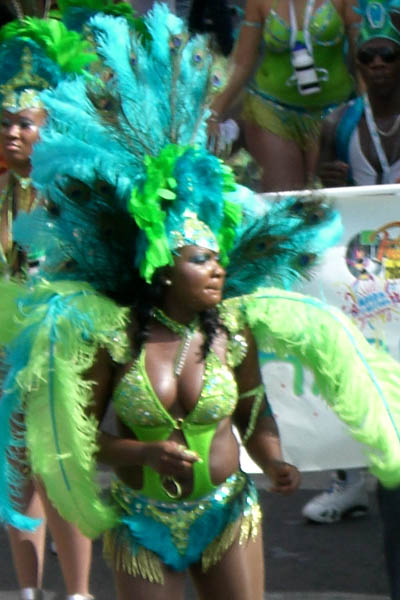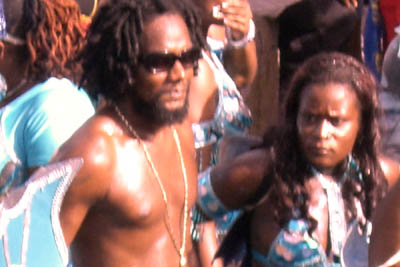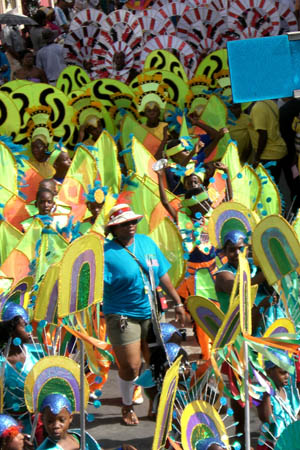 This is a precious opportunity to see, feel and experience the spirit of the Antigua-Barbuda people. There were no problems on the streets, only people celebrating the joy of liberation on their island with individual and group creativity and fun. For additional information visit: Antigua-barbuda.org.
---
KIAWAH ISLAND GOLF RESORT TO HOST HALLOWEEN SPECIAL EVENT
WEEKEND OCTOBER 30-NOVEMBER 1
FRIGHT AND FUN DURING THIS FIRST-TIME UNIQUE FAMILY WEEKEND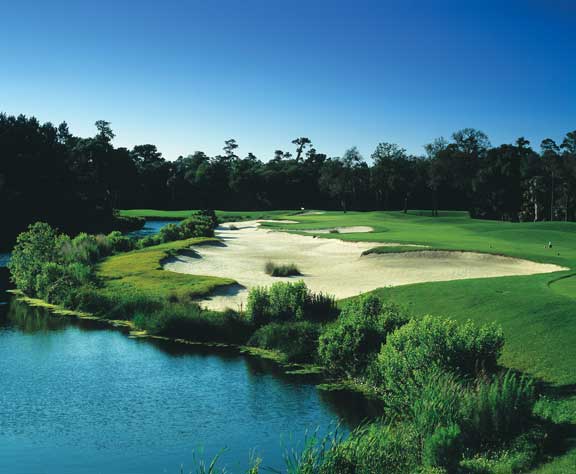 Kiawah Island Golf Resort will host its first-ever Halloween Special Event Weekend, October 30 through November 1, 2009.  This family friendly event includes numerous complementary games and activities open to all ages including pumpkin carvings, a haunted campfire as well as a Halloween Festival from 5:30 to 8pm on Halloween night.
 The weekend includes other fun activities at nominal costs that include Halloween-themed Kamp Kiawah (the resort's supervised, fun-filled activity program for children ages 3 to 11) Thursday, Friday and Saturday mornings, craft making, haunted maze and hayrides.  For adults, there's even "Wickets and Wine" (croquet and wine on the resort's hotel, The Sanctuary at Kiawah Island Golf Resorts, grand lawn.  For details, call 843-768-6001 or go to http://www.kiawahresort.com/content/view/410/758/.
Located along 10 miles of pristine beach just south of Charleston, SC, Kiawah Island Golf Resort is currently ranked as the No. 1 resort in the U.S. by Golf World magazine, the No. 2 golf resort in the U.S. by Travel + Leisure Golf magazine and the No. 2 island in North America and No. 3 resort in the U.S. by the prestigious Conde Nast Traveler magazine. It includes The Sanctuary, 255-room hotel and spa, and close to 600 private villas and luxury homes. The resort has five championship golf courses, including The Ocean Course – host of the 1991 Ryder Cup, the 2007 Senior PGA and 2012 PGA championships. The resort also ranks as one of the top five tennis resorts in the U.S. by Tennis Magazine, has nine restaurants, and features a renowned recreation and nature program.  Famed "Beachologist," Dr. Stephen Leatherman (www.drbeach.org) has even rated Kiawah Island's beach as one of the top 10 beaches in the U.S.  For more information on the resort, visit www.kiawahresort.com or call 800-654-2924.
Visit www.kiawahmoments.com to experience special Kiawah Island moments through guests' stories, pictures and video.
---
    SOUTH AFRICA'S KWANDWE DOLLS UP
The Angus Gillis Foundation, the community partner of the &Beyond Kwandwe Private Game Reserve in South Africa, has facilitated an employment program for a group of six women from the local community to produce exclusive African dolls called Nopopana (small dolls). These fabric dolls are sold in the Safari Shops at &Beyond Kwandwe in the Eastern Cape. 
The women, who were all previously unemployed, were trained last year and are making about 100 dolls a month, creating an income of approximately 1,200 Rand (US$150) each, compared to last year when they averaged 120 Rand (US$15) per month. They are also enjoying their independence. Member Jennifer Clack says, "My husband is so impressed with me. I can contribute to the family budget, and pay for education and most of the things my children need." 
Last week, the group opened its first business and personal bank accounts and recruited a new member. The dolls have been selling well, and the Angus Gillis Foundation will assist with sourcing other outlets to sell the dolls, bags and pillows produced by the group.  
About  &Beyond
&Beyond owns and operates 46 luxury lodges and camps and creates personalized travel experiences in South Africa, Namibia, Zimbabwe, Botswana, Tanzania, Kenya and India. The company was established 18 years ago and its commitment to delighting guests, sustainable responsible travel and community empowerment is world renowned.
For more information, please visit
www.andBeyond.com
.
---
AIR JAMAICA OFFERS FANTASTIC FALL FARES TO JAMAICA
Purchase Tickets August 4-11 for Travel September 6 – October 31, 2009
 

 

The end of summer doesn't have to mean the end of warm-weather fun, and Air Jamaica's specially priced fares to Jamaica make a tropical fall vacation even more affordable. Travelers can purchase these fares from August 4 – 11, 2009, valid for travel September 6 – October 31, 2009.

 

"Air Jamaica's fantastic fall fares prove that it's not too late to get a great deal on travel to Jamaica, and travelers will discover that fall is a perfect time to enjoy an island getaway," said George W. deMercado, Air Jamaica's Senior Director, Global Sales. "Passengers won't want to miss this opportunity to relax and recharge, starting with Air Jamaica where their vacation begins the moment they board."

 

All fares are round-trip and a two-day minimum stay is required. Government taxes and fees are additional. Conditions regarding black-out periods, cancellations and other charges apply. Sample fares include: 

 

Between Montego Bay or Kingston and:  For further information or reservations, call Air Jamaica at 1-800-523-5585 or visit the website at www.airjamaica.com.

Orlando                                   $168 roundtrip
Baltimore                                 $198 roundtrip
Chicago                                   $198 roundtrip
Philadelphia                             $198 roundtrip
New York                                $198 roundtrip
  Fort Lauderdale                       $128 roundtrip
ITALY'S PIEDMONT REGION ALLOWS TRAVELERS TO VACATION LIKE A ROYAL WITHOUT SPENDING A FORTUNE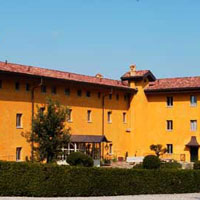 Located in the breathtaking foothills of the Alps, Italy's Piedmont region welcomes visitors to vacation like a royal without spending a fortune with fine dining, spa treatments, and castle accommodations that are high value and easy on the pocketbook. Home to the House of Savoy and a leading force behind Italian unification, Piedmont features picturesque natural landscapes, majestic 14th century castles, fine cuisine, and award-winning wines. Piedmont is sure to make travelers enter a voyage in time to some of Italy's greatest cultural, historic, and natural landmarks.  
SLEEP LIKE A ROYAL - CASTLE ACOMMODATIONS
Castello di Pavone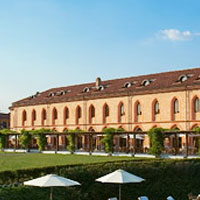 The Castello di Pavone – one of the most exclusive castle hotels in Piedmont – stands above the medieval village of Pavone, located 18 miles north of Turin. Built between the 8th and 14th centuries, the castle holds a medieval adventure for its guests while pampering them in luxury and comfort. Public and private rooms at Castello di Pavone have seen the deeds of knights and damsels as depicted in the frescoes and paintings that adorn the walls. Guests can stroll through the courtyards and gardens, or enjoy a candlelight dinner at the castle's restaurant featuring regional cuisine. Double rooms start at $193 USD per night and Regal Suites start at $325 USD per night.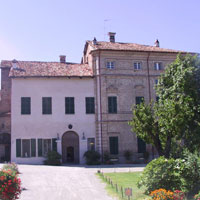 Castello di Razzano
A fairy tale escapade begins in Castello di Razzano's luscious Italian garden surrounded by the peacefulness of the Piedmontese countryside of the Monferrato area located east of Turin. Castello di Razzano is a centuries old residence featuring eight suites each furnished with a lounge, bedroom, en-suite bath, balcony, and tea area. The hotel's wine cellars produce their own Castello de Razzano label and forty surrounding vineyards supply Barbera d'Asti, Chardonnay, and red and white Pinot varieties. Visitors can enjoy their time on the castle property with long nature walks in the rolling green hills or stay active at the tennis court or golf course. Doubles start at $150 USD and Superior Suites begin at $277 USD. All guests enjoy a complimentary breakfast.
www.castellodirazzano.it/inglese
Castello di Santa Vittoria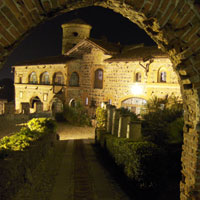 Located 37 miles south of Turin, the Castello di Santa Vittoria sits on a promontory dominating the medieval village of Alba. The town of Alba is famous for the Alba White Truffle that is reputed to be one of the world's most delicious delights. Inside the ancient walls of Castello di Santa Vittoria are quiet interiors with antique-style furnished rooms and panoramic views of the woodland valleys. Visitors can dine in the hotel's elegant "Al Castello" restaurant and feast on the infamous Alba truffle, cheese, mushrooms, and wine.  Rates start at US$320.00 per room/per night.
EAT LIKE A ROYAL - FINE DINING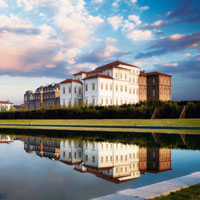 With a rich cultural history, fine architectural heritage, and deep-rooted traditions in food and wine, it is fitting for travelers to eat like kings in Piedmont and enjoy the distinct flavors of Piedmontese gastronomy. As the royal residences of the House of Savoy undergo an extensive restoration program, Piedmont offers visitors the opportunity to dine in the Piedmontese royal residences that now house Michelin starred restaurants run by the "Stars of Piedmont" chefs. Besides featuring a wealth of cultural attractions, the Savoy residences in Piedmont are striving to become places where history and the art of cooking come together and continue the tradition of palace banquets.
Combal.Zero at Rivoli Castle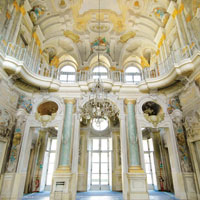 Chef Davide Scabin holds a two-star Michelin award and brings a whole new meaning to Piedmontese cuisine with his modern design and avant-garde palate and concots dishes like "Zuppizza" – a liquid pizza reconstructed from the bottom up, featuring mozzarella soup, a dollop of tomato and miniature basil leaves, and toasted bread chips. Combal.Zero features a Lounge menu, as well as the Classico and Territorio prix-fixe tasting menus that offer great value and are more affordable than the restaurant's indulgent Creativo menu. www.combal.org/index.htm
Guido Ristorante at Pollenzo Palace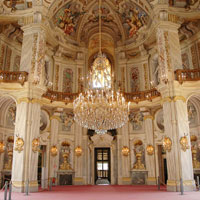 Located on the grounds of the Slow Food Association's University of Gastronomic Sciences, in the 12th century Neo-Gothic Pollenzo Palace, travelers will enjoy modern cuisine in the elegant atmosphere of Guido Ristorante, considered a veritable temple to the culinary arts. Guido Ristorante is the only restaurant that obtained the concession to be inside the University of Gastronomic Sciences. Guido Ristorante pays homage to the regional cuisine of Piedmont and applies the philosophy of the Slow Food Movement, which combines the pleasure and responsibility of good, clean and fair cuisine. www.guidoristorante.it
Il Dolce Stil Novo Alla Reggia at the Venaria Reale Palace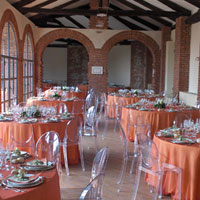 Two dining rooms overlook the beautiful flower gardens, ponds, and water gardens at the Venaria Reale Palace, the former hunting lodge of the Savoys where guests can feast on local Piedmontese cuisine and seafood specialties. Chef Alfredo Russo awarded with a Michelin star, uses his own Piedmontese roots to infuse his creations with a mixture of tradition and textures to give a real experience of taste to each bite.  Il Dolce Stil Novo offers a seven or nine course prix-fixe tasting menu.
RELAX LIKE A ROYAL - SPA AND LEISURE
Bagni di Vinadio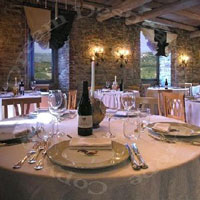 Bagni di Vinadio is where the army officers during the reign of the Savoy kings went to cure their aches and pains. The therapeutic qualities of Vinadio's sulfuric waters were already highly regarded in ancient Roman times. Located in Cuneo province, Terme di Vinadio is home today to a modern 86-room hotel and spa offering splendid views over the Argentera nature reserve in the Stura Valley. Housed in the original 19th Century building, the hotel and spa offers a host of health and beauty amenities including an indoor spa swimming pool, a mud treatment department, a vertical hydromassage tub, therapeutic massages and beauty treatments. The thermal water spring has high sulfur, calcium, lithium and mineral chlorine content, particularly suitable for treating dermatological problems. Bagni di Vinadio is open year-round.
Garessio
Famous for the San Bernardo springs, Garessio has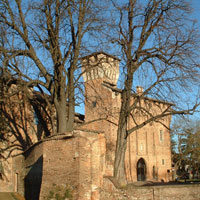 been host to famous historical figures including Napoleon, in his first Italian campaign, and Victor Emmanuel II of Savoy, who was King of Piedmont, Savoy and Sardinia from 1849-1861 and named King of Italy in 1861 after Italy's unification. San Bernardo Springs Park has a wellness center with a complete medical center and fitness facilities. The Rocciaviva waters are well known for their benefits in improving conditions of liver and bile tract as well the purification of the digestive and urinary tracts. Garessio is only open from June to mid-September. www.garessio.net
Additional information on Piedmont, former royal palaces and attractions is available at www.torinopiemonte.com
---
ASHFORD CASTLE CELEBRATES
"1939: WHAT A YEAR!"



Ashford Castle

can trace its roots back to 1228 but history buffs should fast-forward all the way to 1939 for the most pivotal year in the life of the sprawling structure in Ireland's County Mayo.  That's when the estate, which for years served as a country home for the Guinness family, first opened as a hotel. The world would soon be at war but Ashford Castle instantly became a constant of luxurious service, warm hospitality and welcome tranquility.  Now guests have one more reason to wend their way to this beautiful patch of western Ireland: a three-night celebration called

"1939, What a Year!"
Ashford Castle's new

"1939, What a Year!"

program includes three nights in a Lake-View Deluxe Room with a complimentary upgrade to a Junior Suite, breakfast for two each morning, one

table d'hôte

dinner for two in the castle's George V dining room, one dinner for two in Cullen's at the Cottage restaurant located on the estate, a one-hour falconry lesson for two, a one-hour boat trip for two, an historical walk through the estate, a limited edition print by world-renowned Irish artist Rick Lewis, a copy of the

Irish Time

s front page from a date in 1939 and a classic movie from 1939 to view in the room.  The price of the package:  €1939  (approximately $2,756), available from now through December 22, 2009.




About Ashford Castle:


Ashford Castle is set on 350 acres in County Mayo, on the shores of Lough Corrib and the River Cong, with a spectacular backdrop of woodlands, lake, river, and mountains.  It features 83 guestrooms and is renowned for a range of country sports including an equestrian center, fly fishing, an exclusive nine-hole golf course and Ireland's first school of falconry. Several dining rooms and bars, along with a gracious afternoon tea service are among the amenities.

To know more about Ashford Castle and to make reservations, visit
www.ashford.ie
.
---
 JET AIRWAYS INTRODUCES "BOARDING CARD DELIGHTS"


 




Leading Indian airline offers special deals at participating hotels and car rental agencies throughout India



New York - July 28, 2009: Jet Airways, India's premier international airline, announced this week that it will launch "Boarding Card Delights," a special discount partnership program with leading hotels, restaurants and car rental agencies, valid through October 15, 2009.
 
In partnership with its economy-class subsidiary, JetLite, Jet Airways has introduced the initiative to allow all travelers in India carrying a Jet Airways boarding pass to access special deals at Marriott Hotels, Sarovar Hotels, Lemon Tree Hotels, Preferred Hotel Group and Sterling Holiday Resorts throughout India.
 
At participating Marriott Hotels in India, guests carrying Jet Airways or JetLite boarding passes can book for two nights and get the third night free, plus a US$50 dining credit.  At select Preferred Hotels in India, Jet Airways passengers get a free upgrade to the next room category, along with a 10% discount on food and beverage. Jet Airways passengers who check in to participating Sarovar Hotels can enjoy one night free, plus 10% off all food and beverage.  And at Lemon Tree Hotels, boarding-pass carriers can get 15% off the best available rate, while at Sterling Hotels, travelers can get 20% off the best available rate.

Additionally, Jet Airways has partnered with leading car rental agencies, Hertz and Avis, in India to offer boarding-pass carriers special discounts.  At participating airports in India, Jet Airways passengers can take 20% off rack rates on Chauffeur Drive rentals with Avis Car Rentals and 15% off airport transfers and Chauffeur Drive rentals-or one day free on Self Drive rentals-at Hertz.

For more information about these offers, please visit:
www.jetairways.com
or
www.jetlite.com
.
 
About Jet Airways
Jet Airways currently operates a fleet of 80 aircraft, with an average age of 4.38 years, making it one of the youngest aircraft fleets in the world.
                      
Flights to more than 60 destinations span the length and breadth of India and beyond, including New York (both JFK and Newark), Toronto, Brussels, London (Heathrow), Hong Kong, Singapore, Kuala Lumpur, Colombo, Bangkok, Kathmandu, Dhaka, Kuwait, Bahrain, Muscat, Doha, Abu Dhabi and Dubai. The airline plans to extend its international operations to other cities in North America, Europe, Africa and Asia in phases with the introduction of additional wide-body aircraft into its fleet.

For more information, visit
www.jetairways.com
.
---
Air France KLM appoints new Vice President General Manager for the U.S.
Air France KLM has announced the appointment of Ms. Christine Ourmières as the new Vice President and General Manager for Air France KLM in the U.S., effective today. Ms. Ourmières will be based in the airline's New York City headquarters where she will succeed Mr. Jean Claude Cros, who is returning to the Paris headquarters to assume the role of Deputy Executive VP International & the Netherlands Air France KLM.

With more than 20 years' experience working for Air France, Ms. Ourmières has held a variety of key management positions at the airline. She began her career at Air France in 1988 in the Maintenance Department, then moved to the Information Systems Department until 1992, when she transferred to Amadeus as VP Sales and Marketing for the French Market. From 1998 to 2001 she held the position of VP of Air France Global Sales, and in 2002 she was promoted to VP of International Sales. In 2005, Ms. Ourmières was named General Manager of Air France KLM, UK and Ireland, a position that she has held to date.

"I'm truly excited to lead Air France KLM in the U.S. and I am energized about working with such a dynamic team, and our joint venture partner Delta. I am confident that together we'll succeed in this challenging time in the aviation industry, and continue to strengthen our position as global leaders," said Ms. Ourmières. In her new position, Ms. Ourmières is the first woman to be named Vice President General Manager in the U.S. She will be responsible for the airline's largest division outside France and the Netherlands. Her duties will include overseeing all U.S. operations, including sales, distribution, finance, marketing and communications, quality assurance, as well as airport operations.

Ms. Ourmières holds a Master of Aeronautics from the Ecole National Supérieure d'Ingénieurs and an MBA from Essec Business School.

About Air France KLM
AIR FRANCE KLM is the largest European airline group, with a fleet of more than 600 aircraft and over 74 million passengers per year. Its network is organized around the two major hubs of Amsterdam Airport Schiphol and Paris-Charles De Gaulle.
The AIR FRANCE KLM group flies to over 250 destinations worldwide on more than 2,500 daily flights. Together with its SkyTeam alliance partners over 427 million passengers are flown annually through their worldwide system of more than 16,000 daily flights to all major destinations.

For more information visit www.airfrance.com or www.klm.com.
---
LE MAS DE PIERRE AWARDED FIFTH STAR
Nestled in the hills above Saint-Paul-de-Vence, the elegant country estate Le Mas de Pierre was recently awarded a fifth star, making it the first 5-star Relais & Chateaux property in France.
Six Provencal cottages (Mas de Pierre, Mas Antonin, Mas Camille, Mas Dominique, Mas Estelle and the Mas Florian), decorated in shades of sunny yellow, ochre or lavender blue, were designed by Philippe Caron (with interiors by Patrick Ribes) to resemble the original mansion on the property.  Decked out with marble bathrooms and private terraces, each of the 48 antiques-filled rooms perfectly combines the comfort of a family home with the refinement of a luxury hotel.
Wander on stone paths through the meticulously landscaped gardens and grounds (designed by landscape architect Jean Mus) and explore the rose garden, the orchid greenhouse, and the organic vegetable garden. Or, simply lounge on plush white couches with a cocktail at sunset. 
Surrounding a large heated swimming pool, you will find the pool house (with drinks and lunch available at Pete's Bar), gym, sauna, Turkish bath, Jacuzzi and solarium.  Le Mas de Pierre spa offers a full range of treatments, as well as soothing massage rooms with small private terraces, to enjoy your massage al fresco.
On the ground floor of the mansion, the hotel's gastronomic restaurant Table de Pierre, with Chef Emmanuel LERHER, welcomes guests in cozy dining room filled with sofas, armchairs and café tables. The second lounge, Ma Campagne, boasts a majestic fireplace and a grand piano for the enjoyment of the guests.
Chef Lehrer's Provencal cuisine, emphasizing seasonal produce (both from the garden and local farmers) and local specialties, is completed by a delicious "Rotisserie" at lunch time. On sunny days, guests may dine on the terrace, in the shade of the parasols and the plane trees. In autumn and winter, relax in the "Princess" lounge bar with its magnificent solid wood book-case fireplace and deep armchairs.
On the first floor you will find Coursegoules, Tourrettes, Magagnosc, St-Paul and Cabris, five superb meeting rooms, all opening onto a broad terrace affording beautiful views of the hills and valleys.
Hotel Le Mas de Pierre
2320 Route des Serres
06570 SAINT-PAUL-DE-VENCE
+33(0)4 93 59 00 10
www.lemasdepierre.com
---
Experience the Magic of the American Southwest with Free Fall Festivals
Mesa Arts and Culture Presents Mesa Storytelling Festival, Dia de los Muertos, the Holiday Art & Music Festival, and MACFest

Set among the fiery sunsets of the Sonoran Desert, the city of Mesa is known for its amazing weather, quaint dining, and ample shopping opportunities in a thriving arts district. Mesa Arts and Culture's fall festivals provide the perfect entertainment for the entire family during a relaxing visit to Arizona.

Featured by Cookie Magazine on Good Morning America as one of the top fall festivals in the nation, The Mesa Storytelling Festival is fun for the entire family. Join storytellers Bobby Norfolk, Motoko, Mary Gay Ducey, and Dovie Thomason as they take part in the Valley's largest storytelling event celebrating the art of storytelling, a love of reading, and the power of the imagination October 23- 24 at Mesa Arts Center. The featured tellers will appear indoors on the beautiful stages at Mesa Arts Center.

Mesa Arts Center hosts the third annual Dia de los Muertos Festival in conjunction with the Consulate General of Mexico in Phoenix, Friends of Mexican Art, and the Mesa Association of Hispanic Citizens. Dia de Los Muertos is a community celebration honoring the memory of departed loved ones. The event is complete with a community altar, live music and performances, food, and a Mercado featuring an assortment of Day of the Dead merchandise, jewelry, arts and crafts, children's activities, entertainment, and more. The festival is from October 31- November 1. Don't miss out on this one-of-a-kind cultural festival.

This season, avoid lines at crowded shopping centers and do your holiday shopping outdoors on the beautiful Mesa Arts Center campus. The annual Holiday Art & Music Festival will feature original works of art for sale by several local and national artists, live entertainment on two stages, artist demonstrations in glassblowing, metals, and ceramics, children's activities, and a variety of food from featured local restaurants. Come to Mesa Arts Center December 12- 13 to kick off the holiday season at this fun-filled arts festival.

 

Mesa Arts and Culture Festival (MACFest) is a free weekly event featuring unique artist creations, music, and fun for the whole family in downtown Mesa.  The addition of a farmer's market is planned to start Saturday, October 24. The festival takes place every Saturday, October 3 - April 24 (excluding December 26 and January 2) on Main and Macdonald Streets.

 Event Details

Mesa Storytelling Festival- FREE Saturday, October 24, 10 a.m.- 5 p.m.

 

Dia de Los Muertos Celebration- FREE Saturday, October 31, 10 a.m.- 5 p.m.Sunday, November 1, 12 p.m.-5 p.m.

 

Holiday Art & Music Festival- FREE December 12-13 10 a.m.- 5 p.m.

 MACFest- FREE

Every Saturday, October 3 - April 24 from 10 a.m. - 4 p.m. No Festival on December 26 or January 2
---
AAA Offers Tips for Turning Dream Trips into Reality
Today's AAA Virtual Travel Show to highlight once-in-a-lifetime trips, and information for travelers
Orlando, Fla. (Aug. 11) –AAA says that with some advance research and planning, consumers can turn their daydreams about fabulous trips into unforgettable memories. Even in the currently difficult economy, it is possible to set vacation goals and achieve them by following five steps recommended by AAA's travel professionals. Special deals and discounts available now for a limited time also make planning an ideal vacation especially attractive.
"The world's most fabulous locations and experiences are far more accessible and affordable today than ever before, and in today's economy many are true bargains," said Betsy Sell, managing director, AAA Travel Services. "What has not changed is the need to work with a travel professional to select the right destination and discuss the important trip details that create a once-in-a-lifetime experience."
Consumers can go online today to learn more about dream vacations during AAA's Virtual Travel Show at www.AAA.com/virtualshows . During the show, participants can interact with travel experts and fellow travel enthusiasts, see live webcasts, learn about the latest trends in travel, traveling tips and travel requirements, and explore dream vacation options!
| | |
| --- | --- |
| Show times are anytime between: |    6:00 p.m. and Midnight Eastern |
|   |    5:00 p.m. and 11:00 p.m. Central |
|   |    4:00 p.m. and 10:00 p.m. Mountain |
|   |    3:00 p.m. and 9:00 p.m. Pacific |
AAA has been America's domestic and international travel expert for more than a century. AAA operates the largest leisure travel agency network in North America and has unique relationships with the world's most trusted travel providers, allowing AAA to offer exclusive packages with deals and perks not available elsewhere.
Five Steps to Making Travel Dreams Come True
AAA recommends the following five steps in achieving a dream vacation. They are:
1.

   
 Conceptualize Your Vacation
2.

   
Research costs and financing
3.

   
Develop a daily Vacation Plan
4.

   
Equip yourself for the journey
5.

   
Prepare yourself mentally and emotionally
"By separating the steps needed to have a dream travel experience, consumers can more easily understand how they can make it happen and have the experience they were hoping for," Sell said. "Although some fantastic travel experiences are the fortuitous result of a spontaneous or last-minute decision, most happen because they were planned for with the help and guidance of a knowledgeable travel professional."
AAA Can Help Consumers Each Step of the Way
AAA club web sites at AAA.com, and local AAA travel agency offices are good places to begin gathering ideas and  thinking about your dream destination. The aim is to identify several possible dream trips and begin filling in the most important details such as whom else would go, the best time of year to go to those destinations and how long you can be gone.
Researching costs and financing
is an essential step. Considering all-inclusive cruises and resorts and other forms of package travel are good ideas, as well as using rewards points for airfares, car rentals or hotel rooms. Getting the best value for your travel dollar should be more important than getting the cheapest deal, AAA advises. There a range of options when financing a dream trip. These include credit cards and consumer loans, but investing in vacation memories can also mean opening a money market fund or putting money in a certificate of deposit. AAA offers products to help savers at www.

AAA.com/Deposits
.
Developing a daily vacation plan
means researching the things that are special and unique about your destination or destinations and pre-planning enough of your trip to make sure every day brings delightful experiences and surprises. AAA travel guide books and other vacation planning tools can be a huge help. Knowing what to expect and how to budget time also cuts down on travel stress and fatigue. If you are traveling with friends or family, agreeing in advance on the most important parts of your daily itinerary can be a trip saver.
Equipping yourself for the journey
means everything from having passports to personal communication devices. Every ambitious trip should involve a detailed list of all the things you will need along the way. The key is take what you really need, but not become bogged down with bags that are too heavy, equipment you can't keep track of, or clothing that is never worn. Shoes deserve very careful consideration as well.
Preparing mentally and emotionally
to really relax and enjoy a grand vacation is one area many travelers overlook. Rather than hoping to calm down and unwind after the cruise ship sets sail or your airplane lifts off, plan to begin your trip in the a frame of mind that will maximize the time you spend unplugged and untroubled. Taking care of as many of the big and little things as possible before you go and paying special attention to your sleep, diet and exercise in advance of the trip will go a long way toward ensuring a pleasurable journey. 
As North America's largest motoring and leisure travel organization, AAA provides more than 51 million members with travel, insurance, financial and automotive-related services. Since its founding in 1902, the not-for-profit, fully tax-paying AAA has been a leader and advocate for the safety and security of all travelers. AAA clubs can be visited on the Internet at AAA.com.
---
HOTEL EDEN ROC LIGHT AUTUMN CUISINE
COOKING  COURSE IN LA BREZZA
                     16 September 2009 - 07 October 2009
Sample the La Brezza cuisine and create a tasty and delicious dîner together with Chef de Cuisine Rolf Krapf. Afterwards, enjoy the dishes you have prepared as part of a four-course menu in our Gourmetrestaurant La Brezza.
PRICES
per person CHF 280 / EUR 181 including apéritif, four-course menu and accompanying drinks
per accompanying person CHF 165 / EUR 107 without cooking course, including apéritif, four-course menu and accompanying drinks
---
---