CHRISTMAS JOY IN ROME
The Christmas period in Rome really begins on the 8th December, the festival of the Immaculate Conception, when the Pope pays a visit to the Spanish Steps, and flowers are placed over a statue of Mary. He then moves on to give mass at the church of Santa Maria Maggiore. The last big religious date is the 6th January, Epiphany. For Romans this is the feast of the Befana, an old lady from a folkloric version of the Christmas story, who brings gifts to children and sweeps floors. You will see the Befana represented in many forms at the Christmas Market in Piazza Navona, and also during the Epiphany parade of colourful characters and floats leading up to the Vatican.
Naturally, special services and blessings from 'Papa" make this a memorable time for Romans and visitors as well. Mass at the Vatican is an unforgetable experience, especially during the celebration of the birth of Jesus Christ.
As well as the grand display outside St Peter's, and a smaller effort in Piazza Navona, other nativity scenes (presepi) can be seen in most of Rome's churches. These are important destinations for Italian visitors, and it's worth inspecting one or two. Some have fascinating details, and even feature day-into-night lighting effects. If you are really keen, there is a large exhibition of presepi in the Sala del Bramante by Piazza del Popolo (admission charge). In our apartment block, the dour porter used to set up a large nativity scene; all the figurines lovingly displayed - apart from the baby Jesus, who usually doesn't make his appearance in the crib until Christmas. One year the courtyard was even ornamented with a large Christmas tree which played a jaunty 'Jingle Bells' every time someone walked past.
At the Christmas Market in Piazza Navona you can buy the components for your own nativity scene, as well as sweets, wooden toys and all sorts of Christmas-related ornaments and goodies. Shoppers can marvel at the elaborate additions to nativity scenes, from working waterfalls to moving bakery scenes (in which the bakers look suspiciously like pizza chefs).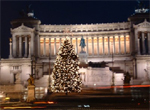 Those interested in Christmas shopping will find the main shopping streets sparkling with festive lights and packed with shoppers. Groups of busking musicians, often dressed as Santas, play cheerful seasonal tunes. Many shops lay down red carpeting on the pavements and the last few years have seen an invasion of large inflatable Santa Clauses. As well as the Christmas lights, a giant Christmas tree appears in the centre of town, in Piazza Venezia or by the Colosseum.
Rome is full of good places to buy presents: hundreds of little food shops are packed with goodies to take home. Other good Roman gifts include gloves and accessories (try the shops around the Spanish Steps) and kitsch souvenirs (anywhere near the Vatican). Two favourite present-shopping destinations are the Bottega del Cioccolato on Via Leonina and stylish stationers Fabriano on Via del Babuino, which stocks various Italy-themed items. Most non-food shops will wrap gifts for you free of charge, in shiny packaging.
The winter is a good time for those interested in cultural events, or the Italian way of life. During the summer, Rome empties as locals head on holiday, bars, clubs and theatres close down. Theatre seasons usually run, like the football, from autumn to spring. There aren't as many festivals as there are in the summer, but you are more likely to catch regular performances of shows during your visit. On the shopping days before Christmas, and around the Italian bank holiday of 8th December, the streets are rather busy, but usually the tourist sights are not too busy in the winter. Thanks to the sunshine and the mild climate, it can be a pleasant winter treat to sit outdoors with a steaming cup of rich hot chocolate or vin brulé (mulled wine). For information on Christmas and Winter Holidays in Rome contact www.italiantourismj.com.
---
A FABULOUS FOUQUET'S FUJI 
Hotel Fouquet's Barrière Introduces a Royal Gift for Guests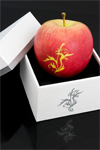 What: A Fuji apple bearing the Hotel Fouquet's Barrière emblem.
Who: All guests at Fouquet's Barrière will receive these apples.  Marking fruit is an ancient invention that historically was reserved only for royalty...Tsar Nicolas II, Queen Victoria and Kaiser William II all had apples and peaches stamped with their "coat of arms".  In the 17th century this procedure gained particular acclaim, when, in an effort to get the king to eat more fruit, King Louis XIV's superintendent offered him apples bearing the royal emblem.
How: A paper stencil is used to mark the fruit before it is ripe.  During maturity the sunlight naturally reddens the apple everywhere except under the logo.
When: Beginning in 2009...
Why: Why not? To learn more visit www.fouquets-barriere.com.  
About Hotel Fouquet's Barriere
Located at the corner of the Champs Elysées and Avenue Georges V, Hotel Fouquet's Barrière opened its doors November 2006 and is the first "palace" style hotel - i.e. five star - to open in Paris in almost 80 years (the George V, unveiled in 1928, was the last).  A unique combination of modern-chic and fin-de-siécle grandeur, Fouquet's was designed by architect Edouard François in traditional Paris "Haussmann" style, with Jacques Garcia oversaw the interior design.   Decadent materials of velvet, mahogany, marble, silk and embroidered leather fuse beautifully with high tech digital equipment -- such as wall mirrors that amazingly turn into televisions -- and a special emphasis is put on service, with personal butlers being assigned to each guest upon arrival.  
---
VILLA LA MASSA RANKED AMONG
THE BEST 25 HOTELS IN ITALY
BY FORBES TRAVELER 400 EXPERTS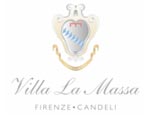 Tuscany is one of the top locations in Italy that dominates this year's Forbes Traveler 400: an honor roll of luxury properties chosen by a board of luxury travel experts. These gurus of luxe judged nearly 800 top-notch hotels on the quality of their rooms, service, decor, cuisine, public areas, recreational o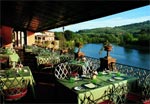 ptions and location. Villa La Massa has been chosen as the top place where to stay just outside Florence:
"Villa La Massa sits on a 22-acre riverside estate dating to the 16th century. The restaurant's views of the river and nearby Rufina hills make a perfect setting for enjoying the fine local wine and cuisine"
"The Experience - Just outside the city and set on the lush green banks of the eddying Arno, this almond-colored Renaissance villa was built in the 16th century by one of Florence's most famous noble families as a sylvan escape from the heat of Tuscan summers. Over the years it has seen its share of more modern nobility, from Gregory Peck to Winston Churchill, and today the villa continues to call Firenze visitors to the countryside and offers a taste of this bygone life, amid almost 30 acres of exquisitely landscaped gardens. It serves up a rich and memorable dose of magnificent Old World elegance, while channeling the unique style of titled Italians: friendly and casual".
---
STOWE'S VACATION REWARDS PROGRAM
Buying Lift Tickets a Week in Advance Saves Money and Adds Value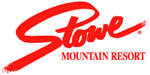 At Stowe Mountain Resort, buying lift-tickets 7 days in advance saves money and adds value, even during peak holiday periods. The Vacation Rewards Program combines lift tickets with a menu of other on-mountain benefits, and many Stowe area lodges are combining it with a place to stay.
The Deal
Here's how it works: Purchase your multi-day lift tickets at least 7 days in advance and you receive 15% savings off multi-day ticket rates, holidays included. Tickets can be purchased online at or by calling Stowe's toll-free phone number.
The Extras
With a 2 or 3 consecutive day adult/senior ticket purchase, choose a two-hour ski/snowboard demo from the Stowe Toys Demo Center or one free Quick-Tune.
With a 4, 5, 6, 7 or more consecutive day adult/senior ticket purchase, there are options for either adults or their children. For children, the choice is a multi-day child ticket or coupon for 25% off multi-day Children's Adventure Program (lift included). For an adult, the choice is a multi-day adult group lesson or a multi-day ski or snowboard rental.
For tickets and program details visit www.Stowe.com or call 1.888.253.4TIX.
---
ST. REGIS HOTEL IN DOWNTOWN VANCOUVER IS NOW OPEN FOR BUSINESS TRAVELLERS, HOLIDAY MAKERS AND STYLISH HOTEL LOVERS.
Redefined in urban New York style, its $11-million renovation is now complete.

Vancouver, BC (November 20, 2008): Vancouver's St. Regis Hotel announces the completion of an $11-million transformation bringing each of its 65 rooms and suites into state-of-the-art comfort and style. The reborn St. Regis is proud to offer just enough hotel, at just the right price, in just the most perfect location.
 
For more than 95 years, since its opening in 1913, the St. Regis has been part of Vancouver's rapid growth from rough-and-tumble port to inter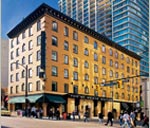 national cosmopolitan destination. Inspired by the great hotels of New York, the St. Regis was built in classic Edwardian style by some of the leading architects and builders of the time.
 
Led by Vancouver design icon Elaine Thorsell, the visionary behind masterpieces like Toronto's Ki and Vancouver's Gotham and Shore Club, the renovations have added a sleek, modern lustre to this authentic Vancouver heritage site. Thorsell's aesthetic is distinctive and sophisticated, a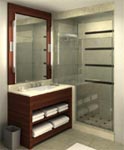 nd in reshaping the St. Regis she has blended cool neutral colours with dark wood to create a living environment which perfectly balances work and rest needs.
 
"We're thrilled that this outstanding renovation is complete," says general manager Jeremy Roncoroni." It has readied the St. Regis to offer superb hospitality, comfort and convenience to business and leisure travellers. The management and staff welcome visitors to join us for a stay that will put St. Regis at the top of your list of stylish, independent, Canadian-owned and operated hotels."
 
The St. Regis Hotel seamlessly combines sophisticated heritage style with the intimacy, unique flavour, and personal touch of a boutique hotel. The decor and appointments meticulously blend chic style with contemporary refinement and convenience. All 65 rooms and suites offer state of the art Plug & Play media technology, 32" LCD TVs and fine Italian spa amenity products by Acca Kappa. With a host of premium amenities that include a new business centre, complimentary wireless internet, free local calls and faxes, continental breakfast, in-room single-brew coffee systems, in-room safes, lit magnifying vanity mirrors and keyed floor access, the St. Regis takes care of all the details so that guests can focus on their work at hand. The St. Regis Hotel offers a comprehensive package of five diamond amenities at an uncommonly accessible price point.
 
In classic big-city hotel style, the St. Regis is centrally located in the heart of the business, dining and retail core. Guests are a short walk from Vancouver's convention centre and financial district and steps away from Holt-Renfrew's flagship store, and Pacific Centre, Vancouver's premier shopping centre. Anducci's on site at street level offers lunch and dinner, with a designated 'St. Regis Room' for private parties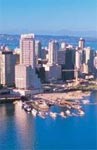 and events. Next door is Gotham Steakhouse, Vancouver's award-winning home of "tender meats and stiff drinks." The sumptuous Shore Club is located a few steps on the other direction offering the perfect setting for definitive West Coast combinations of world-class seafood and steaks.
 
It's rare that historic locations get more relevant as time passes, but the St. Regis defies convention, standing poised for an eventful second century. It is steps from the Granville Skytrain rapid transit station which offers quick, efficient light rail transport throughout Greater Vancouver and, as of 2009, direct access to Vancouver International Airport. Likewise, the St. Regis has partnered with the Steve Nash Health Club, the most advanced and spectacular fitness destination in Canada. This partnership allows guests access to the Club's 38,500 square feet of unparalleled facilities which located next door, just steps from the hotel.
 
Located at 602 Dunsmuir Street, The St. Regis is just enough hotel, at just the right price, in just the most perfect location. Opening special rates start at $134. Call 604.681.1135 or visit stregishotel.com for more details and reservations.

---
THE ART OF ROMANCE IN SAN FRANCISCO
Kimpton Hotels offers the Perfect Backdrop for Celebrating Every Chapter of a Love Story
Famous for its alluring charm, San Francisco is the ideal setting for a romantic tale of love.  This February, the month of love is celebrated at select Kimpton hotels.  Located in the center of San Francisco's most prized neighborhoods, the Hotel Palomar, The Argonaut Hotel, Hotel Triton and Prescott Hotel announce packages to commemorate the most important chapters of any love story – new love, the engagement, anticipation of a new baby and rekindled love.
NEW LOVE
Hotel Triton:  Say it with Ink -- A creative PDA (public display of affection) is in store with the Triton Hotel's "Say it with Ink" package.  Couple's looking to permanently show their commitment to each other will enjoy this unique romantic experience beginning with a bottle of premium tequila upon arrival to help provide liquid courage for a trip to one of San Francisco's finest tattoo parlors.  Package includes deluxe accommodations, a $50 gift card to the tattoo parlor, bottle of tequila, and a tattoo-inspired movie to take home as a souvenir.  Priced from $299 per night.
ENGAGED LOVE
Hotel Palomar:  Engagement Celebration – Say goodbye to standard chocolates on the pillow, now there is something far more enticing for soon-to-be newlyweds–an engagement ring. Kimpton has partnered with famed jeweler Tiffany & Co. to assist in popping the question. The ultimate in romance packages, The Palomar's "Engagement Celebration" includes a three night stay and in-room spa treatments for the future bride/groom, while his/her partner collaborates with the jeweler to select the perfect engagement ring.  While the happy couple enjoys a romantic dinner at the award winning Fifth Floor Restaurant, the hotel's Romance Artist covers the room with roses, chills a rare vintage of Veuve Clicquot and places the engagement ring on the pillow for turndown.  The rest is up to Prince Charming!  Price from $1600. (Does not include taxes or jewelry).
Prescott Hotel: Say I Do – San Francisco and romance go hand-and-hand. The Prescott Hotel now gives bridegrooms a hand in asking for a hand – in marriage. The engagement package includes deluxe accommodations along with a list of the 10 most romantic San Francisco locations for proposals. A bottle of wine delivered upon arrival helps set the mood for a romantic affair.  Should the groom-to-be choose to propose at the adjacent award-winning Postrio, the restaurant will arrange a romantic table and the engagement ring delivered along with dessert.  Priced from $309 per night inclusive of parking and complimentary upgrade to Club level based on availability. Dinner not included.
BABY LOVE
Hotel Palomar:  Babymoon:  Expected Parents Celebrate Before Welcoming New Baby – Hotel Palomar  presents parents one last escape before the start of midnight feedings with three nights of romance in San Francisco.  The soon-to-be parents will set cares and worries aside and enjoy an in-room massage and facial followed by a romantic dinner at the award winning Fifth Floor Restaurant.  Breakfast in bed daily, parking and a complimentary baby gift are all included. Priced from $1400.
REKINDLED LOVE
The Argonaut Hotel:  Charting The Course for Romance – Enjoy the allure of the high seas while on land with the Argonaut Hotel's exclusive nautical romantic adventure.  A deluxe bay view suite serves as the backdrop for the passionate tale.  Welcomed by a bottle of champagne and aphrodisiac chocolates, love birds can partake in a private spa experience with their own basket of specialty massage lotions, oils, sea sponges and bubble bath.  Breakfast in bed or at the Blue Mermaid Chowder House is included daily as is parking, and a VIP guest pack to the famous PIER 39.  Priced from $819 per night.
ABOUT KIMPTON'S SAN FRANCISCO HOTEL COLLECTION
San Francisco-based Kimpton Hotels and Restaurants is the first and leading collection of boutique hotels throughout the United States and Canada.  With over 42 hotels in 19 markets, the privately held company offers services and design elements focused on care, comfort, style, flavor and fun.  Kimpton's San Francisco Hotel Collection is comprised of nine hotels including the Argonaut Hotel, Harbor Court Hotel, Hotel Monaco San Francisco, Hotel Triton, Hotel Palomar San Francisco, Prescott Hotel, Serrano Hotel, Tuscan Inn and Sir Francis Drake.  Each property reflects the energy, personality and pulse of San Francisco with personalized guest services, comforting in-room amenities, and specialty rooms and suites.For reservations or more information about Kimpton's San Francisco Collection, call 1-800-KIMPTON or visit www.kimptonhotels.com.
---
2008-09 HOLIDAY DINING AND EVENTS,
THE RITZ-CARLTON, SAN FRANCISCO
WINTER SPECIAL EVENTS
Holiday Tree Lighting Ceremony
Tuesday, December 2 -- 5:30 to 7:30 p.m.

Complimentary and open to the community
The holiday season begins at twilight, Tuesday, December 2, when the hotel's 40-foot holiday tree is illuminated by Santa Claus and his little helper from the Greater Bay Area Make-A-Wish Foundation. This special evening in the porte cochere includes Dickens-era costumed carolers, hot apple cider, roasted chestnuts, holiday confections and visits with Santa after the ceremony. 
My Furry Friend Holiday Luncheon 
Tuesday, December 9 -- 12 to 2 p.m.

$72 per guest, $25 per dog, inclusive of tax and gratuity
Celebrate and enjoy a memorable lunch with your favorite pooch. This annual celebration of our canine friends includes holiday fashions modeled by adoptable four-legged guests, complimentary dog massage therapy and a holiday pet photo opportunity with Santa Claus and host Jan Wahl of KRON TV.  Leashed companions are encouraged to dress in festive attire while they socialize at the "Bow Wow Buffet" and "well-heeled" water bar.  A portion of the proceeds will be donated to Pets Unlimited.
CHRISTMAS EVE AND CHRISTMAS DAY DINING
Christmas Eve Lunch in The Terrace Restaurant
Wednesday, December 24 -- 11:30 a.m. to 2:30 p.m.

$65 per adult, $33 per child 5-12, exclusive of tax and gratuity
Indulge in a three-course holiday menu presented by Chef Jacob Anaya of The Terrace.
Christmas Eve Dinner in The Terrace Restaurant

Wednesday, December 24 -- 6 to 9 p.m.

$100 (three courses) or $130 (five courses) per adult, exclusive of tax and gratuity

$50 (three courses) or $65 (five courses) per child 5-12, exclusive of tax and gratuity
Gather with family and friends and savor an elegant holiday menu by Chef Jacob Anaya.
Christmas Eve Dinner in The Dining Room
Wednesday, December 24 -- 4 to 9 p.m.

$175 per guest, with an additional $95 per guest for wine pairing, exclusive of tax and gratuity
Experience Chef Ron Siegel's modern French cuisine in a six-course dinner in The Dining Room, one of only two California restaurants to earn the 2008 Mobil Five-Star Award. A private dining room is also available.
Christmas Day Champagne Brunch Buffet in The Terrace Restaurant
Thursday, December 25 -- 10 a.m. to 3 p.m.

$120 per adult, $60 per child 5-12, exclusive of tax and gratuity
Feast on Chef Jacob Anaya's exquisite Christmas Day Brunch while a jazz ensemble entertains.
Christmas Dinner in The Terrace Restaurant
Thursday, December 25 -- 6 to 9 p.m.

$100 (three courses) or $130 (five courses) per adult, exclusive of tax and gratuity

$50 (three courses) or $65 (five courses) per child 5-12, exclusive of tax and gratuity
Join family and friends for a delectable three-or five-course holiday dinner presented by Chef Jacob Anaya.
Christmas Dinner in The Dining Room
Thursday, December 25 -- 4 to 9 p.m.

$175 per guest, with an additional $95 per guest for wine pairing, exclusive of tax and gratuity
Chef Ron Siegel's decadent six-course menu promises a memorable Christmas dining experience.
NEW YEAR'S EVE 2008 AND NEW YEAR'S DAY 2009 CELEBRATIONS
New Year's Eve in The Dining Room
Wednesday, December 31

Seating times: 7 to 9 p.m.

$500 per adult, inclusive of wine pairing, tax and gratuity
Usher in the New Year with Chef Ron Siegel's seven-course tasting menu. Guests will enjoy a live band and dancing.
New Year's Eve in The Terrace Restaurant
Wednesday, December 31 – 6  to 9:30 p.m.

$100 (three courses) or $130 (five courses) per adult, exclusive of tax and gratuity

$50 (three courses) or $65 (five courses) per child 5-12, exclusive of tax and gratuity
Ring in the New Year with Chef Jacob Anaya's festive menu that includes a glass of champagne. 
New Year's Eve in The Lobby Lounge
Wednesday, December 31

Seating times: 5 to 9:30 p.m.

$75 per guest after 9 p.m., exclusive of tax and gratuity
Our à la carte cocktail and made-to-order sushi menu is complemented by dancing to a live band from 9 p.m. to 2 a.m. The $75 cover charge after 9 p.m. includes party favors and a glass of sparkling wine. Reservations are not required.
New Year's Day Champagne Brunch Buffet in The Terrace Restaurant
Thursday, January 1 -- 10 a.m. to 3 p.m.

$120 per adult, $60 per child 5-12, exclusive of tax and gratuity
Kick off 2009 with a gourmet champagne brunch.  Savor an extensive buffet featuring a caviar station laden with American sturgeon, salmon, golden caviar; a made-to-order egg and omelet station, sushi bar, smoked salmon, shrimp, oysters, hand-carved meats, domestic and imported cheeses, fresh fruits and cold salads.  A jazz ensemble entertains.
---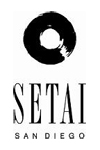 SETAI SAN DIEGO, A PREMIER LUXURY HOTEL,
OPENS DECEMBER 2008
Suite & Tender Bar, Lounge, & Restaurant named dining and bar partner
Setai San Diego, the new 184-roomupportEmptyParas
Premier luxury hotel located in downtown San Diego's financial district, will open its doors - specifically two custom-made 9,000-pound bronze pivot doors - in early December. Part of the Preferred Hotel Group, Setai San Diego intends to bring the beauty, sophistication and experience of the world's most luxurious contemporary hotels to downtown San Diego. visit www.setaisandiego.com or
call 619.515.3000.
---
FOR FREQUENT FLYERS AND COMMUTERS,
FLU CAN BE A DETOUR
Commuters and Frequent Travelers at Higher Risk for the Flu
Rushing from flight to flight and from bus to train, business travelers and daily commuters are often so busy they forget that an illness can rapidly put the brakes on productivity or ruin a much-deserved vacation. With as many as one in five Americans getting influenza or "the flu" in some years, there is a pretty good chance that the flu will interrupt your work or play this season.
Flu spreads mainly from one person to another when someone who is infected coughs or sneezes on or near others. Since influenza viruses can live on objects for as long as 8 hours, the flu may also be transmitted by touching something with a virus on it, like a pole or armrest, and then touching one's mouth, eyes or nose.
 
Flu symptoms are typically worse than the common cold and can include a high fever, headache, dry cough, sore throat, extreme tiredness and muscle aches that can last for up to two weeks. People can be so incapacitated by flu that they cannot work, socialize or take care of their children.
To protect against the flu, the Centers for Disease Control and Prevention (CDC) recommends annual influenza vaccination for all people who want to avoid the disease, but especially for children and youth ages six months through18 years; people ages 50 or older; individuals with chronic illnesses such as asthma, diabetes,  heart disease or HIV/AIDS; and pregnant women. Because infants younger than six months of age are too young for vaccination, CDC encourages all family members and caregivers of the infant to get the flu vaccine to provide a protective "cocoon" around the baby.
It takes about two weeks after vaccination for the body to build immunity to the flu viruses in the vaccine. That's why it is important to get vaccinated as soon as the vaccine becomes available. If, however, vaccination is not possible until after Thanksgiving, it is still beneficial to get vaccinated in December, January or later, as flu season can extend into May.
The flu vaccine is safe and effective and cannot cause the flu. Because influenza viruses are always changing, the influenza vaccine is updated every year. The vaccine includes three different influenza virus strains, new to this year's vaccine. They are the three main flu strains that research indicates are the most likely to cause illness during this flu season. The vaccine can protect you from getting sick from these three viruses or it can make your illness milder if you get a different flu virus.
To learn when or where to get a flu vaccine, contact your doctor or local health department. Call 1-800-CDC-INFO or visit
www.cdc.gov/flu
to learn more.
---
ZAGAT NAMES THE RITZ-CARLTON, DALLAS
TOP LARGE HOTEL AND FEARING'S TOP
HOTEL DINING IN U.S. FOR 2009
Rated Extraordinary to Perfection In All Categories
Zagat has announced the results of its 2009 Top U.S. Hotels, Resorts & Spas Survey naming The Ritz-Carlton, Dallas the No. 1 Large Hotel and Fearing's  No. 1 in Hotel Dining in the United States.  Rated extraordinary to perfection in each category, the hotel is touted as "fabulous luxury" and "perfect service" with travelers describing Fearing's as "last-meal worthy" "haute Texan" cuisine and the spa as "divine."
Celebrating its 30th anniversary, Zagat Survey, is known as the "Burgundy Bible," the world's most trusted source for information about where to eat, drink, stay and play around the globe, and as such has become a symbol of quality.  The 2009 guide covers 1,001 hotels, resorts and spas nationwide based on input from 14,049 frequent travelers and travel professionals, such as meeting planners and travel agents.  The guide rates and reviews the foremost hotels, resorts and spas nationwide with candid appraisals and unbiased reports.
Roberto van Geenen, the hotel's general manager, commented, "This is truly one of the highest honors in our industry and a testament to the passion and dedication of our ladies and gentlemen.  Bringing a new level of luxury to Dallas just 15 months ago, this is extraordinary recognition to be given in such a short period of time.  The Ritz-Carlton's distinguished service and amenities paired with the vision of the legendary Dean Fearing has produced a destination that we hope our guests will return to time and time again." 
To celebrate The Ritz-Carlton, Dallas is offering Burgundy Body Treatments in the spa and a Burgundy Bubbles cocktail in the Rattlesnake and Live Oak Bars in Fearing's.  Organic cranberry treatments by Eminence, the Burgundy Body Treatments can be experienced as a package or individually as a body treatment, facial, or pedicure and everyone is invited to raise a glass of Burgundy Bubbles, a cocktail made with sparkling Shiraz.  The Ritz-Carlton, Dallas also offers a Dinner at Fearing's Package which includes overnight accommodations, three-course dinner for two at Fearing's with priority seating at preferred times, exclusive signed gifts from Chef Dean Fearing, breakfast for two the following morning and overnight valet parking, starting from $529.
The 218-room Ritz-Carlton, Dallas is located in thriving Uptown Dallas, within easy walking distance of dining, shopping and year-round professional sports and entertainment events.  The Ritz-Carlton, Dallas is home to Fearing's, the restaurant of beloved Dallas chef and founder of Southwest cuisine Dean Fearing, ranked as America's "Best New Restaurant of 2007" by Esquire Magazine and a luxurious 12,000 square foot spa featuring 12 treatment rooms and an exclusive spa menu.  The hotel offers generous meeting space, including the largest luxury ballroom in Dallas, and the exclusive Ritz-Carlton Club Lounge.  The Ritz-Carlton, Dallas is the only hotel in the United States to be featured on all three Condé Nast Traveler Magazine Hot Lists for 2008, including hotel, spa and restaurant, and was just named No. 20 in Condé Nast Traveler's 2008 Readers' Choice Top 100 U.S. Hotels.  Reservations for The Ritz-Carlton, Dallas may be made at www.ritzcarlton.com or to reach the hotel directly, please call 214-922-0200.
---
EURAIL PASS SCOPE INCREASES FURTHER IN 2009
Popular Destination of Czech Republic added to Global and Select Passes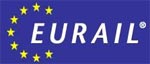 Utrecht, Netherlands, 11th November 2008 – The Eurail Group, owner of the popular Eurail Passes for European rail travel, has announced further expansions to the product range. As from 1st January 2009, the Czech Republic will be included in the Eurail Global Pass, as well as becoming a Eurail Select Pass member. In addition, Bulgaria has been added to the range of One Country Passes on offer.
The Eurail Global Pass, introduced simply as the "Eurailpass" in 1959 has seen many extensions over the years increasing from the original 13 countries to the 20 countries available today, following the inclusion of Croatia and Slovenia at the beginning of this year. The Czech Republic will therefore become the 21st
member of this pass, giving customers more freedom and value for money. With direct borders to Eurail Select Pass members Germany and Austria, the number of adjoining three, four and five country combinations to choose from has increased drastically, maximizing the appeal of the already popular Select Pass.
These significant additions make Eastern European destinations, which are growing in popularity, more accessible to Eurail's customers. The Czech Republic is a favored destination for many overseas travelers; the country receives over 6.5 million visitors annually, attracted by its rich and varied culture as well as its sporting and relaxation possibilities. Its unique landlocked position in the heart of Europe is advantageous to rail travelers. The dense railway structure, which is continuously being modernized links the capital, Prague, to many interesting cities and villages within the country, as well as having excellent international connections. The capital cities of both Vienna and Berlin can be reached in less than five hours by direct train.
Taking the train has long been the favored means for millions to explore Europe, not least because it is a reliable, efficient and scenic way to travel. Today, the green-conscious factor is playing an increasingly important role with many people choosing to take the least environmentally damaging mode of transport.
Fifty years after the first Eurail Pass was sold, Eurail is evidently still going strong, constantly improving its products to retain the customers' interest. 2009 is, therefore, a cause for celebration for the Eurail Group, marking a successful half a decade of Eurail and European rail travel. The Eurail Group will be launching several attractive anniversary special offers globally in 2009. Details are yet to be announced, so watch this space…
The Eurail Group offers a wide range of passes from single country options to the classic Eurail Global Pass, valid, from 2009, in 21 countries. For more information about the Eurail Group, go to www.EurailGroup.com. Eurail Passes are available from authorized sales channels: ACP Rail International (www.eurail-acprail.com); Eurail www.eurail.com; Flight Centre (www.flightcentre.com); www.OctopusTravel.com; Rail Europe (North America: www.raileurope.com, rest of the world: www.raileurope.fr), and STA Travel (www.statravel.com).
---