TRAVEL ADVENTURES  .  .  .
  COASTING with BONNIE CARROLL
FAVORITE COASTAL BREAKFAST HAUNTS
By Bonnie Carroll
My Keto Diet has served me well while on travel writing trips or just tripping up and down the California coast. I am addicted to avocado and many of my most memorable Keto brunches include dishes spotlighting the California favorite.
Cruising the highways from Malibu to Carmel-by-the-Sea there are countless wonderful spots to stop and enjoy an outstanding breakfast or brunch. Places that allow visitors to savor the area, the people, and the unique food being offered.  Below are a few of my personal favorites. Each of these communities has a chamber or visitors bureau where additional dining venues are listed.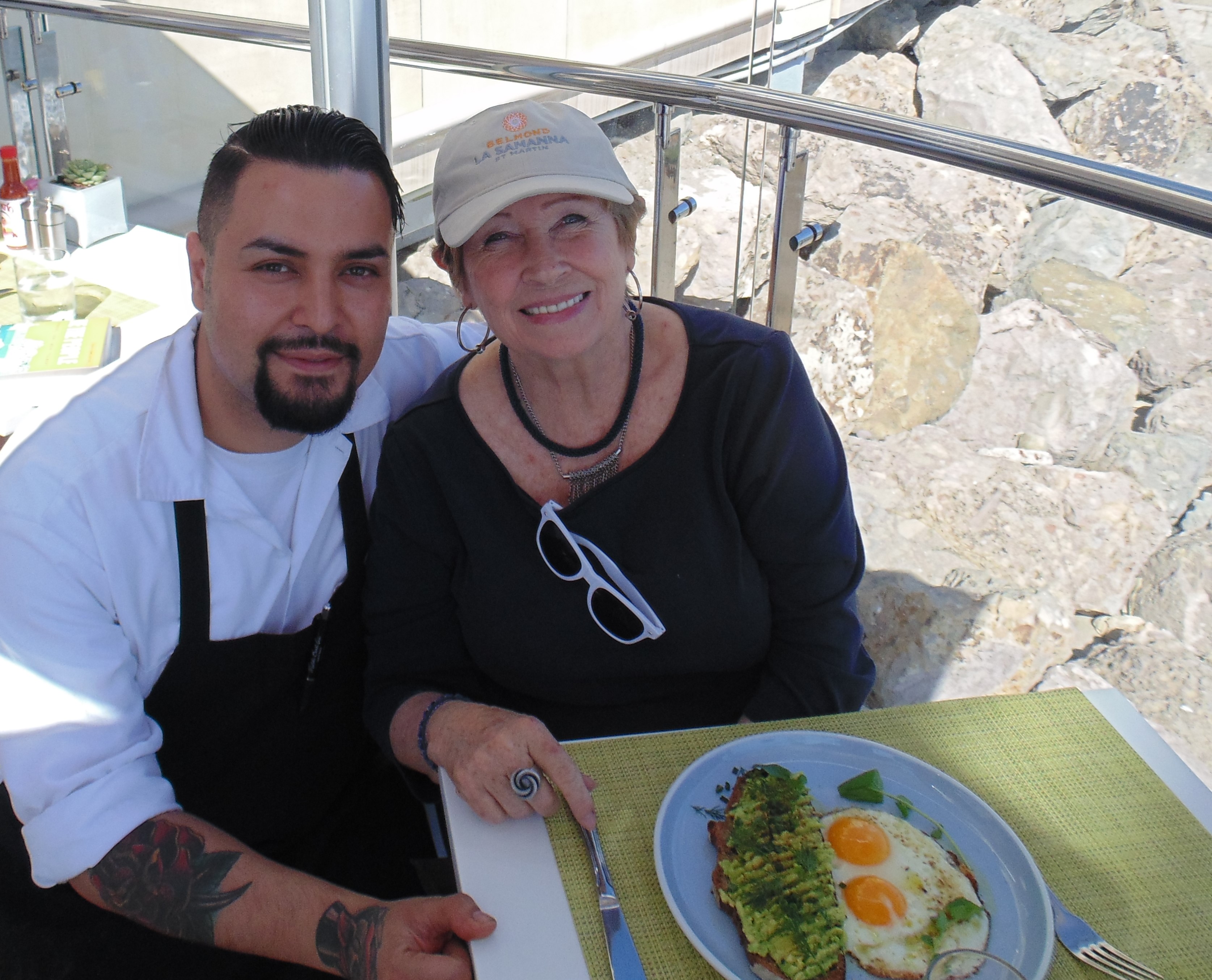 Carbon Beach Club Avocado Eggs
The patio café at the Malibu Beach Inn offers an amazing avocado toast plate that will start any Sunday out right, accompanied by a sip from their outstanding wine list. Between the gorgeous view of Malibu Pier and the extra special service the Carbon Beach Club is a spot not to be missed while traveling Pacific Coast Highway through the "Bu"! www.MalibuBeachInn.com.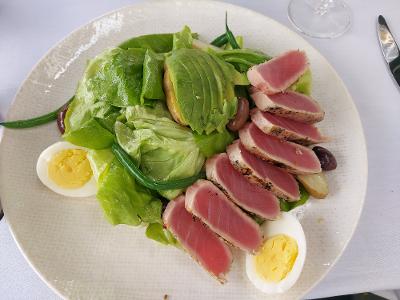 Niçoise Salad at Montecito Inn
The Montecito Inn, a charming hotel once owned by filmmaker Charlie Chaplin located off the Olive Mill exit of Hwy 101 has outdoor seating at Coast and Olive Restaurant and serves a gourmet Niçoise Salad featuring the freshest Ahi with exquisite Farmer's Market vegetables, eggs and dressing. I absolutely adore this plate and their coffee is exceptional as well. www.MontecitoInn.com.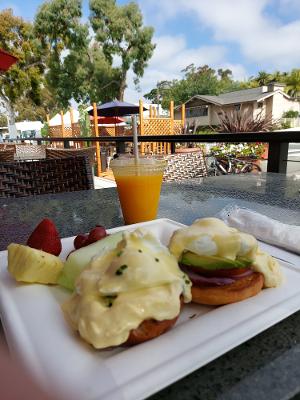 California Eggs Benedict at Renaud's Montecito Patisserie
Renaud's Patisserie down the street from Coast and Olive specializes in fabulous French pastries and offers traditional quiche or an outstanding California Eggs Benedict that I enjoy with fresh squeezed orange juice. Magnifique! www.renaudsbistro.com.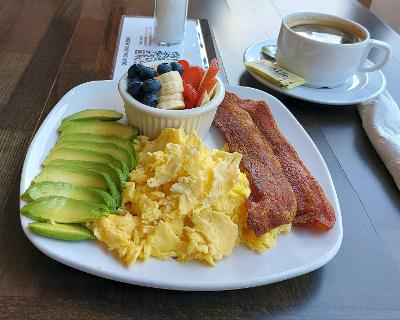 Keto Eggs & Bacon with Avocado, Live Oak Café
For a perfect Keto balanced plate, I found the Live Oak Café on Bath Street in Santa Barbara delightful. They have an Aviary with lovely little birds singing, and the service is amazing. A charming place to enjoy a morning meal and they also make a wicked Bloody Mary or champagne mimosa. www.liveoakcafe.com.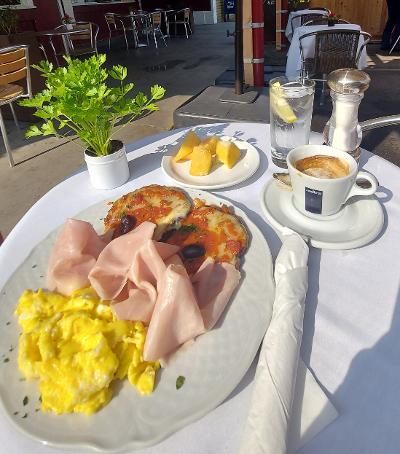 Italian egg, eggplant, prosciutto plate, Via Maestro 42
My favorite Italian restaurant in Santa Barbara on Upper State Street is Via Maestra 42 where the Egg with eggplant and prosciutto plate is like a trip to the home of a dear Italian and they have amazing Italian coffee. The outside patio is charming and is enhanced by taped Italian music. www.viamaestra42.com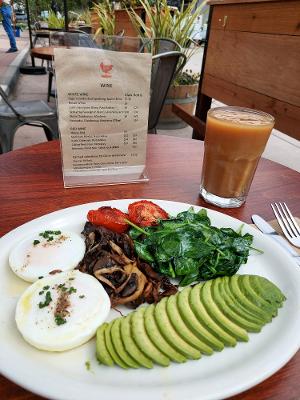 Green Eggs & Ham, Carmel Belle
Off the Hwy 1 Carmel Belle is my favorite health focused destination in Carmel-by-the-Sea and features the best farm fresh green eggs and ham on the planet, in my opinion, served with steamed spinach and tomato. They also offer fine organic coffee in many varieties. Since the Pandemic they have additional seating curbside and it's a perfect place to people watch over breakfast before a shopping spree. www.carmelbelle.com.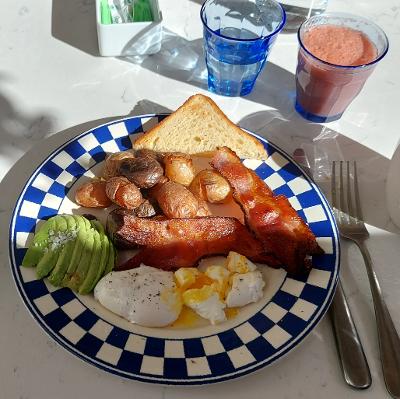 American breakfast with fresh squeezed Tomato Juice, Hotel Cerro, SLO
In San Luis Obispo I found the optimum healthy breakfast brunch items to be so enjoyable at the Fig Tree Patio in the newly opened Hotel Cerro and experienced my first fresh squeezed tomato juice that was ideal with the bacon and egg plate. www.hotelcerro.com. The Madonna Inn just down the way on Hwy 1 in SLO also offers some delightful old-world favorites that always seem to please hungry travelers. www.madonnainn.com.

I'm pleased to share some of my favorite breakfast haunts on the coast highways with you, and I hope if you are traveling on a staycation or vacationing from distant places you will enjoy them as much as I do. Safe Travels & Bon Appetit!
___________________________________________________________________
SUMMER SOJOURN ON THE COAST FROM CARPINTERIA TO MONTECITO
A FUN RUN THROUGH CARPINTERIA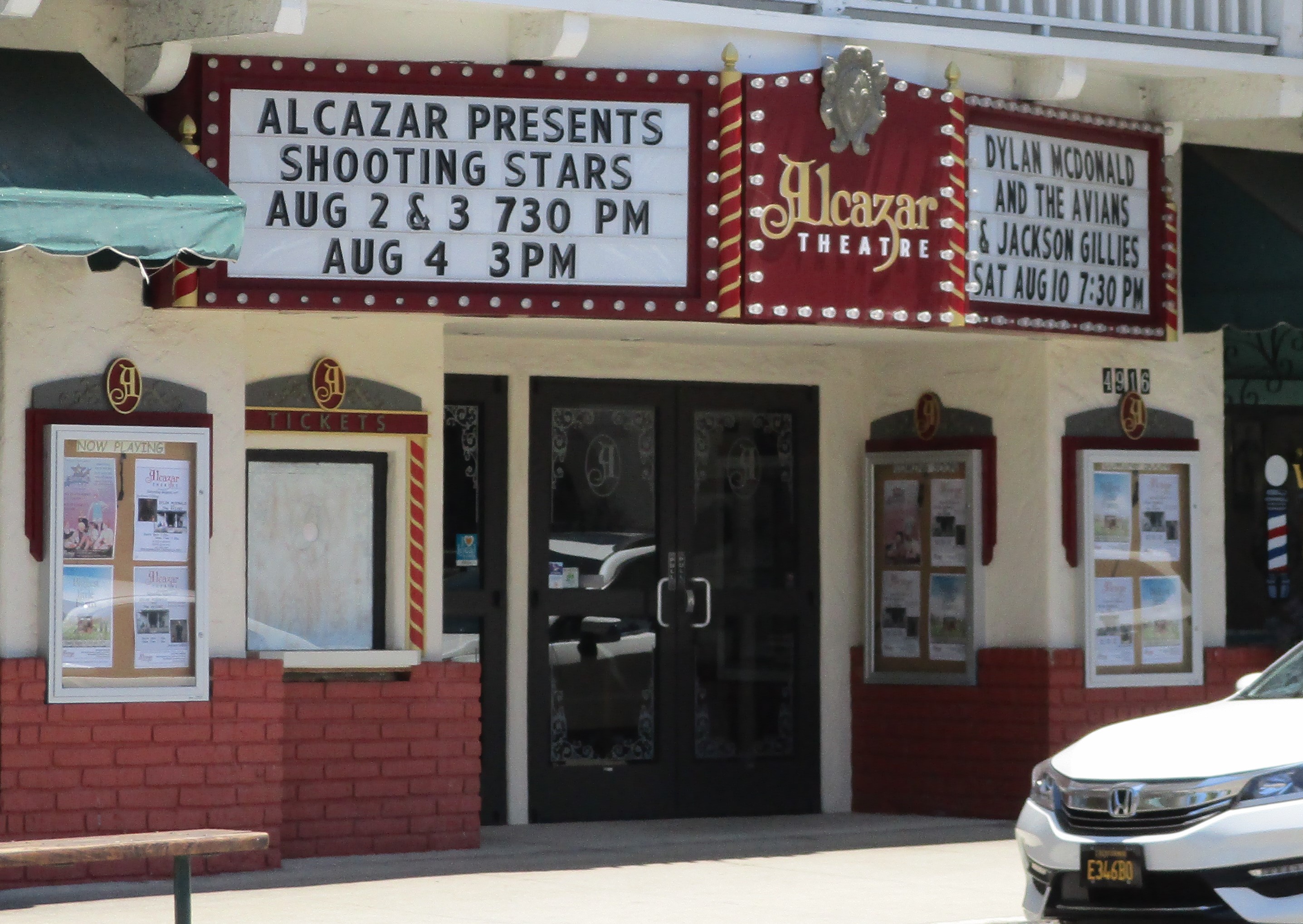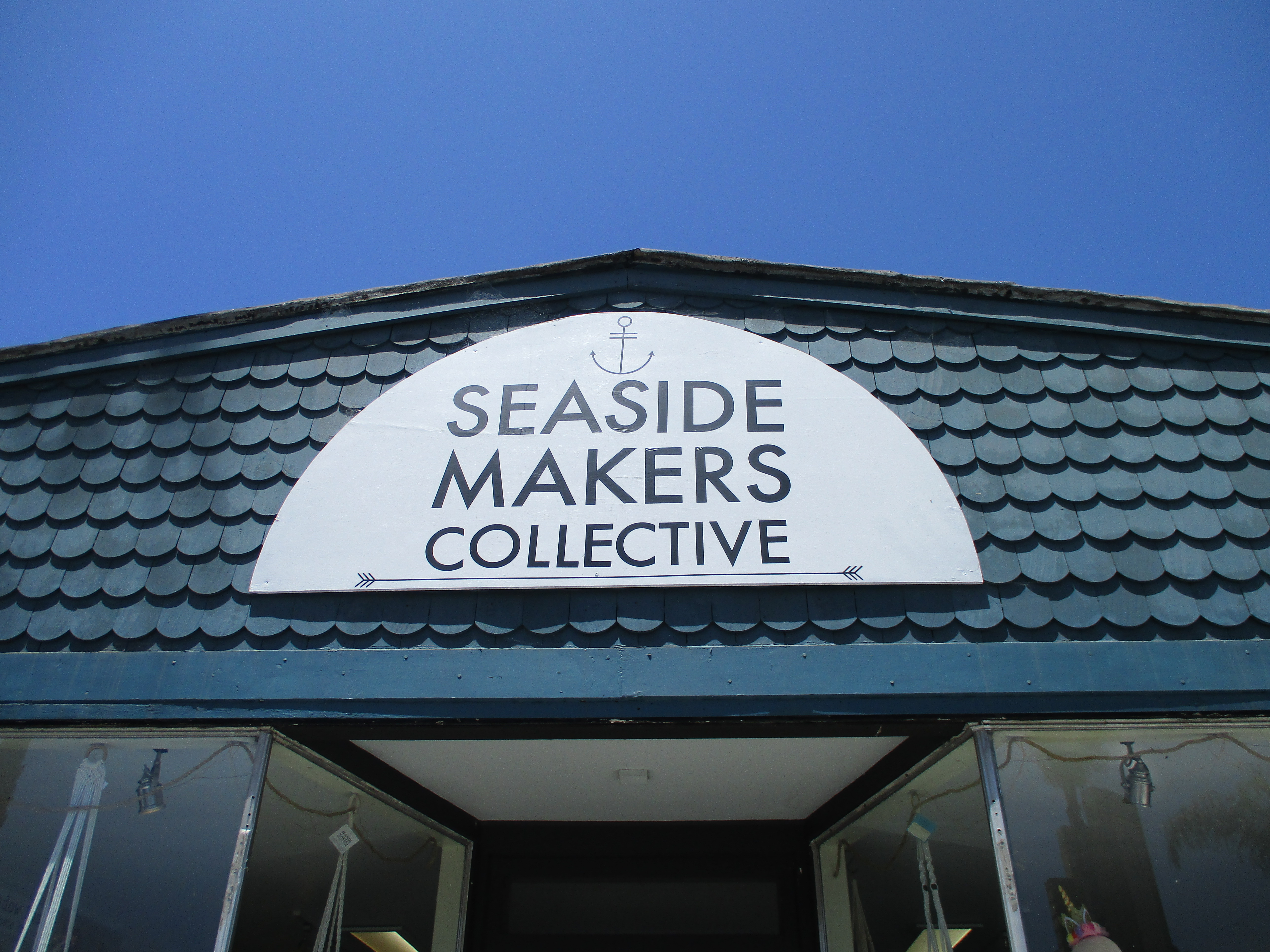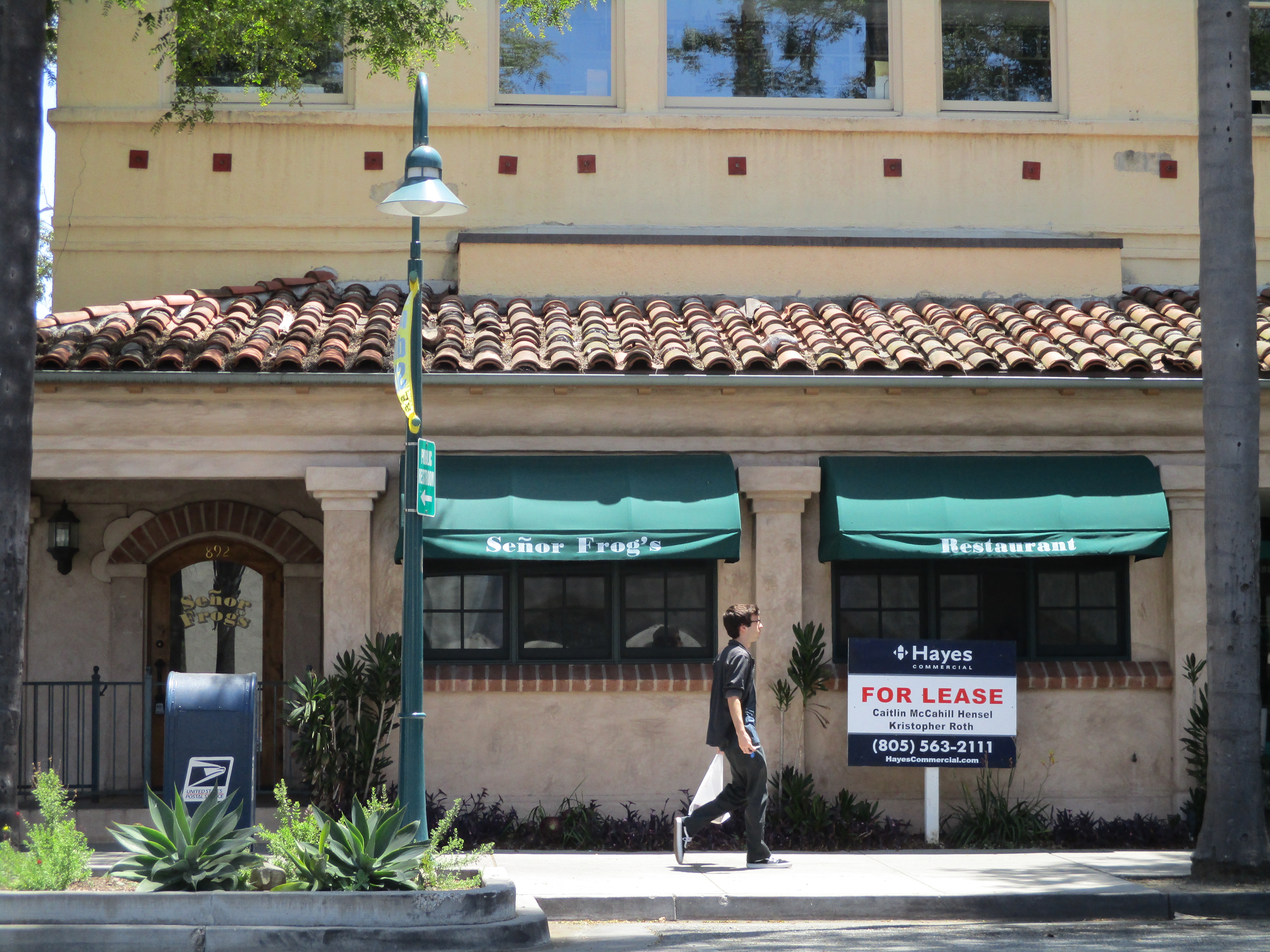 Carpinteria is a charming oceanside community with residents who love their city and have put great effort in creating a place that fills the bill in the most inviting way. From a lush garden center to a collection of fascinating art shops and numerous unique eateries and chocolate venues it's all good. A tiny theatre on the main drag is captivating and the Bee Hive Coffee Shop is a must for breakfast. My favorite Sly's Restaurant has closed but a new Italian eatery was packing them in for lunch while I was on Lynden. The new Art Center offers exhibitions and art lessons.
The marsh area and the beachfront living areas make this such a unique and close to nature experience where life seems so easy. This is a sweet destination for a girls day out or mother-daughter lunch date. Visit:www.CarpinteriaChamberofCommerce.Org.
SERENITY IN SUMMERLAND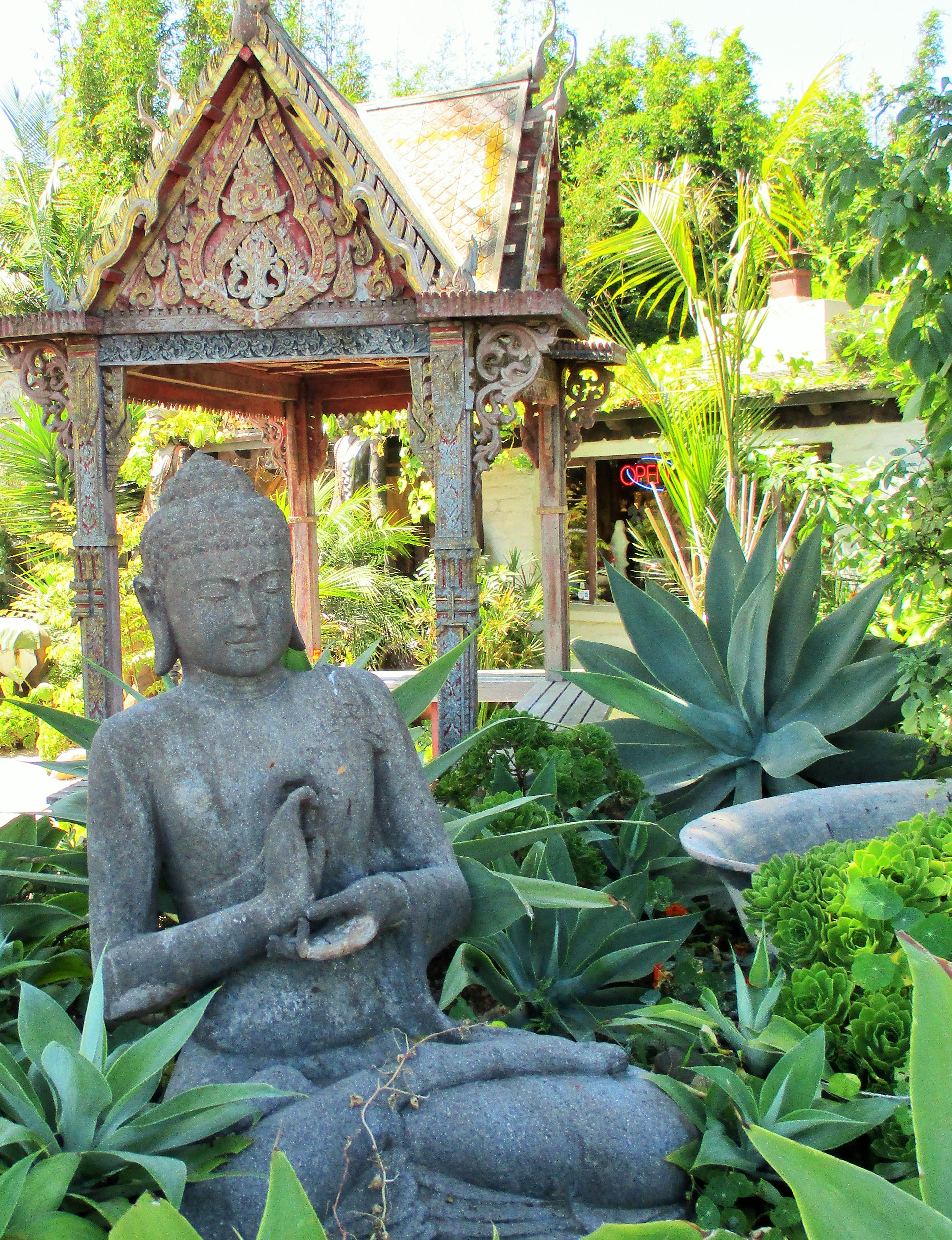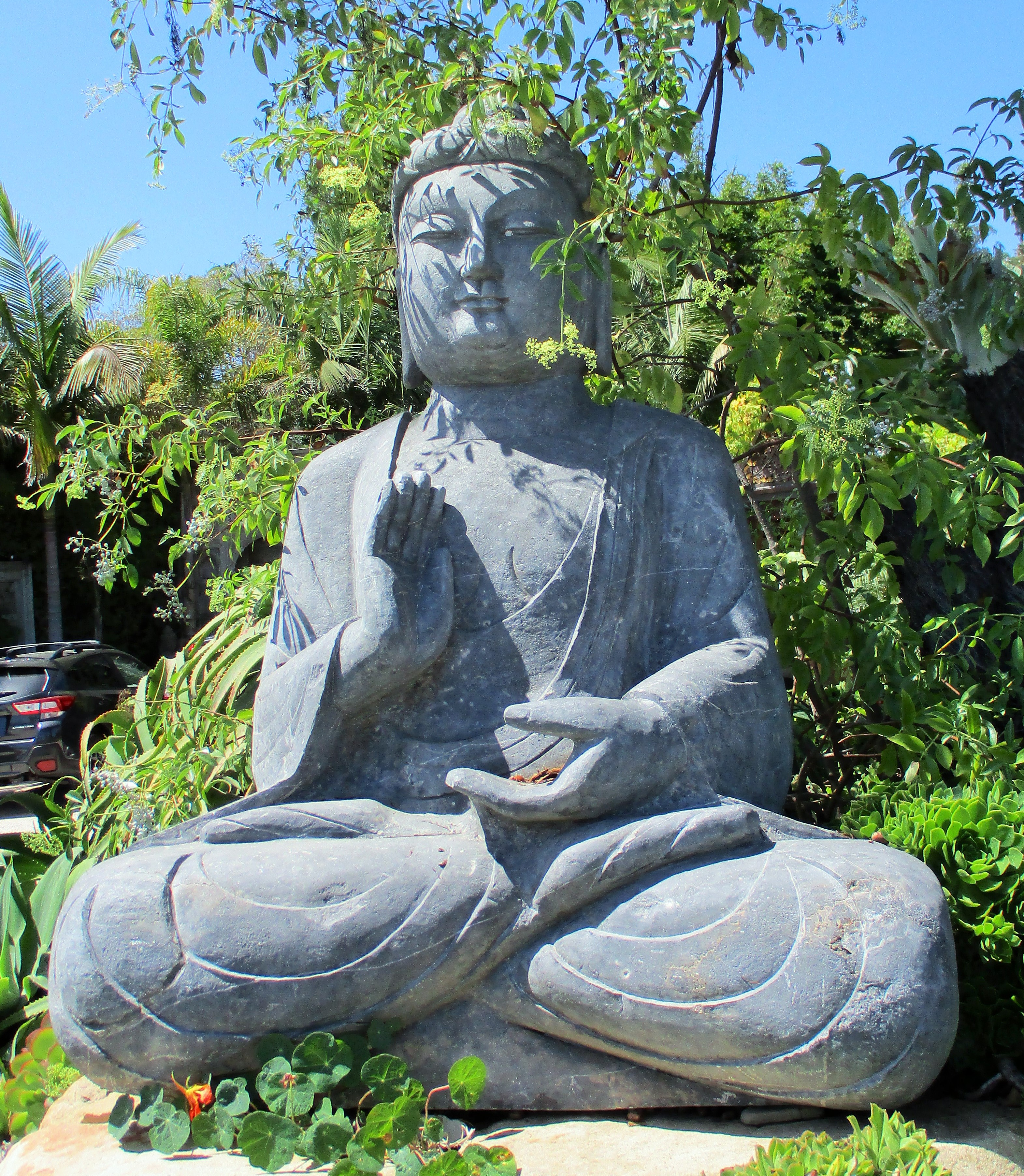 The Big Yellow House in Summerland can be seen from Hwy 101 and has a bevy of strange stories attached to it, including ghosts of former employees and owners of the once popular venue. At one time this community was filled with spiritualists who lived rather phlebean lives, but the founder of the community succumed to oil well lust and things changed. Today the histoic looking buildings lining the main drag are filled with antiques and lovely gift items.
There is a magical place at the end of the road The Sacred Space that includes a gift shop filled with items to take home to create your own sacred space, as well as a couch the Dalhi Lama gave a disertation from at UCSB. They serve guests tea in a blissful meditation garden and offer meditation group sessions on specific evenings. If you were ever a devotee of the Bodhi tree in West Hollywood you will adore this beautiful escape into zen. Visit: www.Chamberofcommerce/CA/Summerland.org, or Visit: www.VisitSantaBarbaraCA.com.
MUCH TO ENJOY IN MONTECITO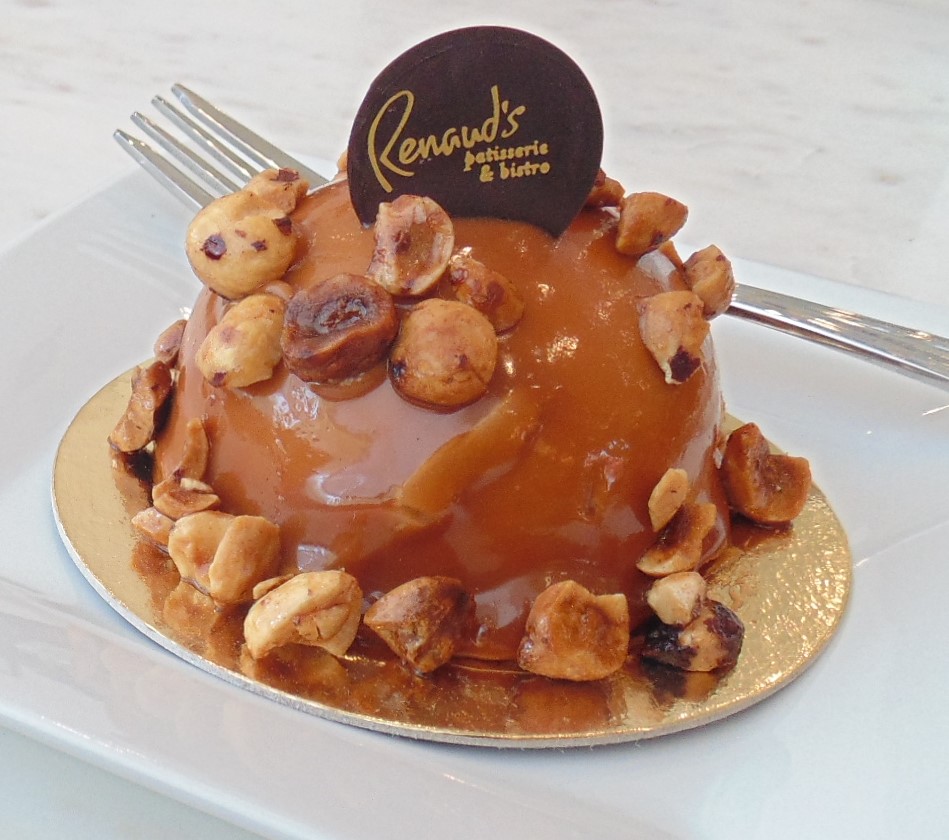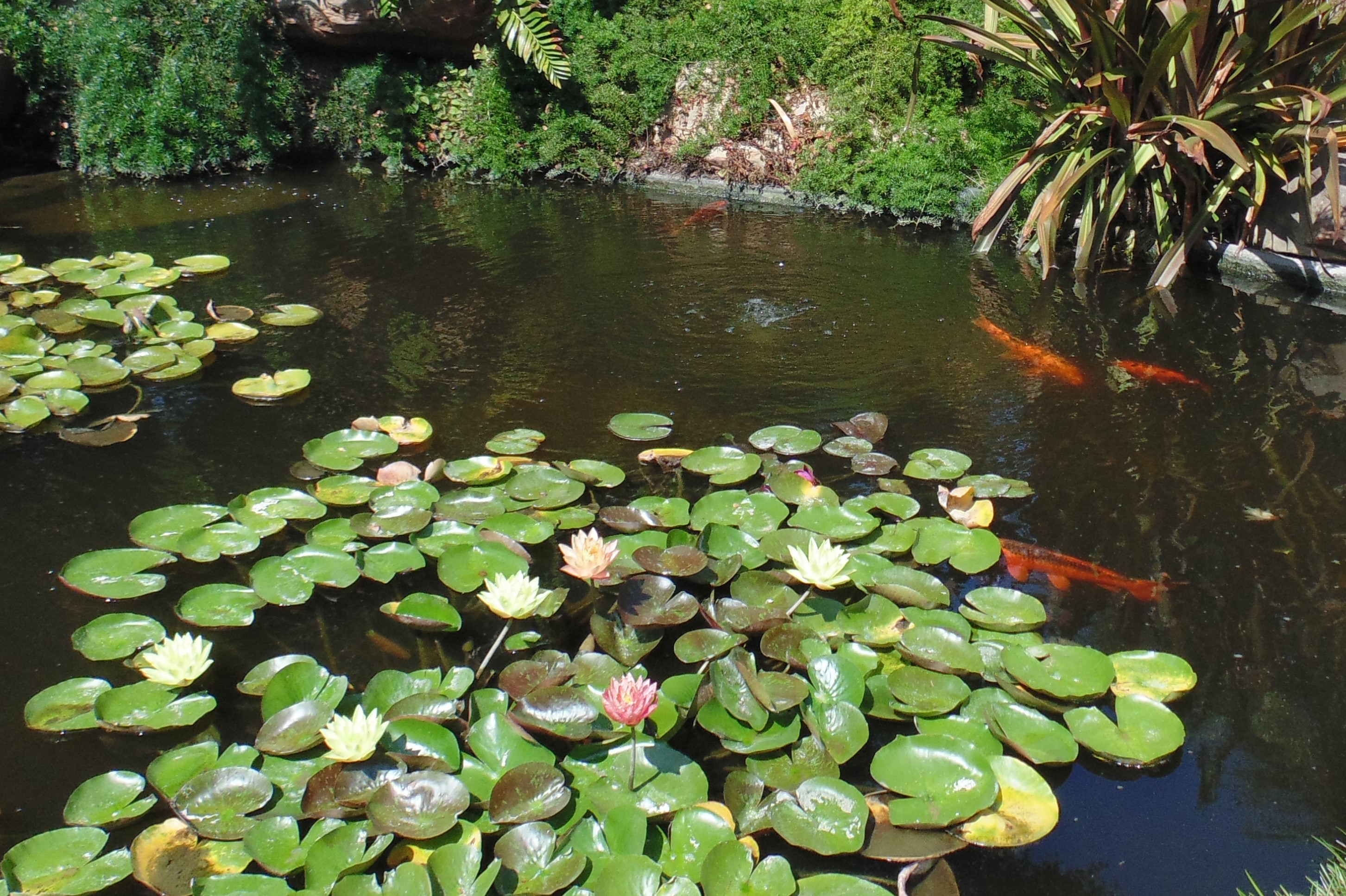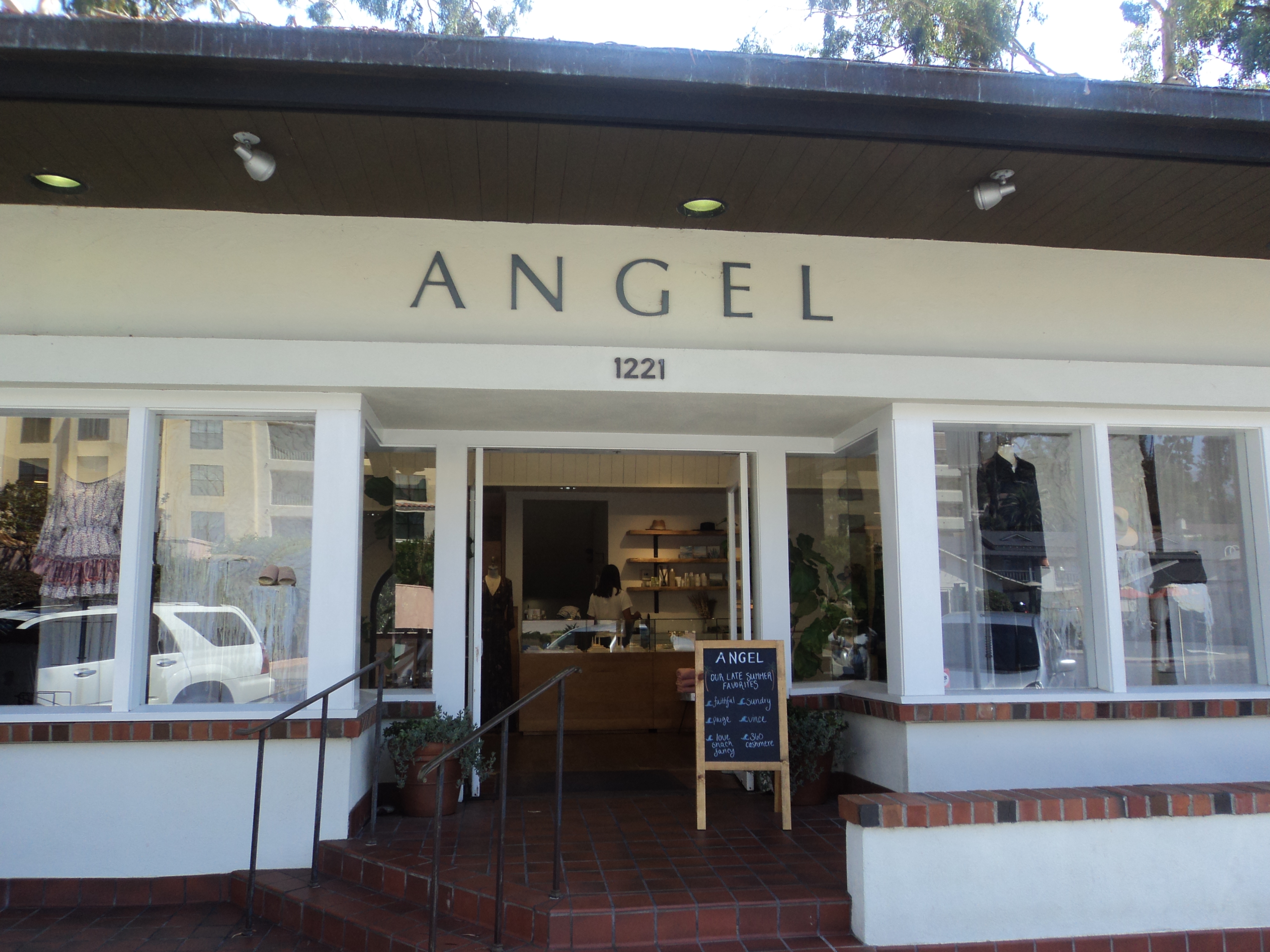 The City of Monticeto suffered great losses from fire and flooding a few years ago, but is once again back in the groove with many new shops, restaurants, hotels and tourist attractions. Old Coast Road is home to a bevy of established and newly opened restaurants offering renowned steaks to vegan, plant-based plates that attract people from throughout the Santa Barbara area, The chic designer shops over an array of lifestyle apparel to meet every need, as well as gourmet products and wines to savor.
The Montecito Inn, which took a huge hit from mud flooding is bussling with activity today. The boutique hotel was originally owned by Charlie Chaplin, and is a historic jewel as well as a hotel with a pool and outstanding restaurant. It is located in the middle of everything, located a short walk to Butterfly Beach, and a two minute drive to Lotusland, an exquisite garden with docent tours. For details go to www.MontecitoInn.com, WWW.LOTUSLAND.COM

_______________________________________________________________________________
TRAVEL ADVENTURES   .   .   .
STRASBOURG SENSATIONS

Cruising through the Cultural Center of France on the Upper Rhine
by Bonnie Carroll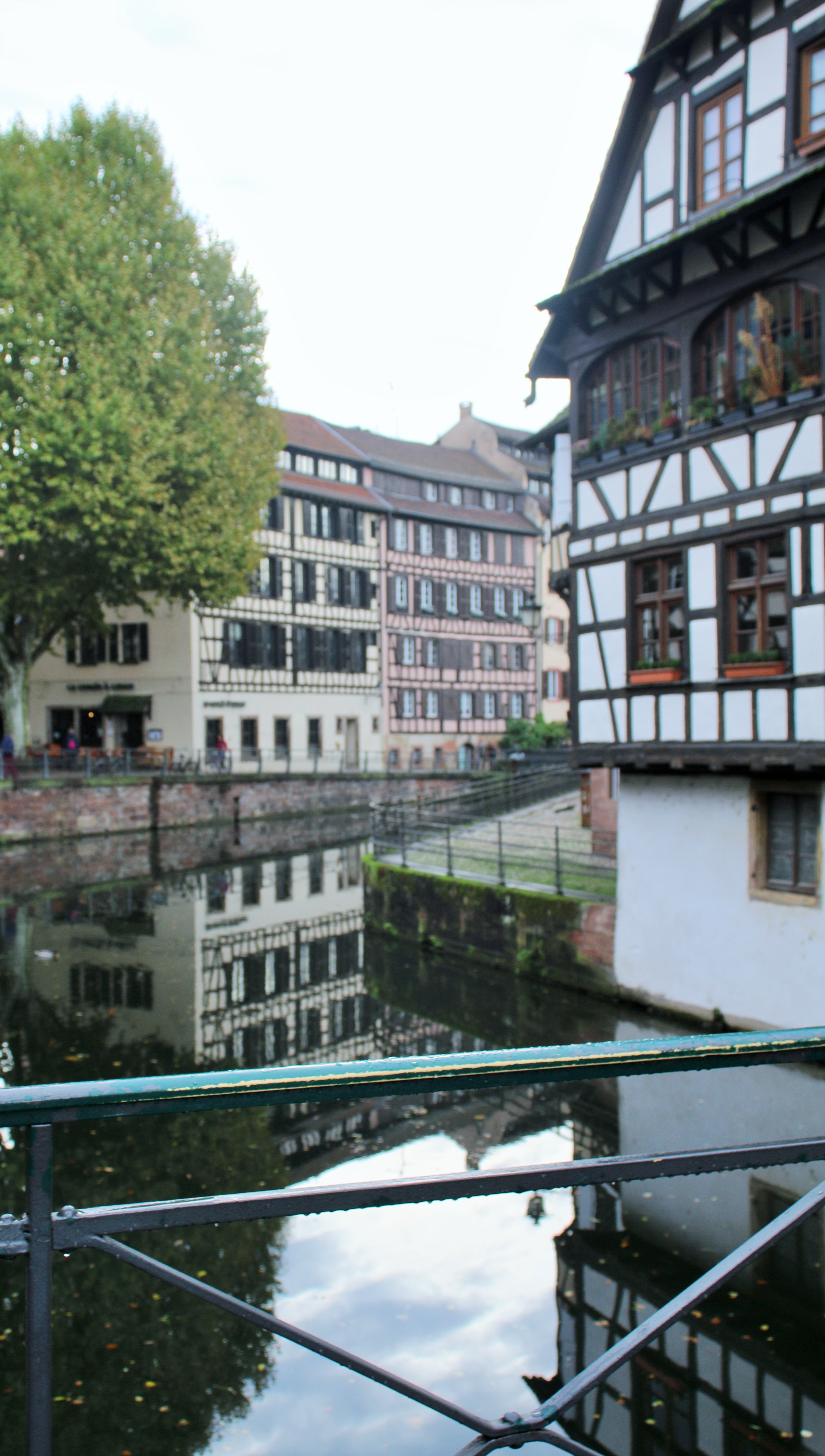 Strasbourg Canal (Photo: Bonnie Carroll)
The inviting cobblestone street lined town with wooden houses on this "island" to be discovered on foot is enclosed on all sides by the Ill River and is a delight nearly beyond description. Strasbourg, France is the largest port on the Upper Rhine River and has been well preserved with lovely canals running through it.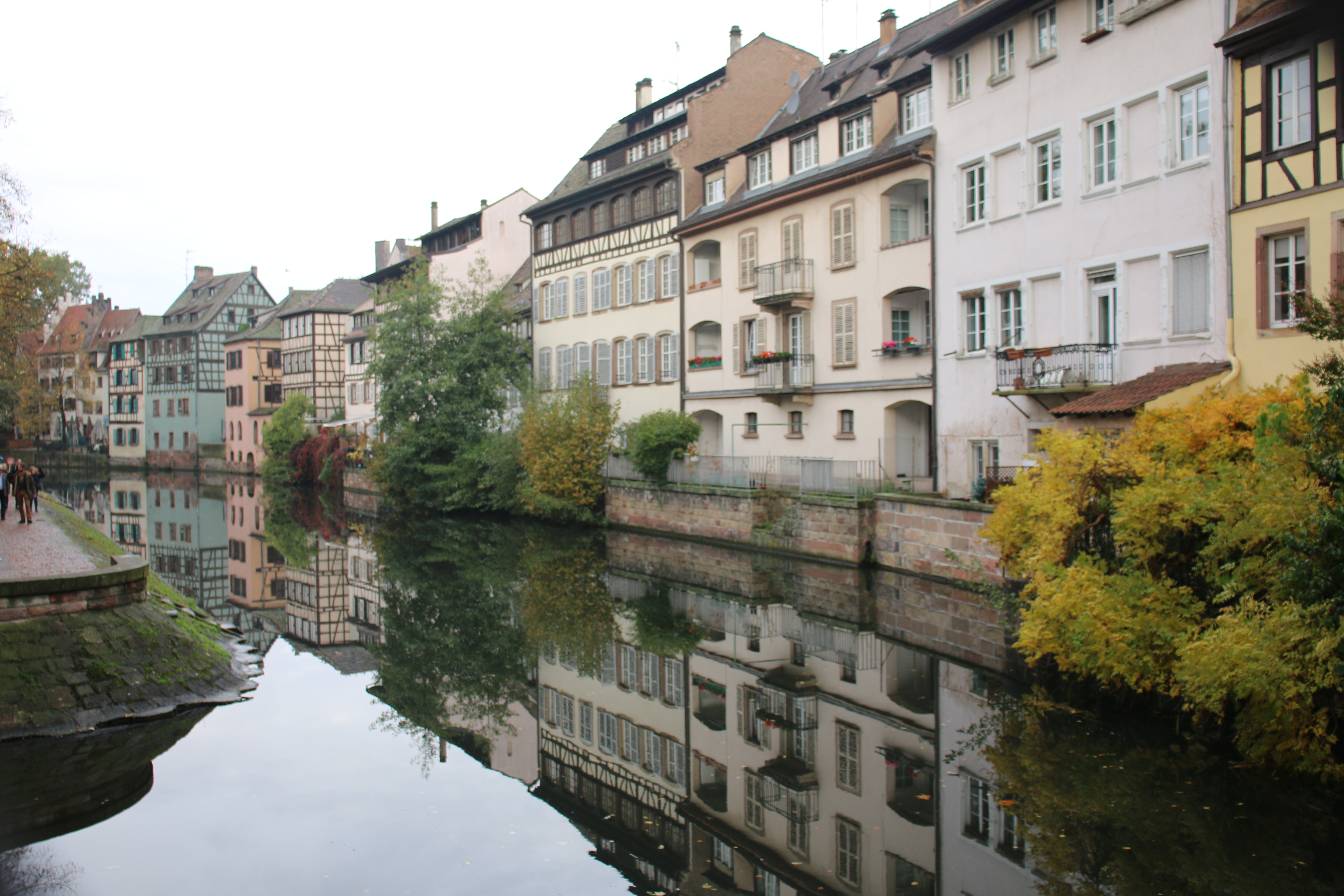 Like Living a Grimms Fairy Tale (Photo: Bonnie Carroll)
Walking through the charming collection of timbered  houses is a true flash from the past where a huge statue of the founder of the movable press and book binding Johannes Gutenberg stands. The Alsatian cafe culture offeres welcoming venues for tourists to enjoy coffee and cake or share lunch with friends. I must admit that for a woman who adored Grimms Fairy Tales as a child this Old Town visit took me back to sitting in my bed listenig to my mother reading the magical stories by Grimms.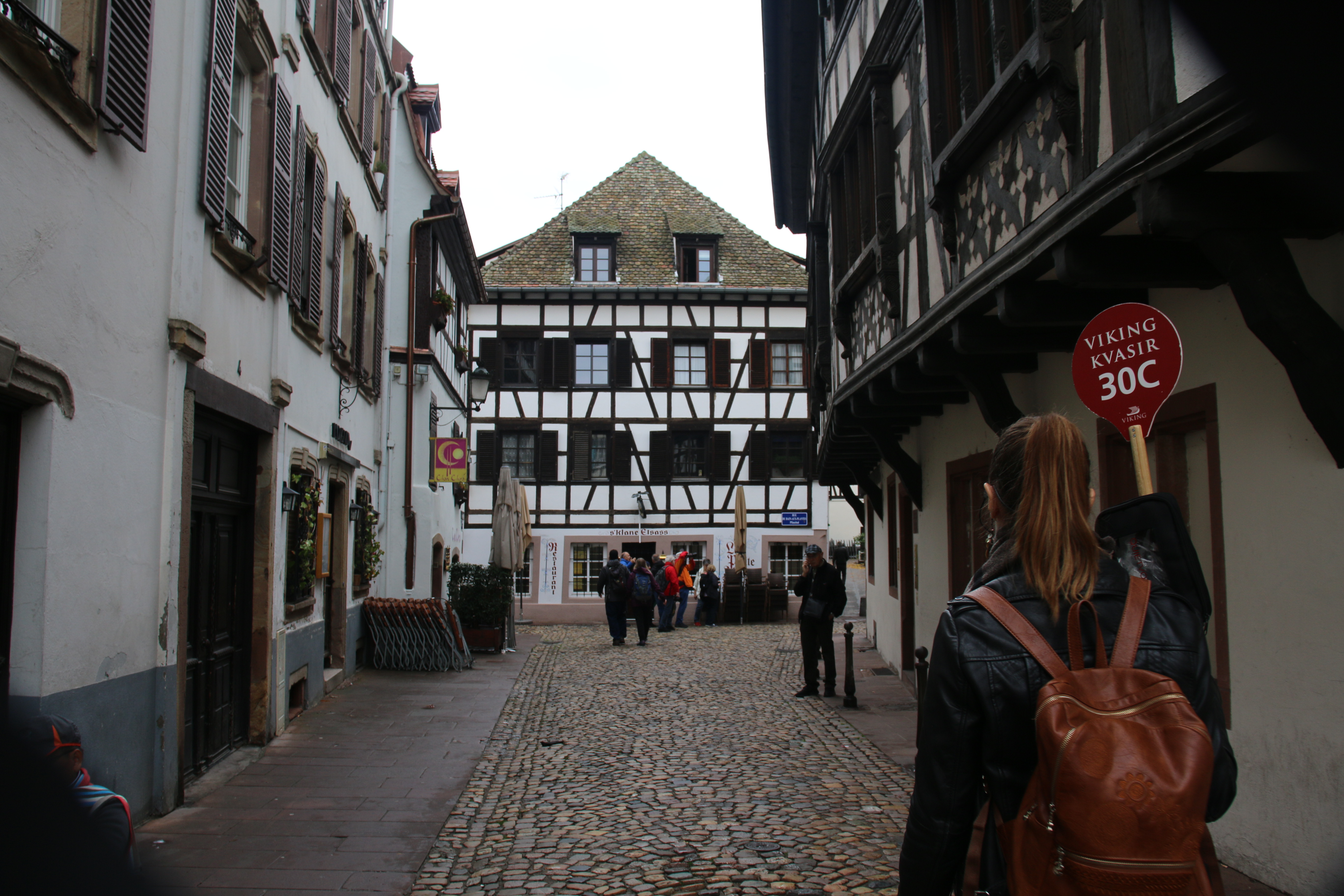 Cafes Line Midieval Streets in Strasbourg (Photo: Bonnie Carroll)
The food and beverage represented in Strasbourg offers not only outstanding Alsace comfort foods to be savored In German Renaissance buildings with wonderful beer, but also favorites such as "Vin Chaud" a mulled wine popular at the Christmas Market during the holidays. It also offers outstanding faire like the plates served at Jean-George Vongerichten's supposed favorite the renowned Au Pont Corbeau. Every variety of food is available in Strasbourg including Lebanese, African-Morocan, vegan, Italian and more.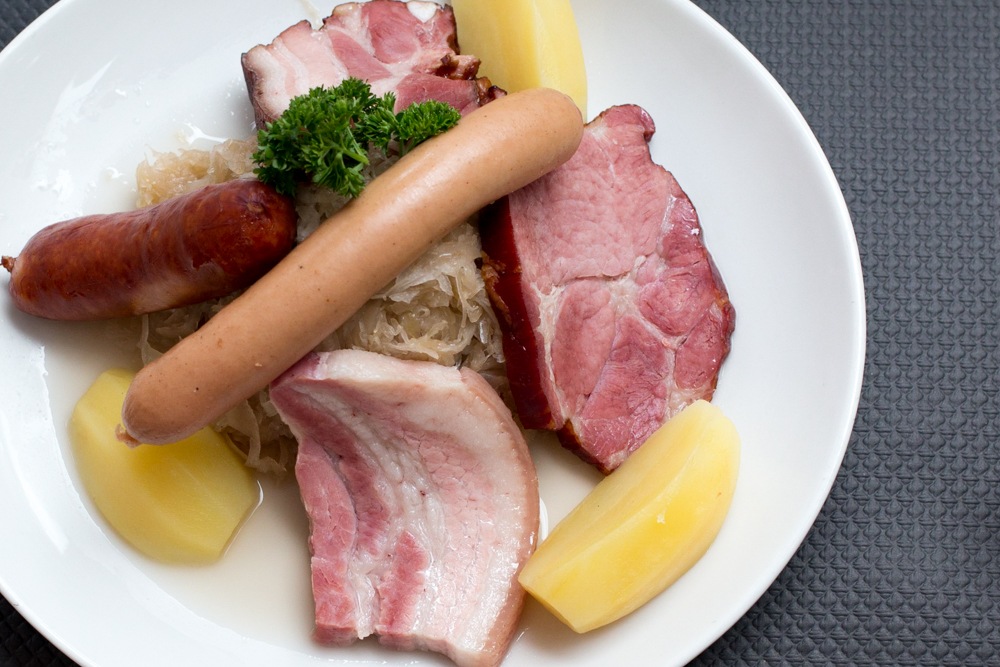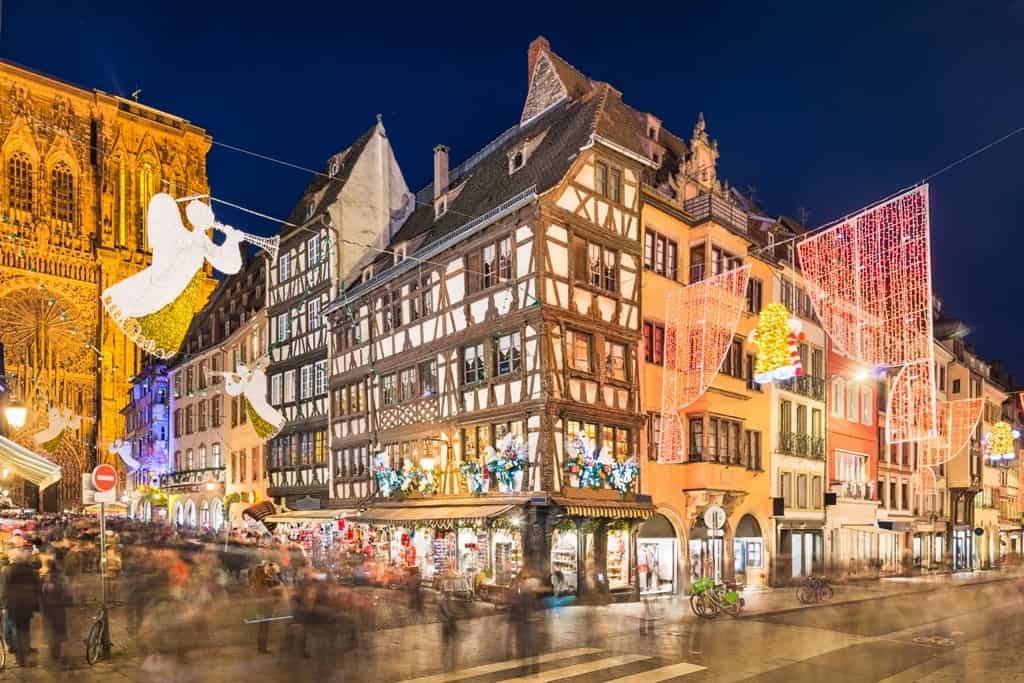 Strasbourg Comfort Food - Strasbourg Christmas Market for "Vin Chaud"
Divine freshly baked baquettes and cheeses are available at cozy shops during a walk through the city center, and award-winning pastry chef Thiery Mulhaupt has two locations in Strasbourg to savor his outstanding patisseries. Based on the numbers, tourists enjoy the ongoing charm of Les Plaisirs Gourmands, featuring a very lovely French garden setting.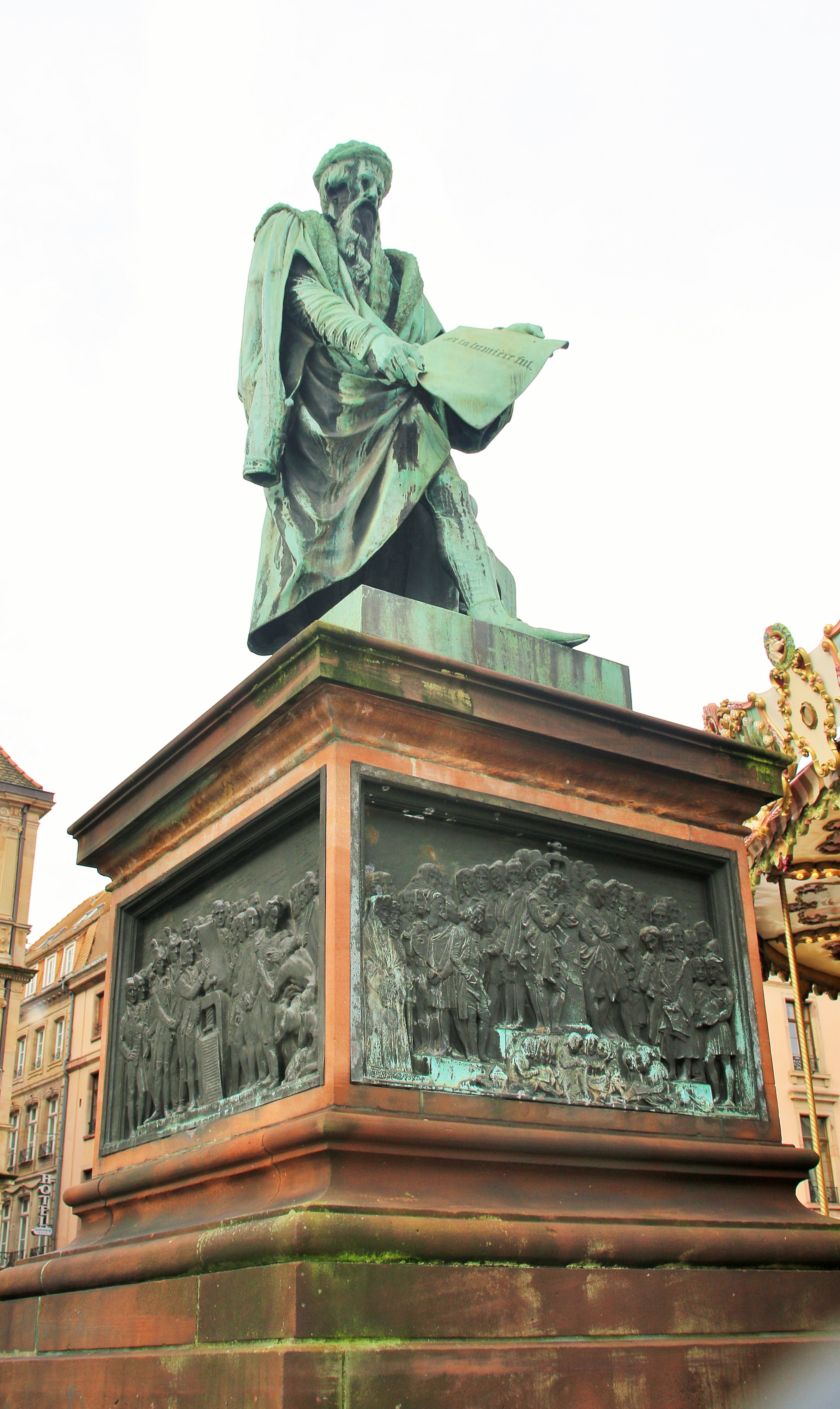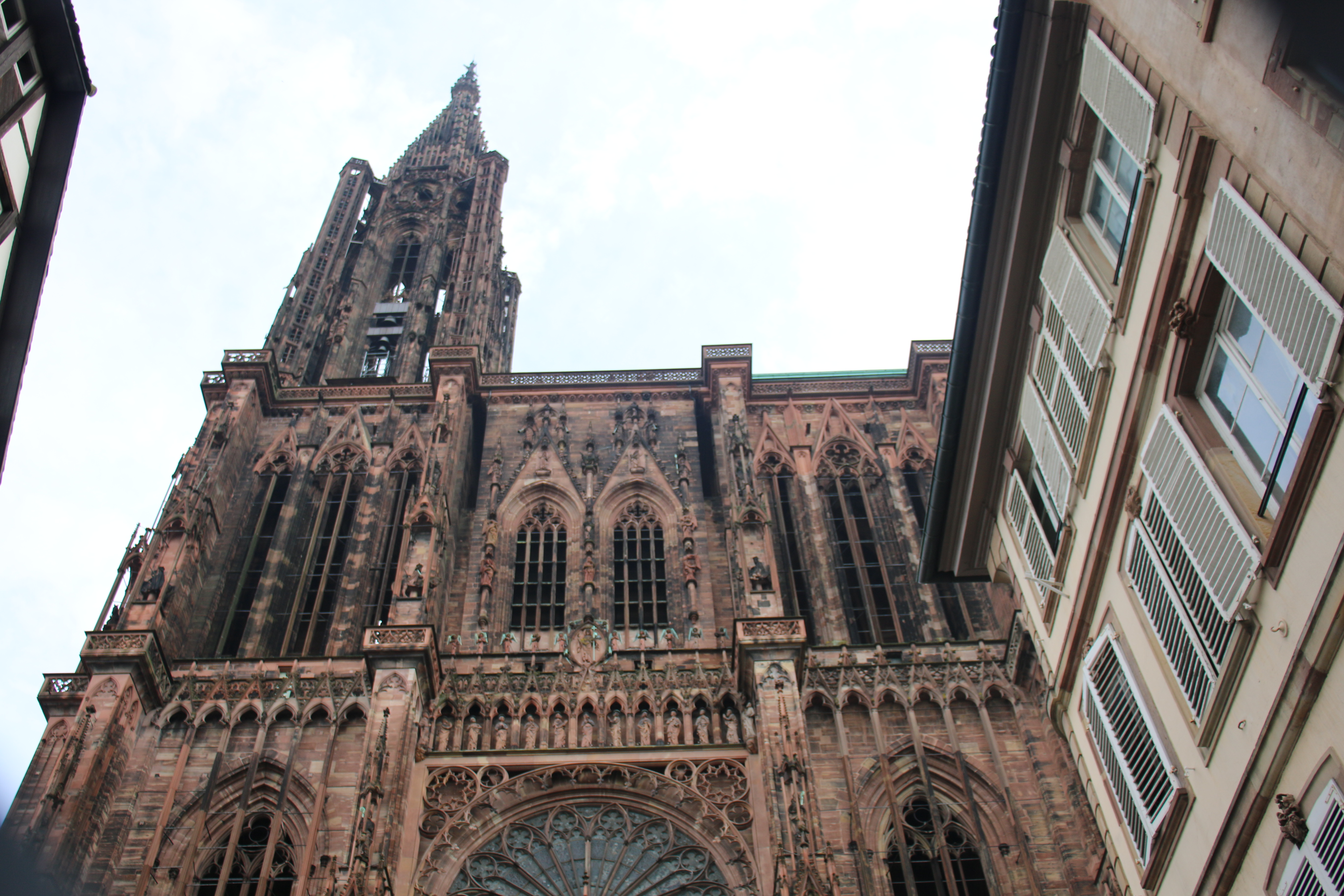 Johannes Gutenberg Statue - Strasbourg Cathedral (photos: Bonnie Carroll)

The Cathredral of Our Lady in Strasbourg is an amazing architectural structure with wonderful history that attracts a bevy of tourists and religious devotees. It is overpowering and magnificent.
If you love being taken back to your happy childhood memories as I do you will adore this magical city with a rich past. To plan a river cruise with an unforgettable visit in Strasbourg visit:www.vikingrivercruises.com.

_________________________________________________________________________________
Twelve Airlines Flying to a Variety of Cities from Santa Barbara

---