TRAVEL NEWS  .   .   .
Santa Barbara's 93rd Annual El Desfile Histórico - A  Historic California Event
By Bonnie Carroll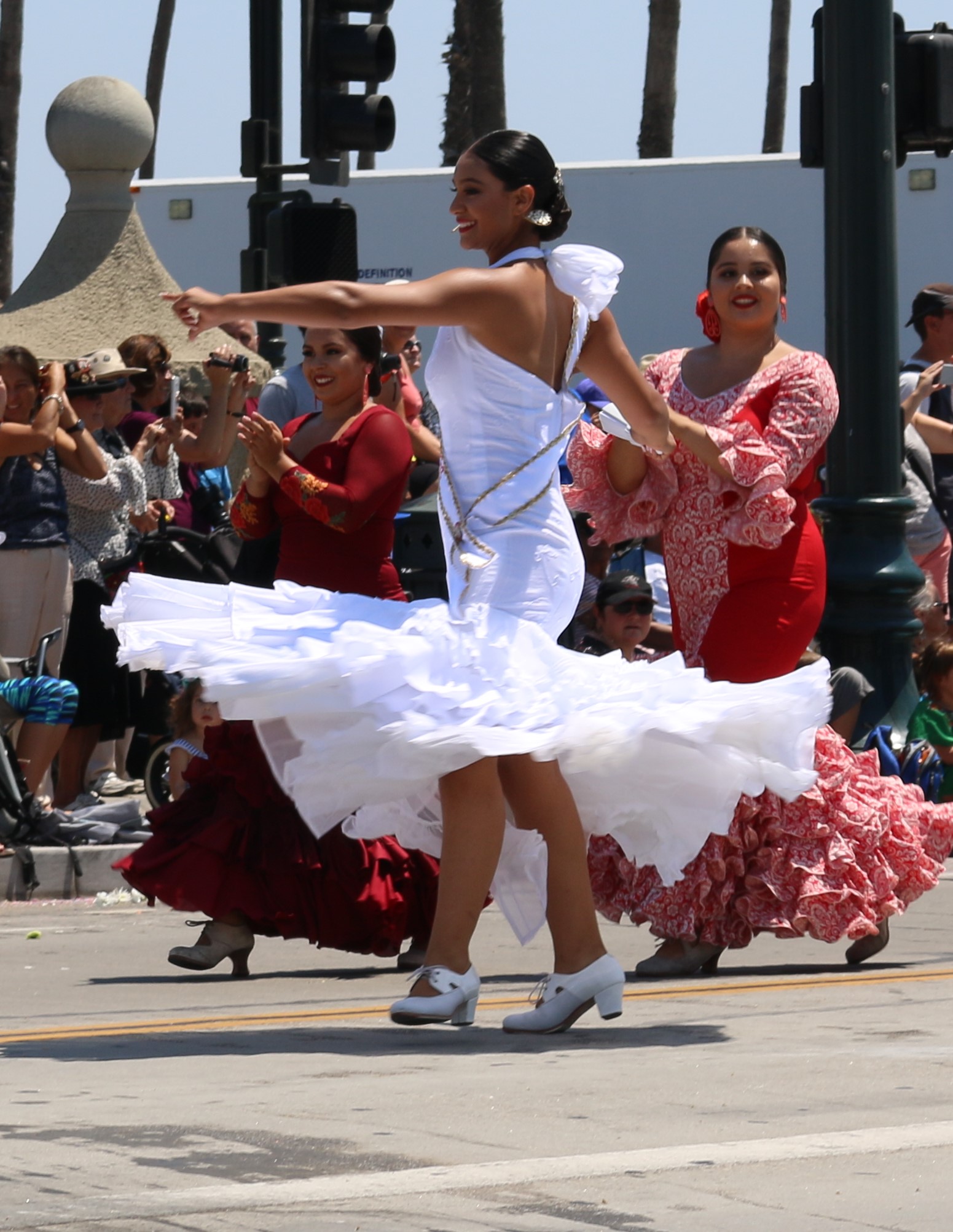 The renowned El Desfile Historico parade down State Street is considered by many to be the highlight of Old Spaish Days Fiesta. Colorful floats along with high-spirited music, dancing, confetti and galloping horses marked the 93rd annual historical parade. As the parade turned the corner from Cabrillo Boulevard onto State Street a SBPD police car containing Santa Barbara Police Chief Lori Luhnow and staff lead the way for more than 140 Fiesta Flower Girls who lead the parade each year. The Flower Girl tradition is now in its 69th year and these darling little girls who visit hospitals and homes for the elderly during the week prior to the parade are a cherished group of Santa Barbara's Old Spanish Days Fiesta.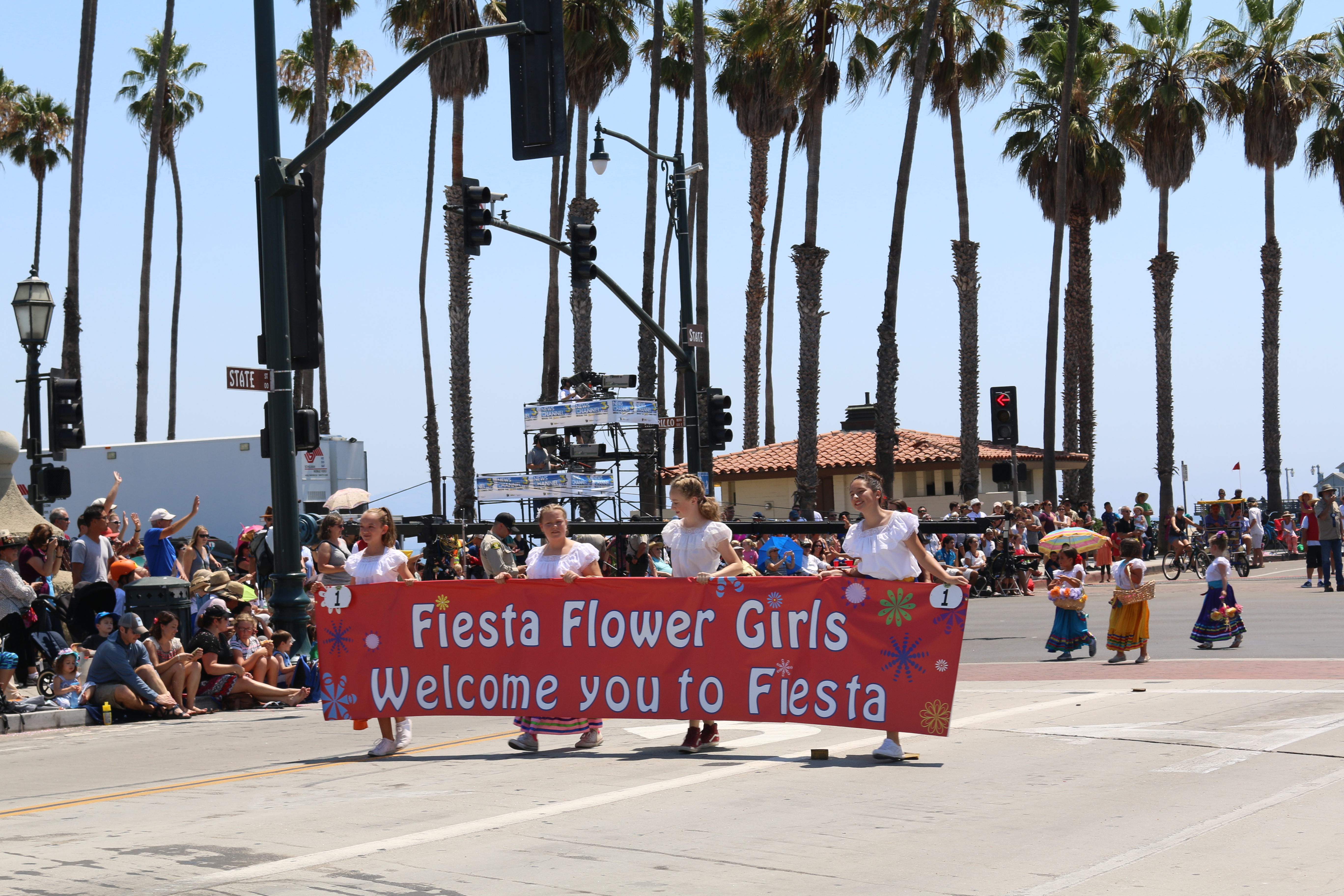 Spectators arrived with chairs and blankets very early in the morning to secure a good spot along the parade route to view the parade as it travels down Cabrillo Boulevard and then State Street. Families with children having fun can be seen everywhere. This year for the first time attendees could buy seats in viewing tents that were set up on the ocean side of Cabrillo Boulevard.
The annual Fiesta celebration is touted as one of the largest equestrian parades in the nation, featuring more than 600 horses, dancers, antique carriages, coaches, floats and wagons. Among the 77 groups from all over Southern California were some of the most beautiful and highly trained horses with riders in exquisite costumes, many authentic antiques or replica's.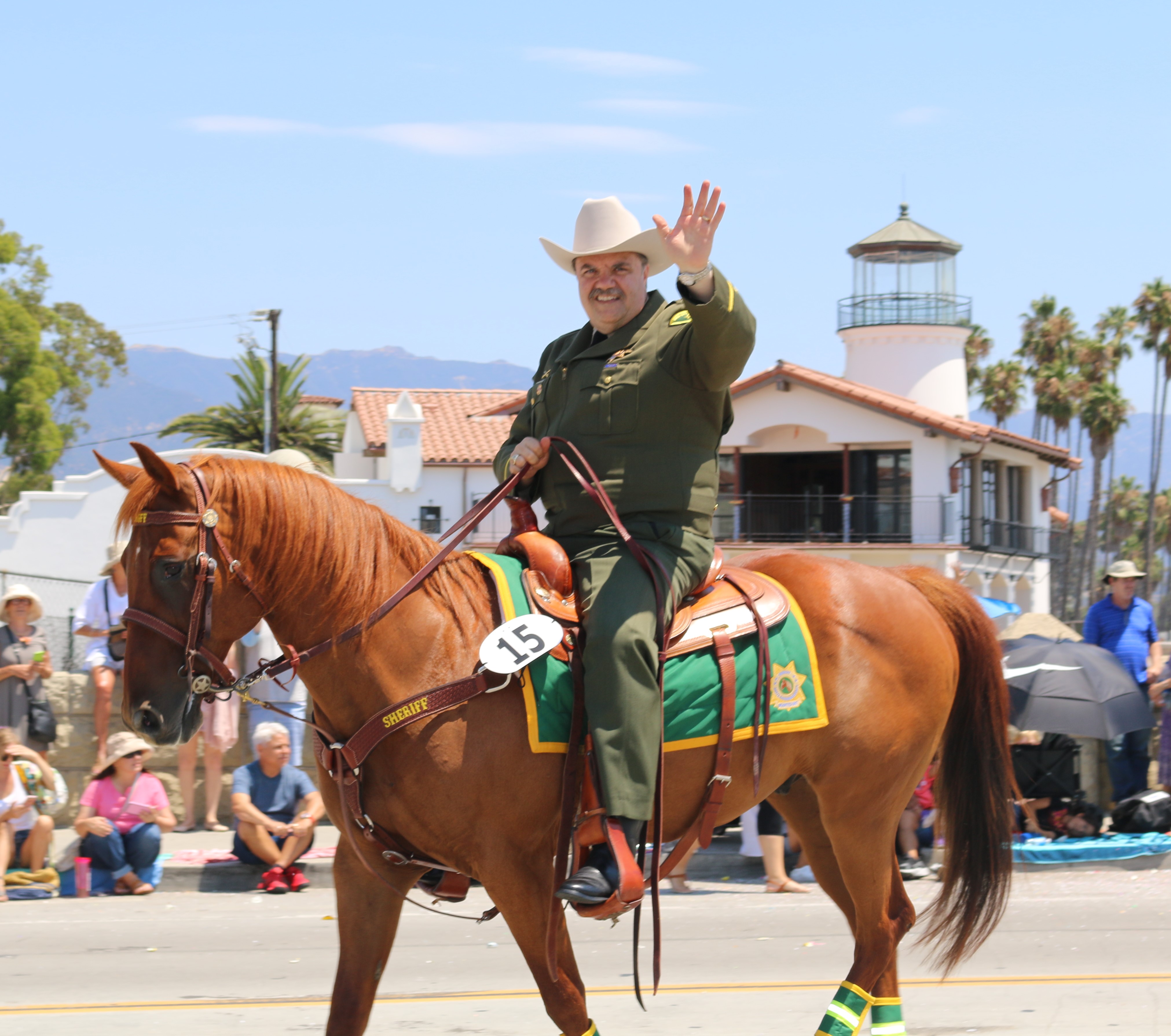 El Desfile Histórico featured color guard flag carriers, historical reenactments by nonprofit organizations and clubs, appearances, KEYT3 news people and local officials. Bill Brown, Sheriff of Santa Barbara County lead the Sheriff's Mounted Unit with pride. Families and tourists along the parade route were thrilled by the high school marching bands, mariachi groups in full costume, and a bevy of talented musicians who kept the beat alive with great Fiesta music.
Western riders dressed in traditional costumes are a great favorite of the horse lover attendees, and these fine horsemen and women love showing off their amazing horses side-stepping dance steps or lively trotting to the music. I never cease to be delighted by the grace and beauty of these exquisite creatures, and the costumes created for this event are just stunning. The White Horses are a dream.
Lady in white, Spirit of Fiesta Norma Escárcega, and several costumed dancers charmed viewers with their grace, and beauty as they danced along the parade course. Parents always have trouble keeping their little girls from running out to dance with these spirited young women. Musicians from Mariachi Mexicanisimo, who have participated in the parade for many years, provided musical accompaniment for the Spirit of Fiesta. The 2017 Junior Spirit, Eve Flores, made a special appearance riding in a carriage with Santa Barbara Mayor Helene Schneider. Saint Barbara, Robin Hill Cederl was a vision on the Old Santa Barbara Mission Float.
The fun loving Santa Barbara Firefighters Association were busy throwing confetti as they moved along the route, and they really got me good, I'm still cleaning confetti from my hair. Eggs filled with colorful confetti are a signature element of a fun for Fiesta!
I spoke with locals Ron and Fran Strahl during breakfast in Eladro's Restaurant prior to the parade, and they told me they had a little grandson riding on the Rodeo Clowns float and arrived early to get a good seat by the curb. They were looking forward to a fun visit to the Old Spanish Days Rodeo at the Earl Warren Fairgrounds that evening to see him in the 'mutton busters' competition, where little guys and girls don protective helmets and ride sheep to win awards. The Strahl's peaked my interest and I accepted their invite to attend the rodeo to see what it was all about. What a perfect ending the rodeo was to my El Desfile Historico parade day, and what a hoot the 'mutton busters' turned out to be. The Strahl's grandson was one of fourteen brave and absolutely adorable little buckaroo's who stole the hearts of everyone in the audience, especially mine. Viva La Fiesta!
The Fiesta celebration ran for a full week for information visit: www.sbfiesta.org.
_____________________________________________

CHIANG MAI NAMED BEST CITY IN ASIA
IN THE TRAVEL + LEISURE WORLD'S
BEST AWARDS 2017 READERS' SURVEY
I am so happy - I love Chaing Mai!!!



The Tourism Authority of Thailand (TAT) is pleased to announce that Chiang Mai has been named Best City in Asia in the Travel + Leisure World's Best Awards 2017 readers' survey.
"We are excited to be receiving such wonderful recognition by an esteemed publication such as Travel + Leisure," said Mr. Kittipong Prapattong, Director of TAT Los Angeles. "Chiang Mai is a place where tourists and local of all types can enjoy the ultimate Thai holiday from culinary ventures to yoga retreats and beautiful scenery."
Chiang Mai, known as Thailand's "Rose of the North," is a cultural and natural wonderland with ethnic diversity, a multitude of attractions and welcoming hospitality. Beautiful and historic temples, intriguing diversity among ethnic tribes, a number of elephant camps, many cooking and massage schools, numerous outdoor activities, a variety of handicrafts workshops, various cultural performances, and breathtaking scenery make Chiang Mai one of Asia's most attractive tourist destinations.
"We believe that our success begins with the Thai people," said Mrs. Charinya Kiatlapnachai, Director of TAT New York. "We would like to invite and welcome travelers to visit Chiang Mai aka Thailand's "Rose of the North", to experience the distinctive culture and unique cultural identity of this charming city, which can be witnessed through the daily lives/lifestyle of the local people, who maintain their own dialect, customs, and cuisine, and in a host of ancient temples, fascinating for their northern Thai architectural styles and rich decorative details." 
The World's Best is a travel awards program run by Travel + Leisure and based on an annual reader survey. Respondents were asked to rate airlines, airports, car-rental agencies, cities, cruise ships, destination spas, hotels, hotel brands, islands, tour operators, and safari outfitters on a number of characteristics. For more information about Travel + Leisure World's Best Awards 2017, visit www.travelandleisure.com/worlds-best.
For more information about Chiang Mai or traveling to Thailand, please visit www.na.tourismthailand.org.
__________________________________________________________________
October 12-15 and 19-22, 2017
---