WINTERLUDE IN OTTAWA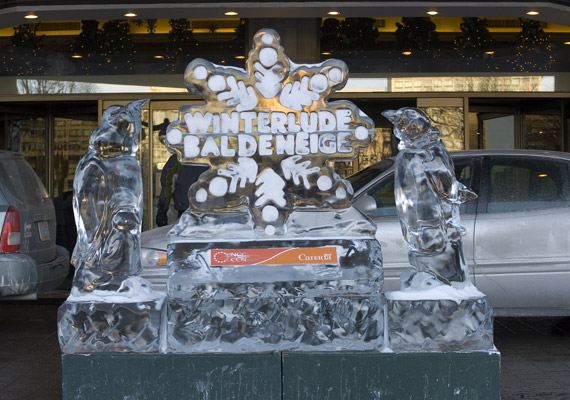 Winterlude, the Capital's winter celebration, February 3-20, 2012.
Come celebrate winter in the Capital during three fun-filled weekends in February. Grab your skates or rent some here and glide along the Rideau Canal Skateway, the world's largest naturally frozen ice skating rink.
Most activities are held on the weekends—learn-to-skate clinics, a hockey tournament, a winter triathlon, children's entertainment—but the ice sculptures, skating on the Rideau Canal and the Snowflake Kingdom children's snow playground are offered during the week (except Tues and Wed for Snowflake Kingdom).
Foodies will love Taste of Winterlude, Jan 26 – Feb 20. Some of the capital's best local restaurants create unique culinary events—wine and food pairings, chef demonstrations, walkabout winter feasts.
For the full line up of events check out the official Winterlude website.
---
Red Mangrove Galapagos and Ecuador Lodges
Emphasizes Diver Training and Land-Based Multi-Island Accommodations
To Enhance Novice-to-Expert Scuba Diving Experiences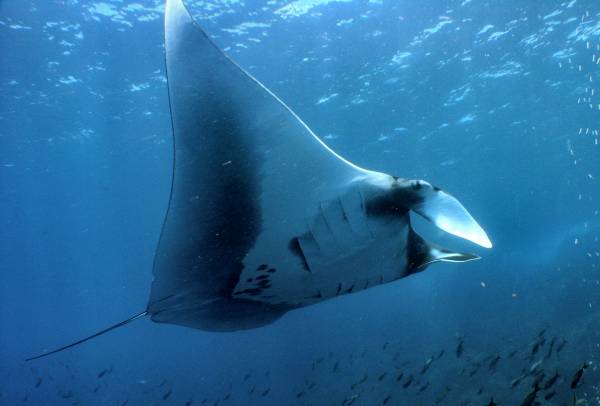 Red Mangrove Lodges now largest producer of PADI dive certifications in the Galapagos
Red Mangrove Galapagos and Ecuador Lodges http://www.redmangrove.com/, the region's leading hospitality company for active adventure, suggests that recreational divers, novice to expert, consider Darwin's magical archipelago as the destination for a wide variety of official PADI dive certification programs.
Hernan Rodas, founder and director of Red Mangrove Galapagos and Ecuador Lodges reports that the Red Mangrove's Dive Center accomplished more diver certifications in 2011 than any other operation in the Galapagos.
 "In all of Ecuador there were 1,489 diver certifications issued in 2011. Red Mangrove's team of licensed instructors and master divers accounted for 160 of them, making us the largest producer of diver certifications in the Galapagos," Rodas said.
Rodas suggested that would-be divers seeking certification do classroom and required pool work at home, either with a local dive shop or recreation center or online through PADI's website (accessed via Red Mangrove's dive website: http://www.redmangrove.com/diving-in-galapagos/diving-classes/.)
To complete the third and final stage of the certification process divers are then required to perform open water check-out dives with an instructor.
"This is when many beginning divers look to warm and exotic waters so they can combine their requirements with an extended vacation," explained Rodas. "We have packages with just that in mind, allowing a diver to be certified during the first two days of their stay and then enjoying all the islands have to offer during the rest of the week."
"We're finding more and more dive instructors bringing their students here as a group for certification," said Rodas, adding that a new instructor incentive program is being developed that will provide lodging incentives for the instructor who brings with him/her four paid students.
According to Rodas, many divers travel with non-diving companions and family members which also makes Red Mangrove's land-based multi-island programs attractive. Year-round certification programs and vacation packages can be combined to accommodate diver/non-diver groups. There's a staff of five PADI approved dive instructors available with an equal number of dive masters to accompany divers on recreational outings. Two modern dive boats take guests to 45 dive and snorkel sites available off of Santa Cruz, Floreana and Isabela islands.
A popular package for beginner divers is Darwin's Land and Sea Adventure, 6 days and 5 nights (with eight dives) priced from $2,291 per person, double occupancy. See: (http://www.redmangrove.com/diving/land-and-sea-adventure.html). Certification is extra starting at $350 per diver on up according to the type of program (PADI certifications include Open Water Diver / Referral, Advanced, Rescue Diver, Dive Master, Specialty Certifications and Emergency First Responder).
Another option for guests who have never been diving but would like to try it is to sign up for the PADI Discover Scuba Diving Experience for ages 10 and up.  Guests will watch a 45 minute video followed by time in a pool with an instructor. When comfortable, participants then head out to a specially chosen spot with an instructor for an open water dive. A PADI instructor leads the course that is $250 per person including introduction, equipment and in-water instruction. http://www.redmangrove.com/diving/discovery-scuba.html
About Red Mangrove Galapagos and Ecuador Lodges
Red Mangrove Galapagos and Ecuador Lodges in 2007 introduced a land-based alternative to exploring the Galapagos that heretofore was a cruise-only destination. While it may be best known for its upscale lodging and dive operations in the Galapagos, recent expansion has made it a leader in mainland Ecuador hospitality as well. With upscale waterfront lodges strategically situated on Santa Cruz, Isabela and Floreana, it is the only company offering high quality, branded accommodations and services on multiple islands in the Galapagos and across mainland Ecuador. Because it is land-based, Red Mangrove can offer a more extensive roster of activities and more flexibility than traditional cruise options.
The customary way to experience Red Mangrove's Galapagos hospitality is to spend a number of nights on each island accessed by small boat and/or aircraft. With 14 guest rooms, Aventura Lodge on Santa Cruz is distinguished by its architectural design which blends its mangrove forest and seafront environments tastefully and responsibly. Separated from the ocean by a white sand, palm-lined beach, Isabela Lodge offers eight rooms outside the fisherman's village of Puerto Villamil on one of the most volcanically active islands on Earth. Red Mangrove Floreana Lodge is a gathering of 10 private pine cottages just a five minute walk from the village of Puerto Velasco Ibarra (population 150). Red Mangrove Divers Lodge Santa Cruz has 11 rooms near the Red Mangrove Dive Academy. Red Mangrove Isabela Divers Lodge features 5-rooms adjacent to scenic Puerto Villamil. On the mainland coast of Ecuador Samai Lodge with 11 rooms is an inn-and-spa suited for recollection, relaxation and wellness surrounded by the sounds of the jungle and surf.
 Contact Information:
Phone: 1.888.254.3190 / Email Form: http://www.redmangrove.com/contact-us/ / Website: http://www.redmangrove.com/.
---
NEW LUXURY VILLA RENTALS OPEN IN LAGUNA BEACH
 The Retreat in Laguna Features Eight Tuscan-Style One-of-A-Kind Villas Just Steps from the Sand Offering Ocean Views, Sundecks, Gourmet Kitchens and Concierge Service
 Laguna Beach, one of the most idyllic pieces of Southern California coastline known as much for its beauty as itsart-centric culture, is now home to The Retreat in Laguna. Formerly The Ocean Front Cottages, current Owner Lloyd Charton, Laguna Beach resident, naturalist, motivational speaker, health and wellness expert, has recreated eight villas that blend luxury, accessibility, value and comfort, while paying homage to Laguna artists.
Through April 30, 2012 guests save up to $527 with four Deals, including a Stay Three Nights, Get the Fourth Free deal (savings up to $527); a FoodiesPackage offering a $50 restaurant certificate for each night (savings of $75); Namaste Package offering aprivate sunrise and sunset yoga session daily (savings of $346) and Laguna is for Lovers Package with flowers, champagne and in-villa massage (savings of $185), starting at $790 for three nights. Additional value is offered through the Romance Packages and Bed andBreakfast package and guests of The Retreat can receive up to 10 percent oftheir stay in complimentary or discounted Concierge Services.
Says Charton, "The Retreat's villa accommodations are unique because they are a luxurious home-away-from-home for our guests. With spacious living and dining areas, complete gourmet kitchen, luxurious bathroom, bedroom and outdoor space with barbeque, the villas areperfect for couples, multigenerational family gatherings and corporate functions seeking a convenient way to spend their time in Laguna."
Visitors coming to Laguna Beach for a weekend getaway or to enjoy Laguna's renowned arts festivals can have it all at The Retreat in Laguna, where villas are available starting from $729 for a three night stay, for up to four people, ranging from 650 to 750 square feet.  Each non-smoking villa is custom designed and includes such amenities as granite or marble countertops, luxury kitchen appliances, bath amenities, fireplaces, ocean views, barbeques, barbeque pits or decks. Amenities and services include Wi-Fi, flat-screen TVs, on-site laundry facilities, access to the Laguna Health Club and concierge service.
Work of Laguna artists Shane Townley and  Steve Lustig's Asana Art is currently featured in the villas. Renowned Laguna artist Wyland will be featured in 2012.
Several units offer a bedroom window that features an ocean view. All villas offer one bedroom and either queen-sizedfuton or sleeper sofa. The eight villas include: Villa Teatro,Villa Rustico, Villa D'arte, Palazza D'Stella,Villa Da Vinci, Villa Roma, Villa Leone and Villa Bella Mare.
Concierge services can be arranged ahead of arrival or at moment's notice by the concierge. Guests can receive up to 10 percent of their stay in complimentary or discounted services ranging from dining at French 75 Bistro and Champagne Bar, The Beach House, Tabu, House of Big Fish, to surfing by Costa Azul, Dava Schatz for private yoga/meditation and massage by Katrin Sophie Berg, to dolphin and whalewatching through Captain Dave's Dolphin and Whale Safari, wine partners and private art tours.
Romance, Custom and Bed and Breakfast packages are offered; all are based on space availability.
Romance Packages (prices based on double occupancy):
Silver Heart, additional $297
Proseco from The Organic Cellar (or choice of beverage), $25 Breakfast gift certificate to The Beach House, Fresh flowers in Villa, 2 30-minute In-Villa Massages
 Gold Heart, additional $497
Proseco from The Organic Cellar (or choice of beverage), 2 – $25 Breakfast gift certificate to The Beach House, Fresh Flowers in Villa, $50 Dinner Gift Certificate to French 75 Bistro & Champagne Bar, 2 – 30-minute In-Villa Massages
 Custom Packages can be arranged to include champagne, chocolates, Private Dinner in the Villa, Night out on the town, art tours or other excursions.
 Bed and Breakfast Packages $35 additional per couple/per day, or $25 per person/per day.
 The Retreat in Laguna is located at 729 Gaviota Drive, Laguna Beach, CA 92651. Call toll free 877-999-2928, or 949-376-7170, or visit online www.TheRetreatinLaguna.com or on Facebook: The Retreat in Laguna.
---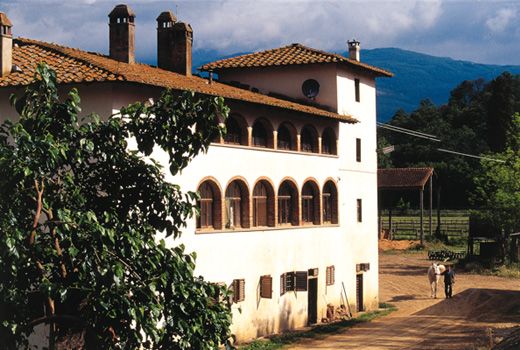 ITALIAN ESCAPE
Strada del Vino Terre di Arezzo, a breathtaking luxury destination in Tuscany that offers everything you are looking for in the perfect getaway: delicious food, gorgeous scenery, and full-bodied local wines.
 
Strada del Vino Terre di Arezzo is an organization that began in the year 2000 to bring together vineyards and wine companies and, as of today, has expanded to 180 participants. Among them are wine producing farms, inns, farms specializing in traditional production of foods and wines, wine bars, restaurants and other businesses and attractions. A total of 124 miles (200 km) of vineyards spread throughout 19 towns in the Tuscan countryside, Strada brings together all of the wonderful products of Tuscany. Delicious and full-bodied wines are produced in this region, Vinsanto di Chianti, Chianti DOCG, and Cortona DOC among them.

Several farms and villas are part of Strada del Vino and each one of them is a unique Tuscan beauty and produces delicious products like wine, olive oil, ham, as well as products made with wine, like lotions made by Villa La Ripa's owners.

---
 

Golden Globe Nominees Receive Fiji Vacation Courtesy of Air Pacific



Celebrity actors took more home than a Golden Globe nomination this past weekend. Courtesy of Air Pacific, all Golden Globe nominees and presenters who attended GBK's Celebrity Gift Lounge received two round trip airfare tickets to Fiji on Air Pacific with accommodation at one of the following exclusive, five star resorts: Yasawa Island Resort and Spa, Vomo Fiji Island Resort or Tadrai Fiji Island Resort. Actors not nominated but in attendance received a three to five night hotel stay at one of the participating resorts.

"We are thrilled to be part of GBK's Celebrity Gift Lounge for the Golden Globes. This is a tremendous opportunity for us to share Air Pacific and our love for Fiji with such talented actors. Our hope is they take some time to relax and enjoy the exclusivity and beauty of the Fijian Islands," stated Bob Parra, Southwest Area Sales Manager for Air Pacific.

Celebrities in Attendance Included:
Jeremy Irons Nominee "The Borgias"
Callie Thorne Nominee "Necessary Roughness"
Jim Rash, Nat Faxon Nominee "The Descendants"
Alexander Payne Nominee "The Descendants"
Elizabeth McGovern Nominee "Downtown Abbey"
Thomas Jane Nominee "Hung"
Eric Stonestreet Nominee "Modern Family"
Mireille Enos Nominee "The Killing"
Damian Lewis Nominee "Homeland"
Beau Willimon Nominee "The Ideas of March"
Ali Fedotowsky "The Bachelorette"
Anthony Anderson "Scream 4"
Booboo Stewart "Twilight Series"
Ben Schwartz "Parks and Recreation"
Barrett Foa "NCIS: Los Angeles"
Jennifer Love Hewitt
Chris North
David Banner
Zach Woods
Mickey Rourke

GBK is a luxury lifestyle gifting and special events company that features gifts, services and charity fundraising. This year's Golden Globe Gift Lounge was held at the L'Ermitage Hotel in Beverly Hills on January 13th & 14th. GBK made a gracious donation of $10,000 to the nonprofit FENC: The Foundation for the Education of Needy Children in Fiji. FENC seeks to provide educational and related support to underprivileged children throughout the Fijian Islands. More information can be found at www.fencfiji.com.

Air Pacific is Fiji's International Airline with a domestic and international network covering the Pacific, North America, Asia, New Zealand and Australia.

---
BADRUTT'S PALACE HOTEL WELCOMES INDIAN CHEF
IN TIME FOR ST. MORITZ ANNUAL GOURMET FESTIVAL
Guests at Badrutt's Palace Hotel can now enjoy culinary delights from the East as top Indian cuisine brand King's Kurry delegates its Executive Chef to work at the five star alpine residence.

In true pioneering spirit, it was only a matter of time until the hotel added to its fusion-cuisine portfolio. After Nobu has successfully returned to the Badrutt's Palace Hotel for its 8th winter season this year, keeping ahead of the times and offering excellence in service remained paramount. The hotel is now able to cater for an increasing number of guests from Asia and the Middle East thanks to its newly appointed Chef, Faisal Khan, of Switzerland's top Indian cuisine restaurant chain, King's Kurry, with locations in Zurich, Basel and Luzern.

Faisal Khan, born in 1977 in Orissa, was part of the team behind the 'fine-fast-dining' Indian food concepts in the Sihlcity and Stücki Shopping Centres. He helped to launch and lead King's Kurry since its foundation in 2002. He has a degree in Sociology and Hotel Management, and trained at India's famous Oberoi Hotels where he was the youngest Executive Chef. He also catered for the Indian National Cricket Team on international tours. Further, Mr. Khan has taught Indian cuisine classes at Irene's Celebrity Cooking School, Zurich.

Legendary culinary festivals and events return to St Moritz this winter season, turning Badrutt's Palace Hotel into a hotspot for epicurean travellers. In addition to highlights like the legendary St. Moritz Gourmet Festival and the Palace's own Chocolate Cult, Chef Khan's appointment will add another layer of international gastronomic delights to Badrutt's Palace Hotel culinary offerings.

Here are some of the highlights taking place at Badrutt's Palace Hotel during in the 19th annual
St. Moritz Gourmet Festival, which runs January 30 to February 3, 2012:

Gourmet dinner with Master Chef: January 31 – February 2
Guest Chef Régis Marcon, awarded 3 Michelin Stars, from Saint-Bonnet-le-Froid in France, dazzles guests by creating a five-course menu or an à la carte dinner in Le Restaurant.

Sweet Temptations: January 31 – February 3
Chocolate Cult in Le Grand Hall – Chef Patissier and traditional chocolate house Sprungli present a buffet of chocolate creations to melt the heart of every guest.

Funky Kitchen Party: February 1
Kicking off at 10:30pm, Badrutt's Palace throws the annual highly anticipated Funky Kitchen Party – in the kitchen, of course, as well as in Le Bistro. Master chefs unfold their creations as guests mingle around steaming saucepans and sizzling frying pans. Savour each dish as it is prepared – accompanied by an appropriate champagne, wine or spirit.

The Great Valser Gourmet Finale: February 3
Celebrate the closing of the festival with fine champagne and wines at an altitude of 8,000 feet, while the Guest Master Chefs gather round the stove to create a multi-course menu at the closing party on the Alpine world of Corviglia,


---
Badrutt's Palace Hotel is a celebration of style, sports, cuisine and fashion, with discreet service and traditional elegance evoking an atmosphere of pampered luxury for all. An ideal destination in both winter and summer, the hotel is located in one of the most challenging ski areas in the world and offers a host of summer alpine activities. Badrutt's Palace Hotel boasts 135 guestrooms including 35 suites with stunning views of the Swiss Alps. The hotel is a member of The Leading Hotels of the World, Swiss Deluxe Hotels and Swiss Historic Hotels. Badrutt's Palace Hotel opens its doors to guests this winter from December 1, 2011 – April 9, 2012.
---