TINSLE TOWN TIDBITS   .   .   .
OH, WHAT A NIGHT! One805LIVE!
 Music Festival Fundraiser Raises Major Funds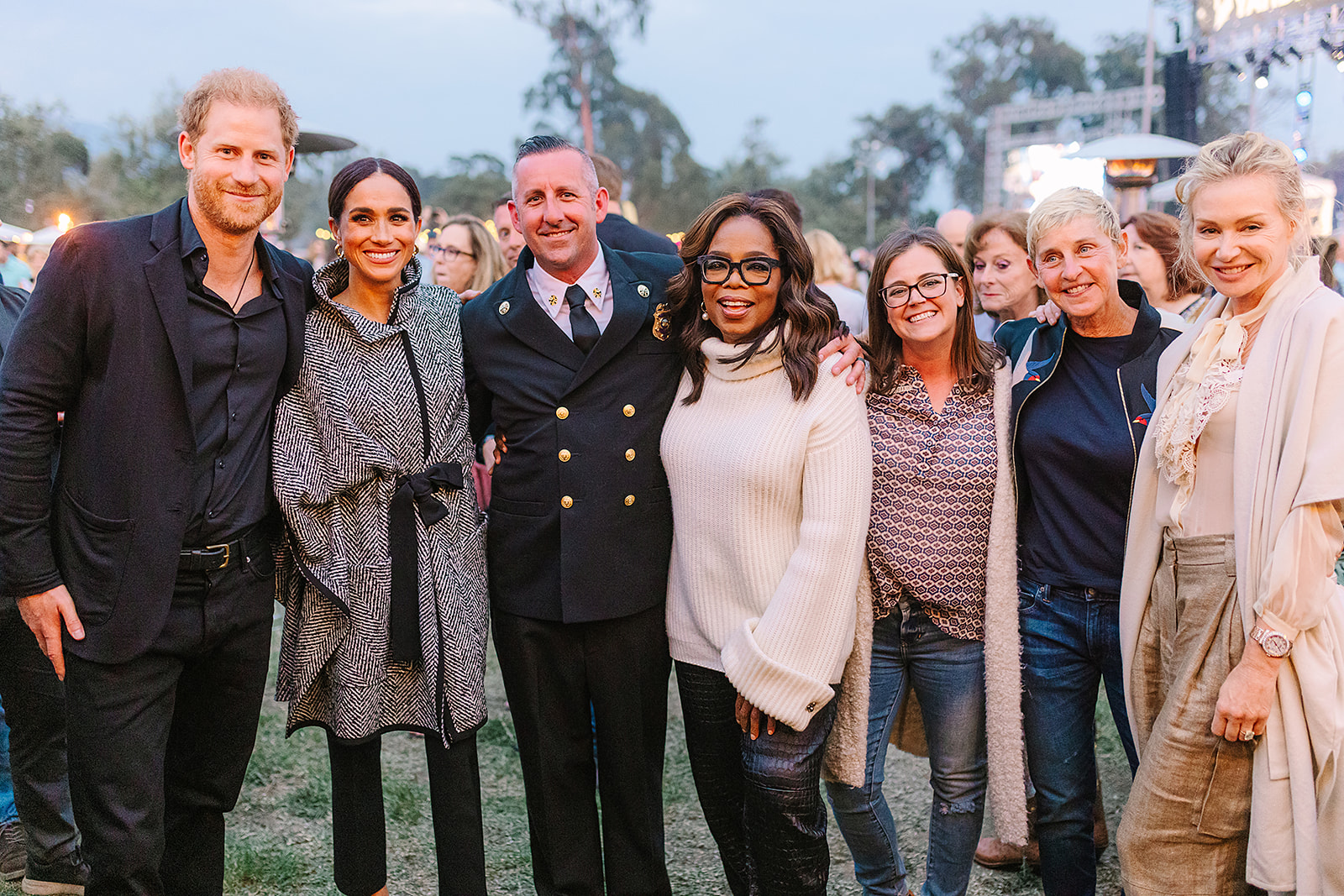 Photo Courtesy of David Mendoza III
Local Santa Barbara Area Celebs and Major Donors Give It Up for One805Live!


The One805LIVE! Music Festival fundraiser at Kevin Costner's estate near Summerland, headlined by Maroon 5, attracted some high-profile guests and participants who graciously presented the annual Heart of the Community Awards.
"We are absolutely delighted that internationally renowned residents of Santa Barbara County including Ellen DeGeneres, Portia de Rossi, Oprah Winfrey, Prince Harry Duke of Sussex, Meghan Markle Duchess of Sussex, and more offered their support to our County's First Responders, by joining to support One805LIVE! this year," said Kirsten Cavendish, CEO and Co-Founder of One805.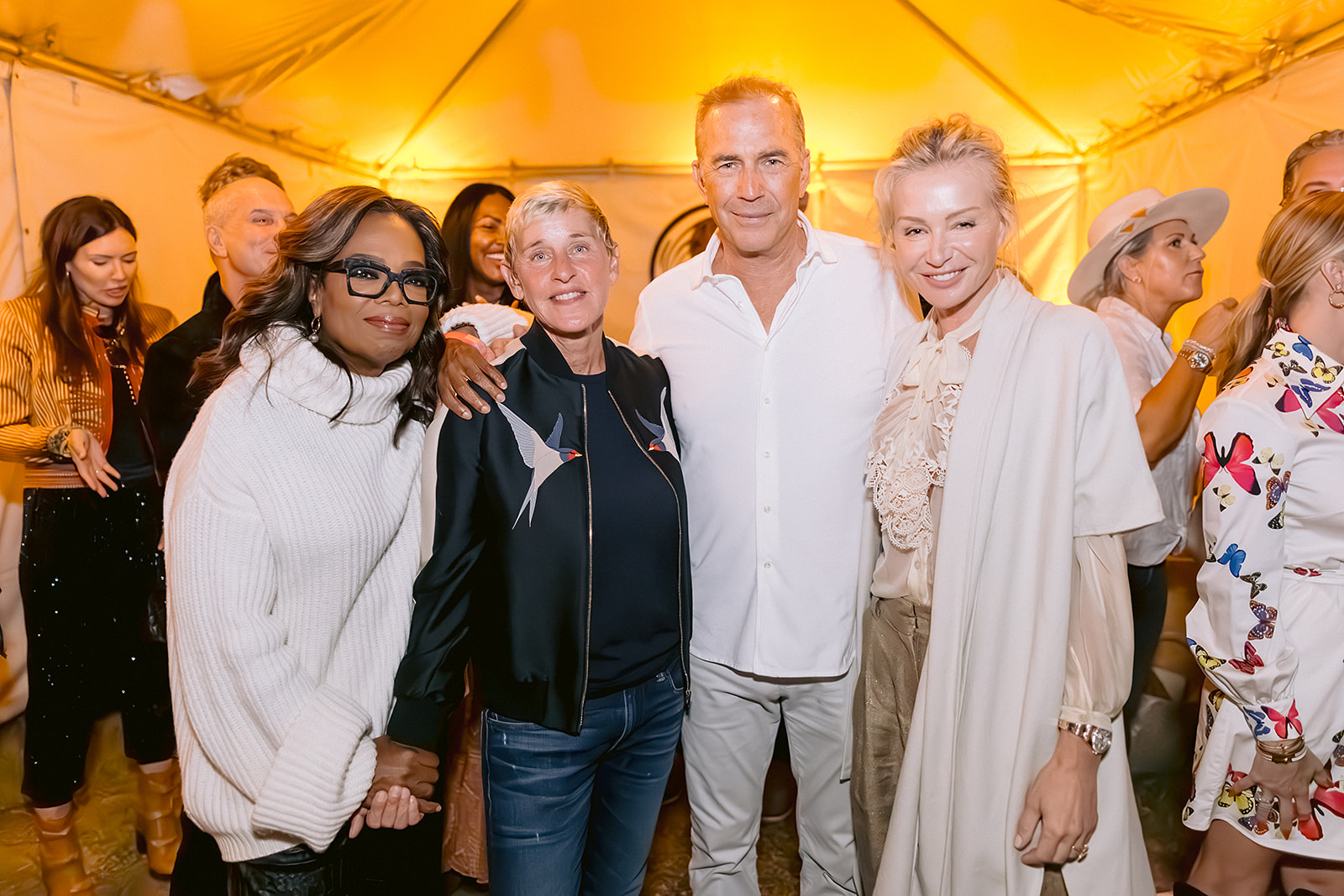 Local Celebrity Resident Oprah Winfrey, Ellen De Generes, Kevin Costner (Host) and Portia de Rossi Photo Courtesy of David Mendosa III
A packed evening of incredible music was enjoyed on the Kevin Costner Estate by supporters! The gates opened at 4:00 PM and guests were delighted by the area resident celebrities in attendance, and applauded the award ceremony which highlighted our resident stars and local honorees, Including Richard Weston Smith, COO and Co-Founder of One805.
Legendary singer and songwriter John Fogerty, Founder of the band Creedence Clearwater Revival, for which he was the lead singer, guitarist and principal songwriter joined the amazing talents in the festival line-up, which also included Santa Barbara's own Dishwalla, Alan Parsons OBE, David Pack (Ambrosia), Elliott Easton (Cars) and Jeff "Skunk" Baxter (Doobie Brothers and Steely Dan). 
Also performing was Steve Postell & the Night Train Music Club comprised of:  Steve Postell: guitar/vocals (David Crosby, The Immediate Family, John Oates, Jennifer Warnes), Tariqh Akoni: guitar/vocals (Stevie Wonder, Josh Groban, Whitney Houston, Christina Aguilera), Bob Glaub: bass (Jackson Browne, Linda Ronstadt, Rod Stewart, Bob Dylan), John Ferraro: drums (Larry Carlton, George Benson, Barry Manilow, Linda Ronstadt), Russ Irwin: keyboards, vocals (Sting, Aerosmith, Bryan Adams, Foreigner), Sean Holt: sax, percussion, vocals (Carlos Santana, Kenny Loggins, The Neville Brothers, Michael McDonald), Lara Johnston: vocals (Don Henley, Joe Walsh, Doobie Brothers) 
All performances and the Kevin Costner venue location had been generously donated to One805. One805 was also delighted to announce a significant donation of $75,000 from the Jean Perkins Foundation, a private foundation one of whose focus areas is supporting First Responders.
 
One805 has established that there is an urgent need to enhance both our water and back-country rescue capabilities. Santa Barbara County has 110 miles of coastline, as well as hundreds of miles of trails. These funds will purchase six advanced drones- three DJI Mavic 3T Thermal UAVs and three "Splash" Waterproof Search and Rescue drones. The Jean Perkins Foundation donation supports this effort. 
The "Splash" Waterproof Search and rescue drones are specifically designed to be flown in the rain for search and rescue missions (lost hikers in the rain, mudslides, ocean rescues). They also have the unique capability to land on water, utilize their underwater 4K camera to look for victims underneath the surface of the water, or fly a self-inflating flotation device out over the ocean and drop it to the victim. 
   
"Countless times, we have been unable to fly drones or helicopters in inclement weather due to weather visibility limitations" said County Fire Chief Mark Hartwig.  "With the new technology in the drones requested via this One805 grant, there will be no limitations to flight." 
   
The DJI Mavic 3T Thermal UAV has a high­ powered spotlight to locate victims in the backcountry, an infrared camera to locate spot fires and victims, and even a loudspeaker.  
"The Fire Chiefs throughout the County are grateful for the generosity of One805 and the Jean Perkins Foundation," said Hartwig. "As we have shared previously, starting next July, all Fire, Rescue, and Emergency Medical Services will be dispatched from one Regional Communication Center. This will create a 'closest resource' deployment plan between ALL Fire jurisdictions within Santa Barbara County." John Thyne, One805 CFO and Co-Founder commented, "These fit perfectly with our goal of trying to fund resources that can be used across the entire county, and benefit all our citizens, from Carpinteria in the south to Santa Maria in the North." 
Other recent significant donations to One805 to support our local First Responders include a gift of $150,000 from Direct Relief and $100,000 donation from Yardi. 
All who would like to contribute to One805 to assist our local First Responders may do so at One805.org. 100% of all contributions go to first responders and related supportive services. 
About One805 In the aftermath of the Thomas fire and subsequent mudslides "One805" was created, hosting the largest non-profit event in Santa Barbara History – The Kick Ash Bash! It brought together actors, entertainers, singers, performers, and most of all, our community in a spirit of healing. First Responders and their families were treated to an amazing day where we were able to put the tragedy behind us. Thanks to the efforts of many, over $2 million was raised to provide counseling support to First Responders and purchase equipment to directly support victims of the tragedy.
_________________________________________________________________
Santa Barbara Celebrated Upcoming Symphony Season
Music & Artistic Director Nir Kabaretti & Team shared a preview of the 2023-24 season
By Bonnie Carroll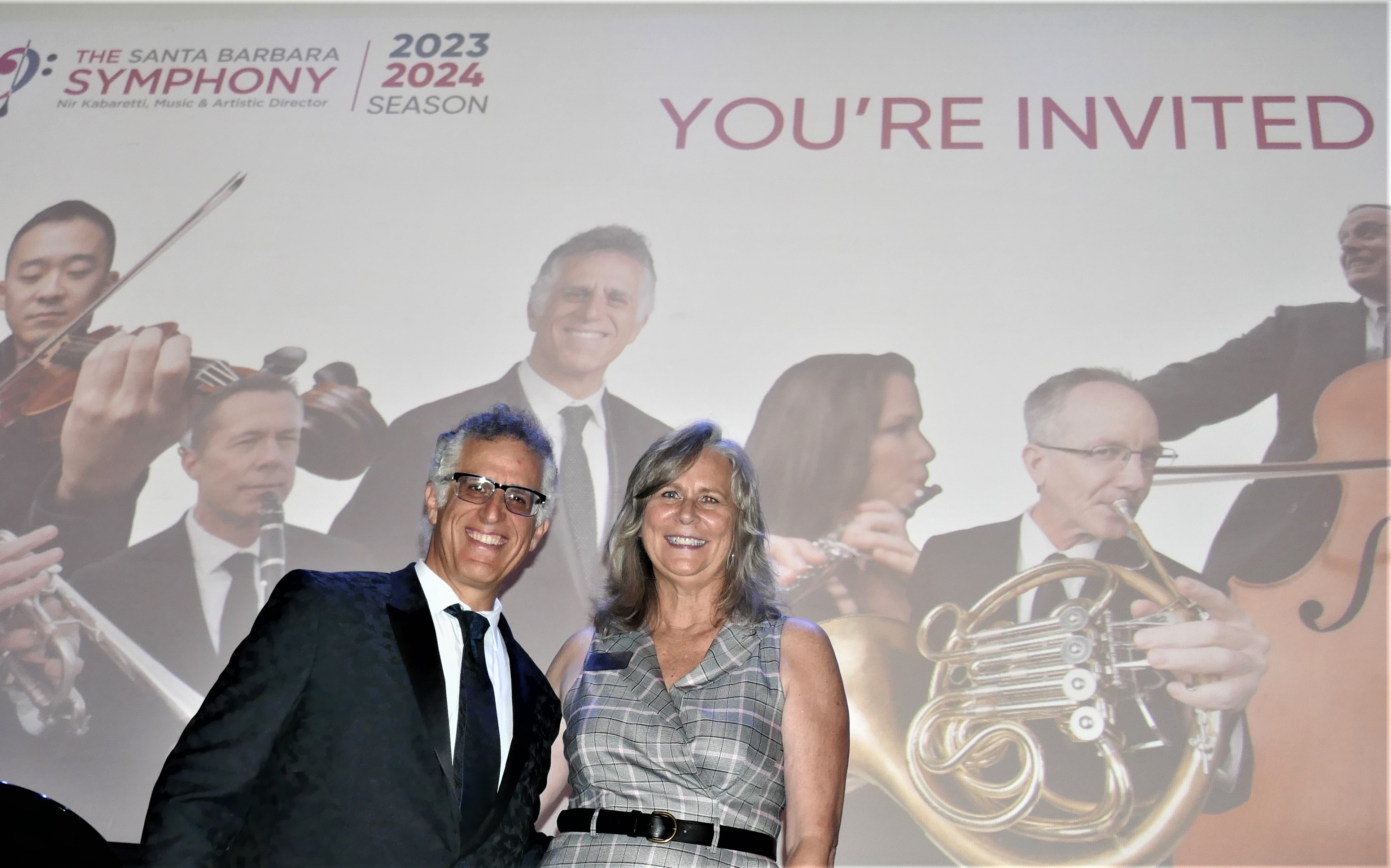 Conductor Nir Kabaretti & Katherine Martin SB Symphony CEO

The Santa Barbara community attended a FREE Season Preview event on Thursday, September 7 at the Lobero Theatre with a welcome reception on the promenade at 4:30 p.m. and the program began at 5:00 p.m. The huge crowd attending shared they loved the preview of the upcoming 2023-24 season, and thoroughly enjoyed musical performances and behind-the-scenes conversations with the Symphony's artistic team and renowned guest performers.

Guests for the free community event filled the steps of the historic Lobero Theatre where champaign and bites were plentiful and music lovers could chat with Maestro Kabaretti and local artists in attendance. Maestro Nir Kabaretti, his wife and mother (visiting from Rome) enjoyed meeting symphony patrons, along with music lovers and their families during the welcome reception.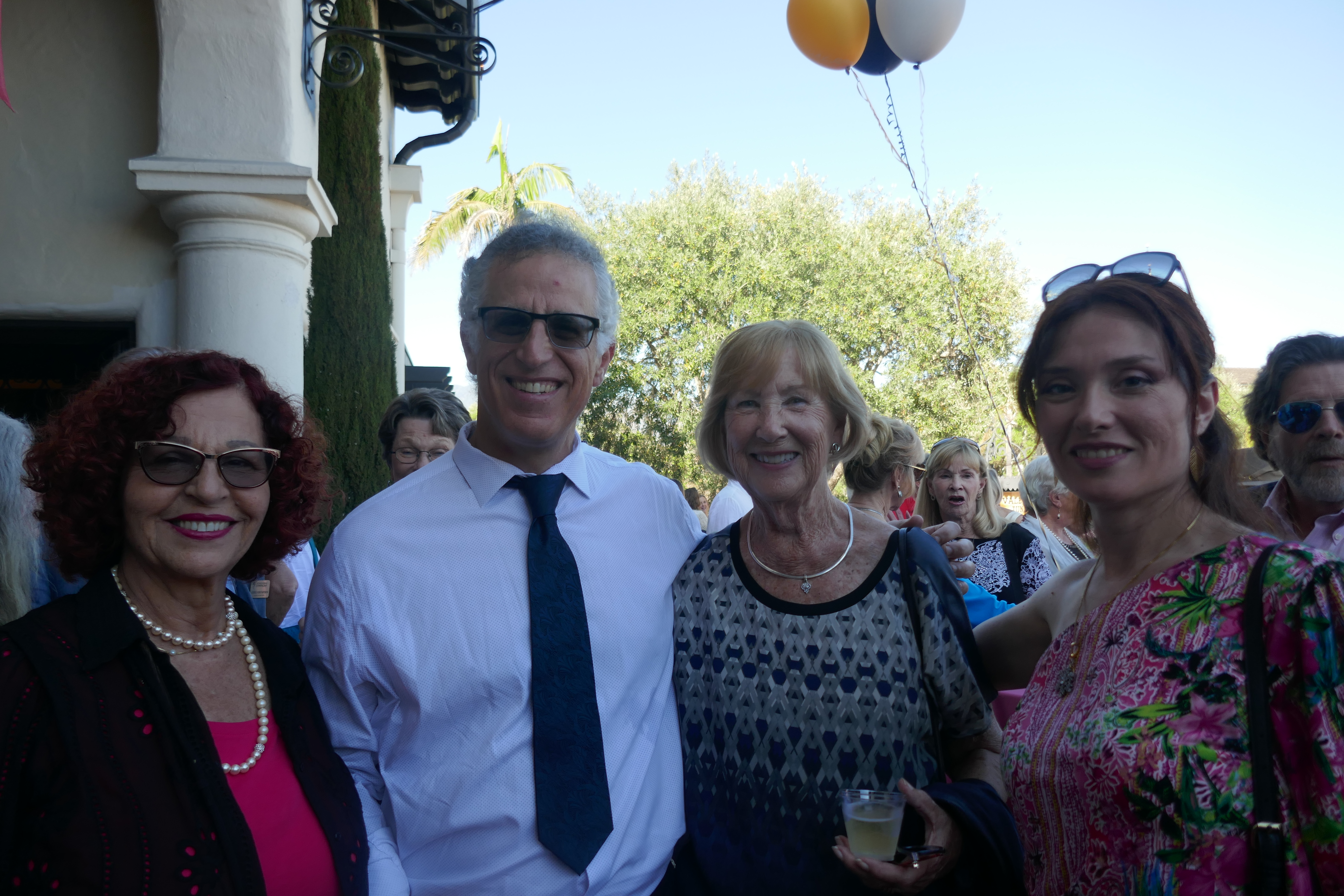 Mila Kabaretti, Conductor Nir Kabaretti, Symphony Patron & Gaja Kabaretti welcoming guests at Lovero reception
The musical program was an up close and personal gathering filled with delightful examples of exciting moments to come at the Granada during this new symphony season and was followed by a VIP gathering where Katherine R. Martin, CEO introduced the new board members for 2023-24, and everyone praised the staff and performers for a wonderful preview of what's coming for 2023-24. Nir Kabaretti and the talented team enjoyed high praise while meeting invited guests.
From Beethoven to the Oscars, Mahler to jazz, and Dvorak to opera, the Santa Barbara Symphony is for everyone! Music & Artistic Director Maestro Nir Kabaretti has assembled a spectacular season of diverse talent and repertoire to create a fantastic symphonic journey October 2023 - May 2024.
Everyone in the audience appreciated the up close and personal introductions to our SB Symphony Maestro Nir Kabaretti and very talented musical team. I overheard many guests share they were so looking forward to attending the amazing programs planned for the new season. Season sponsors 2023-24 Sarah & Roger Chrisman, corporate sponsor Montecito Bank & Trust, venue sponsor Granada Theatre and a bevy of generous concert sponsors were thanked.
This celebratory Season Preview event was hosted by Music & Artistic Director Nir Kabaretti, and attendees were treated to performances, stories and behind the scenes inspiration - all aimed at creating connections to the music, musicians and the organization creating only-in-Santa-Barbara experiences:
The 2023-2024 Season includes:
Exceptional Guest Artists Dazzle

 — This Season has a record-breaking number of guest artists (23!), including 8 vocal soloists, 4 choral groups, 2 trios and 1 guest conductor! The high-energy, Grammy®-winning, string trio Time for Three performs Contact, by acclaimed American composer Kevin Puts; international superstar David Krakauer dazzles in Marhulets' Concerto for Klezmer Clarinet; and the great Marcus Roberts Trio truly innovates on Rhapsody in D.
Vital Collaborations

 — The Symphony builds vital collaborations on and off the stage with arts and cultural organizations including Jazz at The Lobero series, the Granada's Synergy Series and the statewide California Festival: A Celebration in New Music; and Opera Santa Barbara, Santa Barbara Choral Society, SBCC Quire of Voyces, Westmont College Choir, and Santa Barbara Gay Men's Chorus.
Abundant Classical Favorites

 — Highlights include Mozart, Mahler, Dvořák, Beethoven and Ravel, and we honor outstanding women in February with rising star violinist Sirena Huang, and a work by pioneering French composer Louise Farrenc.
Epic Glitz, Glamor & Opera

 — opera's "fan favorites" including Wagner, Verdi, Puccini & more, and a program of epic film scenes with live orchestra from Hollywood's Golden Age of Oscar®!
About the Santa Barbara Symphony
The Santa Barbara Symphony delivers artistic excellence, outstanding music education stewardship and programming, and community collaboration - all through symphonic music. Under the artistic leadership of Maestro Nir Kabaretti as Music & Artistic Director since 2006, The Symphony is one of the region's premier cultural institutions. Through his charismatic leadership, this globally admired conductor and Santa Barbara resident invigorates audiences and musicians alike through his passion, creativity, and vast experience. The Symphony's award-winning music education programs are the only music tied to a symphony orchestra in the region, The Symphony serves more than 2,000 students annually throughout Santa Barbara County via the Youth Ensembles program and the Music Van program. While The Symphony continues to evolve, its mission to bring joy, engagement, and connection remains steadfast and was evident in the organization's ability to thrive during the pandemic. In 2021 a historic announcement was made that board chair Janet Garufis and President & CEO Kathryn R Martin joined Music & Artistic Director Nir Kabaretti in making a five-year commitment to serve in their roles. For more information, visit TheSymphony.org.
__________________________________________________________________
TINSLE TOWN TIDBITS   .   .   . BARBIE!!      BEST MOVIE IN HISTORY --- BREAKS ALL RECORDS!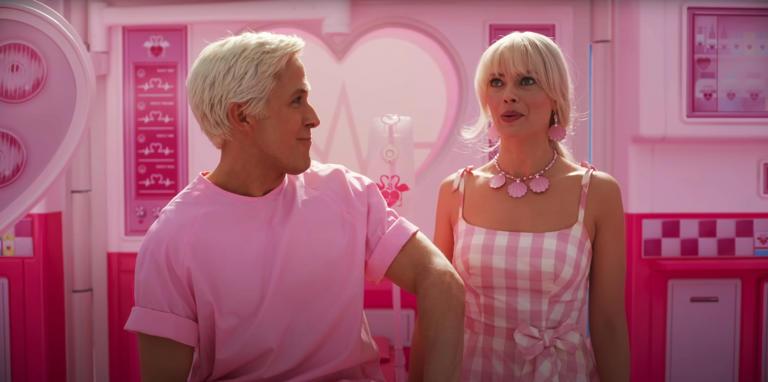 ____________________________________________________
LATE NIGHTS HOSTS' COME BACK
OCTOBER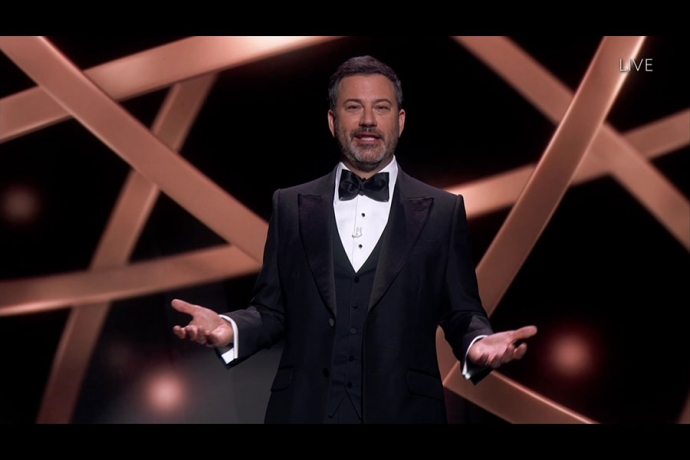 Late night TV is finally returning in the wake of the WGA strike coming to an end. On Wednesday, Stephen Colbert, Jimmy Fallon, Jimmy Kimmel, Seth Meyers and John Oliver shared in a joint statement they would be returning in the next week.
Oliver, who hosts HBO's "Last Week Night," will return on Sunday. As for the rest of late night, the series will return starting Monday. That includes "The Late Show with Stephen Colbert," "The Tonight Show Starring Jimmy Fallon," "Jimmy Kimmel Live!" and "Late Night with Seth Meyers."
♦  ♦  ♦
---