TINSELTOWN TIDBITS    .     .    .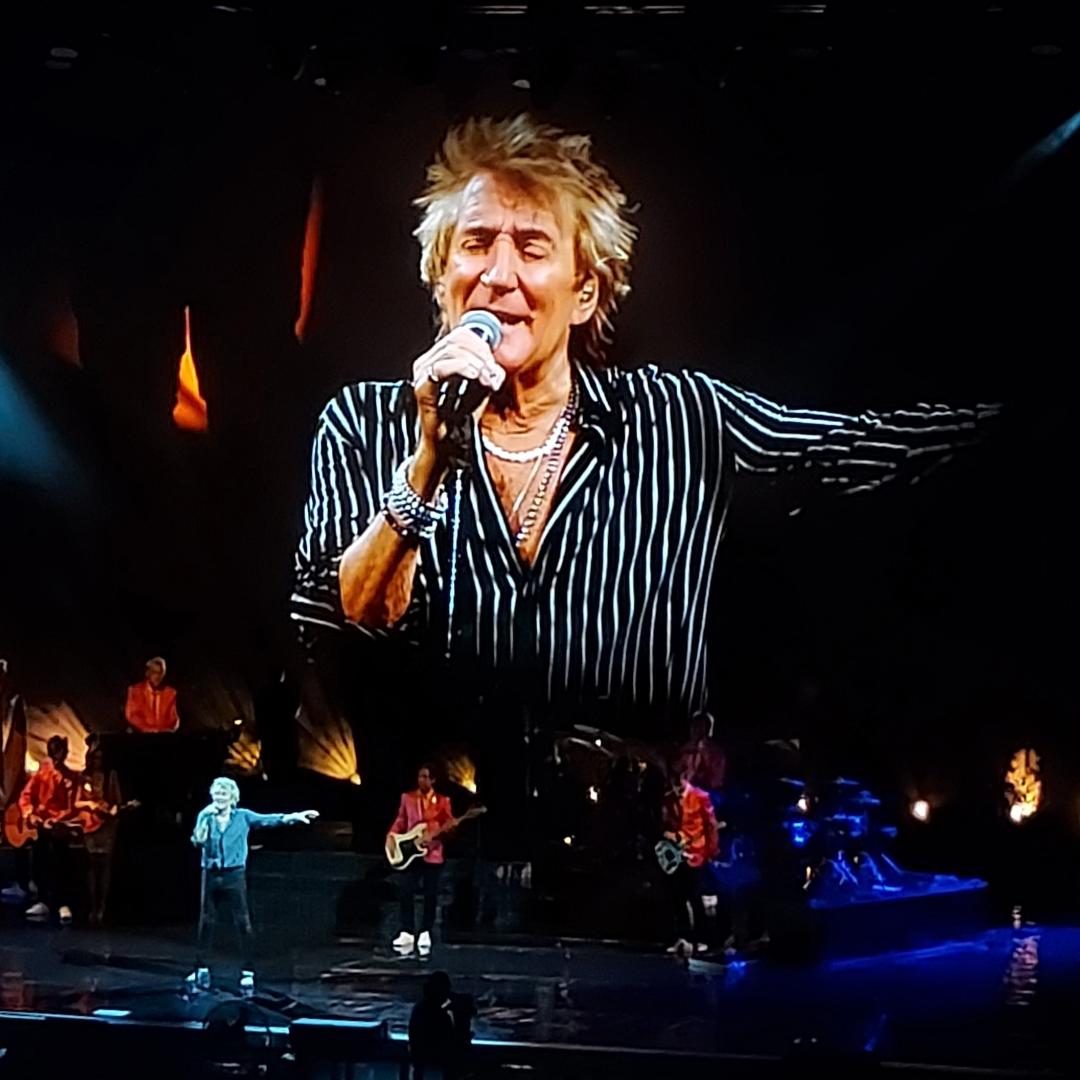 Rod Stewart at Santa Barbara Bowl (photo: Bonnie Carroll)
ROD STEWART AND CHEAP TRICK ROCK THE SANTA BARBARA BOWL
Heavenly Weather Makes for an Unforgettable Evening
By Bonnie Carroll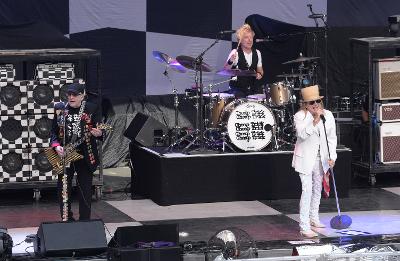 Cheap Trick at the Bowl (photo: Rick Carter)
As the sun was beginning to set at the Santa Barbara County Bowl on a gorgeous July evening Cheap Trick had the audience rockin' to a bevy of his renowned hits. People were standing and singing along enjoying this special appearance by the loved group. Many people expressed they were surprised, and delighted to see Cheap Trick.
When Santa Barbara weather is perfect it's an amazing place to experience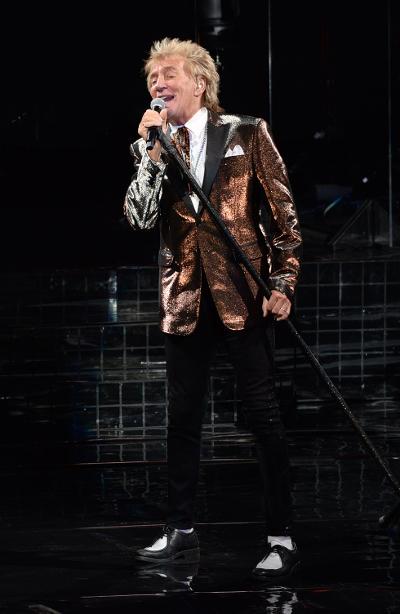 great musicians at the Bowl, where Rod Stewart and his band found themselves sharing so many great favorites in the historic music venue on one heavenly night in the seaside city. The audience was finding it hard to stay in their seats as so many great Rod Stewart songs were performed by the star, who is by the way still majorly sexy and exhibited an energy that was contagious and a true flash from the past!
Rod Stewart is known for his original flamboyant costumes, set designs and overall productions and this night was no exception. It was all color coordinated, flashing out stunning views for the excited audience. I have known this world-renowned musician for many years, worked for him in the 80s in Malibu, and I was so thrilled that he still brings it so strongly with familiar vibes and a genuine love for his audience.                                         Rod Stewart (photo by Rick Carter)

The audience was moved by a dedication to the war in Ukraine with photos and music that touched every heart. A bevy of gorgeous and incredibly talented women in his show surrounded the music icon, and they brought so much individually and as a group to the musical arrangements. A segment of the show had a true Celtic sound that was delightful and very appealing to this Celtic woman. I found it heartwarming and inspiring that Stewart shares the light with so many women. Kudos to a special collection of talent and crew who made this a night to remember. Hated to see it end, and look forward to seeing him here at the Bowl again soon.
Santa Barbara Bowl History: Built in 1936 as part of the federal Works Project Administration and extensively renovated with modern upgrades in 2001, The Bowl is one of California's most appealing outdoor venues, and originally hosted events for the city's annual Old Spanish Days Fiesta; these days it headlines with leading performers—from Rod Stewart to Bob Dylan to Katy Perry. The staff at the Bowl are outstanding and very appreciated.

Compared to other area amphitheaters—it's an intimate musical experience; even for shows with standing-room ticket sales, the bowl's capacity is below 5,000.
Every seat has sight-line views, and the acoustics are impeccable, making this many a Southern Californian's favorite place to see a show. Musicians play on a distinctive stage pavilion with cut-stone piers and a copper roof. Views from the top tier seats provide guests beautiful views of Santa Barbara and the ocean. Food choices include the usual favorites like tri-tip, pulled pork, banh mi sandwiches or burritos and all the usual beverages.
If you go -- From June - August, parts of Santa Barbara High School parking lots will be intermittently closed for concert parking. Additional parking can be found at the Armory (700 Canon Perdido) Entering on Nopal Street from Milpas turn left on Canon Perdido and left on Nopal for parking on right. 
Arrive Early: 90-minutes before scheduled start of concert. Due to the historic design of the Santa Barbara Bowl, it is recommended that all patrons arrive early to ensure ease and comfort of parking and entry to venue. The Bowl is located in a residential neighborhood, so guests are requested to be respectful and use the High School parking lot, park in legal areas, and keep noise to a minimum.
Directions: From North: Take 101 South to Santa Barbara. Exit Milpas St.-NORTH Merge right on to Milpas St. (away from the ocean). Travel approximately 1.5 miles up Milpas. Santa Barbara Bowl will be located on the right-hand side. From South: Take 101 North to Santa Barbara. Exit Milpas St . Turn right (away from the ocean). Travel approximately 1.5 miles up Milpas. Santa Barbara Bowl will be located on the right-hand side.
Santa Barbara High School parking lot, located 200 yards from the Bowl entrance, offers convenient and safe parking. For your safety, the following policies apply when parking at Santa Barbara High School. Call 805-962-7411 regarding reserved accessible space. For ticket information visit: https://sbbowl.com/.
---