TINSELTOWN TIDBITS   .   .   .
Congratulations to HRH Queen Elizabeth II on her 91st Birthday.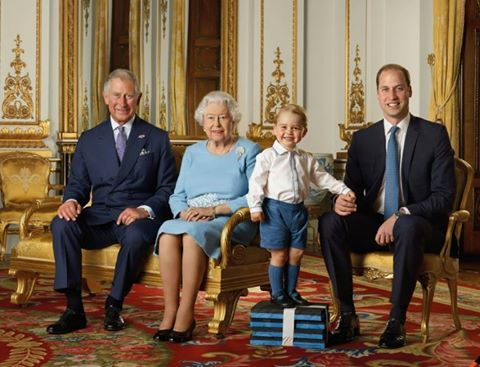 The Three Princes & Queen Elizabeth II
________________________________________________

SAG-AFTRA REACHES TENTATIVE NEW AGREEMENT COVERING
MUSIC VIDEO PERFORMERS
 
SAG-AFTRA today announced that it had reached a tentative agreement with the major record labels — Universal Music Group, Sony Music Entertainment, Warner Music Group, and Disney Music Group— for a successor to their industry-wide contract covering dancers and other performers on music videos. The original agreement was approved in June 2012.

The new two-year agreement was reached in the early evening hours of April 20. The first round of talks between the union and label representatives began on December 6, 2016, in Los Angeles with successive rounds in February and April.
Details of the agreement will not be released until it is reviewed by the SAG-AFTRA National Board at its regularly scheduled meeting April 22 – 23.
About SAG-AFTRA
SAG-AFTRA represents approximately 160,000 actors, announcers, broadcast journalists, dancers, DJs, news writers, news editors, program hosts, puppeteers, recording artists, singers, stunt performers, voiceover artists and other entertainment and media professionals. SAG-AFTRA members are the faces and voices that entertain and inform America and the world. A proud affiliate of the AFL-CIO, SAG-AFTRA has national offices in Los Angeles and New York and local offices nationwide representing members working together to secure the strongest protections for entertainment and media artists into the 21st century and beyond. Visit SAG-AFTRA online at SAGAFTRA.org.
__________________________________________________________________
CHEECH MARIN CENTER FOR CHICANO ART
Actor and comedian Cheech Marin, who for decades has been a noted collector of Chicano art, is teaming up with the city of Riverside and the Riverside Art Museum to create a Chicano art center.
The proposed museum, tentatively titled the Cheech Marin Center for Chicano Art, Culture and Industry, would be housed in a roughly 60,000-square-foot building now occupied by the main branch of the Riverside Public Library, which will be moving to a new structure a few blocks away.
"It'll be the one place worldwide that everybody can go to for all things Chicano art," says Marin. "And it will not just be display, but it will have an academic feature so Chicano art can be seen and can be studied. There are five universities in the area."
It'll be the one place worldwide that everybody can go to for all things Chicano art. — Cheech Marin

And though the institution already has a tentative name, Marin says he's already come up with a nickname of his own. "The intimates call it 'The Cheech,'" he jokes. "I'll meet you at 3 o'clock at the Cheech!"
____________________________________________________________________
LA FILM FESTIVAL NEWS  .  .  .
The LA Film Festival takes place June 14 – June 22, 2017 headquartered at ArcLight Cinemas Culver City, with additional screenings at ArcLight Hollywood and ArcLight Santa Monica and more. Festival passes are on sale now at lafilmfestival.com.  The full lineup for the 2017 LA Film Festival will be announced on Tuesday, May 9.
ABOUT THE LA FILM FESTIVAL
The LA Film Festival is a key part of the exhibition arm of the non-profit arts organization Film Independent. Showcasing new American and international cinema that embraces diversity, innovation and unique perspectives, the Festival produces one-of-a-kind events featuring critically acclaimed filmmakers, industry professionals and award-winning talent from Los Angeles and around the world. The Festival's signature programs include the Filmmaker Retreat, Celebrating Women Filmmakers, Spirit of Independence Award, Coffee Talks and more. The Festival's Future Filmmakers Showcase supports high school filmmakers with screenings of their work and community based film education opportunities. Presenting Media Sponsor is the Los Angeles Times. Platinum Sponsors are Alfa Romeo, American Airlines, EFILM
---