SLAVA'S SNOWSHOW AT UCLA'S ROYCE HALL: A MAGICAL CIRCUS OF RUSSIAN CLOWNS FOR THE CHILD IN YOU
By Laurence Vittes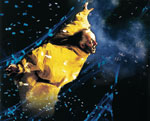 Beginning a nearly month-long run, Slava's Snowshow opens at Royce Hall on December 12.
Ostensibly for children, the truth is: If you've ever had dreams that left you laughing but you didn't know why, this is for you. If you've written poetry that made your heart stop with its beauty, but that you never shared with anybody because it was so close and personal, this is also for you.
Of course, in Russia, they know clowns. And for Russians, Slava Polunin has become more than Chaplin, more than Marceau. If a friend stops you on the street in Moscow or St. Petersburg and tells you she or he had seen Slava the night before, you'll automatically say, "Lucky you!"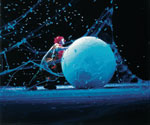 Born away from the big cities, Slava grew up unfettered by conventional theatrical influences, and invented a new theatrical language that speaks both directly and indirectly. Unlike their colleagues, the fantastical mimes in Slava's troupe speak out loud—but in a secret language that transcends cultural boundaries. As the newborn child speaks to his mother in a language only the two of them can understand, so Slava Polunin speaks of fear, love, and joy in a voice which only you can hear.
Such is the mystery and poetry of Polunin's world, for each person in the audience is not simply a spectator, but also a co-author of each of Slava's plays, their imagination and emotions mixing with his to produce the flames, light and inspiration that only the theater can produce. Although no one knows what a performance by Slava Polunin "means," everyone has fun in not knowing.
As powerfully unique as the other great Russian performers you've learned to love through the years—those Volodyas and Sashas and Mishas and Jaschas who have become legends in their time—Slava Polunin transports audiences into a magical iconic world which you will never forget.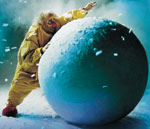 During the first appearance in Los Angeles of Slava's Snowshow, you'll be able to experience what the BBC reported last month to be "a fantasia on snow, with everything from squirt bottles, giant beach ball balloons, blinding fog and miniature houses, with tiny lights and enough confetti to stock several ticker tape parades."
Following its triumphant London debut, having already enjoying worldwide success—including a nearly two-year run off Broadway—this lyrically beautiful, Olivier Award-winning theatrical extravaganza mixes the laughter and tears of clowns with the awe-inspiring imagery, whimsical music, and amusement park thrills of a Russian Cirque de Soleil, culminating in a heart-stopping snowstorm that engulfs the entire audience.
As the great Slava himself says: "The snow is from Russia, the stars are from the sky! "
So, check out the performance dates and get a ticket for you and all the children you know, of whatever ages they may be.
For if you do, you'll know what they mean when your friends, hearing that you saw Slava's Snowshow too, automatically say, "Lucky you!"
For complete schedule and ticket information, visit www.UCLALive.org, or phone (310) 825-2101. For more information on the production itself, including photos and videos, visit www.snowshowusa.com.
---
MEXICAN MAYANS DESCENDANTS MAKE DEBUT IN APOCALYPTO
Hollywood Releases Film on Mayan Civilization
The height of Mayan civilization may have ended some 1600 years ago, but this enigmatic empire seem to be making a come-back. This coming Friday, December 8th, movie theaters across North America will release Mel Gibson's much-anticipated feature, Apocalypto, filmed in Mexico, bringing the late, great Mayan civilization to life on the big screen.
For centuries, the world has been mystified and intrigued by this unique culture. Considered one of the greatest civilizations of all time, and regarded as the most outstanding intellects of ancient Mexico, the Mayans were a cutting edge society, incredibly enlightened for their time. Not only were the Mayans an incredibly advanced civilization much like the Greeks, but their legacy also remains today in areas that spread from Central Mexico to Honduras, similarly to the Greeks legacy which has transgressed the tests of time.
Mel Gibson's Apocalypto is entirely in the Yucatec Maya language and the cast consists of local indigenous Mayan actors. Filmed in Veracruz, Mexico, the movie depicts ancient Mayan life and also connotes to the Mayan prophecy, "Fin de los Tiempos", in which they prophesized that the world would end its 5,200-year fourth and current cycle on the winter solstice of December 21, 2012. Cycles play a huge role in the Mayan culture and a great amount of their time was spent studying astronomical rotations and synchronicity to human events.
While the major Mayan cities portrayed in the movie are gone, the ruins still remain offering visitors to Mexico a unique piece of history and culture to absorb.
Mayan Culture
The Mayans cultivated the most advanced written language of the hemisphere, excelled as astronomers and were highly-skilled mathematicians, being the first in the world to arrive at the concept of zero, and use complex calculations. They were also admirable urban planners and their grand cities were filled with monumental temples which were built without the use of tools as we know them today.
Mayan cities were carefully designed with temples and places in the center and a nearby ball court, which enabled the Mayans to play a game considered to be the precursor to soccer. The ruins of these amazing cities are found throughout Mexico, specifically in the Yucatan states. Exciting new finds in the field of archaeology are revealing countless treasures from their temples and pyramids as scientists work to unravel mysteries of the past.
The area of the Mayan civilization extended throughout the northern Central American region which includes the present-day nations of Guatemala, Belize, western Honduras and El Salvador, as well as the southern Mexican states of Chiapas, Tabasco, Quintana Roo, Campeche, and Yucatan. Their history can be traced through three major periods: the pre-Classic from 2000 B.C. to 200 A.D.; the Classic from 200 A.D. to 900 A.D.; and the post-Classic era from 900 A.D. to 1521 A.D. As people worldwide are in awe of these advanced people, it is becoming increasingly popular to study them and learn more about the Mayans via travel, literature and now, film.
Chichen-Itza
Of their most notable constructions, Chichen-Itza remains one of the most famous Mayan sites, and is currently a finalist to become a new Seven World Wonder. Located in Yucatan State, Chichen-Itza is one of Mexico's most archaeologically impressive creations, and one of the country's most visited landmarks. When built by the Mayans, these magnificent pyramids were perfectly aligned to the sun and Chichen-Itza was constructed in such a way that during the equinoxes, the setting sun casts a shadow of a serpent descending on the northern steps of the pyramid. This effect was a result of the Mayan's incredibly precise astronomical and architectural measurements and Chichen-Itza was named a UNESCO World Heritage Site in 1998.
Chichen-Itza, which reached its peak between 700 and 1200 AD, was the political, economic and military power in the area. It is surrounded by lush green vegetation, underground rivers, natural wells and limestone that the Mayans used to construct their magnificent buildings. There are scenes in Apocalypto where the Mayans are completely covered in white limestone dust, showing the intensity of labor that was exhibited while creating their massive pyramids and temples.
Tulum
If Chichen-Itza awes the observer with its size and complexity, Tulum charms with its location on a limestone cliff above the turquoise splendor of the Caribbean. Located about 75 miles south of Cancun in the state of Quintana Roo, Tulum is the only completely walled Mayan settlement known and is so popular that it attracts about 2 million visitors annually.
This small collection of temples on a bluff overlooking the blue-green sea served as a major trading center and port for the 4,000 or so Mayan canoes that plied the seas from Mexico?s northern coast to South America. Laden with feathers, furs, jade, medicinal herbs, salt, and honey, these canoes navigated a network of inland canals dug by the
Mayans to facilitate travel. Tulum's largest temple, El Castillo, probably served as a lighthouse to guide mariners through an opening in the coral reef.
Uxmal
Another important ruin in the Yucatan Peninsula is Uxmal, located 50 miles south of Merida. Uxmal is the peerless example of classic Pu?uc architecture named for the hilly Pu'uc region of northwestern Yucatan where this style attained its ultimate refinement. It's also the largest site, known for its exquisite sense of proportion. The invention of a local type of cement made from seashells allowed for the construction of wide arches, huge gateways and impressive rooms which add to the beautiful proportions.
Yucatan Peninsula
In addition to fascinating ruins and colonial treasures, Mexico's Yucatan State also offers much for ecotourism and the adventure tourist enthusiast. Its climates have produced forest surroundings that support a wide range of fauna. Visitors can enjoy sports in the open sea in Yucalpeten, while birdwatchers can admire the wide range of species found in El Palmar as well as the impressive flamingo population of Celestun. The lack of surface rivers means that the state obtains water from a complex system of underground rivers, which attract scuba divers and snorkelers. Limestone sinkholes, or cenotes, are also great for exploring.
While the Yucatan State may offer a wide range of Mayan culture and fantastic tourism options, Veracruz State is the site where Apocalypto was filmed. The footage floats from the jungles of Catemaco to the City of Veracruz, offering an excellent look at the southeastern state which invested 1.8 million dollars into tourism in 2005.
After seeing Apocalypto, one will surely be inspired to travel to Mexico and learn more about the country?s vast indigenous cultures. From the cinematography to the amazing landscape, Apocalypto offers a unique look at prehispanic Mexico, and the influences which remain today.
For more information, please visit www.apocalypto.com and www.visitmexicopress.com.
---
Four Aussie Films, including Mel Gibson's New Film Apocalypto, Make Golden Globe Nomination List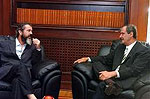 Gibson with Vicente Fox of Mexico

Mel Gibson's ''Apocalypto,'' was among four films nominated for Golden Globe Awards as best Foreign Language Film. Gibson, a brilliant movie maker, seems to have made his amends for emarks he made druing a recent incident with the Malibu police, and is on full speed ahead with this remarkable film that has been given high marks by many in Mexico and the US
---
Golden Globe Nominees Announced



The Globes feature 13 categories for film and 11 for television. Warren Beaty will receive the Globes' Cecil B. DeMille Award for lifetime achievement.

Helen Mirren, Leonardo DiCaprio and Clint Eastwood were among the multiple Golden Globe nominees Thursday, as well as "Babel" with seven nominations, including best dramatic picture. For best dramatic picture nominations: the Robert Kennedy story "Bobby," the mob tale "The Departed," "Little Children" and the"The Queen."
The 64th annual Globes are Hollywood's second-biggest award honors, after the Academy Awards. They traditionally serve as awards to come at the Oscars. Sacha Baron Cohen's hit "Borat" was nominated and Cohen got a bid for best actor in a musical or comedy. Mel Gibson landed back in awards contention for his bloody Mayan epic "Apocalypto," nominated for best foreign-language flick.
Along with a best-actress film nominations are "The Queen," Mirren is considered the favorite to win the best-actress Oscar. Eastwood's "Flags of Our Fathers" and "Letters From Iwo Jima," made the list, and DiCaprio takes on himself in the best dramatic film actor category with nominations for the mob tale "The Departed" and the African adventure "Blood Diamond."
Martin Scorsese is back in contention, earning a best-director nomination for the Globes with "The Departed." Other multiple nominees included Toni Collette for best actress in a movie comedy or musical for the road-trip romp "Little Miss Sunshine" and TV supporting actress for "Tsunami: The Aftermath."

Along with DiCaprio, best dramatic film actor nominees were Peter O'Toole for the would-be romance "Venus," Will Smith in the father-son story "The Pursuit of Happyness" and Forest Whitaker for the Idi Amin saga "The Last King of Scotland."
Also for best dramatic film actress category were PenelopeCruz for "Volver," Judi Dench "Notes on a Scandal," Maggie Gyllenhaal "Sherrybaby," and Kate Winslet for "Little Children."
Golden Globe winners will be announced Jan. 15. The Oscars will be presented Feb. 25.
---

TV Star Mario Lopez Will Be Grand Marshal For
Fourth Annual St. Patrick's Parade in Hot Springs.
HOT SPRINGS NATIONAL PARK, Arkansas — Ten thousand people will be dancing with a star in downtown Hot Springs March 17 when red-hot TV star Mario Lopez serves as the grand marshal of the First Ever Fourth Annual World's Shortest St. Patrick's Day Parade.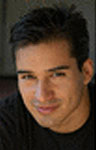 "Mario gained worldwide attention as he danced his way into contention for the championship of ABC's 'Dancing With the Stars' and we are honored that he has agreed to be the grand marshal for our parade," said Steve Arrison, executive director of the Hot Springs Convention and Visitors Bureau. "He came in second to Emmitt Smith, but literally millions of people enjoyed his astounding dancing ability."
"Mario Lopez will add an additional element of excitement to what has become one of the greatest annual events in the downtown area," Arrison said. "Our little parade has grown every year and has reached the point that it brings attention to Hot Springs from all over America and in Canada and Europe. Mario is certain to help us attract even more attention for the city as a place where families can come for a great time."
Lopez has been a TV star since he was a child, beginning with "Kids Incorporated," and starred in "The Golden Girls" in 1987. He made his movie debut in "Colors," and then landed a role as A.C. Slater in "Saved by the Bell." He played Olympic diver Greg Louganis in "Breaking the Surface: The Greg Louganis Story."
His most recent work, in addition to the "Dancing With the Stars" bravura run, included the popular FX series, "Nip/Tuck" and as Dr. Christian Ramirez on "The Bold and the Beautiful."
The parade and accompanying Pub Crawl last year attracted an estimated 10,000 people into the downtown area to watch marchers, floats and bands cover the 98-foot parade route on world-famous Bridge Street, the world's shortest street in everyday use.
"We have already had applications for entries in the 2007 parade," Arrison said, "including the Marching Irish Elvi troupe of Elvis impersonators. In the coming days we will have even more exciting news about events surrounding the parade as we solidify our plans."
For entry forms for the 2007 parade, contact Leysa Robertson at the Hot Springs Convention Center or call her at 501-321-2027.
For information about the parade contact Steve Arrison at 501-321-2027 or e-mail him at sarrison@hotsprings.org.
---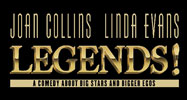 Play: LEGENDS! by James Kirkwood
Starring: Joan Collins and Linda Evans
Dates: January 16 – 28, 2007
Theatre: WILSHIRE THEATRE
8440 Wilshire Blvd, Los Angeles
Performance Schedule:
Tuesday – Friday at 8pm
Saturday at 2pm & 8pm
Sunday at 1pm & 6:30pm
(ASL-interpreted performance: Tuesday, January 23 at 8pm)

Prices:
Orchestra $77.50
Mezzanine $77.50
Front Balcony $52.50
Rear Balcony $27.50
Tickets: Online:
www.BroadwayLA.org
(on sale 12/10, 10am)
Charge by Phone:
213-365-3500 or 714-740-7878
All Ticketmaster Outlets
Tickets available at the Pantages Box Office
beginning 12/10/06.
Wilshire Theatre Box Office will open for public sale
on 1/2/07.
For more information on this and all Broadway/L.A. presentations, please visit our website: www.BroadwayLA.org