63RD ANNUAL GOLDEN GLOBE AWARDS
by Bonnie Carroll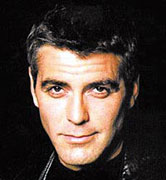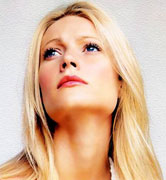 The Hilton Hotel was alive with excitement as the Hollywood Foreign Press presented their annual awards, especially for the producers of "Walk the Line," when both Joaquin Phoenix and Reese Witherspoon walked with a Golden Globe. America's sweetheart gorgeous George Clooney charmed the audience with his pleasure and humility in accepting his award for Syriana; Clooney was also nominated for best director of "Good Night and Good Luck." Gwyneth Paltrow said "he is the greatest actor of our time" and presented Sir Anthony Hopkins with the Cecil B. DeMille Award. "Anthony aspired to be like Sir Lawrence Olivier, and he is the Olivier of our generation," said Paltrow. Felicity Huffman delighted everyone by winning "Best Actress" for her role in the film "Transamerica," and my vote for best dressed goes to Charleze Theron, who brings new life to the real "Hollywood Star" image of days past, and the Armani tuxedo Clooney wore was not too shabby either.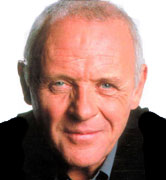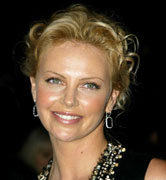 Geena Davis, appeared very presidential in a red satin gown as she took best "Actress, Drama," and the "Desperate Housewives" gang lost out to Mary-Louise Parker of "Weeds," but they all appeared to be having the time of their lives. "Brokeback Mountain" took home a bevy of awards, and Irish born actor Jonathan Rhys Meyers, star of "Elvis," was nearly overcome with joy as he accepted his globe. Paul Newman was selected "Best Supporting Actor" for "Empire Falls," and S. Epatha Merkerson won for "Lackawanna Blues." I was so sad that ""Memoirs of a Geisha" only took one award; it was a favorite of mine this year, but it was satisfying to see Sandra Oh of "Grey's Anatomy" honored for her work. "Paradise Now" a film submission from Palestine was a surprise as best "Foreign Language" film, and Hugh Laurie "House" and Steve Carell "The Office" also took home the gold this year.

Following 9/11 I wondered if we would ever experience the joy and excitement of the "red carpet" again, but the "There's No Business Like Show Business" spirit is back stronger than ever in Hollywood, and it is inspiring; I live by this example of action in life! We send our special
thanks to the producers of the 63rd Golden Globes for yet another great event, and to NBC for their wonderful coverage.

---
MUSIC IN MEMORY OF JOHN LENNON ON THE BIG BLUE BUS
by Bonnie Carroll

In Los Angeles when you see a big blue bus it is usually transporting folks from Santa Monica to work or to play. But, this month The John Lennon Educational Song Contest Bus, a non-profit mobile audio video studio on wheels, rolled into The Grove Shopping Center in Los Angeles, where visitors were welcomed to take a look at the place where students from around the country climb aboard the bus and become a part of their national songwriting contest, which awards over $250,000 in prizes to winners. The bus is outfitted with state of the art, multi-media recording equipment, allowing novices and greatly talented students alike the opportunity to use the finest professional equipment to create and record their own original tunes.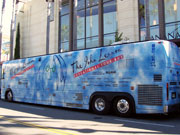 Sponsors Maxell, Yamaha, NAMM, EMI, Discmakers and MusiclansFriends.com are the sponsors that help the Lennon Legacy live on through the outstanding work of the JLSC Tour Bus; a non-profit organization devoted to creating musical sparks in students and building a bonfire of public awareness for music literacy.
The term "hands-on" is given a new context by members of the Executive Committee who demonstrate their commitment to the project by stopping by to work with the kids. Committee members who serve on the John Lennon Songwriting Contest include Elton John, Carlos Santana, Amy Grant, Jellybean Benitez, Michael W. Smith, Wyclef Jean, Black Eyed peas, Dave Koz and Sugar Ray.
Each year the John Lennon Bus makes over 150 stops at schools, concerts and community organizations, traveling over 60,000. Yoko Ono Lennon retains a close connection with the program bearing her late husband's name and it is with her permission that John Lennon's name and likeness is being used. She says, "John would have been very excited about this project. It's exactly the kind of thing he wanted to happen."
During the month of February the bus schedule will be as follows: February 3-4 Ogden, Utah "Battle of the Bands"; February 10-12, Tucson; February 16-17, Phoenix; February 18-19, New Mexico' February 24-27, Tulsa. For future scheduleing information visit:jlsc.com.
---
FAYARD NICHOLAS DIES AT 91
Tony Award winner was elder of tap-dancing Nicholas Brothers,
headlined at famed Cotton Club
Fayard Nicholas, 91, the elder of the legendary tap dancing Nicholas Brothers, passed away at home with his wife, actress Katherine Hopkins-Nicholas, at his side. In failing health since suffering a massive stroke on Nov. 22, Nicholas quietly succumbed after a valiant battle against pneumonia.
Renowned for their elegant, acrobatic tap style that Fayard often referred to as "classical tap," Fayard and Harold broke down racial barriers throughout their career. As child performers at Harlem's Cotton Club, they were the only entertainers in the all African-American cast allowed to mingle with patrons. Though the Nicholas Brothers were self-taught dancers, Fayard boasted that they had appeared in every branch of entertainment except opera.
---
Santa Barbara
International Film Festival
February 3-12, 2006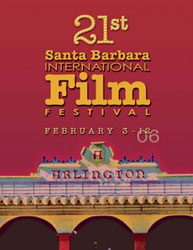 WWW.SBIFF.ORG
---
TONY AWARD WINNER
BILLY CRYSTAL
STARS IN

CRITICALLY-ACCLAIMED PLAY CREATED AND PERFORMED BY MR. CRYSTAL
DIRECTED BY TWO-TIME TONY AWARD WINNER DES McANUFF
PLAYS LIMITED SOUTHERN CALIFORNIA ENGAGEMENT
JANUARY 6 – FEBRUARY 18
AT THE WILSHIRE THEATRE IN BEVERLY HILLS
FOR 32 PERFORMANCES ONLY!
Billy Crystal opened in 700 SUNDAYS to a full and highly appreciative audience on January 12th, his 2005 Tony Award-winning Broadway blockbuster brought smiles and tears to the Southern California audience. The limited engagement for 32 performances can be enjoyed at the Wilshire from until February 18, 2006.
700 SUNDAYS, is a play performed and written by Mr. Crystal with additional content by Alan Zweibel is directed by two-time Tony Award winner Des McAnuff.
700 SUNDAYS, an autobiographical journey, is an original two-act play in which Billy plays numerous characters that have influenced who he is today. It deals with his youth, growing up in the jazz world of Manhattan, his teenage years, and finally adulthood. It is about family and fate.
In its opening week on Broadway, 700 SUNDAYS broke the house record for highest weekly gross at the Broadhurst Theatre and then continued to top its own record every week. The week ending May 22, 2005, marked the highest grossing week, not only for the Broadhurst Theatre, but also for any non-musical production in Broadway history, taking in $1,061,688 at the box office. The show won a 2005 Tony Award and both a 2005 Drama Desk and Outer Critics Circle Award.
"This show has been the greatest professional experience of my life and the audiences have been fantastic. It was great to be part of the Broadway community and now I'm grateful to have the opportunity to share this with audiences in Los Angeles. I so loved the experience of performing live on Broadway and getting close to an audience that I'm thrilled to be able to perform for the rest of the country. I can't get enough of this," said Billy Crystal.
Produced by Janice Crystal, Larry Magid and Face Productions, 700 SUNDAYS has a scenic design by David F. Weiner, lighting design by David Lee Cuthbert, projection design by Michael Clark and sound design is by Steve Canyon Kennedy.
Tickets for 700 SUNDAYS are being offered on a priority basis directly to current Broadway/L.A. subscribers, as well as on a priority purchase option to buyers of Broadway/L.A.'s brand new Spotlight Series.
Tickets will go on sale to the general public on Sunday, November 13, at which time they will be available online at www.BroadwayLA.org and by phone at 213.365.3500 or 714.740.7878. Prices are scaled from $40 to $95, with five lower-priced previews (1/6-1/11) scaled from $35 to $90. Additionally, a limited number of premium seats are available. The Wilshire Theatre Box Office will open for ticket sales at a later date to be announced.
PERFORMANCE SCHEDULE:
Dates: January 6 – February 18, 2006
Theatre: Wilshire Theatre, 8440 Wilshire Blvd.
1 block east of LaCienega Blvd., in Beverly Hills
Performance Schedule:
Tuesday – Friday at 8:00 PM
Saturday at 3:00 PM & 8:00 PM

Tickets:
Online: www.BroadwayLA.org
Phone: 213-365-3500 or 714-740-7878
Outlets: All Ticketmaster Outlets

For more information on Broadway/L.A. attractions, please visit www.BroadwayLA.org