SANTA BARBARA INTERNATIONAL FILM FESTIVAL
3rd ANNUAL SILVER SCREEN BASH
SUNDAY, JULY 17, 2011
In what has become a summer time tradition, The Santa Barbara International Film Festival is having their annual Silver Screen Bash on Sunday, July 17.  A lovely evening, under the stars, supporting the festival and its educational branches is an ideal way to spend a warm July night.  "Every element of this night is positive – the fun had by everyone who attends, the terrific auctions items, the yummy foods and drink and more importantly, the funds raised.  100% of the proceeds raised that night goes directly to benefit the free children's programs of the Santa Barbara International Film Festival" says Festival Director Roger Durling.
The evening will feature a red carpet for all attendees to walk, great foods provided by  20 of Santa Barbara's favorite restaurants and caterers, hosted bars - all included in the price of admission.   Guests will be able to shake their groove thang with DJ Gavin Roy.  Popular party elements returning this year are the Jaqua 'Celebrity Rehab Lounge' and a special Silver Screen Bash Photo Booth guaranteeing fun for all in attendance.
Every guest at the Silver Screen Bash will have the opportunity to bid on unbelievable silent auction items.  All the proceeds benefit the SBIFF FREE children's education and community outreach programs- Field Trip to the Movies, AppleBox Family Films, 10-10-10 Student Screenwriting and Filmmaking Competition and the local favorite 3rd Weekend.
WHEN:                       Sunday, July 17
5pm – VIP Pre-Reception
6pm – Doors Open
WHERE:                     Fess Parker's DoubleTree Resort Plaza del Sol
The restaurants who are participating in this very special evening are:
œ Arnoldis Cafe
œ Chefs On A Mission Catering
œ Chocolate Maya
œ Fresco Cafe
œ Green Star Coffee Company
œ Killer B's BBQ and Bar
œ Le Crepe Shoppe
œ Marmalade Café
œ New West Catering
œ Outback Steakhouse
œ Red Blossom
œ Rodney's Steakhouse
œ Santa Barbara Chocolate Fountains
œ SP Candie Company
œ The Secret Ingredient
œ The Berryman
œ Violette Bake Shop
œ Wahoo's Fish Tacos
œ Whole Foods
œ World Cuisine Express
The event is proudly sponsored by Santa Ynez Band of Chumash Indians, Montecito Bank & Trust, lynda.com, Cox Communications, Rabobank, La Cumbre Plaza and Paseo Nuevo.  Media sponsors include KLITE 101.7 , 99.9 KTYD, AM990 KTMS, KVYZ 94.5 FM, The Santa Barbara Daily Sound, The Santa Barbara Independent and Rincon Broadcasting.  Additional sponsors are RND Vodka , Santa Barbara Farmers Market, Jaqua Beauty and Bella Vista Designs.
Tickets are still available for purchase, starting at $75.  Log onto www.sbfilmfestival.org to purchase tickets; for additional information, contact the SBIFF office at 805-963-0023.
---
Valery Hache  /  AFP - Getty Images
---
SANTA BARBARA THEATRE ORGAN SOCIETY CELEBRATES SATURDAY MORNING AT THE MOVIES JULY 9, 2011 AT 10:00 AM WITH  SILENT FILM CLASSIC "BEN HUR" ACCOMPANIED BY ORGANIST SCOTT FOPPIANO ON THE "WONDER MORTON" AT THE ARLINGTON THEATRE 1317 State Street
JULY 9, 2011 AT 10:00AM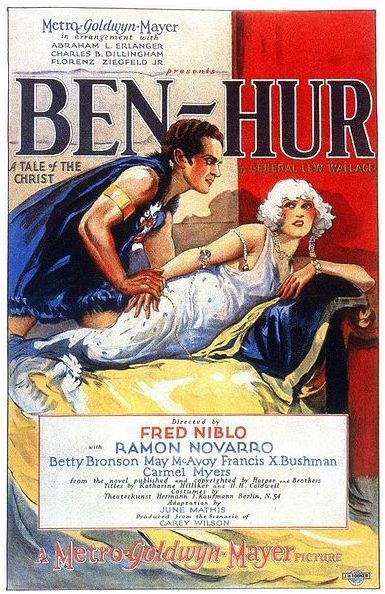 On Saturday July 9, 2011 at 10:00 a.m. the Santa Barbara Theatre Organ Society will host world renowned organist Scott Foppiano to accompany 1926 silent film classic "Ben Hur" starring Ramon Novarro, May McAvoy and Francis X. Bushman. Tickets for the silent film and organ performance will be on sale in the Arlington Theatre box office one hour prior to the performance. Cost is $11.00, and children under 12 with an adult are free.                                                                                       
Scott Foppiano is a critically acclaimed recitalist, theatre organist and silent film accompanist who has played and recorded on numerous great classical and theatre organs in the US, Canada and Europe. He has been featured at the American Guild of Organists, Organ Historical Society and American Theatre Organ Society conventions, performed in Rome, Italy at the Vatican, and was named Organist of the Year at the American Theatre Organ Convention in 2007.
---
Lake Tahoe Shakespeare Festival Package Offered at
Resort at Squaw Creek™
Resort at Squaw Creek™ is pairing a stay with an evening at Lake Tahoe Shakespeare Festival's presentation of Twelfth Night in a Bard-celebratory package.  The package includes one-night guest room accommodations for two, a reusable picnic cooler bag loaded with gourmet goodies hand-packed by Resort at Squaw Creek™'s culinary team, featuring a variety of meats, cheeses, breads and a bottle of wine for the show, and two tickets to a performance of Twelfth Night.   Valid for festival dates from July 15 through August 21, 2011, the package starts at $265 per room, per night Sunday through Thursday, and $295 per room, per night Friday and Saturday, plus taxes and daily resort fee.  The offer is subject to availability and a two-night minimum stay is required.
 The Lake Tahoe Shakespeare Festival takes place at a natural amphitheatre on the shores of Lake Tahoe at Sand Harbor.  With a canopy of stars above and Lake Tahoe as a backdrop, the venue is one of a kind.  This year's production is directed by Charles Fee, Producing Artistic Director.  
 Additional tickets to the Shakespeare Festival may be purchased through Resort at Squaw Creek™.  All shows start at 7:30 PM, with doors opening at 5:30 PM.  The show is dark on Mondays.  Call 800.401.9501 and mention the Lake Tahoe Shakespeare Package, or use promo code FESTRSC at www.squawcreek.com. 
_______________________________________________________________
Kenya in the Movies: The First Grader
Inspired by a true story, 'The First Grader' tells the moving story of an illiterate 84-year-old man, Kimani Ng'ange'a Maruge, who's determined to be admitted into a primary school in rural Kenya.  This emotional film takes viewers on a journey between Maruge's experience of fatherhood, being a warrior in the Mau Mau rebellion against British colonialism, and his fortitude to read as an elder. Set on a remote mountain in the Kenyan bush, the film details how Maruge's battle to enter school challenges the beliefs of his community and ultimately proves the power of education. With several exuberant and eccentric performances, 'The First Grader' showcases the power, joy and perseverance of the human spirit.
'The First Grader' has received international acclaim and is now screening in select cities nationwide. For more information, please visit www.thefirstgrader-themovie.com.
___________________________________________________________________
LA FILM FESTIVAL JULY 2011
___________________________________________________________________'
           SANTA BARBARA BOWL 2011 SUMMER SCHEDULE
| | |
| --- | --- |
| June 23 @ 7:00pm | Wiz Khalifa w/ Big Sean, Chevy Woods |
| June 24 @ 7:00pm | Alison Krauss & Union Station featuring Jerry Douglas |
| July 2 @ 7:30pm | My Morning Jacket |
| July 6 @ 7:00pm | Steely Dan w/ Sam Yahel |
| July 9 @ 7:00pm | Eddie Vedder w/ Glen Hansard |
| July 14 @ 7:30pm | Bob Dylan & His Band |
| July 15 @ 7:00pm | Incubus |
| July 30 @ 7:00pm | George Lopez |
| July 31 @ 7:00pm | Peter Frampton |
| August 13 & 14 @ 7:00pm | Katy Perry |
| August 21 @ 6:00pm | 311 & Sublime with Rome and with Del Mar |
| September 11 @ 6:00pm | Ray LaMontagne & The Pariah Dogs w/ Brandi Carlile, Vusi Mahlasela |
| September 13 @ 7:00pm | Fleet Foxes w/ The Walkmen |
The historic Santa Barbara Bowl was built in 1936 with WPA funds as an annual site for Old Spanish Days Fiesta. Now celebrating our 75th Anniversary year and the seventh year of the American Classic Campaign for the renovation and restoration of the Santa Barbara Bowl, we have raised $20,823,195 for improvements to date.
The Bowl Foundation has received a one-to-one $1,000,000 anonymous Matching Grant for the American Classic Campaign! This challenge requires the Campaign to raise $1,000,000 in new and increased pledges and gifts by June 30, 2011, which will generate an additional $1,000,000 from the anonymous foundation donor, producing a total of $2,000,000. All campaign contributions received between now and the deadline will qualify for this matching grant.
You can help: Friend of the Bowl, Name-A-Seat
---

---