The 32nd Santa Barbara International Festival Opening Night festivities included the film "Charged" at the Arlington Theatre, followed by the Gala event at Paseo Nuevo, where thousands gathered to enjoy the best in food & beverage, music and celebrate their 32nd year.
The Opening Night Film was the World Premiere of CHARGED, directed by Phillip Baribeau. CHARGED chronicles the journey of chef and outdoorsman, Eduardo Garcia, and his recovery after being electrocuted by 2400 volts of electricity miles from help in the Montana backcountry. Garcia lost his hand, ribs, muscle mass, and nearly his life, but more important than what he lost is what he found. CHARGED tells Eduardo's remarkable journey from getting up off the forest floor to becoming the man he is today. Directed by Phillip Baribeau and Starring Eduardo Garcia, Jennifer Jane, Corinne Jane, Manuel Garcia, Kathie Garcia, Indra Fanuzzi, Eugene Garcia. On the red carpet were Phillip Baribeau, Director and cast Eduardo Garcia, Jennifer Jane, Corinne Jane, Manuel Garcia, Kathie Garcia, Indra Fanuzzi, Eugene Garcia.
The Gala at El Paseo was a sea of fun loving cineophiles savoring samples from area sponsors and enjoying music and entetainment throughout the State Street center. A bevy of food and wine vendors were serving bites and pouring sips.
The movie line up for 2017 offers films from 51 countries. Films will be seen by attendees at Santa Barbara theatres, including the landmark Riviera Theatre in the Santa Barbara foothills recently acquired by the Santa Barbara International Film Festival. The new look to the facility was revealed in April. The downtown Metropolitan Theatres as well as the Arlington and Lobero Theatres will be the center of film, tribute and panel activities. There will be 29 world premieres and 47 U.S. premieres. Films will be coming in from 50 countries, and the films will address timely issues for the United States and the rest of the world including themes like environmental activism, feminist issues, efforts to stop Isis and the global refugee crisis.
Denzel Washington, actor, director, producer walked the red carpet and was presented the Santa Barbara International Film Festival 2017 Maltin Modern Master Award. Leonard Maltin, did yet another smashing on-staghe interview with Denzel Washington, the recipient of his namesake award.
During the interview Washington shared he will be producing a portfolio of plays done by Stephen McKinley Henderson, and was so glad to be producer, director and actor for Henderson's "Fences" film. "Fences" has been nominates for numerous Oscar Awards in Hollywood later in February. Washington's third directorial effort, Fences, starring himself and Viola Davis, was released on December 16, 2016.
         VIRTUOSOS AWARD PRESENTED BY UGG (Photos: Bonnie Carroll, LBN)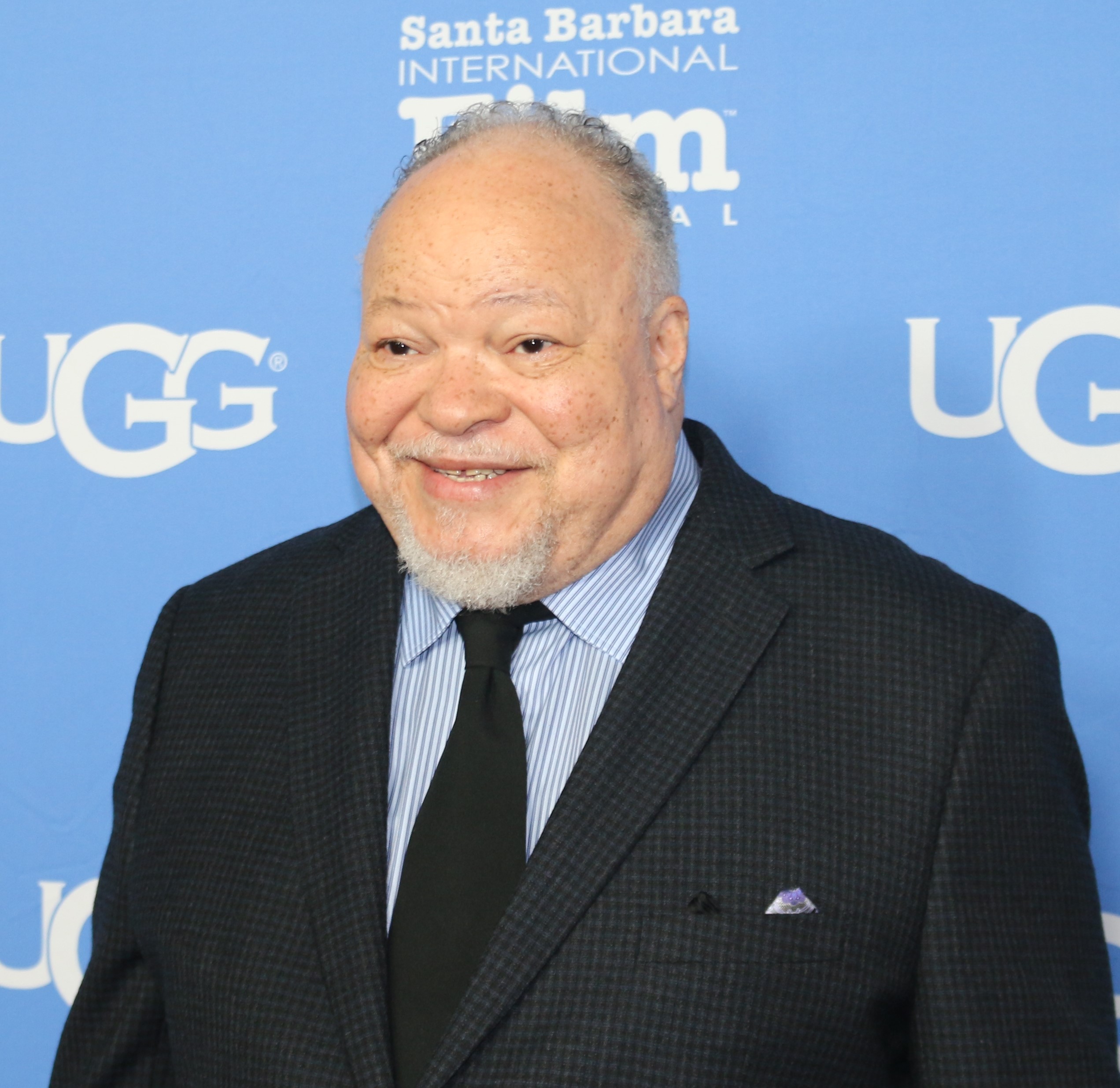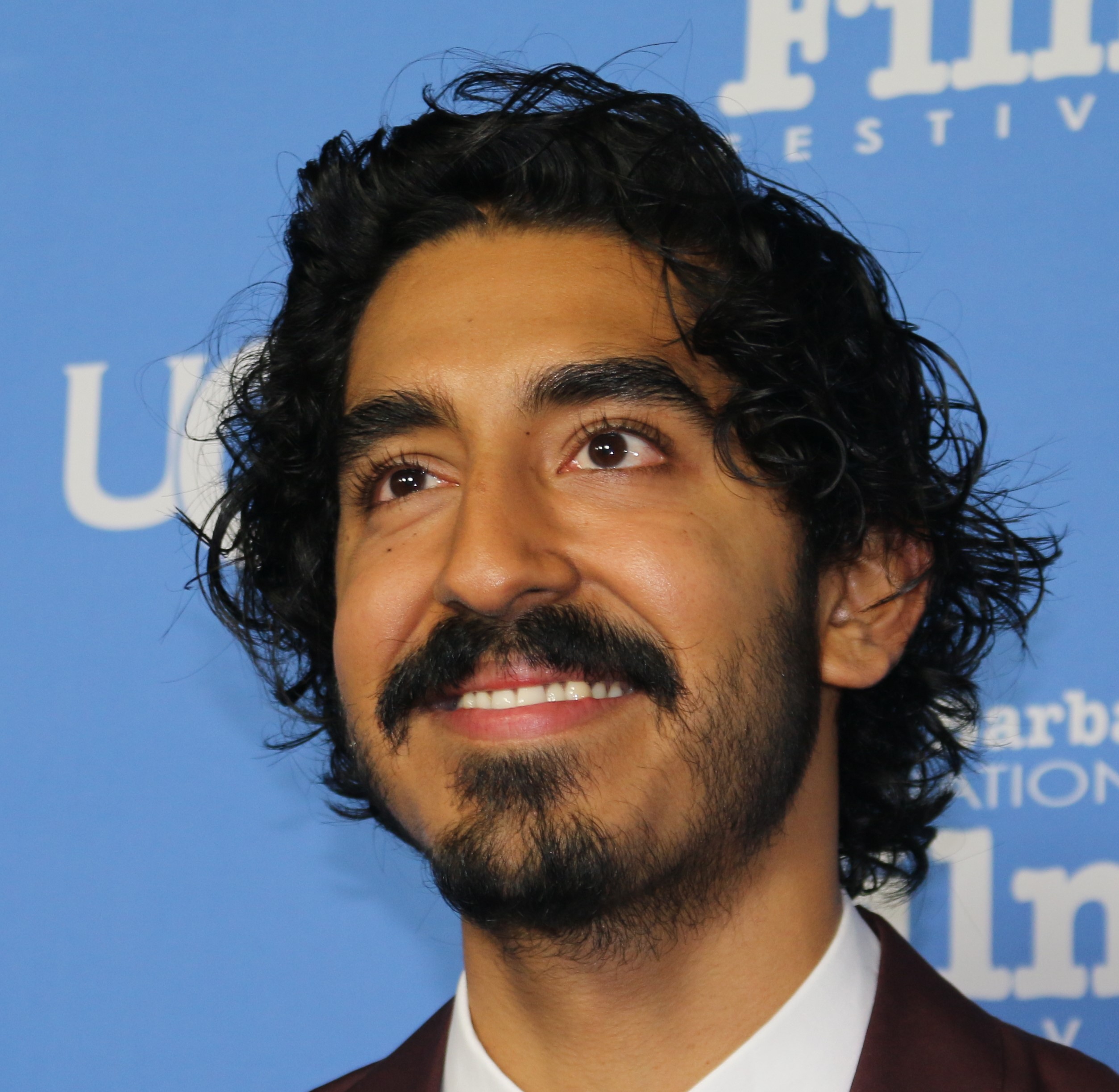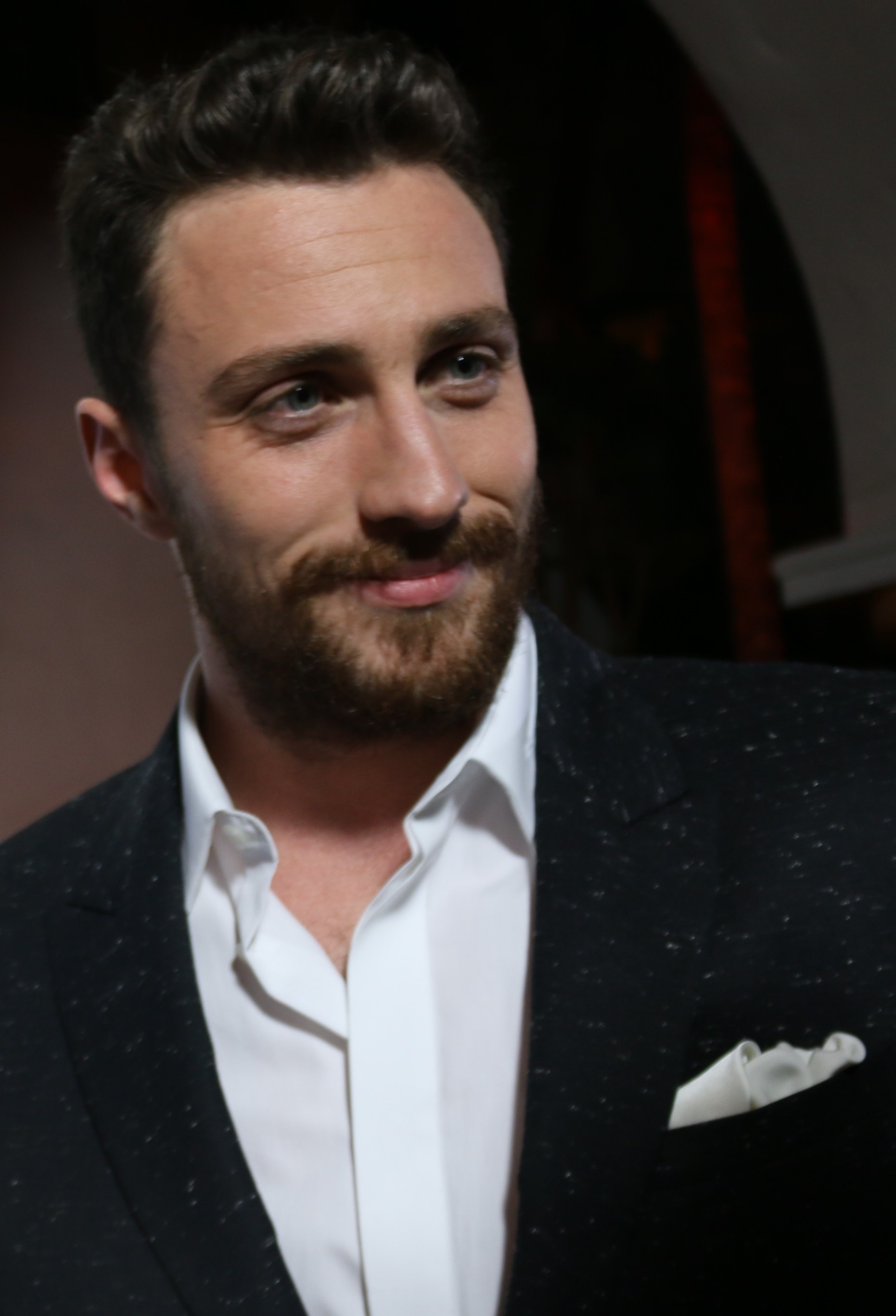 Stephen McKinley Henderson - Dev Patel - Aaron Taylor-Johnson
Virtuosos Tribute, which honored Aaron Taylor Johnson, Dev Patel, Janelle Monáe, Mahershala Ali, Naomie Harris, Ruth Negga, Simon Helberg, and Stephen McKinley Henderson, at the Santa Barbara International Film Festival on Saturday, 2/4 began with screaming fans welcoming the celebs to the Arlington Theatre Red Carpet, where honorees gave interviews to local and international media, and an army of photographers were poised to shoot them as they came down the line.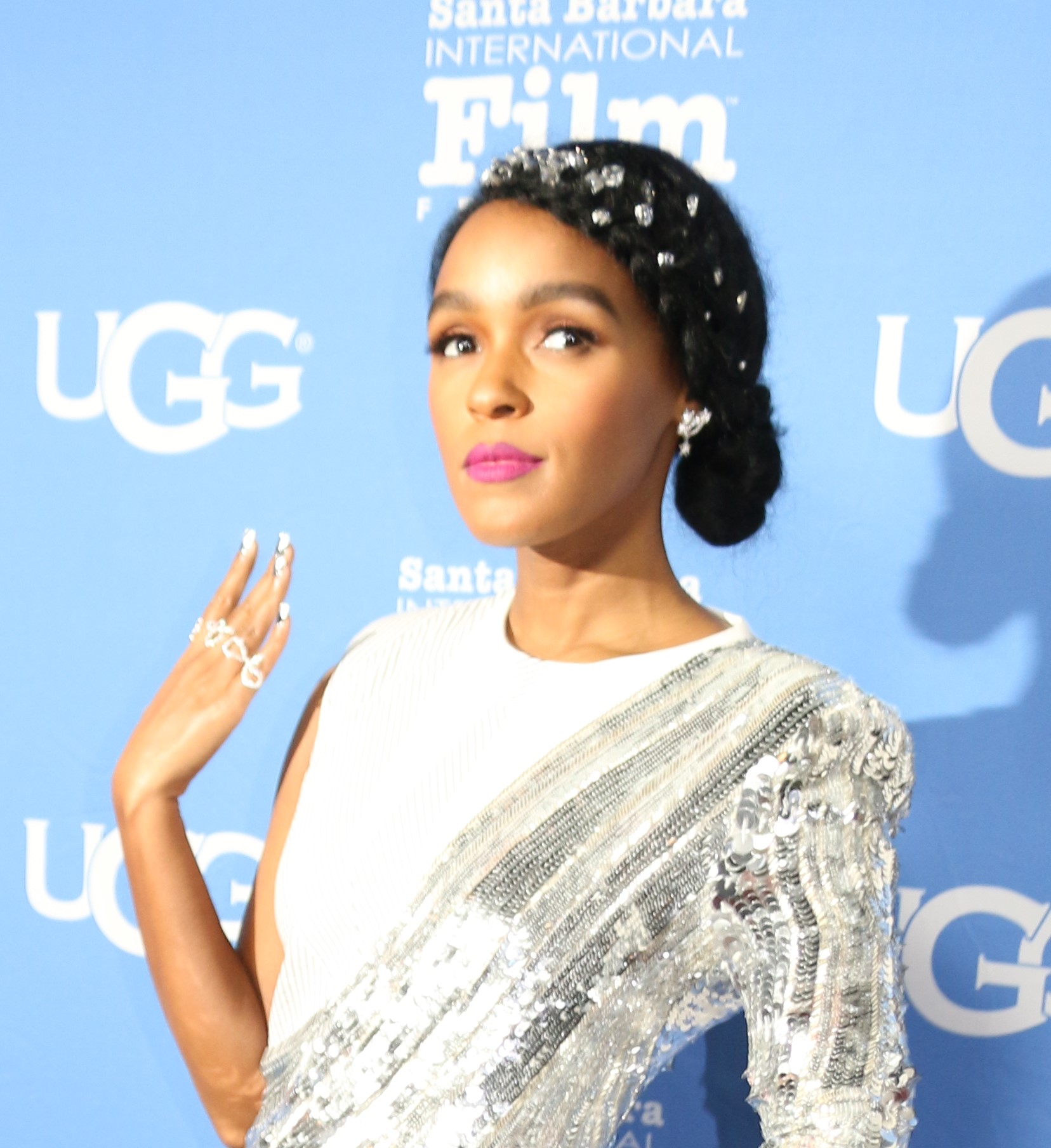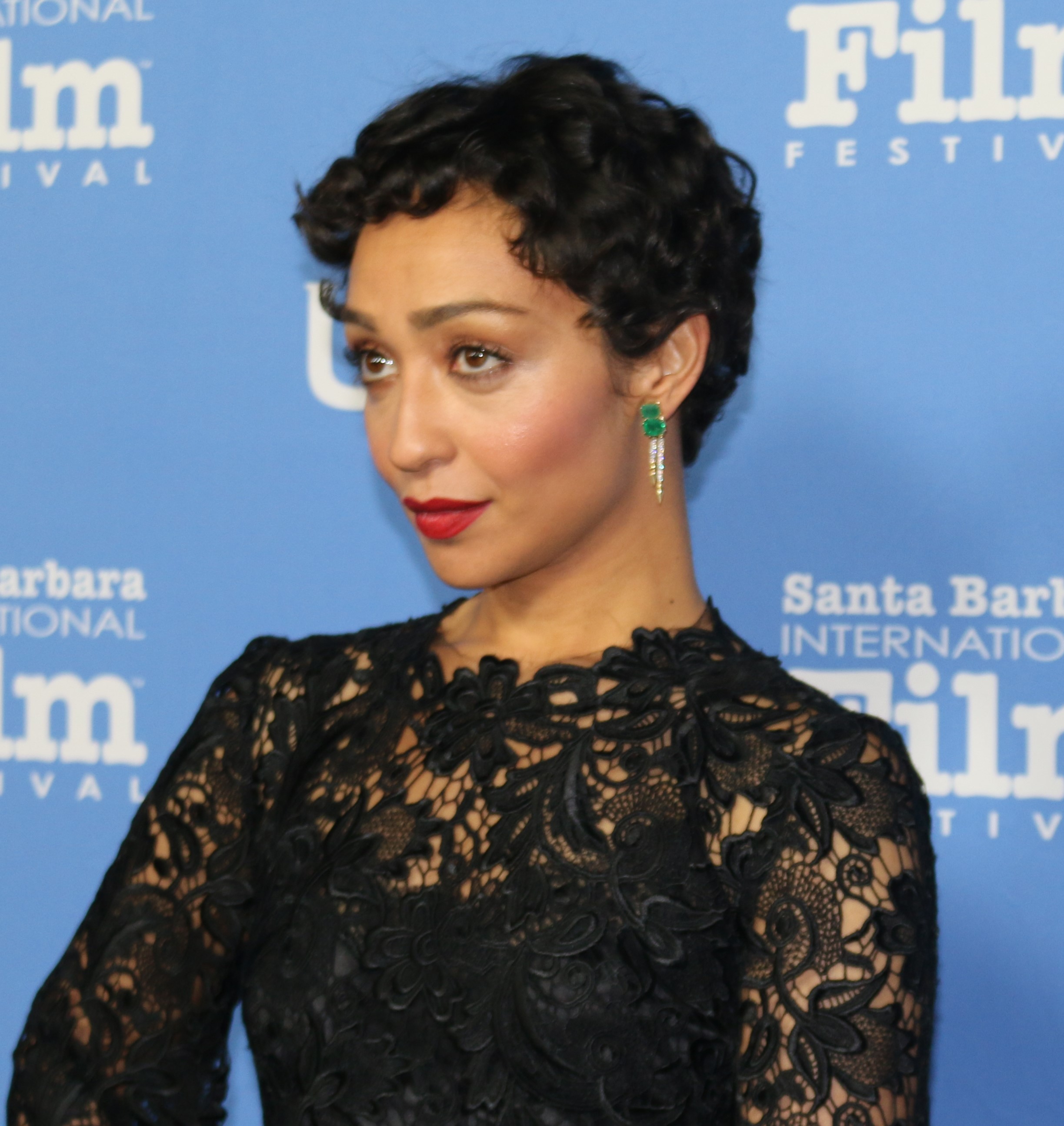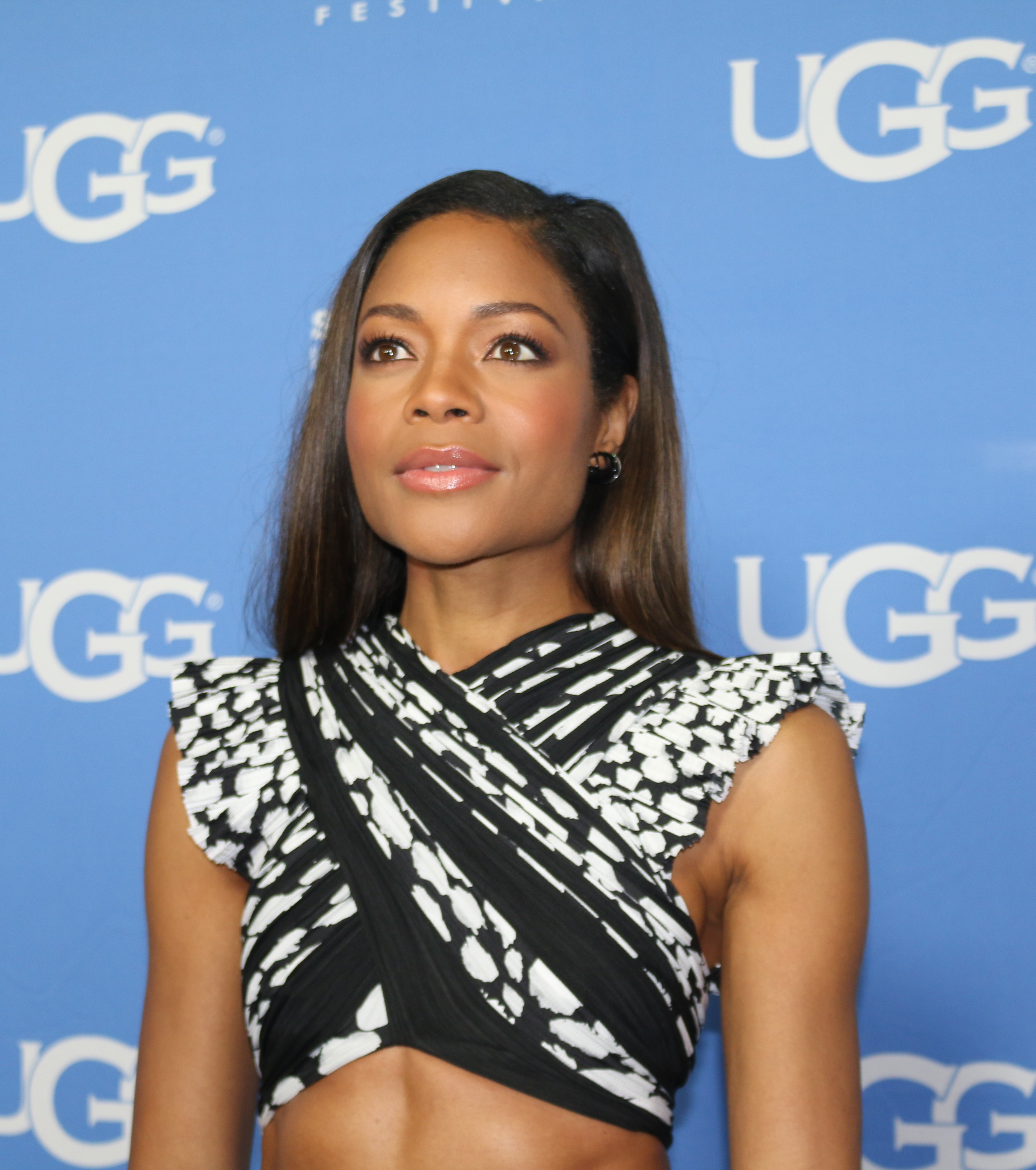 Janelle Monae - Rugh Nega - Naomie Harris
Virtuosos actresses Janelle Monae "Hidden Figures, Moonlight," Naomie Harris "Moonlight" and Ruth Negga "Loving" brought a stunning old Hollywood feel to the carpet, walking runway style in gowns that were drop dead gorgeous. Mahershala Ali shared his loving views on the best our world and it's people can be through caring and cooperation while being interview on the carpet during by China TV.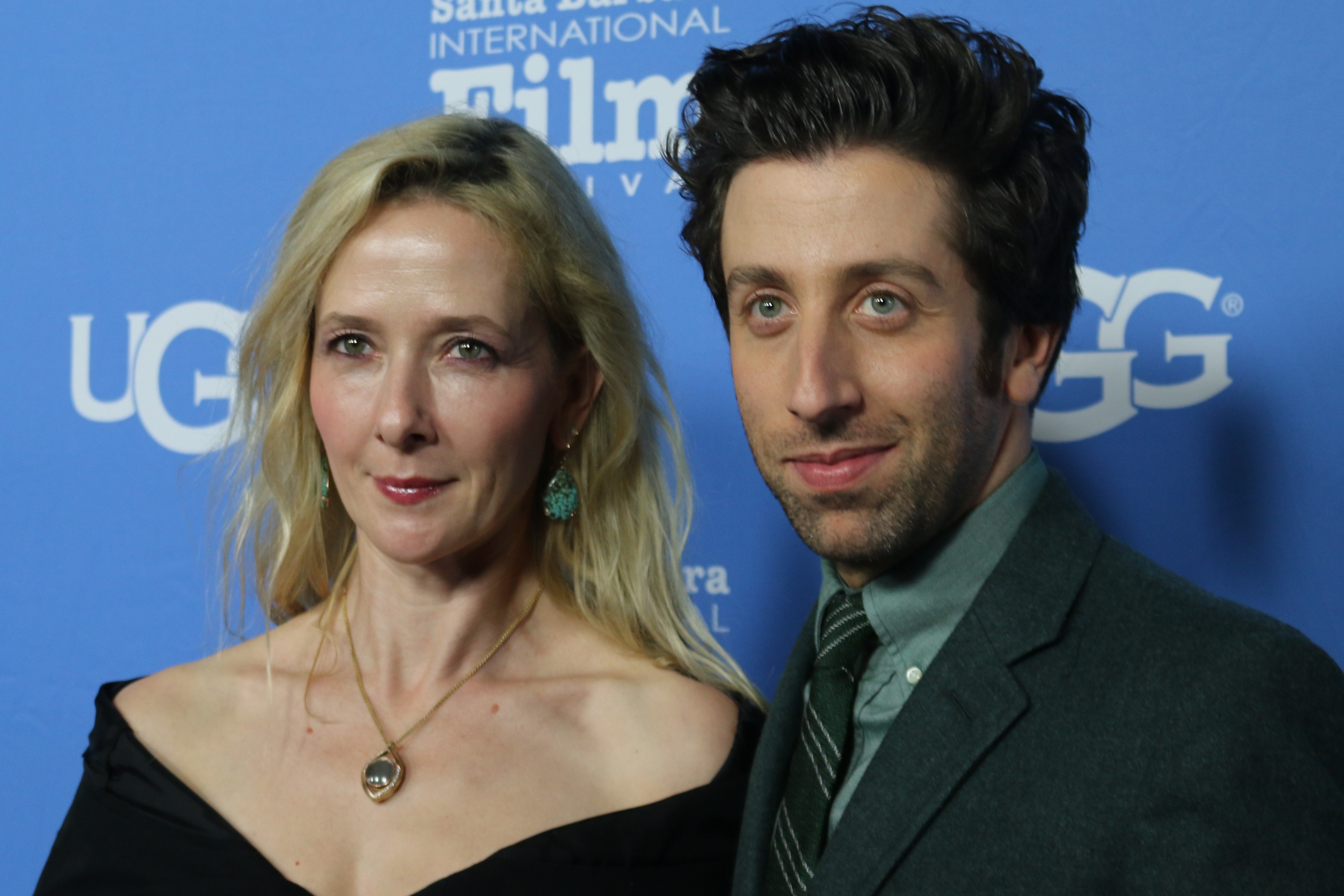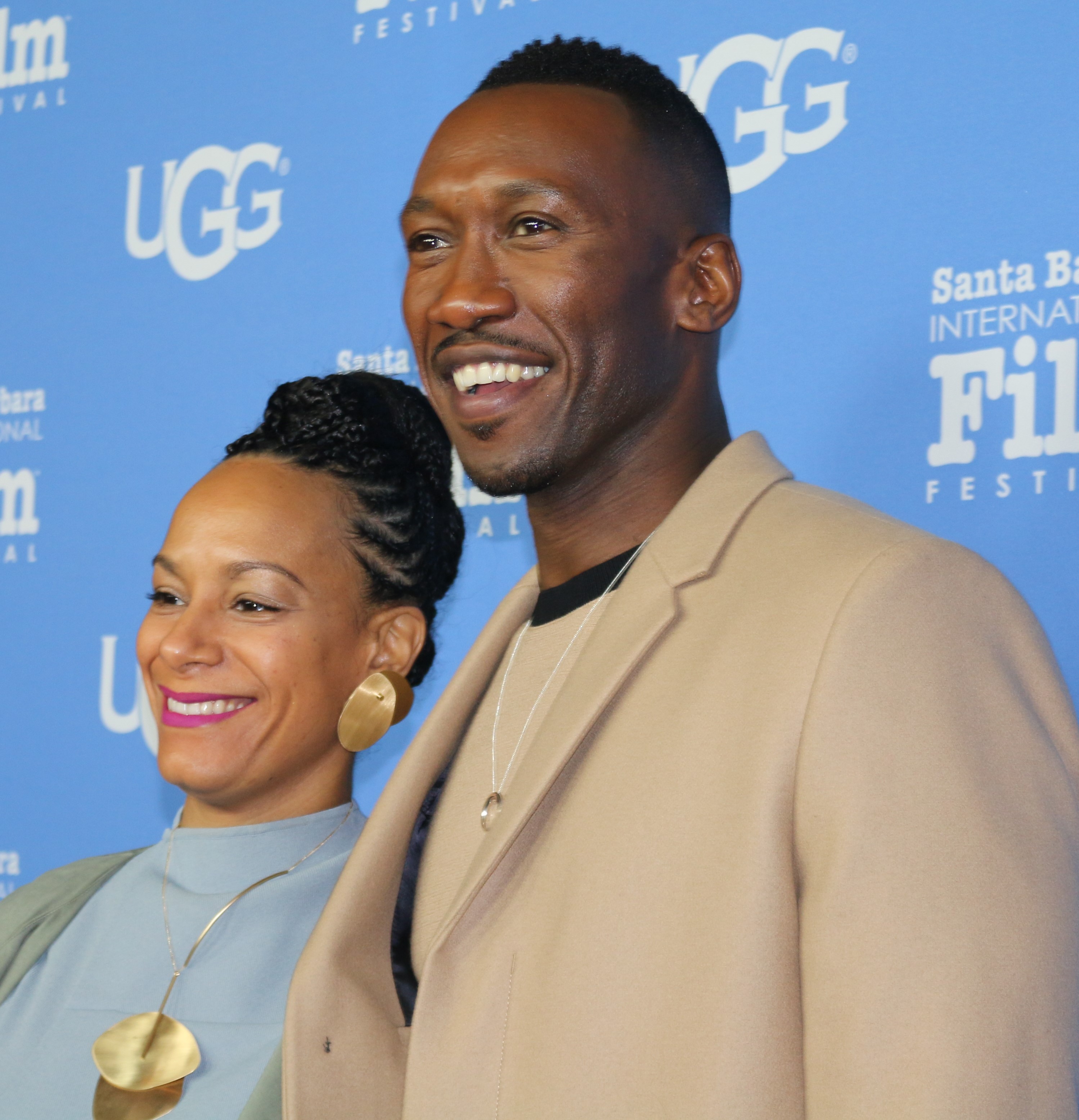 Simon Helberg - Mahershala Ali - Christopher Lloyd
Christopher Lloyd, Actor and Presenter of the Virtuosos Awards, dearly loved long-time Santa Barbara resident, was his usual fun loving self, and said he was pleased to be a part of this special recognition tribute. Lloyd's wife wearing a beautiful middle-eastern inspired gown said "we all need to support our Muslim sisters." Congratulations to all the honorees, and best wishes to many of them who are in consideration for the 2017 Oscar Awards on February 26. Visit www.SBIFF.org for tribute and ticket information.
AFFLECK & WILLIAMS HONORED WITH SBIFF CINEMA VANGUARD AWARD 2017 (Photos by Lynn Williams for LBN)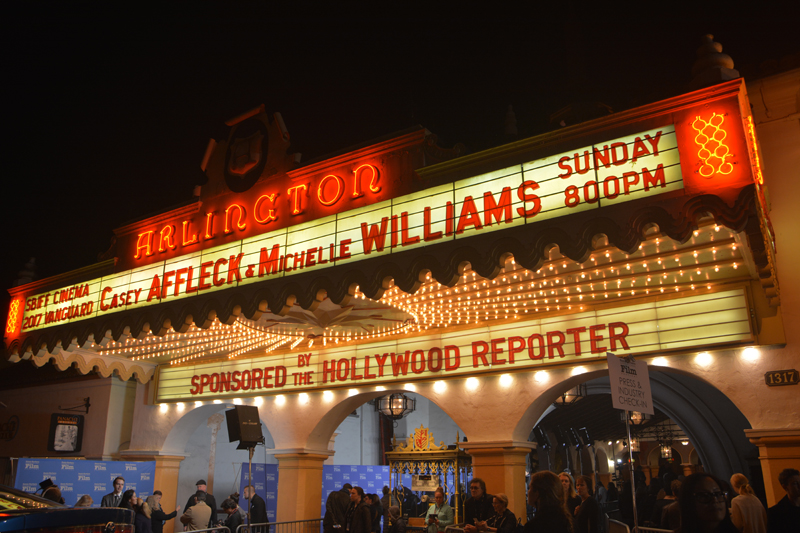 Manchester By The Sea co-stars Michelle Williams and Casey Affleck walked the red carpet together at the Santa Barbara International Film Festival, looking like the great friends and collaborators they have become.
Manchester by the Sea is the story of a Boston janitor played by Affleck, who unexpectedly must return home after his brother dies of heart disease, forcing him to care for his teenage nephew Patrick, played by Lucas Hedge, is a moving film that has received world renown and honors.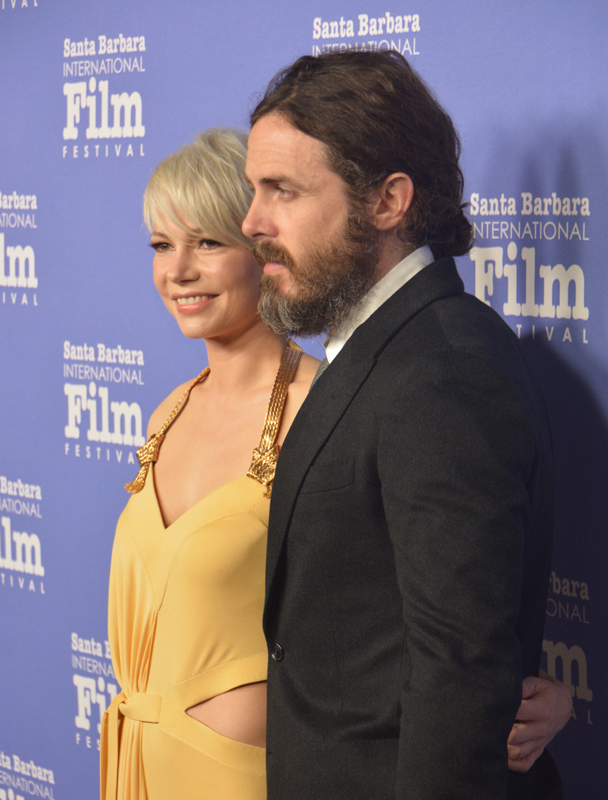 Screenwriter and director Kenneth Lonergan, who is nominated for both an Original Screenplay and Best Directing Oscar, was on hand to present the award to the film's two stars, and was as gracious in his tributes to their performances as the stars were in return to his writing and direction.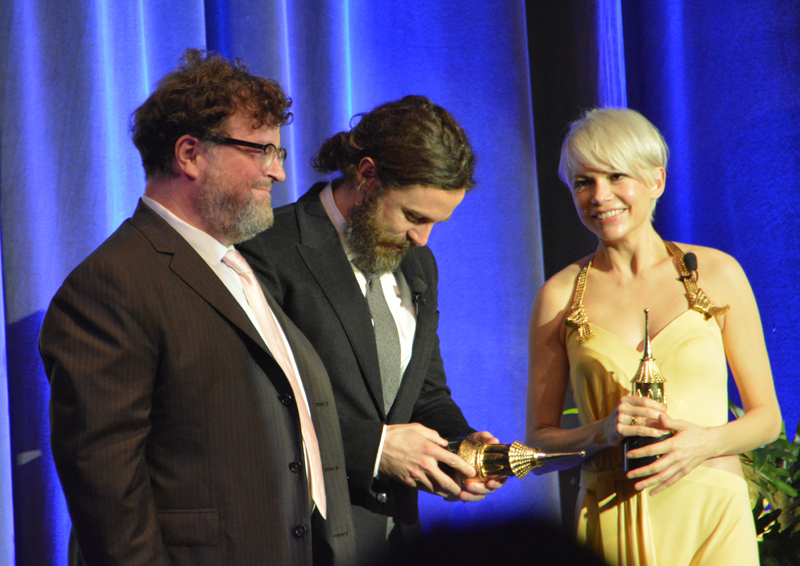 'Throughout their respective careers, Casey and Michelle have impressed audiences with distinct, personal roles and we are excited to bring them together to honor their sublime performances in Manchester by the Sea,' said Roger Durling, Executive Director of the festival.
The interview was conducted by Scott Feinberg, awards columnist at The Hollywood Reporter, which sponsored the event. The Cinema Vanguard Award was created in recognition of those who have forged his or her own path, taking artistic risks and making a significant and unique contribution to film.
Past recipients include DiCaprio, Gosling, Scorsese, Amy Adams, Bérénice Bejo, Jean Dujardin, Vera Farmiga, Nicole Kidman, Rooney Mara, Peter Sarsgaard, Kristin Scott Thomas, Stanley Tucci and Christoph Waltz. Visit www.SBIFF.org for film and tribute tickets through February 11.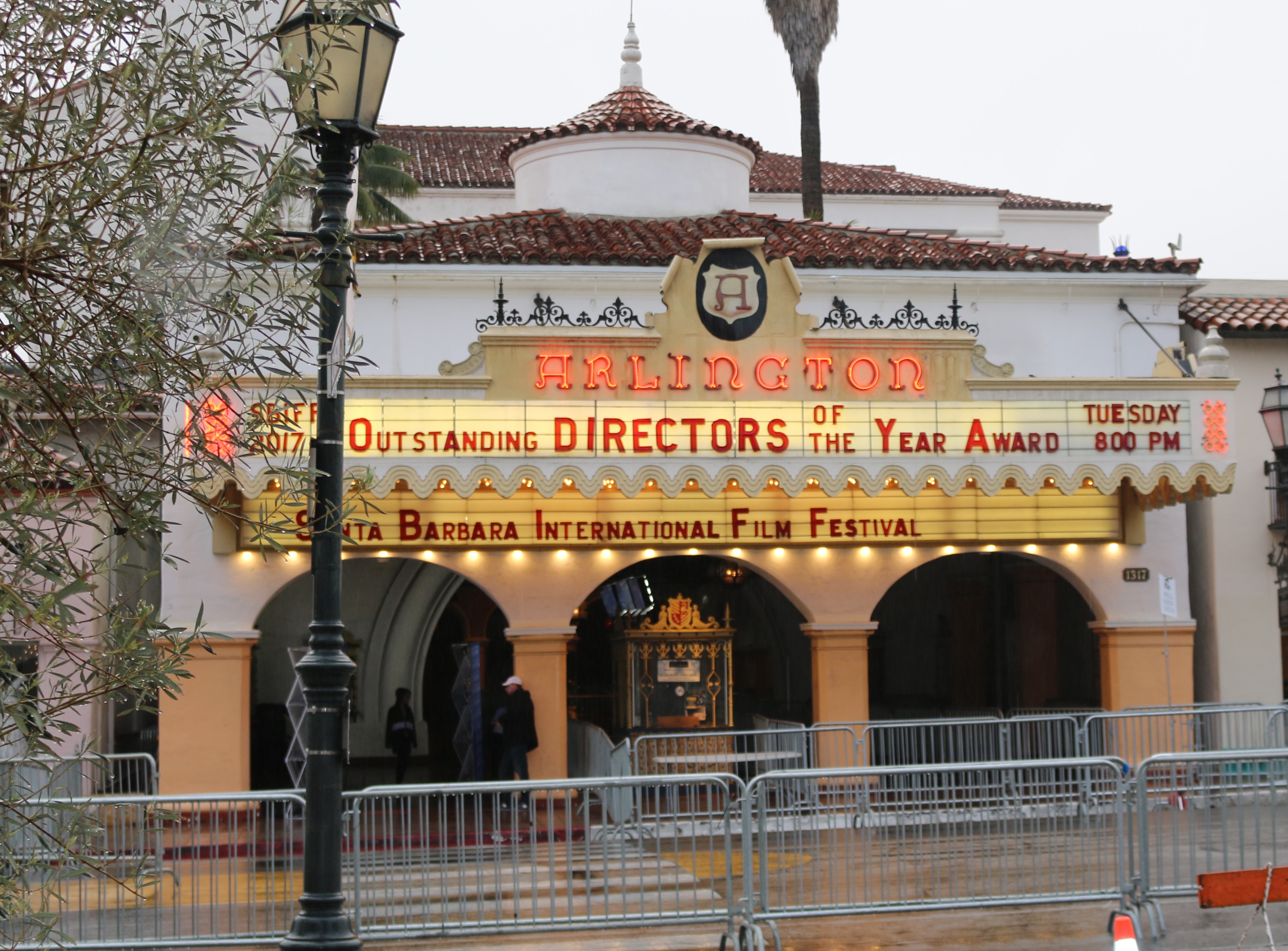 SBIFF 2017 DIRECTORS OF THE YEAR AWARDS
(photos by Bonnie Carroll/LBN)
Barry Jenkins (Moonlight), Damien Chazelle (La La Land), Denis Villeneuve (Arrival), Ava Du Vernay and Kenneth Lonergan (Manchester by the Sea) were honored with the 2017 Outstanding Directors of the Year Award. They were celebrated individually for their films Moonlight, La La Land, Arrival, and Manchester by the Sea respectively. The individual honors were followed by a joint conversation between the directors on their craft and the landscape of modern day filmmaking on Tuesday, February 7th at the historic Arlington Theatre.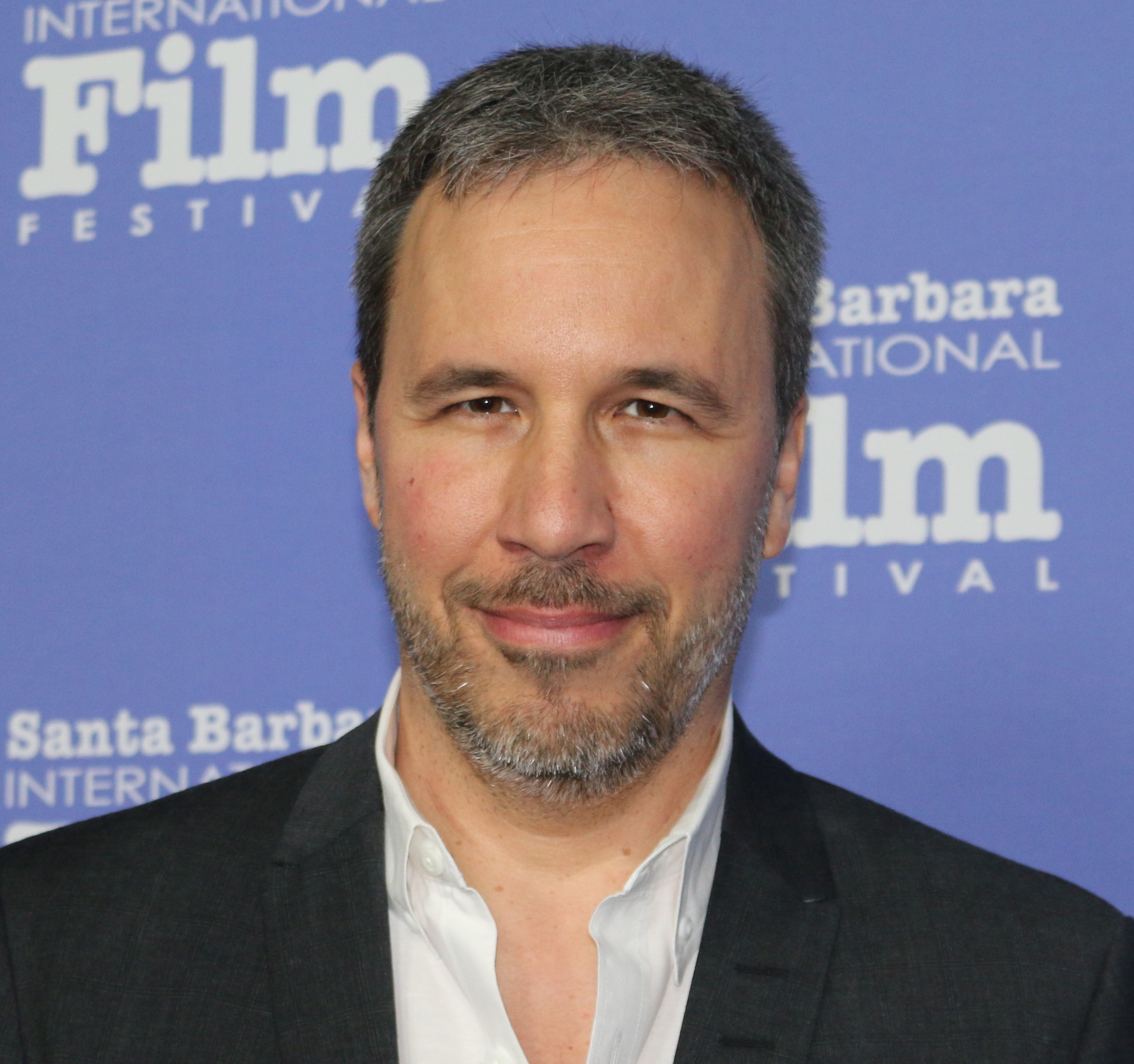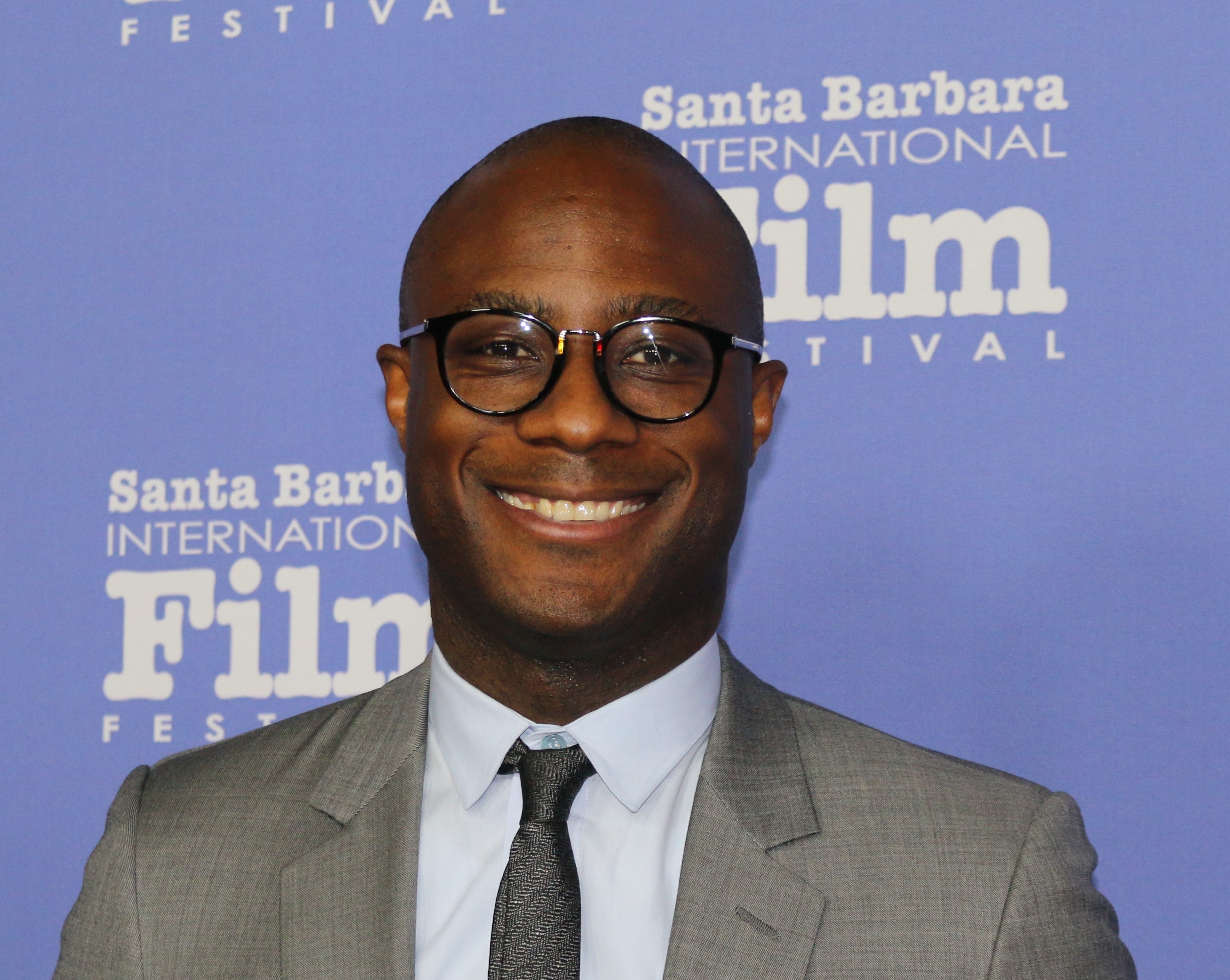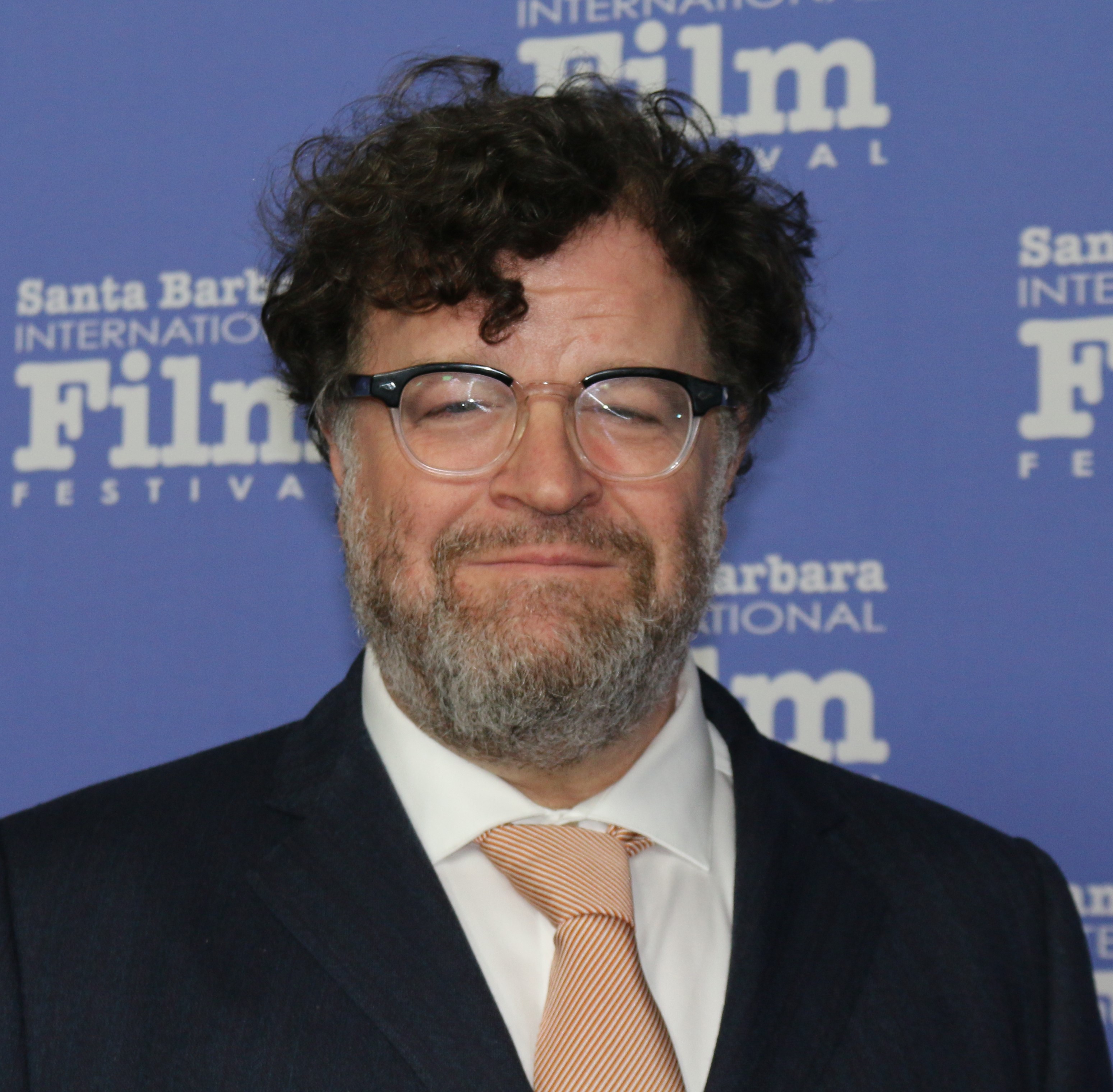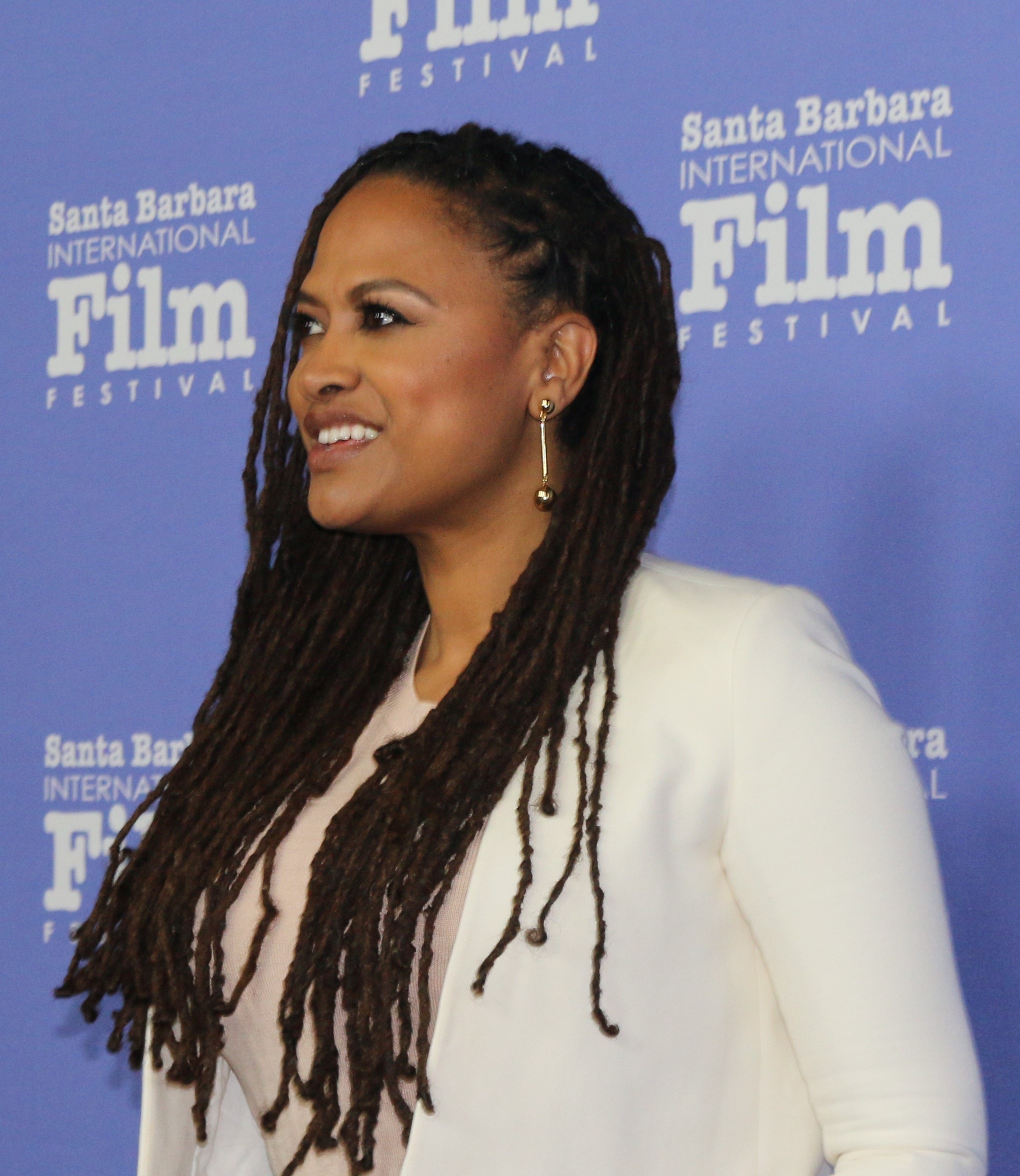 Denis Villeneuve, Barry Jenkins, Kenneth Lonergan, Ava DuVerney                                       

The Outstanding Directors of the Year Award is given to directors that push the boundaries of cinema with their innovative approach. They are master storytellers, bringing their vision to life on screen. Past recipients include Adam McKay (The Big Short), Alejandro González Iñárritu (The Revenant), George Miller (Mad Max: Fury Road), Lenny Abrahamson (Room), and Tom McCarthy (Spotlight).
"These directors are true visionaries, with a body of work that exemplifies excellence in filmmaking," said SBIFF Executive Director Roger Durling. "We are thrilled to honor this group for their indelible contributions to cinema."
ISABELLE HUPPERT ACCEPTS SBIFF MONTECITO AWARD
photos: Bonnie Carroll/LBN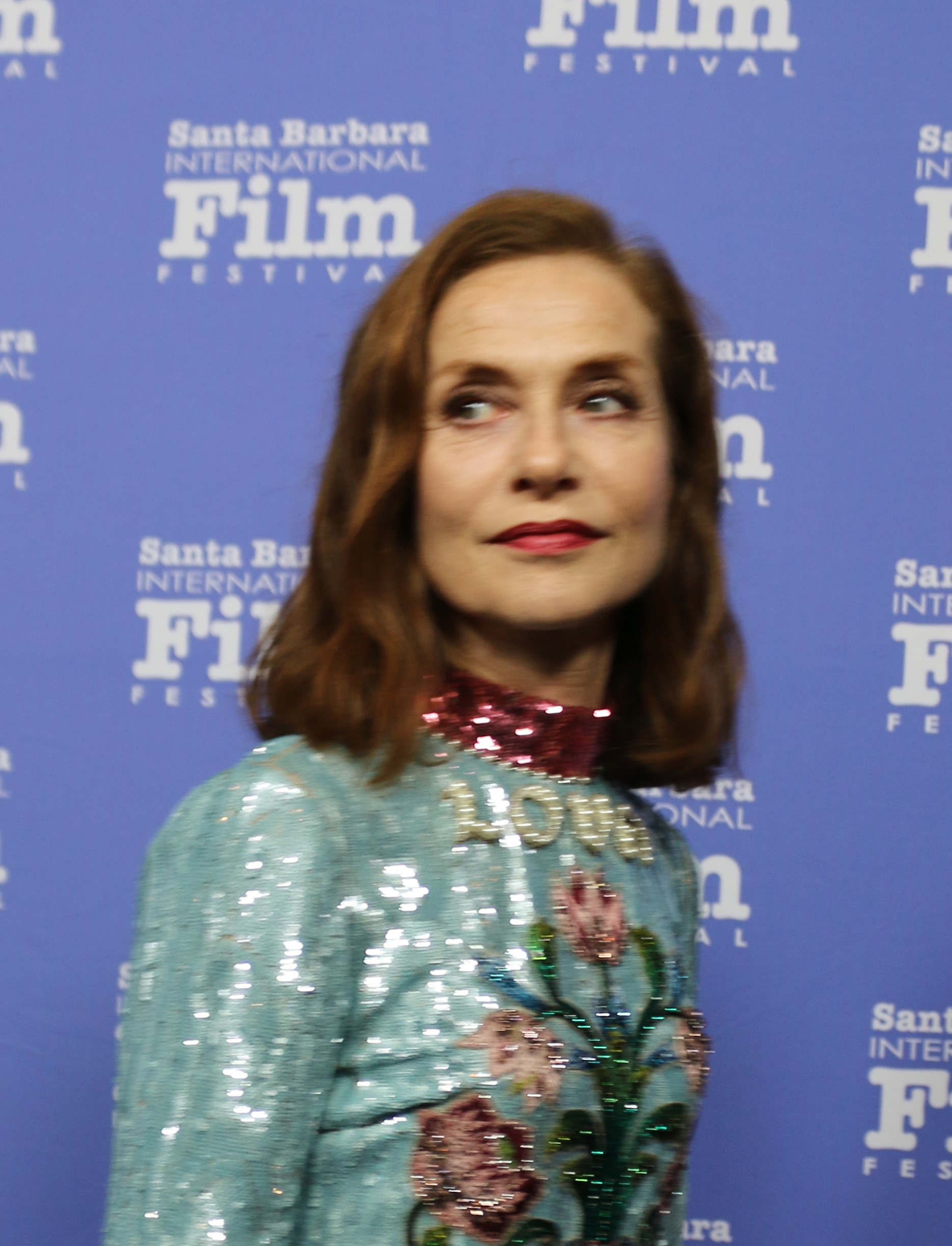 Legendary actress Isabelle Huppert accepts  the Montecito Award with style, grace and brillance. The acclaimed actress stunned everyone as she arrived in a designer gown by Gucci, with the word "Loved" done in sparkling beads on the bodice. The exquisite gown was truely a show stopper on the carpet and on stage.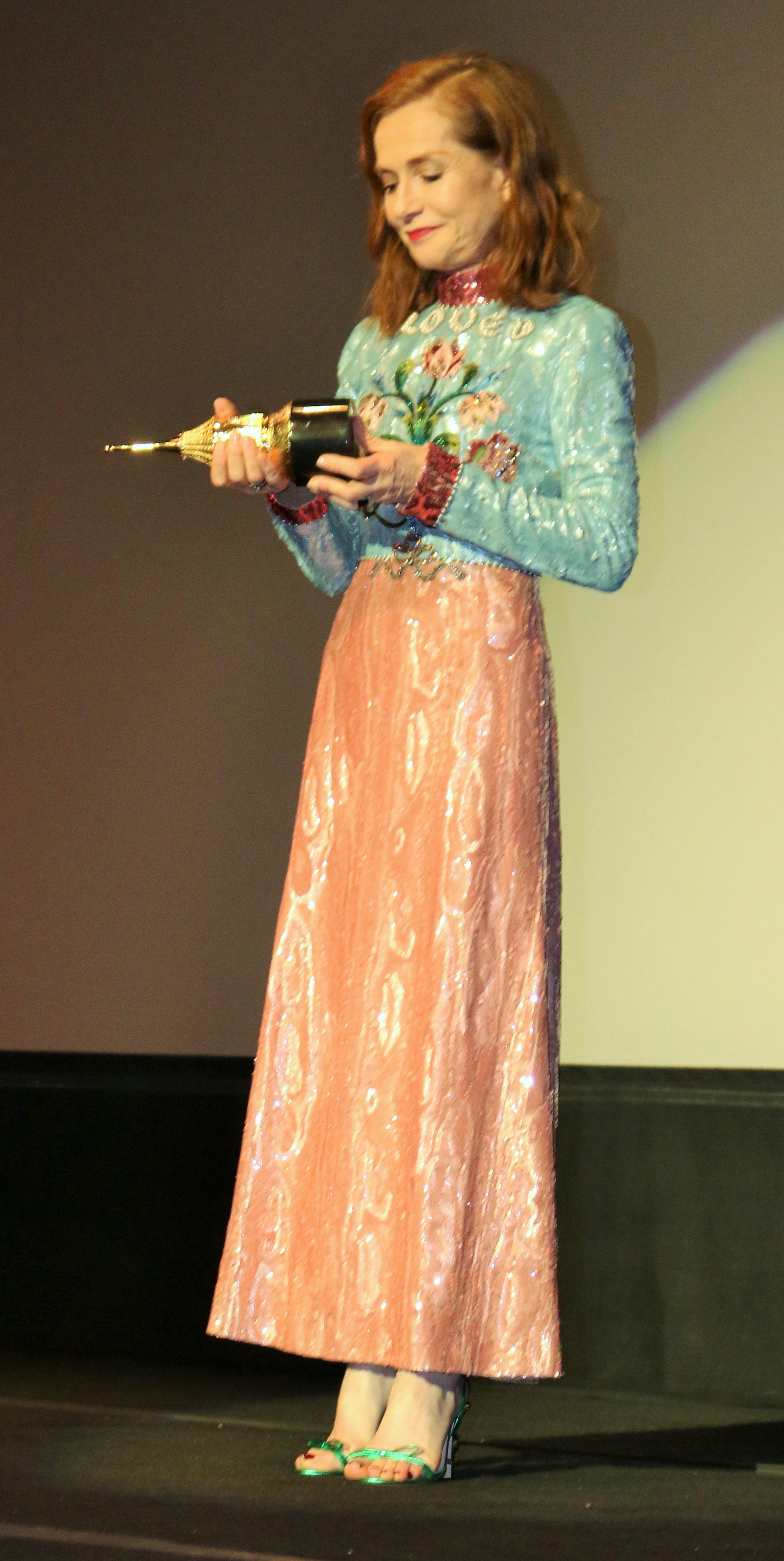 Huppert has starred in over 100 films, but it was her performance in Paul Verhoeven's thriller Elle that enamored audiences and made her the darkhorse of Awards Season. Critic Anne Thompson did an outstanding job as moderater during a two-hour conversation with Huppert, detailing her career that spans from 1975 Rosebud to 2004 I Heart Huckabees. Her articulate and charming description of working her craft through the years with many great directors was fascinating and educational, and she shared she has no fear of any role: "I like to do both. I was never really obsessed with doing dramas over comedies because in comedy you can find drama, and in drama you can find comedy."

Regarding her latest role in Elle, Huppert noted that she is drawn to roles that give a realistic portrayal of women: "These films show women the way they are, not the way they should be."
The evening concluded with a heartfelt speech from presenter William Hurt, who paid homage to his performance with Huppert in 2014's The Disappearance of Eleanor Rigby. "It's an honor to deliver this award to an artist of such greatness, who has such strength, endurance, beauty divinity and fearlessness."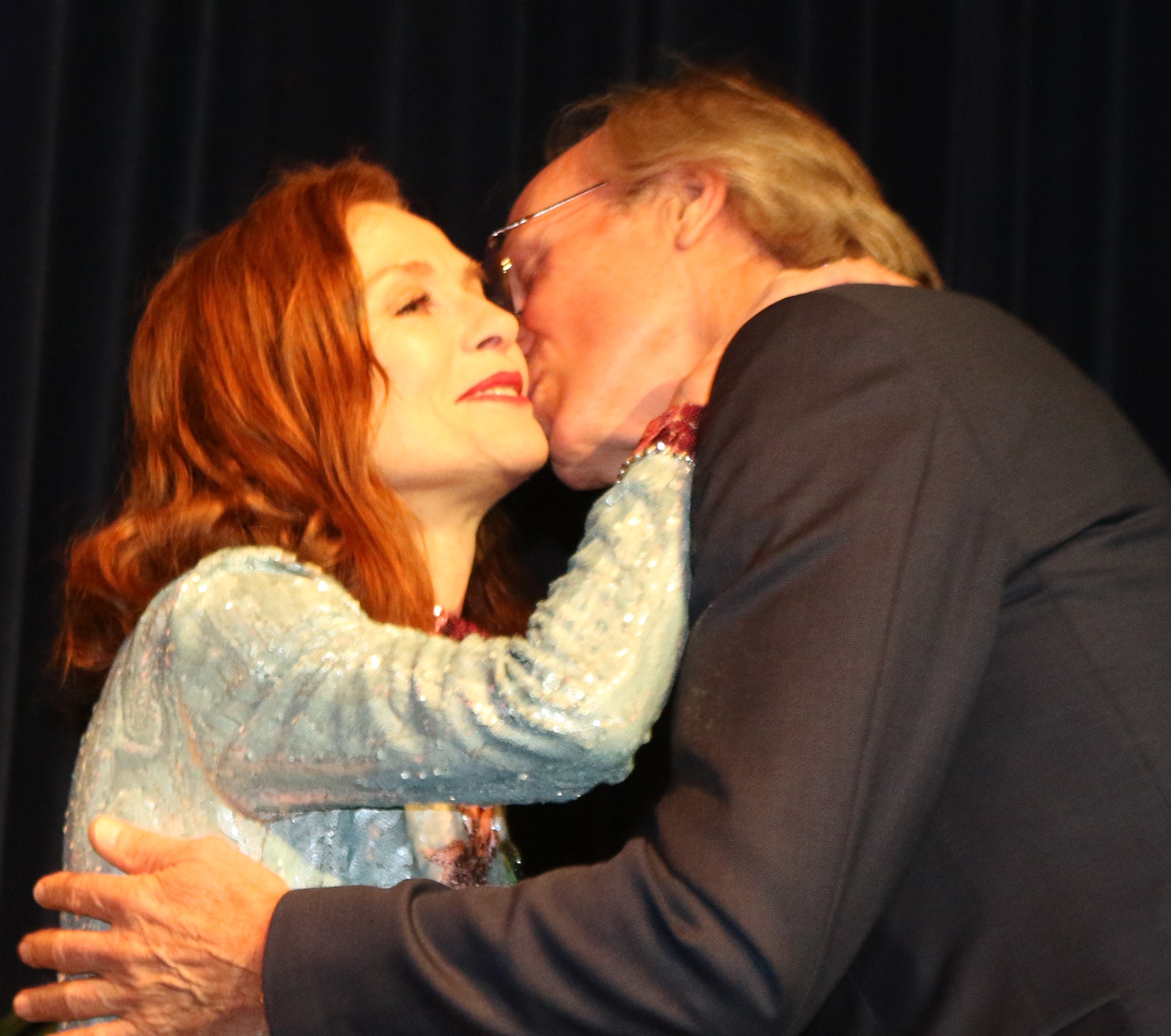 Huppert shared how pleased she was that she had accepted Roger Durling's invitation to come to accept the Montecito Award, was embraced by William Hurt, and said "I am so happy, receiving this award has made me so very happy!"
JEFF BRIDGES PRESENTED THE AMERICAN RIVIERA AWARD BY GIL BIRMINGHAM (photos: Lynn Williams for LBN)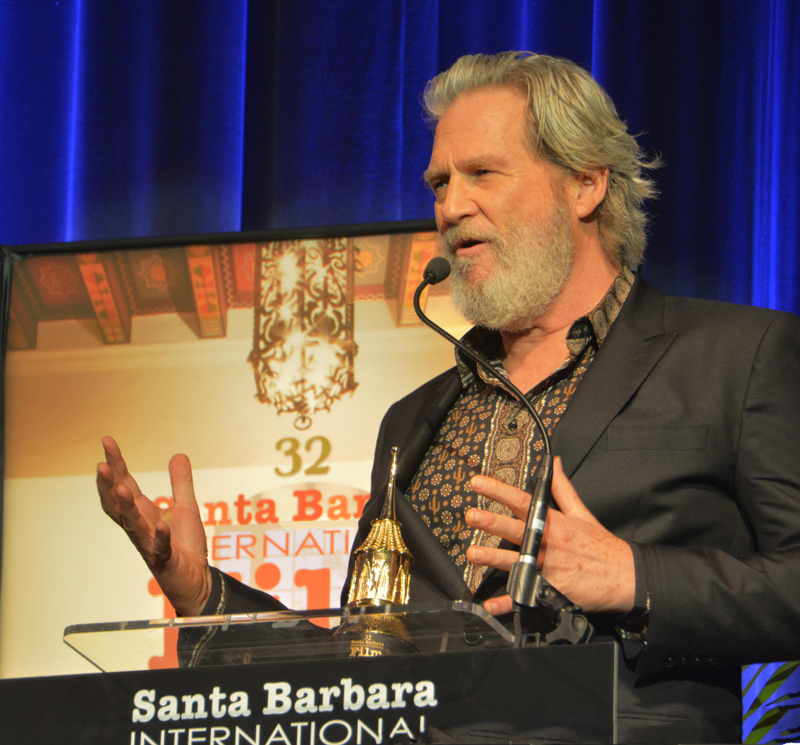 Jeff Bridges Acceptance Speech

Jeff Bridges received the American Riviera Award at the Santa Barbara International Film Festival. Bridges walked the red carpet with his wife Susan Geston and his two children, as well as his "Hell or High Water" co-star Gil Birmingham and producer Julie Yorn. Moderator Scott Feinberg began the night with some opening remarks about "The Dude" and his illustrious career, and introduced Jeff to the packed theatre.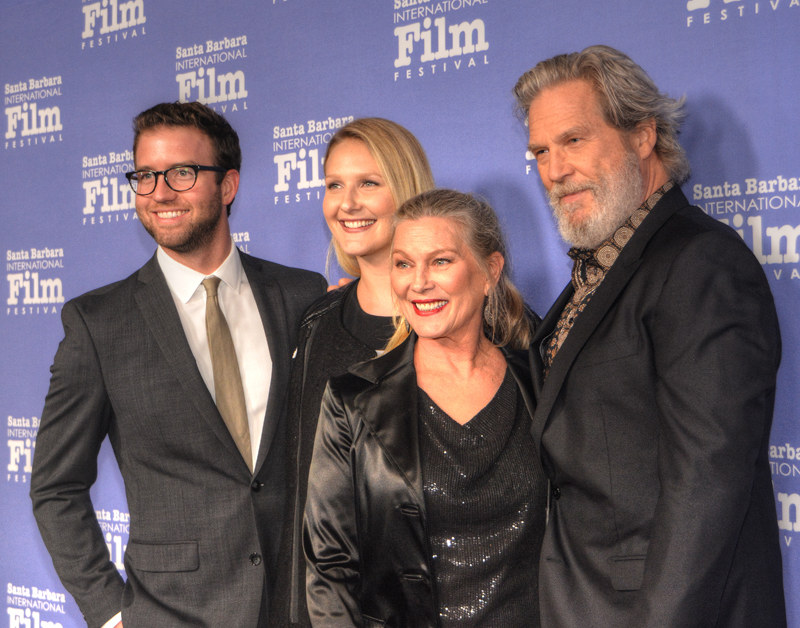 Jeff Bridges Family
He spoke about the film for which he won an Oscar, "Crazy Heart". He initially turned down the film because "the script was pretty good, but there was no music." He also explained that doing a film about music was a dream of his, but "when it's in the dream state, you're kinda safe, but when you try to really do it, there's that chance of failure." He was later convinced to do the film when his friend, producer T Bone Burnett, brought him the script again and said "I'll do it if you do it." The conversation then went on to the film which Jeff's being honored for, "Hell or High Water". Originally titled "Comancheria", Jeff stated that he had a great time on the set in large part because of Gil Birmingham. He struck up a quick friendship with Gil due to their shared passion for music, and they spent lots of time on set playing guitar together. Jeff also discussed the close friendship he developed with the late Joaquin Jackson, a famous Texas Ranger who spent a great deal of time with him on set as a consultant.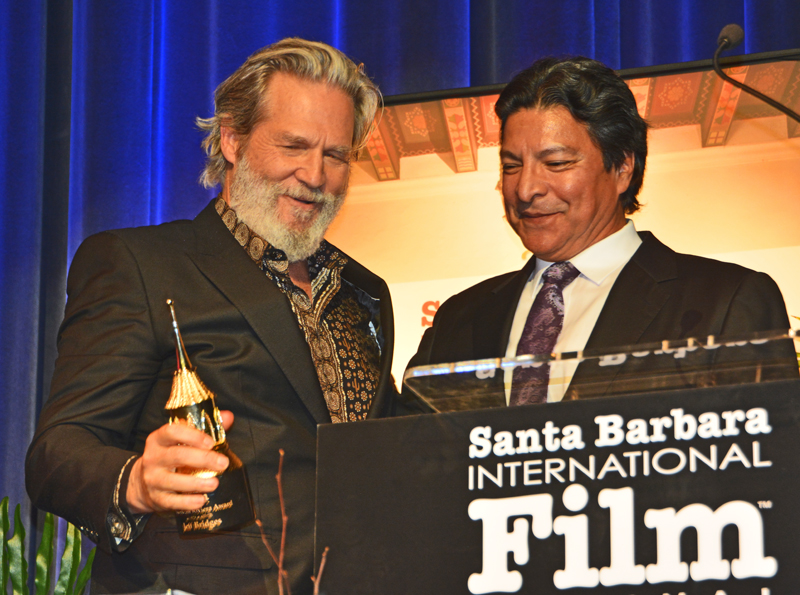 Jeff Bridges & Presenter Gil Birmingham
SBIFF Executive Director Roger Durling then took the stage to thank Jeff for being here tonight and for his dedication to the festival throughout the years. Roger then introduced the presenter of the evening, Gil Birmingham. Gil explained that Jeff is the perfect recipient of the American Riviera Award for his range, durability, and charisma. Gil spoke of Jeff's commitment to the craft and ability to embody any character, and his passion for philanthropy and making the world a better place.
Bridges was obviously touched and hugged his "Hell or High Water" co-star and accepted his award. Jeff thanked Gil, Roger, and Scott, and praised the city of Santa Barbara, stating "what a community we've got!" His closing words were messages of hope, discussing his 30 year long mission to feed hungry children, and explained that "we're all in this together".
SBIFF FILM AWARDS PRESENTATION BREAKFAST
(photos: Bonnie Carroll/LBN)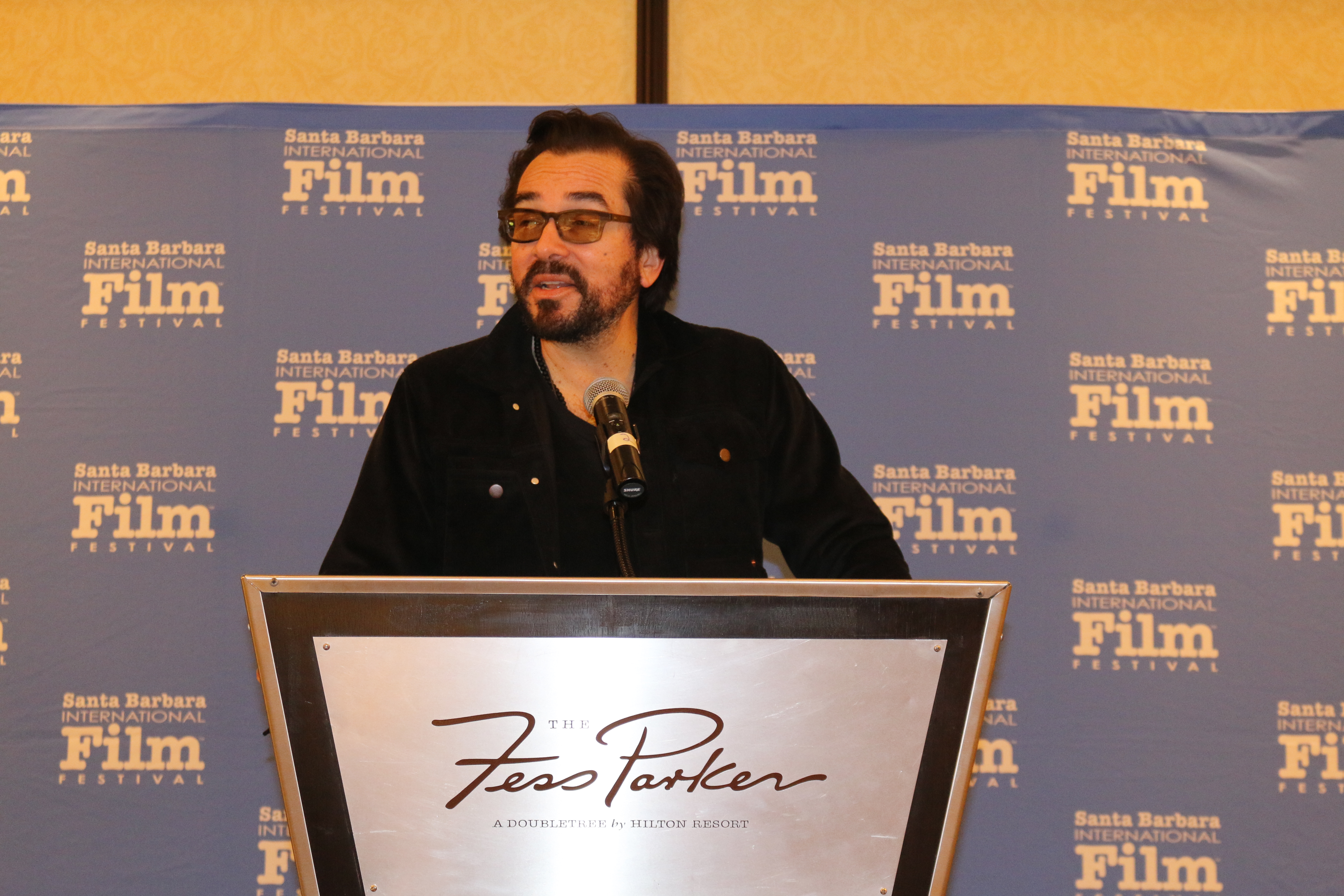 Roger Durling, Executive Director, SBIFF
The Santa Barbara International Film Festival (SBIFF), presented by UGG®, announced today the highly anticipated winners for its 32nd year at a breakfast held in their honor. All eleven awards were announced, culminating in the coveted audience award, which went to MY HERO BROTHER. The films were chosen by jury members Richard Raymond, Joanna Kerns, Jesus Lloveras, Martin Gooch, Anthony & Arnette Zerbe, Alan Marshall, Artie Schmidt, Janet Walker, Phyllis de Picciotto, Perry Lang, Mimi deGruy, and Richard Harris.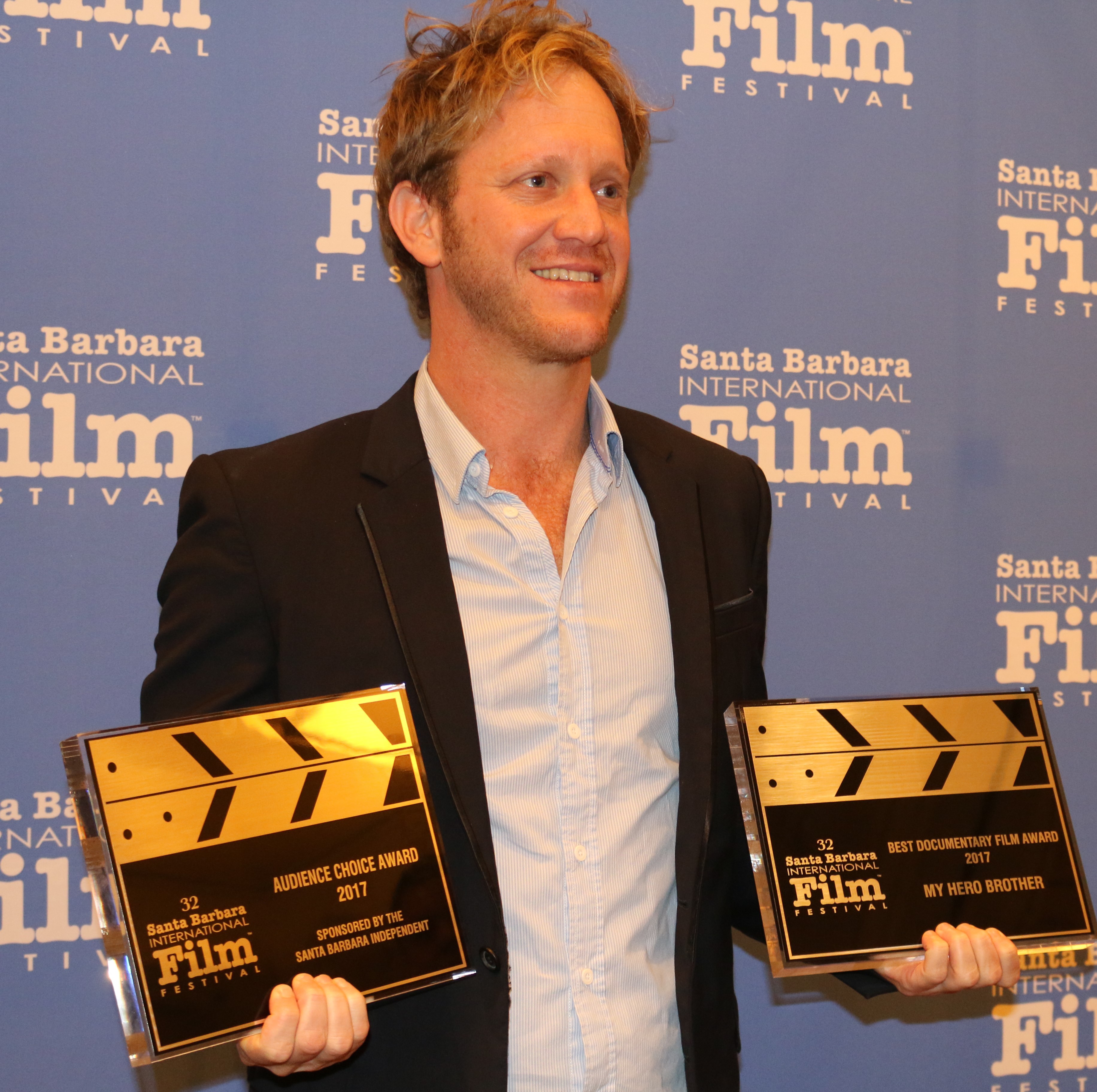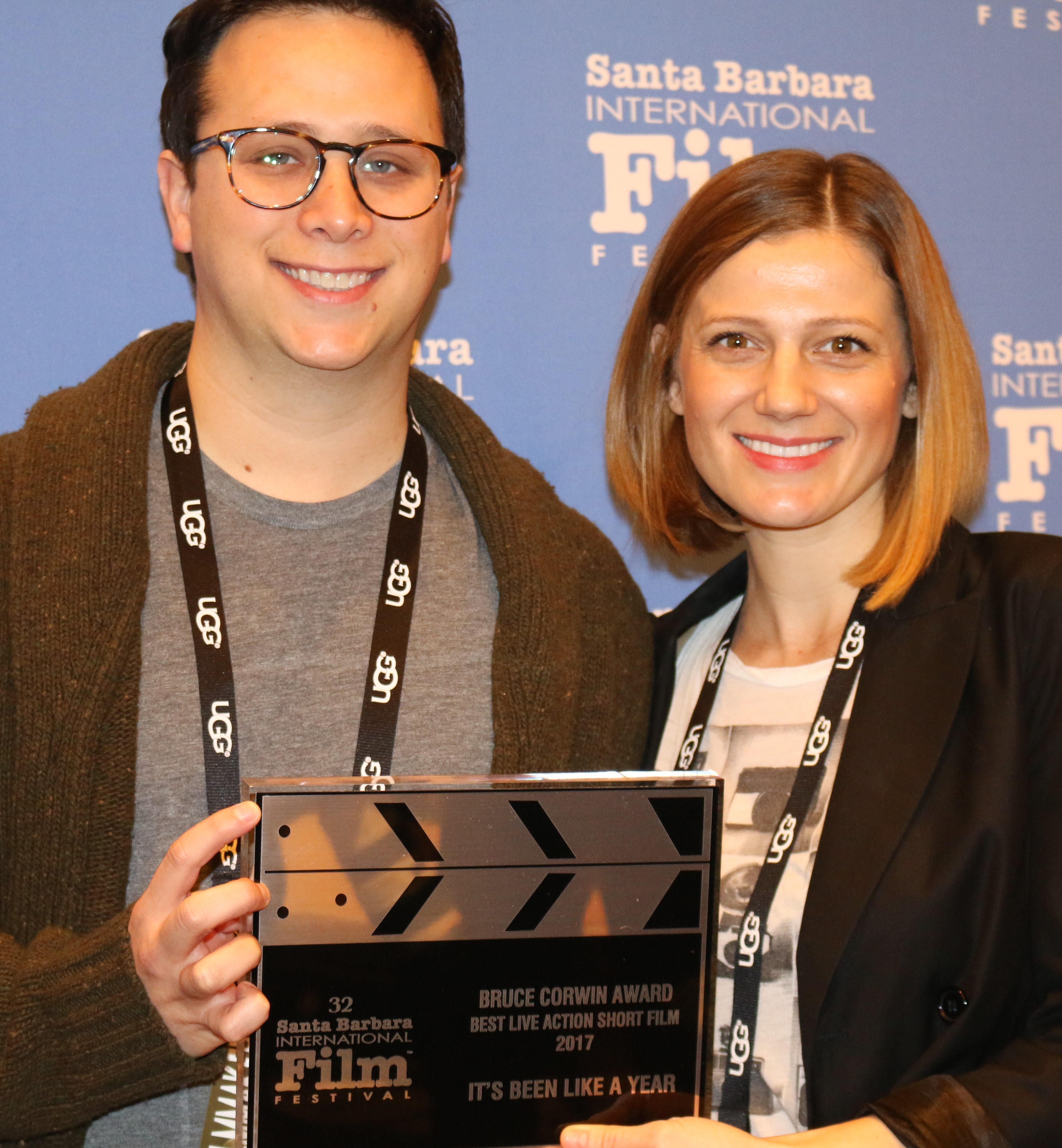 "My Hero Brother"  -  "It's Been Like A Year"
Three awards were handed out for short films. The Bruce Corwin Award for Best Live Action Short Film went to Cameron Fay's IT'S BEEN LIKE A YEAR, chosen for its humorous depiction of a young man becoming increasingly distracted during a romantic rendezvous.CONFINO, directed by NicoBonomolo,received the Bruce Corwin Award for Best Animated Short Film. When asked why they chose CONFINO, jury members Mimi deGruy and Perry Lang stated, "With a combination of beautiful rendering, music and heart, it's a poignant portrait of an artist reaching out in the dark for community."Finally, Best Documentary Short Film was awarded to two films: Matthew K. Firpo's REFUGE, and REFUGEE, directed by Joyce Chen and Emily Moore. REFUGEE was chosen because of the filmmakers' unique portrait of a West African woman that leaves her children to come to the US to provide them with a better future. Jury members chose REFUGE for its impressive chronicle of stories from the European Refugee Crisis, and for its messages of humanity and hope.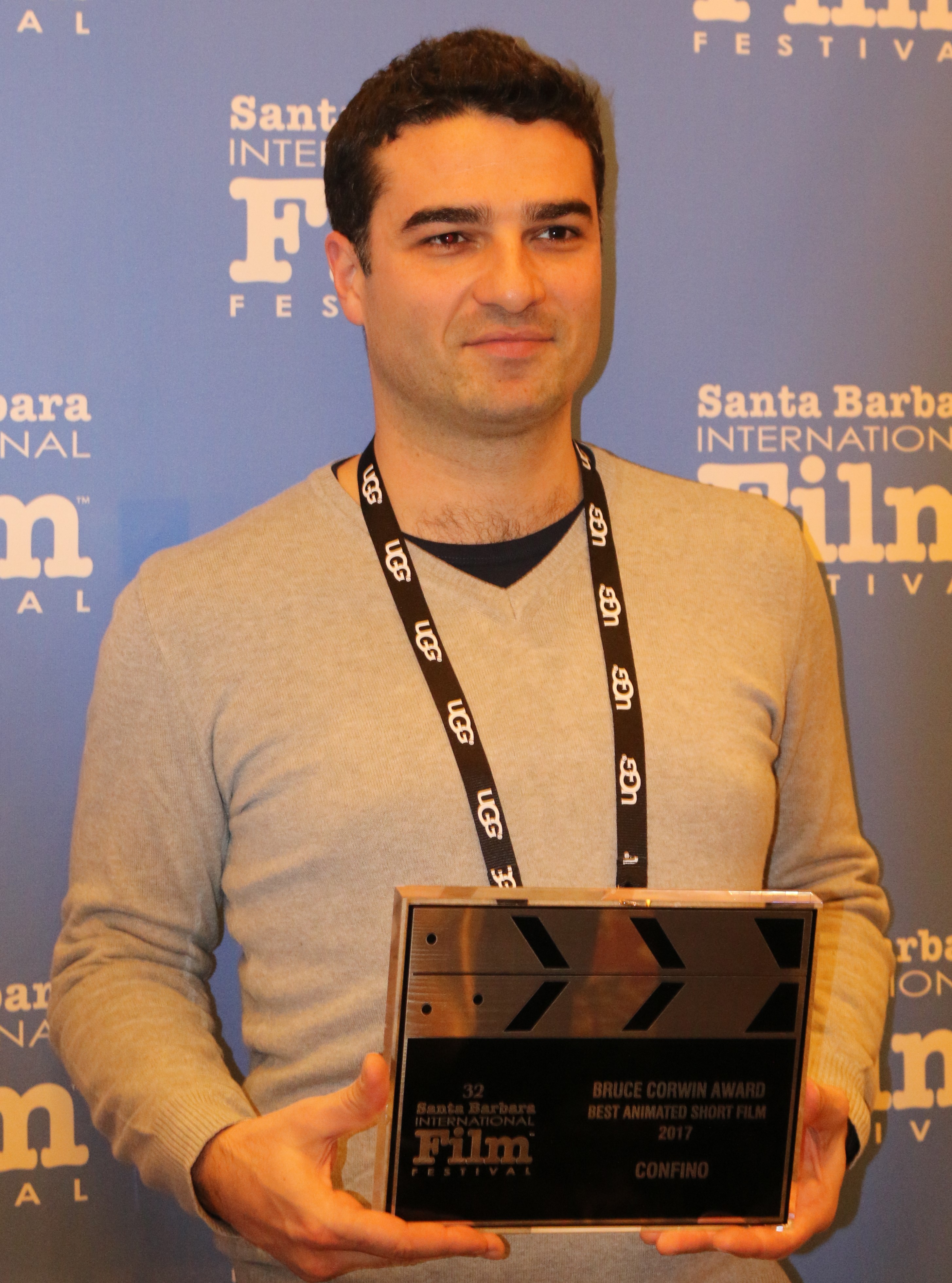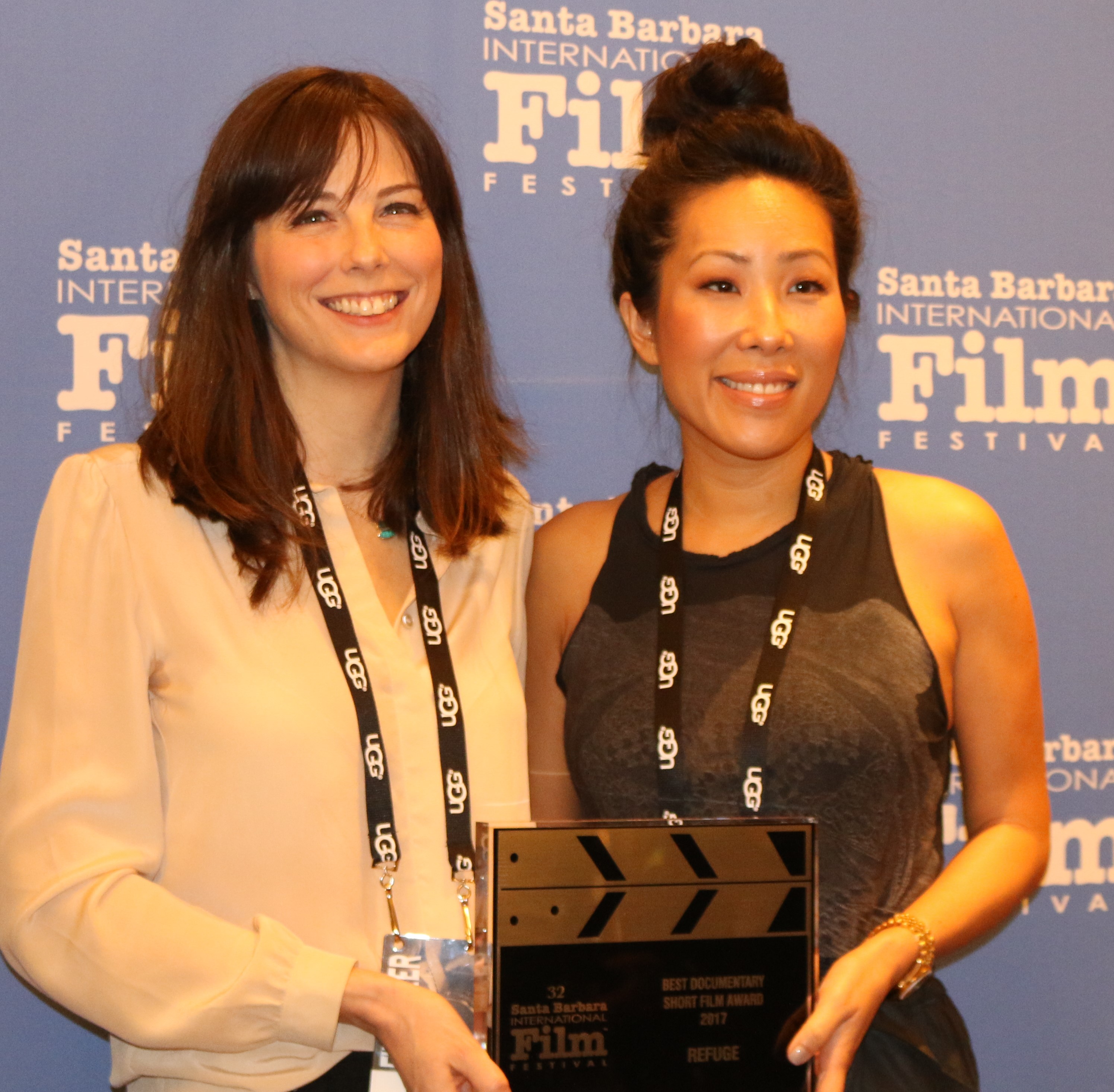 "Tamara"     -     "Refugee"
The Nueva Vision Award for Spanish / Latin American Cinema went to Martin Tuta's TAMARA, chosen by jury members for being so bold and straightforward with such an important and relevant issue as transitioning genders, and for electrifying filmmaking with powerful and emotional performances.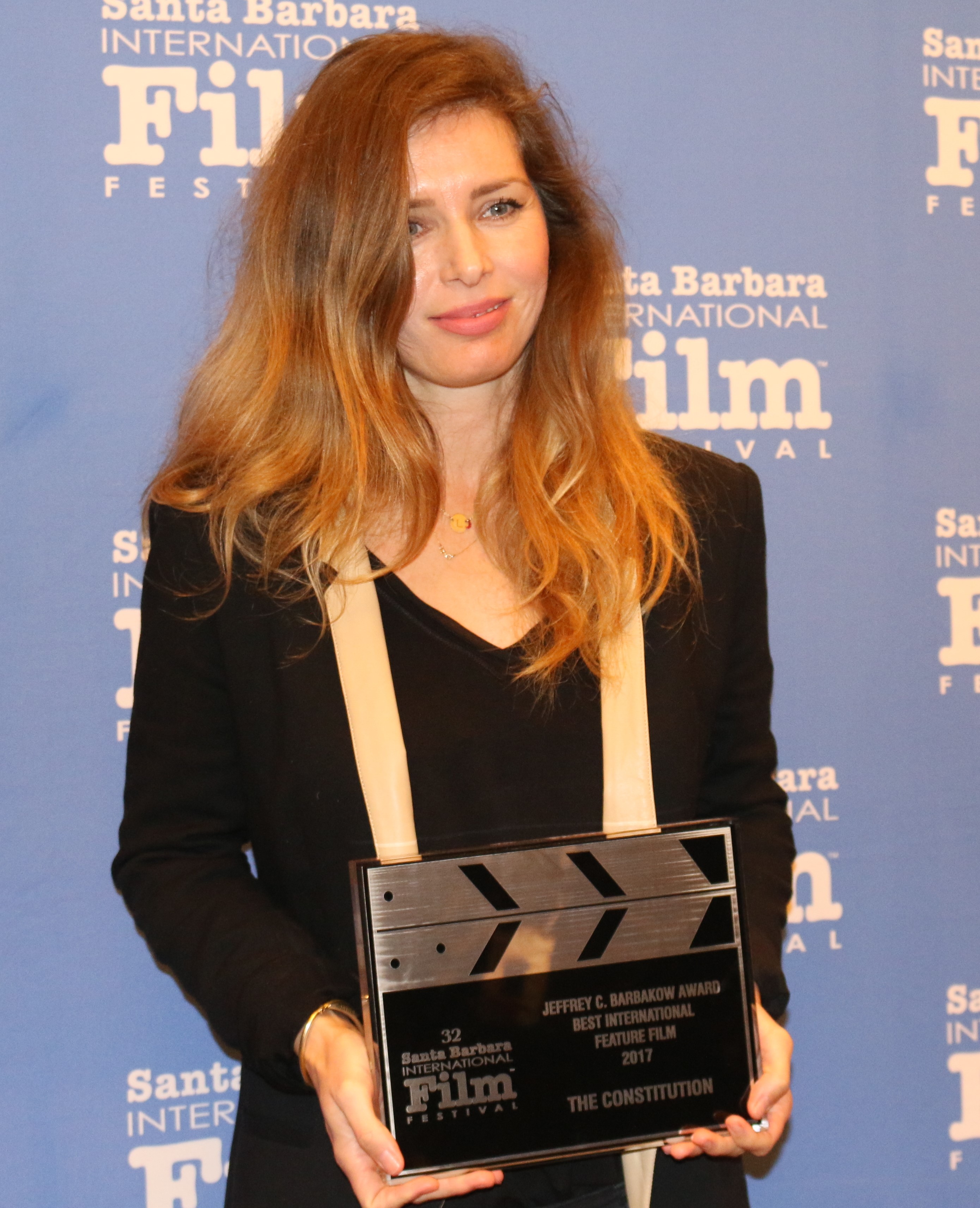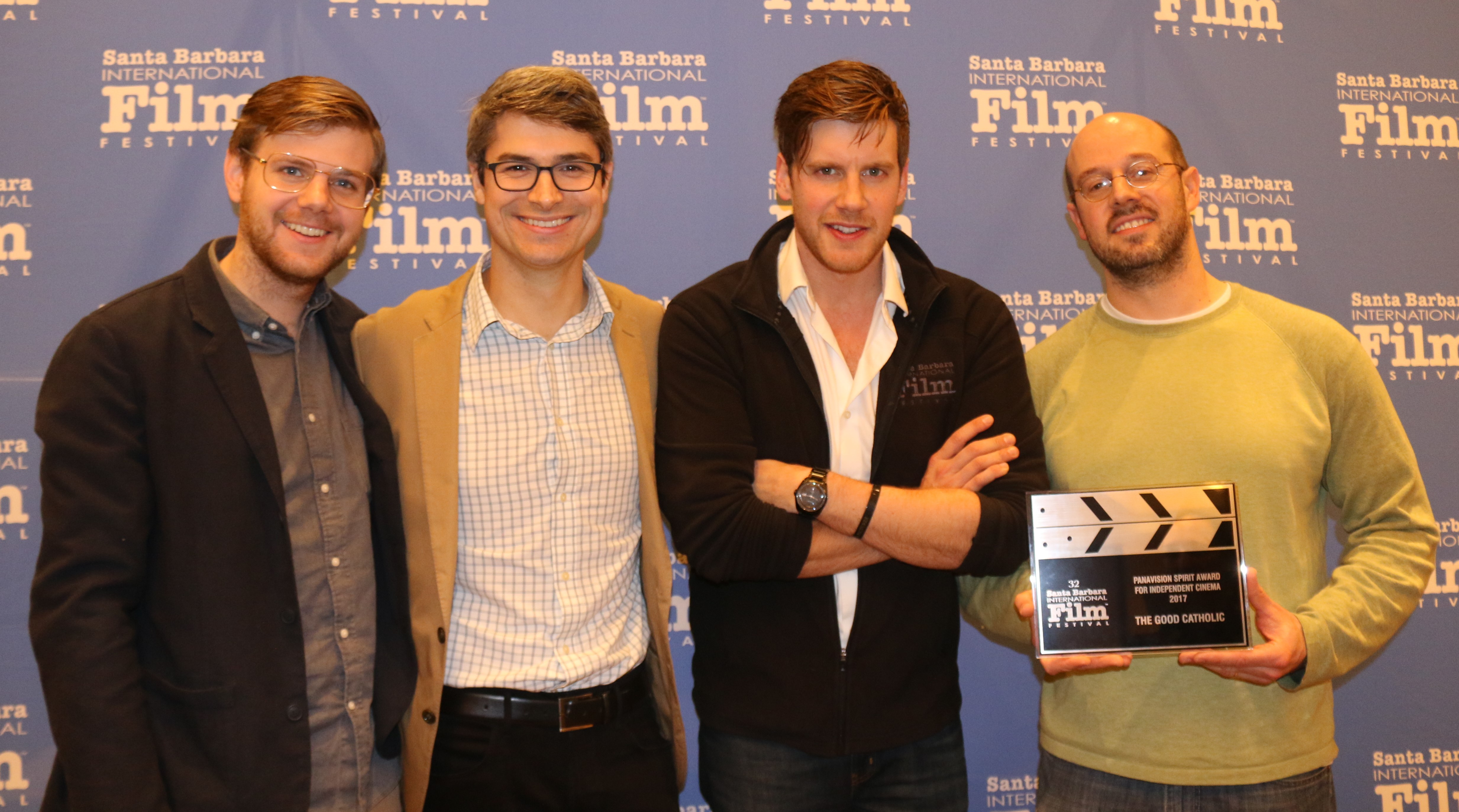 "The Constitution"     -     "The Good Catholic"
Paul Shoulberg's THE GOOD CATHOLIC took home the Panavision Spirit Award for Independent Cinema.Jury members Joanna Kerns and Richard Harris commented that ""Every once in awhile you get the privilege to watch a film that pulls you in emotionally from the opening moment, THE GOOD CATHOLIC is that movie. Economically written, flawlessly directed, cast and performed, this intimate film about a young priest's crisis of faith after meeting a woman in confessional, takes you on that journey."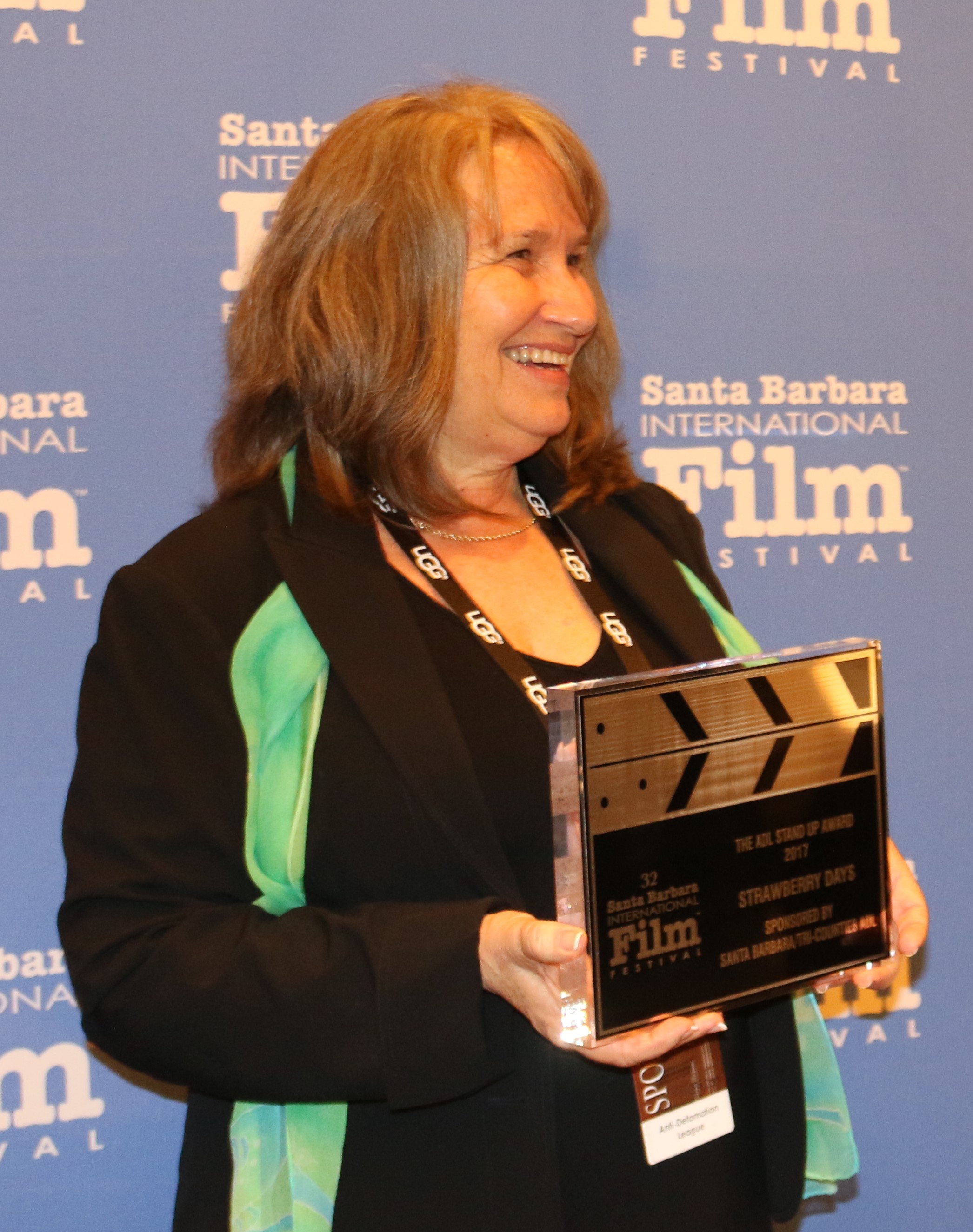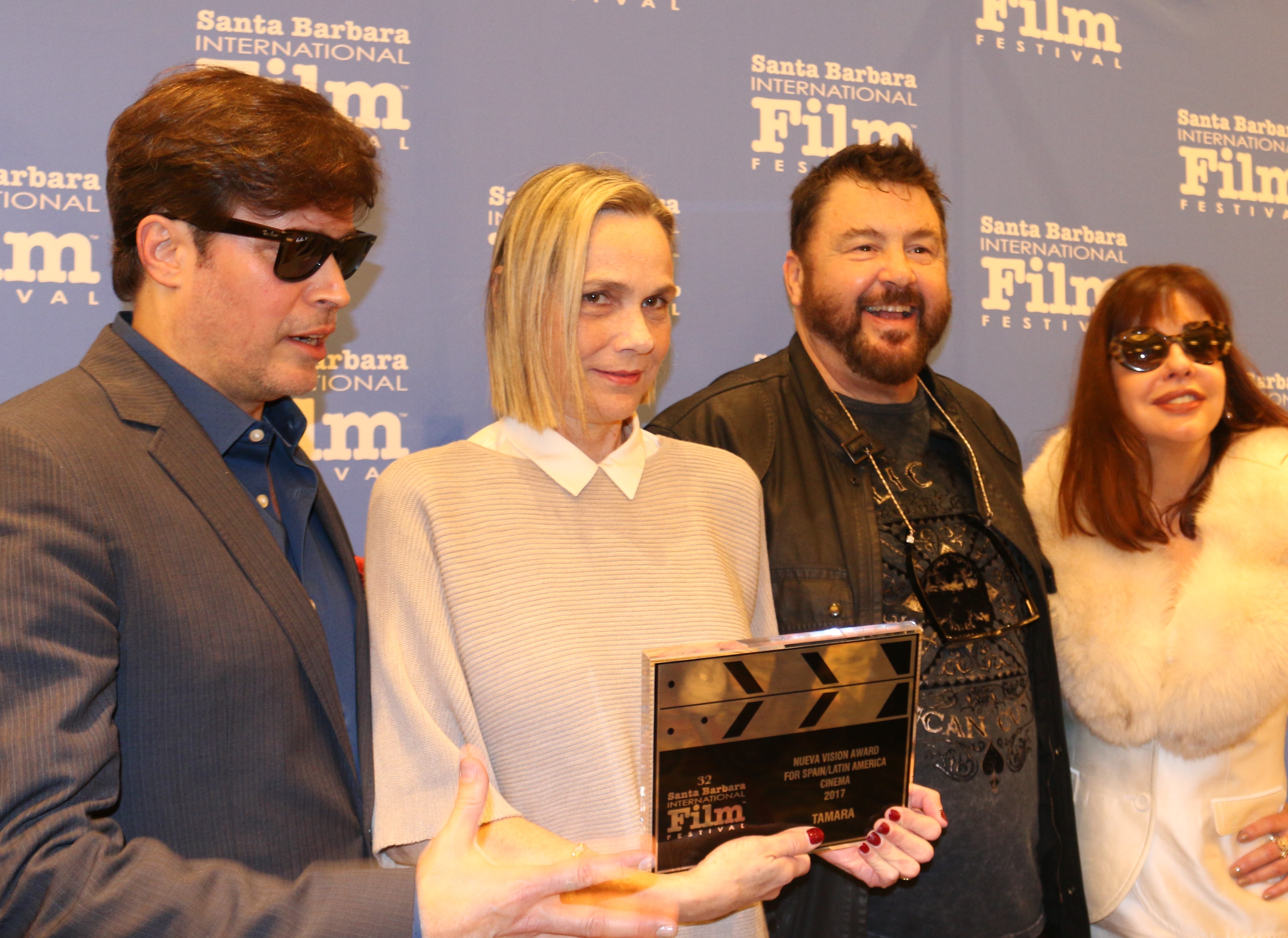 "Strawberry Days"   -    "Refuge"
The Social Justice Award for Documentary Film went to ANGRY INUK, directed by Althea Arnaquq-Baril. Jury members chose the controversial film for its deep dive into the central role of seal hunting in the lives of the Inuit, and the negative impact that international campaigns against the seal hunt have had on them.
Jury members chose THE CONSTITUTION as the recipient of the Jeffrey C. Barbakow Award for Best International Film. Jury members praised the performances of the actors and applauded the film as a richly conceived and ambitious look at multiple characters that live in the same building but avoid each other because of their differences in assets, sexual habits, nationality, and religion.
 Sponsored by Santa Barbara and Tri-Counties ADL, The ADL Stand Up Award went to Wiktor Ericsson's STRAWBERRY DAYS. The purpose of the ADL Stand Up Award is to recognize and celebrate the impact that storytelling can have in fostering mutual understanding and respect. "Strawberry Days", was chosen for its brave portrayal of the exploitation of foreign workers, and its depiction of the touching bond that forms between a 15-year-old worker and the farmer's daughter.
 The Valhalla Award for Best Nordic Film was awarded to SÁMI BLOOD, directed by Amanda Kernell. The film was selected for its powerful and vivid representation of racism in the 1930s and compelling story of a 14-year-old girl determined to leave her life behind.
ADL Stand Up Award: STRAWBERRY DAYS
Audience Choice Award: MY HERO BROTHER
Best Documentary Award: MY HERO BROTHER
Best Documentary Short Film Award: REFUGE
Best Documentary Short Film Award: REFUGEE
Bruce Corwin Award – Best Live Action Short Film: IT'S BEEN LIKE A YEAR
Bruce Corwin Award – Best Animated Short Film: CONFINO
Jeffrey C. Barbakow Award – Best International Feature Film: THE CONSTITUTION
Panavision Spirit Award for Independent Cinema: THE GOOD CATHOLIC
Nueva Vision Award for Spain/Latin America Cinema: TAMARA
Social Justice Award for Documentary Film: ANGRY ANUK
Valhalla Award for Best Nordic Film: SÁMI BLOOD
About the Santa Barbara International Film Festival
The Santa Barbara International Film Festival is a 501(c)(3) non-profit arts and educational organization dedicated to discovering and showcasing the best in independent and international cinema. Over the past 30 years, SBIFF has become one of the leading film festivals in the United States – attracting 90,000 attendees and offering 11 days of 200+ films, tributes and symposiums, fulfilling their mission to engage, enrich, and inspire the Santa Barbara community through film.
 SBIFF continues its commitment to education and the community through free programs like its 10-10-10 Student Filmmaking and Screenwriting Competitions, Mike's Field Trip to the Movies, National Film Studies Program, AppleBox Family Films, 3rd Weekend and educational seminars. This past June, SBIFF entered a new era with the acquisition of the historic and beloved Riviera Theatre.The theatre is SBIFF's new home and is the catalyst for program expansion and marks the first time that Santa Barbara has had a 24/7 community center to expand their mission of educational outreach.

The 32nd SBIFF  closed with the Lone Scherfig's romantic comedy THEIR FINEST at the Arlington Theatre on Saturday, February 11 in advance of the film's March 24 stateside release.
Closing Night Film
THEIR FINEST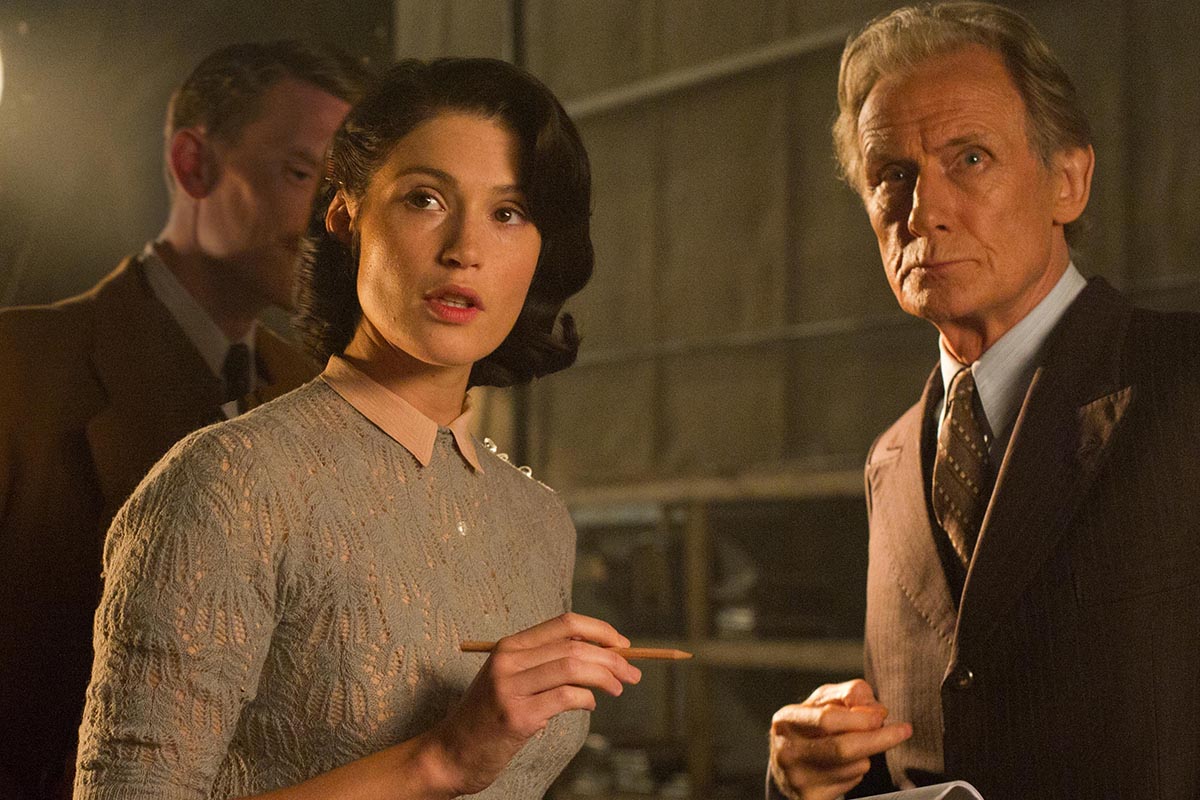 Directed by Lone Scherfig
Written by Gaby Chiappe, based on the novel by Lissa Evans
Starring Gemma Arterton, Sam Claflin, Bill Nighy, Jack Huston, and Richard E. Grant
____________________________________________________________________
BAFTA AWARD WINNERS 2017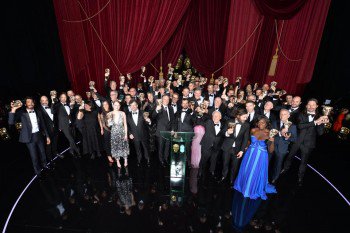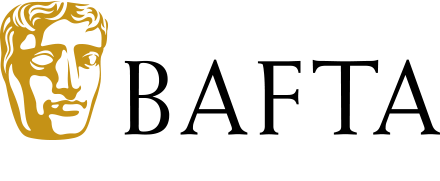 The winners of the EE British Academy Film Awards have been announced at the ceremony hosted by Stephen Fry at the Royal Albert Hall, London, on Sunday 12 February 2017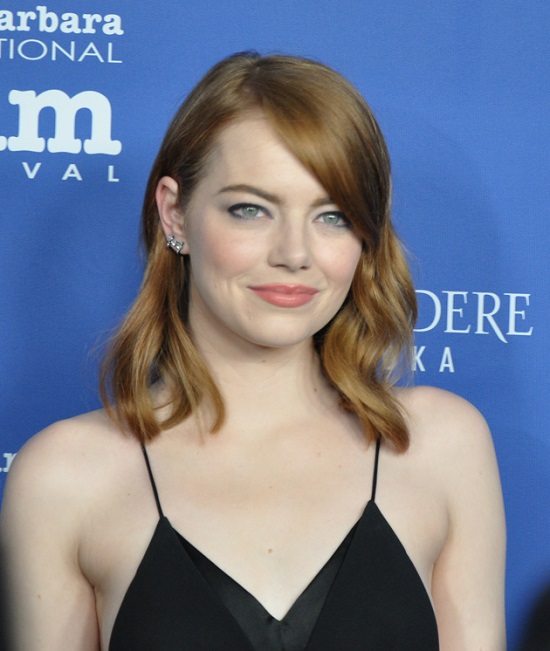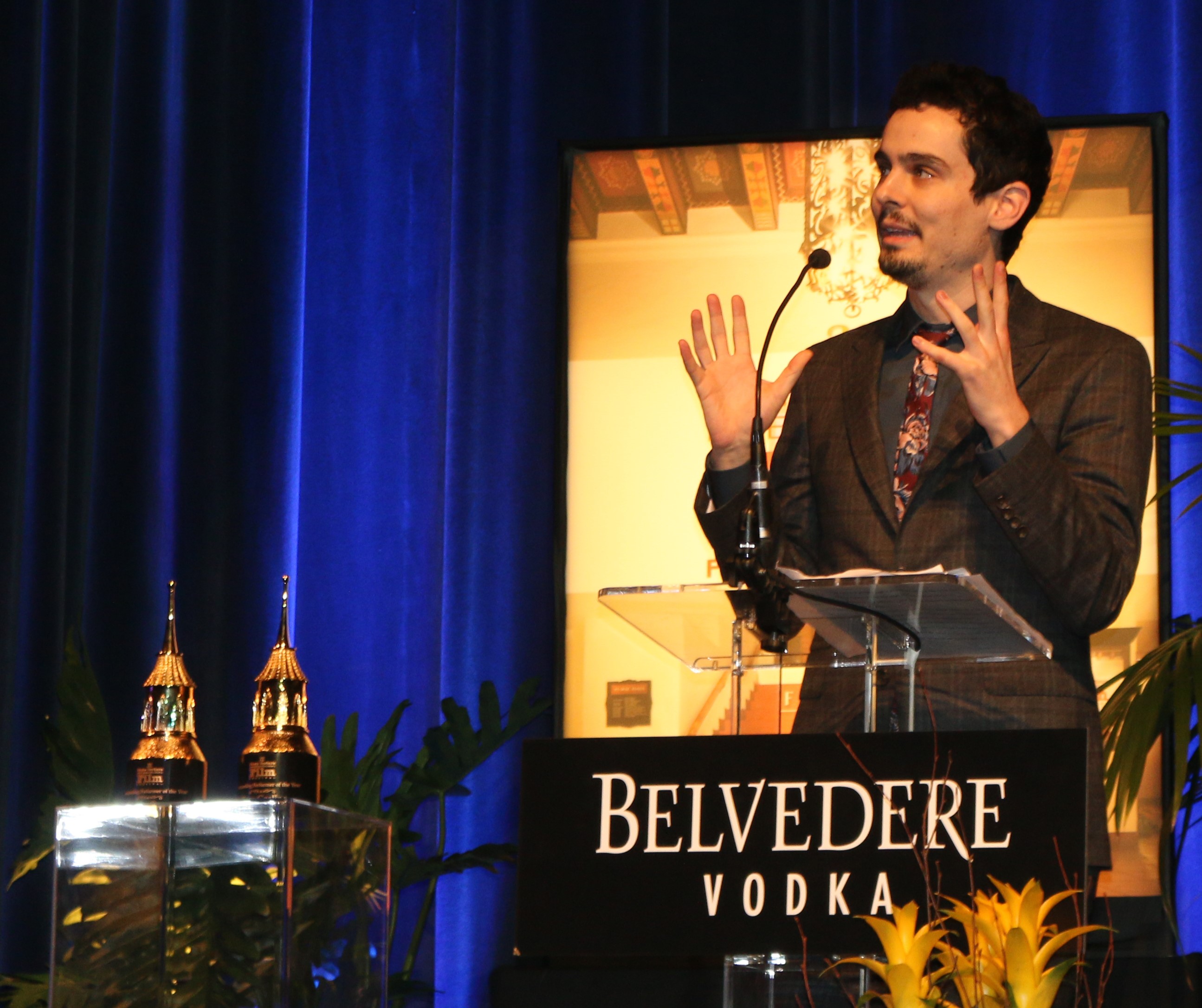 Emma Stone    -     Director Damien Chazelle
Five BAFTAs for La La Land including Best Film, Director and Leading Actress for Emma Stone
Casey Affleck wins Leading Actor for Manchester by the Sea
Dev Patel and Viola Davis win Supporting Actor and Actress
I, Daniel Blake wins Outstanding British Film
At tonight's EE British Academy Film Awards, La La Land was named Best Film, with Damien Chazelle winning Director and Emma Stone receiving the award for Leading Actress. Linus Sandgren won for Cinematography and Justin Hurwitz won Original Music.
Casey Affleck won Leading Actor for his role in Manchester by the Sea, which also earned its writer/director Kenneth Lonergan the award for Original Screenplay.
Supporting Actor went to Dev Patel for Lion, for which Luke Davies won Adapted Screenplay.
The ceremony was hosted for a 12th year by Stephen Fry and held at London's Royal Albert Hall, and featured performances by Cirque du Soleil and Sheku Kanneh-Mason, winner of the BBC Young Musician 2016.
Supporting Actress went to Viola Davis for her role in Fences. All four actors are first-time BAFTA winners. 
Outstanding British Film was won by I, Daniel Blake, directed by Ken Loach. 
Ava DuVernay's film, exploring race in the US criminal justice system, 13th, won the award for Documentary. Kubo and the Two Strings took the award for Animated Film, and Film Not in the English Language was won by Hungarian holocaust drama, Son of Saul.
Arrival received the award for Sound, Hacksaw Ridge won for Editing, Fantastic Beasts and Where to Find Them collected the BAFTA for Production Design, Florence Foster Jenkins took the award for Make Up and Hair, Jackie won Costume Design and The Jungle Book received the BAFTA for Special Visual Effects.
Writer/director Babak Anvari and producers Emily Leo, Oliver Roskill and Lucan Toh received the award for Outstanding Debut by a British Writer, Director or Producer for Under the Shadow. 
Home won the British Short Film award, while the BAFTA for British Short Animation was won by A Love Story. 
The EE Rising Star Award, voted for by the public, went to Tom Holland.
The Special Award for Outstanding British Contribution to Cinema was presented to film distributor and exhibitor Curzon for its work in bringing art house and foreign language cinema to British audiences.
Nathan Lane, Simon Pegg and HRH The Duke of Cambridge, President of BAFTA, presented the Academy's highest honour, the Fellowship, to writer, director, actor and producer Mel Brooks.
As part of BAFTA's year-round programme of events and initiatives, many of this year's nominees took part in 'BAFTA Film: The Sessions' on Saturday 11 February. The Sessions saw the nominees discuss their craft with beneficiaries of BAFTA's new talent schemes. These interviews will be available online on BAFTA Guru in the coming weeks.
In addition, a number of the British Short Film and British Short Animation nominees are taking part in Q&As at theatrical screenings of their films, across the UK and overseas, in partnership with the Independent Cinema Office (ICO) and the British Council. BAFTA is helping to raise the profile of the filmmakers and their films even further by partnering with Curzon Home Cinema and American Airlines to enable up to 7 million people in the UK to see the BAFTA-nominated shorts online.
Other year-round film activity includes initiatives such as our new talent activity and scholarships programme, BAFTA Crew and BAFTA Elevate as well as masterclasses, the David Lean Lecture delivered by a leading film director and 'A Life in Pictures'.
To access the best creative minds in film, TV and games production, visit www.bafta.org/guru. For more, visit www.bafta.org.
The 32nd Santa Barbara International Festival kicked off This morning with the unveiling of the poster and announcement of the movie lineup. Also, some of the most honored stars in the industry will be on hand for special awards. This years poster was designed by artist Barbara Boros. It features the landmark Riviera Theatre in the Santa Barbara foothills. It was recently acquired by the Santa Barbara International Film Festival and it is going through a renovation. The new look to the facility will be revealed in April.
The Santa Barbara International Film Festival falls between the Golden Globe awards and the Academy Awards, and will takes place February 1 -11. Among the stars who will be appearing are Denzel Washington, Emma Stone, Jeff Bridges, and Ryan Gosling, Isabelle Huppert, Casey Affleck and Michelle Williams. For a complete list of honors and films go to:http: //sbiff.org/ TheSBIFF is considered a very important off season economic boost for Santa Barbara, bringing in thousands of visitors and local residents to the downtown area where hotels, dining places, and other related arts facilities see an increase in business.
There will be 29 world premieres and 47 U.S. premieres. Films will be coming in from 50 countries, and the films will address timely issues for the United States and the rest of the world including themes like environmental activism, feminist issues, efforts to stop Isis and the global refugee crisis.
According to Executive Director Roger Durling the city is an ideal location for the event. It has a theater district, a vibrant downtown corridor, restaurants, hotels and gathering places right where the films are being shown. Similar festival sites with these characteristics include Telluride, Colorado and the Sundance Festival in Park City,Utah. Being at the upper edge of the Los Angeles-Hollywood scene, Santa Barbara has a very unique draw.
This year will include more educational seminars and programs. There will also be 4200 seats available for school children as part of Mike's Field Trip to the Movies, a featured event for local kids who get to see a film and then meet with the movie makers to ask questions on the stage of the Arlington Theater.
SBIFF is also bringing in students from other states that are not exposed to film festivals, to encourage them to become part of the movie business. They will arrive from Missouri, Kentucky and Iowa and take part in many events, seminars and special screenings. A bevy of ticket packages are available, but there will also be a free movie every day at 2 p.m. in the Lobero Theatre. For additional information visit: www.sbiff.org.
In celebration of this year's award season, Warner Bros. Studio Tour Hollywood will spotlight Lionsgate's Oscar nominated film, La La Land, as a limited addition to the tour. From Feb. 18 to March 6, 2017, guests can find themselves in a scene from the film as they step onto the 'Café Sur Le Lot,' coffee shop set, which has been carefully reconstructed.
 Warner Bros. Studio Tour Hollywood was a recipient of Trip Advisor's Travelers' Choice Awards and has been recognized as one of the Top 25 Attractions in the United States. A tour visit includes a rare look inside many of the film's production and backlot areas which were also used in the creation of Academy Award Best Picture winners Argo and Casablanca.
 Tour guests will explore the iconic 110-acre studio as well as the innovative Stage 48: Script to Screen. The interactive soundstage offers guests the unique opportunity to explore the full film and television production process and the glory of awards season. Guests explore the Archive, which currently showcases the tour's latest addition, From J.K. Rowling's Wizarding World: The Harry Potter and Fantastic Beasts Exhibit offering an up-close look at how J.K. Rowling's Wizarding World has been brought to life over the past 15 years. The Archive also includes DC Universe: The Exhibit which pays homage to the origins of DC Comics, including original comic books featuring all seven Super Heroes of the Justice League. Additionally, guests can explore authentic props and costumes from Batman v Superman: Dawn of Justice and Suicide Squad. Guests also stop by the Prop Department, which features one of the largest selections of rare antiquities and modern furniture, rugs, drapery, lighting and hand props from Hollywood's golden era, followed by the Picture Car Vault, home to some of Batman's most famous vehicles.
 Warner Bros. Studio Tour Hollywood is open Monday through Sunday, 9:00AM to 3:00PM, with studio tours departing every 30 minutes and extended hours offered during the summer, spring-break and winter holiday seasons. Reservations are recommended and all children eight years or older are welcomed. Regular tickets are $62 per person and can be purchased online at www.wbstudiotour.com or by calling 818-977-TOUR (8687).