Outstanding lead actor in a limited series or TV movie
Mahershala Ali, "True Detective"
Benicio del Toro, "Escape at Dannemora"
Hugh Grant, "A Very English Scandal"
Jared Harris, "Chernobyl"
Jharrel Jerome, "When They See Us"
Sam Rockwell, "Fosse/Verdon"
Outstanding lead actress in a limited series or TV movie
Amy Adams, "Sharp Objects"
Patricia Arquette, "Escape at Dannemora"
Aunjanue Ellis, "When They See Us"
Joey King, "The Act"
Niecy Nash, "When They See Us"
Michelle Williams, "Fosse/Verdon"
Outstanding lead actor in a comedy series
Anthony Anderson, "Black-ish"
Don Cheadle, "Black Monday,"
Ted Danson, "The Good Place"
Michael Douglas, "The Kominksy Method"
Bill Hader, "Barry"
Eugene Levy, "Schitt's Creek"
Outstanding lead actress in a comedy series
Christina Applegate, "Dead to Me"
Rachel Brosnahan, "The Marvelous Mrs. Maisel"
Julia-Louis Dreyfus, "Veep"
Natasha Lyonne, "Russian Doll"
Catherine O'Hara, "Schitt's Creek"
Phoebe Waller-Bridge, "Fleabag"
Outstanding lead actor in a drama series
Jason Bateman, "Ozark"
Sterling K. Brown, "This is Us"
Kit Harrington, "Game of Thrones"
Bob Odenkirk, "Better Call Saul"
Billy Porter, "Pose"
Milo Ventimiglia, "This Is Us"
Outstanding lead actress in a drama series
Emilia Clarke, "Game of Thrones"
Jodie Comer, "Killing Eve"
Viola Davis, "How to Get Away With Murder"
Laura Linney, "Ozark"
Mandy Moore, "This Is Us"
Sandra Oh, "Killing Eve"
Robin Wright, "House of Cards"
Outstanding reality/competition series
"The Amazing Race"
"American Ninja Warrior"
"Nailed It"
"RuPaul's Drag Race"
"Top Chef"
"The Voice"
Outstanding variety talk series
"The Daily Show with Trevor Noah"
"Full Frontal with Samantha Bee"
"Jimmy Kimmel Live"
"Last Week Tonight with John Oliver"
"The Late Late Show with James Corden"
"The Late Show with Stephen Colbert"
Outstanding limited Series
"Chernobyl"
"Escape at Dannemora"
"Fosse/Verdon"
'Sharp Objects"
"When They See Us"
Outstanding comedy series
"Veep"
"The Marvelous Mrs. Maisel"
"Barry"
"The Good Place"
"Fleabag"
"Russian Doll"
"Schitt's Creek"
Outstanding drama series
"Better Call Saul"
"Bodyguard"
"Game of Thrones"
"Killing Eve"
"Ozark"
"Pose"
"Succession"
"This Is Us"
This year's Emmy Awards will air live on Fox from the Microsoft Theater in Los Angeles on September 22.
_________________________________________________________________
Starring Lily-Rose Depp, Laetitia Casta, and Louis Garrel
Co-written by legendary screenwriter Jean-Claude Carri??re
Opened in Los Angeles on Fri, Aug 2 @ Laemmle Royal Theatre
"
New York Times Critic's Pick!
 Funny... engaging... resembles Eric Rohmer's moral tales."
"A delectable visual treat for any cineaste who simply loves to see Paris on the big screen."
"A sly romantic comedy... [Garrel] shows genuine springy inventiveness as a director."
"Steeped in New Wave lore... capturing [Paris] in a late-60s time warp, with pairs of ravishing lovers roaming the streets... you can't get more French than this."
_________________________________________________________________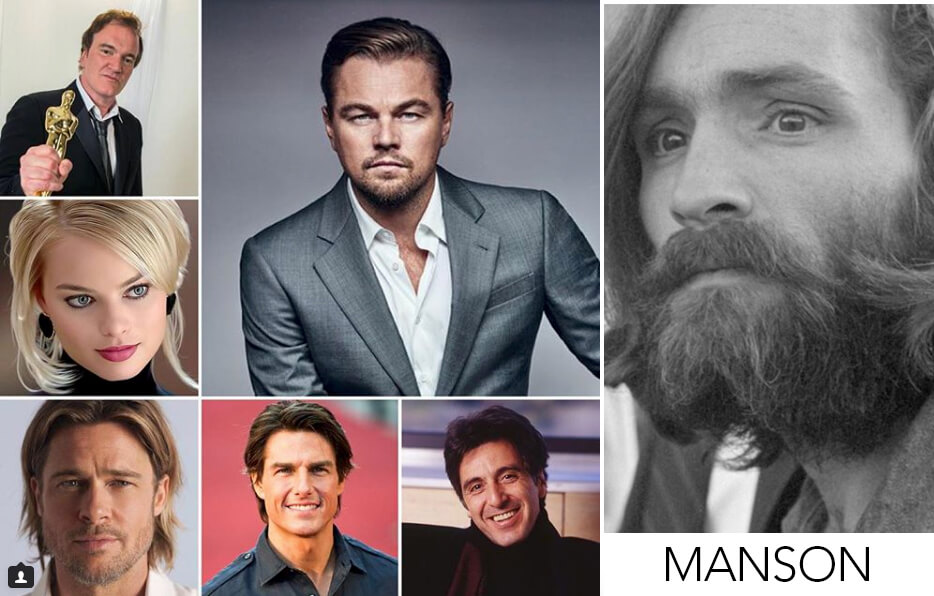 Once Upon A Time in Hollywood – Painful Revision of Sharon Tate Tragedy?    by Bonnie Carroll

Tarantino's film had no plot, and an ending scene overflowing with more insanely violent Taratino murder optons. The cast of actors, outstanding actors, did an excellent job and included Leo DiCaprio who is always exceptional at his craft, paired with talented Brad Pitt who is still as irrestable today as he was at 26 in "Thelma & Louise." Margot Robbie, Bruce Dern, Kurt Russell, Dakota Fanning and a long list of successful actors all gave their best.
It's a shame all this amazing set design, costuming and marvelous attention to detail on the Hollywood history of the 60s, along with performances by an outstanding cast seems wasted on what may, down the road, become known as the ultimatte Tarantino folly.
As a travelogue on old Hollywood in the 60s the film offered exceptional cinematography and visual detail, but the misplaced violence following two hours of some very slow content finally ending in the audience trying to process a new make believe ending to the horrendous death of actress Sharon Tate just did not work. I lived in Beverly Hills, and many local people there are still haunted by the Benedict Canyon horror that transpired in one of the safest and most peaceful upscale neighborhoods in Los Angeles.
Sharon Tate's mother Doris and sister Debra Tate spent years of their lives reliving the pain of their tragic loss and fighting to keep the Manson murderers in prison. So many people were painfully impacted by the insane violence of this young womans death for many years. As a mother and grandmother I still am.
As I exited the theatre, no one came out looking happy, excited, satisfied or saying it was a great film, many were my age and appeared as stunned and disturbed by the over two hour film as I was. It took me twelve hours to process it all and write this report. I'm now appealing to the movie makers out there to please get some good writers and make some g-r-e-a-t films for audience enjoyment that inspire prople to be the very best they can be and not the worst.
Below is a portion of a Q&A written on Sharon Tate's burial with her baby son.
"So, in answer to your question 'was Sharon Tate burried with her son', Sharon's baby was swaddled and placed in the crook of her arm in the casket. They were buried together." Kate Hayer
As for letting Sharon "rest in peace"….I agree that we should stop celebrating her murder and how she was the victim of a mad man's warped prejudice view of humanity. We should stop the macabre fascination of her murder and stop celebrating her killers. In those respects, yes, let her rest in peace. However, Sharon was so much more than a murder victim—she was adored by her friends, she was a naturally beautiful woman who could speak four languages and was a model. She won a Golden Globe, Miss Tiny Tot Dallas, Homecoming Queen, Miss Automrama, etc…. She was a fashion icon whose beauty secrets are coveted by stars today. Her acting wasn't spectacular, but she held her own against her co-stars (Tony Curtis, Deborah Kerr, Dean Martin, Patty Duke, etc….). She had a gift for comedy. She was an excellent cook. She wanted to be a fashion designer when she was younger. Sharon was a loving, living, loved human being. THAT is what should be celebrated.
***Although I do not consider myself an expert on Sharon Tate, I have done research on her and her horrible, brutal death. I will look high and low for answers to all questions regarding her. I guess you can say it has to do with the fact that my birthday is 08 August 1969. My first day on earth was Sharon's last.*** Writer, Kate Hayer, Ouora
*   *   *
_________________________________________________________________
Legends in Sports attend world's premiere GBK celebrity gifting lounge producer, GBK celebrating the annual Pre-ESPY Awards 2019 where legends in the sports mingled with some of the newest rising, and established, talent in the world of the NHL, NBA, NFL, UFC, WWE, Pro Golf, Olympics and more.
On July 9th, GBK Productions partnered with The Kimpton La Peer Hotel in West Hollywood for a fun day of celebration before the ESPY Awards Ceremony.  This star-studded event hosted some of the most prominent figures in the sporting world including recent Stanley Cup winners Jordan Binnington & Robby Fabbri of the St. Louis Blues who, along with their teammates, just took home the ESPY award for Best Comeback. Past Super Bowl winners were on hand including James Farrior (Steelers), Obi Melifonwu (Patriots), Ronnie Hillman (Broncos), Prince Amukamara (Giants) as well as other NFL players such as Donald Penn (3x Pro Bowl), Marvell Tell III (Colts), Nickell Robey (Rams), Ty Nsekhe (Buffalo Bills), Marcus Williams (Saints), Anthony Alabi (Dolphins) and Marcedes Lewis (Packers).  WWE Superstar Fred Rosser enjoyed the lounge as well as WWE Host Cathy Kelley, ESPN Reporter Victoria Arlen and Fox Sports Reporter Jenn Hale. 2x NBA Champ Norm Nixon (Lakers) was in attendance as well as Pro Golfer Anna DePalma and current UFC Welter Weight Champion Karmaru Usman.  A few of the stars of HBO's series Ballers stopped by including London Brown, Carl McDowell and Kris D. Lofton as was Corey Calliet star of E!'s hit series Revenge Body, Barton Fitzpatrick star of Showtime's The Chi among other celeb attendees.  Diving legend, and multiple Olympic Gold Medal winner, Greg Louganis enjoyed the lounge along with viral gymnastic sensation (and 2x ESPY winner – for Best Viral Moment and Best Play) Katelyn Ohashi. Additional talent gifted included Blake Snell (ESPN nominee – Baseball), world champion surfer Kelly Slater and ESPY nominee (and 1st Draft Pick) Kyler Murray. The event was covered on-site by multiple press outlets including NBC, E! News, ESPN, LA Times, Time-Warner News, The Sun, Bonnie Carroll's Life Bites News and many more.
The celebrities and sports stars who attended this week's GBK Pre-ESPY Awards event were treated to gifts by IFGfit, designs stylish self-correcting posture activewear with invisible Anti-Slouch technology that instantly and continuously restores posture through proprioception, improves diaphragm breathing and accelerates recovery.  Other amazing gifts being presented include GELSTX which is a custom built GELSTX GOLF Weighted training aid that is custom designed to each individual as well their athleisure and performance line of hats and hoodies, Silent Mode Powermask which is a high-tech sleep mask that dramatically reduces the impact of stress through rest, Kimpton La Peer Hotel voucher for use at their resort and restaurant, PFB Vanish hair removal products to produce smooth skin and eliminate bumps and ingrown hair, Beauty Pulse gifted the first ever line of luxury cosmetic CBD skin-care which includes the most luxurious, nourishing and restorative anti-aging skin care formulations made using the purest, most effective cold CO2 extractions of CBD available, LA Smash Cakes were on hand to gift a voucher for one of their signature hand-made edible chocolate domes filled with candy.