VENICE FILM FESTIVAL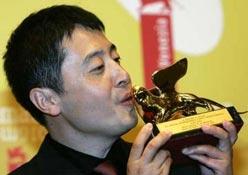 TOP PRIZE GIVEN TO
CHINA'S "STILL LIFE" AT
VENICE FILM FESTIVAL
Top prize given to China'a "Still Life." at Venice Film Festival. Jia Zhang-Ke's film is about two people searching for their partners as villages and towns are submerged by the giant Three Gorges Dam project in China. It was reported that the film was introduced as a surprise entry at a point when the main competition was already nearly over, and that the jury process had been damaged. The headline in the Corriere della Sera newspaper suggested that Venice's reputation had been damaged at a time when Rome was looming with the launch of a new film festival. The article by Tullio Kezich questioned several decisions of a jury headed by French actress Catherine Deneuve. Helen Mirren was honored for her role in "The Queen" by Stephen Frears, in which she portrayed the British monarch. French veteran Alain Resnais' received best director award for "Private Fears in Public Places. Ben Affleck as best actor for his role in "Hollywoodland," supposedly was a surprise. "Still Life," a Lou Ye film was also honored. Italian newspapers reported that the Venice jury had been split four to three over the main prize and held an extra meeting on Saturday morning to come to a decision.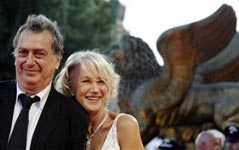 Actress Helen Mirren (R) and director Stephen Frears pose for photographers at the Cinema Palace in Venice September 2, 2006. Mirren stars in 'The Queen' which is showing at the Venice film festival. (Fabrizio Bensch/Reuters)
---
CINEMA FESTA INTERNAZIONALE DI ROMA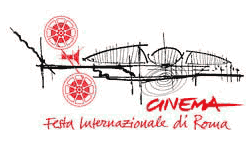 Following mayor Walter Veltroni's official announcement in January 2006 of the Rome's new film festival, Siamo Roma has prepared this mini-site for information about the festival. We'll be adding to it constantly, as more announcements are made and projects confirmed. The new film festival 'Cinema Festa Internazionale di Roma' is planned to run for the first time this year, from 13th-21st October. During that week, eighty films will be shown, divided into five categories. There will be a competition, in which a panel of fifty judges will award prizes of €200.000 for the best film, best actor and best actress.

What about Venice?
The festival has a budget of somewhere between €7m-€9m, putting it on a level with the Venice film festival. Walter Veltroni says that he doesn't see the two competing, as the Rome festival will be more populist than Venice. Others aren't so sure, especially as the Venice festival is already experiencing some financial problems... Siamo Roma?

For detailed information please Visit www.romefilmfestival.com.
---
SALENTO INTERNATIONAL FILM FESTIVAL
(SIFF 2006) WINNERS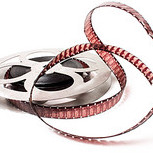 The Salento International Film Festival 2006 ended its 9-day celebration of cinema September 17 by posting an attendance record around 1000 peoples every night in Piazza Pisanelli, a free outdoor screening with 117 films from 25 countries. It was produced under the leadership of Artistic Director Luigi Campanile. Hellen Mirren the winner of COPPA VOLPI for best actress at the Venice Film Festival (The Queen) and the famous film director Taylor Hackford (An Officer and a gentleman, The devil's advocate, Ray) were the special guest of the Salento Film Festival 2006, with more than 100 filmmakers from all around the world.

The Salento International Film Festival 2006 is made possible thanks to the generous support of the APULIA REGION, PROVINCE OF LECCE and the CITY OF TRICASE and sponsored by BANCA CARIME.

The Jury of the 3rd SALENTO INTERNATIONAL FILM FESTIVAL Mostra Internazionale di Cinema del Salento, chaired by Academy Award nominee Production Designer Bruno Rubeo and comprised of Richard Harrison, Elena Arvigo, Fabio Segatori, and Ilaria Borrelli, having viewed all eleven films in competition, has decided as follows:

FOR BREAD ALONE directed by Rashid Benhadj an Italian Moroccan production
and THE LIVES OF THE SAINTS directed by Rankin & Chris Cottam, ex-aequo won the GRAND JURY PRIZE, the VALLONEA AWARD for Best Film

FOR BREAD ALONE is based on the real story of the Moroccan writer Mohamed Choukri, candidate for the Nobel Prize and a free voice, even though censored by the extremists of the Arabic world for years.
THE LIVES OF THE SAINTS, a dark and bizarre morality tale, a truly original, modern-day fable, which warns that what we wish for is not always what we need.

OTHER AWARDS WINNERS:

VALLONEA AWARD FOR BEST SHORT-FILM
Animation: EMELIE by Derek Flood (USA 2005)
Italian Short: IGNOTUS by Max Bartoli (Italy 2006)
The World in Short: SPIN by Jamin Winans (USA 2005)
Women in Short: NON TI ASPETTAVO by Barbara Prudente (Italy 2005)

VALLONEA AWARD FOR BEST DOCUMENTARY
SAN GIUSEPPE DA COPERTINO by Francesco Raganato (Italy 2006)

APULIA REGION AWARD
FIVE MOMENTS OF INFIDELITY by Kate Gorman (Australia 2005)

CITY OF TRICASE AWARD
POMEGRANATE by Kraig Kuzirian (USA 2006)

PEOPLE CHOICE AWARD
ADIOS MOMO by Leonardo Ricagni (Uruguay 2006)
By Leonardo Ricagni

THE SALENTO FILM & VIDEO GRANT
Il piacere nascosto, by Antonio Barocci
A short-film set in Lecce. Its the story of a man whose job is to tidy and clean up the town in preparation for the Minister's visit.
---
Ugly Betty PremieredThursday, September 28 @ 8/7



In the superficial world of high fashion, image is everything. Styles come and go and the only constants are wafer-thin beauties who wear it. Where could a girl who is less than pretty and a little bit pudgy possibly fit in?

If you knew Betty Suarez, you'd see how sweet, intelligent and hard-working she is. Few people ever get to know her because in the world of fashion, Betty is the oversized square peg, in the petite round hole. But finally, her looks and lack of fashion sense are going to be an asset. When publishing mogul Bradford Meade hands the reigns of his fashion magazine, Mode, over to his son Daniel, he specifically hires Betty as his son's new assistant - mostly because she's the only woman in NYC who Daniel won't sleep with. Repulsed at first, Betty will win him over with her efficiency. Neither of them really knows the ins and outs of the fashion world, but the two of them are a formidable team against the label-wearing sharks who will do anything to see them fail. That includes many couture co-workers with botoxed smiles on their faces and knives behind their Galliano backs.

Executive Producer Salma Hayek and the creator of Urban Legend brings the Latino television phenomenon to an English-speaking audience. America Ferrera (The Sisterhood of the Traveling Pants) and Eric Mabius (The L Word) are the Working Girl couple who tackle the colorful, cutthroat world of fashion head on.

Cast
Mark Indelicato, Tony Plana, Ana Ortiz, Ashley Jensen, America Ferrera, William Abadie, Alan Dale, Eric Mabius, Vanessa Williams, Michael Urie, Becki Newton
---
LEGENDS! MOVES TO WILSHIRE THEATRE IN BEVERLY HILLS FOR
LIMITED TWO WEEK ENGAGEMENT
JANUARY 16 – 28, 2007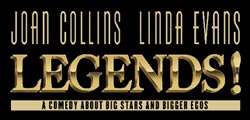 September 14, 2006 - Broadway/L.A. today announces that the national tour of Joan Collins and Linda Evans in LEGENDS! – the comedy about big stars and bigger egos – is just too big to fit the stage of the Wadsworth Theatre, where the show was originally scheduled to play a two-week engagement from January 16 – 28, 2007. The engagement is now confirmed for the same dates at the Wilshire Theatre in Beverly Hills, where Broadway/L.A. has presented many season attractions over the past decade.

Written by Tony-Award® winning author James Kirkwood (A Chorus Line), LEGENDS! centers on two fading and somewhat desperate movie stars, Sylvia (Collins) and Leatrice (Evans). Both actresses are courted by an unscrupulous young producer to star together in a new Broadway show, despite the fact that they have hated each other for decades. He convinces both ladies to go along by misleading them into believing they will be starring alongside Paul Newman. This hilarious set-up provides the background for the full-blown comic confrontation between these two divas and the surprising and hilarious resolution, played to the hilt by the two stars that the world knows as "rivals to the death" from the internationally acclaimed television series Dynasty.

Best seating for LEGENDS! is currently available only by subscribing to Broadway/L.A.'s 2006-2007 Season. For more information, please visit www.BroadwayLA.org or call the Broadway/L.A. subscription hotline at 866-755-BWAY(2929). Single tickets will go on sale at a later date.

For more information please visit www.BroadwayLA.org
---
SIR RICHARD BRANSON PLEDGES 3 BILLION TO FIGHT GLOBAL WARMING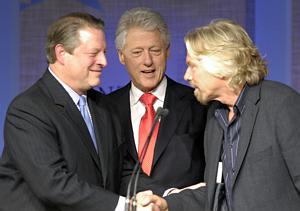 Former US President Clinton speaks Al Gore and Richard Branson at the Clinton Global Initiative in New York - Reuters Photo

During a Chanel 7 morning news interview Richard Branson and Al Gore disclosed that while breaking bread together, the brilliant entrepreniur Richard Branson had agreed to commit to pledge the proceeds from his Virgin Air sales, in the approximate amount of 3 billion dollars, to the fight against global warming.
---
THE INTERNATIONALLY-ACCLAIMED AUSTRALIAN SINGING PHENOMENON…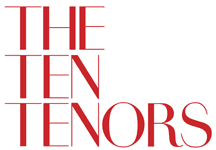 LIMITED TWO-WEEK ENGAGEMENT AT THE PANTAGES THEATRE
OCTOBER 24 – NOVEMBER 5, 2006

They're classical. They're pop. And they're a lot sexier than "The Three Tenors." Australia's most debonair musical export, THE TEN TENORS deliver a dynamic mix of vocal power -- ranging from high-tone opera, to jazz, to modern and classic pop – with a stylized flair that leaves audiences breathless.

Now the internationally-acclaimed, hip-and-happening musical sensation that has been melting hearts all over the world will return to North America this fall on the heels of their all new release with the London Philharmonic, "Here's To The Heroes," (WB/Rhino). THE TEN TENORS will bring their lavish celebration of vocal power to the Pantages Theatre in Hollywood for 16 performances only, October 24 – November 5, 2006. Single tickets for THE TEN TENORS will go on sale this Sunday September 17th at 10am.

"Here's To The Heroes" was recorded by five time Oscar winner John Barry – whose film scores include Dances With Wolves, Goldfinger and Out Of Africa – at the legendary Abbey Road Studios, in London.

THE TEN TENORS have been seen by over 77 million people, on four continents, selling out shows and winning hearts with their unmistakable charm, camaraderie and vocal prowess in opera, pop, rock, and more. From arias to ABBA, their unique style is an unparalleled fusion of artistry, musicianship and comedy. From the moment THE TEN TENORS burst upon the concert scene in Germany in 2001, their international career was launched. Since then, the classically-trained, all-Australian singing sensation have enjoyed a relentless touring schedule with sold-out performances in Europe, Asia and their native Australia; appearing alongside such artists as Rod Stewart, Andrea Boccelli, Alanis Morissette, Willie Nelson and many others.

To kick-off last year's "Larger Than Life" tour, The Tenor Tenors wowed Hollywood at the 57th Annual Emmy Awards Governor's Ball, then went on to draw packed houses, along with rave reviews in every city they performed. The Sacramento Bee proclaimed, "It was a joyous show." Green Bay Press Gazette exclaimed, "The Ten Tenors provided marvelous moments, exciting sounds, cheers and standing ovations." San Diego's Daily Transcript rave, "The Ten Aussies, deliver pleasing vocals, entertaining banter and a bit of eye candy."

The Los Angeles opening night will benefit AIDS Project Los Angeles. On Sunday, October 15th, just nine days before their L.A. opening, "The Ten Tenors" will help jump-start this year's AIDS Walk Los Angeles, singing "Here's To The Heroes" in salute to the walkers just prior to the event kick-off. Last year, over 25,000 participants in AIDS Walk Los Angeles raised in excess of $4.2 million to support AIDS Project Los Angeles. (For more information, please visit www.aidswalk.net/losangeles.)

---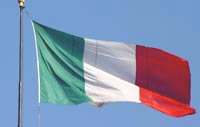 Submit you film for the RIFF Awards 2007 VI edition call 4 entry
deadline December 15, 2006 -
RIFF Awards 2007 -march 16 /23, 2007
RIFF has always been characterised by its strong international orientation, and has been presenting the Roman audience with films coming from over 70 countries, including national, European and world premieres . The event is supported by Rome 's Municipal Department of Cultural Policies, with the contribution of the Ministry of Cultural Heritage – DGC and of the Department for Culture, Entertainment, Sport and Tourism for the Lazio Region. The Roma Independent Film Festival is increasingly appraised, year after year, and is becoming known as one of independent cinema appointments not-to-miss , as well as an opportunity for worldwide film-makers to show their original works for the very first time. More than 80 films will be selected for the competition (in the 2006 edition the festival received over 1,000 films, VHS and DVDs from more than 70 countries). The Festival is also particularly focussed on production and distribution, hosted the main industry representatives at the CASA RIFF, which has now become one of the traditional meeting points during the event.

Throughout the past editions, special prizes have been awarded to Hervey Keitel, Amos Gitai , Pete Travis, Valeria Golino, Gabriele Muccino, Paolo Sorrentino , Sara Johnsen and many more.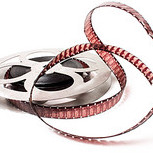 In 2007 RIFF will be further supplemented with a number of film retrospectivesand seminars. Special care will be paid to Italian first works which, like last year, will be screened within a special out-of-competition section. The RIFF Awards, given at the end of the festival, will have an overall value exceeding 50,000 Euros; the Luce Award will offer to the winning short the opportunity to havetheatre distribution and the ' New Vision' award will be granted to the most talented emerging director.