DONALD TRUMP
Life at the Top!
by Bonnie Carroll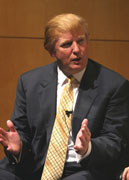 "The Donald" as he is affectionately called by friends like Regis Philbin and the American viewing public, was born Donald Trump in Queens, New York on June 14, 1946. A graduate of Wharton School of Finance, he has become a legend in his own time as a result of his win-lose and win-win strategies. According to reports he was near bankruptcy in 1991, and today has wealth that is reported to be immeasurable. His luck in love has been equally turbulent throughout his life. His first marriage to Ivan Trump, that bore the couple three children, ended in divorce when he became interested in Marla Maples, who he later married. Maples and Trump have a daughter Tiffany, who was born in 1993, and they were divorced several years later. This year "Diamond Donald" took the hand in marriage of Melania Knauss, a beautiful model and actress, and the couple appear to be very compatible and happy.Trump continues to be a collector of golf clubs, real estate, entertainment venues and projects, and recently published a magazine. His golf clubs are located in LA, Bedminster, West Chester, and West Palm Beach. His resorts and casino's include Trump Taj Mahal, Trump Plaza, Trump Marina, and Club Privee. Trump has real estate holdings in New York, California, Chicago, Florida, Seoul, Toronto, Canada and has future developments in Ft. Lauderdale, Florida, Phoenix and Brazil. The Trump University runs on the motto "Knowledge is Key to Success" and offers those who become members to actually get questions answered by Mr. Trump online.His sensational entertainment activities are forefront in the news, and include The Apprentice TV show; Trumped, the Radio Show; Trump Model Management; and Wallman & Lasher Skating Rinks. During a recent interview in Beverly Hills it was obvious he truly enjoys his participation in The Apprentice and has a great relationship with his producer and the hopefuls who move in and out of his boardroom. The words "You're Fired" have become synonymous with the succeed or fall television show, and many of the young men and women who have competed found great new career opportunities as a result of their participation – win or lose!Whatever your take is on this dynamic guy, it is obvious that the example he has set in tenacity under fire and 'never giving up' is worth emulating, as well as his willingness to put back by helping others.
---
FRANK FAMILY VINEYARDS GET SOME HELP FROM TERRI HATCHER AND JAY LENO AT THE 25TH ANNIVERSARY OF AUCTION NAPA VALLEY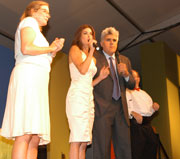 Vintner Connie Frank, guest Terri Hatcher and emcee Jay Leno whipped up bidding enthusiasm to help raise $580K at the 25th Annual Auction Napa Valley. A walk on role on the hit series "Desperate Housewives," a fortune in Frank Family Vineyard proprietary wine and a stay at a Beverly Hills hotel with a dinner prepared by chef Norman Van Aken brought the highest bidding the event had ever seen.
---

CELEBRITY NEWS TIDBITS

TOM CRUISE GETS "JERKED" AT WAR OF THE WORLDS PREMIER
A "jerk" posing as a reporter stunned actor Tom Cruise when he squirted water in his face during a supposed interview. The incident happened at a London premiere for Cruise's new film "War of the Worlds", and when Cruise had composed himself he approached the attacker. "I'm here giving you an interview...and you do something really nasty...you're a jerk," said the star. Brand new fiance Katie was also at the premiere event with Cruise.

ACADEMY AWARD NOMINEE DI CAPRIO ATTACKED IN HOLLYWOOD
Leonardo Di Caprio, who received an Academy Award nomination for his memorable role as Howard Hughes in the film Aviator, was assaulted at a Hollywood Hills party in the home of Rick Solomon, former boyfriend of Paris Hilton. The crazed woman who attacked him had been asked to leave the property before the incident. She attacked the actor with a bottle. It was reported that twelve stitches were necessary to close the wound, however, his current filming schedule will not be interrupted.

MADONNA WRITES FOR DAUGHTER LORDES
Madonna is busy writing a sequel to her best-selling children's book at the request of daughter Lordes. The English Roses, a story about 11 year old girls, was on the NY Times best seller list for 18 weeks, and sold over 500,000 copies internationally. The new sequel will be out in 2006.
---
LANGE AND GIBBONS HONORED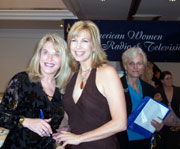 The American Women in Radio and Television of Southern California honored Kelly Lange with the Lifetime Achievement Award; award was presented by NBC4 Weatherman: Fritz Coleman, and Leeza Gibbons with the Excellence in Radio and Television Award during a dinner at the 2005 Genii Awards at the Wyndham Bel Age Hotel in West Hollywood. Bravo--to two exceptional woman who have given so much to the television viewing audiences who have enjoyed them throughout their careers.