WILD HOGS
Small town New Mexico rides High on the Hog in Wake of Film's Success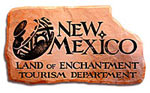 Opening March 2, Wild Hogs raked in ticket sales, setting a March opening record for Disney and taking approximately $39.7 million at the box office. With a cast that includes John Travolta, Tim Allen, Martin Lawrence and William Macy, the account of their mid life crises was filmed largely in New Mexico.
Film locations included Santa Fe, Albuquerque, and the Jemez Mountains, but the production truly transformed one of New Mexico's smaller towns along the Turquoise Trail, Madrid.
"It's wonderful to have a unique community like Madrid highlighted in the film," said Lisa Strout, Director of the New Mexico Film Office. "Madrid is th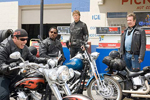 e quintessential Northern New Mexico town. Once a coal mining community, it is now filled with a myriad of artists and writers, imaginative shops and superb local fare."
Madrid locals Hugh and Honore Hackett took the production in stride, accommodating the cast and crew on their property and rare and unusual stone shop, the Ghost Town Trading Post. They now own Maggie's Diner, which was built on their property specifically for Wild Hogs. A focal point of the film, the diner is where Macy's character, Dudley, falls for the beautiful Maggie, played by Marisa Tomei.
"Every twenty minutes someone pulls in and takes their picture in front of Maggie's. It's becoming a promotional vehicle not only for Madrid and the Turq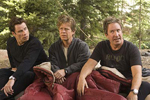 uoise Trail but the entire Santa Fe County," said Hackett.
"We're happy that Disney's biggest opening film was shot here in little Madrid," said Jon Hendry, Business Agent for the IATSE Local 480, the local film union.
Choosing New Mexico was easy for director Walt Becker.
"We were looking for a state with film incentives, and I had an inkling we'd find everything we needed in NM," said Becker. "This was a sort of homage to Easy Rider-consider it City Slickers on motorcycles. New Mexico is such a biker-influenced state, it was the most logical place for the film."
As New Mexico's aggressive 25% tax rebate and film loan program continue to draw filmmakers to the state, productions of large feature films keep rolling out. Sony Pictures' Seraphim Falls and Warner Brothers' Astronaut Farmer, starring Pierce Brosnan and Billy Bob Thornton, respectively, were both filmed in New Mexico in 2006 and release early this year.
"The experience in Madrid illustrates why this business can be so beneficial beyond the immediate dollars spent on production," said Eric Witt, Governor Richardson's Director of Media Arts and Industries Development. "Not only is it mobile - meaning we can locate productions all around the state - but it also provides long-term benefits to a town like Madrid and New Mexico overall in terms of tourism, name recognition and caché."
Cabinet Secretary of the New Mexico Tourism Department, Mike Cerletti notes, "We hope that in showcasing our beautiful state, the successful Wild Hogs will bring more visitors to The Land of Enchantment."
For more information on film in New Mexico, contact the New Mexico Film Office: 418 Montezuma Avenue Santa Fe, NM 87501 film@nmfilm.com
---

PREMONITION

Premonition, starring Sandra Bullock, opened in March to rave reviews. Written by Bill Kelly and directed by Mennan Yapo, the drama thriller weaves through the limits of reality. Bullock made a red carpet appearance prior to the opening at the Santa Barbara Internationlal Film Festival, where she shared the walk with Forrest Whitaker, who was being honored with a festival award.
---
SONY CANCELS GREG BERHENDT SHOW
by Bonnie Carroll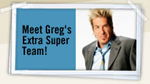 Much to everyone's dismay, The Greg Berhendt show was recently cancelled, and it was perported that it would be replaced by another crazy Springer type program. How sad is it that a show where someone who is actually successfully living in recovery from his own demons, and helping others with a variety of serious handicaps find a path to a happy life, through the assistance of experts, doctors, and positive role models.

Berhendt's honesty and comedic timing approach to interacting with guests was sensational, and the entire team, from producers to stage hands were an army of dedicated show business professionals putting on a show that provided healthy options to some of the most serious problems our society is facing.

But, the studio heads at Sony would rather put on another stupid and violent show, rather that give people healthy options to deal with there rage. I find this insane when you consider that news programs are constantly showing clips of kids beating other kids nearly to death on school busses and playground areas.

Perhaps the 'big wigs' at Sony should really think about how their programs may be affecting kids out there, and produce more shows like Greg's that can offer ongoing examples of appropriate ways to deal with all human relationships.

Greg is the author of "He's Just Not That Into You" and is about to release another book. He was a consultant for "Sex in the City" and worked as a stand up comic. He and his wife, who co-authors with him, have two daughters. For more on Greg go to www.GregBerhendt.com.
---
ANDERSON'S CROSS GETS "BEST FEATURE" AWARD
AT IBFF IN ATLANTA
by Bonnie Carroll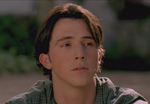 Anderson's Cross, featuring lead actor/producer Nicholas Downs, walked with the "Best Feature Film" Award at the IBFF (Independent Black Film Festival) in Atlanta, Georgia. The film is the story of a small town's coming of age, and was written and directed by Jerome E. Scott. Over one year in the making, with a cast of extremely talented actors, the win was a delightful surprise to all involved.

According to Nicholas Downs, who played a lead role in the film and was also a film producer "this was our first entry in a festival, and our first win. We hope it will lead to a distribution deal to promote the release of our film as a domestic theatrical release on DVD and TV." " We were delighted with the response we had from the people viewing the film in Atlanta. It was a great experience, and we are now under consideration for the Bridgetown Film Festival in Bermuda next month," said Downs.