Cannes 60th Film Festival - 2007 Awards
Festival ran between May 16-27.
Cannes Film Festival awards were announced on May 27, 2007.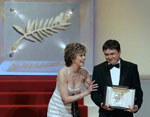 Official Competition:
Palme d'Or for Best Film: 4 luni, 3 saptamini si 2 zile / 4 Months, 3 Weeks, and 2 Days by Cristian Mungiu (Romania)
Grand Prix: Mogari no mori / The Mourning Forest by Naomi Kawase (Japan)
Special Jury Prize (ex-aequo): Stelle Licht by Carlos Reygadas (Mexico / France / The Netherlands) and Persepolis by Marjane Satrapi and Vincent Paronnaud (France)
Best Director: Julian Schnabel for Le Scaphandre et le papillon / The Diving Bell and the Butterfly (France)
Best Actor: Konstantin Lavronenko for Izgnanie / The Banishment (Russia)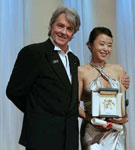 Best Actress: Jeon do-yeong for Secret Sunshine (South Korea)
Best Screenplay: Fatih Akin for Auf der anderen Seite / The Edge of Heaven (Germany / Turkey)
Special 60th Anniversary Award: Gus Van Sant for Paranoid Park (United States / France)
"Vulcain de l'Artiste-Technicien" Prize: Janusz Kaminski for Le Scaphandre et le papillon / The Diving Bell and the Butterfly (France)
Honorary Palme d'Or: Jane Fonda
Palme d'Or for Short Film: Ver llover / Watching It Rain by Elisa Miller (Mexico)
Honorable Mention: Run by Mark Albiston and Ah Ma / Grandma by Anthony Chen
Caméra d'Or for First Film: Meduzot / Jellyfish by Etgar Keret and Shira Geffen (Israel)
Honorable Mention: Control by Anton Corbijn (United Kingdom)
Un Certain Regard
Un Certain Regard Prize - Fondation Groupama Gan pour le Cinéma: California Dreamin' (Nesfarsit) / California Dreamin' (Endless) by Cristian Nemescu (Romania)
Special Jury Prize: Le Rêve de la nuit d'avant / Actrices / Actress by Valeria Bruni-Tedeschi (France)
Jury Coup de Cœur: Bikur hatizmoret / The Band's Visit by Eran Kolirin (Israel / France)
Cinéfondation
1st Prize: Ahora todos parecen contentos / Now Everybody Looks Happy by Gonzalo Tobal (Argentina)
2nd Prize: Ru dao / Way Out by Chen Tao (China)
3rd Prize (ex-aequo): A Reunion by Hong Sung-Hoon (South Korea) and Minus by Pavle Vuckovic (Serbia-Montenegro)
Directors' Fortnight
Prix Regards Jeunes / Young Eyes Prize: Control by Anton Corbijn (United Kingdom)
Label Europa Cinéma Prize (best European film): Control by Anton Corbijn (United Kingdom)
Prix Art et Essai: Garage by Lenny Abrahamson (Ireland)
Honorable Mention: Control by Anton Corbijn (United Kingdom) and Gegenüber / Counterparts by Jan Bonny (Germany)
FIPRESCI (International Film Critics)
Official Competition: 4 luni, 3 saptamini si 2 zile / 4 Months, 3 Weeks, and 2 Days by Cristian Mungiu (Romania)
Un Certain Regard: Bikur hatizmoret / The Band's Visit by Eran Kolirin (Israel / France)
Critics' Week and Directors' Fortnight: Elle s'appelle Sabine / Her Name Is Sabine by Sandrine Bonnaire (France)
International Critics' Week Grand Prize: XXY by Lucia Puenzo (Argentina)
SACD - French Society of Dramatic Authors and Composers: Meduzot / Jellyfish by Etgar Keret and Shira Geffen (Israel)
SACD Prize for Best Short Film in French: Même pas Mort by Claudine Natkin
Canal + Grand Prize for the Best Short Film: Madame Tutli-Putli by Chris Lavis and Maciek Sczerbowski (Canada)
Kodak Discovery Award for Best Short Film: Um Ramo by Juliana Rojas and Marco Dutra (Brazil)
Ecumenical Jury Prize: Auf der andren Seite / The Edge of Heaven by Fatih Akin (Germany / Turkey)
Youth Prize: Bikur hatizmoret / The Band's Visit by Eran Kolirin (Israel / France)
French National Education Administration Prize: 4 luni, 3 saptamini si 2 zile / 4 Months, 3 Weeks, and 2 Days by Cristian Mungiu (Romania)
Prix France-Culture for Career Achievement: Rithy Panh "for the intensity of his work and his commitment to the presentation of Cambodia's cinematographic memory"
Juries:
Official competition:
Stephen Frears, President (Director – Great Britain)
Maggie Cheung (Actress – Hong Kong)
Toni Collette (Actress – Australia)
Maria de Medeiros (Actress, Director – Portugal)
Sarah Polley (Actress, Director – Canada)
Marco Bellocchio (Director – Italy)
Orhan Pamuk (Writer– Turkey)
Michel Piccoli (Actor, Director – France)
Abderrahmane Sissako (Director – Mauritania)
Cinéfondation and short films:
Jia Zhang ke, President (Director – China)
Niki Karimi (Actress – Iran)
Deborah Nadoolman Landis (Costume designer – USA)
J.M.G. Le Clezio (Writer – France)
Dominik Moll (Director – France)
Un Certain Regard: Pascale Ferran (president), Jasmine Trinca, Cristi Puiu, Kent Jones and Bian Qin.
Caméra d'or: Pavel Lounguine (president), Julie Bertucelli, Clotilde Courau and Renato Berta.
---
THE STARS ALIGN: RIVIERA NAYARIT HOSTS THE 4th ANNUAL VALLARTA FILM FESTIVAL, DECEMBER 5th – 9th
One of Mexico's most acclaimed film festivals kicks off this December 5th - 9th, 2007 in Riviera Nayarit. The 4th Annual Vallarta Film Festival founded by Robert James Roessel and Maria Jose Zorrilla with co-founders, the Academy Award winning actress, Anjelica Huston (Addams Family Values, Prizzi's Honor, Tche Grifters) and Danny Huston (The Constant Gardener, The Aviator), features cinema from the Americas. The festival's line-up includes independent films and major motion pictures from Canada, North America, Latin America and South America as well as documentaries with an environmental theme. For more information on the Film Festival please visit www.vallartafilmfestival.com.
"Riviera Nayarit is Mexico's newest destination and offers a beautiful setting on the Pacific coast complemented by some of the region's most stunning beaches and an abundant eco and wildlife preserve. Therefore it is ideal that Riviera Nayarit is host to this highly popular film festival," said Marc Murphy, director general for the Riviera Nayarit Convention and Visitors Bureau."
"Riviera Nayarit is the perfect backdrop and setting for a film festival, what with an incredible destination which thrives upon the finest quality of cuisine and service as well as an abundant supply of ecological activities that the whole family will love. Picture perfect resorts with the incredible welcome of a warm Mexican embrace. What more could one ask for?" said Robert James Roessel, founder of the 4th Annual Vallarta Film Festival.
The not-for-profit Film Festival has hosted tens of thousands of film lovers over the years and is renowned for its extraordinary commitment to raising the public's consciousness with its environmental films which it has been showcasing since its inception. Film categories include: Hollywood Studio Showcase, New Films from Canada, Latin Contemporary Films, American Independent Cinema, Environmental Films and Documentaries and Mexican Short Films. The program's highlights also includes an Opening Night Gala, Sponsor Gala Dinner, Film Festival Celebrity Tribute, Closing Awards Ceremony, a Filmmakers Brunch and Educational Panels and Seminars which take place every day during the duration of the Film Festival.
Celebrity guests in the past have included Anjelica Huston, Danny Huston, Diego Luna, John C. Reilly, Maria Conchita Alonso, Alfonso Cuaron, Roger Corman, Carolina Hererra, Bruce Weber, Fred Willard, Ana Claudia Talancon, Leslie Nielsen, Luis Mandoki, Rodrigo Prieto, Juliet Taylor, Marion Dougherty and many others.
About Riviera Nayarit
Riviera Nayarit is Mexico's newest travel destination stretching along 100 miles of pristine Pacific coast framed by spectacular mountains to the north of renowned Puerto Vallarta. Mostly undeveloped, the destination extends from the resorts of Nuevo Vallarta to the historic, colonial town of San Blas, including exclusive Punta Mita and the spectacular Banderas Bay. The region features luxury resorts and eco-tourism boutique hotels, world-renowned surfing, four professional golf courses, rare native wildlife including sea turtles and tropical birds, mountain and island adventures, shopping for local artwork and traditional Huichol handicrafts, charming fishing towns and miles of serene beaches. For more information, visit: www.RivieraNayarit.com.
---
AFI HONORS AL PACINO
Kodak Theatre Overflowing with Friends and Fans
By Bonnie Carroll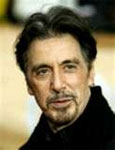 It was the night for every fan of Al Pacino to show up and pay him homage for a career filled with exceptional work and stellar friendships. The list of fellow actors to sing his praises was very impressive, from Sean Conery and George Clooney, AFI past recipients, to just about every actor he worked with he was described as an actor who made acting respectable and reveled in each moment he created on screen.
Pacino is an actor's actor and has played such a great variety of roles so very well that it is hard for anyone to say 'this was his best role' because he did them all so well. Great actors and great directors came to see him recognized and award winning actor/director Sean Penn presented him the award.
His acceptance was humble and filled with love. Based on what those who know him said, he is a very caring man who loves his work and loves 'the work'.
---
Simon Cowell's Jaw Drops for Unexpected "Welsh Idol"
Wales Has Something to Sing About: Unexpected "Welsh Idol" Discovered, "Brynfest" Draws Top Talent

Simon Cowell's newest television show "Britain's Got Talent" has shown once again that the proud Celtic nation of Wales has more than its fair share of talent. One might even consider bottling the water in the small industrial South Wales town of Port Talbot, whose famous sons include Richard Burton, Sir Anthony Hopkins, Michael Sheen, who is currently playing David Frost in Frost/Nixon on Broadway and now Paul Potts. Potts a cell phone salesman was catapulted to fame on June 17th when he won the "Britain's Got Talent" national talent competition taking home a cash prize, a lucrative record contract with Simon Cowell and a chance to sing for the Queen. Potts' heart-rending performance can be found on
Potts' is the latest in a long line of opera superstars to emerge from Wales. Welsh opera star Bryn Terfel is also making news with the announcement of his 8th annual Faenol Festival, fittingly called BrynFest taking place near Snowdonia in North Wales from August 24-August 27.
Welsh singer Connie Fisher, currently starring as Maria in Sir Andrew Lloyd Webber's new production of the Sound of Music in London's West End, will join Michael Ball and Ruthie Henshall for an evening called The Hills Are Alive - a gala of the best loved songs from musical theater. The Festival will also feature an Opera Gala when bass baritone Bryn Terfel will be joined on the Festival stage by Spanish Verdi baritone Carlos Alvarez, Mexican Tenor Ramon Vargas, hot from his performances at the New York Met, Welsh Soprano Rebecca Evans and the young English Mezzo Ssoprano Christine Rice. Joining them on stage is the world-renowned orchestra of the Welsh National Opera under the baton of Gareth Jones.
Please visit www.brynfest.com to learn more about Bryn Terfel's Faenol Festival.
---
BAFTA AND SONY PRESS PLAY AT THE LATITUDE FESTIVAL
BAFTA is exchanging red carpet stilettos for flip flops to present an incredible series of events at the Latitude Festival in Suffolk from 12-15 July this year.
In partnership with Sony UK Limited, the British Academy of Film and Television Arts will open this year's festival with a screening of Hitchcock's silent film The Lodger accompanied by a live orchestra. Activity continues over the weekend with exclusive Q&As with acclaimed filmmakers Richard Curtis (Four Weddings and a Funeral, Notting Hill, Love Actually), Shane Meadows and Mark Herbert (This is England, Dead Man's Shoes). All films will be shown using Sony's top-of-the-range technology.
On Thursday evening, BAFTA and Sony will screen Alfred Hitchcock's first silent black and white thriller The Lodger (1929) at sundown on the Lake Stage. A live orchestra, conducted by Robert Ziegler, will provide spine-tingling accompaniment to the film using a score by critically acclaimed composer, Joby Talbot (The Divine Comedy). Film critic, Mark Kermode will host the evening.
BAFTA and Sony then move inside to the Music and Film Tent. On Saturday night BAFTA-winning Richard Curtis will discuss film and its effect on politics with journalist Tracey Macleod. The Q&A will be followed by a screening of Curtis' film The Girl in the Café. This film follows the journey of Lawrence (Bill Nighy) - a lonely bureaucrat working for the Chancellor of the Exchequer - after he meets Gina (Kelly Macdonald) in a café. After a couple of dates, he invites her on a weekend trip to Reykjavik, where he'll be working at the G8 conference. The film is a passionate plea to humankind - wrapped in a love story, a comedy and a unique drama.
On Sunday night, BAFTA and Sony are joined by award-winning writer and director Shane Meadows and producer Mark Herbert, the creative duo behind the critically acclaimed This is England. The fifth feature film from Meadows (Dead Man's Shoes, Twentyfourseven), This is England tells the story of Shaun (Thomas Turgoose), an 11 year old kid growing up in the north of England. Set during the summer holidays of 1983, it follows his rites of passage from a shaggy-haired ruffian grieving the loss of his father into a shaven-headed thug whose anger and pain is embraced by the local skinhead fraternity. Radio 1 film critic James King will be hosting the interview.
Amanda Berry, Chief Executive of BAFTA said:
"We are delighted to have such a strong presence at Latitude Festival this year. Sony, with their reputation for visual excellence, is the perfect partner for us, and with them we hope to bring an incredible series of events to the Latitude festival goers."
Sony UK Limited is delighted to partner with BAFTA as a sponsor of the Latitude Festival 2007. Through its sponsorship, Sony is celebrating imagination and innovation, which are values inherent to the Sony brand as well as the ideals of both Latitude and BAFTA.
"We are excited about partnering with BAFTA to present the film programme at this year's Latitude Festival. Both Sony and BAFTA have a rich heritage in supporting excellence and innovation in the film industry, and Latitude gives us an ideal platform to continue this," says Mikah Martin-Cruz, General Manager of Central Marketing, Sony UK Limited