SIX ACTORS TO RECEIVE THE 2009
VIRTUOSOS AWARD AT THE SANTA
BARBARA INTERNATIONAL FILM FESTIVAL
Second Annual Award Honors Six of the Year's Best Performers
The Santa Barbara International Film Festival continues its tradition of honoring the year's standout performers by presenting The 2009 Virtuosos Award to Viola Davis, Rosemarie DeWitt, Sally Hawkins, Richard Jenkins, Melissa Leo and Michael Shannon.  The Award presentation will take place Wednesday, January 28 at the 24th edition of the Fest, which runs January 22-February 1, 2009.
The Virtuosos Award was created last year to recognize a select group of actors who have distinguished themselves through performances in film this past year.  Last year's recipients of this inaugural award were Casey Affleck, Marion Cottilard, who went on to win the Best Actress Oscar, James McAvoy, Ellen Page and Amy Ryan.
"Each of these virtuosos have dazzled us with some of the most unexpected, scene-stealing, heart-breaking, uncompromising, fearless and startling performances of the year," Durling commented.
Those actors who were selected to be recognized for their stand-out performances are:  Viola Davis whose performance in "Doubt" exemplifies the kind of acting that opens a window into a complex and troubled soul, revealing the aspirations and desperation of a parent who will fight to ensure that her child grows up living a better life than she had; Rosemarie DeWitt from "Rachel Getting Married" transforms into the character of Rachel luminously and effortlessly. Her performance shows us the beautiful sadness in family members who find themselves separated even when they are together; Sally Hawkins (pending availability), whose brilliant portrayal of the free-spirited primary school teacher Poppy, radiates an infectious sense of joy; Richard Jenkins, a largely unheralded but masterful performer in a wonderfully measured story about change and renewal in Tom McCarthy's The Visitor; Melissa Leo, whose performance in "Frozen River" as the struggling single mother makes you believe in her character's resilience and her determination to provide a better life for her family at any cost; and Michael Shannon, whose show-stopping scenes as the outspoken genius just out of the psych ward in "Revolutionary Road" is nothing short of brilliant and epitomizes the saying, "the truth hurts."
The tribute, produced by Dana Morrow, will take place at the Lobero Theatre at 8pm on Wednesday, January 28.   Tickets for the event will go on sale today and can be purchased at www.sbfilmfestival.org or through the Lobero Box Office, 805.963.0761 and the Arlington Theater Box office, 805.963.4408.  Festival Platinum and Cinema Passes are currently on sale exclusively at the Lobero Box Office.  Box Office fees will apply for all Film Festival Passes, Mini-Paks, and event tickets.
The Santa Barbara International Film Festival, set to run January 22 through February 1, 2009, is a non-profit organization dedicated to enriching local culture and raising consciousness of film as an art form.  SBIFF presents quality American and world independent films, Latin American and Asian sidebars as well as documentary cinema within the beautiful setting of downtown Santa Barbara, a premier tourist destination.  The SBIFF is also committed to education through its 10-10-10 Student Filmmaking and Screenwriting Competitions, Field Trip to the Movies, and educational seminars.  With a projected audience of over 70,000 viewing more than 200 films over its eleven-day run, the SBIFF attracts an affluent local and national consumer base, while maintaining strong ties with the entertainment industry in nearby Los Angeles.  For more information, please visit www.sbfilmfestival.org.
---
BROADWAY ACROSS AMERICA TO PRESENT
BROADWAY TOUR OF CHICAGO IN SAN JOSE, CA
CHICAGO performances January 14 – 18; Tickets on sale now at Ticketmaster
Broadway Across America, in partnership with Team San Jose, announced today they will exclusively present the previously scheduled engagement of CHICAGO, Broadway's Tony® Award-winning phenomenon in January 2009 in San Jose.
In response to the recent unfortunate news of American Musical Theatre of San Jose closing its doors after 73 years of entertaining patrons throughout the greater San Jose area, the CHICAGO company and Broadway Across America have agreed to honor tickets previously purchased for the seven performances of CHICAGO from Wednesday, January 14 through Sunday, January 18, 2009, at the San Jose Center for the Performing Arts.
 
Broadway Across America is also currently finalizing plans to present AVENUE Q (March 4 – 8), previously scheduled through American Musical Theatre of San Jose. AVENUE Q is Broadway's hilarious smash-hit 2004 Tony® Award-winner for Best Musical, and is about trying to make it in NYC with big dreams and a tiny bank account.
"American Musical Theatre of San Jose has served the citizens of the greater San Jose area for 73 years, offering exceptional productions that dazzled generations of avid theatergoers," said John Gore, CEO of Broadway Across America. "With the cooperation of the City of San Jose and Team San Jose, we want to make sure its theatergoers are not denied their chance to see these two amazing productions."
"We are thrilled to partner with Broadway Across America to bring CHICAGO to San Jose and the Bay Area," said Dan Fenton, President and CEO of Team San Jose and the San Jose Convention and Visitors Bureau, "We believe this puts San Jose center stage to offer Broadway shows in the future."
Since CHICAGO began its national tour in April 1997 at the National in Washington, DC, Broadway Across America has presented the show in every one of its markets. This season alone Broadway Across America is presenting CHICAGO in Appleton, Wisconsin (Fox Cities Performing Arts Center), Raleigh, North Carolina (Raleigh Memorial Auditorium), Calgary, Alberta, Canada (Southern Alberta Jubilee Auditorium), Boston, Massachusetts (The Colonial Theatre), and Miami, Florida (Adrienne Arsht Center for the Performing Arts).
Now celebrating eleven glorious years of girls, glitz and glamour across the country, the record-breaking smash hit musical CHICAGO is BACK IN TOWN and its PURE ENTERTAINMENT! CHICAGO returns to San Jose for a limited one-week engagement at San Jose Center for the Performing Arts, January 14 - 18. Tickets are on sale now.
The performance schedule for the San Jose engagement of CHICAGO at the San Jose Center for the Performing Art is as follows:
Wednesday, January 14    7:30pm
Thursday, January 15    7:30pm 
Friday, January 16    8:00pm
Saturday, January 17    2:00pm and 8:00pm
Sunday, January 18     1:00pm and 6:30pm
Ticket prices for CHICAGO range from $16 to $71, plus applicable fees. Tickets are available online at Ticketmaster.com, by calling (toll-free) 800.982.2787 or at any Ticketmaster outlet, including select Macy's and f.y.e stores.
Tony®-nominated actor Tom Wopat returns to the role of Billy Flynn after having played the part in both the Broadway and National Touring productions. Other Broadway credits include A CATERED AFFAIR (Tom, Tony® nomination) GLENGARRY GLEN ROSS (James Lingk), 42ND STREET (Julian Marsh), ANNIE GET YOUR GUN (Frank Butler, Tony® nomination), GUYS AND DOLLS, CITY OF ANGELS, CAROUSEL, I LOVE MY WIFE. Off-B'way: THE GUYS. Perhaps best known for his seven-season run on TV's "The Dukes of Hazzard" and seen on the CBS sitcom "Cybill," Mr. Wopat began performing in musicals at age 12. His NY debut was the Off-B'way musical A BISTRO CAR ON THE CNR, and he then starred in THE ROBBER BRIDEGROOM at Ford's Theatre, Washington, D.C. Wopat has released successful albums with CBS, Capitol and Angel Records and has toured throughout the U.S. and Europe. He recently performed in a Carnegie Hall tribute to Harold Arlen and his CD of this tribute, Dissertation on the State of Bliss, is now available.
With a book by Fred Ebb and Bob Fosse, music by John Kander and lyrics by Fred Ebb, CHICAGO is the winner of six 1997 Tony® Awards including Best Musical Revival and the Grammy® Award for Best Musical Cast Recording.
Directed by Walter Bobbie and choreographed by Ann Reinking, CHICAGO features set design by John Lee Beatty, costume design by William Ivey Long, lighting design by Ken Billington and sound design by Scott Lehrer. The production also features orchestrations by Ralph Burns, supervising music direction by Rob Fisher.
Produced by Barry and Fran Weissler, CHICAGO has become a worldwide phenomenon. The London production of CHICAGO continues to hold the record as the longest running American Musical in West End history. Other previous international engagements include productions in Abu Dhabi, Argentina, Australia, Austria, Brazil, Canada, China, Denmark, Dubai, France, Germany, Greece, Holland, Italy, Japan, Korea, Mexico, Portugal, Russia, South Africa, Sweden, Switzerland and Taiwan. CHICAGO will open in Australia and Holland, and return engagements are slated for Korea, Denmark and Japan in 2009.
CHICAGO is a production not to be missed. And all the reviewers agree. Time magazine calls it "A Triumph," Newsweek raves "Smashing" and Entertainment Weekly sums it up by calling CHICAGO "Broadway's Most Electrifying Show."
**Interviews are available with Team San Jose and Broadway Across America. B-roll and photos from CHICAGO are also available.
About Broadway Across America
Broadway Across America: Owned and operated by British theatre producer John Gore (CEO) and entertainment industry veteran Thomas B. McGrath (Chairman), Broadway Across America presents first-class touring Broadway musicals and plays, family productions and other live events throughout a network of 43 North American cities.  Broadway Across America is also dedicated to the development and production of new and diverse live theatre for productions on Broadway, across America and throughout the world. Current and upcoming productions include the Broadway premiere of Irving Berlin's WHITE CHRISTMAS, Tony® Award-winners BOEING BOEING and SPAMALOT, 13 A NEW MUSICAL, WEST SIDE STORY opening on Broadway in 2009, and DORA THE EXPLORER on tour. For more information or to purchase tickets through an authorized agent go to BroadwayAcrossAmerica.com.
---
RENDERED WITH BETTE MIDLER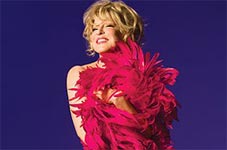 Caesars Palace
3570 Las Vegas Blvd S
Las Vegas NV 89109
(Local): (702) 731-7110
(Toll-free): (800) 634-6661
Dec 30, 2008 - Jan 25, 2009
Show Time: 7:30pm; Dark 1/1, 2, 5, 8, 12, 15, 19 & 22
$95 - $250

---