MC FADDEN LOCAL PR PRO WINS "DANCING UNDER THE STARS"
Arthur Murray Dance Studios of Santa Barbara and Thousand Oaks Joins Make-a-Wish Foundation to Raise Funds for Charity
By Bonnie Carroll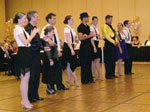 (Santa Barbara, CA) - The dance floor at the Fess Parker Hotel was on fire with the talent of Arthur Murray dancers and local "celebrities" who participated in a choreographed ballroom dancing competition "Dancing Under the Stars" to raise funds for the Tri-Counties Make-A-Wish Foundation, where Mo McFadden, founder and president of McFadden & McFadden Entertainment Public Relations, a Santa Barbara business, and her dance partner Matt Hackney danced away with 1st place.
Maureen "Mo" McFadden lives in Goleta and owns her own business based in Santa Barbara. As a devotee of the arts who began her career path as an actress but segued into the 'business' of show, Mo demonstrated her natural artistic talent by skil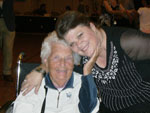 lfully learning the Art of Ballroom dance in ten lessons. Her Rhumba also won as the sexiest dance routine, and it surely was. Mo is the proud mom of 19 year-old son Eli.
Additional celebrity participants included musical chameleon David Kaufman, Heavy Weight Golden Glove Boxer Henry Robert Calles, Jr., local Prudential realtor Nieves Flores, retired professional baseball player Matt Franco. Arthur Murray dancers included Randy Melcombe and Karen Hermanson, Javier Ochoa and Margo Kowalski, David Chadida and Jessica Morgan, Edwin Cabrera and Lina Enriquez, Paul Hermanson and Elizabeth Ciarrocca, Javier Ochoa and Daisy Ramerez, Alan Beardsley and Sydnie Axman, Edwin Cabrera and Blaire O'Donnell, Matt Hackney and Erica Calvin, Robert Taylor and Karen Hermanson.
The Make-A-Wish Foundation(r) grants the wishes of children with life-threatening medical conditions to enrich the human experience with hope, strength, and joy. With the help of more than 80 volunteers, the Make-A-Wish Foundation of the Tri-Counties is celebrating 8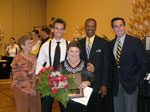 00 heartfelt wishes granted to children in Ventura, Santa Barbara and San Luis Obispo Counties. If you want to refer a child to the Make-A-Wish Foundation, volunteer and help in other ways, call 1-888-899-9474 [WISH] or visit www.tri-counties.wish.org.
Arthur Murray Studios have been teaching the world to dance for 95 years and currently have locations in 14 countries. The studio has been in Santa Barbara for over 55 years, and current director, Karen Hermanson has added studios in both Ventura and Thousand Oaks in the past 10 years. Their capable, certified staff enjoys teaching ballroom and social dance to young people of all ages. Whether preparing for a special occasion or simply for fun or exercise, you can put "your feet in their hands" with confidence. The studio takes great pride in making learning to dance fast, fun and easy. For more information, visit www.ArthurMurray.com or call 805-963-6658 (Santa Barbara Studio) or 805-495-1445 (Thousand Oaks Studio).
---
FARM AID ANNOUNCES STELLAR FESTIVAL LINEUP
Willie Nelson, Neil Young, John Mellencamp, Dave Matthews and Tim Reynolds to be joined by The Allman Brothers Band, Counting Crows, Matisyahu, Guster, The Derek Trucks Band, Warren Haynes, Supersuckers, The Ditty Bops, and Montgomery Gentry at
Farm Aid 2007: A HOMEGROWN Festival
Farm Aid today announced the details of the lineup for its first concert event in New York. Artists representing a variety of genres are slated to join Farm Aid board members Willie Nelson, Neil Young, John Mellencamp and Dave Matthews on Sunday, September 9 at Randall's Island in New York City for the day-long festival. The show will promote food from family farmers and raise funds for Farm Aid's work throughout the year to strengthen family farm agriculture.
Among the artists who will perform at Farm Aid 2007: A HOMEGROWN Festival are Tim Reynolds, who will join Dave Matthews, The Allman Brothers Band, Counting Crows, Matisyahu, Guster, The Derek Trucks Band, Warren Haynes, Supersuckers, The Ditty Bops and Montgomery Gentry. Willie Nelson, Neil Young, John Mellencamp, Dave Matthews and Tim Reynolds and The Allman Brothers Band are scheduled to play full sets.
Thanks to a warm welcome from Mayor Bloomberg and New Yorkers, Farm Aid is bringing the annual concert to New York for the first time in 22 years," said Carolyn Mugar, Farm Aid's executive director. "With inspiring music from generous artists and a menu of family farm food, Randall's Island will be transformed into a music festival to be remembered."
Farm Aid 2007: A HOMEGROWN Festival will feature a full day of music, an abundance of family farm food vendors, and hands-on, interactive exhibits with farmers and activists that inspire living a homegrown life. For the first time at a major concert event, the goal is to serve 100 percent local, organic, humanely-raised and family-farmed food.
Tickets for Farm Aid 2007: A HOMEGROWN Festival are available at all Ticketmaster outlets, online at www.ticketmaster.com, or by calling (212) 307-7171, (631) 888-9000 or (203) 624-0033. Ticket prices are $52 for general admission, $102 for reserved seats and $302 for VIP reserved seats. The VIP package includes catering in an exclusive area and other amenities.
A limited number of premium seats and VIP packages are also available for charitable sale at www.tickets-for-charity.com. Fans may access these seats at face value plus a donation, which is directed to Farm Aid.
Farm Aid fans also have the chance to win front row seats, airfare and hotel accommodations for Farm Aid 2007: A HOMEGROWN Festival at
www.topofthehaystack.com.
Farm Aid 2007: A HOMEGROWN Festival is sponsored by Silk Soymilk, Horizon Organic, Fields Family Foundation, Chipotle, Whole Foods Market, Citizens Energy, Chevy, Organic Trade Association, New Hope Natural Media, Clif Bar, Organic Valley Family of Farms, Niman Ranch and Annie's Homegrown.
The most efficient way to get to Randall's Island is to catch the ferry, bus or train. For bus and train information visit www.mta.info/nyct or call (718) 330-1234. For ferry information visit www.nywaterway.com/event/randalls.shtml or call 1-800-53-FERRY.
Farm Aid's mission is to build a vibrant family-farm centered system of agriculture in America. Farm Aid artists and board members Willie Nelson, Neil Young, John Mellencamp and Dave Matthews host an annual concert to raise funds to support Farm Aid's work with family farmers and to inspire people to choose family-farmed food. Since 1985, Farm Aid has raised over $30 million to support programs that help farmers thrive, expand the reach of the Good Food Movement, take action to change the current system of industrial agriculture and promote food from family farms.

---
The Pretenders and Stray Cats
At the Santa Barbara Bowl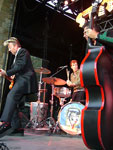 Tripping back in time with this dynamic duo of rock bands, the Santa Barbara Bowl was packed to the gills on a beautiful summer night. These bands did not try to recapture anything, no apologies, nothing–just straight ahead rock and roll. Straight, no chaser. The Pretenders' founding songwriter, vocalist and guitarist, Chrissie Hynde, punched the air and screamed "Mazeltof people, let the music begin!" She reminded the crowd she hadn't played in Santa Barbara since 1981 when they shot a video on stage here, and proclaimed, "It's still fucking great." Hynde was the rare, successful female bandleader and style-setter in the early days of punk and new wave. Her impact was substantial. She was edgy, mixing punk and rock, and she spoke her mind. Hynde got my attention and respect. She hasn't lost an ounce of energy, charisma, style or sass since then, as far as this writer is concerned. And damn she looks good.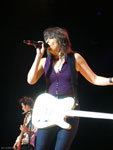 The Pretenders pulled out all the stops, and the hits came out one after the other—"Back on the Chain Gang," "Don't Get Me Wrong," "Stop Your Sobbing," "Talk of the Town," "Precious," "Tattooed Love Boys," and "Cuban Slide." Hynde noted to the audience at one point, "Those of you astute enough will notice my Stevie Nicks impersonation," as she picked up the tambourine and did the signature Nicks turn, which in turn got a good laugh from the house. She's a great performer and is so at home with her audience. The bond between band mates pours off the stage and it's seamless–I mean, you want to hang out with these people. They brought Brian Setzer out on stage for "My City Was Gone (Ohio)" and they ripped it wide open–four guitars center stage, quintessential drummer Martin Chambers just on it like a racehorse, creating a wall of sound that pushed itself way out of the Bowl, possibly to Ohio state lines. Hey, Chrissie, why not open a West Coast "veggeTerrarian" restaurant here? Then you can play the Bowl more often.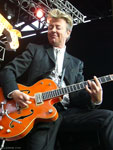 Juice, and plenty of it--they gave us the juice, they did—The Stray Cats do rock-a-billy like nobody else. The band single-handedly revived the genre when they broke on the scene in 1978 and is so rooted in tradition, it was fabulous to see the ORIGINAL members together and having way too much fun again. The stage set was minimal but very good, like an alley where all stray cats reside--it was bare basics: center were two trash cans for guitar stands around a couple of boxes, one with the unmistakable Sun Records logo on it--a nod to all the greats who recorded there, the Cats emulated. Gene Vincent's "Be-Bop-a-Lula" got a completely new take on it, while Brian Setzer, Lee Rocker on bass, and drummer Slim Jim Phantom did not disappoint and laid out all the best of their songs: "Stray Cat Strut," "Runaway Boys," "Rock This Town," and "(She's) Sexy + 17." Setzer has seven Grammy nominations, and this concert proved The Stray Cats have still got moxie. Come on back to our alley anytime, boys! Meow!
To find out more about upcoming shows at the Santa Barbara Bowl, go to: www.sbbowl.com

---
THE CLASSIC ARTHURIAN ROMANCE...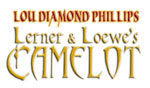 LOS ANGELES WILL BE THE FIRST
TO SEE LOU DIAMOND PHILLIPS
AS HE ASSUMES KING ARTHUR'S CROWN
IN OPULENT REVIVAL
2 WEEKS ONLY, ROYCE HALL, UCLA
SEPTEMBER 11 - 23, 2007

Broadway/L.A., McCoy Rigby Entertainment, and Liza Lerner have announced that film, television and Broadway star LOU DIAMOND PHILLIPS will star as "King Arthur" in the national tour of Lerner & Loewe's CAMELOT starting with the Los Angeles engagement playing at Royce Hall, UCLA for a limited two-week engagement, September 11 - 23, 2007. Tickets go on sale to the general public this Sunday August 5th at 10am.
This is a much anticipated return to the stage for Phillips after his award winning star turn in The King And I (1996) on Broadway. He received multiple awards and nominations including a Tony® Award nomination, the New York Outer Critics Circle Award and a Theatre World Award for his performance as the "King of Siam".
Lou Diamond Phillips burst on the film scene in 1987's La Bamba as rocker Ritchie Valens. Receiving critical acclaim and a legion of fans, Phillips followed this with another break-out performance in Stand and Deliver (1988) and received the Independent Spirit Award for Best Supporting Actor and was nominated for a Golden Globe Award for his performance. In 1988 and 1990, he co-starred with Emilio Estevez and Kiefer Sutherland in Young Guns and Young Guns II. In Courage Under Fire Lou received a Blockbuster Entertainment Award for Supporting Actor and a Lone Star Film and Television Award.
Born in the Philippines and raised in Texas, Phillips is the son of a naval engineer and is the proud father of three beautiful daughters. He is of Filipino, Hawaiian, Chinese, Spanish, Scottish Irish and Cherokee Indian ancestry and that has played a factor in some of his incredible leading roles. He holds a Bachelor of Fine Arts in Theatre from the University of Texas at Arlington and has performed extensively at Stage West and Casa Manana in Fort Worth.
Lou is currently the spokesperson for ACT Today! (Autism Cure and Treatment Today). He has also been a spokesperson for The California Teacher's Association Read Across America Campaign and the Screen Actor's Guild Foundation Book Pal's Program. His charity work includes Helping Hands/Boys Town, Artists Against Racism, and NACCTEP (National Association of Community College Teacher Education Programs).
Stepping into the role of "Guenevere" will be Rachel de Benedet. Rachel recently co-starred with John Lithgow in the Broadway production of Dirty Rotten Scoundrels. She has tremendous Broadway, regional and touring credits that include Nine (Diana) and The Sound of Music (Elsa) Brigadoon (Fiona), The Secret Garden (Lily) and Kiss Me Kate (Lili/Kate). Matt Bogart will assume the role of "Lancelot". Matt's Broadway credits include Miss Saigon (Chris), The Civil War (Private Taylor), Smokey Joe's Café (White Guy), and Aida (Radames). He has numerous regional credits and leading roles at Arena Stage (Helen Hayes nomination), Kennedy Center, Signature Theatre, Paper Mill Playhouse and Goodspeed Opera House. Featured in the cast are Shannon Stoeke as "Mordred", Time Winters as "Pellinore", Eric Anderson stars as the wizard "Merlyn" and Tavis Danz as "Young Arthur".
Rounding out the ensemble of Lerner & Loewe's CAMELOT are Venny Carranza, Lawrence Cummings, Chris Warren Gilbert, Sandy Hawker, Angelina Kalani Holliman, Joanna Louise, Juli Robbins, Grant Rosen, Joseph Sark, Jean Michelle Sayeg, Megan Swanson, Jill Townsend, Robert J. Townsend, Christian Whelan, Lisaun Whittingham, John B. Williford & Vincent Zamora.
The enchanted kingdom of Lerner & Loewe's CAMELOT, is a place where honor and chivalry reign. But can this idyllic land survive when Queen Guenevere falls in love with Sir Lancelot? The splendid, memorable score includes the romantic and haunting "If Ever I Would Leave You," the captivating "How to Handle a Woman" and the majestic "Camelot." Re-discover the grandeur of one of history's greatest love stories.
Lerner & Loewe's CAMELOT features book & lyrics by Alan Jay Lerner with music by Frederick Loewe. The production is directed by Glenn Casale with choreography by Dan Mojica. Musical supervision and orchestrations are by Craig Barna with additional materials by Michael A.M. Lerner. Lerner & Loewe's CAMELOT features scenic design by John Iacovelli, costume design by Marcy Froehlich, wig design and supervision by Mitchell Hale, lighting design by Tom Ruzika, and sound design by Julie Ferrin. Aerial effects are by Paul Rubin best known for his work on McCoy Rigby's production of PETER PAN.
Lerner & Loewe's CAMELOT is produced by McCoy Rigby Entertainment, The Nederlander Organization, Liza Lerner, Waxman Williams Entertainment, Live Nation, and Pittsburgh CLO/Van Kaplan. Michael A. Jenkins, Dallas Summer Musicals Inc. and The Pelican Group comprise the producing partners.
Performances of Lerner & Loewe's CAMELOT will be Tuesday through Friday at 8pm, Saturday at 2pm & 8pm, and Sunday at 1pm & 6:30pm.
Tickets for Lerner & Loewe's CAMELOT, which range in price from $25 - $75 are currently only available by subscribing to Broadway/L.A.'s 2007-2008 season. For more information on subscribing, visit http://www.broadwayla.org/ or call the subscription office at 866-755-BWAY(2929). Single tickets for Lerner & Loewe's CAMELOT will go on sale to the general public this Sunday August 5, 2007 at 10am and will be available for purchase online at http://www.broadwayla.org/, by phone at 213-365-3500 or 714-740-7878. Tickets will also be available at the UCLA Central Ticket Office in the James West Alumni Center on the UCLA Campus, open Monday thru Friday 10am to 4pm. (The Royce Hall Box Office is open on performances days only, beginning one hour prior to curtain time.) Groups of 15 or more may order by calling toll-free to Nederlander Group Sales L.A. at 866-755-3075.
Visit the official Lerner & Loewe's CAMELOT website at http://www.camelotontour.com/.Lerner & Loewe's CAMELOT is presented by Broadway/L.A. and is the first attraction on its 2007-2008 Season
---
TIGER WOODS WINS PGA!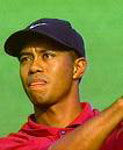 TIGER WOODS WINS PGA!
13TH Major Tournament
This weekend in Tulsa, Tiger won his 13th major, tying Bobby Jones for second in all time majors and 5 behind Jack Nicklaus for the all time record.