** SAVE THE DATE **
SANTA BARBARA INTERNATIONAL FILM FESTIVAL
ANNOUNCES 2ND ANNUAL
SILVER SCREEN BASH
The Santa Barbara International Film Festival has set the date for the 2nd Annual Silver Screen Bash for Sunday, July 18 and will take place in the Rotunda at Fess Parker's DoubleTree Resort.
Guests will have a chance to experience the star treatment and walk the red carpet lined with paparazzi and see themselves on the big screen!  Come and enjoy a fun-filled Summer evening featuring unique silent auction items, good friends (both old and new), great music and terrific food and drinks - all included in the ticket price! 
Spearheaded by SBIFF Development Chair David Edelman, money raised from the Silver Screen Bash goes to support SBIFF's FREE education and community outreach programs which benefit over 8,000 children, students and families, such as Field Trip to the Movies, Apple Box Family Film Festival, Third Weekend; and the very popular 10-10-10 Student Filmmaking and Screenwriting competitions for high school and college students.
"Bringing together the businesses and community of Santa Barbara in support of the free and educational programming SBIFF is able to offer is what this bash is all about," says Edelman.  "It will truly be an exceptional evening."
Tickets are now available for purchase, starting at $75 for general admission and $100 VIP.  Table purchases and sponsorships are also available.  To purchase tickets, log onto www.sbfilmfestival.org; for additional information, contact the SBIFF office at 805-963-0023.  For Silver Screen Bash Sponsorship Information or to donate items to the silent auction, please contact Michal W. Wiesbrock, Director of Development, at 805-963-0023.
---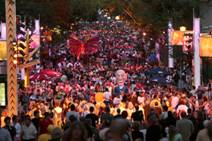 JUST FOR LAUGHS, THE WORLD'S LARGEST HUMOR FESTIVAL, LAUNCHES JULY 6
Headliners include Cheech & Chong, Pamela Anderson,
John Leguizamo, Aziz Ansari, Nick Cannon, Andy Kindler and Brad Garrett
Montréal's 28th annual Just For Laughs Festival, presented by Videotron in association with Loto-Québec, is kicking off July 6th and running through July 18th, 2010. The largest comedy festival in the world, Just For Laughs features scores of stand-up comedy events with renowned comedians, concerts, plays, skits, street theatre, parades and more fun than a barrel of monkeys.
Prepare to chuckle, chortle, giggle, titter and whoop with an impressive line-up of new stars and old stars alike. Catch Aziz Ansari, who currently stars opposite Amy Poehler in the critically acclaimed NBC Series Parks and Recreation, as he returns to Montreal with his Dangerously Delicious Tour. Join comedy-maverick Andy Kindler as he hosts a bold assortment of innovative humor, bizarre characters, and simply out-there ideas. Legendary stoners, Cheech & Chong, will return for a night, bringing back old (fuzzy) memories and letting the good times roll, and Everybody Loves Raymond's Brad Garrett and The Marriage Ref's Tom Papa unite for an evening about love, sex, family and all that other nonsense. Other big names include Nick Cannon; celebrity roaster Greg Giraldo; Kevin Smith (also known as Silent Bob); John Leguizamo; Chris Titus; JB Smoove, a regular on HBO's Curb Your Enthusiasm; Harland Williams of There's Something About Mary and Half Baked fame; Tom Green; former Saturday Night Live member, Finesse Mitchell; and the most downloaded woman on Earth, Pamela Anderson.
For those scouting for lesser-known comics and shows, find out all about the riotous highs and lows of life with a teenager with the 'Mom's the Word' show or enjoy the 'Young@Heart Chorus' show, in which a hot, hip, and averaging 80 years old crew conjures an energetic rock repertoire of Nirvana, Jimi Hendrix and Radiohead. Some up and comers include Rob Corddry of the hit movie, Hot Tub Time Machine; ranter from the Daily Show's Back in Black segment, Lewis Black; one of the '10 comics to watch,' Jo Koy; Halifax's best comedian for three consecutive years, Mark Little; 'Female Comedian of the Year' Maryellen Hooper; Australia's most successful talk show host, Rove McManus; Canadian TV star Trevor Boris; and Joan Rivers roaster, Whitney Cummings. Also adding humor to the festival are Andrew Maxwell, Des Bishop, Chelsea Peretti, Dom Irrera, Erinn Hayes, Jarred Christmas, the self-depricating Jim Norton, PJ Gallagher, Lavell Crawford, Mike Birbiglia, Neil Hamburger, the award-winning Noel Fielding, ventriloquist Paul Zerdin, Robert Kelly, Steve Patterson, comedic pianist Tim Michin, Tom Wrigglesworth, the Uncalled For comedy troupe, and many  more to be announced.
For the full line-up and bios of the comedians, please visit the Just For Laughs website at montreal.hahaha.com. To book a stay and buy tickets, please call 1 877 484-4242 or visit the website at www.hahaha.com.
---


Catherine Zeta-Jones                                   Dame Mirren
STAR FILLED EVENING FOR THE TONY AWARDS IN NEW YORK
Best Performance by a Leading Actress: Catherine Zeta-Jones
BEST PERFORMANCE BY A FEATURED ACTRESS IN A PLAY: Scarlett Johansson "A View From the Bridge."
BEST PERFORMANCE BY A FEATURED ACTOR IN A PLAY: Eddie Redmayne, "Red."
BEST DIRECTION OF A PLAY: Michael Grandage, "Red."
BEST DIRECTION OF A MUSICAL: Terry Johnson, "La Cage aux Folles."
BEST PERFORMANCE BY A FEATURED ACTRESS IN A MUSICAL: Katie Finneran, "Promises, Promises."
BEST PERFORMANCE BY A FEATURED ACTOR IN A MUSICAL: Levi Kreis, "Million Dollar Quartet."
BEST PERFORMANCE BY A LEADING ACTRESS IN A PLAY: Viola Davis, "Fences."
BEST PERFORMANCE BY A LEADING ACTOR IN A PLAY: Denzel Washington, "Fences."
BEST CHOREOGRAPHY: Bill T. Jones, "Fela!"
BEST REVIVAL OF A PLAY: "Fences."
BEST PLAY: "Red."
BEST BOOK OF A MUSICAL: "Memphis."
BEST ORIGINAL SCORE (MUSIC AND/OR LYRICS) WRITTEN FOR THE THEATER: "Memphis"
BEST ORCHESTRATIONS: Daryl Waters and David Bryan, "Memphis."
BEST SCENIC DESIGN OF A PLAY: Christopher Oram, "Red."
BEST SCENIC DESIGN OF A MUSICAL: Christine Jones, "American Idiot"
BEST COSTUME DESIGN OF A PLAY: Catherine Zuber, "The Royal Family."
BEST COSTUME DESIGN OF A MUSICAL: Marina Draghici, "Fela!"
BEST LIGHTING DESIGN OF A PLAY: Neil Austin, "Red."
BEST LIGHTING DESIGN OF A MUSICAL: Kevin Adams, "American Idiot."
BEST SOUND DESIGN OF A PLAY: Adam Cork, "Red."
BEST SOUND DESIGN OF A MUSICAL: Robert Kaplowitz, "Fela!"
___
SPECIAL TONY AWARD FOR LIFETIME ACHIEVEMENT IN THE THEATER: Alan Ayckbourn and Marian Seldes.
REGIONAL THEATER TONY AWARD: The Eugene O'Neill Theatre Center, Waterford, Conn.
ISABELLE STEVENSON AWARD: David Hyde Pierce.
TONY HONORS FOR EXCELLENCE IN THE THEATER: B.H. Barry and Tim Viola.
---


New Musical Comedy by Mel Brooks
Celebrates its Los Angeles Premiere!
Pantages Theatre, Hollywood • Two Weeks Only!
HOLLYWOOD STARS FROM THE WORLDS OF COMEDY, STAGE, FILM AND TV
ARE "PUTTIN' ON THE RITZ" AT THE LOS ANGELES PREMIERE OF NEW MEL BROOKS MUSICAL!
WHAT: The New Mel Brooks Musical YOUNG FRANKENSTEIN, the new musical comedy from the creative team of the 12-time Tony Award winning smash The Producers, will celebrate its Los Angeles premiere at the Pantages Theatre with a limited two week engagement from July 27 – August 8, 2010.  Celebrities from the worlds of comedy, stage, film and television hit the red carpet at the Pantages Theatre to celebrate this "Monster" Hollywood Premiere!

WHO: CELEBRITIES CONFIRMED TO ATTEND: THURSDAY July 22ND AT 10PM

Mel Brooks
      Composer, Lyricist and Book Writer
Elliot Gould
      Actor – "Ocean's Eleven" Franchise / "Friends"
Cloris Leachman
      Actress – "Young Frankenstein" / "Malcolm In The Middle"
Ed Asner
      Actor – "Up" / "The Mary Tyler Moore Show"
Adam Carolla
      Comedian
Dick Van Patten
      Actor – "Spaceballs" / "Eight is Enough"
Dick Gautier
      Actor – "Get Smart"
Donna Mills
      Actress – "Knots Landing"
Corbin Bernsen
      Actress – "Major League" / "L.A. Law"
Lainie Kazan
      Singer and Actress
Bruce Vilanch
      Comedian and Writer
Jo Anne Worley
      Comedienne
Jack Carter
      Comedian
Carolyn Hennessy
      Actress – "Desperate Housewives"
Josh Sussman
      Actor – "Glee"
Iqbal Theba
      Actor – "Glee"
Patrick Gallagher
      Actor – "Glee"
Barry Williams
      Actor – The Brady Bunch
Shirley Jones
      Actress and Singer
Samantha Harris
      Television Host
Vic Sahay
      Actor – "Chuck"
Tommy Davidson
      Comedian – "In Living Color"
Loni Love
      Actress and Comedienne
Mindy Sterling
      Actress – "Austin Powers" Franchise
Ken Davitian
      Actor – "Borat" / "Get Smart"
Pamela Sue Martin
      Actress – "Dynasty"
Kate Linder
      Actress – "The Young And The Restless"
Charlene Tilton
      Actress – "Dallas"
John Bowab
      Director
Anne Jeffreys
      Dancer
Connie Stevens
      Actress and Singer
Karen Morrow
      Musical Theatre Actress
Earl Holliman
      Actor – "Police Woman"
Roslyn Kind
      Singer and Actress
John Lloyd Young
      Actor – Jersey Boys (Broadway)
Wilson Cruz
      Actor
Devon Werkheiser
      Actor – "Ned's Declassified…"
Rob Pinkston
      Actor – "Ned's Declassified…"
Kristen Renton
      Actress – "Days of Our Lives"
Jenna Leigh Green
      Actress – "Wicked" / "Sabrina the Teenage…"
Vince Van Patten
      Actor
 

WHEN:
      TUESDAY JULY 27TH
            6:30 PM – 8:00 PM:  RED CARPET SHOW ARRIVALS
            8:00 PM:  PERFORMANCE

WHERE:
PANTAGES THEATRE
6233 Hollywood Blvd (just east of Vine St.)
ABOUT THE SHOW:
The classic Mel Brooks movie is ALIVE...and it's headed here! You'll have a monstrously good time at this spectacular new production, winner of the 2008 Outer Critics Circle Award and the Broadway.com Audience Award for BEST MUSICAL! Don't miss the sensational cast delivering all your favorite moments from the classic film, plus brand-new show-stopping numbers for the stage, including "Transylvania Mania," "He Vas My Boyfriend" and "Puttin' on the Ritz." This wickedly inspired re-imagining of the Frankenstein legend follows bright young Dr. Frankenstein (that's Fronkensteen) as he attempts to create a monster— but not without scary and hilarious complications. The brains behind the laughter is mad genius and three-time Tony® winner Mel Brooks himself—who wrote the music and lyrics and co-wrote the book—along with his record-breaking team from THE PRODUCERS : five-time Tony-winning director and choreographer Susan Stroman and three-time Tony-winning writer, Thomas Meehan.
PERFORMANCE INFORMATION:
Tickets are available at www.BroadwayLA.org or by calling 1-800-982-ARTS(2787), as well as at the Pantages Box Office (6233 Hollywood Blvd) and all Ticketmaster Outlets.  Performances are Tue-Fri at 8pm, Saturdays at 2pm & 8pm and Sundays at 1pm & 6:30pm.  Performances continue through Sunday, August 8th only.

---