STAR-GAZING IN THE TURKS & CAICOS
COURTESY OF THE ALEXANDRA RESORT
The third annual Turks & Caicos International Film Festival (TCIFF) brings the magic of the silver screen to the islands from October 16th – 21st, 2007. Travelers seeking a tropical island getaway coupled with the experience of this exciting cultural event can take advantage of The Alexandra's exclusive TCIFF Package.
The package features accommodations for guests to stay up to seven nights in one of the resort's elegantly-appointed suites and best of all, guests will only pay for 5 nights, equivalent to $1,100 in savings. An option to stay for five nights with one night free is also available. To participate in the festival, travelers should book the package to coincide with the festival dates of October 16th to 21st, 2007, although the package is also available from September 1st to Nov 15th, subject to availability and is not combinable with other offers, packages or specials. The package also cannot be redeemed for cash, is not transferable and does not include 10% service charge and 10% government tax. To book the TCIFF Package please visit www.AlexandraResort.com or call 1-800-284-0699 and ask for the booking code "FILM".
The Alexandra is located on beautiful Grace Bay and is the official hotel sponsor for TCIFF. This year's Festival line-up will include outdoor feature film screenings, VIP galas attended by producers and film stars, live concert series and the awards presentation. This year's Festival will screen El Cantante directed by Leon Ichaso and starring Jennifer Lopez and Marc Anthony. Other films screening at the Festival include the World Premieres of the feature film Lora (Hungary), the documentary Respect Yourself: The Stax Records Story (USA)and the short The Mentor (USA) directed by Victoria Rowell; as well as Guru (India), The Hottest State (USA) directed by Ethan Hawke; War/Dance (Uganda) and Something the Lord Made (USA) and many others.

The Festival's annual Sal Del Mar Awards Presentation on Saturday, October 20, 2007, hosted by "Access Hollywood's" Shaun Robinson will honor Amanda Bynes with the Rising Star Award, Mos Def with the Tour de Force Award, Marc Shaiman with the Composer's Excellence Award and Mani Ratnam with the Director's Award. This year's jury includes Academy Award nominated actor Robert Forster, director Sanna Hamri and Eleonora Granata-Jenkinson, Producer & Programmer for the Venice Film Festival.
For more information on the Turks & Caicos Film Festival and to purchase passes, visit www.tciff.com.
About The Alexandra, The Turks and Caicos Islands
Situated on the most beautiful stretch of Grace Bay Beach, which was named the "Best Beach in the World" at the World Travel Awards in 2006, The Alexandra offers an exceptional vacation experience. Each suite is oceanfront or has an ocean view, and features a spectacular designer-designed interior with fully equipped kitchen, feather topped beds with Egyptian combed cotton linens and expansive private balcony.
Resort facilities include: free form swimming pool with swim-up bar, beachfront fitness center, lighted tennis courts, and resort Ambassador Services. The resort's signature al fresco dining restaurant, The Orchid, offers international cuisine and traditional Caribbean dishes while the Beachfront Dining Deck features spectacular ocean views and themed lunch and evening dining perfect for couples in search of a romantic setting. Both The Orchid and Beachfront Dining Deck also offer refreshing island-themed beverages and cocktails. For the convenience of guests The Alexandra offers value-added meal plan options which feature complimentary breakfasts, lunches and dinners when purchased.

---
Pianist Egle Januleviciute Delights Santa Barbara Audience with Solo Recital Performance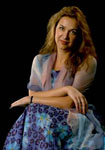 The recent solo recital performance by pianist Egle Januleviciute was an amazing surprise and delight to audience members who had come to the Unitarian Society in Santa Barbara. Her exquisite performance of very complex works by Mozart, Rachmaninov, Chopin, Liszt, Bach and Debussy made for a most delightful and enriching afternoon.
Egle was the first Lithuanian pianist to perform in the United States after the breakup of the Soviet Union. A finalist and prizewinner in the Robert Casadesus International Competition in Cleveland Ohio (1989), she also won first prize in the Young Keyboard Artists Association International Piano Competition in Oberlin, Ohio (l990).
A resident of Santa Barbara since l998, she holds the Doctor of Musical Arts degree from University of California, Santa Barbara. She also holds the Master of Music degree from Bowling Green State University, the Grand Prix Concert Recital Diploma from the London Guildhall School of Music, and the Diploma with Highest Honors from the Lithuanian State Conservatory.
Egle Januleviciute has performed here in Santa Barbara and around the world with glowing reviews, both as soloist and collaborative artist. A frequent guest performer for Lithuanian National TV and Radio, Egle has played extensively with the Lithuanian Chamber Orchestra and Kaunas National Symphony. She currently serves on the Keyboard faculty at Westmont College.
Egle comes from a family of musicians. Her father still works as an opera soloist, her mother is a Piano Professor in the Academy of Music of Lithuania, her sister is a concert collaborative pianist and opera coach, and her brother, both pianist and orchestral conductor, has given the priority to the latter.

---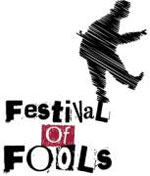 BOXTALES Theatre Company, Jeff Mills
& James Donlon, Producers
Festival of Fools
Marcel Marceau "the world's greatest Mime," gets three-day tribute celebrating his life & work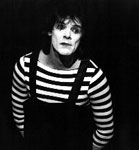 Thursday, October 4@ 8 p.m.;
Friday, October 5 @ 8 p.m.;
Saturday, October 6@ 2 p.m. and 8 p.m.
Thursday, October 4 @ 8 p.m. JAMES DONLON solo performance
Friday, October 5 @ 8 p.m. ROBERT SHIELDS solo performance
Saturday, October 6 @ 10 a.m. Festival of Fools- American MIME Idol high school performances:
2 p.m. BOXTALES Theatre Company performance
4 p.m. Panel Discussion "Marceau's influence on Modern Comedy Performance"
6:30 p.m. Patron Special Event: Artists Reception/Pre-show
8 p.m. Tribute to MARCEL MARCEAU- Vaudeville performances
Lobero Theatre, 33 E. Canon Perdido St., Santa Barbara, CA 93101
BOX OFFICE: (805) 963-0761 or www.lobero.com
TICKETS:
$25 + $20 general; $10 students; $5 Children under 10
$90 FESTIVAL PASS - gets you into all of the events
$75 Patron tickets – preferred seating & invitation to Artists reception
Special Festival ticket packages available, ask at the box office.
SYNOPSIS: Featuring some of America's greatest clown, mime and movement artists including: Robert Shields- USA (from Shields and Yarnell- America's favorite Mime artist); James Donlon- USA (internationally known master movement artist); BOXTALES Theatre Company- USA (local favorites, national touring artists); And more to be announced……
SPECIAL Outreach- In the weeks previous to the Festival of Fools, festival artists will work with groups of local high school drama students to create original works of mime and physical theatre. Then, on October 5, (a la American Idol) each student group performs their piece for a panel of Festival Artists. The artists will give feedback and choose the best group who will ultimately perform during the spectacular Saturday night Finale!

---
THEATRE NEWS
SILENT ELOQUENCE HONORED IN FIRST "FESTIVAL OF FOOLS"
SLATED FOR THREE-DAYS IN SANTA BARBARA
October 4-5-6, 2007

Santa Barbara, CA; August 26, 2007 – Festival of Fools is a celebration of the innovative and silently eloquent work of the iconic mime artist Marcel Marceau and his actual impact on three generations of performers.
Although Marceau himself is unable to attend due to illness, it hasn't stopped producers Jeff Mills of BOXTALES Theatre Company and local movement theatre master James Donlon from following through on this festival. "There is a legacy of poetic magic in his work," says Mills. "Though we originally planned to bring him here, we will now make the festival a tribute to his legacy." Marceau is totally behind this Festival and supports its mission.
Festival of Fools was inspired in the summer of 2005. While Donlon was traveling through Europe he visited his old teacher the internationally famous Swiss clown Dimitri at his theatre school in Verscio, Switzerland. Marcel Marceau happened to be visiting Dimitri at the same time. The three masters reminisced about the heyday of mime and physical theatre in Europe and America and dreamed about how they could revive its enormous cultural popularity. The idea of a festival was the natural solution. A festival would not only rekindle interest in the art form with magnificent performances but workshops, master classes and panel discussions would allow masters to pass on their knowledge and thus keep the form alive and growing.
"The American public has a misconstrued view of 'mime' and of 'clown,'" says Donlon, "But the physical comedy of people like Robin Williams and Jim Carrey has been inspired down through the chain by Marcel Marceau."
As it is, Marceau's influence on theatre artists in Santa Barbara is truly remarkable. In the late 1950's Marceau was Dimitri's teacher and mentor in Paris. In the 1970's Dimitri was Donlon's teacher and mentor. In the 80's and 90's Donlon mentored and inspired scores of young theatre artists including the members of BOXTALES Theatre Company, Lit Moon Theatre Company, Ensemble Theater Company, WOVEN, DramaDogs and The Loose Affiliation of Artists. Now groups like BOXTALES perform for and work directly with young artists throughout Santa Barbara County.
"Now BOXTALES is out in the community teaching kids," notes Mills. "It's vital to celebrate the line of inspiration and mentorship starting with Marceau and flowing directly to Santa Barbara second graders."
American mime Robert Shields (another former student and friend of Marceau) will be the headlining act on Friday October 5 at 8pm and will be honored with the Marcel Marceau Living Master Award during the closing night ceremony. Shields, who rose from a San Francisco street mime to television star (The Shields and Yarnell Show) is also very excited and committed to the idea of revitalizing the art form for younger generations. He is credited with inventing the robot and inspiring performers such as Michael Jackson and contemporary "break dancers" and "poppers." He will be teaching these techniques in an after school workshop to youngsters who are no doubt fans of "old school" hip-hop.
Throughout the fall, BOXTALES and Donlon will be in residence at local high schools teaching the techniques inspired by Marceau, including mime, clowning and physical theatre. The students will be encouraged to form their own performance ensembles and create original works of theatre. These original pieces will then be performed in front of a panel of festival artists (a la American Idol). After receiving artistic feedback from the panel, one group will be chosen to perform during the Saturday night Tribute To Marcel Marceau.
Thursday and Friday, October 4 and 5 at 9:30am and 11am, more than 2,000 Santa Barbara school children will enjoy free matinee performances of BOXTALES and James Donlon at the Lobero as part of the Lobero Theatre Foundations education program.
On Saturday October 6 at 8pm the Festival of Fools will tribute the Master himself. Each festival artist and some very special guests will all perform Vaudeville style (appropriate for the old Lobero stage.) The performances will be interwoven with video clips, stories and music. Patrons wanting to support the Festival of Fools with a little more can purchase the $75 tickets and are invited to a special pre-show reception with the artists on Saturday at 6:30 p.m.
Marceau had a strong connection to Santa Barbara and performed here many times. His last performance in town was at the historic Lobero in April 2003. Donlon recalls hearing rumors Marceau was considering opening a school here early in his career. "He has a feeling for the place."
Santa Barbara is good place for the Festival for other reasons, notes Donlon. "BOXTALES has terrific support and audiences here are very sophisticated. Hopefully, this could become a world-wide event and nurture a new generation of artists."
"It's amazing when the performer is the writer, director and actor all in one," sums up Donlon. "It is a salute to the human mind and the creativity possible by a human being."
BOXTALES GRACIOUSLY THANKS ITS' SPONSORS:
Lobero Theatre Foundation, Hutton Foundation, High Tide Foundation, Venoco, Outhwaite Foundation, Towbes Foundation, Karuna Foundation, Pacifica Graduate Institute, Santa Barbara County Arts Commission, Marlyn Bernstein, Susan Bower, and the Santa Barbara Bowl Foundation
Theatre Company Founded in 1994

BOXTALES' mission is to present myths and folktales from around the world to youth and family audiences using storytelling, live music, movement and mask work. Our aim is to fire imaginations, strengthen cultural pride, foster tolerance, and engage young people in the excitement and immediacy of live performance.
BOXTALES Theatre Company seeks to set a national standard for vital, interdisciplinary children's theatre. Because we believe in the innate intellect of children, we provide a sophisticated theatre experience. Through artistic excellence and powerful material we encourage, in a new generation, a lively and involved relationship to the arts.
In 1994, BOXTALES was funded by the Lobero Theatre Foundation to create a storytelling performance piece for the Santa Barbara School System as part of the Lobero's Literary Arts Outreach Program. Since then, the company has created nine additional shows, and performed at theaters, festivals and hundreds of schools throughout the west. In thirteen years, BOXTALES has performed for nearly half a million people. About their 2005 production of "The ODYSSEY," L.A. Times theatre critic Phil Brandes says, "[this] stylish, acrobatic production taps the capacity for wonder in all of us. Think Homer meets Cirque du Soleil."
ABOUT James Donlon
James Donlon is considered one of the world's masters of movement theatre. He has performed his original work to critical acclaim throughout the United States, Mexico, Canada, Ireland, Scotland, Switzerland, Italy, France, Romania, The Czech Republic, and Turkey.
Playing with athletic vigor, passionate themes, and zany attacks on the surreal... blending razor-sharp observations and virtuoso skill.... Donlon creates a hilarious, affecting evening of solo theatre.
Movement, voice, and classic clown techniques merge as the imagination knows no boundaries for this versatile physical artist.
An internationally known master teacher of movement and performance for actors, Donlon has developed a training method that has gained acceptance on the highest professional levels. In the early years Donlon's Menagerie Mime Theatre School in San Francisco was one of the first professional training studios in the U.S.A.
Donlon has been on the faculty of such prestigious institutions as The Yale School of Drama, The American Conservatory Theatre, The North Carolina School of the Arts, The National Theatre Conservatory at the Denver Center, The University of California at Santa Barbara and Ireland's Gaiety School of Acting. He was head of movement for the Ringling Brothers, Barnum & Bailey Circus Clown College.
Donlon has presented workshops in more than 100 college theater departments, international institutes such as Mexico City's Bellas Artes, and has conducted residencies for landmark companies like Luis Valdez's El Teatro Campesino.
Donlon's work extends to film and television where he was movement coach for Oscar© winner Kathy Bates and storyboard artist for PBS' Great Performances. Among his former students are: film and television star Benjamin Bratt, clown extraordinaire Bill Irwin, and Broadway musical star Terrence Mann.
ABOUT Robert Shields
Artist, designer, mime, performer, entrepreneur. Picked on and humiliated all the way into high school until he discovered he could go without blinking for an hour and twenty minutes, he perfected his unique body control and left for Canada to join a traveling circus as "Robbie the Robot." Marcel Marceau saw Robert working at the Hollywood Wax Museum and was so impressed with his raw talent he offered Robert a full scholarship at his school in Paris. His apprenticeship was short-lived as he felt the need to develop his own style and pry mime loose from its arty pedestal and put it in the streets.
SAN FRANCISCO & HOLLYWOOD:
He chose Union Square, San Francisco, as his outdoor stage, and was soon hailed as San Francisco's main tourist attraction, along with the cable cars. Red Skelton visited Shields in Union Square and said, "There are perhaps 35 great clowns left in the world. Robert Shields may be the best one there is."
He is credited with inventing the robot, inspiring performers such as Michael Jackson and today's break dancers and poppers. Meeting Lorene Yarnell created a unique entertainment duo and led to the airing of The Shields and Yarnell Show on television in the late 70's, performances around the world, the garnering of the Las Vegas Entertainer of the Year Award and winning an Emmy. When the television show ended, Shields and Yarnell continued to perform – in Las Vegas, on Broadway, with symphonies across the country, and all around the world.
---
DAVID COURTENAY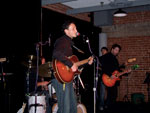 Soho in Santa Barbara was alive with enthusiastic patrons when the talented David Courtenay premiered music from this new CD ELOQUENT COOL. David has taken his acting passion full speed ahead into a musical career and is appealing to audiences around the country. His dynamic lyrics and raw music are authentic and transcend the boundaries of commercialism. He does sing from the heart and is delightful to listen to. For a listening sample or to buy David's CD visit www.musicdavid.com.