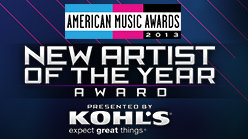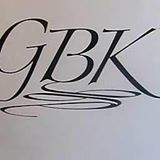 GBK CELEBRATED THE 2013 AMERICAN MUSIC AWARDS WITH AMA GIFT LOUNGE AT L'ERMITAGE HOTE BEVERLY HILLS    By Bonnie Carroll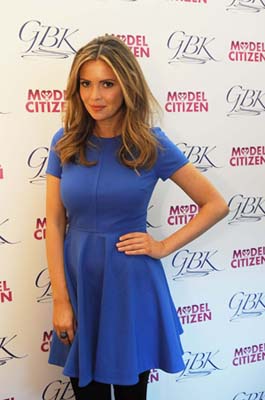 The Red Carpet GBK Red Carpet Gifting Suite at the L'Ermitage Hotel in Beverly Hills was buzzing with excitement as celebrity guests including 2013 American Music Awards Nominee Matthew West, 2013 AmericanMusic Awards Presenter Robert Herjavec, Shelley Regner from Nominated show "Pitch Perfect", American Music Awards Red Carpet Host Carly Steel, Beau "Casper" Smart, Beverly Hills Housewife Joyce Giraud-Ohoven, Scandal's KhandiAlexander, Shah's of Sunset Mike Shouhed and Reza Farahan, The Game's Jay Ellis, The Hunger Games' E. Roger Mitchell, Elena Sanchez and Stef Dawson,
 BLUSH and many more visited with charities and gift sponsors providing gifts for this years nominees. Attendees of the red carpet Gift Lounge were also treated to music by DJ Shy, food & beverages and opportunities to meet charity sponsors.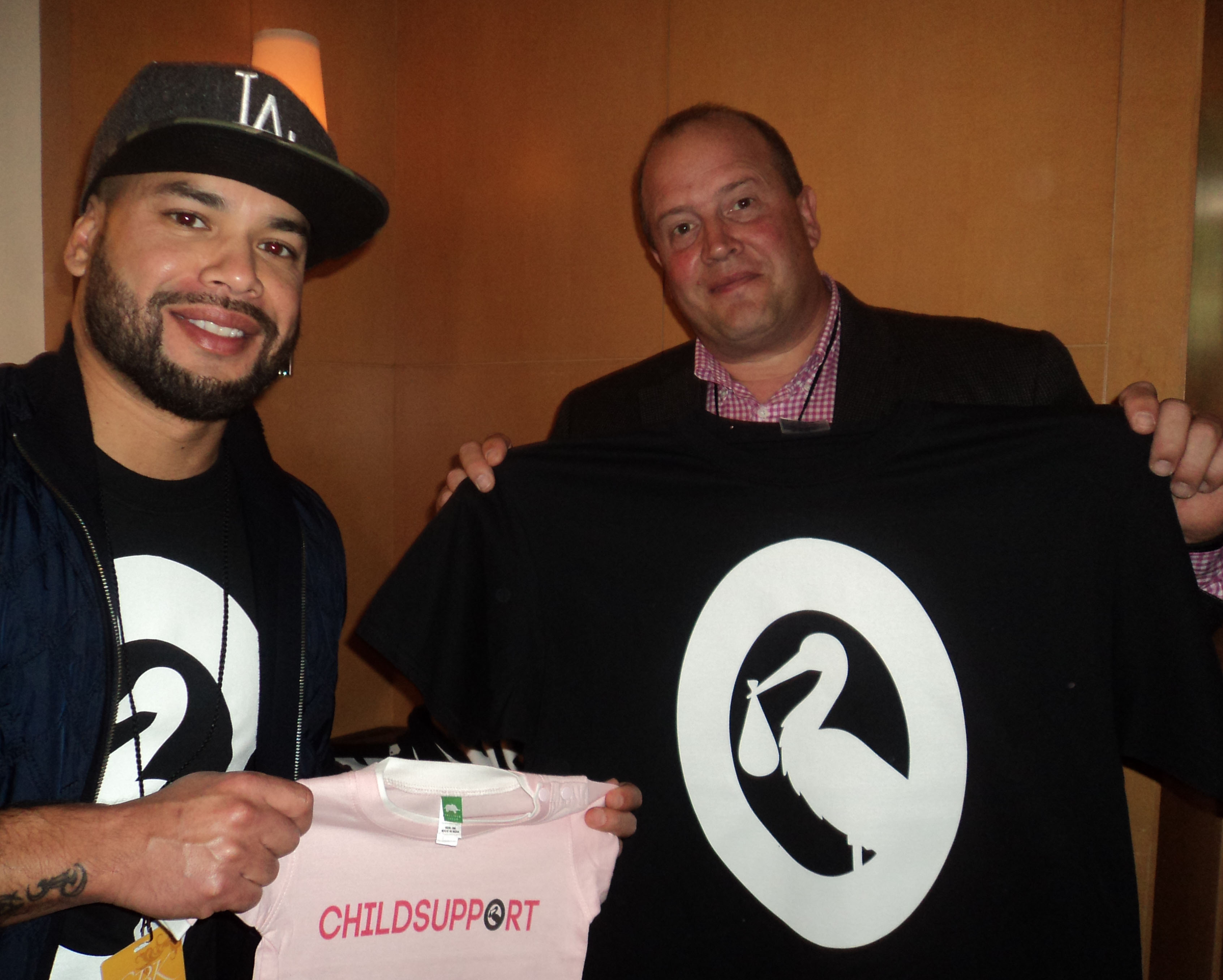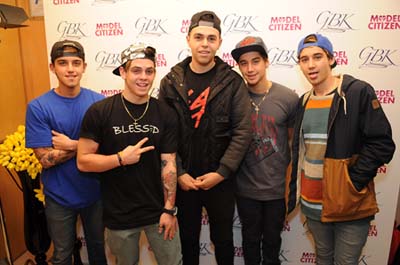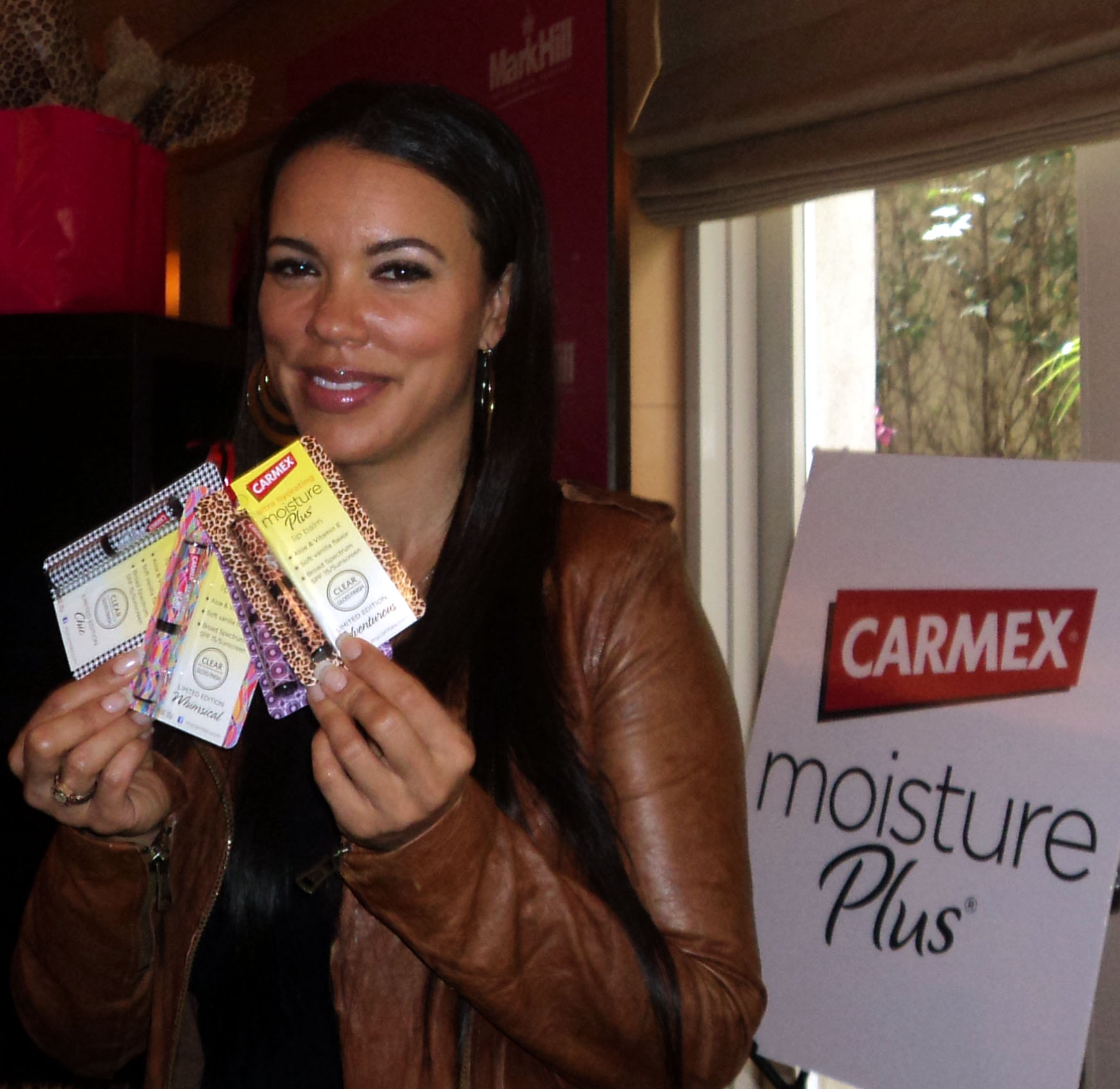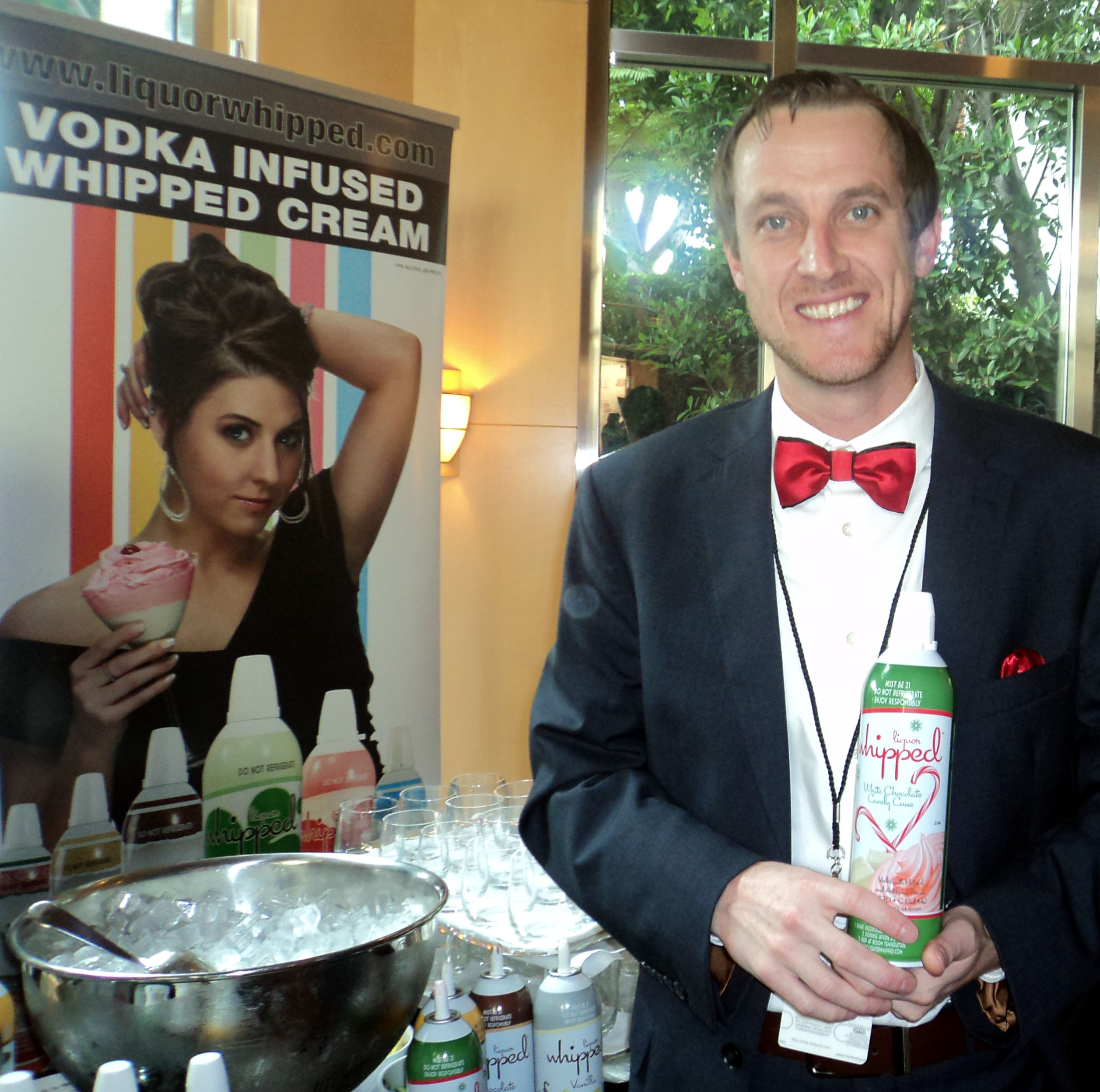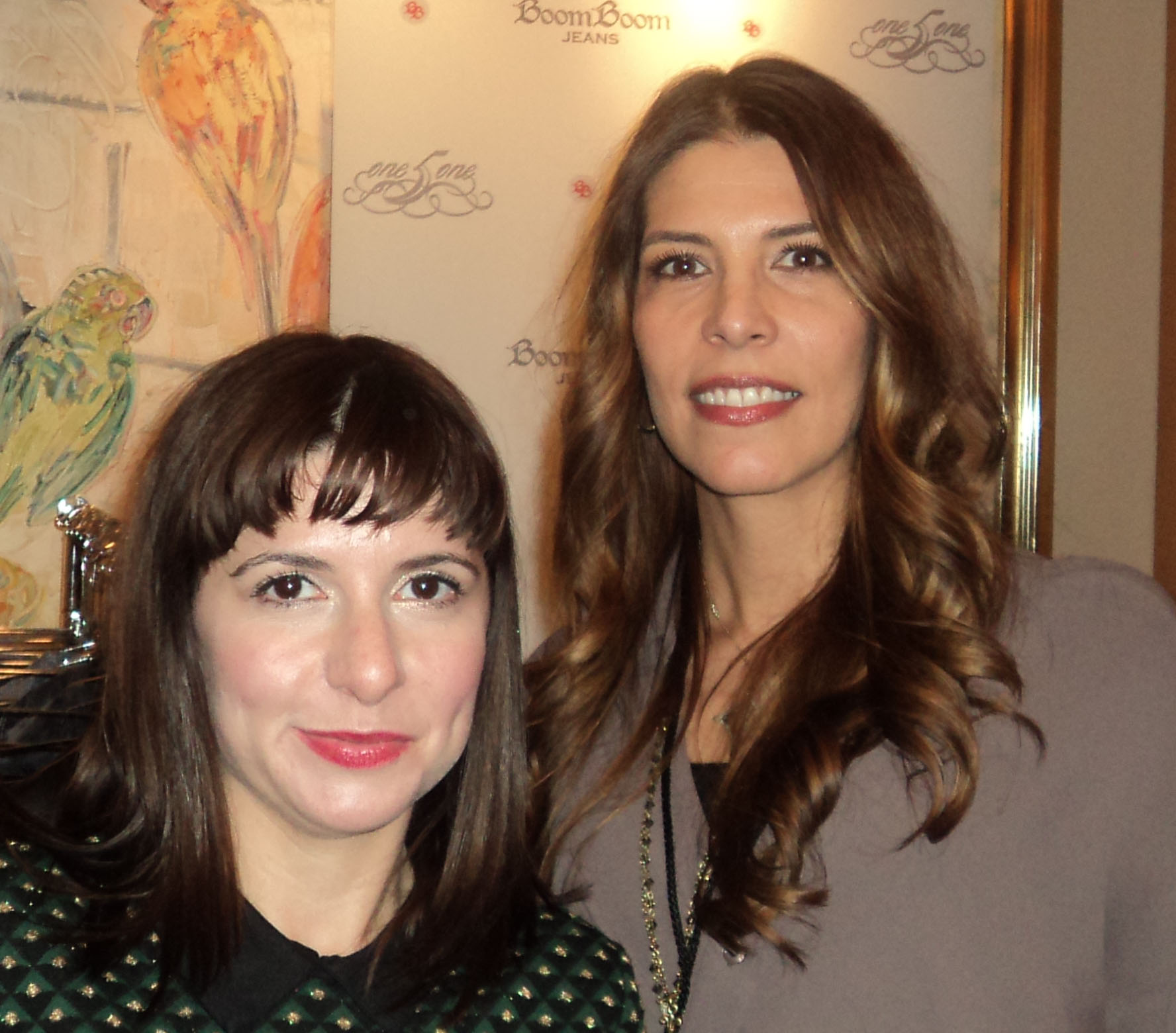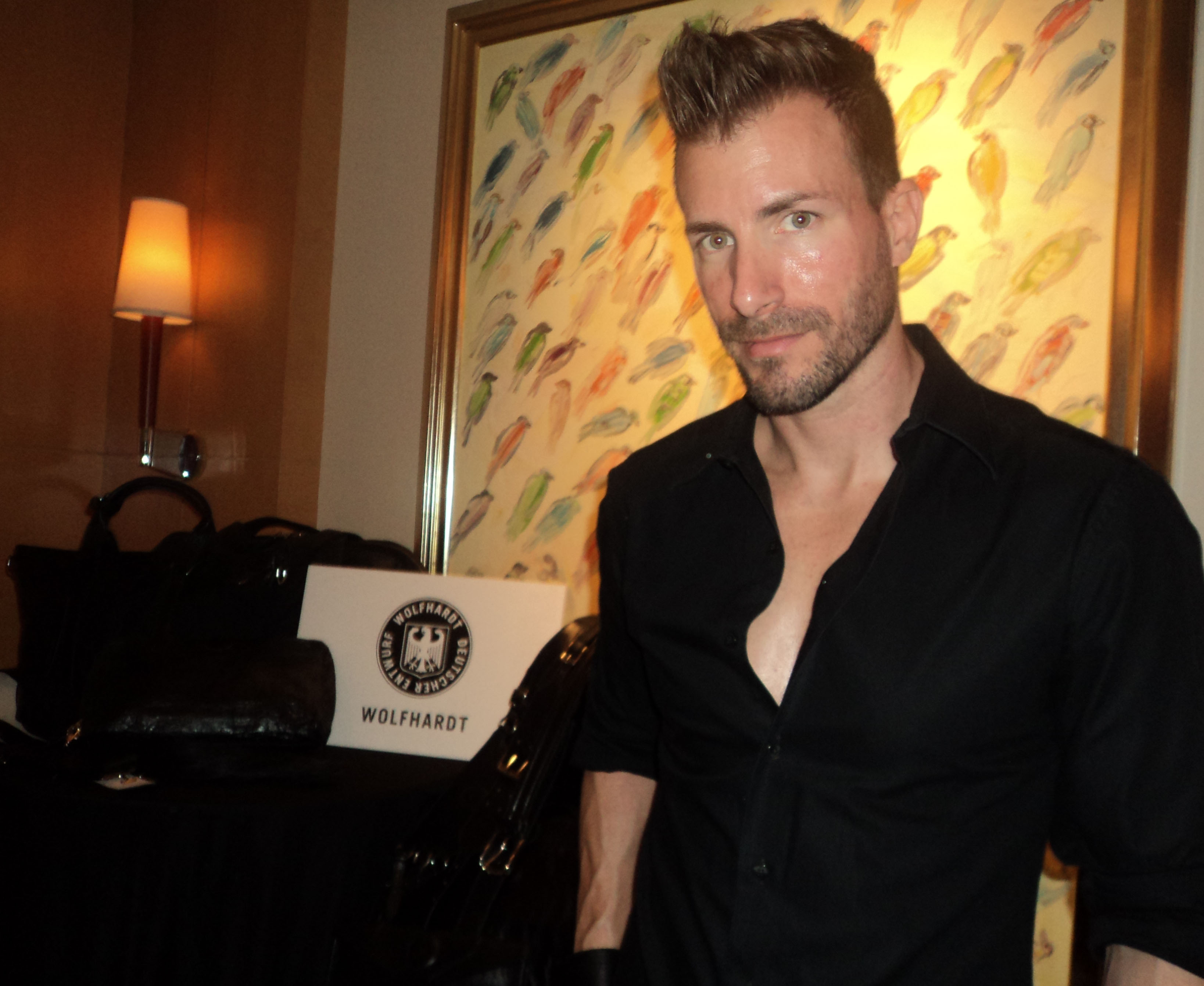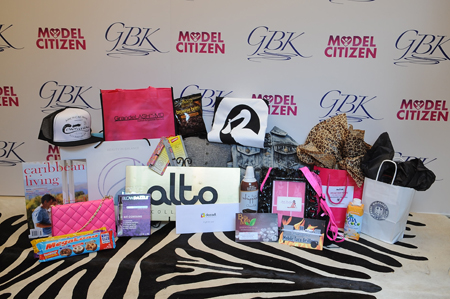 In association with GBK, the lounge showcased items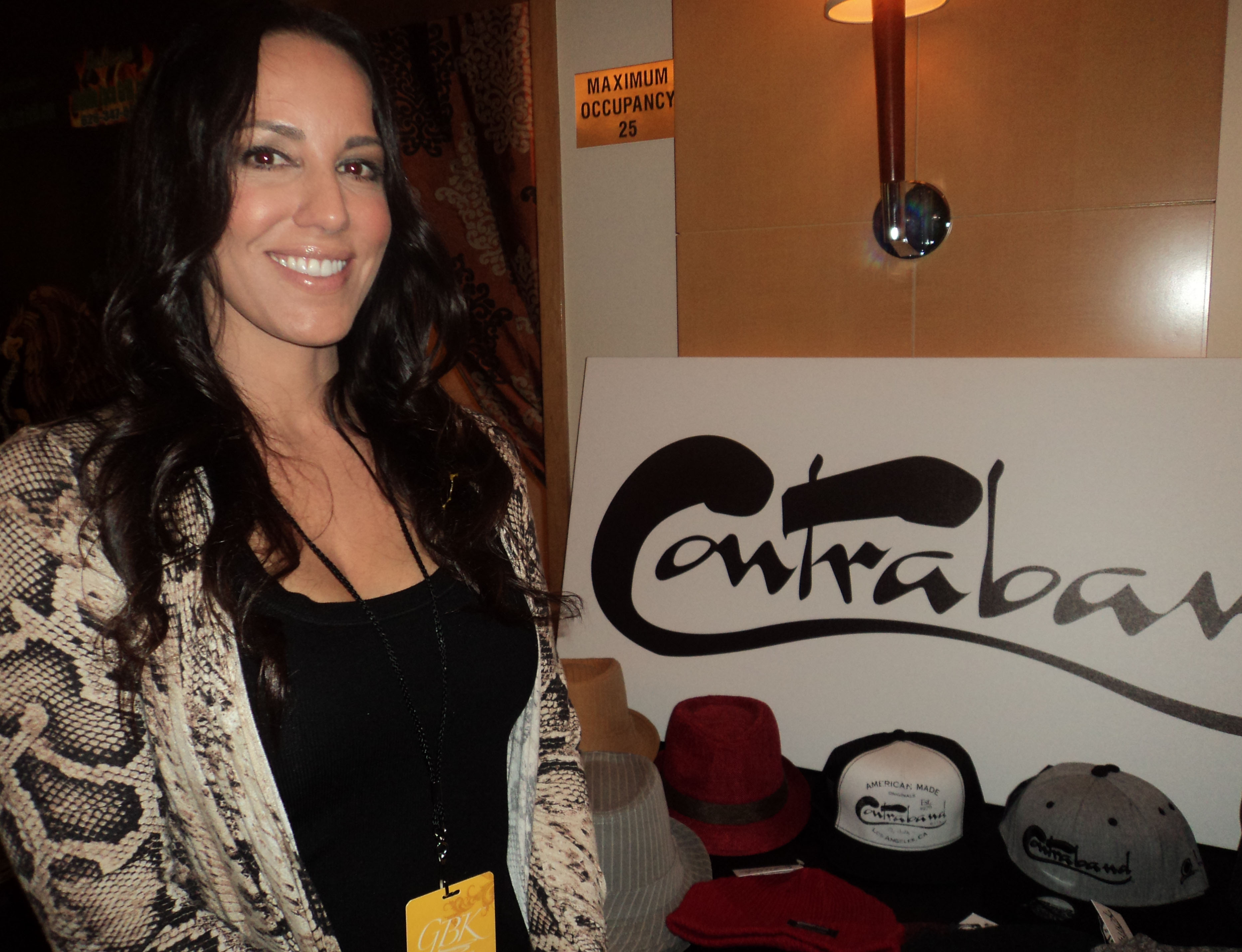 being gifted by Alto Collective, Bella Mira Essential Oils, Blow Hookah, Carmex, Cohesive Boom Boom Jeans One5One, Contraban Hats, Dazadi, GrandeLash MD, Herbolosophy Beauty, Jada Michaels Lingerie, Jalisco's Mobile Taco Grill, Liquor Whipped, Mark Hill Salon professional, Palace Resorts and Caribbean Living, Rolf Bleu by Caryn Sterling, The st. Regis Bora Bora Resort and Wolfhardt lether accessories. Charity sponsors included Model Citizen Fund, and ChildSupport.
  
ABOUT GBK: 
GBK, formerly GBK Productions, is a luxury lifestyle gifting and special events company, specializing in entertainment marketing integration. Formed in 2000 by Gavin Keilly, the company's Founder and CEO, GBK consists of five divisions: GBK Celebrity Gifting, GBK Special Events, GBK Weddings, GBK Charitable Consulting and GBK Marketing/Public Relations. Widely known in the entertainment industry for bringing that little extra something into the Gifting Lounge environment, GBK offers its clients a full range of marketing services. For more information on Gavin B. Keilly (CEO), Carla Domen (VP) or GBK, please go to gbkproductions.com.
GBK's Gift Lounge is not affiliated with the American Music Awards or Dick Clark Productions.
COMPLETE AMA WINNER'S LIST 11/24/13:
Favorite Male Pop Rock Artist – Justin Timberlake
Favorite Female Artist, Soul/R&B - Rihanna
Favorite Album, Country - "Red," by Taylor Swift
Favorite Album, Rap/Hip-Hop - "The Heist," by Macklemore & Ryan Lewis
Favorite Artist, Alternative Rock - Imagine Dragons
Favorite Artist, Latin - Marc Anthony
Favorite Album, Pop or Rock - "Take Me Home," by One Direction
New Artist of the Year, presented by Kohl's - Ariana Grande
Favorite Male Artist, Soul/R&B - Justin Timberlake
Favorite Female Artist, Country - Taylor Swift
Single of the Year - "Cruise," by Florida Georgia Line, featuring Nelly
Favorite Album, Soul/R&B - "The 20/20 Experience," by Justin Timberlake
Favorite Artist, Electronic Dance Music (EDM) - Avicii
Favorite Artist, Adult Contemporary - Maroon 5
Favorite Artist, Contemporary Inspirational - Matthew West
Top Soundtrack - Pitch Perfect
Favorite Male Artist, Country - Luke Bryan
Favorite Band, Duo or Group, Pop or Rock - One Direction
Favorite Band, Duo or Group, Country - Lady Antebellum
Artist of the Year - Taylor Swift
____________________________________________________________________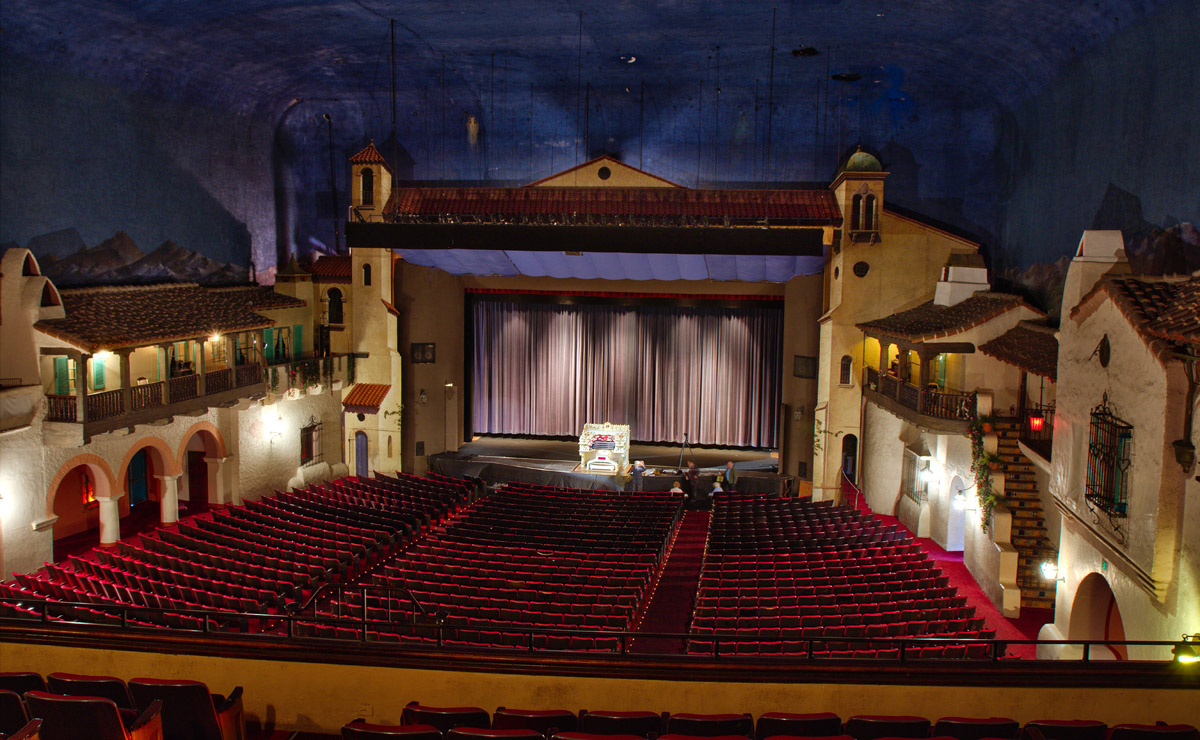 Santa Barbara Theatre Organ Society Silver Jubilee
Two Weeks of Celebrating the "Wonder Morton" Organ
By Bonnie Carroll
Twenty-five years ago the beautiful "Wonder-Morton" organ, that proudly sits at the historic Arlington Theatre in Santa Barbara, arrived here in thousands of pieces on moving vans. Hundreds of local volunteers stepped up to clean, paint and repair the organ for it's debut in 1988 at the opening of the Santa Barbara Symphony.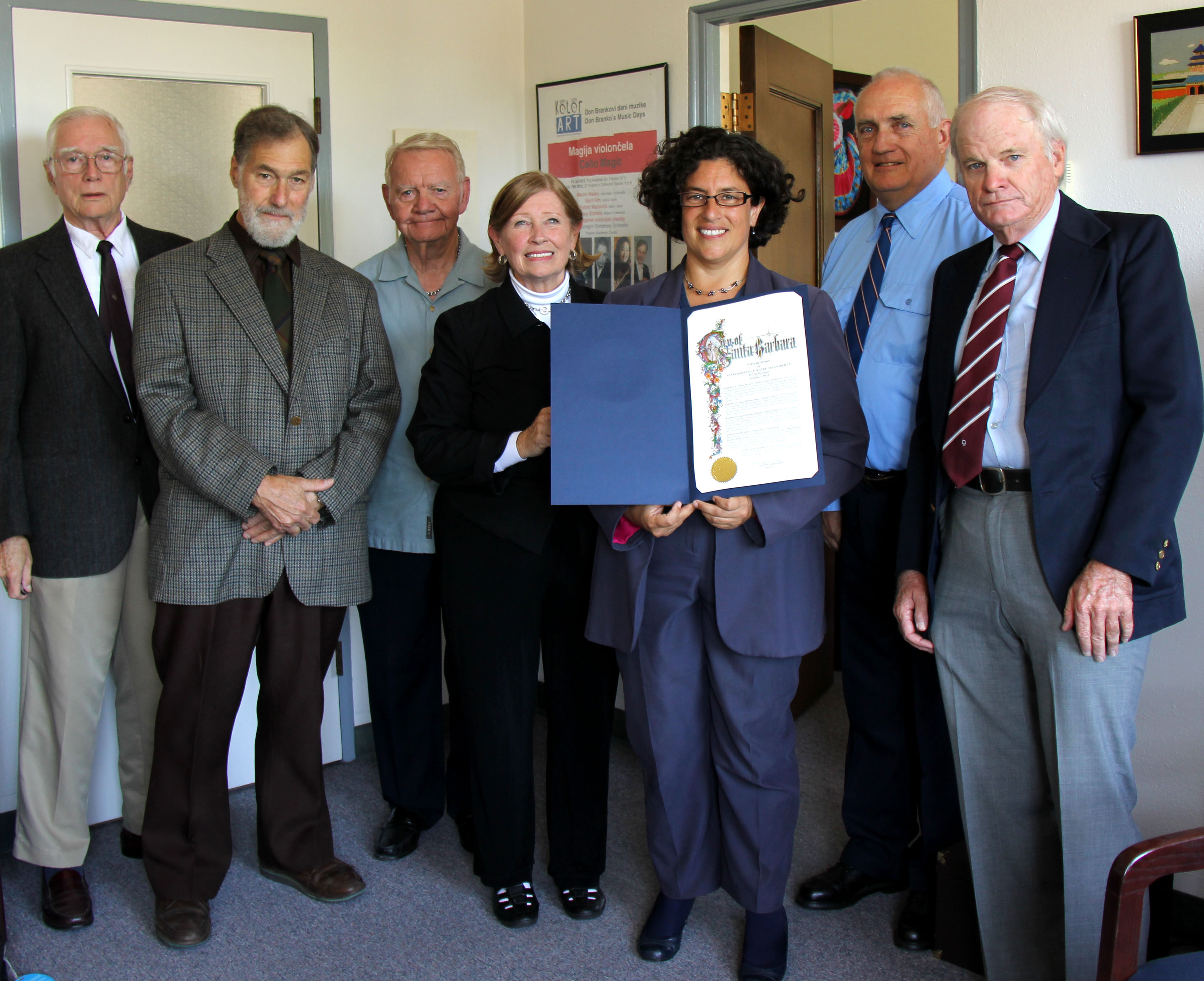 Since that time members of the Santa Barbara Theatre Organ society have lovingly cared for the organ, provided annual silent film/concerts featuring world renowned organists, and offered monthly organ opportunities for local enthusiasts. Mayor Helene Schneider honored this group in her office in City Hall with a proclamation honoring them for their twenty-five years of service to the community and the organ world prior to the 25th celebration concert.
In advance of the 25th celebration it was announced that Patricia Gregory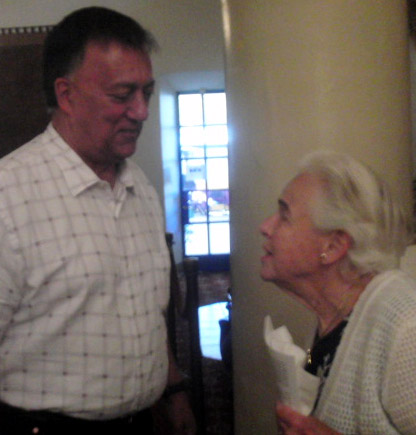 (The Edward and Gladys Baker Fund), and Hal Conklin (the Hal Conklin Trust) were providing a major sponsorship to assist the organization with some needed funding. Patricia Gregory is known and loved throughout the county for her generous support of music in Santa Barbara. Both Hal Conklin and Patricia Gregory currently sit on the board of directors of the Santa Barbara Symphony.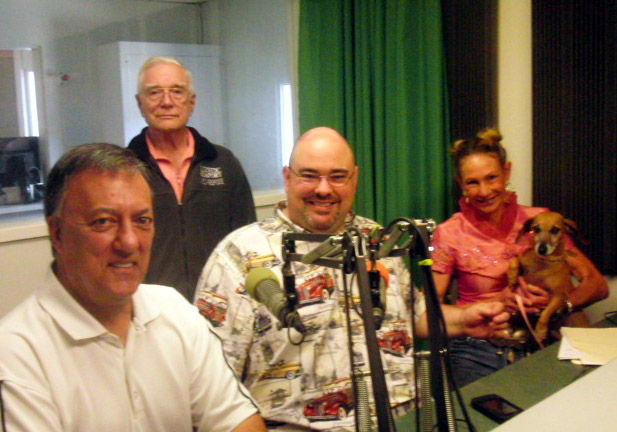 KZSB radio host Elizabeth Stewart interviewed Hal Conklin, former Mayor of Santa Barbara and long time supporter of SBTOS, George Ferrand the Vice President of the group and renowned organist Scott Foppiano, who has performed on the Santa Barbara organ for many years. Conklin and Ferrand shared stories on the early days of the organ, when the organ arrived in Santa Barbara, and Foppiano talked about what a treasure this organ is for the people in the city. It is one of only five produced in the early 1920s for use with silent films.
Organist Scott Foppiano, is a critically acclaimed recitalist, theatre organist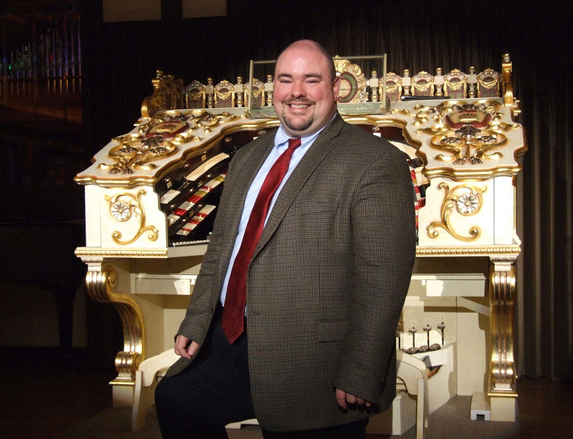 and silent film accompanist who has played and recorded on numerous great classical and theatre organs in the US, Canada and Europe. Foppiano has been featured at the American Guild of Organists, Organ Historical Society and the American Theatre Organ Society conventions. He performed in Rome Italy at the Vatican, and was named Organist of the Year at the American Theatre Organ Convention in 2007.
The Arlington Silver Jubilee celebration included "An afternoon with Buster Keaton" program featuring two great Buster Keaton films accompanied by Scott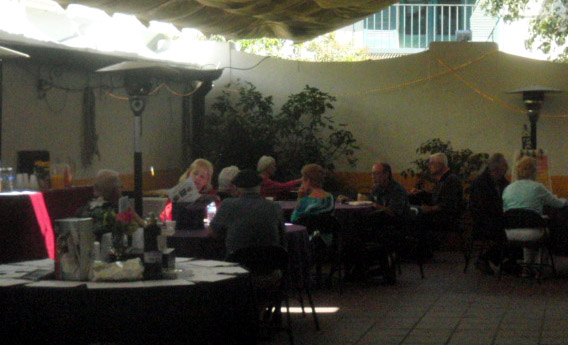 Foppiano, which was preceded by a beautiful brunch on the patio with food provided by Renaud's Patisserie, Nimita Cuisine, Whole Foods, Trader Joes, Killer Shrimp, Panera Breads, Chocolat Cali du Bressan and included help from wonderful volunteers. A silent auction and drawing for dinner at the Arlington Tavern offered guests an opportunity to support the nonprofit as well.
SBTOS was formed by a group of community members who are devoted to the history of the theatre organ, and to preserving the glory associated with the golden silent film era and film organ history. For twenty-five years they have presented ongoing concerts and performances featuring renowned organists on the historic "Wonder-Morton" in the Arlington Theatre. SBTOS has also collaborated with the Santa Barbara International Film Festival staff to present special event performance since 2011. For information visit http://www.sbtos.com.
_________________________________________________________________
CATE BLANCHETT TO RECEIVE 
OUTSTANDING PERFORMER OF THE YEAR AWARD 
AT THE 29TH SANTA BARBARA INTERNATIONAL FILM FESTIVAL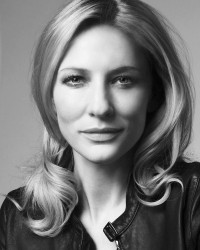 The Santa Barbara International Film Festival is proud to present the 2014 Outstanding Performer of the Year Award to Academy Award winning actress Cate Blanchett on Saturday, February 1.  She will be honored with a Tribute celebrating her compelling performance in Woody Allen's Blue Jasmine at the 29th edition of the Festival, which runs January 30 – February 9, 2014, it was announced today by SBIFF Executive Director Roger Durling.
 
"In her first collaboration with master director Woody Allen, Blanchett knocks it out of the park in the best performance of her already illustrious career," remarked Roger Durling, SBIFF Executive Director.  "We're so grateful to be able to celebrate her achievement."
 
Blanchett will be honored for her stellar performance in this year's Blue Jasmine, in which she portrays Jasmine French, a deeply conflicted and complex woman in the throes of her world unraveling.  The imploding of her life has far-reaching effects on those around her, leaving the audience to wonder if everyone can heal and move forward.  Jasmine is tragically flawed and with Blanchett at the helm, we feel Jasmine's pain and experience her journey. 
 
The arsenal from which Blanchett hones her talent has allowed her the opportunity to portray a wide range of personalities in films by some of the most esteemed directors.  Those films include Shekhar Kapur's Elizabeth, for which she received her first Oscar nomination for Best Actress, Mike Newell's Pushing Tin, Anthony Minghella's The Talented Mr. Ripley, Barry Levinson's Bandits, Lasse Hallström's The Shipping News, Peter Jackson's The Lord of the Rings trilogy, Joel Schumacher's Veronica Guerin, Martin Scorsese's The Aviator (for which Blanchett won the Academy Award for Best Supporting Actress for her portrayal of Katharine Hepburn), Alejandro Gonzalez Inarritu's Babel, Richard Eyre's Notes on a Scandal, for which she received her second Oscar nomination, and David Fincher's The Curious Case of Benjamin Button, to name just a few.  Blanchett received two Oscar nominations in 2008, as Best Lead Actress for Elizabeth: The Golden Age, giving her the distinction of being one of only five actors (and the only female actor) in Academy history to be nominated for an Oscar twice for playing the same role in two separate films, and as Best Supporting Actress for I'm Not There, further distinguishing her as one of eleven actors to have been nominated in both acting categories in the same year.  Blanchett will next appear in The Monuments Men.
 
The Santa Barbara International Film Festival runs January 30 – February 9, 2014. The Outstanding Performer of the Year Award will be presented at the historic Arlington Theatre on Saturday, February 1, 2014. Tickets are available now and can be purchased through www.sbfilmfestival.org or by calling 805-963-0023. Festival Passes and Packages are still available and sold exclusively at www.sbfilmfestival.org      _________________________________________________________________ 
SYMPHONY OPENING NIGHT FULL OF SURPRISES
By Bonnie Carroll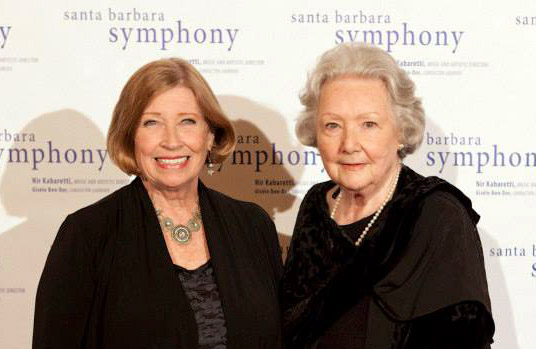 The Santa Barbara Symphony Orchestra 2013-14 Season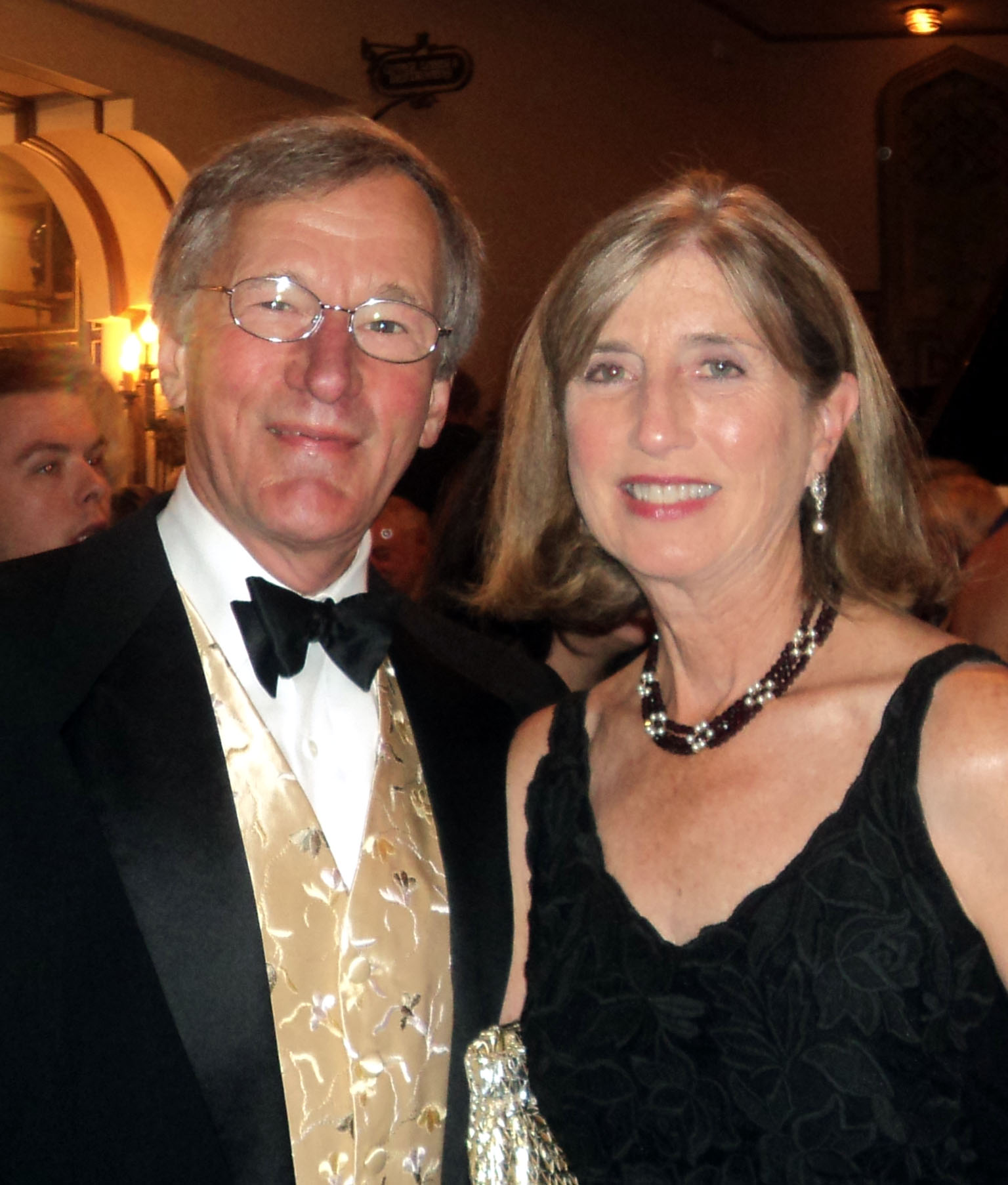 opened this weekend with a "Behind the Music" talk by Ramon Araiza, a red carpet to photograph guests as they arrived, a champagne toast and an amazing musical evening with Nir Kabaretti, Conductor, Ted Atkatz, Percussionist and the Women of the Santa Barbara Choral Society performing to Wagner, Rouse and Holst.
The brilliant skills of Maestro Kabaretti along with the talented orchestra and guest percussionist Ted Atkitz created a totally innovative and modern presentation of the Rouse Fantasy for Percussion and Orchestra, and he was given a standing ovation from a full house in the Granada Theatre.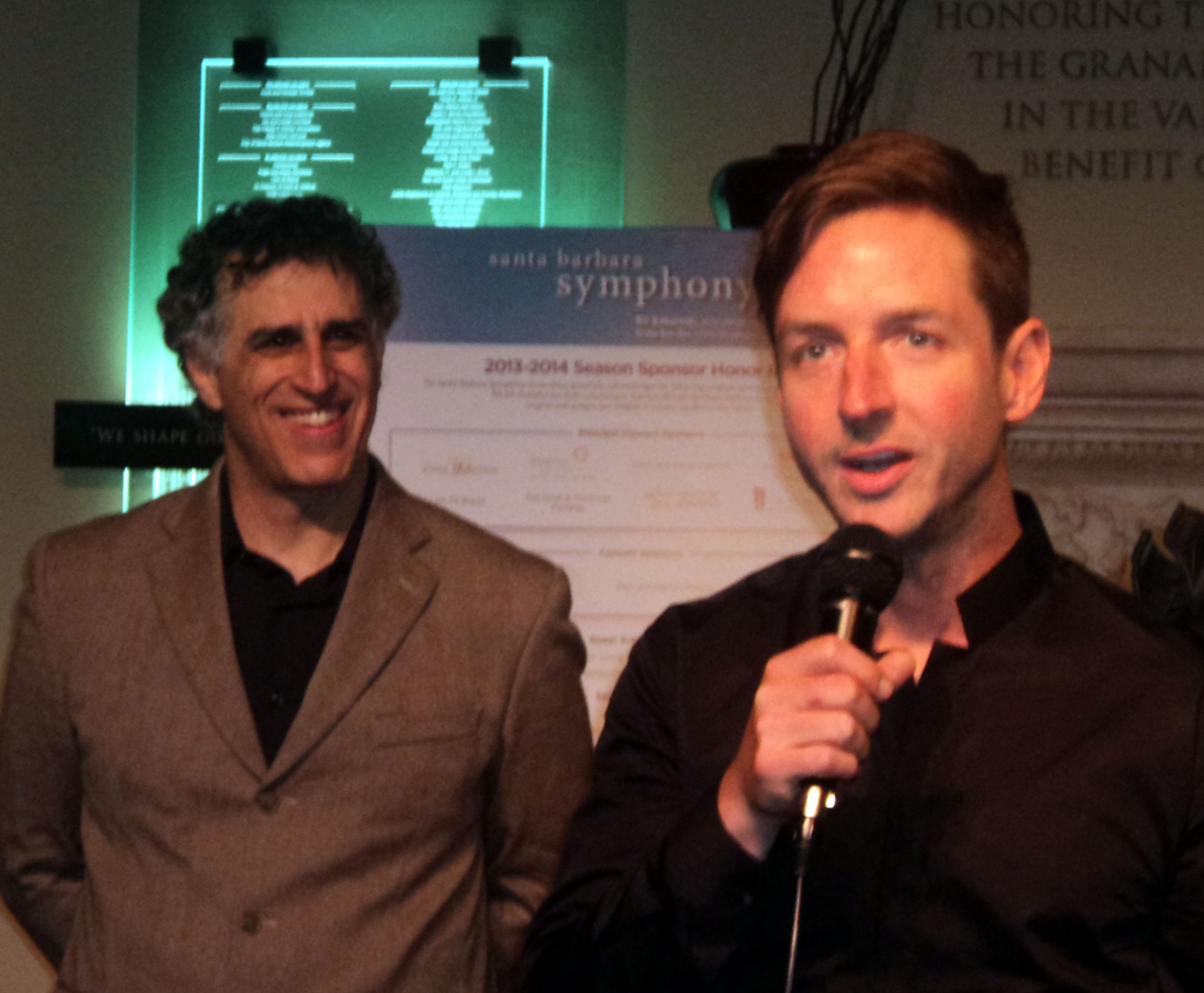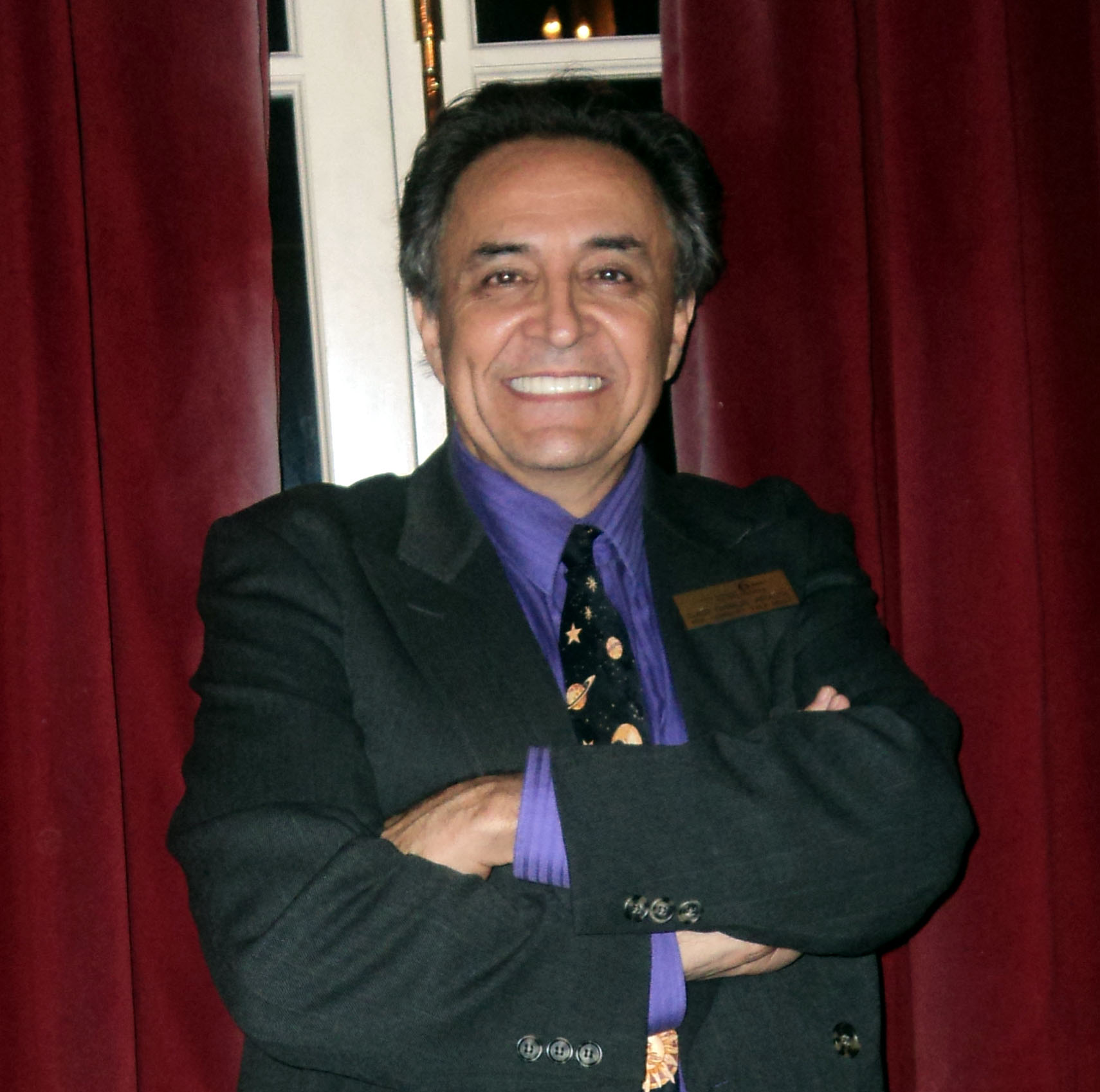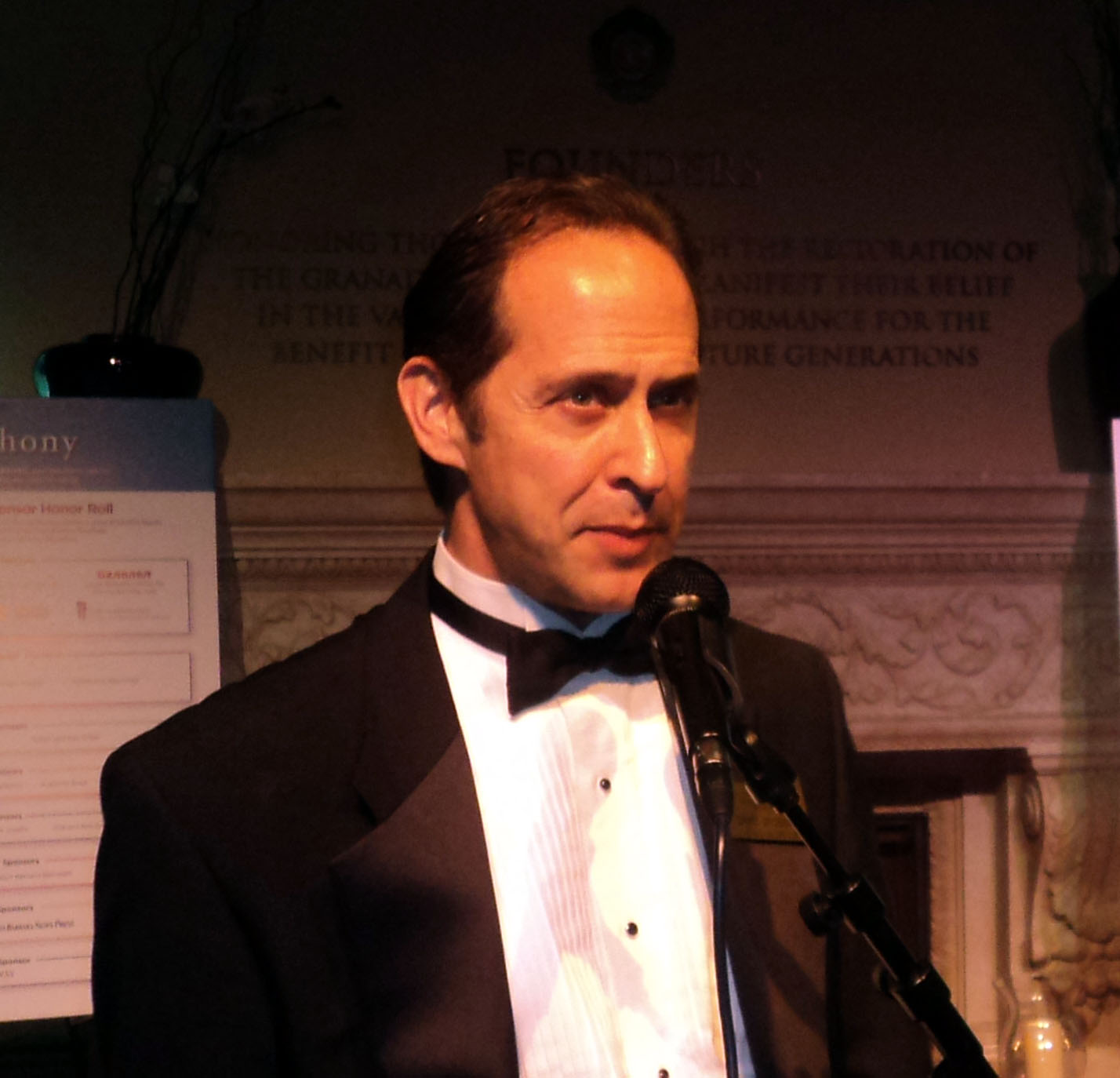 The evening was sponsored by Casa Dorinda and Montecito Bank & Trust and was followed by a Blush Catered reception, with wine sponsor Deep Sea Coastal California Wines. It was a magnificent start to the new season. The Maestro and staff shared their delight to begin a new season, and thanked the many sponsors and donors who make the symphony programs possible. Bravo to the entire Santa Barbara Symphony family! To become a subscriber or for program information visit: www.thyesymphony.org.
________________________________________________________________
Opening Night Gala Dinner!
Friday, November 8, 5:00 pm, Granada Theatre Founders Room

To launch the first production of our 20th Anniversary Season, Opera Santa Barbara is going all out on the opening night of Tosca with a Gala event you won't want to miss!

Guests will enjoy valet parking as they walk the red carpet in black tie while being serenaded by an Italian accordion player. Upstairs in the Founders Room, guests will enjoy a Roman inspired three-course dinner catered by Rincon Catering, with wines by Palmina. Guests will enjoy a private reception at intermission as well as a champagne and dessert party following the performance with members of the cast and production team.

Tickets for the Gala are $250 per person if you already have a ticket to the opera or $375 which includes a Section A ticket. 
To purchase tickets, 805.898.3890.   ________________________________________________________________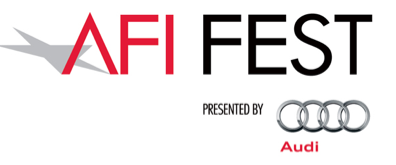 AFI FEST 2013 ANNOUNCES NEW AUTEURS AND SHORTS TITLES - AFI FEST 2013 presented by Audi, a program of the American Film Institute, announced today the films that will be featured in the New Auteurs and Shorts sections at this year's festival. AFI FEST will take place November 7 through 14 in Hollywood, California, at the historic TCL Chinese Theatre, the Chinese 6 Theatres, the Egyptian Theatre and the Hollywood Roosevelt Hotel.
The New Auteurs section highlights first and second-time feature film directors from around the world and the Shorts selections present wildly diverse points of view from a variety of countries around the world. Both sections are juried and are available for Grand Jury Awards. This year's New Auteurs jury features Peter DeBruge (Variety), Karina Longworth (author and critic), Amy Nicholson (LA Weekly) and Betsy Sharkey (Los Angeles Times). The Shorts jury features Alejandro De Leon (producer), Kitao Sakurai (filmmaker), Jordan Vogt-Roberts (filmmaker) and Heidi Zwicker (shorts programmer).
"I left Los Angeles eleven months ago and traveled to over half a dozen film festivals to curate the New Auteurs section and find the 10 finest films from first and second-time filmmakers," said Lane Kneedler, Associate Director of Programming, AFI FEST. "It is heartening to see new filmmakers take such bold and courageous steps so early in their careers, and it is thrilling to see the reactions of our audiences as they experience the works of this talented group of artists."
For the fifth consecutive year, AFI FEST will offer free tickets to all screenings, but only the Cinepass Express will provide priority entry to all regular screenings including the New Auteurs and Shorts selections, as well as access into the cinema lounge. These and other AFI FEST Passes are on sale now at AFI.com/AFIFEST.
Free individual tickets to AFI FEST screenings and galas will be available to AFI members on Monday, October 28 and Tuesday, October 29 in a 48-hour advance window before they become available to the general public on Wednesday, October 30 and Thursday, October 31. In addition, AFI members at the Two-Star level and above receive a 10% discount on all AFI FEST Patron Packages and Passes. Information about AFI membership is available at AFI.com/membership.
For the 10th year, Audi returns as the festival's presenting sponsor. Additional sponsors include American Airlines, the official airline of AFI; The American Film Market (AFM); AT&T; Coca Cola; The Egyptian Theatre; Hollywood Roosevelt Hotel; National Geographic Channel; Stella Artois and TCL Chinese Theatre, among many others. CINEPASS EXPRESS Passes on Sale Now
Film stills are available for press use only and can be downloaded at: http://afifestpress.AFI.com.
NEW AUTEURS SELECTIONS (10 titles)
THE FAKE – In this controversial animated drama from South Korea, a rural village in danger of a flood turns to a church that promises salvation. DIR Yeon Sang-ho. SCR Yeon Sang-ho. CAST Yang Ikjune, Oh Jungse, Kwon Haehyo, Park Heevon. South Korea.
HARMONY LESSONS – This captivating Kazakh drama follows an adolescent boy who faces schoolyard bullying – part of a hierarchy of village corruption – who resolves to plot revenge. DIR Emir Baigazin. SCR Emir Baigazin. CAST Timur Aidarbekov, Aslan Anarbayev, Mukhtar Anadassov, Anelya Adilbekova. Kazakhstan, Germany, France.
IN BLOOM – A powerful story about two 14-year-old girls who challenge patriarchal expectations in 1992 Tbilisi, after the collapse of the Soviet Union. DIR Nana Ekvtimishvili & Simon Gross. SCR Nana Ekvtimishvili. CAST Lika Babluani, Mariam Bokeria, Zurab Gogaladze. Georgia, Germany, France.
MY DOG KILLER – This simmering drama follows a lonely young adult living in rural Slovakia, where bubbling ethnic tensions and inner turmoil lead to dark consequences. DIR Mira Fornay. SCR Mira Fornay. CAST Adam Mihal, Marian Kuruc, Irena Bendova, Libor Filo. Slovakia, Czech Republic.
NOTHING BAD CAN HAPPEN – A new member of a fundamentalist Christian group moves in with a family, but soon descends into a vortex of dogmatism, heresy and violence. DIR Katrin Gebbe. SCR Katrin Gebbe. CAST Julius Feldmeier, Sascha Gersak, Swantje Kohlhof, Annika Kuhl. Germany.
THE OWNERS – A comic look at class struggle, this Argentine tale of estate workers and their employers makes full use of its ensemble cast to explore the difficulty of sustaining a lie. DIR Agustín Toscano & Ezequiel Radusky. SCR Agustín Toscano & Ezequiel Radusky. CAST Rosario Blefari, Germán De Silva, Sergio Prina, Cynthia Avellaneda. Argentina.
THE SELFISH GIANT – In this memorable example of British realism, feisty menace Arbor and his friend Swifty are expelled from school and turn to illegal means of making money. DIR Clio Barnard. SCR Clio Barnard. CAST Connor Chapman, Shaun Thomas, Sean Gilder, Rebecca Manley. United Kingdom.
A SPELL TO WARD OFF THE DARKNESS – Filmmakers Ben Russell and Ben Rivers team up for the first time to create this experimental triptych of stories revolving around a silent protagonist. DIR Ben Rivers & Ben Russell. SCR Ben Rivers & Ben Russell. CAST Robert A.A Lowe, Taraka Larson, Nimai Larson, Nick Turvey. France, Estoria.
THE STRANGE LITTLE CAT – A whimsical exploration of the tensions and pleasures of everyday life is made in a cramped Berlin apartment overflowing with adults, children and pets. DIR Ramon Zürcher. SCR Ramon Zürcher. Jenny Schily, Anjorka Strechel, Mia Kasalo, Luk Pfaff. Germany.
WE ARE MARI PEPA – This comic love letter to the loss of innocence follows a Guadalajara teenager with fun summer expectations who must come to terms with growing responsibilities. DIR Samuel Isamu Kishi Leopo. SCR Samuel Isamu Kishi Leopo & Sofía Gómez Córdova. CAST Alejandro Gallardo, Arnold Ramírez, Jaime Miranda, Moisés Galindo. Mexico.
SHORTS SELECTIONS (36 titles)
BALCONY – An entire village reacts to a boy dangling from a balcony in this one-shot tour de force. DIR Lendita Zeqiraj. SCR Lendita Zeqiraj. CAST Arben Bajraktaraj, Sevdai Radogoshi, Osman Ahmeti, Edona Reshitaj. Kosovo.
BUTTER LAMP – This travelogue of culture and context told through the eyes of two Tibetan photographers and their clients is an inventive and heartfelt exploration of the relationship among reality, dreams and memory. DIR Hu Wei. SCR Genden Punstock & Hu Wei. CAST Genden Punstock. France.
CARLOTA – He will be in love with her very soon. He is sure of this. DIR Nacho Vigalondo. Spain.
CATHERINE – Catherine is ready to come back to work. DIR Dean Fleischer-Camp. SCR Dean Fleischer-Camp & Jenny Slate. CAST Jenny Slate, Brandi Austin. USA.
DATAMOSH – Yung Jake raps about tweet culture, data-moshing, hashtags and memes as he merges with Twitter, YouTube, Tumblr and Instagram. He's not on PhotoBooth. DIR Yung Jake. USA.
THE DATE – Tino's manhood is put to the test when he hosts a date for the family's stud cat. DIR Jenni Toivoniemi. SCR Jenni Toivoniemi. CAST Oskari Joutsen, Anna Paavilainen, Päivi Mäkinen. Finland.
DECLARATION OF WAR – A mesmerizing montage of audiences reacting to George W. Bush's announcement of Operation Enduring Freedom told entirely through footage captured during the speech. DIR Dustin Guy Defa. USA.
DEMOCRACY – Please gather in the conference room. The boss has a life-changing announcement guaranteed to boost morale. DIR Borja Cobeaga. SCR Alberto Gonzalez Vazquez. CAST Oscar Ladoire, Luis Bermejo, Alejandro Tejeria, Raquel Guerrero. Spain.
THE EVENT – Love and a severed foot, at the end of the world. DIR Julia Pott. SCR Tom Chivers. CAST Alex Britton, Laura Free. USA, United Kingdom.
FAMILY IN THE PARK – On a Sunday afternoon in the park, happiness exists but it comes at a price. DIR Pedro "Zulu" González. SCR Pedro "Zulu" González. Mexico.
I KILL – A gruesome, honest portrait of the man who kills your food. DIR David White & Paul Wedel. CAST Beatie Tarrant. New Zealand.
K.I.T. – A guilt-ridden yuppie goes to great lengths to prove she is a decent human being. DIR Michelle Morgan. SCR Michelle Morgan. CAST John Beach, Stephanie Allyne, Ryan Harrison. USA.
KARAOKE! – On a night out in New York City, a young man avoids his problems. DIR Andrew Renzi. SCR Andrew Renzi. CAST Brady Corbet, Clemence Poesy. USA.
MACHSOM – A 19-year-old Israeli soldier stationed at one of the most dangerous checkpoints along the West Bank must contend with pressures on all sides in the face of a high-stakes incident. DIR Joel Novoa. SCR Joel Novoa & Frederic Richter. USA.
MAGNESIUM – A talented young gymnast makes a life-changing discovery as she prepares for an important tournament, and her last chance to reach the top. DIR Sam de Jong. SCR Shady El-Hamus. CAST Denise Tan, Samira Maas, Vanja Rukavina. Netherlands.
MARILYN MYLLER – Marilyn maketh, Marilyn taketh away. It will be epic. It will be tear-jerkingly profound. It will be perfect. DIR Michael Please. SCR Michael Please. USA, United Kingdom.
THE MASQUE – The Masque was L.A.'s first punk rock club. This is all that's left. DIR Mike Plante. CAST Rudy Garcia. USA.
MISTERIO: They say that if you put your ear to the back of his neck you can hear the Virgin talk. DIR Chema García Ibarra. SCR Chema García Ibarra. CAST Jose Manuel Ibarra. Spain.
MOVIES MADE FROM HOME #15 – Robert has big plans. He's going to live as long as he can. DIR Robert Machoian. SCR Robert Machoian. CAST Bruce Graham. USA.
NOAH – Noah's relationship takes a rapid turn for the worse in this fascinating study of romance in the digital age set entirely on a teenager's computer screen. DIR Patrick Cederberg & Walter Woodman. SCR Patrick Cederberg & Walter Woodman. CAST Sam Kantor, Caitlin McConkey-Pirie, Nina Iordanova. Canada.
ON SUFFOCATION – This dialogue-free film about an execution describes what happens when the system becomes more important than human life. DIR Jenifer Malmqvist. SCR Jenifer Malmqvist. CAST Ali Dawoud, Poyan Karimi, Peshang Rad, Zana Penjweni. Sweden.
PLACES WHERE WE LIVED – His parents are selling his childhood home. What a terrible, terrible feeling. DIR Bernardo Britto. SCR Bernardo Britto. USA.
#POSTMODEM – A pop musical that predicts technological singularity in the form of a series of cinematic tweets. DIR Jillian Mayer & Lucas Leyva. SCR Jillian Mayer & Lucas Leyva. CAST Jillian Mayer, Kayla DeLacerda. USA.
THE RANCHER – A series of terrible dreams unhinge a man in power. DIR Kelly Sears. USA.
THE ROPER – A black man – and young calf roper – works through the all-white rodeo circuits in the Deep South as he dreams of competing in the National Finals Rodeo in Las Vegas. DIR Ewan McNicol & Anna Sandilands. USA.
RPGOKC – In a world on the brink of war, two video game characters find love on a dating website. DIR Emily Carmichael. USA.
THE RUNAWAY – A social worker at a detention center for juvenile offenders must bring one of the girls to court for sentencing. It's going to be a hard day. DIR Jean-Bernard Marlin. SCR Jean-Bernard Marlin. CAST Adel Bencherif, Médina Yalaoui. France.
SAFE: A college student works at the illegal exchange booth attached to the pachinko. She's fed up with people addicted to gambling, but the more she tries to escape, the deeper she's stuck. DIR Byounggon Moon. SCR O Kwang Gwon. CAST Min Ji Lee, Tae Young Kang. South Korea.
SHADOW OF A CLOUD: On a sweltering summer day in Bucharest, a priest is called to a dying woman's side to say a final prayer. DIR Radu Jude. SCR Florin Lazarescu. CAST Alexandru Dabija, Serban Pavlu. Romania.
SKIN: A young taxidermist and loner resorts to drastic measures when an entrancing girl finds his work beautiful. DIR Jordana Spiro. CAST Albert Flood, Sara Clark, Vickie Peterman, Patrick Graham. USA.
SOCIAL BUTTERFLY: In the south of France, a 30-year-old American woman wanders into a teenage party. Nobody seems to know what she's doing there. DIR Lauren Wolkstein. SCR Lauren Wolkstein. CAST Anna Margaret Hollyman, Camille Claris, Ulysse Grosjean. France, USA.
SYNDROMEDA: No one believes that Leif was abducted by aliens. But then why did he wake up naked and bloody on the side of the road? Aliens, that's why. DIR Patrik Eklund. SCR Patrik Eklund. CAST Jacob Nordenson, Svante Grundberg, Anki Larsson. Sweden.
THIS MUST BE THE ONLY FANTASY – A magical and lyrical ode to fantasy role-playing games from fashion house Rodarte and their collaborators. DIR Todd Cole and Rodarte. SCR Ben Collins and Luke Piotrowski. CAST Sidney Williams with Guinevere Van Seenus and Elijah Wood. USA.
TOKYO GIANTS – Using footage captured by hidden cameras on the streets of Tokyo, the always subversive Nicolas Provost constructs a narrative set to the conventions of Hollywood mysteries in the thrilling conclusion to his PLOT POINT trilogy. DIR Nicolas Provost. SCR Nicolas Provost. CAST Johan Rooms, Miet Warlop. Japan, Belgium.
WHALE VALLEY – Two young brothers living in a remote Icelandic fjord come to terms with the hard truths that make kids grow up before they're ready. DIR Guðmundur Arnar Guðmundsson. SCR Guðmundur Arnar Guðmundsson. CAST Ágúst Örn B. Wigum og Einar Jóhann Valsson. Denmark, Iceland.
WILD HORSES – They captured her heart. She captured their story. DIR Stephanie Martin. SCR Stephanie Martin & Jessica Walsh. CAST Mireille Enos, Brooke Shields, Barbara Tarbuck and Tuff. USA.
About the American Film Institute
AFI is America's promise to preserve the history of the motion picture, to honor the artists and their work and to educate the next generation of storytellers. AFI programs include the AFI Catalog of Feature Films and AFI Archive, which preserve film heritage for future generations; the AFI Life Achievement Award – the highest honor for a career in film – now in its 42nd year; AFI Awards, honoring the most outstanding motion pictures and television programs of the year; AFI's 100 Years…100 Movies television events and movie reference lists, which have introduced and reintroduced classic American movies to millions of film lovers; year-round and special event exhibition through AFI Fest presented by Audi, AFI Docs presented by Audi and the AFI Silver Theatreand Cultural Center; and educating the next generation of storytellers at the world renowned AFI Conservatory, recognized for the quality of its instructors and speakers and its notable alumni. For more information about AFI, visit AFI.com or connect with AFI at twitter.com/AmericanFilm, facebook.com/AmericanFilmInstitute and youtube.com/AFI.
---