TINSLETOWN TIDBITS   .    .    .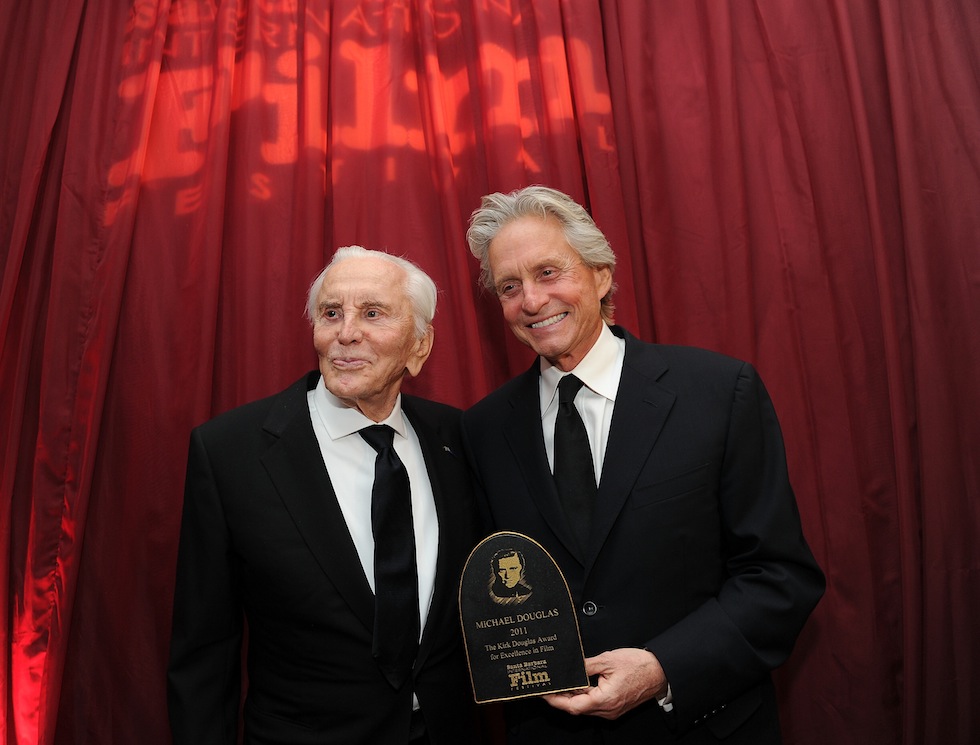 (Photo: Bonnie Carroll, BCLBN)
2022 KIRK DOUGLAS AWARD AT RITZ-CARLTON BACARA RESORT

For tickets: Visit www.sbiff.org
__________________________________________________________________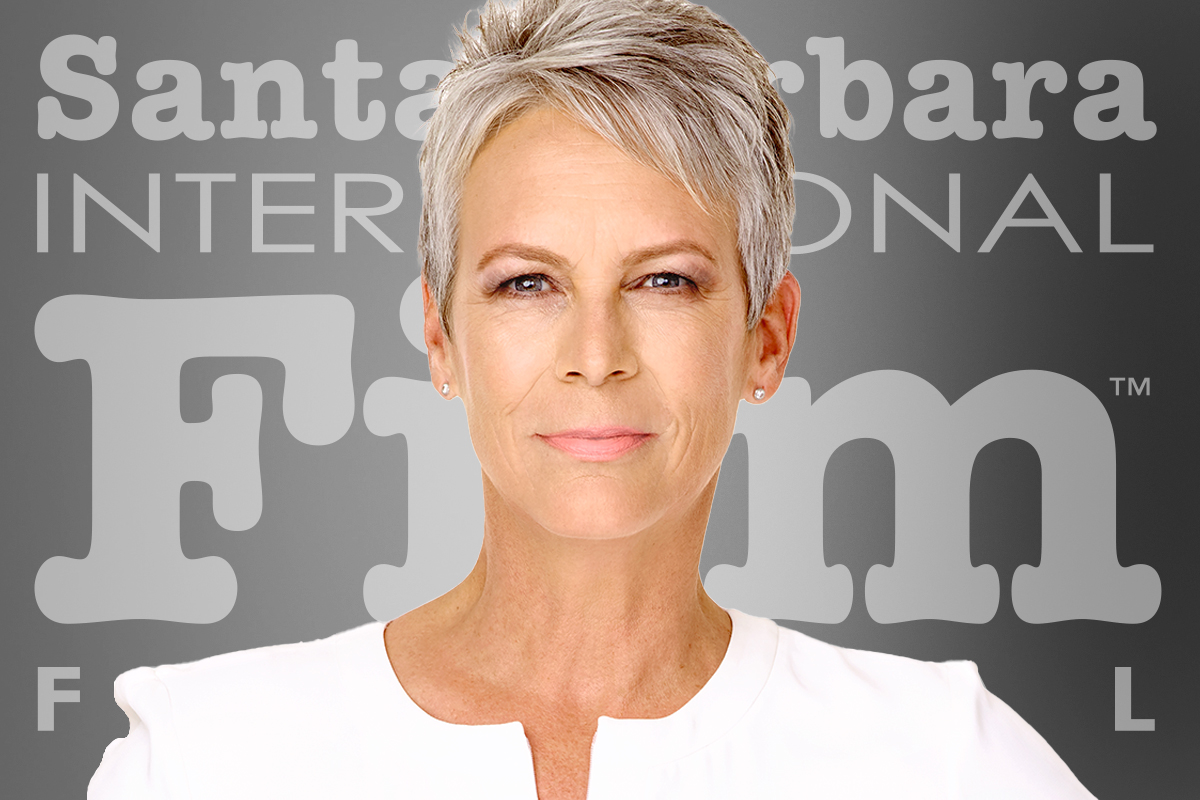 Maltin Modern Master Award


Honoring


JAMIE LEE CURTIS



Saturday, February 11th, 2023
8:00pm
Arlington Theatre,
Santa Barbara, CA
Jamie Lee Curtis will be honored with the prestigious Maltin Modern Master Award at the 38th annual Santa Barbara International Film Festival. Curtis will receive the award on Saturday, February 11th following an in-person conversation about her career leading up to this year's performances as Laurie Strode in Halloween Ends, a beloved character that she has portrayed for a record 44 years as well as Deidre Beaubeirdre in A24's critically acclaimed smash hit Everything Everywhere All At Once.

"Jamie Lee Curtis has long since proven that she has staying power. People want to watch her, whether it's in a Halloween movie or an offbeat character role. She's talented and charismatic, and in the process does her movie-star parents proud" said Leonard Maltin.

Jamie Lee Curtis has demonstrated her versatility as a film actress, starring in acclaimed films such as the blockbuster True Lies, for which she won a Golden Globe Award; Trading Places, for which she earned a BAFTA (British Film Academy Award) for Best Supporting Actress; A Fish Called Wanda, for which she received duel Best Actress nominations from BAFTA and the Golden Globes; and the Disney feature film Freaky Friday, for which she received a Golden Globe nomination. In 2021 Jamie received the Golden Lion for Lifetime Achievement at the Venice Film Festival.

It was her portrayal of Laurie Strode in Halloween, which was her film debut and brought her to the attention of audiences worldwide. 40 years later, in 2018, Curtis reprieved that signature role in David Gordon Green's record-breaking horror feature, Halloween, produced by horror guru Jason Blum. Halloween's opening weekend was the biggest debut ever, for any movie in any genre, to feature a female lead character over 55 years of age. The second film in the trilogy Halloween Kills was released in October 2021, and Halloween Ends, the final film in the trilogy was released October 14. In 2015, Curtis returned to her horror roots, starring in two seasons of the Ryan Murphy-created TV series Scream Queens, for which she received a Golden Globe nomination. In 2019 Curtis appeared in the smash hit Knives Out and in 2021 completed filming Borderlands alongside Cate Blanchett and Kevin Hart. Earlier this year Jamie appeared opposite Michelle Yeoh in the critically acclaimed box office smash Everything Everywhere All At Once. Next August she will appear as Madame Leota in the Disney feature Haunted Mansion.

In 2019 Curtis formed Comet Pictures, which is a film, television and podcast production company that has a first-look deal with Blumhouse. Comet's projects in the works include: Scarpetta, a series based on Patricia Cornwell's best-selling novels about forensic pathologist Kay Scarpetta; Mother Nature, an eco-horror film that Curtis will direct and co-wrote with Russell Goldman, based on the forthcoming graphic novel written by Curtis and Goldman and illustrated by Karl Stevens; a third and final season of the best-selling Audible scripted comedy/mystery podcast Letters From Camp, written by Boco Haft; a horror short Return to Sender, directed by Goldman and starring Allison Tolman. Curtis is also the founder and CEO of the website MY HAND IN YOURS, which is a charitable organization that offers comfort and celebration items with 100% of every sale being donated directly to Children's Hospital Los Angeles, an organization Curtis has been associated with for a very long time. Curtis is also a New York Times best-selling children's book author having written 13 books.

The Modern Master Award was established in 1995 and is the highest accolade presented by SBIFF. Created to honor an individual who has enriched our culture through accomplishments in the motion picture industry, it was re-named the Maltin Modern Master Award in 2015 in honor of long-time SBIFF moderator and renowned film critic Leonard Maltin. Past recipients include Nicole Kidman, Javier Bardem, Bill Murray, Brad Pitt, Glenn Close, Denzel Washington, Michael Keaton, Bruce Dern, Ben Affleck, Christopher Plummer, Christopher Nolan, James Cameron, Clint Eastwood, Cate Blanchett, Will Smith, George Clooney and Peter Jackson.

The 38th Santa Barbara International Film Festival will take place LIVE February 8 - February 18, 2023. Official events including screenings, filmmaker Q&As, industry panels, and celebrity tributes, will be held throughout the city, including at the historic Arlington Theatre. Passes and tickets for the 2023 Festival are on sale now at sbiff.org.
__________________________________________________________________
 Pierre Claeyssens Veterans Foundation to Host Silver Anniversary 25th Annual Military Ball to Honor Local Veterans and Active Duty Service Members
The event will be held Saturday, November 5th beginning at 5 PM at the Hilton Santa Barbara Beachfront Resort and will feature former Navy SEALs lead by Marc Brakebill of Beyond the Teams and live music by The Replicas
 Pierre Claeyssens Veterans Foundation (PCVF) is pleased to announce the Silver Anniversary 25th Annual Military Ball to honor local veterans and active duty service members. 
The Ball will be held Saturday, November 5th from 5:00 p.m. – 10:00 p.m. at the Hilton Santa Barbara Beachfront Resort. The evening will be filled with live music, dancing, a wonderful three-course meal, and stirring presentations. 
This year, PCVF is proud to present former Navy SEALs led by Marc Brakebill of Beyond the Teams. These extraordinary individuals, who arguably execute the most dangerous and secretive missions in the US Military, will share their inspiring story about the importance of family to the military mission and beyond. Beyond the Teams is a group of former SEALs and like-minded individuals whose focus is to heal and serve the community. The audience is sure to be inspired by their moving story: The Teams Behind the Mission.
Guests will also be treated to the rhythmic sounds of The Replicas Music, a team of professionally trained musicians and singers who have toured and recorded with some of the biggest names in the music industry. The Replicas have had the pleasure of being the chosen entertainment for organizations such as NASA, Google, LinkedIn, GM, Ford, AppFolio, UBS Bank, and Milken Institute, to name a few. They recently performed at the famous Rainbow Room in New York City. The Replicas know how to start a party and keep it going all night while performing with passion to create a fun and happy environment. 
PCVF co-founding director John Blankenship is delighted to welcome the greater Santa Barbara community, fellow service members and friends of PCVF to one of the year's most anticipated events. "We look forward to welcoming our guests to our Silver Anniversary 25th Annual Military Ball. We hope you join us as we mingle with old friends, dance to a live band, have a beautiful dinner and enjoy the pomp and circumstance of the program."
Dress uniform or black tie attire is optional. Tickets to the Military Ball are $250 per guest. This event sells out every year, space is limited to 300 guests. To learn more and purchase tickets, visit: https://www.pcvf.org/military-ball
About Pierre Claeyssens Veterans Foundation
Pierre Claeyssens Veterans Foundation is committed to honoring the men and women who have served in uniform at any time. PCVF does this by supporting veterans and active duty members, and related partner organizations, in Santa Barbara and Ventura counties, as well as preserving military history and legacy. The Foundation works to uphold Pierre Claeyssens's vision that those who have served are "Never Forgotten." PCVF is funded entirely by private donations. For more information, visit pcvf.org or call (805) 259-4394.
__________________________________________________________________

Life Bites News Publisher Honored with
National 2022 AWC Clarion Award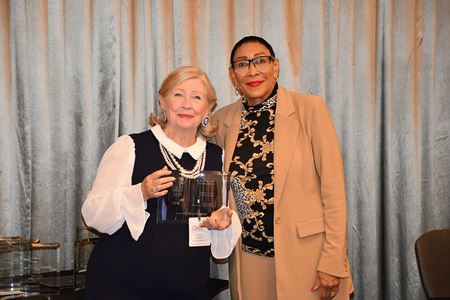 Bonnie Carroll awarded Clarion Award by AWC Chair Anita K. Parran
As the Publisher of Bonnie Carroll's Life Bites News, and the editor for "Successful Aging" Newspaper/Newsletter in the fall of 2022 I was so honored to be presented with an Association for Women in Communications Clarion Award at the 2022 October AWC National Conference in Kansas City, Missouri, along with over fifty other national award recipients including the International Matrix winner, Tara Gatewood, and the International Crystal Award winner Wolters Kluter.
Judith Smith-Meyer, Senior Communications Manager of Foodbank of Santa Barbara County, who was unable to attend the conference, won a Clarion Award in the Public Relations Category for her Foodbank Annual Report.   These coveted awards are judged and selected by a panel of eleven Association for Women in Communication judges from around the country. The awards were personally presented at the Clarion Awards Dinner in The Fontaine Hotel by AWC National Chair Anita K. Parran.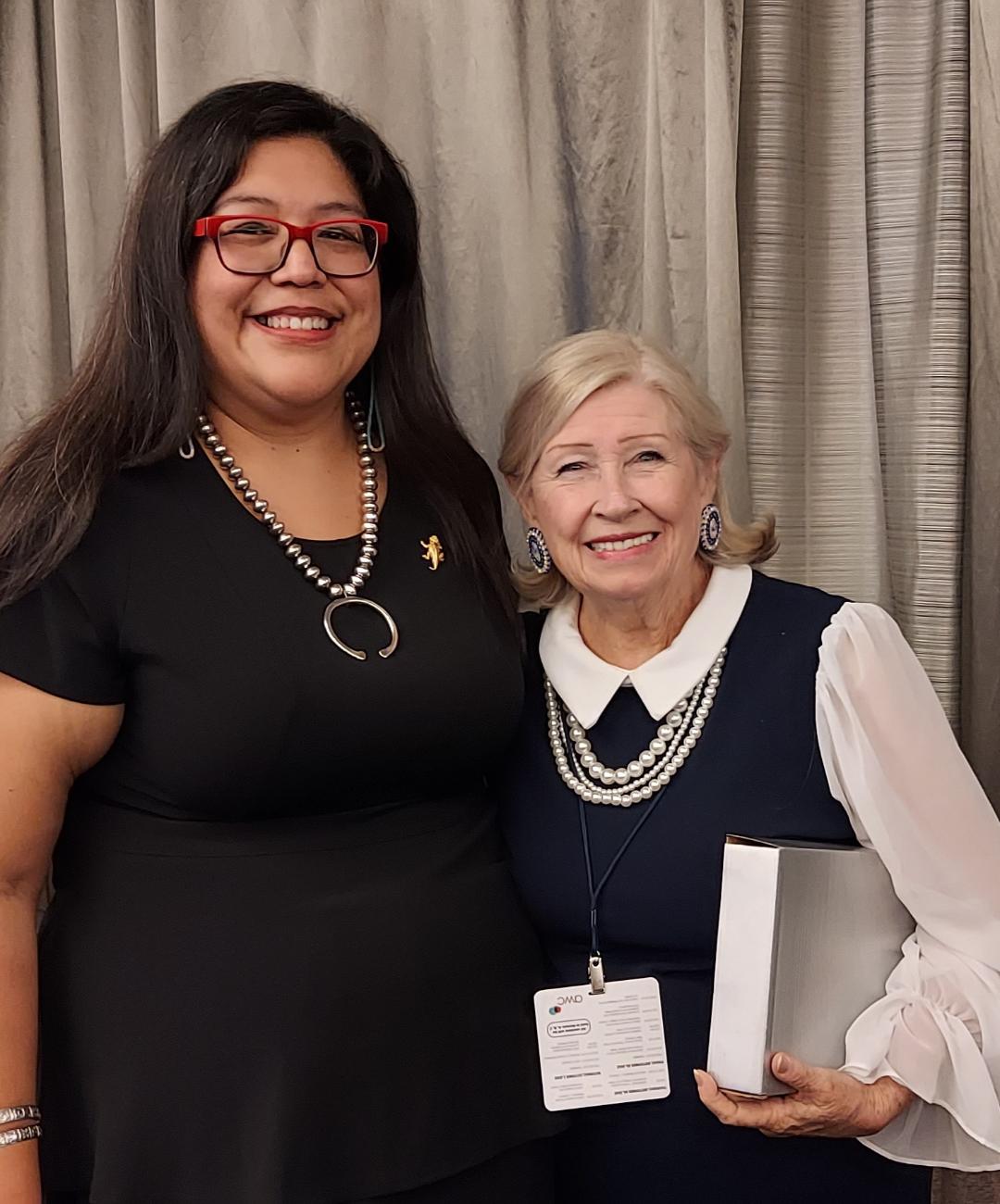 Bonnie Carroll congratulating Tara Gatewood Intl Matrix Winner
About the Clarion Award – Is highly sought after by both women and men, the Clarions -- named for the medieval trumpet known for its clarity—symbolize excellence in clear, concise communications. Clarion recipients represent media companies large and small, leading corporations, small businesses, and nonprofit associations and institutions.

Started in 1972, the Clarions honor excellence in more than 100 categories across all communications disciplines, including advertising & marketing, audiovisual productions, books & CDs, brochures, custom & special publications, education, fund development, magazines, major news events, newsletters, newspapers, online media, photography, graphics & design communications, public relations, radio, and television.
In 2019, Carolyn Jabs, Santa Barbara's AWC President awarded Ms. Carroll, Publisher of Bonnie Carroll's Life Bites News with the Member of the year Award during the group's December Holiday Celebration, held atUncorked Wine Tasting & Kitchen. During the presentation Mrs. Jabs said, "Bonnie is an exceptional communicatorwho spontaneously uses her skills on behalf of our organization. She is a consummate professional, she takes advantage of new technologies to tell the stories of places and people that capture her attention.
Under the banner of her monthly award-winning online lifestyle magazine, Ms. Carroll has also produced her own radio show. She has continuously contributed to a variety of national and international travel and lifestyle publications as well as local publications, including LivingBetter50.com, GettingOnTravel.com, Edhat.com, Noozhawk.com, Luxe Beat Magazine, (Beverly Hills Bureau Chief Food & Beverage International Magazine), Santa Barbara Daily Sound, Montecito Messenger, Food& Home Magazine, SB Seasons Magazine, Beverly Hills Times Magazine, Las Vegas Magazine, Beverly Hills News, Beverly Hills Courier, Malibu Times, and Brentwood Media Group Publications, while alsodoing radio/TV appearances. Her career in communications began in the 60s as a television, stage, and film actress in Chicago, where she also did commercial voice over work.
In 2004 she was presented a proclamation by Mayor of Beverly Hills Mark Egerman and the Beverly Hills City Council for planning, implementation and securing patership participation from Ka'anapali Beach Resort Associatio for the highly successful Beverly Hills Farmer's Market 10th Anniversary Chili Cook-off and Hawaiian Festival, as well as reporting as a food writer, food columnist and radio show host of "Bonnie Carroll's Life Bites News" CRN radio show. She is happy to serve as a judgeat prestigious food festivals and was a coordinatorfor the first Basil Festival in Malibu, first Coffee Festival in tandem with the Beverly Hills Classic Car Show, and first Taste of Malibu in tandem with the Malibu Art Show. She is happy
She is happy to serve as a judge at prestigious food festivals and was a coordinator for the first Basil Festival in Malibu, Coffee Festival in tandem with the Beverly Hills Classic Car Show, and first Taste of Malibu in tandem with the Malibu Art Show. As an appointed member of the LAOOC public relations commission and owner of BCPR a boutique public relations firm, she not only represented celebrity owned restaurants, but she was selected to co-manage the 1984 Los Angeles Olympic Organizing Committee's press operations at Pepperdine University and traveled with the Gold Medalists on a historic tour following the Olympics, where she marched in a New York ticker-tape parade with Mayor Koch and the athletes. She served on the executive board of the Malibu Chamber of Commerce, chairing the Malibu Ambassadors Committee. Ms. Carroll currently aids local organizations with their publicity needs and will be sworn in as a member of the board of directors of the Santa Barbara/Puerto Vallarta Sister City Board of Directors in December 2022.
As a photojournalist, she has published stories of her travel adventures around the world and hopes to cruise Antarctica on the newly launched Viking Ship as well as go air ballooning over Cappadocia, Turkey. Her first children's book was published in 2002 and she has plans to release a second book in 2023-24.
Ms. Carroll works and lives in Santa Barbara, is the mother of four, grandmother of three and great grandmother of two little boys, and many of them have collaborated with her on projects over the years or have just provided great inspiration for past and current endeavors and travels.
The Association for Women in Communications (AWC) is the premier organization for empowering women with the strength, support, and tools for elevating a career and becoming an agent of change in the industry. AWC is a network of like-minded women who are genuinely invested in helping members reach their potential and is a strong national network of communicators in a broad range of disciplines. For Santa Barbara membership information visit: www.awcsb.org.
                                                             ♦ ♦ ♦
___________________________________________________________________

---