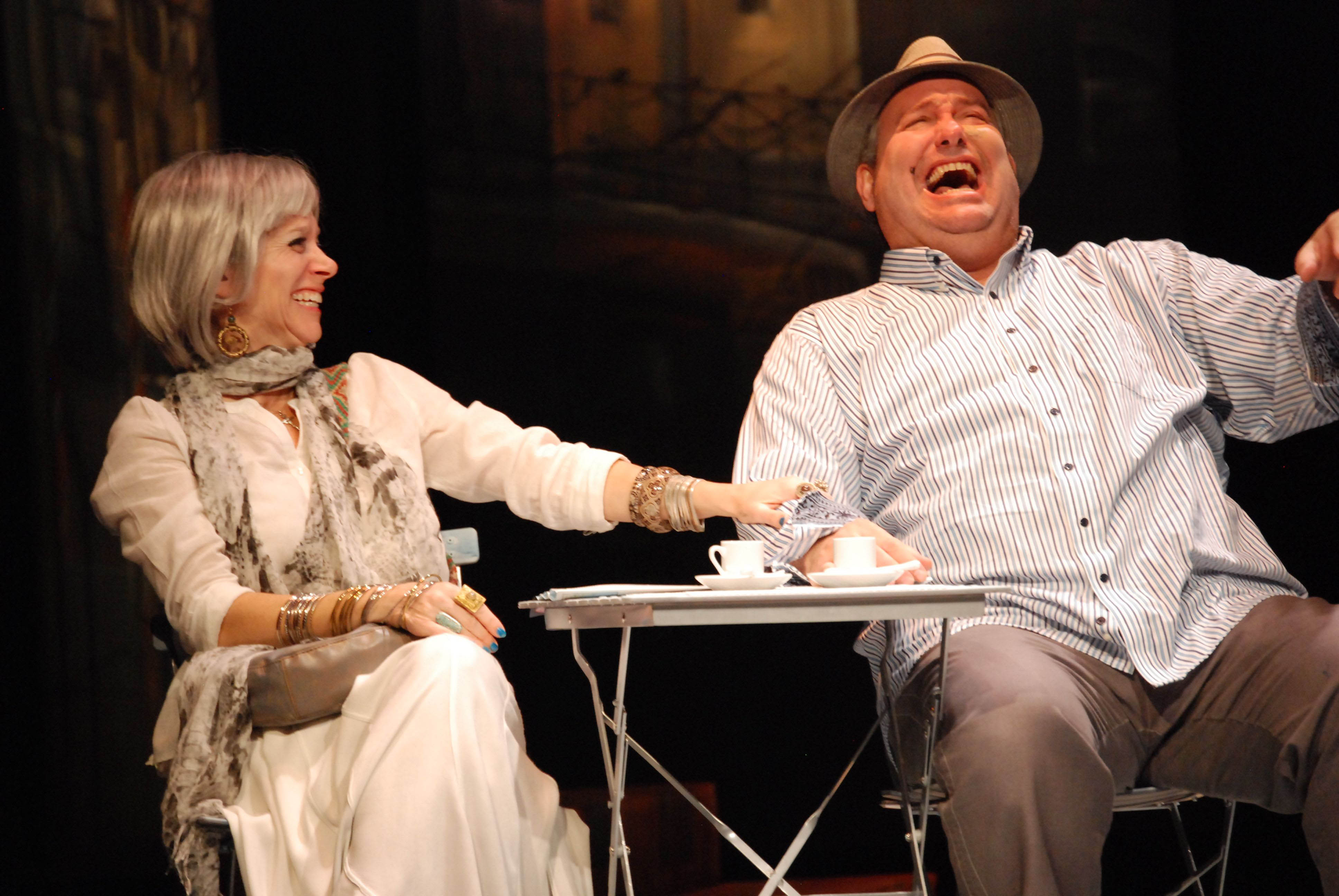 Irwin Appel and Anne Torsiglieri
APPOGGIATURA . . . A BEAUTIFUL WORK IN PROGRESS
By Bonnie Carroll
The most recent work of James Still is perfectly set in Venice, Italy and with the optimum use of every possible stage technique and artistic essence the audience is taken on a journey to one of Italy's most romantic cities, where they become spellbound by the characters and emotionally one with the past and present experiences of the talented actors on stage.
At times there is a Neal Simon pace and humor to the script, and at other times  a deepness of spirit that brings up individual feelings of love and loss, and without doubt the truthful and realistic understanding that after all is said and done love is love, whatever form it takes. The title of the play comes from the Italian word appoggiare meaning "to lean." In music, appoggiatura is a note of long or short duration sometimes creating a dissonance before resolving into a main note. This is a play about an American family finding itself by completely losing itself in the perfect location of their past and present.
It is beautifully performed and directed by Risa Brainin, Chair of the Theatre & Dance Department at UCSB. This "Preview Production was produced by UCSB's LAUNCH PAD, which is presenting their eighth new play directed by the talented Brainin. The play ran from February through March at the Hatlen Theatre on the campus of UCSB, which was recently refurbished and is an outstanding theatre.
Risa Brainin assembled an amazing team of theatre artists for Still's play including scenic designer Nayna Ramey: lighting designer Michael Klears and costume designer Devon Painter, as well as music director David Potter. The faculty artists Irwin Appel and Anne Torsiglieri, along with students Andrea Barborka, Chris Costanzo, Ian Elliot, Sophie Hassett, Dominic Olivo, Julian Remulla and Sachi Tanaka brought APPOGGIATURA to life with a believability that took each audience member on their own individual emotional journey of truth during this performance. Bravo and grazia mille to everyone involved on an outstanding job well done!
During a Q&A following the performance Still emphasized the importance of LAUNCH PAD's format which allowed him to work with the design team from the very beginning of the process and invent the play with them. "The thing that's unique about LAUNCH PAD is it looks at new play development in a timely and fresh paradigm shift. I write plays for the theatre. I want to see them in a three-dimensional space; I want to see actors explore the silences as part of the language, to experiment with behavior as part of the action." He acknowledged, "LAUNCH PAD gives me the necessary and rare opportunity to develop my new play the way I dream about: by doing it on stage." He added, "Working with Risa Brainin who I've known and whose work I have treasured for 15 years is important to this story. It's an essential collaboration on a play that is essential to my artistic life. Process has to be thoughtful and risky and bold – all within a safe environment."
Just a few months ago, Still learned the Denver Center Theatre would commission APPOGGIATURA. For Brainin and LAUNCH PAD getting the commission was the next natural step for this play and process. "My ultimate goal is for other universities to be excited by this model so that, in a short time, preview productions at universities become a standard way to develop new work in the American Theatre," said Brainin.
The Hatlen Theatre is located on the campus of UCSB. For information on upcoming LAUNCH PAD performances visit
https://www.vendini.com/ticket-software.html?t=tix&w=e57be196cb4285daded2d28aa7053b76
___________________________________________________________________

The Glitter-Packed Tony-Winning Broadway Sensation
Is Making a Bus Stop in Los Angeles…
L.A. PREMIERE AT THE PANTAGES THEATRE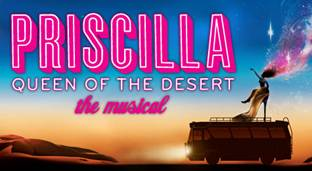 THREE WEEKS ONLY ∙ MAY 28 – JUNE 16, 2013
Performed with "gleaming verve" (The New York Times), the outrageously –funny, Tony Award-Winning Broadway musical PRISCILLA QUEEN OF THE DESERT will celebrate its L.A. Premiere at Hollywood's Pantages Theatre for a limited three-week engagement, May 28 – June 16, 2013.
Tickets for PRISCILLA may be purchased online at www.HollywoodPantages.com or www.Ticketmaster.com or by phone at 1-800-982-2787. Tickets may also be purchased in person at the Pantages Box Office and all Ticketmaster outlets. The Pantages Theatre is located at 6233 Hollywood Boulevard, just east of Vine Street, and the box office opens daily at 10am except for holidays.
PRISCILLA tells the uplifting story of a trio of friends on a road trip of a lifetime, who hop aboard a battered old bus searching for love and friendship in the middle of the Australian outback and end up finding more than they could ever have dreamed. An international hit with over 500 dazzling, 2011 Tony Award-winning costumes, PRISCILLA features a hit parade of dance-floor favorites including "It's Raining Men," "Finally" and "I Will Survive."
This Los Angeles Premiere engagement follows the recent Broadway run of PRISCILLA at the Palace Theatre.
The Hollywood Reporter called Priscilla "funny and fabulous! Joyous entertainment with eye-popping visuals and unexpected heart!" NY-1 News raved "Beneath all that glitz beats a great big sequined heart!" WOR Radio sang "All the songs you've loved for years will blow you out of your seat!"
PRISCILLA, the most successful Australian musical of all time, had its world premiere in Sydney in 2006. Adapted from the 1994 Academy Award® winning film The Adventures of Priscilla Queen of the Desert, the musical is written by Stephan Elliott and Allan Scott. Direction is by Simon Phillips, choreography by Ross Coleman, and with musical supervision and arrangements by Stephen 'Spud' Murphy.
PRISCILLA stars Wade McCollum ("Tick/Mitzi"), Scott Willis ("Bernadette") and Bryan West ("Adam/Felicia") as the trio of friends, on a road trip of a lifetime, who hop aboard a battered old bus searching for love and friendship in the middle of the Australian outback and end up finding more than they could ever have dreamed. Joe Hart stars as "Bob".
Rounding out the cast are Emily Afton, Nik Alexzander, John Capes, Andrew Chappelle, Shane Davis, Alex DeLeo, Taurean Everett, Christy Faber, Amy Hillner, Bre Jackson, Chris Klink, David Koch, Ralph Meitzler, Alex Ringler, Babs Rubenstein, Travis Taber, Brit West, Will B. Whitesell and Chelsea Zeno.
Scenic design for PRISCILLA is by Brian Thompson, costume design is by Tony Award winning Tim Chappel and Lizzy Gardner, lighting design is by Nick Schlieper and sound design is by Jonathan Deans (Spiderman) and Peter Fitzgerald (Godspell). Makeup design is by Cassie Hanlon.
PRISCILLA is produced on tour by Troika Entertainment and Nullarbor Productions Ltd.
The performance schedule for PRISCILLA is Tuesday through Friday at 8pm, Saturday at 2pm & 8pm, and Sunday at 1pm & 6:30pm. Opening Night is Wednesday May 29th at 8pm.
PRISCILLA has a running time of 2 hours and 30 minutes including intermission and is recommended for ages 13 and up. (Please note that in consideration of audiences, no one under 5 will be admitted to the theatre.)
Orchestra level tickets for PRISCILLA start at just $25. Prices are subject to change without notice.
For more information on PRISCILLA, please visit www.priscillaontour.com/
For tickets or more information about PRISCILLA's Los Angeles engagement, please visit the Pantages Theatre's official website, www.HollywoodPantages.com.
__________________________________________________________________
Santa Barbara Symphony Welcomes Spring with Vivaldi's Four Seasons, Dynamic Guest Artists and Multimedia Experience
Conductor Vajda

Concerts feature acclaimed international guest conductor Gregory Vajda virtuoso violinist Nigel Armstrong, and a live, onstage painting by Hollywood scenic artist Jett Green
              "…conductor Vajda soars."--The Oregonian
On Saturday and Sunday, April 13th and April 14th, the Santa Barbara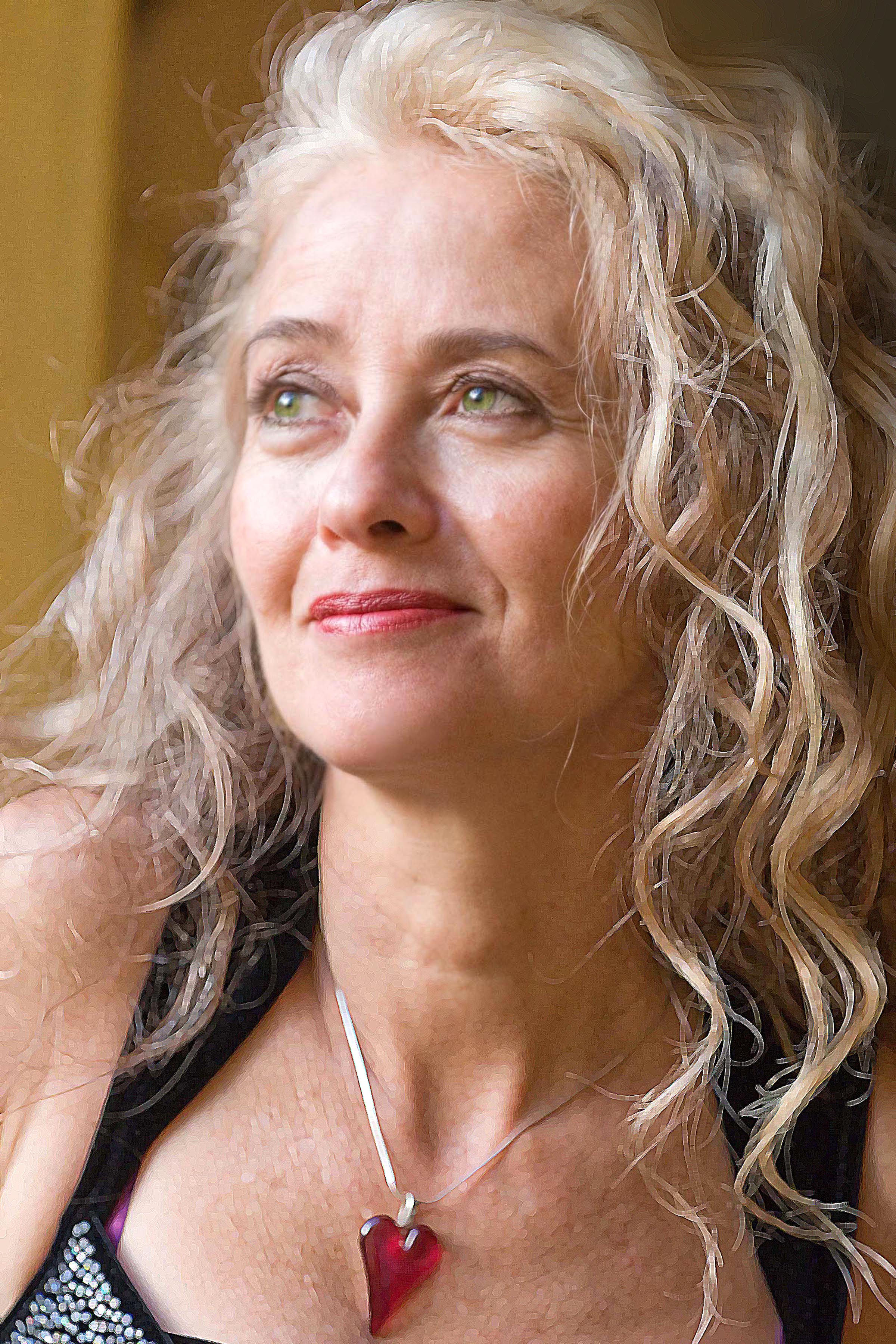 Symphony 60th Anniversary Season continues with acclaimed Guest Conductor Gregory Vajda leading the orchestra in Vivaldi's best known work. The Four Seasons, a set of four concertos, ingeniously molds together depictions of delightfully characteristic weather reports. In tune with the season's theme is Glazunov's colorful ballet The Seasons, performed as acclaimed Hollywood scenic artist Jett Green paints live onstage, with her creations projected on a screen. The "Four Seasons" concerts will be held in The Granada Theatre on Saturday, April 13th at 8 p.m. and Sunday, April 14th at 3 p.m.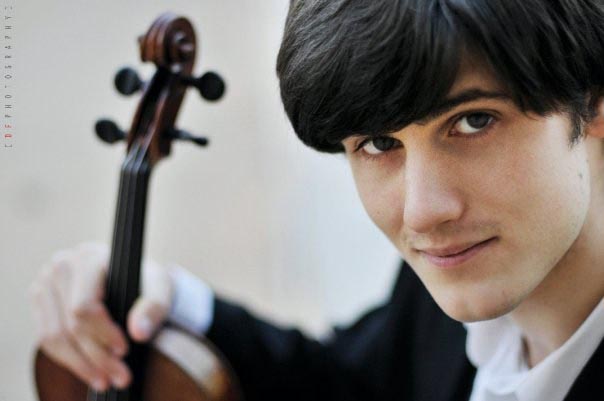 Prodigy Armstrong
"We welcome the changing seasons and this powerful showing of the 'next generation' of classical talent with dynamic Gregory Vajda, who has fast become a sought-after conductor on the international scene, and prodigy Nigel Armstrong," said David Grossman, Santa Barbara Symphony Executive Director. "This is the perfect opportunity for first-timers and our most sophisticated patrons to appreciate one of the most beloved symphonic works of all time, and to experience the excitement of special effects master and painter Jett Green interpreting Glazunov's The Seasons live, onstage."
THE PROGRAM
 Saturday, April 13, 8:00PM  Sunday, April 14, 3:00 PM
 Gregory Vajda, Guest Conductor -  Nigel Armstrong, Violin
 Vivaldi, The Four Seasons,  Glazunov, The Seasons Op. 67
Ticketholders are also invited to "Behind the Music," the popular Pre-Concert Talk offering a fresh and fascinating insight into the musical program. These lively, interactive, informal talks, which last for approximately 30 minutes, are open to all ticket holders and are held one hour before the Symphony concert begins.
ACCLAIMED GUEST CONDCUTOR: Gregory Vajda
Gregory Vajda is in his seventh and final season as resident conductor of the Oregon Symphony, a post he assumed in 2005. Since 2009 he has served as artistic and music director of California's Music in the Mountains, and this year he took up new responsibilities as music director of the Huntsville Symphony in Alabama.
Vajda has performed with the Seattle and Edmonton Symphonies, the Toledo Symphony, St. Paul Chamber Orchestra, the Los Angeles Philharmonic, the National Arts Centre Orchestra (Ottawa) and the Baltimore, Calgary, Louisville, Milwaukee, Omaha, San Antonio, Toronto and Winnipeg symphonies.
As an opera conductor, Vajda has led performances for Atlanta Opera, Montreal Opera, Hungarian State Opera and the Salzburg Festival.
Vajda is also a gifted clarinetist and composer. Born in Budapest, he studied composition at the Franz Liszt Academy of Music under Professor Ervin Lukács and was a conducting pupil of composer and conductor, Péter Eötvös.
GUEST VIOLINIST: Nigel Armstrong
Violinist Nigel Armstrong recently came to international attention as a finalist in the 14th Tchaikovsky International Competition, where he was the highest-ranked American prizewinner (Fourth Prize) as well as winner of the award for the commissioned work by renowned composer John Corigliano. Since then he has made debuts in Chicago, on the Chicago Symphony's MusicNOW series with a performance of Corigliano's Stomp, and Los Angeles, performing Mozart's Violin Concerto #3 with the LA Chamber Orchestra.
During the 2012-13 season, Armstrong appears as soloist with the Pacific Symphony (Mozart Concerto #5), the Santa Barbara Symphony (Vivaldi's Four Seasons), the Stamford (Connecticut) Symphony (Tchaikovsky Concerto) and he returns to the Los Angeles Chamber Orchestra on their Baroque Conversations series leading a solo performance/lecture on the solo violin works of Bach.
Born in Sonoma, California, Armstrong made his solo debut at the age of 12 with the Baroque Sinfonia in Santa Rosa and has since performed concertos and showpieces with, among others, the Boston Pops and Norwegian Radio Orchestras; the St. Petersburg, Ft. Wayne, and Reno Philharmonic Orchestras; the Berkeley and Glacier Symphony Orchestras; the San Francisco Symphony Youth Orchestra, the Asociación de Profesores de la Orquesta Estable del Teatro Colón and the American Philharmonic - Sonoma County, with which he performed for two seasons. In 2011 Armstrong performed the Korngold Violin Concerto with Sir Neville Marriner conducting the Colburn Orchestra.
Armstrong has received numerous awards and prizes including silver-medal wins in the 2010 Yehudi Menuhin International Violin Competition, held in Oslo, Norway, and the First International Violin Competition in Buenos Aires, also held in 2010. In both competitions, he received additional prizes, including the Premio Tango in Buenos Aires and the Ole Bull and Nordheim awards in Oslo. In 2008, Armstrong received multiple prizes in the Corpus Christi International Competition, including the Howard Beebe String Award for Solo Bach Performance and the Jean Ten Have Award for Violin Performance.
A graduate of The Colburn School Conservatory of Music, where he studied with Robert Lipsett, Armstrong is currently in the Diploma program at the Curtis Institute of Music, where he studies with Arnold Steinhardt and Shmuel Ashkenasi. Past teachers include Zaven Melikian, Li Lin, and Donald Weilerstein.
ARTIST: Jett Green
Jett Green has created rich, luminescent, and endlessly detailed matte paintings for film since 1984 when she began her career at Industrial, Light and Magic. There she learned how to paint on glass alongside the film industry's greatest special effects masters.
Green has enjoyed a long, notable career as a matte painter for both special effects and animation. Green's early credits include The Never Ending Story, Indiana Jones and the Temple of Doom, and Star Trek 3. As a traditional matte painter she spent most of her time in the company of physical paint brushes and real life paint she applied directly on glass or masonite.
Following her employment at ILM, Matte World Digital, and The Orphanage, Green's most recent home is with Dreamworks Animation. After years and years of perfecting realism, animation allows her a variety of styles that are colorful and visually rich. Green acknowledges that animation invites "imaginative experiments" and a freedom not as available with special effects.
THE MUSIC:
Antonio Vivaldi (1678-1741), The Four Seasons, Op. 8, Nos. 1-4, Composed around 1720, Strings and continuo, Approximately 40 minutes
The Four Seasons quickly became one of Vivaldi's most popular works. A pirated edition appeared in Paris within weeks of the Amsterdam publication, and by 1728, the concertos had become regular items on the programs of the Concert Spirituel in Paris. The Spring Concerto was adapted in 1755 as an unaccompanied flute solo by Jean Jacques Rousseau, the philosopher and dilettante composer who was attracted by the work's musical portrayal of Nature, and as a motet by Michel Corrette to the text Laudate Dominum de coelis in 1765. Today, The Four Seasons remains Vivaldi's best-known work, and one of the most beloved compositions in the orchestral repertory.

Though specifically programmatic (Lawrence Gilman went so far as to call The Four Seasons "symphonic poems" and harbingers of Romanticism), the fast, outer movements of these works use the ritornello form usually found in Baroque concertos. The orchestra's opening ritornello theme (Italian for "return"), depicting the general emotional mood of each fast movement, recurs to separate its various descriptive episodes, so that the music fulfills both the demands of creating a logical, abstract form and evoking vivid images from Nature. The slow, middle movements are lyrical, almost aria-like, in style. Though Vivaldi occasionally utilized in these pieces the standard concertino, or solo group, of two violins and cello found in the 18th Century concerto grosso, The Four Seasons is truly a work for solo violin and orchestra, and much of the music's charm comes from the contrasting and interweaving of the soloist, concertino and accompanying orchestra.
Alexander Glazunov (1865-1936), The Seasons, Op. 67, Composed in 1899.Woodwinds in pairs plus piccolo and English horn, four horns, two trumpets, three trombones, tuba, timpani, percussion, celesta, harp and strings. Approximately 36 minutes
Alexander Glazunov was gifted with an exceptional ear and musical memory, and early demonstrated his gifts in his native St. Petersburg. Glazunov's three ballets — Raymonda, Les Ruses d'Amour and The Seasons — were all produced between 1898 and 1900. The Seasons was premiered in St. Petersburg on February 7, 1900 with libretto and choreography by Marius Petipa, who had collaborated with Tchaikovsky on The Sleeping Beauty and The Nutcracker. The ballet has no distinctive plot, but is arranged as a series of four divertissements. In the First Tableaux, the Spirit of Winter enters with his attendants, Frost, Ice, Hail and Snow; each has a solo variation. Two gnomes suddenly appear, and set fire to some kindling. Unable to resist the warmth, Winter and his band approach the fire and disappear. In Tableaux Two, Spring dances joyfully with Zephyr amid a sunny field of flowers. Tableaux Three (Summer) begins with the appearance of the Spirit of Corn. The spring flowers wilt and their petals droop. Several Naiads enter, symbolizing refreshing streams. The flowers revive and dance with the Naiads. Suddenly, satyrs invade the grove, attempting, without success, to carry off the Spirit of Corn. Autumn (Tableaux Four) celebrates the grape harvest with a stirring bacchanale, with solo variations for Winter, Spring and Zephyr. The dance grows wilder until a deluge of autumn leaves ends the revels. The starlit sky is revealed as a reminder of the constancy of the universe that serves as the backdrop for the changes of the earthly seasons.
The Principal Concert Sponsor for the Santa Barbara Symphony's April 2013 concert is The Mosher Foundation.
Concert Schedules and Ticketing
All Saturday concerts begin at 8 p.m. and all Sunday concerts begin at 3 p.m. with a dynamic pre-concert lecture, "Behind the Music" starting one hour before the concert. Single ticket prices range from $39 to $100, with special rates for seniors, students and groups. To purchase subscriptions to the Santa Barbara Symphony, call the Symphony office at (805) 898-9386 or order online at www.thesymphony.org.
All Symphony concerts are held in The Granada Theatre at 1214 State Street in downtown Santa Barbara.
About The Santa Barbara Symphony
Celebrating 60 years of great music, the Santa Barbara Symphony Orchestra Association was founded on the belief that a special city deserves a special orchestra. The Symphony has been celebrated for its unique ability to deliver brilliant orchestral concerts while maintaining a strong commitment to education and community engagement. With audiences almost twice the size of any orchestra in the Santa Barbara area, the Santa Barbara Symphony is, according to Mayor Helene Schneider, "A jewel in Santa Barbara's crown." For more information, please go to www.thesymphony.org.
---