OJAI FILM FESTIVAL
A Party in Paradise
by Bonnie Carroll

The beautiful Glen Muse Estate was the destination for the lucky guests of the Ojai Film Festival 'Party in Paradise' , which featured a live auction and silent auction to benefit the upcoming 9th Annual Ojai Film Festival November 6-9. The rambling estate provided a garden area where live music was featured, and a patio that overlooked the entire property was a food feast venue.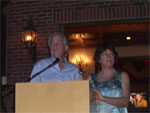 John Bennett Perry and Debbie Perry hosted the VIP fundraising event at the Glen Muse Estate, which included a limo shuttle service for guests to and from the event, as well as a colorful Hawaiian flower lei to wear as they perused the auction enjoying delicious hors d'oeuvres and sunset cocktails. 
 
Ojai resident and entertainment icon Larry Hagman and his wife Maj Hagman enjoyed chatting with enthusiastic e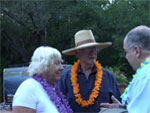 vent supporters. Auction items ran the gamut from designer gold necklaces to a weekend chic get-a-ways, including the Simpson House Inn, Santa Barbara. Also, many fine art works brought exciting bidding activity, including individual digital prints of the Beatles. 
 
The renowned California health aficionado and spa owner Sheila Cluff, who donated a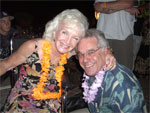 week stay at her condo in Colorado, amazed everyone when she arrived looking absolutely fantastic following a bad spill that fractured her hip. Other industry VIP's attending included Malcolm McDowell, David Shore, Bill Monat, Rinaldo Borutoco, Elizabeth & Steve Grumette, Vicki & Michael Baldwin and more.
 
The evening was a successful and enchanting beginning to what looks like another film festival not to be missed. Please visit: www.ojaifilmfestival.com.
---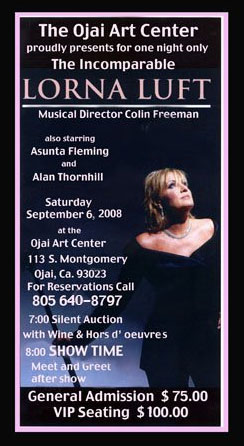 ---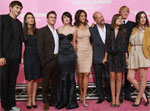 THE WHOLE FAMILY SHOWED
UP FOR RUMER WILLIS' PREMIER
OF HOUSE BUNNY
---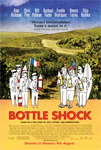 BOTTLE SHOCK - A HIT AT THE BOX OFFICE
Such a great story, fine acting, and an inspiring saga for young and old. Treat yourself and see this one!!!
---
MADONNA LAYS A BIG UGLY EGG WITH
FLIP-FLOPPED POLITICAL IMAGES DURING PERFORMANCE
Well, the 'Material Girl" has finally flipped her wig with the pathetic display of comparisons she exhibited during a recent performance. How very sad she cannot find anything else to try to reinvent herself one more time, and attempted to make a mockery of the upcoming election campaign by imposiing her warped view of the United States political candidates on an unsuspecting public, which by the way, seems a mute point because did she not become a Brittish citizen and does she not spend most of her time in England? But, perhaps that is a flip-flop tax thing?
Poor old girl had the picture backwards. It should have appeared like this:
Adolph Hitler - Here to Change the World, a/k/a "The Leader for Change"!
Obama - Here to Change the World, a/k/a "The Leader for Change"!
Go back and read or listen to Obama's speeches, please. They are  reminescent of the ego and orders given by AD prior to WWII. 
---
GEORGE . . .WHAT A GUY!!!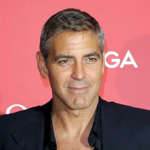 While tooling around in Pennibilli, Italy George Clooney rear ended the auto of an  unnamed woman. He apologized, said it was his fault, and offered to buy her a new car. When the woman went to the car shop where she had left her car to be repaired she found a new replica of her car waiting for her that Clooney had bought for her to replace the one he hit. He left her a note asking for her forgiveness. Really, can this guy get any smoother?
---