JULIE CHRISTIE TALKS CANDIDLY WITH MALTIN AT SBIFF
Academy Award Nominee Converses with Interviewer Leonard Maltin
by Bonnie Carroll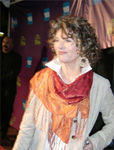 A tribute containing clips from the many great parts played by this ageless beauty was a special highlight of the SBIFF. Ms. Christie showed up looking hipper than she did in "Shampoo" and brought smiles and laughter to the audience in the Lobero Theatre with her charming and extreme candor.
From "Darling," a 1965 British film, to her latest Academy Award nominated role in "Away from Her", directed by Canadian actress Sarah Polley. Christie continues to captivated audiences with her intelligence, talent and enduring beauty. She is one actress who obviously contradicted the old adage that an actress could not be sexy and pretty at once.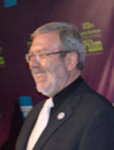 Leonard Maltin used his easy and revealing interview style to enable her to discuss her feelings about early ambitions as a child, her need to be in the spotlight, and later wishing for privacy. Maltin described her as a shy person who hated interviews, and was delighted she agreed to join him. Maltin began by saying that although Ms. Christie did not have an unending list of films she had completed, she had a body of work containing exceptional examples of her versatility and great style.
"I never watch my films, except in an instance such as this setting tonight, where clips run as part of the program." I hate to watch them because I recognize how my mouth moves when I am terrified, and don't want to relive those moments," she said. In regard to early childhood desires to act she said "I know that I embarrassed my mother as a child by wanting to put on plays and always wanting to be the center of attraction. She never really understood why I was doing what I did."
When asked about being expelled from school on several occasions she said "As a young school girl I was expelled for pulling my skirt up to my knickers, while lying in field of flowers near the school, which attracted the neighboring boys. It is interesting how little it took in those days to get expelled, she said.
Regarding her Academy Award performance in "Darling", the amazing film story of swinging London, which co-starred Laurence Harvey and was directed by John Schlesinger, she said everything was exciting during "Darling" and films that followed. "I thought everything was so exciting. I guess when you are young that is how life is, very exciting."
"Away from Her" starring Julie Christie is the story of a woman who is suffering from Alzheimer's, and the love her husband demonstrates to help her. No doubt, she could very well win an Oscar for this one.
---
CATE BLANCHETT RECEIVES SBIFF MODERN MASTERS AWARD
No Great Masters Without Great Mentors
by Bonnie Carroll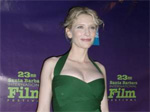 The red carpet of the Arlington Theatre in Santa Barbara was a media scene as Cate Blanchett, double Academy Award nominee, moved past the sea of reporters and photographers who were there to cover her acceptance of the Santa Barbara International Film Festival Modern Masters Award. Upon accepting her award from Director Todd Haynes she said "There can be no masters without great mentors" and preceded to thank all of her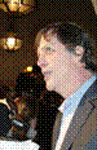 directors and fellow actors for the priceless part they have all played in her acting career.

As a graduate of the National Institute of Dramatic Arts, the Australian born actress has had a short but very successful acting career that has brought her international renown and numerous accolades in only seven years. She is a double Academy Award nominee for her roles in Elizabeth: The Golden Age and "I'm Not There".

Leonard Maltin conducted a warm and easy interview with the articulate actress that remained focused on the importance of her training as an ac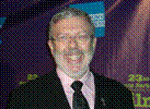 tress, and how she prepares for her roles. She discussed how key the willingness of a director to synergize with the actors process is to create great stage and film moments. She said she loved doing roles that enabled her to change characters within the script. The Bob Dylan character portrayed by Blanchett in "I'm Not There", directed by Todd Haynes in comparison to her role as the queen in "Elizabeth: The Golden Age," directed by Shakhar Kapur, is a case in point on what the actress herself describes as a special skill learned earlier in her career doing several character changes within one project. She values the communication and freedom between actor and director that is necessary for a great performance in each film she works in.

It was nearly overlooked that the actress will deliver her third child in April as she moved with grace along the red carpet, wearing a stunning emerald empire cocktail ensemble. Blanchett and her husband Andrew Upton have two small sons, and live in Australia. She is very much looking forward to the birth of their third child, and described her husband as being the perfect mate for her. They have worked together on several projects and currently have a new collaboration in process. They married three months after they met, and she said she expected him to propose on their third date.

The SBIFF Modern Masters Award has also been presented to Sir Anthony Hopkins, George Clooney, Sean Penn, Michael Douglas, Jodie Foster, Diane Keaton and Will Smith.
---
CHARLES DURNING HONORED WITH SAG LIFETIME ACHIEVEMENT AWARD AT 14TH ANNUAL
by Bonnie Carroll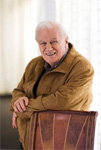 Charles Durning has performed in nearly 100 feature roles, including the tap-dancing Texas governor in "The Best Little Whorehouse in Texas," the lecherous Nazi Colonel Erhardt in "To Be or Not To Be" and hostage negotiator Detective Moretti in "Dog Day Afternoon." He's also portrayed the villainous frogs-leg restaurant magnate in "The Muppet Movie," Jessica Lange's father in "Tootsie" and Holly Hunter's father in "Home for the Holidays.
Durning is the perfect choice for the Life Achievement Award as Screen Actors Guild celebrates its 75th anniversary. Throughout his career, he has demonstrated his devotion to the craft of acting in every character he has portrayed. He is the "working actor" that every young actor wishes to be, the guy who always works because he understands 'there are no small parts only small actors."
When I think of great actors in Hollywood today--I think of Charles Durning. He has brought something special to every role. He is above all things a extraordinary actor with the talent to which we all aspire, and the ability to skillfully create unforgetable characters that will live in our minds and hearts forever.
SAG is America's largest union representing working actors, with 120,000 members in film, television, commercials, video games, music videos and other new media. The SAG Awards is the only nationally televised awards show of any kind that honors the work of union members.

---

The Victoria Film Festival will be held February 1-10. Tickets are on sale online NOW. The festival will showcase the best feature films, documentaries and shorts from Canada and around the world. Highlights of the Victoria Film Festival include the Opening Gala, and a red carpet screening followed by a 70's theme party.
Afterward, check out Loungerino, the hip festival hub in which to see and be seen with the movers and shakers of the festival - eat, drink, relax and discuss the films.
The club not your style? Visit Triple Shot Talks for an intimate series of free-wheeling conversations with filmmakers on how a good movie evolves from inspiration to script to screen--of course all while drinking coffee!
Also, at Sips and Cinema, join Festival Programmer Donovan Aikman after the screening on February 9th for a discussion of the film while indulging in the wines of Mission Hill.
The Fairmont Empress Hotel will offer a festival package for two including overnight accommodation, a full English breakfast each morning of your stay, four film festival tickets of your choice and a complimentary cocktail at the festival Loungerino. To book call (250) 384-8111.
---
Depp and Witherspoon Win People's Choice Awards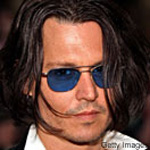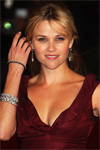 Johnny Depp and Reese Witherspoon were among the celebrities who won People's Choice Awards Tuesday in a televised program that was drastically altered due to the Hollywood writers strike.
Instead of receiving their statuettes to great applause during a traditional awards ceremony, the recipients taped acceptance speeches for a canned broadcast that aired on CBS.
Due to the Writers Guild Strike actors refused to cross the writer's picket lines.
---
That Daffy Kid From Brooklyn Just Won't Go Away:
Run of Popular Musical Extended to Feb. 24
By Bernard Bassett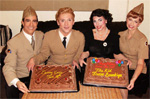 The critically acclaimed show at North Hollywood's El Portal Theatre, The Kid From Brooklyn: The Danny Kaye Story, celebrates the legendary entertainer and philanthropist in story and song.
All we can is: What a story, and what songs!
The Kid From Brooklyn, tells the story of Kaye's rich and eventful life: growing up in Brooklyn in the 20s, honing his skills on the Borscht Belt circuit, breaking through as a popular nightclub entertainer, and emerging as a Broadway star before making the jump to international prominence as a movie star.
The show showcases a brilliant tour de force by Brian Childres as Danny Kaye, as if the great entertainer himself had been reincarnated for the role. Completing a fine cast are Karin Leone as Kaye's wife and collaborator Sylvia Fine, Joshua Finkel as Laurence Olivier, and Christina Purcell as Eve Arden, Gertrude Lawrence and Vivien Leigh.
With recreations of some of Danny Kaye's most famous musical numbers for stage, television and film, The Kid From Brooklyn features many of his unforgettable routines, backed by a four-piece band, including "Pavlova," "Tchaikovsky," and "Minnie the Moocher."
On January 18th, which would have been Kaye's 95th birthday, the show's producers, Peter Loewy and Karin Leone, marked the occasion by treating the audience to slices of a special Danny Kaye cake.
The Kid From Brooklyn, which has played to capacity audiences during its initial limited run, has extended its engagement through Sunday, February 24th. Performances are Thursday & Friday at 8, Saturday at 3 & 8, and Sunday at 3. Tickets, which range in price from $40-$50, are available by calling 818-508-4200 or 1-866-811-4111, or online at www.ElPortalTheatre.com.

---

March 12-15, 2008 • Austin, TX


IF YOU ARE A FOREIGN BAND, PLEASE CHECK WITH YOUR LOCAL AUTHORITIES AND THE UNITED STATES GOVERNMENT REGARDING ANY VISA REQUIREMENTS NECESSARY TO PLAY THIS EVENT!
200+ artists performed in 2007 at RedGorilla in Austin, check out the RedGorilla Show Schedule.