TINSELTOWN TIDBITS   .   .   .
ARLINGTON THEATRE 90TH BIRTHDAY CELEBRATION HONORS MEMORY OF MAYOR HAL CONKLIN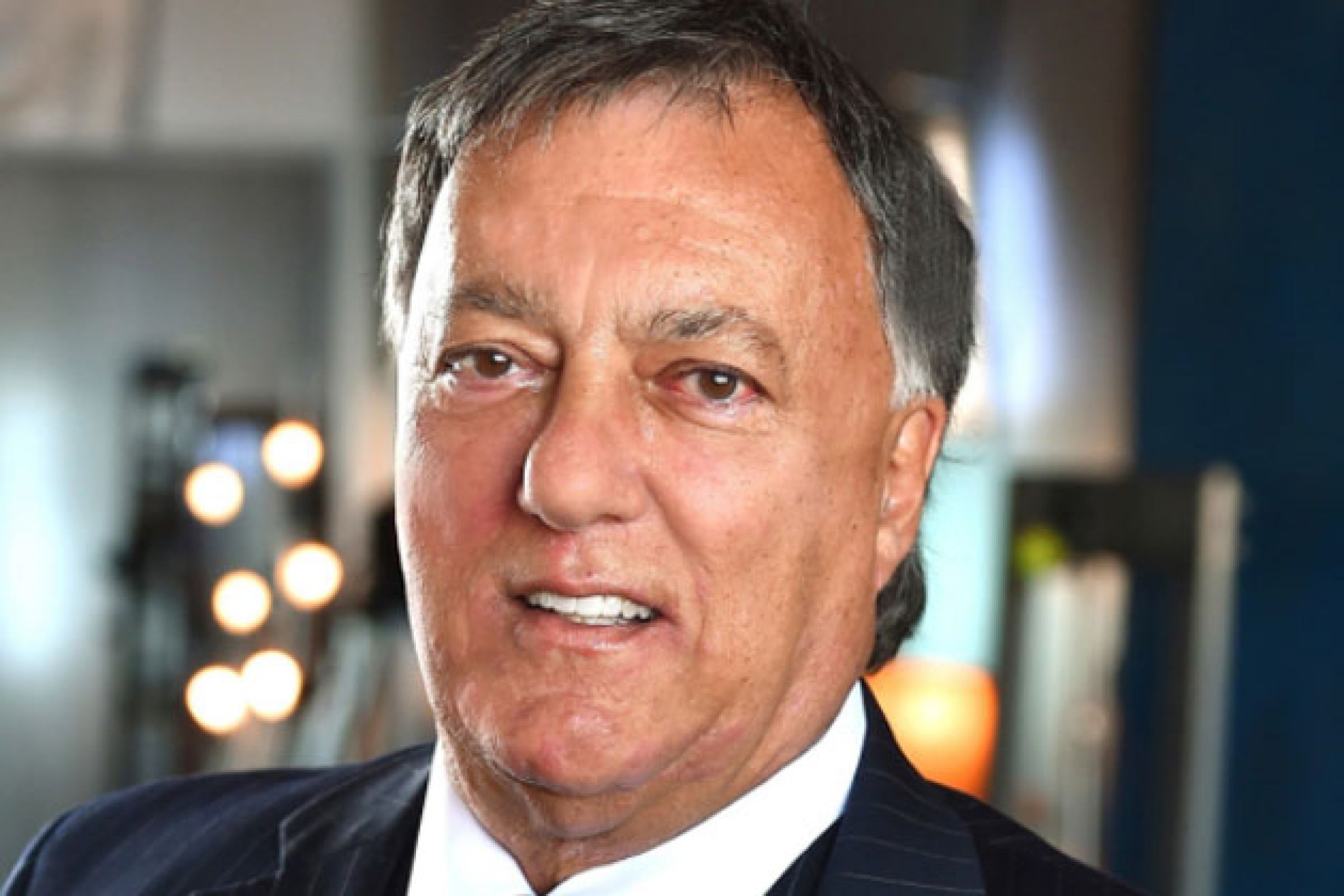 Hal Conklin

Iconic Theatre celebrates 90 years of Film and Artistic Performances
By Bonnie Carroll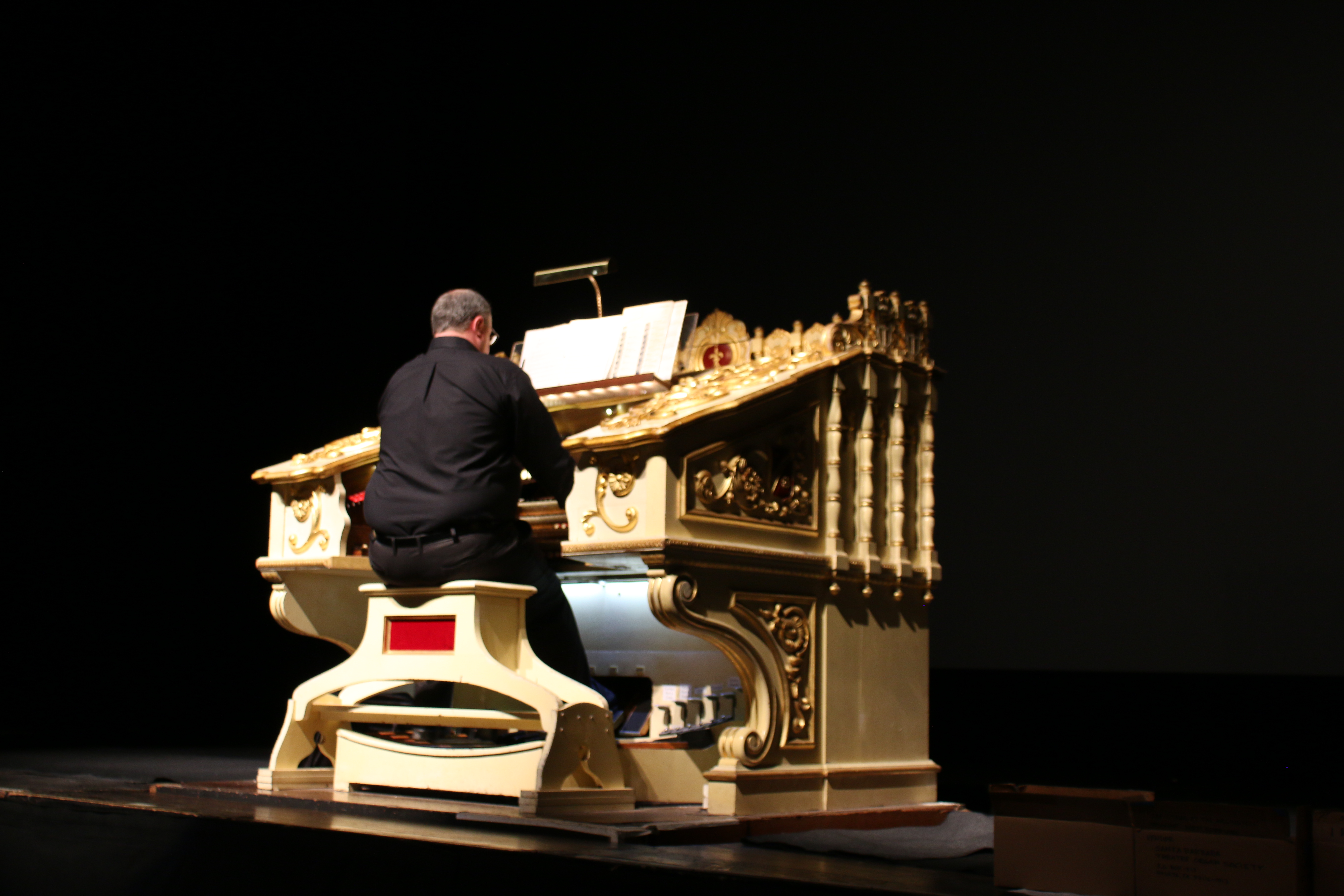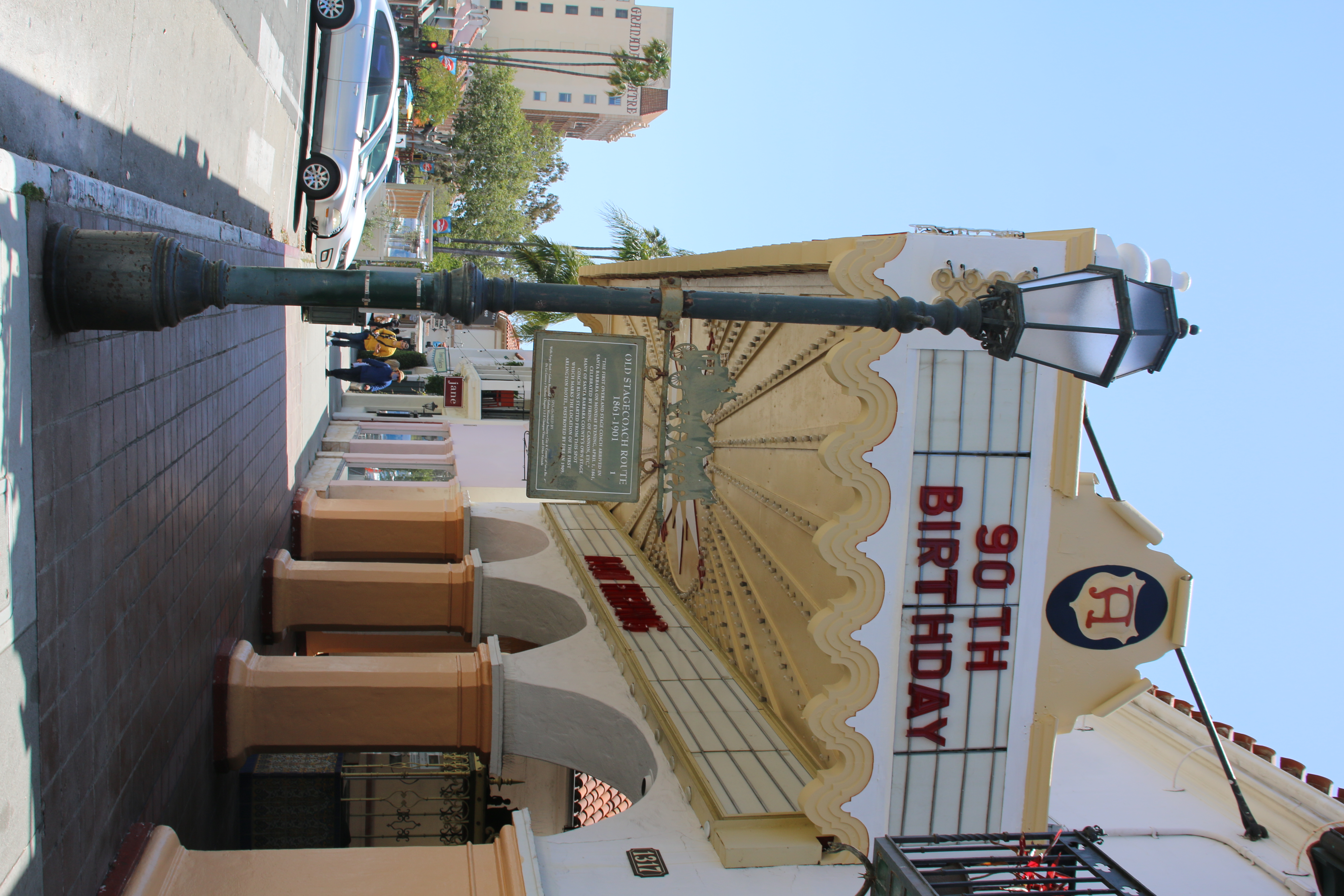 Organist Adam Aceto at Morton Organ during Arlington 90th Birthday
 The letters on the marque of the iconic Arlington Theatre spelled out the news of its 90th Anniversary celebration and the three-day event included special performances by local organist Alan Aceto on the historic Wonder Morton Organ, one of only five produced in America that was given to the community by a wealthy Texan who made them agree they would use it in the Arlington. The SBTOS, Santa Barbara Theater Organ Society members along with countless residents restored the organ and installed it for use with silent movie showings.
According to Karen Killingsworth, GM for the theatre, management announced upon hearing of former Mayor Hal Conklin's passing that the anniversary celebration would be dedicated to the late Mayor. Conklin was a huge supporter of the arts and all the historic theatres in Santa Barbara and worked closely with President Bruce Murdock of the Santa Barbara Theatre Organ Society board to raise funds and assist with programs for theatre improvements.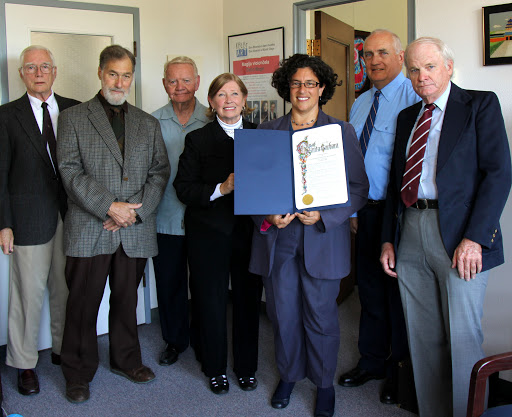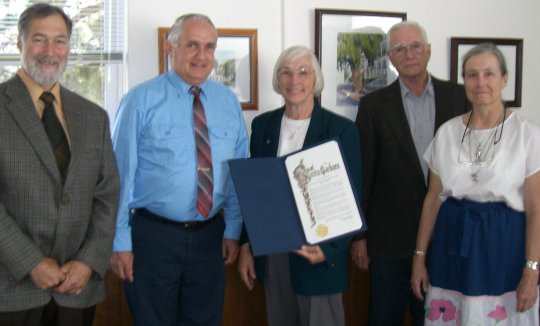 SBTOS Board Honors from Mayor Schneider * SBTOS Board Honors from Mayor Blum

Santa Barbara Theatre Organ Society members have been awarded well deserved proclamations honoring them for the work they have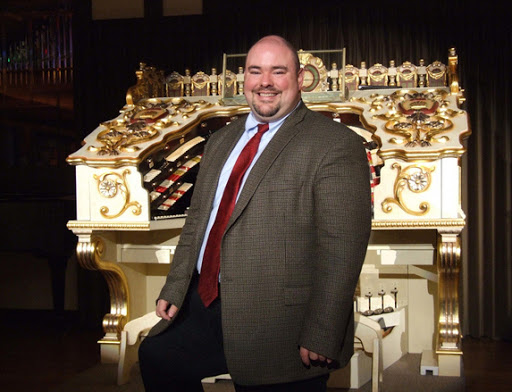 done over the years maintaining the organ. For two anniversaries they were awarded City of Santa Barbara proclamations, and renowned organist Scott Foppiano performed on the organ at these concerts. Both Santa Barbara Mayor Marty Blum and Mayor Helene Schneider presented the SBTOS board with awards of recognition, one of which is hanging in the lobby of the Arlington. For additional organ history please visit www.sbtos.org.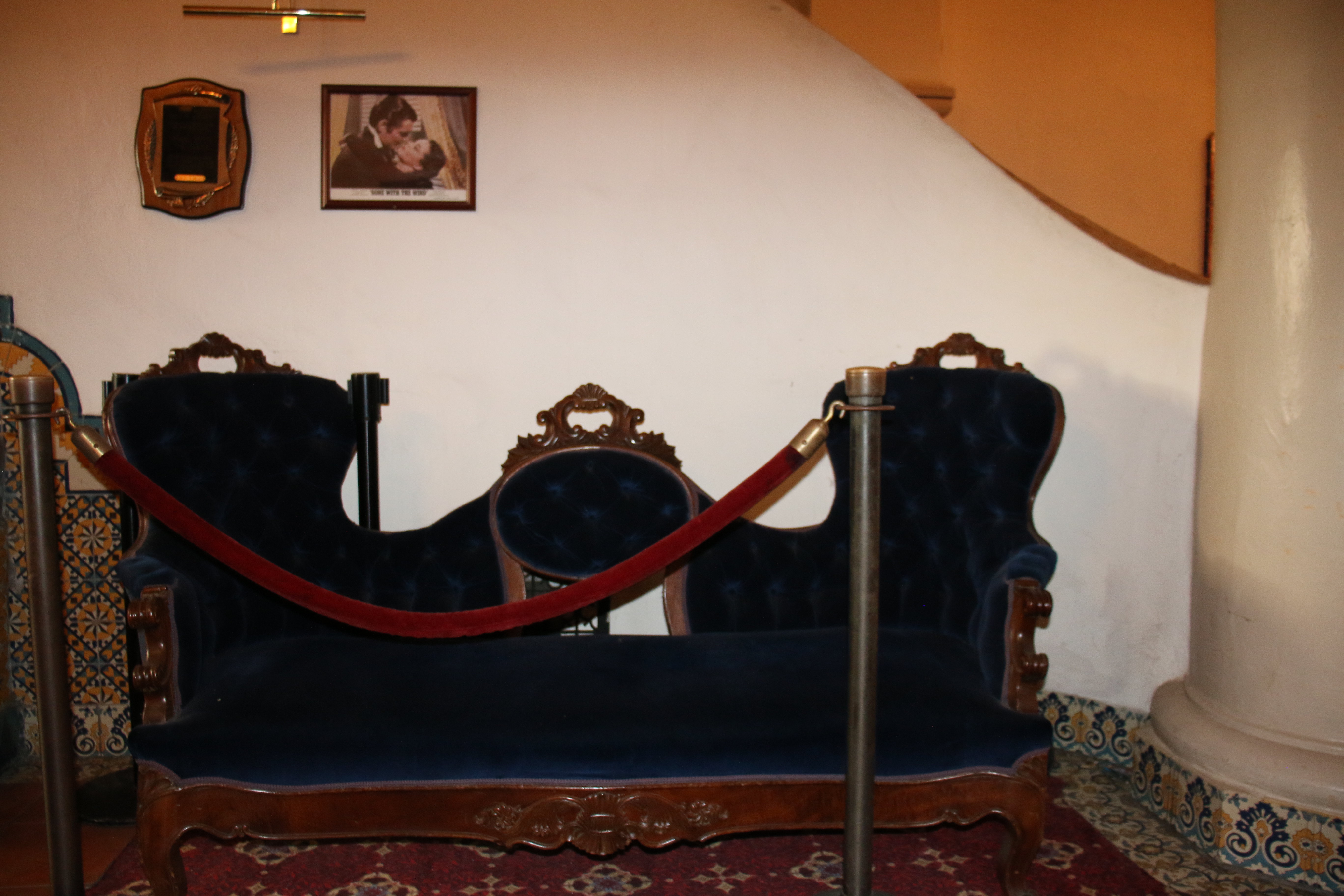 Sofa from Gone With the Wind
The 90-year-old theatre is a gorgeous historical building where the second preview of "Gone with the Wind" was held in 1939. According to Author Pauline Bartell On Wednesday, October 18, 1939, producer David O. Selznick held a second preview of Gone With the Win starring Clark Gable and Vivien Leigh. This time the location was the Arlington Theatre in Santa Barbara, California. The premiere event memorabilia can be seen throughout the Arlington  lobby along with awards and historic photos as well as an original sofa used in the film Gone With the Wind.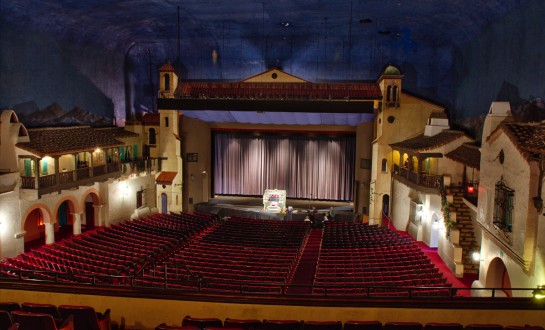 Arligton Theatre with Morton Organ Cener Photo: McGinn
The building was designed in Mission Revival and Spanish Colonial Revival by architects Edwards and Plunkett and it is the largest movie theatre and performing arts venue in the US with 2,018 seats. The beautiful hand-painted ceiling in the lobby sitting area is an artistic masterpiece, as well as the antique furniture and fixtures. Memorabilia and hand-painted wall murals thanking sponsors can also be seen throughout the lobby and waiting area. The story of the design of this beautiful old girl is fascinating. For details on the history of the building visit www.arlingtontheatre.com.
The Santa Barbara International Film Festival has held their red carpet and special tribute programs in this theatre for many years, and the history of celebrity appearances on that stage is mind-boggling. I feel blessed to have covered many of the SBIFF events, however, to the Santa Barbara residents the Arlington is a home-town movie theatre where they have spent years with their families happily enjoying the latest films and artist performances.  I love this special place and feel graced to have so many wonderful memories to enjoy and share. For details on SBIFF please visit www.sbtos.org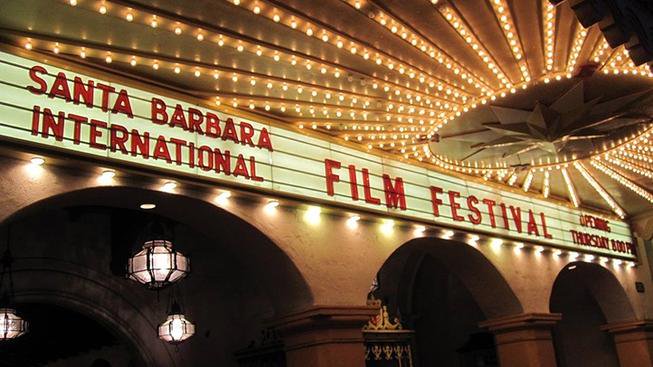 Arlington Theatre Film Festival Marque
Covid separation was honored throughout the three-day film showings and organ concert and everyone seemed to thoroughly enjoy celebrating 90 years with a movie and popcorn. Congratulations and a big thankyou to the staff at the Arlington for their ongoing warm hospitality and for preserving 90 years of great Santa Barbara history. We appreciate you and we love you!
_____________________________________________________________________

TO RETURN TO THE VENETIAN RESORT LAS VEGAS 
FOR SIX-SHOW LIMITED ENGAGEMENT
 Tickets on sale Friday, May 7 at 10 a.m. PT 
The legendary music group 
Earth, Wind & Fire 
will return to 
The Venetian Theatre inside
The Venetian® Resort Las Vegas
 for a six-show limited engagement in 2021. The shows will be held on November 10, 12, 13, 17, 19 and 20 at 8 p.m. 
Tickets start at $59, plus applicable fees, and will go on sale to the general public 
Friday, May 7 at 10 a.m. PT.
Tickets will be available for purchase at 
Ticketmaster.com
, 
Venetian.com
, any box office at The Venetian Resort or by calling 702.414.9000 or 866.641.7469. 
Earth, Wind & Fire are a music institution. Over their five-decade history, they've sold out concerts all around the globe, scored eight number one hits and have sold over 100 million albums worldwide. They have since released 23 albums, eight of which have gone Double Platinum and hit the Top 10, making them one of the best-selling artists of all time. They have also won an impressive nine GRAMMY Awards, including one for Lifetime Achievement (2012). In 2000, Earth, Wind & Fire was inducted into the Rock and Roll Hall of Fame, cementing their lasting impact on popular music. 
Celebrating timeless songs and a commitment to spreading positivity, Earth, Wind & Fire has consistently made music that has bridged the gap among all generations and nationalities. With a sound that blends funk, jazz, pop, soul and R&B, Earth, Wind & Fire launched a musical genre that can't be confined to a specific label except their own. Whether it's the funky and infectious "Let's Groove," to the timeless dance classic "September," to the heartfelt "Reasons," Earth, Wind & Fire's catalog of hits has become the soundtrack many lives; now, then and forever.
The music of Earth, Wind & Fire is more alive than ever as they continue to inspire new audiences and thrill those who have been with them from the beginning. Like the elements in their name, Earth, Wind & Fire's music has withstood ever-changing trends in the world and shows no sign of vanishing and they continue to create joy and uplifting music that will forever reach a sacred universal atmosphere.
Most recently, Earth, Wind & Fire faced off against the Isley Brothers for the popular music series Verzuz on Easter Sunday. Hosted by Steve Harvey, the two iconic groups performed their catalogues of classics and told stories, with an audience of four million viewers tuning in.
About Live Nation Las Vegas
Live Nation Entertainment (NYSE: LYV) is the world's leading live entertainment company comprised of global market leaders: Ticketmaster, Live Nation Concerts, and Live Nation Sponsorship. Live Nation Las Vegas produces residency shows from Usher, Keith Urban, Mariah Carey and Sting at The Colosseum at Caesars Palace; Lady Gaga, Aerosmith and Bruno Mars at Park Theater at Park MGM; Earth, Wind & Fire, Styx, Chicago, The Doobie Brothers, ZZ TOP and Adam Lambert at The Venetian Theatre at The Venetian Resort Las Vegas; Shania Twain, Kelly Clarkson, Christina Aguilera, Gwen Stefani and Scorpions at Zappos Theater at Planet Hollywood Resort & Casino; and Santana at House of Blues. Live Nation Las Vegas also brings other world-famous artists to many of the city's other premier concert venues including T-Mobile Arena, MGM Grand Garden Arena, Michelob ULTRA Arena, Downtown Las Vegas Events Center and more. For additional information, visit 
www.livenationentertainment.com
. Find Live Nation Las Vegas on 
Facebook
, 
Instagram
 and follow us on 
Twitter
.
About The Venetian Resort Las Vegas
The iconic Venetian Resort Las Vegas is comprised of three all-suite towers: The Venetian, The Palazzo, and the Venezia. 
The resort experience is marked by a commitment to sophisticated play with world-class restaurants from celebrated chefs; Canyon Ranch spa + fitness; a five-acre pool and garden deck; two casinos and a poker room, and enviable retail options at Grand Canal Shoppes. A premier events and conference center, the resort is also home to more than 2.25 million square feet of meeting and convention space. 
The Venetian offers guests a resort-wide loyalty program – Grazie Rewards – that provides guests with access and benefits based on their total spend throughout the resort and casinos, including slots, table games, hotel, food and beverage outlets, and retail.
In 2020, the resort launched its 
Venetian Clean
 Commitment, new cleanliness and operational protocols that meet or exceed the resort's already rigorous standards, a 
Venetian Clean
 document outlines top-line changes available at 
venetian.com/VenetianClean
. 
The names and brands mentioned above are trademarks and/or registered trademarks of their respective owners.
__________________________________________________________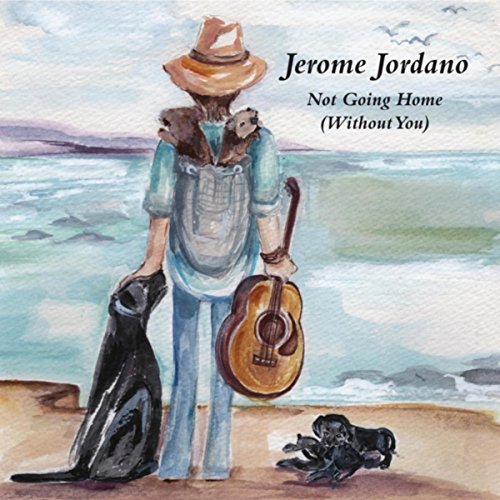 Album Release Jerome Jordano         
   Not Going Home (Without You)

Great new CD & Album release by Musician, Singer, Songwriter Jerome Jordano - available at CD Baby, i Tunes and Spotify, SPRS_jj Instagram.
$14.99 + Shipping
Shattered Paradigm Records, LLC

Live Authentically
 www.shatteredparidigmrecords.com
Also available in Vinyl $21.99 + Shipping
---