LA FREE CLINIC HONORS BARBARA MILLER FOX
AT "LAUGHING MATTERS"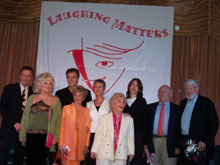 Barbara Miller Fox was presented the AnnaBell Award by Los Angeles Free Clinic Auxiliary founder and co-chair Greta Furst at the fifth annual Laughing Matters luncheon in the Beverly Hills Hotel. Award recipient Fox, a woman who is described as a community treasure who has given selflessly of her time, energy and financial assets to the LAFC, as well as many other fine organizations, was also honored in 2001 by Temple Israel as Distinguished Woman of the Year, and was also awarded The National Philanthropy Award by the City of Los Angles.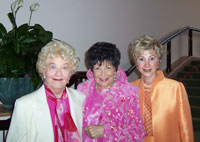 Fox graciously thanked Greta Furst, the Auxiliary members, and everyone at the clinic for honoring her with the fifth AnnaBelle Award. The unique award was created in honor of Annabelle Wasserstein, an elegant lady who devoted a lifetime of service to the community, and whose special gentle sense of humor made her the perfect person to be acknowledged with the Auxiliary's premiere Laughing Matters award in 2001. It was designed to give kudos to exceptional women who give freely to their community without expecting any recognition. Other AnnaBell award recipients include Soraya Malamed 2002, Rosa Kunin 2003, and Joan Seidel 2004.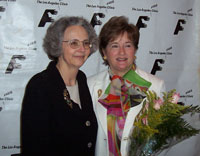 The Fifth Annual "Laughing Matters" panel included renowned celebrities Joe Bologna, Emcee, Renee Taylor, moderator and panelists Ed Asner, Theodore Bikel, Lisa Birnbach, Patrick Cassidy, Jamie Lee Curtis, Jack Klugman, Barbara Minkus, and Charlotte Rae, who gave guests a million dollars worth of laughs discussing topics that included their worst review, best review, and examples of the important part tragedy has played in comedic events in their individual lives.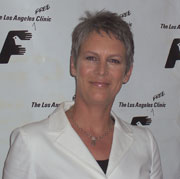 The LA Free Clinic has been serving the Los Angeles community since 1967. The clinic provides free and confidential medical, dental, and social services to the homeless, the uninsured, working poor, runaway and high-risk youth. Through its high standard of care and unique programs, The Los Angeles Free Clinic is a beacon of hope and innovation to the tens of thousands of people who walk through its doors each year.
SVEND INGERSLEV AND GAVIN MACLEOD
HONORED BY JEFFREY FOUNDATION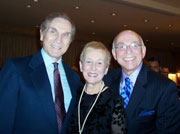 Renowned actor Gavin MacLeod, known for his role in "Love Boat", and Svend Ingerslev of Lladro, Beverly Hills were presented the Celebrity & Business Awards by Helen and Peter Mark Richman at the 33rd Circle of Love Dinner to benefit The Jeffrey Foundation, located on Washington Boulevard in Los Angles, the foundation assists low income and poverty level special needs children and their families by providing therapeutic, educational and recreational programs.
info@thejeffreyfoundation.com

A WILD PAPARAZZI RIDE WITH NICOLE & PARIS
Miss Nicole Richie, gal pal of Paris Hilton, created her own photo frenzy when she recently became an accessory for the Beverly Hills Cycle, the hottest new 2 wheel transportation in town.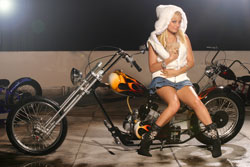 CELEBRITY SCENE IN SANTA BARBARA GOES OFF THE CHARTS!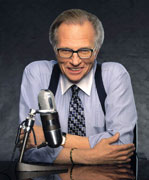 LARRY KING APPEARS AT JACKSON TRIAL
Renowned entertainer Larry King made a brief appearance at the Michael Jackson trial in Santa Maria, California to give support to the international music legend in his current child molestation trial. Other celebrities scheduled to appear represent a who's who of the entertainment industry.

BACARA RESORT ROCKS DURING OPRAH'S LEGENDS BALL
The exquisite European seaside resort in Santa Barbara was the center of the universe for a night as Oprah Winfrey paid homage to those she most admires in the world at the Legends Ball. Everyone imaginable was there, including Tom Cruise and his darling Katie, who may very well end up as the next Mrs. Cruise if things keep moving at this pace. Personally, I think it is fun to see a couple who is so happy! Every detail of the event was perfectly planned in advance, and a good time was had by all. The women guests at Oprah's celebrity showcase event were all given a pair of earrings valued at two hundred thousand dollars. Is this "Bling-Bling" heaven, or what?

OLD SOUNDS RAISE NEW DOLLARS
Gladys Knight & The Pip's rocked the La Costa event to raise funds for the Scripps Foundation. A who's who of the entertainment industry were present, including the wife and daughter of the late music industry icon Barry Gordy.
---
The Southern California Chapter of the American Women in Radio and Television honored Leeza Gibbons, Kelly Lange, and Sheri Tobin for their extraordinary contributions to radio and television broadcasting in Southern California at the 2005 Genii Awards in Los Angeles.