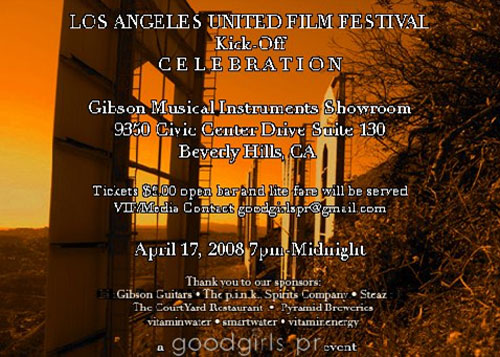 ---
CITIZEN MCCAW OPENS TO A FULL HOUSE
IN SANTA BARBARA
Former Santa Barbara News Press Employees Receive a Standing Ovation
by Bonnie Carroll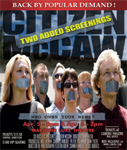 The Arlington Theatre in Santa Barbara was filled to capacity for the opening of the controversial film "Citizen McCaw," a docu
mentary produced by survivors of the McCaw Santa Barbara News Press dynasty.
The film honestly and clearly gives the facts of the wrongful firing of a group of great newspaper people, who represent a kind of American spirit that was so moving that there was hardly a dry eye in the place.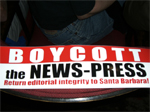 As a journalist, and someone who has been lucky enough to be surrounded by writers throughout my life, I felt so much emothion while watching the film that it can hardly be chronicled. This is a shocking story of employee abuse, human disregard, and the proactive way in which a tight group of really good and extremely talented people dealt with the unfair hand dealt them by Wendy McCaw, publisher of the Santa Barbara News Press.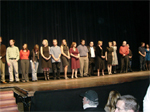 The evening ended with all of the employees who were involved in this disgraceful American tragedy standing up on the stage of the Arlington, with the entire audience giving them a standing ovation.
The demand for tickets prompted to the film hasw created a need for additonal showings of the film in April.  I recommend that every American see this film. For information go to www.CitizenMcCaw.com.

---
GRANADA THEATRE GETS A FACE LIFT
story and photos by Bonnie Carroll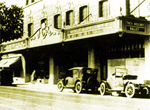 The historic Granada Theatre in Santa Barbara reopened this month, following a major renovation. People were lined up around the block to see the beautiful improvements, and enjoy local musicians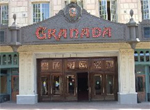 who entertained on stage and on the street in front of the new Granada marque that is a replica of the original that was hung when the theatre opened on April 9, 1924. The original opening was attended by Mary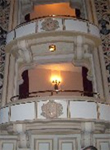 Pickford and Douglas Fairbanks.    
 
Much of the original artwork and design has been  preserved, however, additional boxes were added, and updated equipment for stage and sound areas were made. The beautiful seats are still there, but have been made a bit more comfortable. The overall effect is simply stunning, and it is wonderful that this Santa Barbara treasure will live on fore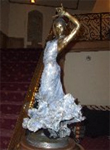 ver.
 
Natalie Cole was the headliner for the 2008 Gala opening, and it was sold out. A bevy of parties and celebrations surrounded this special occasion in Santa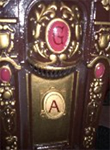 Barbara, but the best fun was watching the ordinary people come in for a special Sunday showing that allowed little girls to dance below the stage, while a string quartet was performing, and the members of the community could see, touch and feel their beautiful new Granada Theatre.
 
The upcoming year is filled with great performances at the beautiful 'old girl' and to see the schedule please visit: www.granadasb.org.

---
Robert Plant and Alison Krauss will perform at the Santa Barbara Bowl on Wednesday, June 25 in support of their critically acclaimed album, Raising Sand.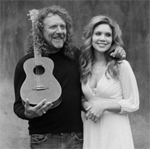 Raising Sand continues to be a top-seller worldwide and has already reached Gold certification.  Recipients of the 2007 Grammy award for Best Pop Collaboration with Vocals, for the track "Gone Gone Gone (Done Moved On)", Plant and Krauss—along with Raising Sand producer and band leader T Bone Burnett—have created a show that will feature songs from their collaborative release, as well as from both artists' extensive career discographies.

Band members for the tour include Jay Bellerose (drums) and Dennis Crouch (bass)—both of whom played on Raising Sand—as well as Buddy Miller (guitar) and Stuart Duncan (fiddle, mandolin and other instruments).  Burnett will play guitar and 6-string bass, as well as perform several songs.

As previously announced, Robert Plant and Alison Krauss will kick-off their Raising Sand World Tour in April with a brief run of shows that includes an April 25th performance at the New Orleans Jazz & Heritage Festival.  They follow those dates with eleven shows in Europe and the UK that conclude with a performance at Wembley Arena on May 22nd.

Don't miss your chance to see Robert Plant and Alison Krauss at the Santa Barbara Bowl on Wednesday, June 25, 2008.  Ticket prices range from $47 to $82, plus applicable service charges.  The Santa Barbara Bowl is located at 1122 N. Milpas, Santa Barbara, CA 93103, 805-962-7411.
Tickets On Sale Saturday, March 22 at 11am
---
FRENCH QUARTER FESTIVAL
April 11-13, 2008
A Musical Extravaganza in the Vieux Carre

The French Quarter Festival amplifies the good times in the Vieux Carre with three days of free entertainment including more than 150 performances on 15 stages.  Held annually in mid-April, great food, second-lines, impromptu performances, special events, and some of Louisiana's greatest jazz and blues musicians make this one of Louisiana's top festivals.
  
The fact that the festival is scattered throughout New Orleans' most famous neighborhood is what makes it so appealing.  Visitors can stroll from stage to stage, take in the Quarter's historic architecture, stop in at an art gallery or grab a bite to eat at dozens of restaurants.  The French Market is always a great place for souvenir shopping while the riverfront is usually packed with thousands of people sprawled out on blankets in front of the main stages.  Attracting a large mix of locals and visitors, there's no better time to experience the true heart and soul of New Orleans than to visit during this festival.
  
With a true dedication to supporting the local music community, the French Quarter Festival only schedules local musicians.  Over the years, performers have included young fiddle sensation Amada Shaw; jazz trumpeter Kermit Ruffins; renowned bluesmen Coco Robicheaux, Little Freddie King and Walter "Wolfman" Washington; and Latin singing sensation Fredy Omar.
  
It would almost be a crime to celebrate anything in New Orleans without great food so the fest ensures its legitimacy with 60 food and beverage booths throughout the fair.  Making up the "World's Largest Jazz Brunch," the booths serve such local delicacies as Cajun meat pies, oyster patties, alligator sausage, gumbo, red beans and rice, and jambalaya.
  
French Quarter Fest is also filled with fun events for children.  McDonough 15 School hosts a "Family Friendly Fest" with children's entertainment, activities, art workshops, a visual art sale, and puppet shows.
  
Founded in the '80s, the French Quarter Fest has grown to be the largest free outdoor festival in Louisiana and attracts upwards of 400,000 visitors every year.  The festival takes place in Jackson Square, Woldenberg Park, the U.S. Mint and numerous places throughout the French Quarter.  Statistics from FQFI.org.
---