KATHRYN BIGELOW NAMED OUTSTANDING DIRECTOR OF THE YEAR AT 25TH SANTA BARBARA INTERNATIONAL FILM FESTIVAL
SBIFF to present a retrospective of Bigelow's films

The Santa Barbara International Film Festival is pleased to announce Kathryn Bigelow as the Outstanding Director of the Year for the 2010 Silver Anniversary edition. in what has become an annual tradition in featuring a Guest Director, SBIFF will program a retrospective of Bigelow's films.

As a writer, director, producer, Bigelow has created some of the most action-packed and intense subject matter films for the last two decades. Her films include Near Dark, Point Break, Strange Days and this year's highly- touted drama The Hurt Locker, to just name a few.

On Monday, February 8, SBIFF will present "A Celebration of Kathryn Bigelow." A director not afraid to push the envelope in the cinematic world, Kathryn Bigelow has the eye for the picture she wants to present and then does so, with an expertise that is both gracious and bold. Having studied art, she takes her vision and presents it to her audience all the while telling a tale that evokes various and intense emotions. Bigelow graduated from Columbia's Film School and started a career, gaining experience in numerous genres - such as music videos, television and film, showing us once again the depth of her creativity and talent.

Commented SBIFF Executive Director Roger Durling, "Kathryn's custom of the first person perspective throughout her films, as seen in Point Break and Strange Days, had always made her films visceral and favorites of mine, but the culmination of this is The Hurt Locker - her crowning achievement. The fact that I'm able to honor a fellow alumnus of the Columbia Grad School is icing on the cake."

The 25th Santa Barbara International Film Festival, set to run February 4 - 14, 2010, is a non-profit organization dedicated to enriching local culture and raising consciousness of film as an art form. SBIFF presents quality American Independent, Spanish and Latin American, European, World and Documentary cinema, as well as nature and surfing films, all within the beautiful setting of downtown Santa Barbara, a perfect backdrop and premier tourist destination in its own right. SBIFF is also committed to education through its 10-10-10 Student Filmmaking and Screenwriting Competitions, Field Trip to the Movies, and educational seminars. With a projected audience of 60,000 viewing more than 200 films over its eleven-day run, the SBIFF attracts an eclectic and diverse consumer base, both locally and nationally, while maintaining strong ties with the entertainment industry in nearby Los Angeles.

For ticket information, contact the SBIFF office, 805-963-0023 or visit www.sbfilmfestival.org,

---
NINE Delights Audiences by Bonnie Carroll
Nine is a 2009 musical-romantic film directed and produced by Rob Marshall. The screenplay, by Michael Tolkin and Anthony Minghella, is based on Arthur Kopit's book for the 1982 Tony Award-winning musical of the same name, which was derived from an Italian play by Mario Fratti inspired by Federico Fellinis autobiographical film 8½. Maury Yeston composed the music and wrote the lyrics for the songs. The film premiered in London and was released in the U.S. on Christmas Day.
Daniel Day-Lewis is so delicious as the Federico Fellini inspired character that I am sure the Maestro is smiling where ever he is today. The story takes viewers from Rome to Rimini, where Fellini spent his life. The performances by the star-studded collection of outstanding actresses in the film were stellar, from Dame Judi Dench, to Kate Hudson to Fergie to Nichole Kidman. Sophia Loren, who knew Fellini gave credibility and grace to the plot portraying the Italian directors mother. Marion Cotillard was magnificent as the long suffering wife of a creative film genius, but the real surprise was Penelope Cruz who blew the roof off the theatre with her steamy portrayal of the seductive mistress of the Maestro. The song and dance scene she performed was brilliant. Bravo to everyone on a great job!
The principal cast consisted of Academy Award winners Daniel Day-Lewis, Judi Dench, Nicole Kidman, Marion Cotillard, Penélope Cruz, Sophia Loren, Golden Globe winner Kate Hudson and Grammy Award winner Fergie.
Music Score by Andrea Guerra
Songs Maury Yeston
Cinematography Dion Beebe
Editorn by Claire Simpson – Wyatt Smith
Studio  Relativity Media
Distribution  The Weinstein Company
Release December 3, 2009 US December 26, 2009-12-26
Written by Anthony Minghella, Michael Tolken
Produced by Rob Marshall, Marc E. Platt, Harvey Weinstein, John De Luca

---
American Women in Radio & Television

2010 GENII AWARDS - SAVE THE DATE

Six exceptional women will be honored at the gala event Wednesday, April 14, 2010 at the Skirball Cultural Center in Los Angeles, CA.
CLICK HERE

for Sponsorship and ticket information

. 

---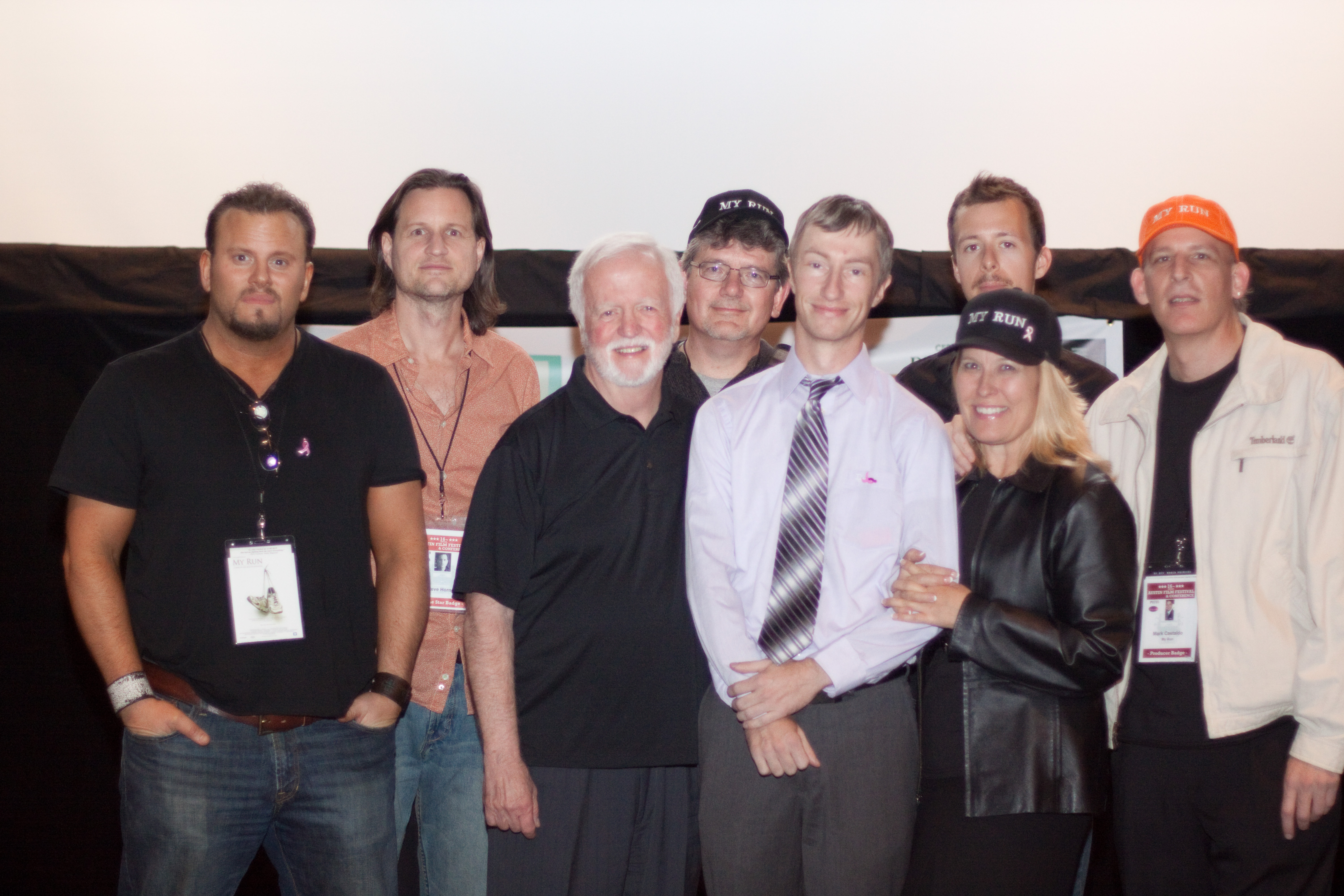 MY RUN TEAM
The "My Run" Team enjoyed some great success at the Austin Film Festival and will be participating in the Santa Barbara International Film Festival in February 2010. For information visit www.myrun.com. GO TEAM!!
---
New Mexico Film Union Publishes Green Film Making Guide
IATSE Local 480, the film technicians union for the state of NM have just received "Green Filmmaking Reduce… Reuse… Recycle…Repeat."
This guide offers tips and techniques to working crew on the latest green practices in the film industry. Local 480 members Peter and Cheryl Clarson wrote this book as a guide that should be in every set truck, and glove box, on every movie shot in NM. The book was produced by Jon Hendry, Local 480's Business Agent.
Hendry was quoted as saying, "We'd really like to get these into the high schools and colleges where they are teaching film techniques so the new technicians learn the green way. NM has always been a leader in green film making, and now we've written it down." When asked why it wouldn't simply be greener to publish as a web site Hendry's response was. "It's often not possible to access the internet on a film set; this is a grab & go book with quick answers & solutions."
National Geographic's All Roads Film Project in NM has already purchased quantities to distribute in their high school filmmaking programs.
Copies are available for review by emailing info@iatse480.com
---
THE GRASCALS NOMINATED FOR SIX SPGMA AWARDS
Announcing nominations for Vocal Group Of The Year, Instrumental Group Of The Year, Entertaining Group Of The Year and Bluegrass Band Of The Year (overall), Kristin Scott Benson for Banjo Player Of The Year, Danny Roberts for Mandolin Player Of The Year
The Grascals received six nominations this week for the 2010 SPGMA Bluegrass Music awards. The 36th SPGMA Bluegrass Music Awards & 27th National Convention is scheduled for Feb. 4-7, 2010 in Nashville, Tennessee, where The Grascals are scheduled to perform.

The Grascals have earned a total of twelve SPGMA awards in years prior, including Album Of The Year (2009, 2006), Bluegrass Band Of The Year (2008, 2007), Instrumental Group Of The Year (2009, 2008, 2007, 2006), Banjo Player Of The Year (2009), Mandolin Player Of The Year (2008, 2006), Song Of The Year (2006).
The Grascals are putting the final touches on their upcoming Rounder Records album release (title TBD), due late March 2010. To request review copies, please see contact info below.
For more information on the Society for the Preservation of Bluegrass Music of America, their awards and convention, please visit:
http://www.spbgma.com/
For more info on The Grascals, their tour itinerary and more, please visit
www.grascals.com

"…one of my favorite new bands of any genre of music." – Dierks Bentley

"The Grascals are the best bluegrass band in the universe!" – Charlie Daniels

"I am so proud of The Grascals. They are one of the best bluegrass bands I have ever heard. They are all so very talented as vocalists and instrumentalists." – Dolly Parton
---
BROADWAY/L.A. LAUNCHES THE
Pantages Hollywood iPhone App


APP IS AMONG THE FIRST DESIGNED SPECIFICALLY
FOR THEATRICAL ENTERTAINMENT VENUE
Wednesday, January 6, 2010 - As part of its continuing celebration of the Pantages Theatre 80th Anniversary, Broadway/L.A. announces a technological advancement that provides a new way for Los Angeles theatre patrons to connect with the premiere venue for blockbuster Broadway presentations in the Southern California: the Pantages Hollywood iPhone App.  Currently available for complimentary download on iTunes, the Pantages Hollywood iPhone App is among the first applications designed specifically for an live Broadway venue.
Among the many features included in the Pantages Hollywood iPhone App are the ability to check out current and upcoming shows playing the theatre, the ability to purchase tickets online or by phone with Ticketmaster, and the ability to get general information on the theatre and its lush Hollywood history.  The iPhone App will also prove useful for patrons unfamiliar with the Hollywood area as the application provides door to door directions to the theatre, parking information, and information on nearby restaurants within short walking and driving distance.  The application will also provide users access to current special offers including presale and discount availability while providing t he opportunity to sign up for mobile and e-mail alerts.  Finally, those interested in fun and interesting content generated by Broadway/L.A. will be able to access "Postcards From Pantages" blog postings, view YouTube channel updates, and even become a fan of Broadway/L.A. on Facebook, or follow the organization on Twitter.
To watch a video tour of the App and to get other useful information, please visit www.BroadwayLA.org/iPhone. 
Located just east of the fabled corner of Hollywood and Vine, the Pantages Theatre has become one of the greatest landmarks of Hollywood, signifying both the glorious past and adventuresome future of the world's entertainment capital.
With a grand and diverse history -- a movie palace with live vaudeville acts between features, the site of many gala film premieres and "spectaculars," the 10-year home of the Academy Awards, the headquarters for Howard Hughes, and a favorite location to film television shows, films and music videos - the Pantages is now Los Angeles' preeminent home for big Broadway entertainment.
---
from Accademy Winner Giuseppe Tornatore
 "Golden Globe Nomine" 
"2009's Oscar Category for Best Foreign Language Film from Italy"
At The Aero Theatre
1328 Montana Avenue (at 14th street) in Santa Monica, 90403
Street parking readily available north of Montana Avenue on side streets.
 Wednesday, January 13 - 7:30 PM - Aero Theatre -
BAARIA
, 2009
, (Italy), Summit Entertainment, 150 min. Dir. Giuseppe Tornatore. From Academy Award® winner Giuseppe Tornatore (CINEMA PARADISO) comes an entertaining and melancholic saga set in 20th-century Sicily. Tornatore traces three generations of a Sicilian family, from the 1930s to the 1980s, to tell the story of the loves, dreams and delusions of an unusual community. "A moving, autobiographical, nostalgic tribute to the director's Sicilian hometown of Bagheria ("Baaria" in the local dialect) as well as his family."
---