GEORGE CLOONEY WINS HEARTS
WITH "LEATHERHEADS"
---
BARBRA STREISAND ENDOWS PROGRAM
AT CEDARS-SINAI WOMEN'S HEART CENTER
 $5 million gift supports women's cardiovascular research and education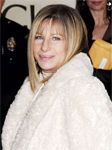 A bold new resource for women's heart health, The Barbra Streisand Women's Cardiovascular Research and Education Program at Cedars-Sinai, has been created with a philanthropic gift of $5 million.  The gift brings to nearly $16 million the money raised from her recent concert tours she has directed to charitable distribution in the areas of education, the environment, women's health, and other key civic concerns.
"Cardiovascular disease is the leading killer of women," says Eduardo Marbán, MD, PhD, director at the Cedars-Sinai Heart Institute.  "It kills nearly 500,000 women in the U.S. each year, more than all cancers combined.  The medical system has failed to recognize female-pattern heart attack symptoms;  current testing and treatments are geared toward male physiology."
Ms. Streisand, who has contributed to women's health programs through the Streisand Foundation since 1986, explained: "Women need to be educated about female cardiovascular disease, and the medical community must be propelled toward change.  Just like with breast cancer, the impetus must come from women themselves striving to become empowered to reduce their risks for heart disease."
Streisand's endowment will provide permanent funding for research and education at the Cedars-Sinai Women's Heart Center, which will empower women with vital information about female cardiovascular disease and raise awareness of the disease within the medical community.  It will expand current and future research efforts and create breakthrough diagnostics, treatments and technologies.  It will facilitate better understanding of gender differences in heart disease, with the aim of improving treatment options for women at risk for, or suffering from heart disease.
The endowment supports the work of C. Noel Bairey Merz, MD, director of the Women's Heart Center at Cedars-Sinai and holder of the Women's Guild Chair in Women's Health and is organized around the five frontiers of women's cardiovascular research:
Ending cardiac death in women through early detection

Advancing new treatments for microvascular coronary dysfunction, an often deadly disorder primarily affecting women

Identifying gender-specific genes and proteins that increase or reduce the risk of heart disease in women

Conducting clinical trials of promising new drugs for women

Understanding how to harness nutrition, exercise, and stress management to reduce heart disease in women
Even physicians do not fully appreciate the degree to which women are at risk for heart disease.  Most are insufficiently aware that a woman having a heart attack is 20 percent  more likely to die from it than a man.  Dr. Bairey Merz urges that "It must become a top priority on the national medical agenda to make testing, diagnosis and treatments more relevant to female physiology.  We are thrilled Ms. Streisand has chosen to make women's heart health a priority of her philanthropic giving."  She goes on to explain:  "As an endowment, funding for the dissemination of education -- both among women and within the medical community -- and research into relevant testing and treatments can continue, not just for the immediate future, but for generations to come."
---
MARMALADE CAFÉ FEATURED CHRIS STANDRING
AT SMOOTH JAZZ SUNDAY BRUNCH SERIES
WITH MAGIC 103.6
Renowned British Born Jazz Musician With Album in Top Five Performed Live at Santa Barbara Dining Venue
Marmalade Café, an Innovative California restaurant in Santa Barbara, recently featured the talent of one of contemporary jazz's most dynamic and in-demand guitarists at their second Sunday Smooth Jazz Brunch. Patrons savored delicious brunch favorites, while listening to the best in smooth jazz.
Marmalade Cafe was started in Santa Monica on Montana Blvd. in the early 90s by Bobby Burns, Bonnie Burns, and Selwyn Yosslowitz. The family run business now has restaurants in Santa Barbara, El Segunda, Rolling Hills Estates, Santa Monica, Malibu, Los Angeles - Farmer's Market, Calabasas, Sherman Oaks and Westlake Village, California. www.marmaladecafe.com
---