The Los Angeles
Film & Television Office
French Embassy
proudly presents:
Now in Theatres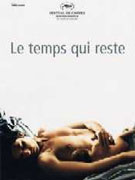 Time To Leave (Le temps qui reste)
Laemmle's Sunset 5 (West Hollywood), Laemmle's Playhouse 7 (Pasadena), Edwards' University Town Center 6 (Irvine)
Directed by: François Ozon
With : Melvil Poupaud, Jeanne Moreau, Valeria Bruni-Tedeschi, Daniel Duval...
France, 2005, 85mn

TIME TO LEAVE is a stunning contemplation of human mortality. Romain, a handsome, flourishing Parisian fashion photographer, is diagnosed with an inoperable brain tumor and given only a few months to live. Hiding his illness, he dumps his baffled boyfriend and alienates his close family in short order. Romain finds solace with his uncompromising grandmother (played to perfection by screen legend Jeanne Moreau) and has a chance encounter with a roadside waitress (Valeria Bruni-Tedeschi) that will lead to an unexpected opportunity. Showcasing the increasingly mature talents of its acclaimed director François Ozon, TIME TO LEAVE is a gripping, masterfully understated, deeply honest film.

TIME TO LEAVE was a selection in the Cannes Film Festival and the Toronto Film Festival, 2005.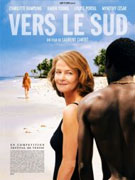 Heading South (Vers le Sud)
Opening in July
Laemmle's Royal Theater (West Los Angeles), Laemmle's Playhouse 7 (Pasadena), Laemmle's Town Center 5 (Encino), Laemmle's Lido (Newport Beach)
Directed by: Laurent Cantet
With: Charlotte Rampling, Ménothy César, Louise Portal, Karen Young...
France/Canada, 2005, 106 mn

Haiti, late 1970's. Sea, sex and sun for Ellen (Charlotte Rampling), Brenda (Karen Young) and Sue (Louise Portal), three North American women, on the wrong side of forty or fifty-odd, going through an enchanted interlude. Lonely, forsaken, neglected by men in their native countries, they are looking for flirtation, relaxation and respite from their colorless lives; they can indulge here in carnal exultation without shame, thanks to handsome local young men they pay a few dollars.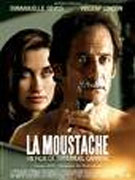 La Moustache
Opened July
Laemmle's Town Center 5 (Encino)
And still playing at Laemmle's Music Hall 3 (Beverly Hills)
Directed by: Emmanuel Carrère
With: Vincent Lindon, Emmanuelle Devos, Mathieu Amalric, Hippolyte Girardot...
France, 2005, 86 mn
Marc and Agnès are an attractive, successful Parisian couple, who have been together for many years. One evening, before joining friends for dinner, Marc decides on a whim to shave off the moustache he's worn all of his adult life. He waits patiently for his wife's reaction, but neither she nor his friends seem to notice. Stranger still, when he finally tells them, they all insist he never had a moustache. Is Marc going mad? Is he the victim of some elaborate conspiracy? Or has something in the world's order gone terribly awry? Adapted from his own novel, Emmanuel Carrère has crafted an engrossing existential thriller, a story about a man who inadvertently loses himself.
Changing Times (Les temps qui changent)
Opening Friday, August 4
Landmark's NuWilshire (Santa Monica)
Directed by: André Téchiné
With: Catherine Deneuve, Gérard Depardieu, Gilbert Melki, Lubna Azabal, Malik Zidi...
France, 2004, 95 mn - Unrated; French and Arabic with English subtitles
Reuniting screen legends Catherine Deneuve and Gérard
Depardieu for the first time in over twenty-five years, CHANGING TIMES, directed by André Téchiné (WILD REEDS, STRAYED) is the story of a man in pursuit of his long-lost first love, and of a woman struggling to decide whether her past or present should become her future. Téchiné's Tangiers is a color-drenched hybrid of Europe and Africa serving as backdrop for characters similarly suspended between new and old, present and past, familiar and strange. Shot with an elegance and superb attentiveness to detail, CHANGING TIMES marks the seventh onscreen pairing of Deneuve and Depardieu, whose tender, open performances are as emotionally affecting as anything in their illustrious careers.
LACMA presents: SEEING INDIA (including films by Louis Malle and Jean Renoir)
Phantom India: Parts 1 and 2
Friday, July 28 at 7:30 pm
Directed by: Louis Malle
France, 1969, color, 104 mn
Part 1 is The Impossible Camera, in which the traditional India of poverty and exploitation is juxtaposed against the serene beauty of surrounding nature;
Part 2 is Things Seen in Madras, which explores the South of India;
The River
Friday, August 4 at 7:30 pm
Directed by: Jean Renoir
With: Nora Swinburne, Esmond Knight, Arthur Shields...
France, 1951, color, 99 mn
Restored 35mm print courtesy the Academy Film Archive
Beautifully adapted from Rumer Godden's novel, the story revolves around three teenaged girls; two of whose romantic intentions are focused on handsome visitor Captain John (Thomas E. Breen). More than just a tale of adolescent crushes, the film is a moving examination of the human condition: alienation, hopeless romanticism and the stoic efforts of our survival instincts are all explored with deft and grace. The true star is the extraordinary color photography by Claude Renoir (Jean's nephew) and his Indian assistant Ramanda Sen Gupta, which led Martin Scorsese to call The River "one of the two most beautiful color films ever made".
Calcutta
Friday, August 4 at 9:20 pm
Directed by: Louis Malle
France, 1969, color, 105 mn
Filmed in Calcutta in February 1968 and using minimal narration, the film describes the life of the inhabitants of Calcutta (pop. 8,000,000) and the immense problems created by the economic and demographic situation of the city. Relying entirely on improvisation and working only with a sound man, Malle plunges into the reality of the city capturing its contrasting sights and sounds: the overpopulated streets, the markets, women's movement demonstrations, student demonstrations, the shanty towns and the factories.
For more information
http://www.lacma.org/programs/FilmPrograms.aspx
---
ACADEMY OF TELEVISION ARTS & SCIENCES
ANNOUNCES NOMINEES FOR THE
58th ANNUAL LOS ANGELES AREA EMMY AWARDS
Dick Askin, Chairman and CEO of the Academy of Television Arts & Sciences, announced 143 nominations in 46 categories today for the 58th Annual Los Angeles Area Emmy Awards.
The 58th Annual Los Angeles Area Emmy Awards presentation will be held Saturday evening, August 12, 2006 at the Leonard H. Goldenson Theatre in North Hollywood.
This year's Governors Award will be presented to nationally renowned satirist Stan Freberg, a Los Angeles Television pioneer and founding member of the Television Academy. Freberg starred in A Time for Beany which premiered on KTLA in 1949, a groundbreaking program that appealed to adults and children.
Freberg is considered one of the great practitioners of comedy in television and radio. Plus, he is trailblazer in the world of advertising. His creativity, innovation and brilliance have entertained and inspired millions of fans for more than six decades.
Los Angeles area nominations and the three station award categories for regularly scheduled news have been judged by peer group panels convened in Colorado, Florida, New York and Texas.
For the fourth year, Icon Entertainment Inc. will produce this award presentation for the Television Academy. Jeff Androsky and Carol Sherman will Executive Produce for Icon Entertainment, and Los Angeles Area Governor Suzan Jorgensen-Torgerson is the Executive Producer for the Academy.
A one-hour version of the 58th Annual Los Angeles Area Emmy Awards is slated to air on KTLA (Channel 5) at 6:00 pm Saturday, August 26, 2006. Additionally, the Academy of Television Arts & Sciences is celebrating its 60th Anniversary this year, while KTLA commemorates its 60th milestone in January 2007.
---
2006 SALENTO FILM FESTIVAL
OPENS WITH RACHID BENHADJ'S FILM FOR BREAD ALONE
Executive Director Luigi Campanile announces the Puglia Premiere of Rachid Benhadj's film For Bread Alone, which will kick-off the 2006 Salento International Film Festival ( September 9 – September 17) as the Opening Night Film, Saturday September 9 at 9:30 P.M. outdoor screening in the historical Piazza Pisanelli in Tricase, home of the Salento International Film Festival.
For Bread Alone starring Said Taghmaoui and Marzia Tedeschi is an autobiographical story based on the book "For Bread Alone" by the Moroccan author Mohamed Choukri. A Moroccan boy, grown up in difficult life conditions, who finds his way to rehabilitation during his jail terms, when he learns to read and write and discovers his great love for literature.
Q&A with the directors Rachid Benhadj and the actress Marzia Tedeschi after the screening follow by a cocktail.
During the nine-day event, the Salento film festival offers to the festival goers many events, including special screenings, retrospectives, tribute, seminars, workshops and all night parties.
The Salento Film Festival welcomes its international guests and offers different packages from all inclusive including accommodation in Hotel, Pass to all screenings and events, special discount at the festivals Bar, restaurants, trattorie, and tours through Salento's cultural and Historical sites. For further information visit the web site: http://salentofilmfestival.com/english%20/salento_engl/package.htm
The Salento Film Festival is produced by CineSalento in association with LAIFA Los Angeles Italian Film Awards with the support of City of Tricase, Province of Lecce, and Region of Puglia
Infoline: +39 328 5826168
info@salentofilmfestival.com
http://www.salentofilmfestival.com
---
MILAN - September 15-24

11th edition – Milano Film Festival Submissions for the International Competitions are closed. We have received films from more than 90 nations all over the world.

Democratic Film ExchangeMilano Film Festival 2006 launch the 2nd edition of Borsa Democratica del Cinema - Democratic Film Exchange: a market with an exhibition area and with a specific programme of screenings, workshops and presentations, to develop new opportunities and collaborations for the high-quality film industry.
Re-distribution projectThe esterni film re-distribution project starts again in October with the films of this 10th edition. Some directors have already signed the agreement and it's already possible to contact the organization to book screening evenings.

News 11th edition Milano Film Festival
15-24 September 2006
Important notice
We are updating our film archive.
Don't worry if your film hasn't been included yet. Due to the high number of films submitted, the updating work will be finished in a week.
Submissions for the international competitions are closed.
The selection committee is already working to chose the films that will participate in the 11th edition of the festival. Democratic Film Exchange
2nd edition
The Democratic Film Exchange, focal point dedicated to those who make, promote and distribute films...
---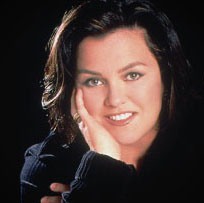 SHE'S A STAR
ROSIE O'DONNELL, award winning TV host, joins the ABC7 "The View."
Barbara Walters, creator of the popular womans morning television show seems delighted to have Rosie on board!
---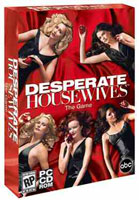 BUENA VISTA GAMES ANNOUNCES 'DESPERATE HOUSEWIVES' PC GAME
Brenda Strong to Lend Voice as Game's Narrator Mary Alice Young
Buena Vista Games, Inc. (BVG), the interactive entertainment arm of The Walt Disney Company (NYSE: DIS), announces it will publish Desperate Housewives, a lifestyle simulation PC game based on the top-rated, Golden Globe-winning ABC-TV series, produced by Touchstone Television. In the Desperate Housewives game, players take on the role of a new housewife who moves into Wisteria Lane and unlocks the delicious scandals hidden in the seemingly "perfect" neighborhood.

"Buena Vista Games is proud to partner with ABC Entertainment and Touchstone Television to bring the popular 'Desperate Housewives' franchise to fans and gamers," said Graham Hopper, senior vice president and general manager, Buena Vista Games. "This game allows players to move to Wisteria Lane and live all the gossip, drama and intrigue of a true desperate housewife." "'Desperate Housewives' continues to be one of the most popular shows on primetime television and a pop culture phenomenon," said Bruce Gersh, senior vice president of business development, ABC Entertainment and Touchstone Television. "We are continually looking to build upon this successful franchise and believe that extending this program into the world of PC gaming will result in a fun new way for fans to connect more deeply with the series and its captivating collection of characters.""It's a great opportunity to allow our viewers the chance to be a part of the world of 'Desperate Housewives,'" said creator and executive producer Marc Cherry.Brenda Strong will reprise her familiar role from the "Desperate Housewives" series as the voice of deceased housewife Mary Alice Young, who serves as the show's omniscient narrator in each episode.Developed by Liquid Entertainment, creators of the critically acclaimed PC game Dragonshard, Desperate Housewives is scheduled to hit retail shelves this fall.The PC game is the latest extension of the successful global Desperate Housewives franchise, joining a recently announced fragrance launching this fall, a best-selling Season 1 DVD, a board game, a high end line of apparel, a Desperate Housewives online store, mobile ringtones, graphics, personalized application, and an upcoming cookbook.