"THE ODYSSEY" BACK BY POPULAR DEMAND
BOXTALES THEATER COMPANY AT THE LOBERO
By Bonnie Carroll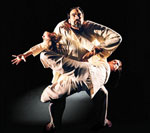 After a sold-out world premiere in 2005 and 2006 sold-out run, BOXTALES Theatre Company returned with "THE ODYSSEY" to the historic Lobero Theatre, located at 33 E. Canon Perdido Street in Santa Barbara, for four packed shows. Using every art at their fingertips: circus arts, masks, acrobatics and live music BOXTALES The Odyssey left the audience breathless and on the edge of their seats.
It was an authentic adaptation of the Odyssey that smacked of Cirque du Soliel, being performed in one of the most historic and outstanding venues in California. The work done by the cast was mesmerizing and completely original. Michael Andrews, Jeff Mills, Matt Tavianini Producers/Performers, along with performers Joanne Lubeck, and Stephanie O'Neill. Peter Lackner, Indie Award winner directed; masks were built and designed by award-winning designer Ann Chevrefils; costumes by Lesley Finlayson (Cirque du Soliel); script adaptation by Jessica Bortman and lights designed by Jon Retsky.
At a reception following their performance the group thanked everyone for attending and thanked their sponsors Lobero Theatre Foundation, Outhwaite Foundation, Towbes Foundation, Karuna Foundation, Pacific Graduate Institute, Santa Barbara County Arts Commission, Marlyn Bernstein, Susan Bower, and the Santa Barbara Bowl Foundation. For information contact www.mcfaddenpr.com.

---
The Stars Come Out to Celebrate the Achievements of Women in radio and television
Don't miss this opportunity to lock arms with AWRT to celebrate the outstanding contributions of women in radio and television at the 32nd Annual Gracie Awards Gala presented by AWRT.
WHEN: Monday, June 18, 2007 ~ 6:00 p.m. Reception,
7:00 p.m. Dinner followed by the Awards Ceremony

WHERE: New York Marriott Marquis, Broadway Ballroom,
1535 Broadway, New York, NY 10036
Confirmed guests include: Lisa Birnbach, Host, Greenstone Media's The Lisa Birnbach Show; Mary Carillo, NBC Sports, Sarah Chalke, Lifetime's Why I Wore Lipstick to My Mastectomy and NBC's Scrubs; Katie Couric, CBS News; Kimberly Dozier, CBS News; Linda Ellerbee, Lucky Duck Productions/Nick News; Tina Fey, NBC's 30 Rock; Jill Hennessy, NBC's Crossing Jordan; Billie Jean King, Tennis Legend; Niecy Nash, Style Network's Clean House and FX's Reno 911; Soledad O'Brien, CNN; Suze Orman, CNBC's Suze Orman Show; Susan Stamberg, National Public Radio; Paula Zahn, CNN's Paula Zahn Now; and many more.

The event is made possible through the generous support of the 2007 title sponsor Dove and The Campaign for Real Beauty and the following additional sponsors: Arbitron, Bloomberg, CBS News, Clear Channel Radio, CNN, Court TV, Disney/ABC Television Group, HBO Entertainment, Interep, Katz Media Group, NBC Universal, Oxygen Media, and WestStar Digital Audio.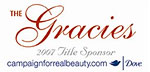 American Women in Radio and Television
8405 Greensboro Drive, Suite 800
McLean, VA 22102-5104
Phone: 703-506-3290
Fax: 703-506-3266
www.awrt.org
For additional information, please visit Gracies on the web or contact AWRT National Headquarters at 703-506-3290. We look forward to seeing you in June! Program subject to change without notice
---
"A Mighty Heart" the Daniel Pearl Tragedy Touches Everyone's Heart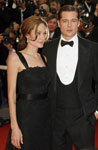 Every press person in America was stunned when reporter Daniel Pearl was savagely murdered by his captors. The Los Angeles Press Club raised funds to create a scholarship in Pearl's name, and honored him at a dinner that was attended by his mother and father. The movie was adapted from a book written by his wife.

The film the Pitt's have done appears to be a fine adaptation of the book written by Pearl's wife as a great tribute to the life of the talanted foreign journalist, and to the family who loved him so much. I hope evevryone goes to see this film, and I hope the Pitt's donate some of the proceeds to the non-profit the family started in Pearl's name to help young musicians. The organization promotes cross-curlural understanding through journalism and music. If you wish to give from your heart contact www.danielpearl.org.
---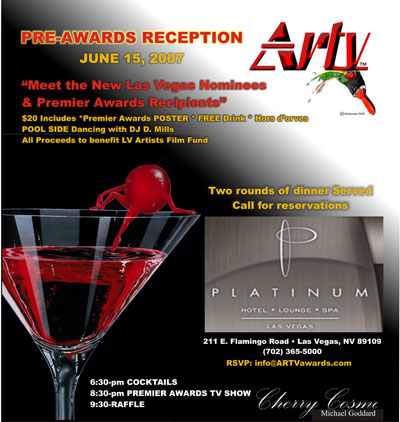 ---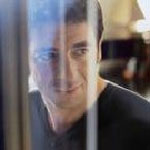 June 6, 2007 at 8pm
Patrick Bruel
Actor, singer and one of France's biggest stars, Patrick Bruel launches his first USA tour and makes one stop in Los Angeles at the Wilshire Theater Beverly Hills.
Joined by his performers, musicians and vocalists, he will sing his most famous songs in an amazing atmosphere. An artist very close to his public and an array of talented musicians are elements which turn Bruel's concerts into magical and unique shows.
For the first time in the U.S.A, Patrick Bruel will share unforgettable moments with his overseas fans. This performance promises to be as emotional as it is unforgettable!
---
CASTING NEWS
LOU DIAMOND PHILLIPS WILL STAR AS "KING ARTHUR" IN
Lerner & Loewe's CAMELOT
Royce Hall - UCLA
September 11 - 23, 2007
Broadway/L.A. is pleased to announce that film, television and Broadway star, LOU DIAMOND PHILLIPS will star as 'King Arthur' in the national tour of Lerner and Loewe's CAMELOT beginning with our Los Angeles engagement at Royce Hall - UCLA from September 11-23, 2007. Lou Diamond Phillips replaces previously announced star, Michael York who will be departing the national tour just prior to the Los Angeles engagement.

This is a much anticipated return to the stage for Phillips after his award winning star turn in THE KING AND I (1996) on Broadway. He received multiple awards and nominations including a Tony Award nomination, the New York Outer Critics Circle Award and a Theatre World Award for his performance as the King of Siam.
Lou Diamond Phillips burst on the film scene in 1987's La Bamba as rocker Ritchie Valens. Receiving critical acclaim and a legion of fans, Phillips followed this with another break-out performance in Stand and Deliver (1988) and received the Independent Spirit Award for Best Supporting Actor and was nominated for a Golden Globe Award for his performance. In 1988 and 1990, he co-starred with Emilio Estevez and Kiefer Sutherland in Young Guns and Young Guns II. In Courage Under Fire Lou received a Blockbuster Entertainment Award for Supporting Actor and a Lone Star Film and Television Award.
Born in the Philippines and raised in Texas, Phillips is the son of a naval engineer and is the proud father of three beautiful daughters. He is of Filipino, Hawaiian, Chinese, Spanish, Scottish Irish and Cherokee Indian ancestry and that has played a factor in some of his incredible leading roles. He holds a Bachelor of Fine Arts in Theatre from the University of Texas at Arlington and has performed extensively at Stage West and Casa Manana in Fort Worth.
Single tickets to Lerner & Loewe's CAMELOT will go on sale at a later date. CAMELOT tickets are initially available only by subscribing to the 2007-2008 Broadway/L.A. season, which also includes THE RAT PACK - Live At The Sands (Wilshire Theatre Beverly Hills, December 2007) and Oprah Winfrey Presents THE COLOR PURPLE (Ahmanson Theatre, February 2008). Season packages go on sale to the general public this Sunday May 20th. For more information on subscribing, please visit www.BroadwayLA.org or call 866-755-BWAY(2929).
---
JetBlue Airways Names Dave Barger President and Chief
Executive Officer; Founder David Neeleman Will Continue to Serve as Chairman of the Board

JetBlue Airways (Nasdaq:JBLU) announces the appointment of Dave Barger to the position of Chief Executive Officer, effective immediately. In addition, Mr.Barger retains his responsibilities as President. David Neeleman, JetBlue's founder and Chief Executive Officer since 1998, will serve JetBlue as non-executive Chairman of the Board.
"This is a natural evolution of our leadership structure as JetBlue continues to grow," Mr. Neeleman said. "As Chairman of the Board of Directors, I will focus on developing JetBlue's long-term vision and strategy, and how we can continue to be a preferred product in a commodity business."
"I am honored to serve JetBlue in this capacity, and I thank David for his leadership," Mr. Barger said. "The strength of JetBlue has always been our crewmembers. We believe that when we take care of our people, and make sure they have the right tools and resources, customers willchoose us first every time. I look forward to a very bright future for our crewmembers, our customers and our shareholders."
Mr. Neeleman founded JetBlue as Chief Executive Officer in 1998 and became Chairman of the Board of Directors in 2002. Mr. Barger joined JetBlue in August 1998 as President and Chief Operating Officer. The airline first took to the skies in February 2000. Since then, the low-fare airline based in New York's John F. Kennedy International Airport has grown to 52 destinations with more than 575 daily flights.
New York-based JetBlue Airways has created a new airline category based on value, service and style. Known for its award-winning service and free TV as much as its low fares, JetBlue is now pleased to offer customers the most legroom throughout coach (based on average fleet-wide seat pitch for U.S. airlines). JetBlue is also America's first and only airline to offer its own Customer Bill of Rights, with meaningful compensation for customers inconvenienced by service disruptions within JetBlue's control. Visit www.jetblue.com/promise for details. JetBlue serves 52 cities with up to 575 daily flights. With JetBlue, all seats are assigned, all travel is ticketless, all faresare one-way, and an overnight stay is never required. For information or reservations call
1-800-JETBLUE (1-800-538-2583) or visit www.jetblue.com.
---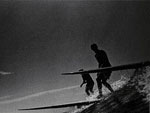 EBB/FLOW, an exhibition of surf culture from the 1930s - today.
June 15 through July 31, 2007
East/West Gallery, 714 Bond Avenue, SB 93101
Hours Tuesday – Saturday by appointment
(805)963-4041 www.eastwest-gallery.com
Opening Reception Saturday, June 16 6-9 PM, Featuring Live Music by Denny Aaberg, legendary surf guitarist and screenwriter of "Big Wednesday." Auction of print of pro legend Tom Curran signed by the artist and Mr. Curran. Note:*100% of proceeds from the auction will be donated to the Santa Barbara Surfrider Foundation. Plus as part of the "Art for Activism" series, 10% of all proceeds from the exhibition will go to support the organization.
SYNOPSIS: Vintage era photographs and contemporary artists mix to create a vibrant contrast of old and new, celebrating the ubiquitous Southern California pastime and obsession …surfing.