"THE QUEEN" HELEN MIRREN
Accepts Performance of the Year Award at SBIFF
by Bonnie Carroll
The Outstanding Performance of the Year Award bestowed on award winning career actress Helen Mirren at the 22nd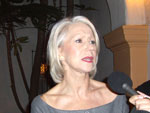 Santa Barbara International Film Festival was the crowning moment of the 2007 film event. Mirren, one of England's most respected actors, has a prolific career that has spanned four decades. In 1945 Helen Lydia Mironoff was born in England, and soon fell in love with acting, joining the National Youth Theatre in 1954, and then began her successful career on stage at the Royal Shakespeare Company.
Mirren began her film career with Age of Consent (1969), and has appeared in well over 75 films including: O luckyMan! (1973), Caligula (1979), Excalibur (1981), Cal (1984), White Nights (1984), The Cook, the Thief, His Wife & Her Lover (1989), The Madness of King George (1994), Teaching Ms. Tingle (1999), Gosford Park (2001), and Calendar Girls (2003). Her television career includes her landmark role of Detective Jane Tennison on Prime Suspect (1991-2006), The Roman Spring of Mrs. Stone (2003), and recently an amazing performance in Elizabeth I (2005). She has been nominated for an Academy Award twice, won the Golden Globe once (nominated eight times), three BAFTA's (nominated eight times), three Emmys (nominated eight times), and one SAG Award (nominated four times).
Although Mirren became known as a sex symbol, due to a bit of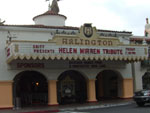 nudity in a few films, Jeremy Irons, a co-star, says "she is sexy and intelligent, that's why she's alluring to men. She is the complete antithesis of the vapid." Mirren has been described by some as the sexiest sixty-something woman alive, and she certainly holds her own with that tag.
No stranger to playing royalty, her performance as Queen Elizabeth II in "The Queen" (2006) is her forth time playing a monarch. Her performance as the current reigning Queen of E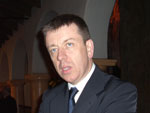 ngland is perfection. It is expected that this outstanding role will garner her another Academy Award, and this performance is the reason she was presented the Outstanding Performance of the Year Award by SBIFF.
During the award presentation, following an introduction by Peter Morgan, the director of "The Queen", Morgan said people w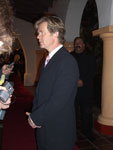 ere skeptical about her doing the part, but with each day as make up and costuming took effect, she began to become "The Queen." Mirren expressed her gratitude, and said how much she enjoyed playing all these characters, especially Elizabeth II. Her walk down the red carpet with her director, and actors such as William H. Macy provided fans and the media the opportunity to interview her, take some lovely photos, and experience for themselves the true grit and grace that is keystone in the royal performances she does so well. Among the admiring audience members was Isadora Sharp, Founder and CEO of the Four Seasons Hotels and his lovely wife.

---
2007 GOLDEN GLOBES FULL OF SURPRISES
by Bonnie Carroll

Gorgous George Clooney opened the show with "Let's get startet!' Warren Beatty was presented the Cecil B. De Mille Award by Dustin Hoffman, as his beautiful actress wife Annette Benning, who was nominated for "Running with Scissors" applauded him. "I'm going to make another film" said Beatty.
Beatty was honored with the Cecil B. DeMille Award for lifetime achievement during the 64th Annual Golden Globe Awards. Beatty has received five Golden Globes during his career; including one as Best Actor In A Leading Role - Musical Or Comedy for Heaven Can Wait and another as Best Director for Reds. He also received Golden Globes as producer of the Best Picture winners Bugsy (Drama) and Heaven can Wait (Musical Or Comedy). The Hollywood Foreign Press Association also named him New Star Of The Year in 1962 for his role in Splendor in the Grass. He has received a total of 18 Golden Globe nominations.
"The Queen", Granada: Miramax Films, won top honors for Helen Mirren as best actress, as well as Elizabeth I, HBO, Mirren said she was incredably honored."Elizabeth I" also garnered an award for Jeremy Iroms as best supporting actor in a Series, Mini-Series or Motion Picture. "If you can't support Helen Mirren you can't do anyhthing" said Irons.
Hugh Laurie won for "House" (FOX), and Alec Baldwin for "30 Rock" (NBC) got top honors as Actor in a TV Musical or Comedy Series. Bill Nighy and Emily Blunt took top awards for "Gideon's Daughter" (BBC). "Grey's Anatomy" Touchstone Television (ABC) also came in #1 as best drama series. Martin Scorsese took home top honors for "The Departed" and thanked Jack Nicholson, Leo DiCaprio and all for their fine work.

Congratulations to Salma Hayek for her vision and hard work to bring America Ferrera and "Ugly Betty," Touchstone; ABC, top honors. Lorraine Nicholson, lovely daughter of award winning actor Jack Nicholson, was Miss Golden Globe for 2007, and believe it or not this year Jack went home empty handed. Prince won for "The Song of the Heart" and "Cars" won best animated film. The beautiful original score of "The Painted Veil," composed by Alexandre Desplat won for Best Original Score in a Motion Picture. Sacha Cohen of "Borat" gave and award winning speech that no one will ever forget.
Best Actor in a Motion Picture went to Forest Whitaker for "The Last King of Scotland." "Babel" by Guillermo Arriago won as Best Motion Picture Drama. Mel Gibson's "Apocalypto" lost to Clint Eastwood, who won the Best Foreign Language Film for "Letters from Iwo Jima." Eastwood said thankyou to Ken Watanabe and Steven Spielberg and brought the house down when he said "you don't know what this does for my confidence." Kyra Sedgwick won best in a TV series drama for "The Closer."
"Dreamgirls" won best picture, and stars Eddie Murphy and Jennifer Hudson both exclaimed "Wow" regarding their honors. Meryl Streep, winner of Best Performance by an Actress in a Motion Picture - Musical Comedy for "The Devil Wears Prada" thanked her co-stars for helping her look like a monster and said "I'm thrilled- I think I've worked with everybody in the room!"
Philip Burke, President said according to Norma Desmon in Sunset Boulevard 'stars are ageless' and he reminded everyone that 13 years ago Jack Nicholson, Meryl Streep and Clint Eastwood were all nominees, and history was repeating itself. Visit www.hfpa.org for details.
---
GOVERNOR BILL RICHARDSON WILL RUN FOR PRESIDENT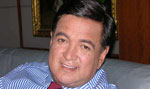 Governor Bill Richardson, Governor of New Mexico announced he will run. In my opinion, this amazing man is the perfect one to address the unique challenges of our time. I am personally delighted to know he will run for President of the United States, and I am not alone in my high praise. Richardson is everything America is, and faces in the future, and he has successfully handled problems in the State of New Mexico with integrity and grace. YOU GO BILL -- YOU ARE THE BEST!!
---
Governor Arnold Schwarzenegger
Sworn-In at Inaugural Ceremony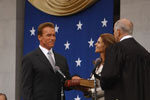 1/5/2007 - Governor Arnold Schwarzenegger was sworn-in for his second term today -Memorial Auditorium in Sacramento.
Archived video from the live webcast will be available soon.
---
30th PORTLAND INTERNATIONAL FILM FESTIVAL

FEBRUARY 9-24th 2007
Drawing an audience of over 30,000, the Portland International Film Festival is the biggest film event in Oregon premiering over 100 international shorts and feature films to Portland audiences each February. Audiences can experience a variety of parties, visiting artists and plenty of Festival adventure taking in this feast of cinematic fare.
IMPORTANT DATES
Wednesday January 24th - PIFF Website On-Line
Thursday February 1st - Advanced Ticket Sales Begin
Friday February 9th - Festival Opening Night
Saturday February 24th - Festival Closing Night
Sunday February 25th - Encore Screenings
THEATER LOCATIONS
Regal Broadway Metroplex - 1000 SW Broadway
Newmark Theatre - 1111 SW Broadway
Cinema 21 - 616 NW 21st Ave
NW Film Center, Whitsell Auditorium - Portland Art Museum 1219 SW Park Ave
---
FOREIGNER BRINGS IN NEW YEAR AT NIAGRA FALLS - CANADA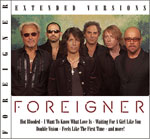 The current line up features veteran vocalist Kelly Hansen, Jason Bonham, Jeff Pilson, Jeff Jacobs, Tom Gimbel and the highly underrated, indefatigable guitarist and founding member Mick Jones. Several things are striking about this band. One is that Mick has somehow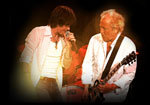 been unleashed and is staking his claim as one of Rock's greatest guitarists. Another is that these guys are having so much fun, playing so many classic songs, that it affects the audience. Let's face it; many revamped line ups are created for good old fashioned money. This group is having the time of their lives and it is absolutely infectious.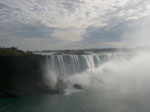 A crowd of thousands packed the park in Niagra Falls, armed with umbrella's to celebrate the New Year at a Foriegner Concert. It was raining so hard that many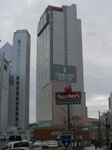 feared the band would be electricuted, but they gave a great performance, with the audience singing along to many of their famous hits. Talk about de je vous!

The Embassy Suites Hotel fed a cast of thousands, who wanted to watch the New Year's Fireworks from their restaurant windows, overlooking the falls, and the Casino was packed all night. For band tour information visit: www.foriegner.com.
For Tourism Information Visit: www.NiagraFalls.com.
---
DESPERATE HOUSEWIFE TELLs MEN HOW!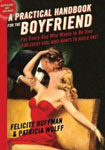 A Practical Handbook for the Boyfriend: For Every Guy Who Wants to Be One/For Every Girl Who Wants to Build One (Hardcover)
Felicity Huffman, star of Desperate Housewives and a gal pal Patricia Wolff, have taken the time to write a book telling men everything they need to know to be a great and long lasting boyfriend or husband. The book is available at Amazon.com.
---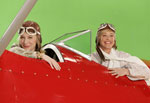 Ellen DeGeneres Flying High With
Nominee Cate Blanchett
Ellen DeGeneres has been given the nod to host the 79th Annual Academy Awards which are scheduled to be broadcast live from the Kodak Theatre in Hollywood on ABC at 8PM ET on Sunday, February 25, 2007
---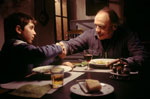 VITUS - SWISS FILM
CONSIDERED IN THE RUNNING

The touching film which has been honored at numerous film festivals and by the AFI is considered a contender for this years foreign film award.Visit:www.vitus.com.

12-year old Vitus (Teo Gheorghiu) and his grandfather (Bruno Ganz) shake hands