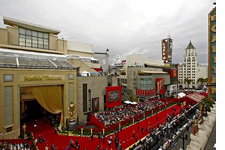 ACADEMY AWARDS STAYS IN HOLLYWOOD AT THE KODAK
The Academy of Motion Picture Arts and Sciences and CIM Group announced today that the Academy Awards® will remain in Hollywood under a new 20-year deal. Concurrently, in a separate agreement, Dolby Laboratories, Inc. (NYSE:DLB) and CIM announced a 20-year agreement to name the Dolby Theatre™ -- the iconic theatre at the Hollywood & Highland Center® and home of the Academy Awards since 2002-- a showcase of technology innovation.

"Our ability to swiftly conclude two significant contracts with global entertainment leaders affirms Hollywood as a thriving district, the Dolby Theatre as the ultimate entertainment showcase and Hollywood & Highland Center as a cornerstone for both the local and entertainment communities," said Shaul Kuba, Co-Founder of CIM Group, owners of the Hollywood & Highland Center. CIM is an investor in communities throughout North America and the largest commercial real estate owner in Hollywood. In 1998, CIM Group identified Hollywood as an emerging urban district that meets the firm's strategic investment guidelines and is headquartered there. Since then, it has acquired and developed a portfolio of properties that include office, retail, hotel and multifamily residential properties.

Under the new contract with the Academy, the Dolby Theatre will host the Academy Awards through 2033. The Dolby Theatre features 3,400 seats on four levels and 20 opera boxes, one of the largest stages in the United States with state-of-the-art infrastructure designed for a variety of programming including live broadcast.

"The Academy's Board of Governors believes that the home for our awards is in Hollywood. It is where the Academy and the motion picture industry are rooted," said Tom Sherak, Academy President. "We are pleased to have a new agreement with CIM that will continue our longstanding partnership."

Dolby is a global brand and industry leader in creating the best entertainment experiences. During the term of the Dolby Theatre agreement, which will commence this summer, Dolby will continue to update the theatre with innovative, world-class technologies to ensure that the theatre remains state-of-the-art, beginning with the immediate installation of its recently released Dolby® Atmos™ sound technology. Financial terms were not disclosed. The Dolby Theatre amplifies Dolby's commitment to innovation as a leader and creator of the most realistic and immersive entertainment experiences.

"Our partnership with CIM allows the Dolby Theatre to be the world-stage for the Academy Awards, and for Dolby innovation for decades to come. Dolby has long been an integral part of Hollywood and the entertainment industry," said Kevin Yeaman, President and CEO of Dolby Laboratories. "Dolby is a brand recognized around the world for creating the best, most life-like entertainment sound experiences in any environment."

For 34 consecutive years, films released with Dolby audio technologies have earned Academy Award nominations for outstanding sound quality.
Leaderofthepackwebseries.com
This amazing new webseries includes a cast of talented actors, is well written and very entertaining, and is being produced and directed by Rich Redlin, a native Chicagoan who moved to California to live the dream. Take a look at what they are doing -- you will be delighted. Make a donation to help them continue this fun and worthwhile project.      BC
___________________________________________________________________
GBK CELEBRITY LUXURY GIFT LOUNGE
                     DURING 2012 MTV MOVIE AWARDS WEEKEND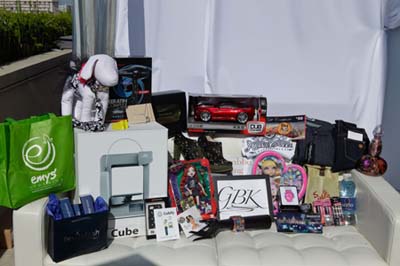 FEATURING A FUN AND FRESH CELEBRITY RETREAT FILLED WITH AN ARRAY OF FASHION-FORWARD, CAUSE-DRIVEN AND TREND-SETTING PRODUCTS
Each year, GBK - the luxury lifestyle gift lounge and special events company – hosts a luxury gift lounge in honor of the MTV Movie Awards Nominees and Presenters. This year the gifting suites and celebrity retreat will take place on June 1st and 2nd at the L'Ermitage Hotel in Beverly Hills from 11am – 6pm. GBK, the recipient of multiple BizBash's Award for "Best Gift Bag," will offer its exclusive list of invited celebrities, VIPs, and media an opportunity to explore new products and enjoy a luxury environment. This year's lounge will be styled with the sleek and modern line of event furniture from Illuminated Industries, a leader in the illuminated furniture hire market.

As always, a focus remains on raising awareness for charitable causes. This year's charity beneficiary is (RED)™ - a for-benefit brand created by Bono and Bobby Shriver to harness corporate and consumer power in the fight against AIDS in Africa. Since its inception in March 2006, sales from (PRODUCT) RED™ branded products have generated more than $45 million for the Global Fund to invest in African AIDS programs with an emphasis on women and children.

Known for their innovative events filled with trend-setting luxury brands, GBK will feature a variety of products and services including ground-breaking technology such as 3 dimensional printer Cubify. Cubify is an interactive 3D printing experience where everyday products like designer shoes, iphone cases, gadgets, and jewelry come to life as pieces are printed on Cube 3D printers. Guests will receive custom-designed, exclusive Fresh Fiber iphone cases and Freedom of Creation ipod nano bracelets with an opportunity to receive an @home 3D Cube printer!

Other great gifts include celebrity-favorite RevitaLash ADVANCED - eyelash conditioner that lengthens and thickens eyelashes, Hair by RevitaLash and RevitaLash Mascara and Perfect Primer; Keratin Complex – showcasing their at-home product line including a full-range of Keratin-infused styling products and tools that increase shine, minimize styling time and reduce frizz; imPRESS Press on Manicure by Broadway Nails – the revolutionary way to apply polish; MGA Entertainment, a consumer entertainment products company, showcasing their Bratz True Hope bald dolls and gifting their line of Bratzillas dolls; hand-crafted, unique, elegant leather cuffs by Ruby Roxanne Designs; Sprout Watches / Armitron Watches – Sprout eco-friendly watches made from sustainable materials as well as Armitron mens and ladies sport and classic styles; Jada Toys, Inc. gifting their Cutie Pops – trendy fashion dolls that come with special "style pops" that allow you to decorate them from head to toe creating the ultimate fashion looks; Emys Clothing; Cartography – gifting one of a kind, found-object design necklaces composed entirely of antique charms gathered from flea markets, vintage shops and estate sales the world over; scarves by Robdechi; Halfbreed Clothing Co., a lifestyle brand for people of Multi-Ethnic backgrounds and supporters of interracial relationships, will be gifting Tees, Tanks and Sweatshirts; shoes from Plomo, an edgy and young contemporary shoe brand that screams femininity with a little sexy and a lot rock and roll; a collection of jewelry, stationery, candles, fine art photography, spa and bath products from The Artisan Group; Negris LeBrum, a distinctive line of ready to wear women's apparel and accessories that fuses fashion and technology by branding themselves with Black Street Technology Corp touch screen watch phone "I SPY"; and delicious dips and spreads from America's top-selling hummus, Sabra. 
2012 MTV Movie Awards Weekend Attendees:

Alicia Lagano"The Client List"
Annie Ilonzeh"Charlies Angels"
Autumn Reeser"Hawaii Five-O"
Benjamin Charles Watson "The L.A. Complex" (Tariq Muhammad)
Brett Davern"Awkward" (Jake Rosati)
Cameron Monaghan "Shameless" (Ian Gallagher)
Camilla Luddington"Californication" (Lizzie), "William and Kate" (Kate Middleton)
Camille Winbush"The Secret Life of the American Teenager "
Darcy Rose Byrnes"Desperate Housewives" (Penny Scavo)
Emma Greenwell"Shameless" (Mandy Milkovich)
Evan Handler"Californication" (Charlie Runkle), "Sex and the City" (Harry Goldenblatt)
Janel Parrish "Pretty Little Liars" (Mona Vanderwall)
Janina Gavankar"True Blood" (Luna Garza ); "The L Word"
Jean-Luc BilodeauABC Family's "Baby Daddy" (Ben)
Judith Shekoni"Twilight Sagas: Breaking Dawn Part 2"
Kevin Rahm"Desperate Housewives" (Lee McDermott)
Lauren Bowles"True Blood" (Holly Cleary)
Lauren Velez"Dexter" (Maria LaGuerta)
Patrick Fischler "Madmen"
Renee Olstead"The Secret Life of An American Teenager"
Rob Riggle"21 Jump Street" (Mr. Walters) (Nominated for Best Gut-Wrenching Performance) (Movie Nominated for Best Cast)
Shaunie O'Neal"Baketball Wives"
Stephen Glickman"Big Time Rush"
Steve-O"Killer Karaoke"; "MTV's Jackass"
Stevie Ryan "Stevie TV "
Tahj MowryABC Family's "Baby Daddy" (Tucker)
Tami Roman"Basketball Wives "
Tinsel Korey"Twilight Saga: Breaking Dawn-Part 1" (Emily) (Movie Nominated for Movie of the Year)
Tony Denison"Major Crimes" (Lt. Andy Flynn); "The Closer"

 
For more information on Gavin B. Keilly (CEO), Carla Domen (VP) or GBK, please go to: gbkproductions.com.
---