TINSELTOWN TIDBITS   .   .   .
JUDI DENCH HONORED AT SBIFF 12TH ANNUAL KIRK DOUGLAS GALA by Bonnie Carroll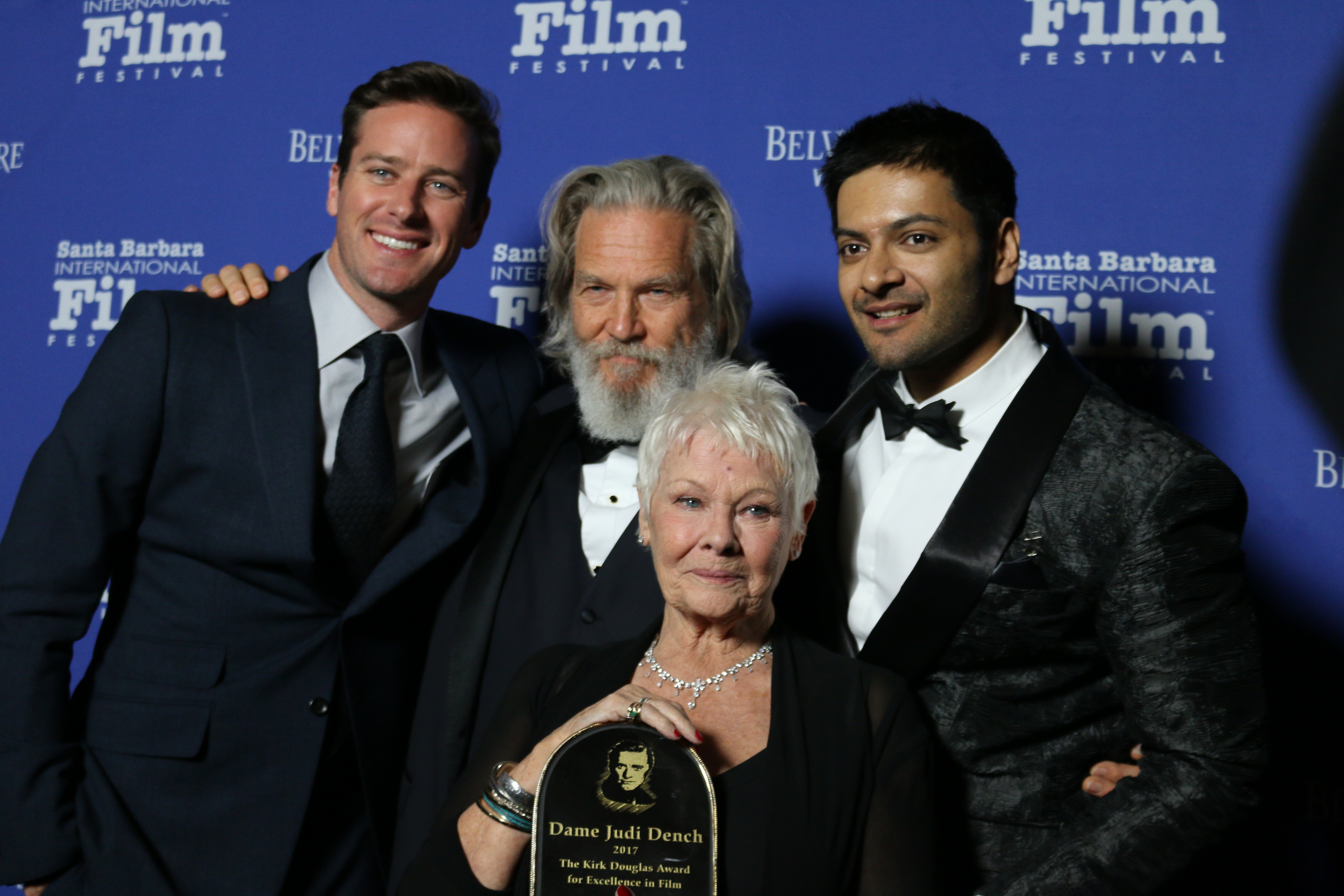 Armie Hammer, Jeff Bridges & Ali Fazal with Dame Judi Dench
The night's honoree Judi Dench and presenters Ali Fazal, Armie Hammer, and Jeff Bridges all walked the red carpet a the Ritz Carlton Bacara Hotel in Santa Barbara to support and honor the work of renowned actress Judi Dench who received the Kirk Douglas Award at the 12th Annual Kirk Douglas Award celabration for her excellence in film in "Victoria & Abdul." Throughout her career Judi Dench has received many accolades from organizations including BAFTA, Oscars, Golden Globes and others .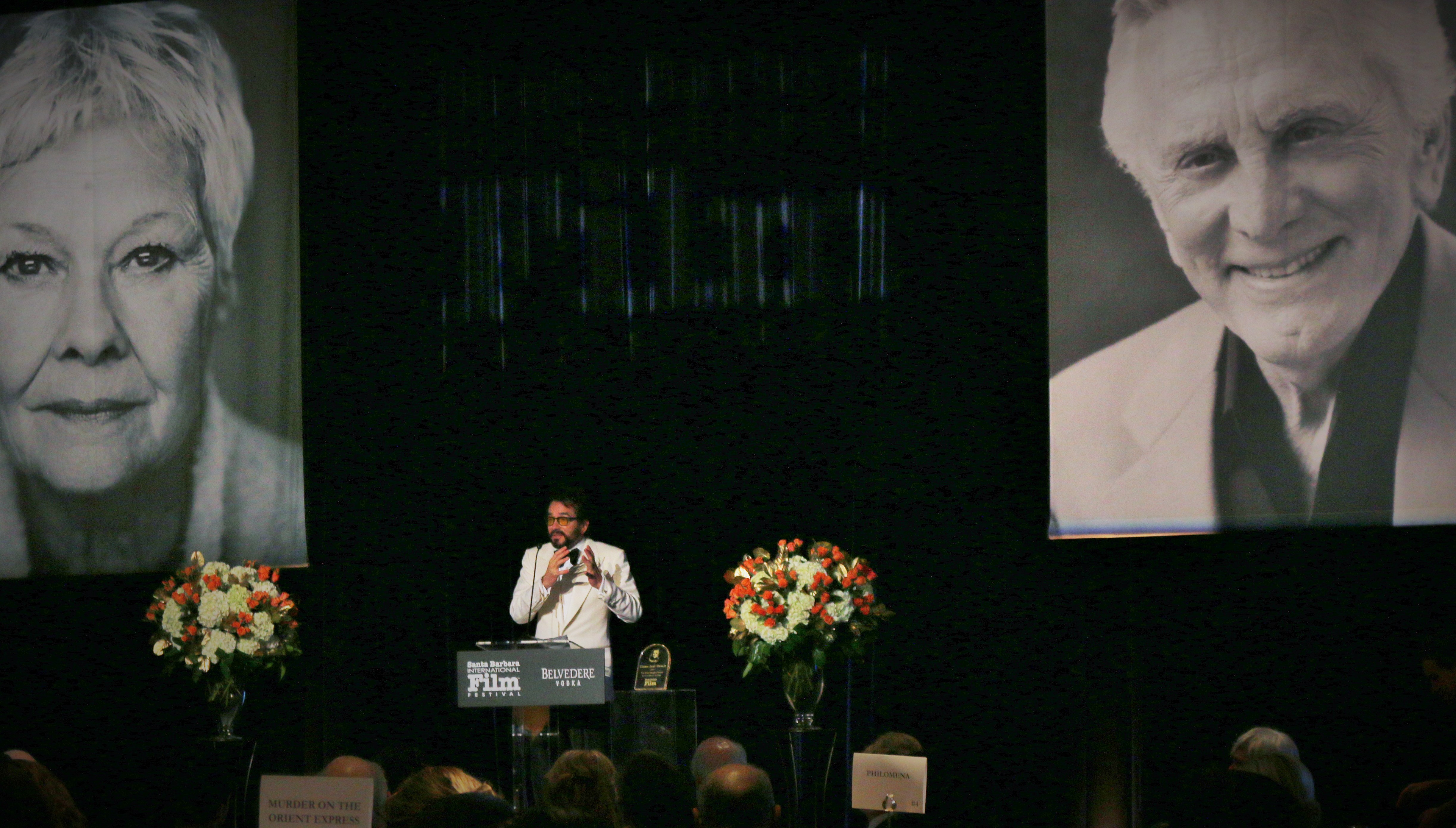 SBIFF Executive Director Roger Durling Welcomes Dame Dench
Following comments from Roger Durling, Executive Director of SBIFF, Actor Ali Fazal who starred in Victoria & Abdul with Dench and actor Armie Hammer, Santa Barbara actor Jeff Bridges presented the award to Dench following an endearing introduction on her amazing acting career that included a quote from actor Johnny Depp who describes Dame Dench as the love of his life.
Dame Dench accepted her award and shared that a huge number of people played a part in her being the recipient of this award. She was so pleased to have a private meeting with Kirk Douglas prior to the event, and said she was very grateful for the award in his name.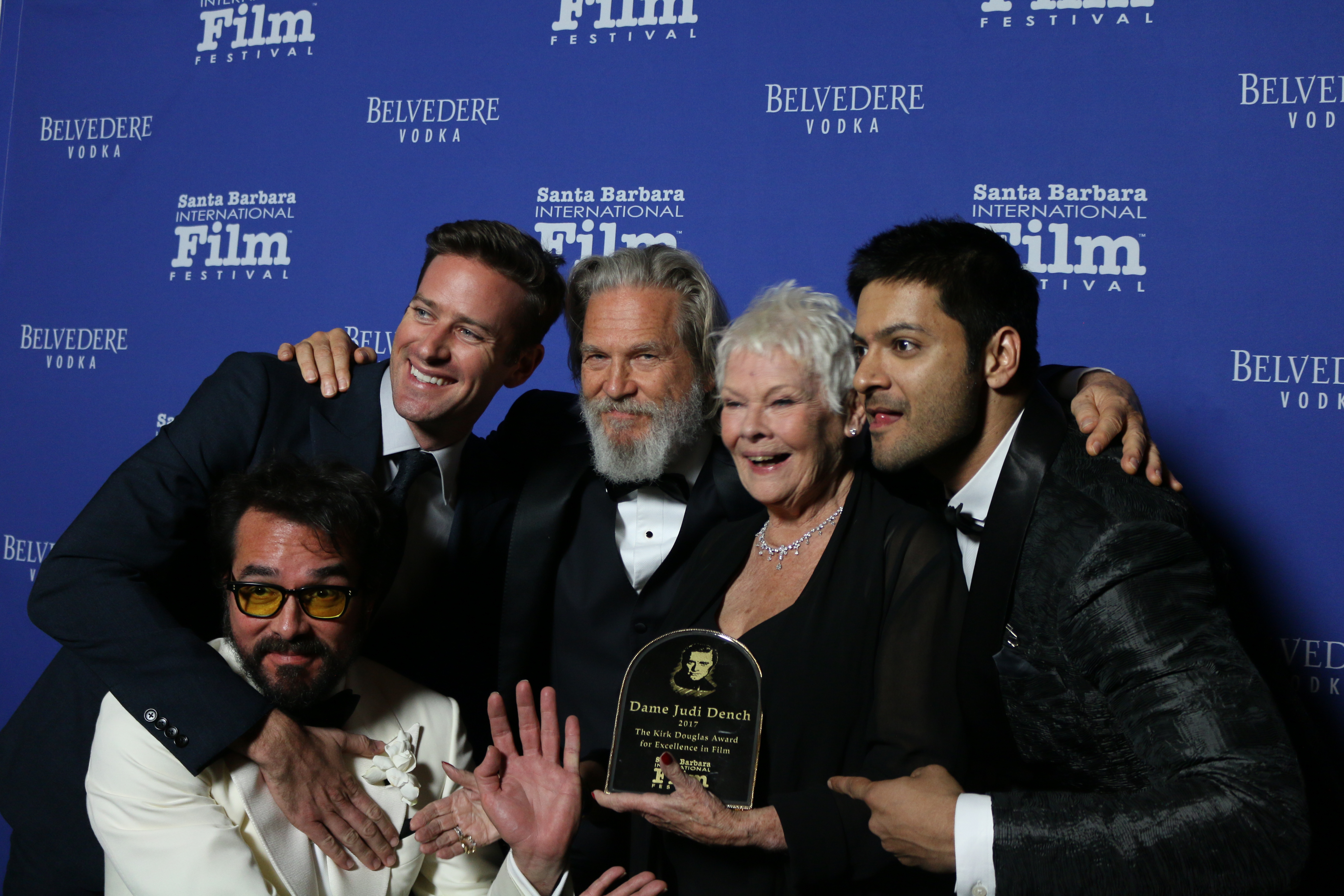 Roger Durling, Armie Hammer, Jeff Bridges, Judi Dench & Ali Fazal
The group of actors who were present and participated in the presentation of this award proved to be a wonderful mix who not only loved working with the great Dame Dench, but also enjoyed having fun with her during the red carpet and post photo opportunities. In her eighties, she still has the energy of a twenty-five-year- old, and it shines through her expressive eyes. The filmography on her body of work went from 007 to Queen Victoria and it was all a reminder of what a truly great actress this lady is, and the standard she has set for outstanding work on stage and in film.
Since 2006, the annual Kirk Douglas Award for Excellence in Film has been awarded to a lifelong contributor to cinema through their work in front of the camera, behind, or both. Past honorees include Warren Beatty, Jane Fonda, Jessica Lange, Forest Whitaker, Robert DeNiro, Michael Douglas, Harrison Ford, Quentin Tarantino, Ed Harris, and John Travolta.
Funding from the Gala will go to support the many educational and community programs hosted by the Santa Barbara International Film Festival such as Mike's Field Trip to the Movies, the 10-10-10 Mentorship program and competitions, the Film Studios Program, Apple Box Family Films and the festivals new initiative to be launched this summer, Film Camp. The 33rd annual Santa Barbara International Film Festival will take place from Wednesday, January 31st through Saturday, February 10th.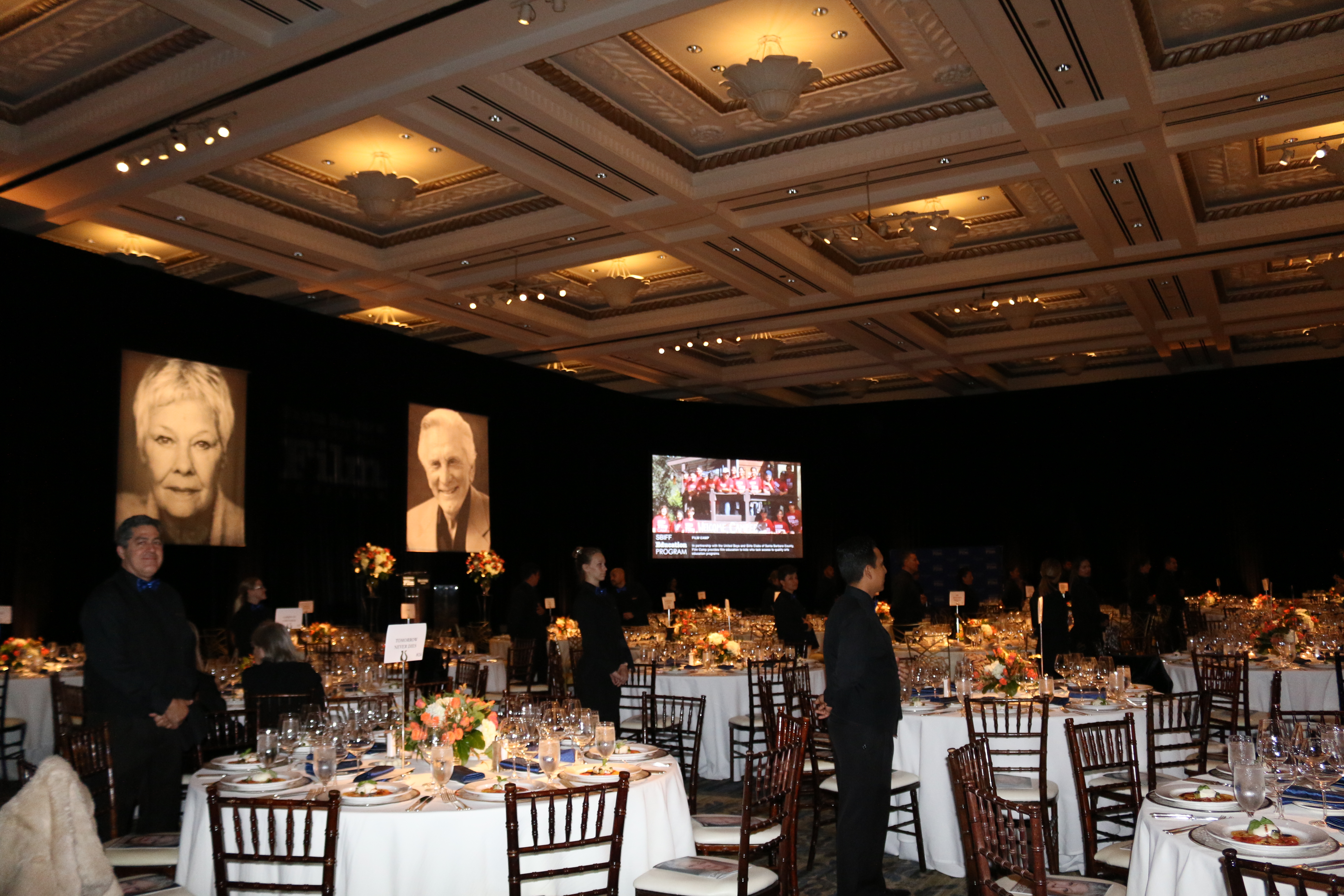 The Ritz Carlton, who recently purchased the Bacara Resort & Spa, presented a dinner fit for a Dame from beginning to end. The Belvedere cocktails were flowing throughout the night, wines paired with the dinner were by Dom Perignon, and Grace + Vine with a sweet ending dessert that was beyond amazing. It was a fun filled evening honoring a 'one in a million' great actress!
_____________________________________________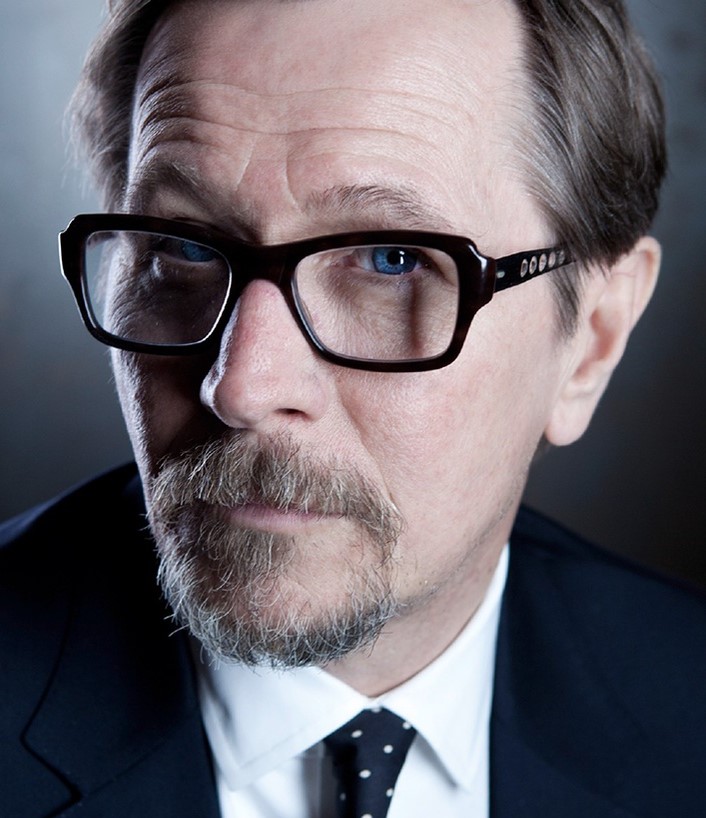 GARY OLDMAN TO BE HONORED WITH MALTIN MODERN MASTER AWARD AT 2018 SANTA BARBARA INTERNATIONAL FILM FESTIVAL 

Gary Oldman is set to receive the Maltin Modern Master Award at the 33rd annual Santa Barbara International Film Festival, the festival announced today.  Oldman will be honored for his longstanding contributions to the film industry culminating with Focus Features' Darkest Hour. Leonard Maltin, for who the award was recently renamed after, will return for his 27th year to moderate the evening. The award will be presented on Friday, February 2, 2018 at Santa Barbara's historic Arlington Theatre.   
"Gary Oldman has dazzled audiences for decades with an array of brilliant performances," stated Leonard Maltin. "With Darkest Hour, he has once again proven that he is a force to be reckoned with, and a true master of his craft. 
Darkest Hour takes place during the early days of World War II, as the fate of Western Europe hangs on the newly-appointed British Prime Minister Winston Churchill (Oldman), who must decide whether to negotiate with Hitler, or fight on against incredible odds. Directed by Joe Wright from a screenplay by Anthony McCarten, the film also stars Ben Mendelsohn, Kristin Scott Thomas, Lily James, and Stephen Dillane. Darkest Hour is in theaters November 22, 2017.   
The Modern Master Award was established in 1995 and is the highest accolade presented by SBIFF.  Created to honor an individual who has enriched our culture through accomplishments in the motion picture industry, it was re-named the Maltin Modern Master Award in 2015 in honor of long-time SBIFF moderator and renowned film critic Leonard Maltin. 
Past recipients include Denzel Washington, Michael Keaton, Bruce Dern, Ben Affleck, Christopher Plummer, Christopher Nolan, James Cameron, Clint Eastwood, Cate Blanchett, Will Smith, George Clooney and Peter Jackson.   The 33rd annual Santa Barbara International Film Festival will take place from Wednesday, January 31st through Saturday, February 10th.   For more information, and to purchase tickets, festival passes and packages, please visit www.sbiff.org.

___________________________________________________________________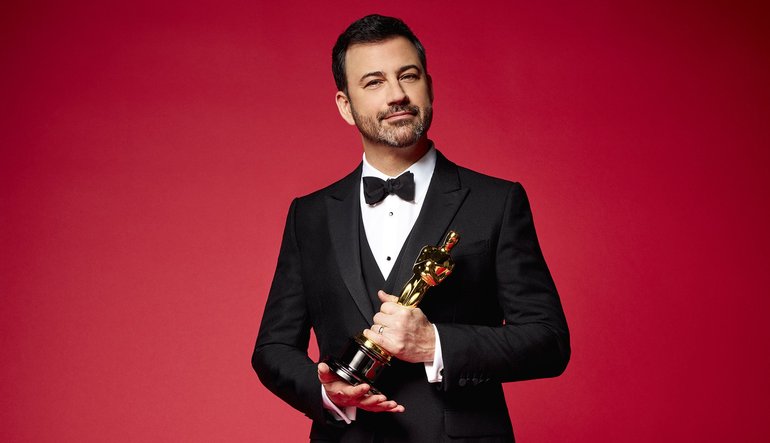 Jimmy Kimmel to Host Oscars 2018
90th Academy Awards 3/4/18 ABC 7 EDT  4PDT
Dolby Theatre Hollywood & Highland Center
ENTERTAINMENT DATES TO REMEMBER 2017-2018
October 2017
9 – Critics Choice Documentary Awards nominees announced
16 – Cinema Audio Society early submissions open
19 – Gotham Award nominations announced
20 – IDA Documentary Awards nominations (features) ends
27 – Britannia Awards Gala (BAFTA LA)
November 2017
1 – British Independent Film Awards nominations announced
1 – IDA Documentary Awards nominations announced
2 – Critics' Choice Documentary Awards Show
5 – European Film Awards nominations announced
6 – IDA member voting period for Best Feature and Best Short begins
11 – AMPAS Governors Awards
16 – SAG nomination ballots open
20 – Cinema Audio Society early submissions due
20 – BTJA Nomination Committees begin consideration
21 – PGA documentary nominees announced
21 – Independent Spirit Awards nominations announced
24 – Golden Globe nomination ballots mailed out to to HFPA members
27 – nominating ballots go to Broadcast Film Critics Association voters
27 – Gotham Awards
28 – National Board of Review winners announced
29 – DGA Feature Film online nomination voting opens
30 – NYFCC winners announced
30 – AWFJ deadline for return of nominations ballots
December 2017
1 – Nominating ballots go out to BFCA members
3 – AWFJ EDA Award Nominees announced
3 – IDA member voting period for Best Feature and Best Short ends
4 – Final screening date for Golden Globes
4 – Annie Award nominations announced
4 – BTJA Nomination Committees render recommendations
4 – Deadline for BFCA returning nominating ballots
5 – AWFJ deadline for final voting ballots
6 – Nomination voting begin for Art Directors Guild feature film and television
6 – Critics' Choice Awards TV nominations announced
6 – Critics' Choice Awards Film nominations announced
7 – AFI Awards nominations announced
7 – WGA TV, New Media, Radio, News, Promo Writing, Graphic Animation noms announced
7 – Golden Globes deadline for ballots
9 – AWFJ EDA Awards announced
9 – European Film Awards announced
9 – IDA Documentary Awards Ceremony
10 – British Independent Film Awards winners announced
10 – SAG nominations voting closes at 5PM PsT
11 – Golden Globes nominations announced
11 – DGA online voting for TV noms opens
14 – Cinema Audio Society nomination ballot voting begins
13 – SAG nominations announced
14 – PGA nominations poll open for motion pictures and animation features
15 – round one BAFTA nominations voting begins
18 – Golden Globes final ballots mailed
19 – SAG final voting opens
January 2018
2 – Annie Award online voting opens
2 – Palm Springs International Film Festival Awards Gala
3 – Deadline for receipt of final Golden Globe ballots from HFPA members
3 – Voting ends for Art Directors Guild nominations
3 – Cinema Audio Society nomination ballot voting ends
3 – NYFCC awards dinner
4 – WGA theatrical and documentary screenplays announced
4 – Art Directors Guild nominations announced
4 – PGA nominations polls close for motion pictures and animated motion pictures
5 – AFI Awards luncheon
5 – PGA Awards nominations announced
5 – PGA nominations for TV, animated, motion pictures and digital announced
5 – Academy Award nominations voting opens at 8AM PST
7 – Golden Globe Awards
8 – Final ballots go out to BFCA members
8 – Final ballots go out to BTJA members
9 – Deadline for BFCA returning final ballots
9 – Deadline for BTJA returning final ballots
9 – National Board of Review gala
9 – BAFTA nominations announced
10 – Cinema Audio Society nominees announced
10 – DGA TV, Commercial and Documentary nominees announced
11 – Critics' Choice Awards
11 – DGA feature film and first-time feature nominations announced
12 – Academy Award nominations voting closes at 5PM PST
15 – NAACP Image Awards
19 – PGA final voting closes
20 – PGA Awards
19 – SAG final voting closes
21 – SAG Awards
23- Annie Award final voting closes
23 – Academy Award nominations announced
26 – ACE Eddie Awards Gala
27 – Art Directors Guild Awards
February 2018
1 – Cinema Audio Society final voting begins
3 – DGA Awards
3 – Annie Awards
5 – Oscar Nominees Luncheon
10 – USC Scripter Awards
11 – WGA Awards
14 – Cinema Audio Society final voting ends
18 – BAFTA Awards
20 – Academy Award final voting opens at 8AM PST
24 – 54th Annual CAS Awards
27 – Academy Award final voting closes at 5PM PST
March 2018
3 – Independent Spirit Awards
3 – BAFTA Tea Party
4 – 90th Annual Academy Awards
_________________________________________________________________
---