COME FLY AWAY 
Pantages Theatre
October 25 – November 6, 2011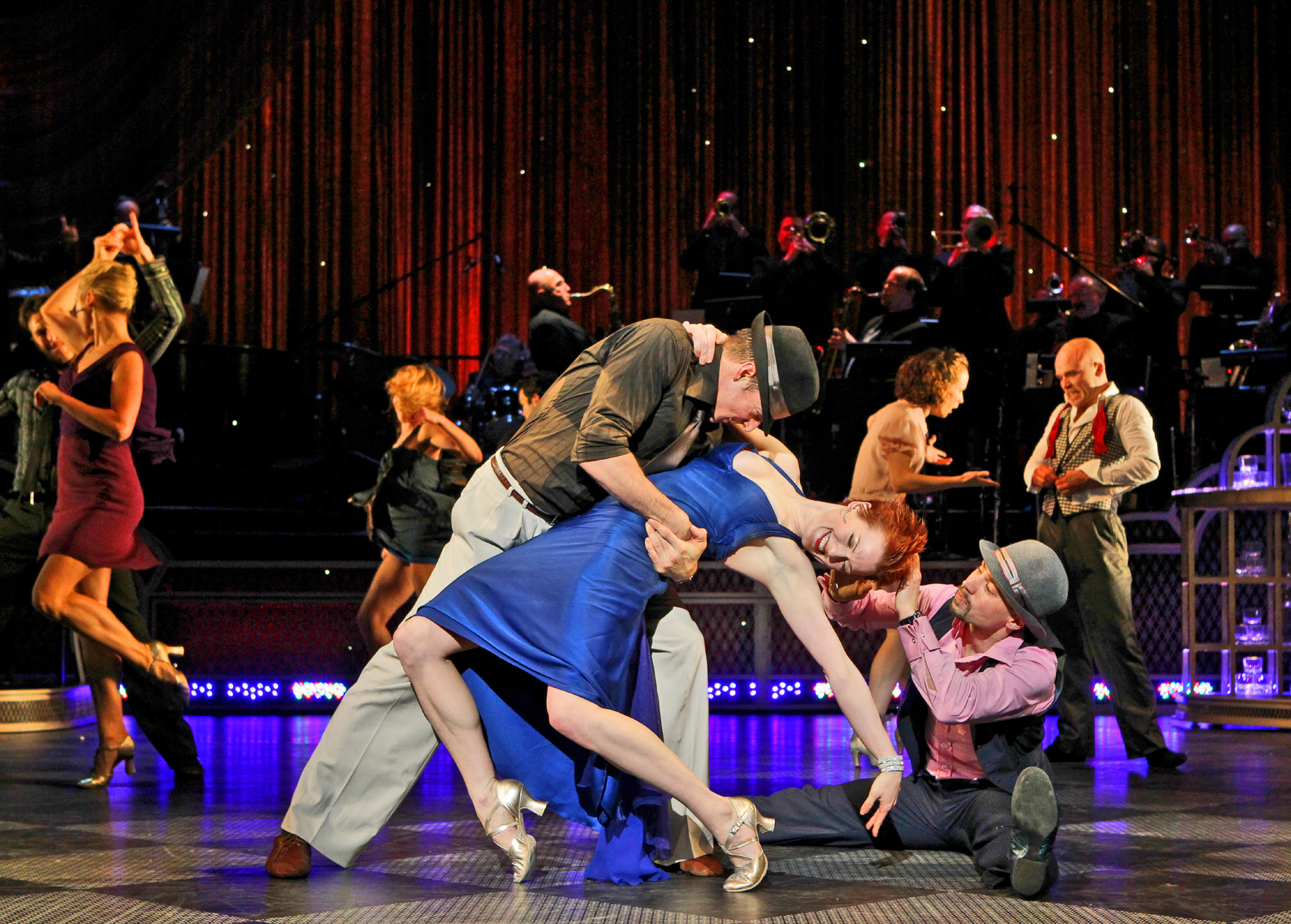 The new Broadway musical, COME FLY AWAY, conceived, choreographed, and directed by Tony Award-winner Twyla Tharp and featuring vocals by Frank Sinatra, will makes its Los Angeles premiere at the Pantages Theatre for a strictly-limited 2 week engagement, October 25 – November 6, 2011.  The show's score combines classic and newly discovered vocal performances from the Sinatra archives along with signature arrangements by Nelson Riddle, Billy May, Quincy Jones as well as brand new charts for this fresh innovative musical.  COME FLY AWAY follows four couples as they fall in and out of love during one song and dance filled evening at a crowded nightclub.  Blending the legendary vocals of Frank Sinatra with a live on-stage big band and 15 of the world's finest dancers, COME FLY AWAY weaves an unparalleled hit parade of classics, including "Fly Me To The Moon," "My Way," and "That's Life," into a soaring musical fantasy of romance and seduction.
Charles Isherwood of The New York Times calls COME FLY AWAY, "SPECTACULAR and DAZZLING!  This is a MAJOR new work, with a stage full of BRILLIANT performers.  Twyla Tharp's ELECTRIFYING celebration of the music of Frank Sinatra will sweep you up in a complete spell."  Linda Winer of Newsday calls the show "A DANGEROUSLY GORGEOUS DANCE ADVENTURE" while Michael Kuchwara of the Associated Press calls the show "ASTONISHING -- A love letter to romance, not to mention the man and his music, with eight MARVELOUS leads and an orchestra of STERLING musicians."  And Richard Zoglin of Time Magazine states simply, "COME FLY AWAY delivers the PUREST JOLT OF PLEASURE to be found on a Broadway stage."  
Tickets for COME FLY AWAY may be purchased online at www.BroadwayLA.org or by phone at 1-800-982-ARTS(2787).  Tickets may also be purchased in person at the Pantages Box Office and all Ticketmaster outlets.  The Pantages Theatre is located at 6233 Hollywood Boulevard, just east of Vine Street, and the box office opens daily at 10am. 
For more information, visit the official website of the Pantages Theatre:  BroadwayLA.org
---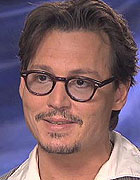 Actor  Johnny Depp talked with "Extra's" Jerry Penacoli about the upcoming "Pirates of the Caribbean: On Stranger Tides" -- and how his kids idolize Robert Downey Jr. as "Iron Man" more than Depp's role as Jack Sparrow.
"Bob Downey, we've known one another for a million years," Depp explained. "He and his wife came over for dinner and my son just couldn't believe that he was sitting next to Iron Man, so I saw Captain Jack leave my son's eyes and Iron Man was the ticket."
In "Pirates of the Caribbean4," Capt. Jack Sparrow goes on a brand new adventure to find the Fountain of Youth, while making alliances with Barbossa (Geoffrey Rush) and Blackbeard's daughter, Angelica (Penelope Cruz). Depp counts Captain Jack Sparrow as one of his favorite characters. "Oh, I adore him."
But Depp doesn't really love to dance, even though he does so with Penelope in "POTC." The actor said, "I was sort of forced to... at the very least it was sort of a drunken dance, that helps.I fear dancing. I actually fear it."
The always eclectic actor also admitted he uses certain aliases when he is staying in hotels, including "Mr. Stench." Depp laughed, "You'd start your day off with a smile, just to get that wake-up call at 6 in the morning, saying, 'It's time to wake up, Mr. Stench' and when you hear it in foreign accents as well, it makes it sound even better.  Monsieur Stench -- and I've also been Monsieur Poopy."
---
New Schedule of Great Entertainment Visit: www.lobert.com
_____________________________________________________________
(L to R: House cast members Jesse Spencer, Amber Tamblyn, Omar Epps and Executive Producer David Shore)
TV'S HOUSE CAST MEMBERS TOUR ISRAEL   



Four stars of the FOX TV drama House arrived in Israel this week on a tour designed to show off the best of Israel. The four actors--Lisa Edelstein, Amber Tamblyn, Omar Epps and Jesse Spencer--will Tweet and blog about the trip as they travel, and are expected to share their experiences in media interviews on their return to the United States.

The four actors will celebrate Independence Day in Tel Aviv, then visit the Galilee, the Dead Sea and Masada and complete their tour in Jerusalem. The visit is sponsored by America's Voices for Israel, a joint project of the Conference of Presidents of Major American Jewish Organizations, the Israel Ministry of Tourism, the Israel Ministry of Foreign Affairs and EL AL Israel Airlines.

Launched to critical acclaim in 2004, House is one of the most watched TV dramas in America, and is distributed to 66 countries around the world, including Israel. House has won numerous awards, including nine People's Choice Awards, a Peabody Award, two Golden Globes and four Emmy Awards.
"Our goal is to bring a stream of high-profile celebrities and opinion makers to Israel in the coming months and years," says Haim Gutin, Israel Tourism Commissioner North & South America, "so that they will return home and spread the word not only about what Israel represents but also about its appeal for travelers." 2010 was the best year ever for tourism to Israel.    For more information about travel to Israel, visit www.goisrael.com.
---
On Oprah Winfrey's final show on May 25, "Extra's" AJ Calloway caught up with Winfrey's BFF, Gayle King, to get the inside scoop on the giant finale.
Gayle cleared up the rumor that the NBA moved the Chicago Bulls game for Oprah's show taping. "I talked to the NBA guy yesterday -- she had it first," King explained.
Oprah's BFF called her with AJ and her screaming fans surrounding them. Winfrey, on speaker, said, "AJ, I'm resting up." The queen of talk believes her final show is "gonna be great. I'm excited to be open to the delight of it. I'm just going to be delighted by it. She [Gayle] already told me to stop thinking of it as a surprise."
"Oprah keeps saying she doesn't want it to be about her. She keeps saying, 'Can you please make sure it's about the show and a tribute to the show?' I think she's the show, too.
"It is really interesting as someone who is so used to giving love, she's very uncomfortable receiving it -- it's very interesting to watch. So I said today that you just have to embrace the love and feel the love... you just have to embrace it and accept it," said Gayle.
The buzz around town is that megastars Beyonce, Jay Z, Madonna, Jada and Will Smith, and Tyler Perry have gathered in Chi Town for the final goodbye, even though Gayle claims Oprah doesn't really know who will show up. "If I told you I would have to kill you, and I love you. Let's just say there will be a lot of people that you will recognize. You will not be disappointed."
King did manage to say there will be plenty of festivities, and joked, "I heard there was a party -- hope I get an invitation."
 ____________________________________________________________________
UCLA LIVE ANNOUNCES 2011-2012 SEASON         
Check out the season brochure here:
http://ipaperus.ipaperus.com/UCLAArts/LW/UCLAlive1/
---
---