TINSELTOWN TIDBITS  .  .  .
EMMY® AWARDS: September 22 - 8:00 p.m
70th EMMY® AWARDS GOVERNORS BALL & 2019 CREATIVE ARTS GOVERNORS BALL EVENTS WILL FEATURE BRILLIANCE IN MOTION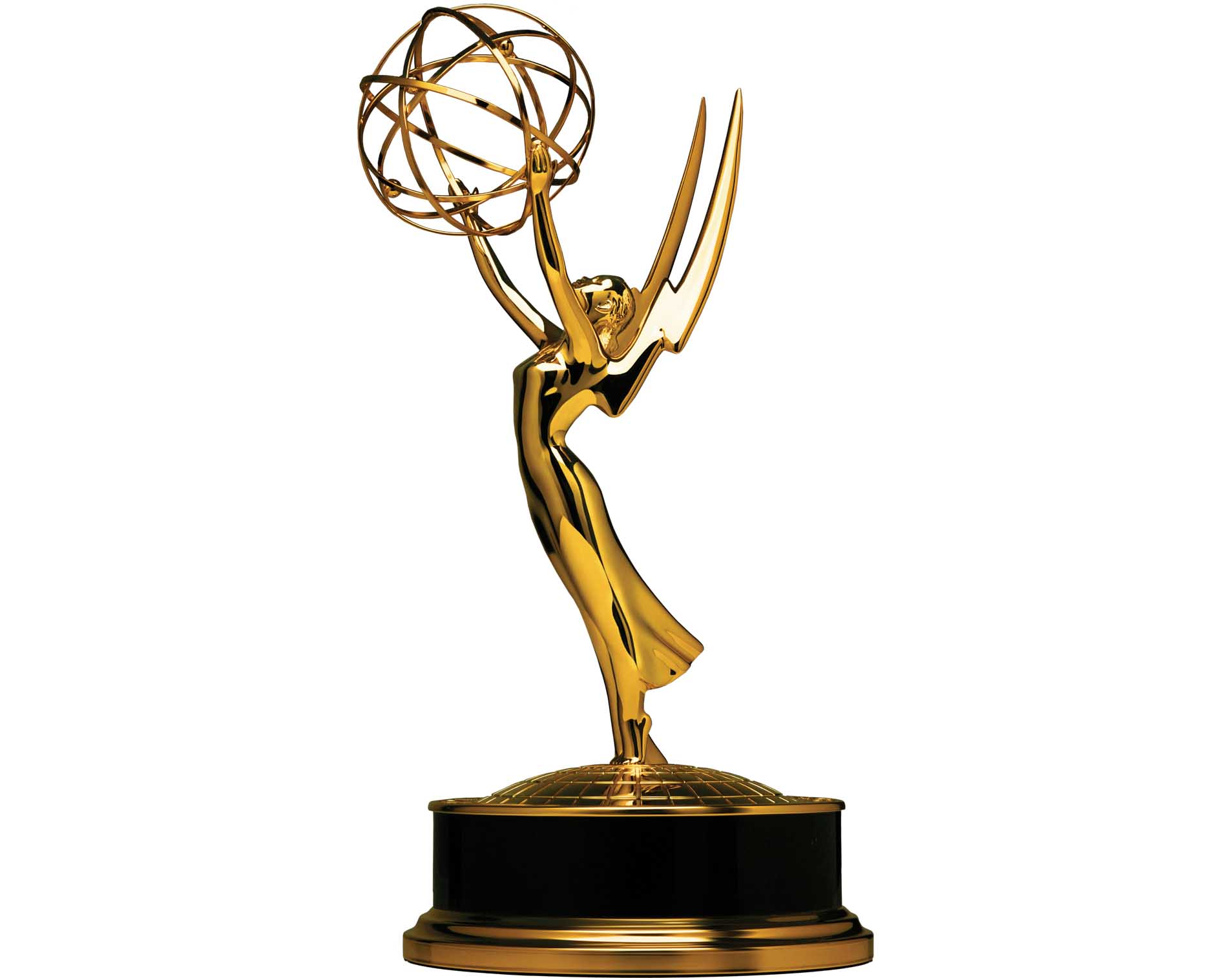 The Television Academy today revealed Brilliance in Motion as the theme of the official Emmy Awards after-party celebrations: the Governors Ball on Sunday, September 22, immediately following the awards telecast, as well as back-to-back Creative Arts Governors Ball events on Saturday, September 21 and Sunday, September 22. The trio of exclusive, star-studded galas will fully immerse television industry luminaries and distinguished Academy guests in a multi-layered experience inspired by the beauty of dancing waters and sparkling fountains.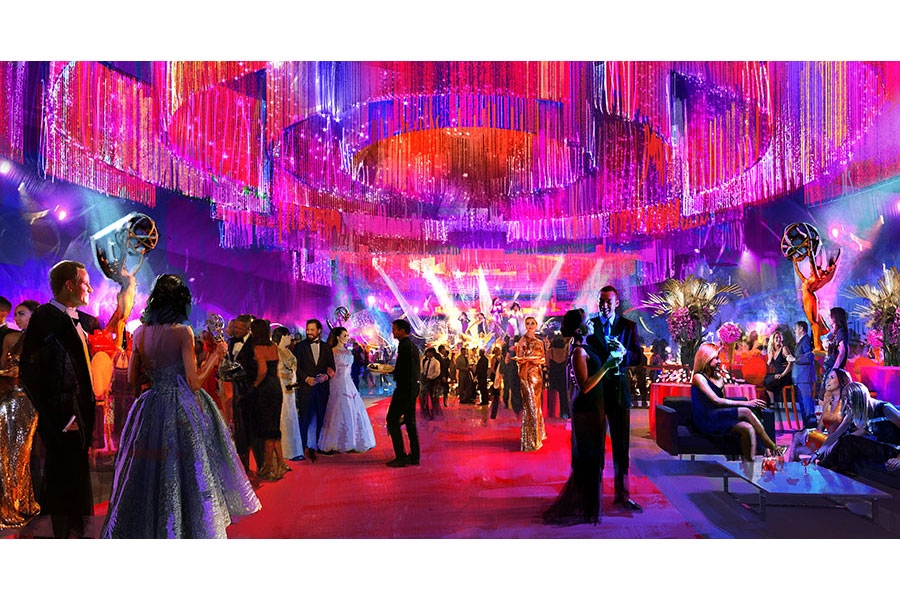 For the second consecutive year, the elevated, open-air L.A. LIVE Event Deck will be the site of the Governors Ball festivities. Overhead, a monumental art installation of illuminated filaments will create a shimmering cascade of color. Throughout the venue, guests at the Emmys official "After-Party" will savor an eclectic menu of fine-dining, "small plates" created by renowned chef Joachim Splichal and Patina Catering, while sampling specialty wines, sparkling wines and cocktails unique to the festivities. Together these elements will combine for an Emmy celebration imbued with modern elegance and dynamic energy.

"The theme of Brilliance in Motion reflects both the extraordinary talent and creativity of the people and productions we honor at the Emmys, and the vibrant experience we've designed for this year's Governors Ball," said Governors Ball Committee Co-Chair Halina Siwolop.

"Beyond creating a visually stunning 'wow' moment when guests enter the party, we've worked to make the entire evening dazzle with culinary delights, superb live entertainment and toast-worthy moments," said Co-Chair Brenda Brkusic Milinkovic.

Décor
Expanding on the theme of swirling water in motion, the design features contoured ballroom architecture and furnishings arranged within a series of converging curves, enticing guests to mingle and explore. Adding further luster to the gala celebration, the Ball will be bathed in a rich color palette of eggplant, magenta, blush and coral, with accents of exquisite Emmy gold.

Event producer Cheryl Cecchetto of Sequoia Productions shared, "The dynamic contours and synergetic elements are inspired by the collaboration of the many innovative fields of creative expertise within the television industry."

Food + Beverage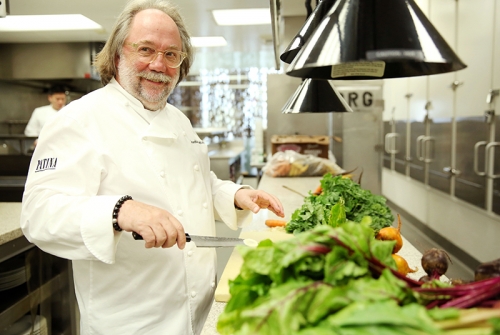 Chef and Founder of Patina Catering Joachim Splichal returns to the Governors Ball for the 24th year with a lavish tasting menu of chef-driven small plates and reinterpretations of classic dishes that are designed to please all palates. Splichal, along with Vice President of Culinary Gregg Wiele, Patina Catering Executive Chef Alec Lestr, and Patina Catering Executive Pastry Chef Frania Mendivil, have interpreted Brilliance in Motion by moving away from a static, sit-down dinner to an elegant, flowing feast.

Servers will circulate throughout the ballroom offering hors d'oeuvres and small plates such as Maine Lobster and burrata, Yellowtail Sashimi, Paella Valenciana, Red-wine Braised Short Rib, and Crab Cake Sliders. Also featured will be a delicious assortment of vegetarian and vegan offerings including Tomato "Tartare," Candy Striped Beet "Poke," Japanese Eggplant, Brussel Sprouts "Frittes," Green Goddess Chop Salad, and "Street Corn" Ravioli.

At multiple stations throughout the ballroom, inspired by renowned Los Angeles steakhouse Nick + Stef's, chefs will hand carve Grass-fed Tenderloin of Beef, served with signature White Cheddar Potato Gratin and Little Gem Chopped Wedge Salad. In addition, gourmet Angus Beef Slider Burgers will be offered, while Beyond Meat, the plant-based answer to beef, will make its Governors Ball debut in sliders topped with caramelized onions.

Dessert service will delight both the eye and the palate with a tempting assortment of miniature confections and pastries ranging from tray-passed mini milkshakes and warm-from-the-oven Double Chocolate S'more Brownies and Snickerdoodle Blondies, to Butterscotch Budino and vegan Raspberry Chia Seed Tapioca.

In its second year as the Official Chocolate of the Governors Ball, premium Swiss chocolatier Lindt will be incorporated into a dessert – the Lindt Chocolate Pot de Crème, made with the highest quality dark and milk chocolate. At the Governors Ball, winners and guests alike will also have a chance to indulge in smooth, melting Lindt LINDOR truffles. LINDOR Milk, White and Fudge Swirl chocolate truffles promise a sweet ending to an amazing evening.

For the fourth consecutive year, iconic Napa Valley winery Sterling Vineyards returns as the Official Wine of the 71st Emmy Awards Season. Sterling Vineyards invites Emmy nominees, presenters and members of the Television Academy to celebrate with its 2017 Sterling Vineyards Napa Valley Chardonnay, 2017 Sterling Vineyards Napa Valley Sauvignon Blanc and 2016 Sterling Vineyards Napa Valley Cabernet Sauvignon. Governors Ball guests will enjoy a tasting of 2015 Sterling Vineyards Platinum Cabernet Sauvignon; as a special gift, winners announced at the September 22 telecast will receive a personalized bottle of the winery's flagship 2015 Sterling Vineyards Iridium Cabernet Sauvignon. That night's winners will also be treated to a glass of the exclusive wine while waiting for their Emmy statuettes to be personalized in the Emmy Winner's Circle.

Ferrari Trento, crowned both the Sparkling Wine Producer of the Year 2019 at The Champagne & Sparkling Wine World Championships and the Producer of the Year 2019 by the Gambero Rosso Italian wine guide, makes its fifth appearance as the Official Sparkling Wine of Emmy Awards Season. Governors Ball guests will toast with a choice of scintillating sparklers, including the World Champion Blanc de Blancs Ferrari Brut, the Ferrari Brut Rosé, a delicately harmonious blend of Chardonnay and Pinot Noir, and a glorious array of vintage offerings.

FIJI Water, the number one premium imported bottled water brand in the United States, will return for the sixth consecutive year as the Official Water Partner of the 71st Emmy Awards Red Carpet and Governors Ball. Guests will stay hydrated throughout the evening with individual bottles of FIJI Water.

Ketel One Family-Made Vodka returns as the Official Spirits Partner of the 71st Emmy Awards Season. Inspired by the incredible accomplishments of the television industry's brightest stars, award-winning bartender Charles Joly has crafted a signature Emmy Awards Season cocktail collection that illustrates Ketel One Vodka's commitment to making every occasion a bit more marvelous. In the company of charming friends and delightful cocktails, Ketel One Vodka invites guests of the Creative Arts Ball galas and Governors Ball to celebrate the achievements of television's finest. In addition to the signature Emmy Awards Season cocktail collection, attendees can enjoy a selection of spirits from the Diageo Reserve collection. Whether you are raising a glass to the nominees and winners from home or live from the front row, Ketel One Family-Made Vodka reminds you that moderation is marvelous.

Don Francisco's Coffee returns as the Official Coffee Partner of the 71st Emmy Awards Season. Steeped in 150 years of coffee tradition, Don Francisco's is crafted in Los Angeles by one of the largest family-owned coffee companies in America. Guests will indulge in their premium 100% Arabica coffee at all Emmy events throughout the season.
The 71st Emmy Awards will air LIVE coast-to-coast from the Microsoft Theater at L.A. LIVE in Los Angeles on Sunday, September 22 (8:00-11:00 PM ET /5:00-8:00 PM PT) on FOX. Don Mischer Productions and Done+Dusted will co-produce the telecast.

Tune in to the 2019 Creative Arts Emmy Awards presentation Saturday, September 21 at 8:00 PM ET/PT on FXX.
For additional Emmy® Awards information visit: www.emmys.com
__________________________________________________________________
VIKING ANNOUNCES PARTNERSHIP WITH THE UPCOMING DOWNTON ABBEY FILM AND EXPANDED PRIVILEGED ACCESS TO HIGHCLERE CASTLE
New "Great Homes" Cruise Extension Offers Additional Privileged Access to Highclere Castle, the filming location of "Downton Abbey" 
Viking® (www.vikingcruises.com) today announced it has partnered with Focus Features, Universal Pictures and Carnival Films for the release of the new full-length film Downton Abbey, based on the Emmy® Award-winning series. Viking became a household name during its sponsorship of the celebrated series MASTERPIECE through the years Downton Abbey aired on PBS, and this new premier partnership builds on the company's continued commitment to enriching cultural programming. Today marks the film's global premiere in London, which will be in U.S. theaters on September 20.
                For years Viking has offered a variety of ways for its guests to experience life at Highclere Castle, the filming location of Downton Abbey. In celebration of the premiere, the company today unveiled a new Pre/Post Cruise Extension, Great Homes, Gardens & Gin, which was designed to give guests an exclusive look at several country estates that have served as the settings of acclaimed PBS and MASTERPIECE productions. Starting in 2021, the new five-day extension will be available on Viking's Rhine Getaway river cruise itinerary and British Isles Explorer ocean cruise itinerary and allows guests to explore Oxford and experience English country life. The program includes Viking's Privileged Access® tour of Highclere Castle, as well as a visit to Broughton Castle, home to the influential Fiennes family, whose members include the renowned British explorer Sir Ranulph Fiennes and actors Ralph Fiennes and Joseph Fiennes. The castle also served as a setting for the award-winning MASTERPIECE series Wolf Hall. As part of the extension, guests will visit Chavenage House in the Cotswolds, best known for its appearance in the MASTERPIECE series Poldark – and stroll the gardens of Highgrove House, the private home of Charles, The Prince of Wales. While visiting Highclere Castle, guests will have an opportunity to taste the recently-launched Highclere Castle Gin, a super-premium London Dry Gin inspired by botanicals from the castle's gardens. The extension also includes a visit to the nearby Bombay Sapphire Distillery to learn the history and production of gin.
                "Many of our guests were introduced to both Viking and Highclere Castle while watching the Downton Abbey series. For this reason, we are linked in the minds of many Downton Abbey fans," said Karine Hagen, Executive Vice President of Viking. "Partnering for the release of the new film is a natural extension of our close relationship with Highclere Castle and our close personal friendship with the Earl and Countess of Carnarvon – with whom we proudly created Viking's highest-rated cruise extension."
                "Not only are Viking and Highclere linked through Downton Abbey, but Karine and I are linked through life and our dogs, and we warmly welcome our extended Viking family to explore our home," said Lady Carnarvon.
Viking & Highclere Castle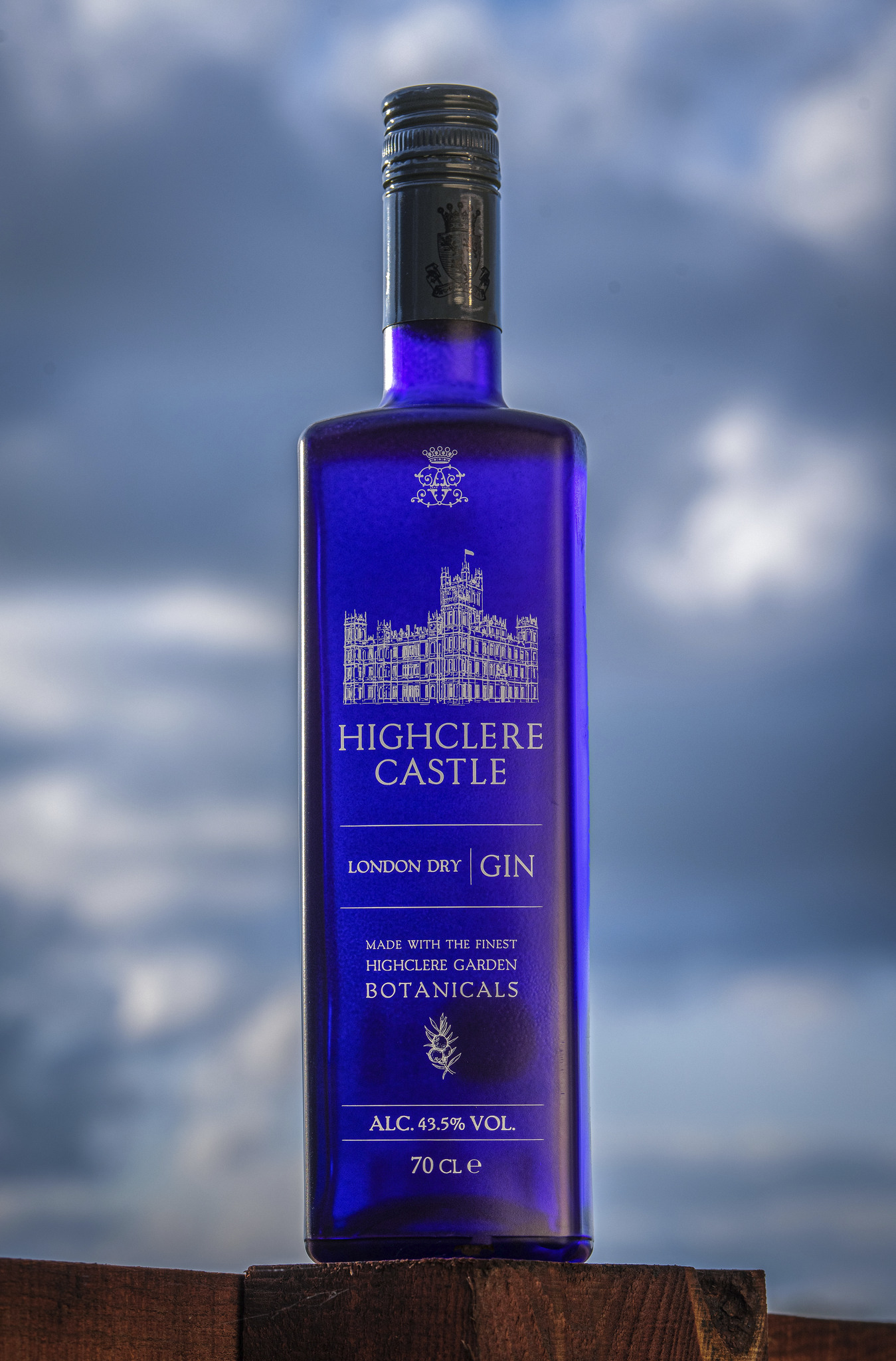 Today's announcement of the new extension visiting Highclere Castle, the home of the Earl and Countess of Carnarvon, builds on the success of Viking's longstanding relationship with the Carnarvon family. In addition to the new Great Homes, Gardens & Gin cruise extension, Viking also offers Oxford & Highclere Castle – its highest-rated Pre/Post Cruise Extension, which is available for guests on select river and ocean cruise itineraries. This Privileged Access extension was co-created and made possible by Karine Hagen and the Carnarvon family. The extension provides guests with an exclusive three-day experience in the rolling hills of England's countryside with a champagne welcome and a tour of the castle and estate. Earlier this year, Viking also announced the five-day British Collections of Ancient Egypt, a Pre-Cruise Extension for the Pharaohs & Pyramids Nile River cruise itinerary, which gives guests an introduction to Egyptian antiquities in preparation for their Nile experience, and includes retracing the steps of the world's most famous Egyptologist, Howard Carter, and his benefactor, the 5th Earl of Carnarvon. Guests experience Privileged Access to archives and museum exhibits not normally accessible to the public, and at Highclere Castle, have the opportunity view the earl's magnificent private collection of Egyptian artifacts. 
The Viking Way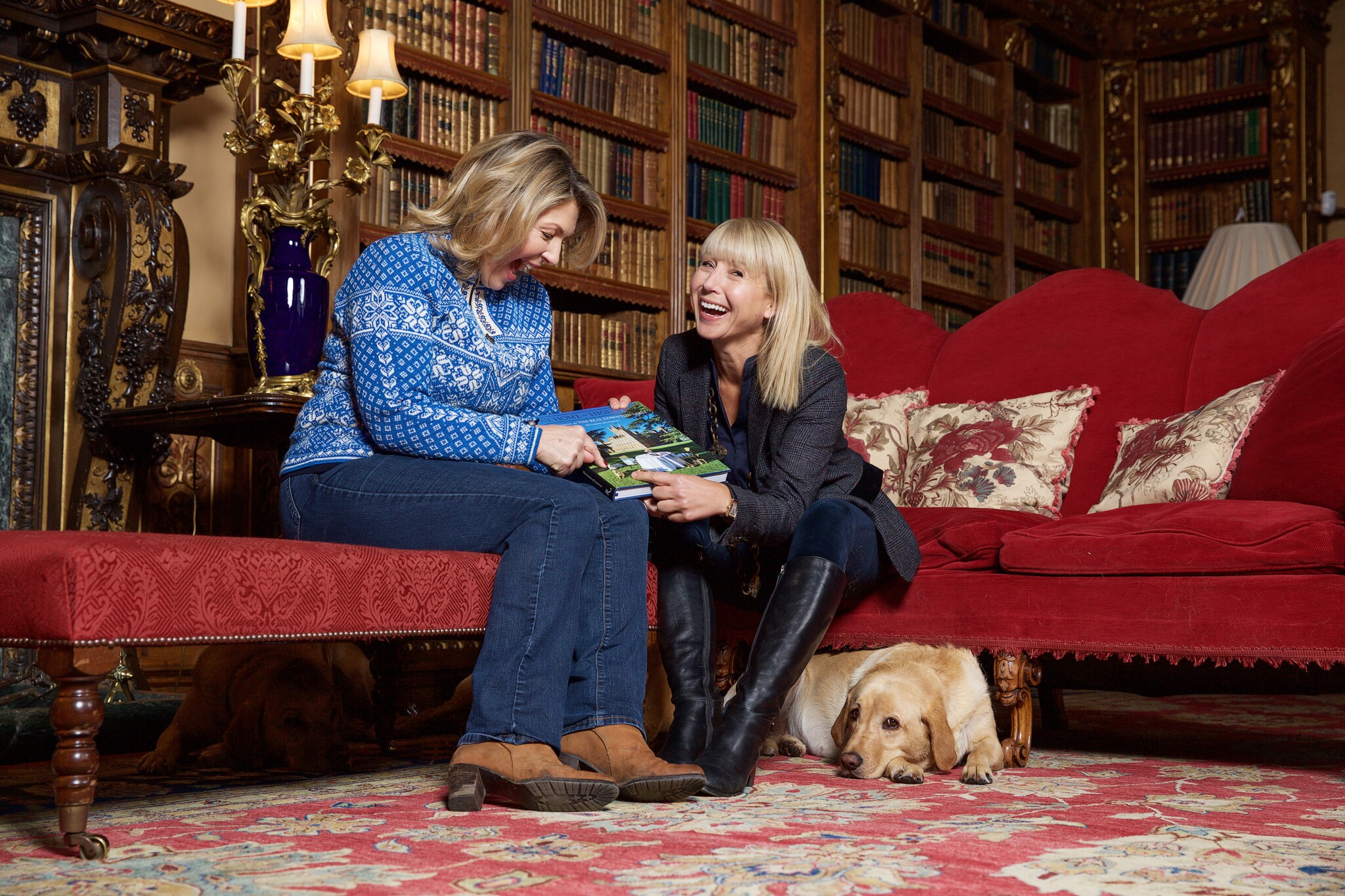 The Viking Way® of exploration goes beyond the expected and iconic, providing guests with itineraries that feature Local Life, Working World and Privileged Access experiences. Local Life excursions shine a light on everyday activities, such as Viking Chef-hosted trips to local farmers' markets, tea at home with local residents and visits with local schoolchildren. Working World excursions feature behind-the-scenes "making of" experiences, illuminating destinations through their most famous exports, such as factory and farm visits. Privileged Access excursions include experiences such visiting St. Petersburg's Hermitage Museum "behind closed doors;" a private cooking class in a Tuscan castle; three different extensions that visit Highclere Castle, the filming location of Downton Abbey; and an exclusive dinner in the Churchill War Rooms in London.
Booking Details
                From now through September 30, 2019, U.S. residents can take advantage of special savings on cruise fares, and up to free air on select 2019, 2020 and 2021 ocean and river itineraries. Visit www.viking.com,
_________________________________________________________________
recognition for CASTING AT 2020 film awards
We're very excited to announce our new Casting award, the first category introduced to the Film Awards in 20 years. The award celebrates the craft of casting and its importance in maintaining excellence and diversity across the film and television industries. In other changes to next year's Awards, the Original Music category will also be renamed Original Score, emphasising the art of composition. Read more about the changes
here
.
_____________________________________________
NASHVILLE FILM FESTIVAL ANNOUNCES U.S. INDEPENDENT FILMS INCLUDING 'INTERNATIONAL FALLS,' 'TUSCALOOSA,' 'SPEED OF LIFE,' AND MORE
NASHVILLE FILM FESTIVAL 50th 
ANNIVERSARY CELEBRATES THE BEST IN FILM, MUSIC AND CULTURE, OCTOBER 3-12, 2019
Official Nashville Film Festival 50th Anniversary Poster
NASHVILLE, TN (AUGUST 15, 2019) 
- For its 50thAnniversary taking place October 3-12, 2019, the Nashville Film Festival is thrilled to announce the titles for its U.S. Independents Program. The films include the darkly humorous 
International Falls
, the world premiere of the civil rights era coming-of-age story Tuscaloosa, and Speed of Life, a leap 20 years into the future through a wormhole created by David Bowie's death.The U.S. Independents category will also feature Babysplitters, 
Barbie
's Kenny
, Working Man, Inside The Rain,and 
Hudson
.
"As the Nashville Film Festival celebrates our 50thanniversary, this program of U.S. independent gems holds a special place in our lineup," said Lauren Ponto, Programming Manager of Nashville Film Festival. "Reflecting Nashville's unique and creative spirit, we are excited to showcase this terrific collection of U.S. Indies that embody the same diversity and aesthetic," said Lauren Ponto, Programming Manager for Nashville Film Festival.
U.S. INDEPENDENTS PROGRAM
INTERNATIONAL FALLS
, written, directed, and produced by Amber McGinnis. Dee (Rachael Harris) is stuck in a boring job and a broken marriage in International 

Falls, a snowbound border town at the end of the road. Harboring a secret dream of a stand-up career, Dee encounters Tim (Rob Huebel): a burned-out touring comedian who feels trapped by the very life Dee desires. 
TUSCALOOSA, directed by Philip Harder. World Premiere. Set in Tuscaloosa, Alabama in the summer of 1972, among Vietnam war protests and racial tension, recent college graduate Billy (Devon Bostick) works the lush grounds of an old world mental institution run by his psychiatrist father (Tate Donovan). Billy is torn between Nigel (Marchánt Davis), his father and his cronies, and his lover, Virginia (Natalia Dyer), who is planning her escape with or without Billy.
SPEED OF LIFE
, directed by Liz Manashil. 
In 2016, June (Allison Tolman) and Edward (Ray Santiago) are in the midst of an argument when Edward suddenly falls into a wormhole created by David Bowie's death. In 2040, June (Ann Dowd) continues to mourn the loss of Edward while facing the dark reality of being locked away along with the rest of society's senior citizens. Unwilling to disappear, June begins to plan her escape when Edward suddenly reappears in her life.
BABYSPLITTERS
, directed by Sam Friedlander. 
Jeff (Danny Pudi) and Sarah (Emily Chang) are struggling to come to an agreement about having a baby. Sarah is ready, Jeff is not. Their mutual friends Don (Edie Alfano) and Taylor (Maria Walsh) have the opposite problem - Don wants kids and Taylor doesn't. When the two couples hatch a plan to share one baby between them, it seems like they may have found the perfect compromise - until things spiral out of control.
WORKING MAN
, directed by Robert Jury.
When the last factory in a small Rust Belt town closes its doors, an unlikely hero emerges, Allery Parkes (Peter Gerety). A career employee of the factory, the aging Allery can't reconcile how to live a life simply sitting at home doing nothing, and against the advice of his loving wife, Iola (Oscar nominee, Talia Shire), he forms an unlikely friendship with his charismatic neighbor, Walter Brewer (Billy Brown), in order to revive the defunct factory. As their community rallies around them - and as their former corporate bosses strategize how to implode this unexpected movement - Allery learns that he might be something he never thought possible: a leader.
BARBIE'
S KENNY
, directed by Zachary Ray Sherman.
Kenny (Shawn Hawkins) is a struggling actor in Los Angeles whose life takes a hard left when his birth mother (Tara Best) reaches out after having not been in touch for over a decade. She needs his help. He thought this chapter was behind him. "
Barbie
's Kenny" is a character study exploring the mother son bond, the past's power over present and everything in between in this familial drama inspired by the works of Steve Buscemi and John Cassavetes.
INSIDE THE RAIN
, directed by Aaron Fisher.
Facing expulsion from college over alleged conduct violations, a bipolar student (Aaron Fisher), frequents a therapist (Rosie Perez) who discourages him from drowning his sorrows at a strip club. After refusing to take her advice he has a night out and befriends a woman he meets there (Ellen Toland) and they hatch a madcap scheme to prove his innocence. 
HUDSON
, directed by Sean Cunningham. 
Hudson (David Neal Levin) is a man who is somewhat of a recluse and after his mother's passing he feels even more disconnected and lost. His distant cousin, Ryan (Gregory Lay), comes to visit him and the two embark on a road trip to scatter the mother's ashes in the 
Hudson
 Valley. Along the way they pick up a hitchhiker (Mary Catherine Greenawalt) and visit Hudson's dad who has moved on with life. The cousins visit nostalgic places from their past and dig up old stories from when they were kids. One story in particular causes them to confront the truth and it may be why the family is so distant today.
The Nashville Film Festival previously announced some music documentary features for 2019, including the world premiere of Chuck Berry by filmmaker Jon Brewer; Born Into the Gig by filmmakers Kate Davis and David Heilbroner; Cool Daddio: The Second Youth of R. Stevie Moore from filmmakers Imogen Putler and Monika Baran; and The Sheriff of Mars from filmmakers Jason Ressler and Matthew Woolf. Additional programming announcements will continue to be made throughout the year.
Passes and Tickets for the 2019 Nashville Film Festival:
Advance VIP Festival badges are now on sale beginning at $295 at 
www.nashfilm.org
. VIP Badges provide priority access to films, panels and exclusive parties. Single ticket sales for most films and panels will begin in early September and will also be available at 
www.nashfilm.org
.
ABOUT NASHVILLE FILM FESTIVAL:
 The Nashville Film Festival (NashFilm) is a globally-recognized non-profit organization and cultural event presenting the best in world cinema, American independent films and documentaries by veteran masters, up-and-coming directors, and first-time filmmakers.With Academy Award® qualifying status, the Nashville Film Festival celebrates innovation, music and the many voices of the human spir
it through the art of film and partners with the Thompson Nashville to host guests from all over the world. Originally founded in 1969, the Nashville Film Festival is one of the first film festivals in the United States and will celebrate its 50th Anniversary in October, 2019. For more information, visit
____________________________________________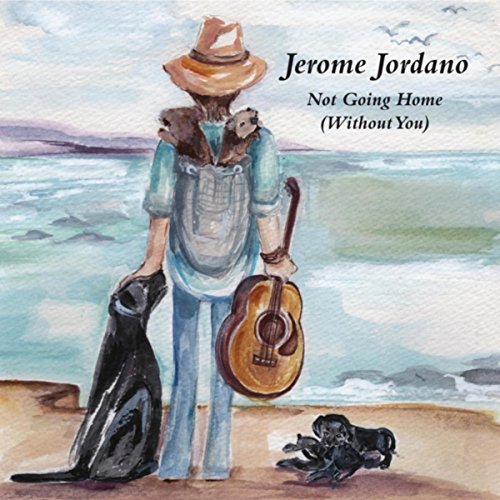 Album Release Jerome Jordano         
Not Going Home (Without You)
Great new CD & Album release by Musician, Singer, Song Writer Jerome Jordano - availabe at CD Baby, i Tunes and Spotify, SPRS_jj Instagram.
Shattered Paradigm Records, LLC

Live Authentically
www.shatteredparadigmrecords.com
---