TINSELTOWN TIDBITS  .  .  .
31st SANTA BARBARA INTERNATIONAL FILM FESTIVAL
11 Days of Fantastic Films, Acclaimed Celebrities and Award Excitement
by Bonnie Carroll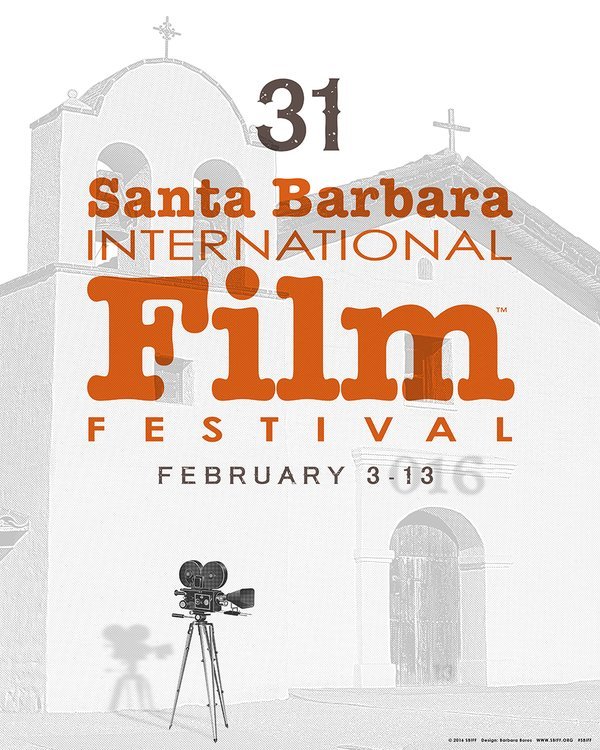 From February 3 through 13 once again the streets of Santa Barbara were filled with film lovers, food and beverage aficionados, and travelers who just love Santa Barbara. Sponsors and VIPs filled the lobby of the historic Hotel Santa Barbara to share news on the bevy of films being screened, and the Santa Barbara Theatres and select filming locations were packed with enthusiastic attendees.
The 2016 festival included tributes that have become a renowned showcase for Academy Award® frontrunners. Panels of the best in film were also a favorite, featuring outstanding writers, performers, and producers.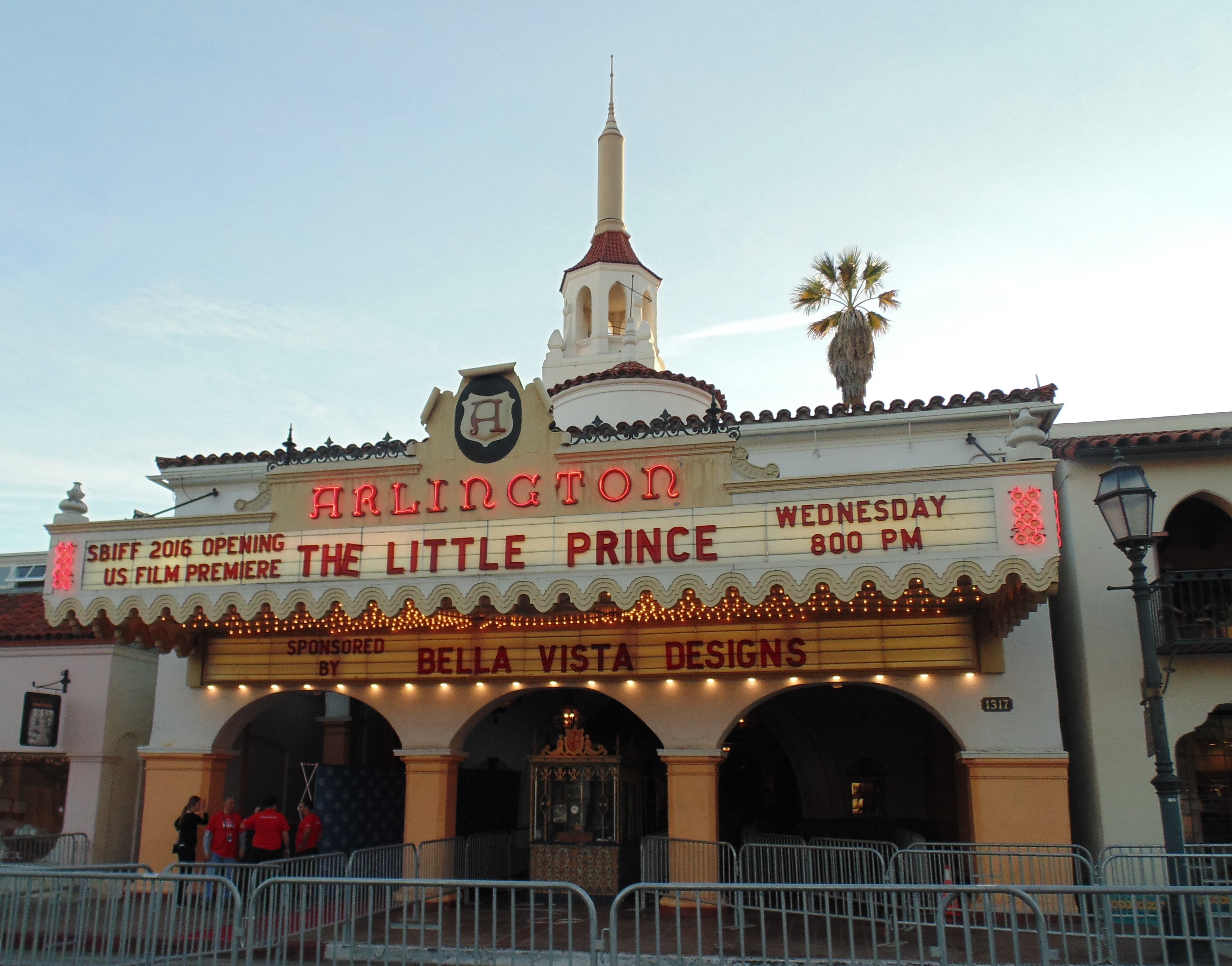 Day 1 - The 31st event opened on February 3 with the Premiere of THE LITTLE PRINCE, directed by Mark Osborne and featuring the voices of Jeff Bridges, Rachel McAdams, Paul Rudd, Ricky Gervais, James Franco, Mackenzie Foy and Benicio Del Toro. THE LITTLE PRINCE is based on the classic tale of the same name by Antoine de Saint-Exupéry.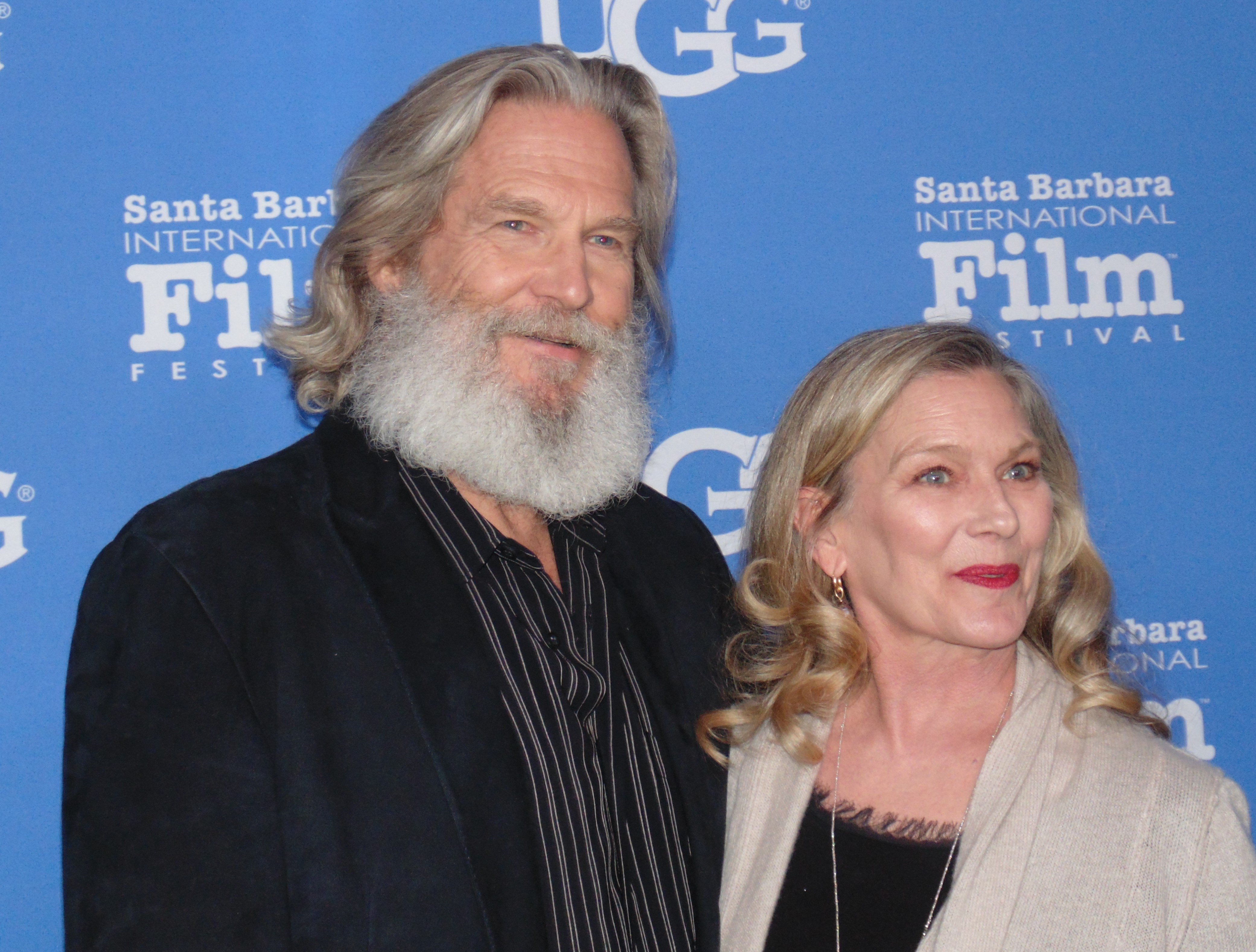 Jeff Bridges on the carpet (photo by Bonnie Carroll/LBN)
The Dude, also known as Jeff Bridges, was joined by co-star Mackenzie Foy and director Mark Osborne with a rollicking crowd and hundreds of onlookers at Santa Barbara's historic Arlington Theater. Bringing up the lights in the auditorium to the full house, festival director Roger Durling ushered Osborne to the stage who continued the presentation noting his wife, who introduced him to the novel, was the original inspiration for making the film. Remarking that his wife was not the only member to contribute to the film, the director revealed his daughter was also an inspiration for the young girl and his son was the voice of the little prince. Quite the family affair! Bridges, a resident and longtime friend of the festival, stated he was excited to spend some time in town watching films. The Santa Barbara International Film Festival and it's jurors including Sean Baker, James Morrison, Johannes Kuhnke, Neil Konigsberg, Margaret Lazarus, Geoffrey Cowper, Alan Marshall, Anthony Zerbe, Perry Lange, Mimi deGruy and Phyllis de Picciotto, celebrated the premiere and opening day at a packed Gala at Paseo Nuevo outfitted by Bella Vista Designs.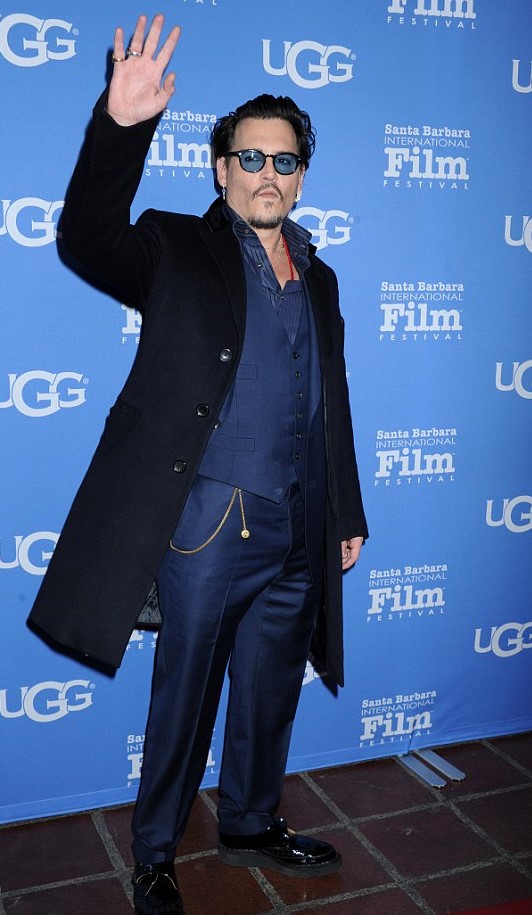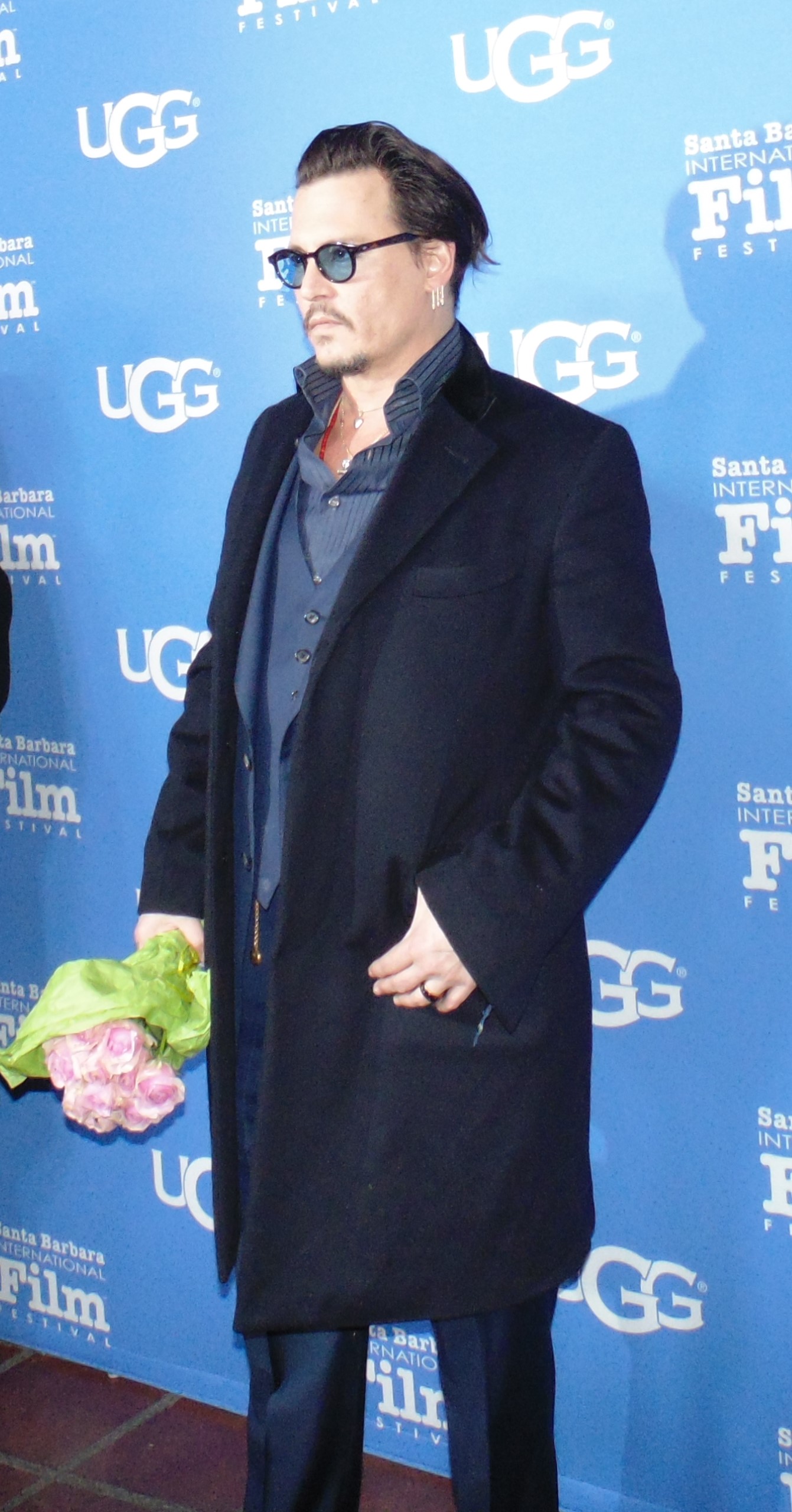 Johnny Depp on the Red Carpet (photo Bonnie Carroll/LBN)
Day 2 - was the Modern Master Award presented to Johnny Depp at the Arlington Theatre. Scott Cooper presented Johnny Depp with the esteemed Maltin Modern Master Award sponsored by UGG, moderated by longtime friend and film historian Leonard Maltin on Thursday, February 4th. Maltin Modern Masters award, Johnny Depp.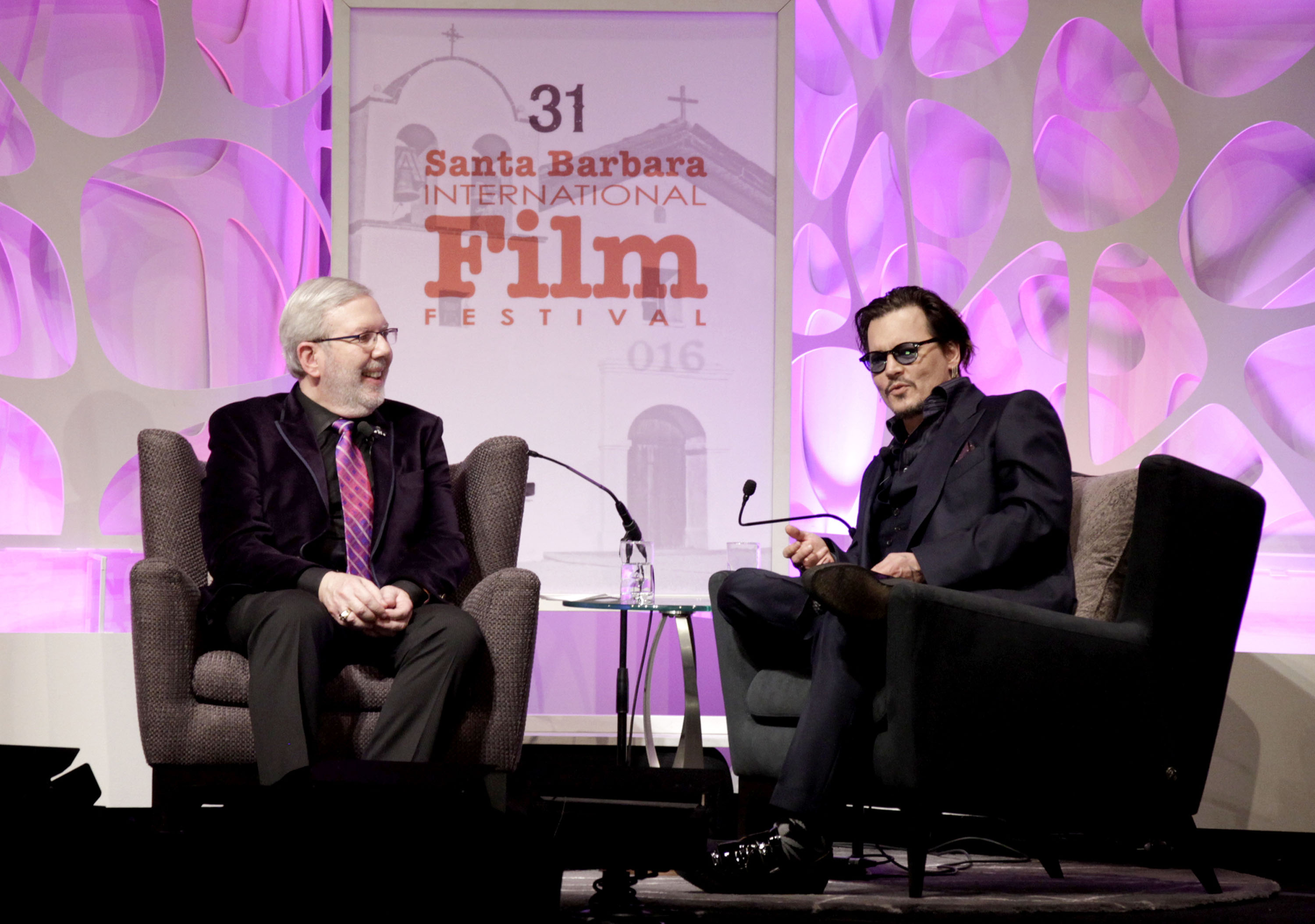 Leonard Maltin Interviews Johnny Depp (photo SBIFF.org)
Johnny Depp arrived in style and greeted his screaming fans on the Santa Barbara International Film Festival red carpet. Once onstage, the montage rolled with some highlights from his illustrious career. The sponsors of the evening, UGG, opened the night with a quick welcome to the crowd and praise for tonight's honoree. Festival director Roger Durling took the stage to introduce the moderator Leonard Maltin seemed to enjoy a conversation that covered the full span of Depp's career, from his start as a struggling musician who fell into acting, all the way through his most recent performance in BLACK MASS. Depp kept the audience laughing throughout, with funny stories from his many attempts at getting fired from jobs (including one particular time when he refused to remove a turban) and the many subsequent apologies to his agent Tracey Jacobs who was also in the audience. At the end of the conversation, Depp's BLACK MASS director Scott Cooper took the stage to say a few words and present him with the award.
Day 3 - The Riviera Award sponsored by Engel & Völkers. Excitement and anticipation filled the entrance to the Arlington Theatre when Michael Keaton and Rachel McAdams stormed the red carpet before their award presentation of the American Riviera Awards.  Rachel's stunning Jonathan Simkhai gown dazzled the crowd as she sign autographs for screaming fans. Roger Durling, Executive Director of SBIFF and moderator for the evening, greeted the audience with opening remarks about the importance of film and its power to unite communities across the globe. He then played a clip from Mark Ruffalo, the third tribute who regrettably could not attend this evening, and welcomed Rachel and Michael Keaton. This was a fun interview that everyone seemed to enjoy.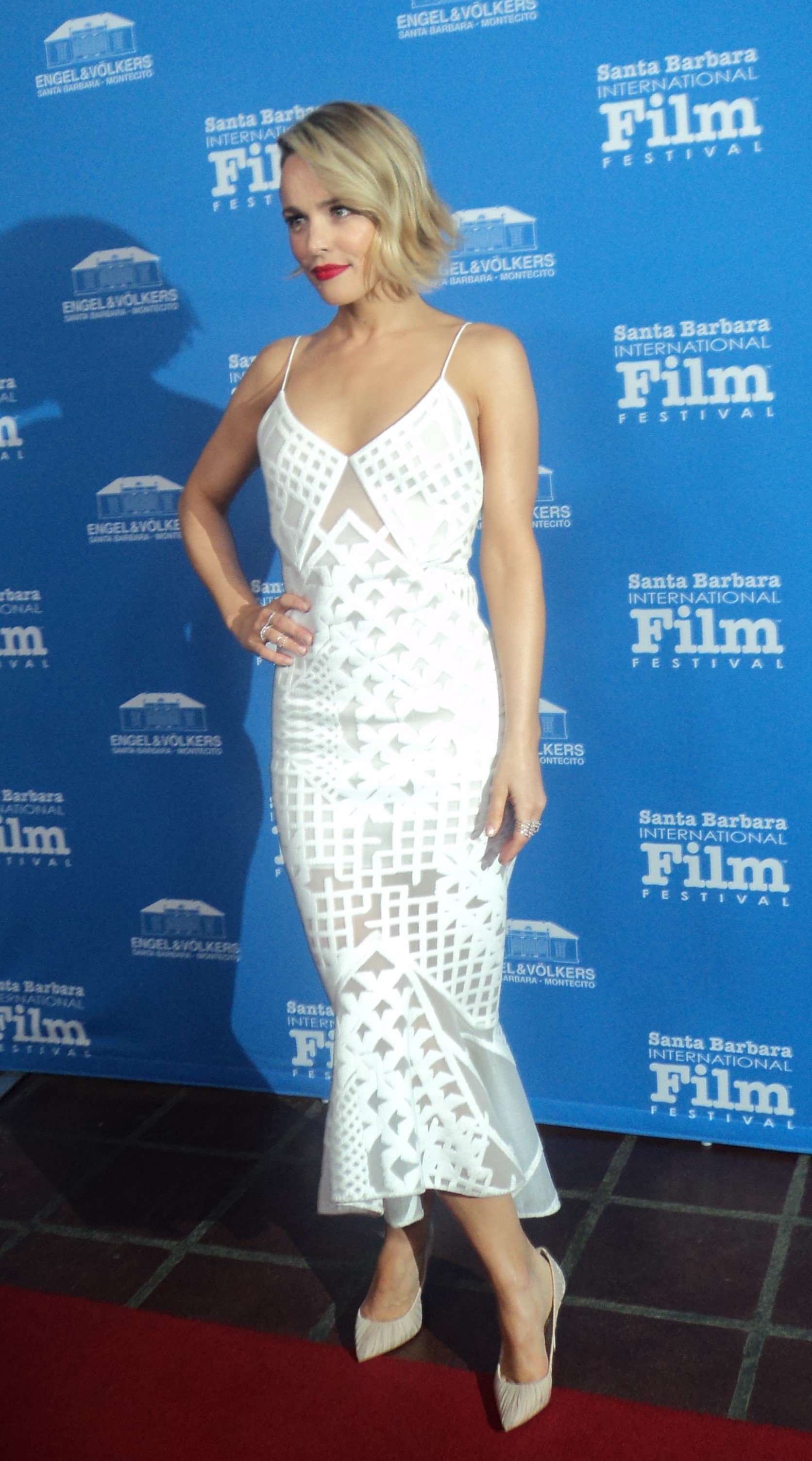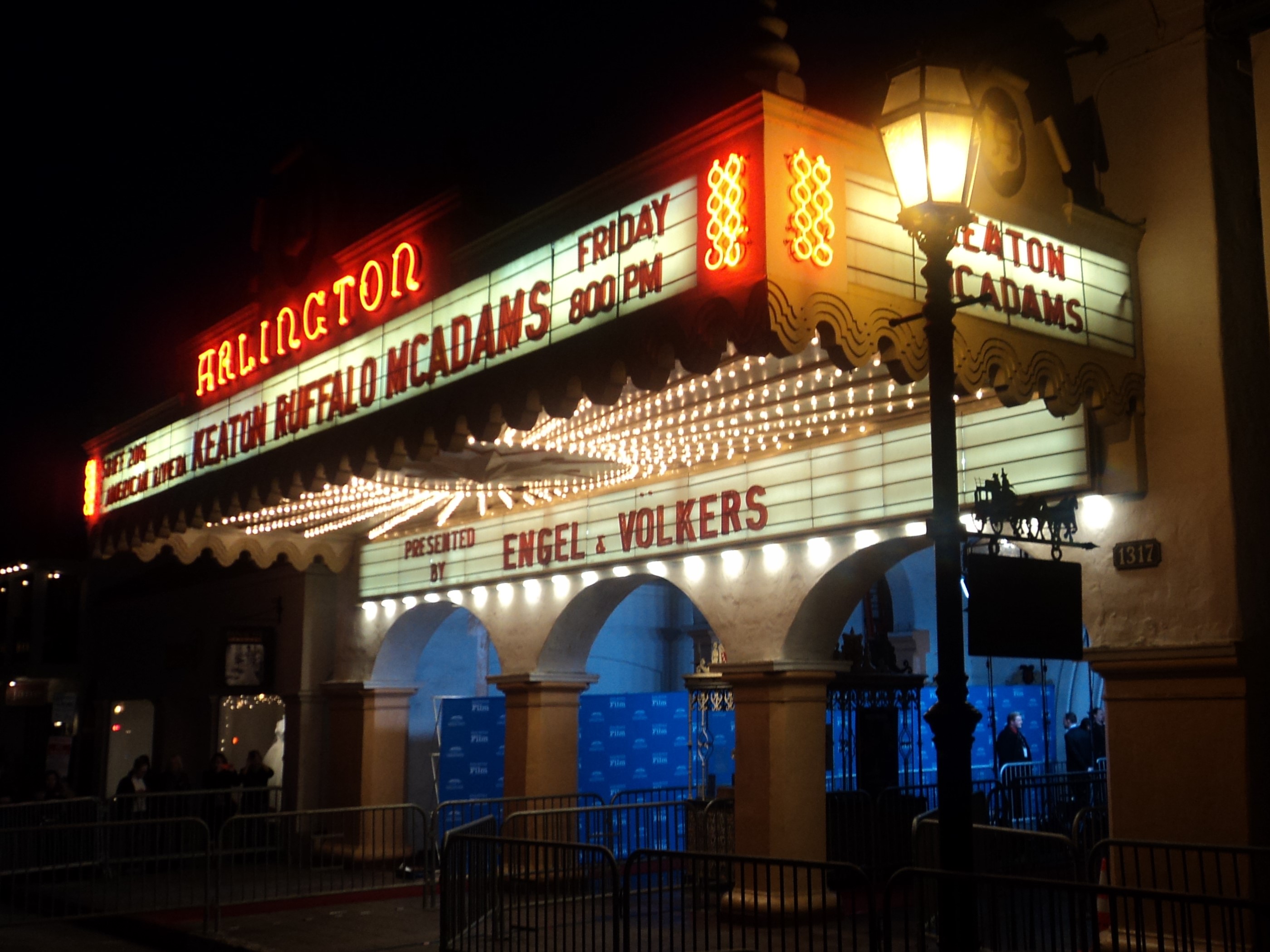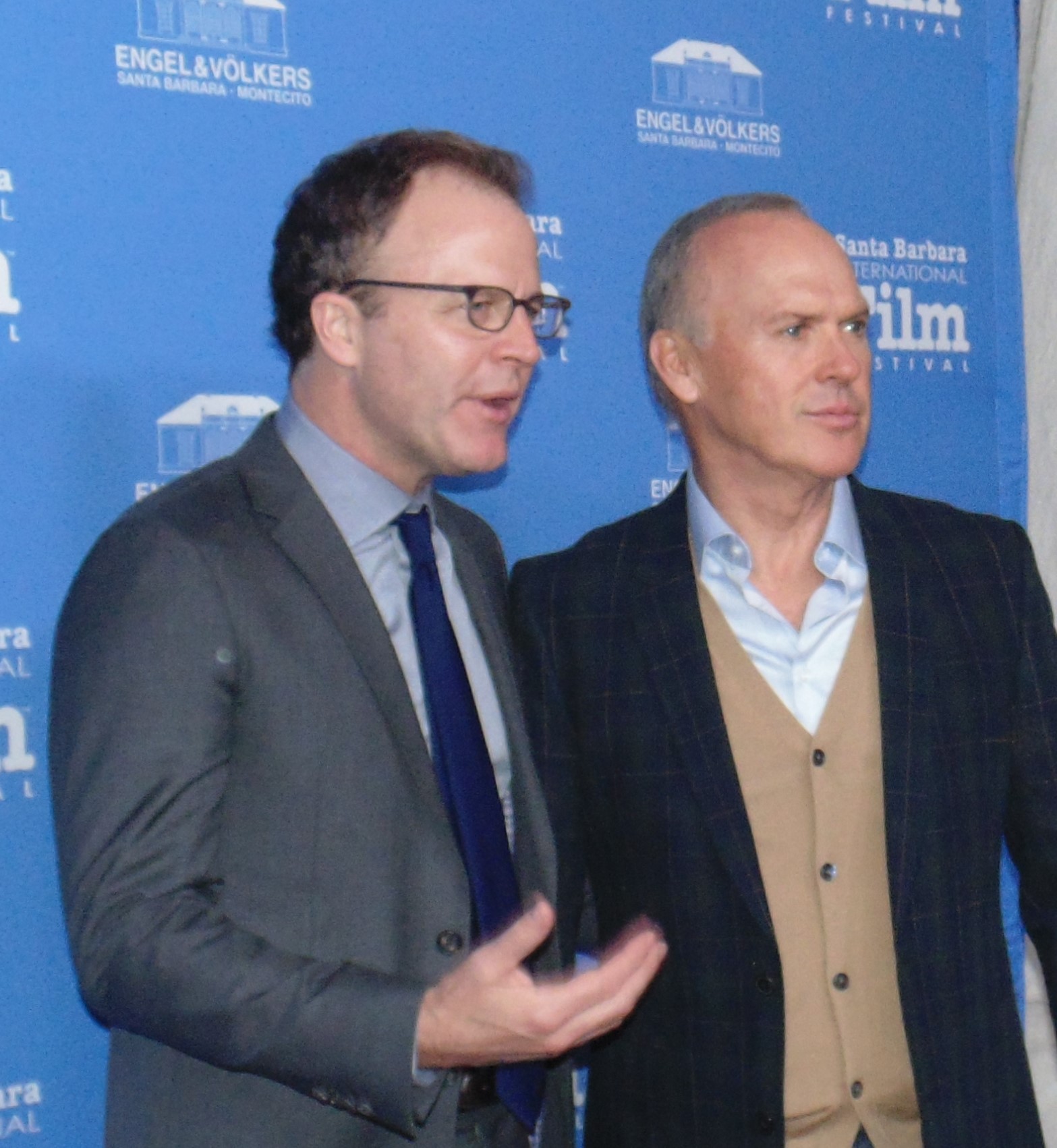 Rachael McAdams, Tom McCarthy, Michael Keaton (Photos Bonnie Carroll/LBN)
Day 4 - Virtuoso Award sponsored by Travel and Leisure was presented to Elizabeth Banks (LOVE & MERCY), Joel Edgerton (BLACK MASS), Paul Dano (LOVE & MERCY, YOUTH), Jacob Tremblay (ROOM), Alicia Vikander (THE DANISH GIRL, EX MACHINA), O'Shea Jackson Jr. (STRAIGHT OUTTA COMPTON) and Géza Röhrig (SON OF SAUL) in recognition of the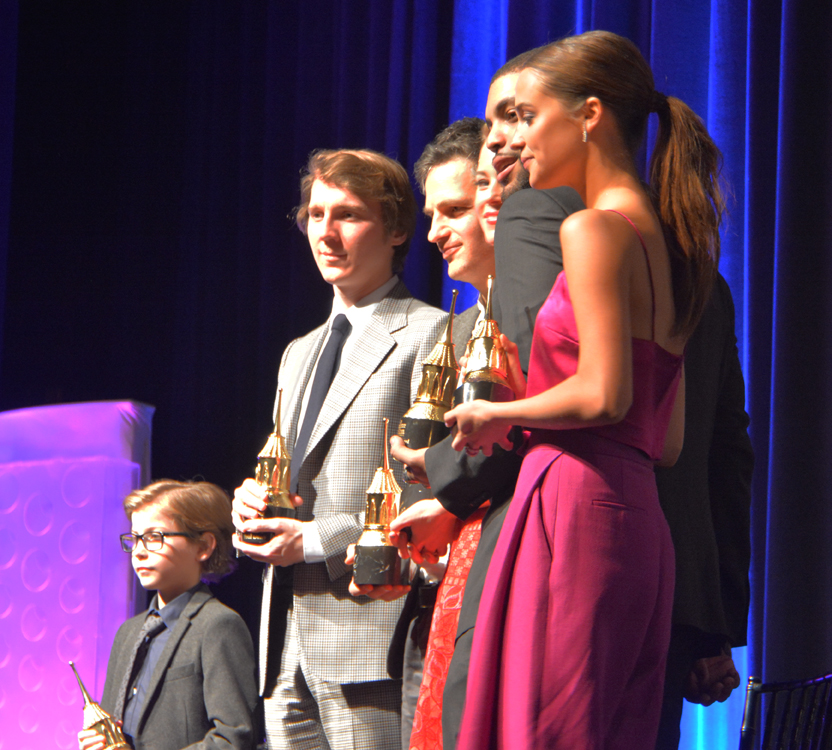 year's emerging film artists. The evening was be moderated by Dave Karger, Chief Correspondent and host of "The Frontrunners" on Fandango. Moderator Dave Karger, and Leonard Maltin presented the their awards. Joel Edgerton was regrettably unable to attend, but was taped with Karger. Elizabeth Banks, told the audience that the LOVE AND MERCY script was one of only two scripts she has ever fallen in love with (the other was ZAC AND MIRI MAKE A PORNO) and the success of the first film as a director, PITCH PERFECT 2. Paul Dano shared on the three months of preparing he did with the music of The Beach Boys for LOVE AND MERCY. O'Shea Jackson, Jr shared it was his father's idea that Jackson, Jr play him in STRAIGHT OUTTA COMPTON. He said studying screenwriting at USC has helped his confidence to become a better actor. 'I feel like The Rock!' Géza Röhrig SON OF SAUL spoke to Karger, a musician, poet, and teacher joked that yes, he did expect to one day be sitting on a stage accepting an award for acting.  Geza only acted once 25 years ago in a Hungarian mini-series. Jacob Tremblay describing the emotionally stressful ROOM. Alicia VVikander shared how her background in dance helped her as an actress, especially with the physicality of her character in EX-MACHINA. She also discussed the challenges of playing such a range of emotions in THE DANISH GIRL. (photo Lynn Williams/LBN).

Day 5 SUPER SILENT SUNDAY - ROBIN HOOD a classic silent film was presented FREE with live accompaniment by renowned organist Adam Aceto on the Arlington's Wonder Morton Pipe Organ. Thank you to the Santa Barbara Theatre Organ Society for restoring and maintaining the historic Morton Organ for 28 years in the Arlington. The SBTOS Board were recoginized by Mayor Helene Schneider for twenty-five years of service to the City for their work to maintain the historic organ in the Arlington theatre.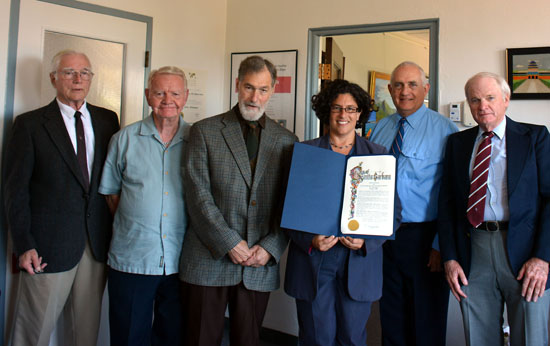 (photo by BCPR)
On the evening of Day 5- Terrance Malick's experiential KNIGHT OF CUPS 8:00 p.m. US Premiere at the Arlington Theatre was the festival's Centerpiece Film. The film starring Christian Bale, Natalie Portman, Cate Blanchett, Frieda Pinto, Isabel Lucas, Imogen Poots, Wes Bentley, Brian Dennehy and Teresa Palmer, among others. U.S. premiere of KNIGHT OF CUPS. Producer Sarah Green introduced the film and gave the audience an insider tip to following along with the story.
Day 6 - Outstanding Performers Award went to Brie Larson and Saoirse Ronan. The moderator was Pete Hammond. Monday started off with a bang with hundreds of fans lining the streets to get a glimpse of Oscar nominated actresses Saoirse Ronan (BROOKLYN) and Brie Larson (ROOM). The leading ladies were presented with the Outstanding Performers of the Year Award sponsored by Dom Perignon.  Ronan (wearing a Chloe dress and Jimmy Choo shoes), walked the carpet in Santa Barbara while Brie was regrettably unable to attend in person. She did however Skype into the presentation moderated by Pete Hammond.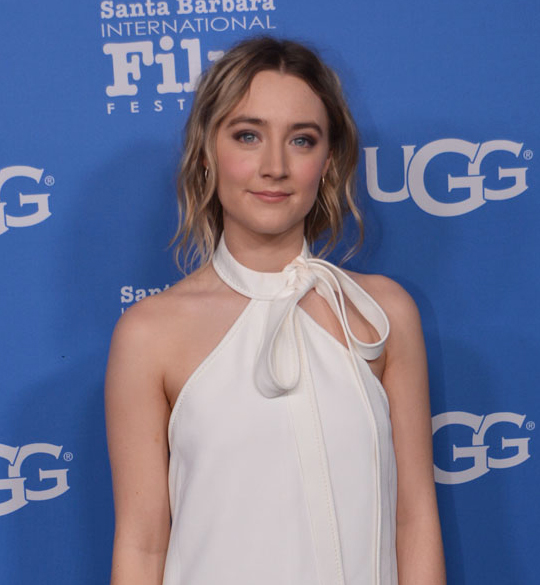 Saoirse Ronan Outstanding Performers Award (photo Lynn Williams/LBN)

Day 7 - The Montecito Award was presented to Sylvester Stallone Tuesday, February 9th and was sponsored by Hennessy. The night was a total knockout with Sylvester Stallone receiving the festival's esteemed Montecito Award. Stallone arrived arm and arm with his wife Jennifer Flavin and they made their way into the historic Arlington Theater where Sylvester took the stage and took part in an in-depth conversation led by Deadline's Pete Hammond. At the end of the conversation, the original Apollo Creed Carl Weathers made his way up to say a few words and present him with the award. Guests made their way to the festival's Hennessey Lounge afterwards to celebrate the evening.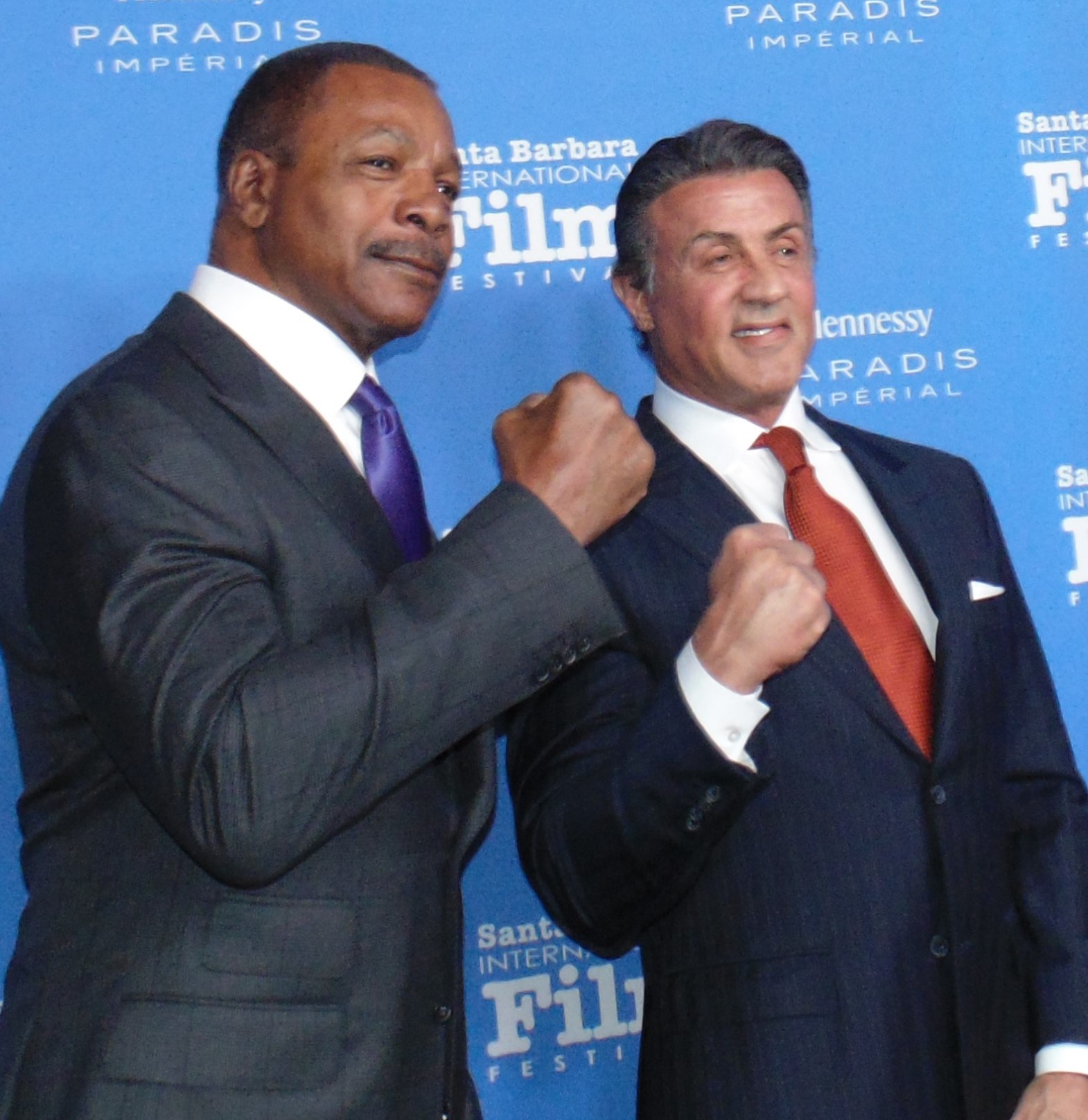 Sylvester Stalone & Carl Weathers Monticeto Award (photo Bonnie Carroll/LBN)

Day 8 - Variety Artisan Award was moderated by Variety's Sr. VP Awards Editor, Tim Gray.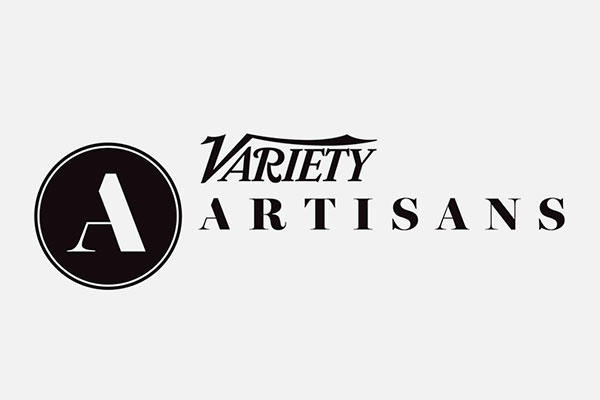 The Tribute evening held at the Lobero Theatre and celebrated those essential to the filmmaking process and who have exhibited the most exciting and innovative work of the year in their respective fields. The Variety Artisans Award was presented to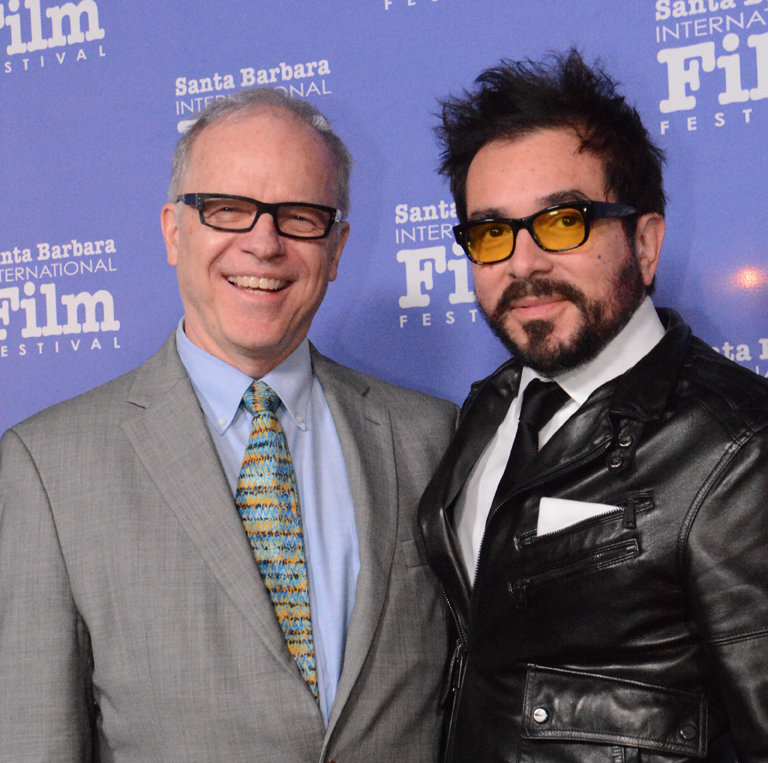 the following 2016 Oscar nominees: Carter Burwell, for original score in the Weinstein Company's "Carol" directed by Todd Haynes. This is Burwell's first Academy Award nomination; he has worked with esteemed directors such as the Coen Brothers, Spike Jonze and Bill Condon. Hank Corwin, for film editing in Paramount Pictures' "The Big Short" for director Adam McKay. Hank recently won the ACE Eddie Award and the Los Angeles Film Critics Award for "The Big Short." His other credits include "The Horse Whisperer" for Robert Redford and "The Tree of Life" for Terrence Malick. Mark Mangini, for sound editing in Warner Brothers' and Village Roadshow's "Mad Max: Fury Road." This is Mark's fourth Academy Award nomination; he has worked on a wide range of films including "Poltergeist," "The Fifth Element" and "Raiders of the Lost Ark." Arthur Max, for production design in 20th Century Fox's "The Martian." Arthur Max has worked with director Ridley Scott on such films as "Gladiator," "American Gangster," "Prometheus" and "The Martian," which has garnered Arthur his third Academy Award nomination. John Seale, for cinematography in Warner Brothers' and Village Roadshow's "Mad Max: Fury Road." Seale won an Academy Award for "The English Patient." Seale, who previously worked with director George Miller on "Lorenzio's Oil," was lured him out of retirement to work on "Mad Max: Fury Road." Patrick Tubach, for visual effects in Disney/Lucasfilm's "Star Wars: The Force Awakens." This is Patrick's second Academy Award nomination, having received one for his work on "Star Trek: Into Darkness." Diane Warren, for original song in Radius' documentary "The Hunting Ground." Diane Warren wrote "Til It Happens to You" with Lady Gaga and this is her eighth Academy Award nomination for original song. Jacqueline West, for costume design in New Regency's "The Revenant." This is Jacqueline's third Academy Award nomination; she has worked with directors Ben Affleck, David Fincher and Terrence Malick.
Day 9 - Outstanding Director Award honorees included Lenny Abrahamson (ROOM), Alejandro G. Iñárritu (THE REVENANT), Tom McCarthy (SPOTLIGHT), Adam McKay (THE BIG SHORT), and George Miller (MAD MAX: FURY ROAD) who were joined by moderator Scott Feinberg from The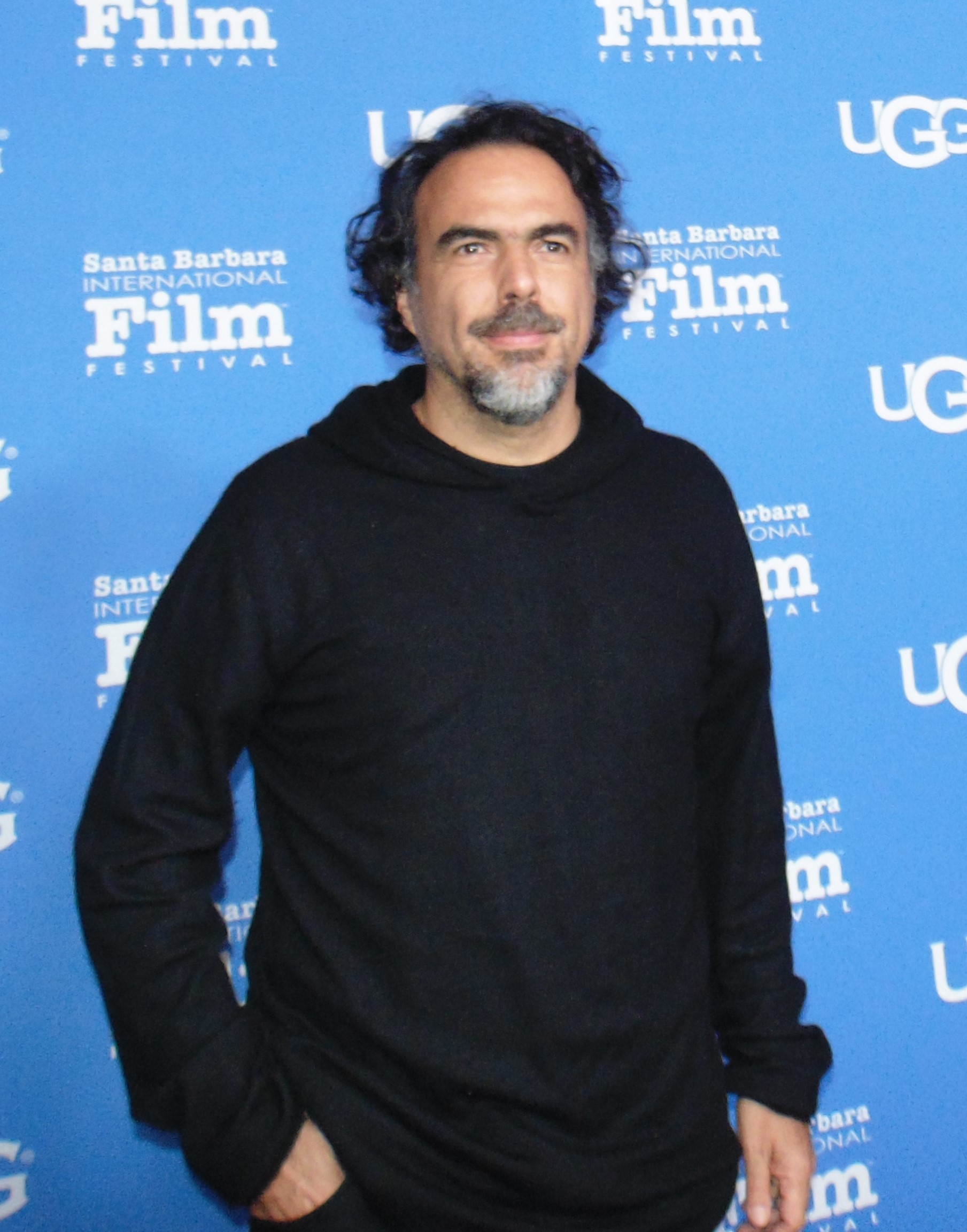 Hollywood Reporter to discuss their work and the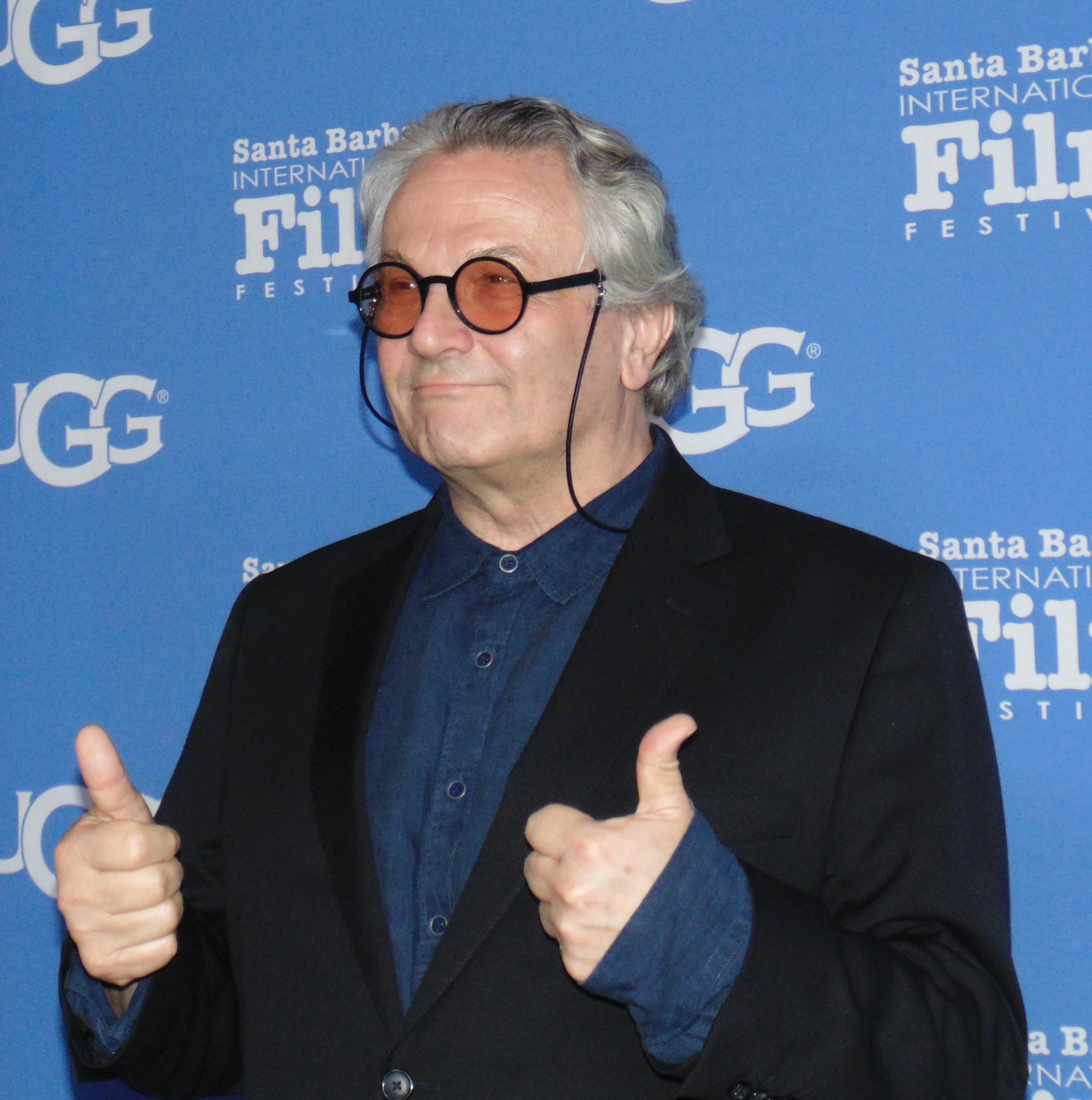 career journeys that had brought them to this award presentation. With such an incredibly broad range of films to discuss, these filmmakers' individual conversations had little in common aside from their extraordinary casts which all directors discussed extensively. Abrahamson spoke about how he first came on board for ROOM, and working with the author of the original story, Emma Donoghue. Iñárritu told Scott and the audience what it was like shooting in the treacherous conditions that set the stage of THE REVENANT. The extremely cold climate and natural light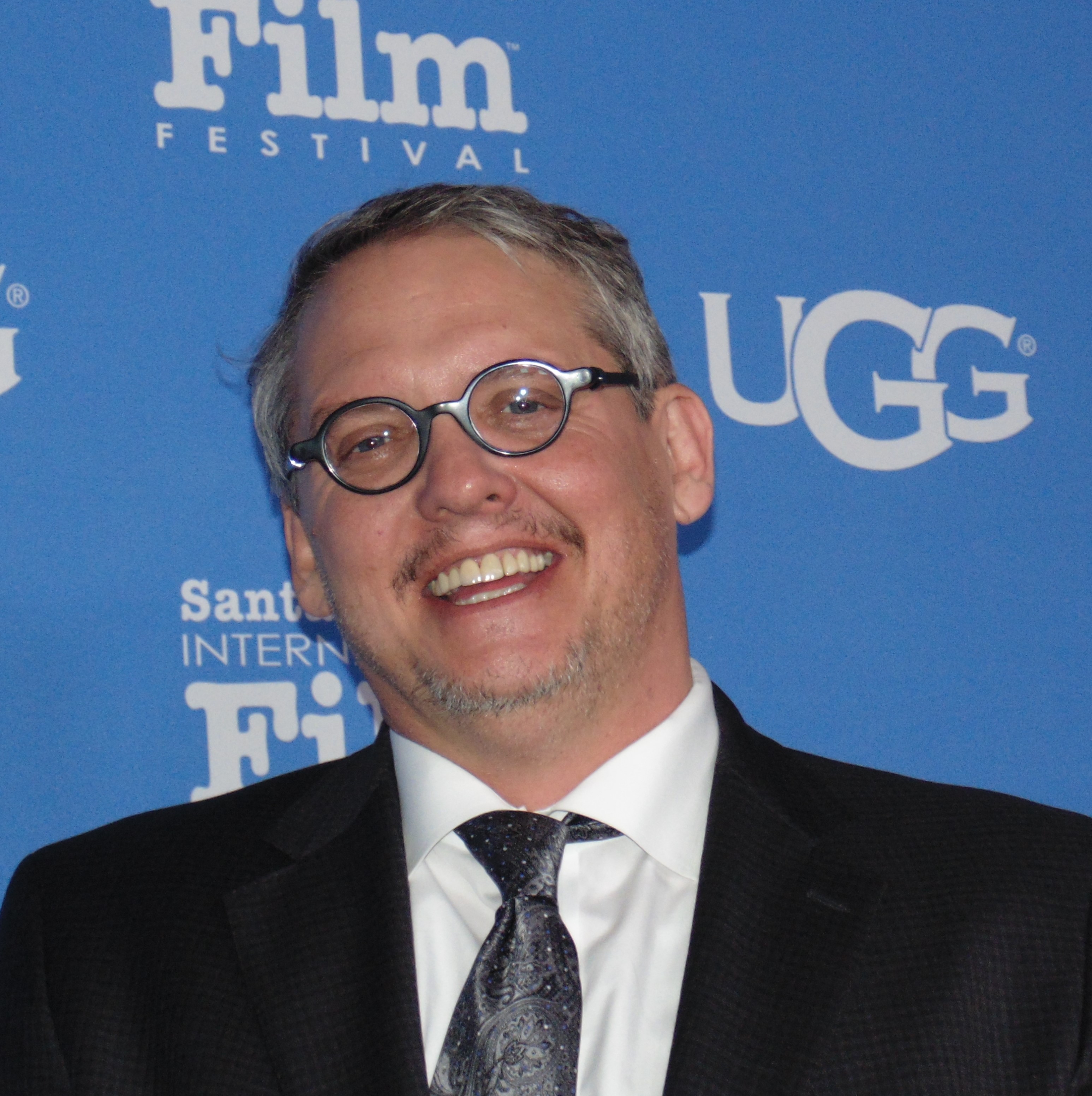 made for a difficult set and was a true feat to be pulled off in the end. McCarthy started out as an actor, so he chatted
about how his experience on that side of the camera helped him to relate to his brilliant ensemble cast. McKay had the audience laughing with comments about THE BIG SHORT compared to his past films, "…this is nothing like STEP BROTHERS". He strived for honesty in this film by opening it up to the audience and breaking down the fourth wall. Miller discussed creating the post-apocalyptic world of MAD MAX, and also his variety of filmography. After the conversations wrapped, all honorees were invited back to the stage for a full panel and award presentation. Andy Davis (director of THE FUGITIVE) presented trophies to each of the talented group. Outstanding Director sponsored by The Hollywood reporter will be Thursday, February 11th and was moderated by THR's Scott Feinberg. (photos: Bonnie Carroll/LBN)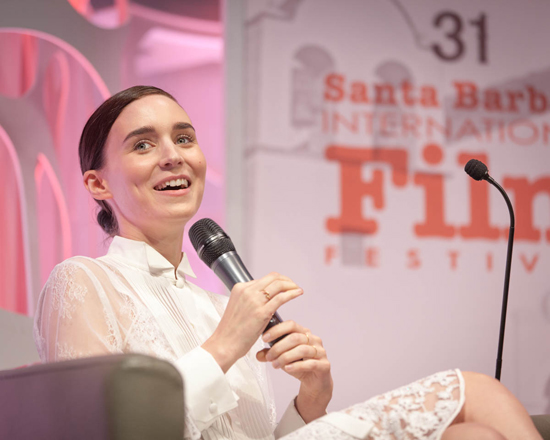 Rooney Mara Interview (photo SBIFF.org)
Day 10 - Cinema Van Guard Award - Rooney Mara arrived at the historic Arlington Theater in a flowing white Givenchy ensemble. In town to receive the Cinema Vanguard Award, Mara made sure to stop and greet each fan waiting outside for a glimpse of her. Joined on the red carpet by her CAROL director Todd Haynes, Mara proceeded into the theater for an in depth discussion on her career. The discussion, moderated by Entertainment Weekly correspondent Joe McGovern, ranged from her early beginnings in films like THE NIGHTMARE ON ELM STREET, to the casting process for her pivotal role in THE GIRL WITH THE DRAGON TATTOO, to working with directors like David Lowery and Steven Soderbergh. On her preparing with Joaquin Phoenix for their relationship in HER, Mara told the audience that the two had to go to real couple's therapy to fully explore their dynamic as a divorced pair. Unfortunately unable to attend in person, CAROL co-star Cate Blanchett appeared via taped message.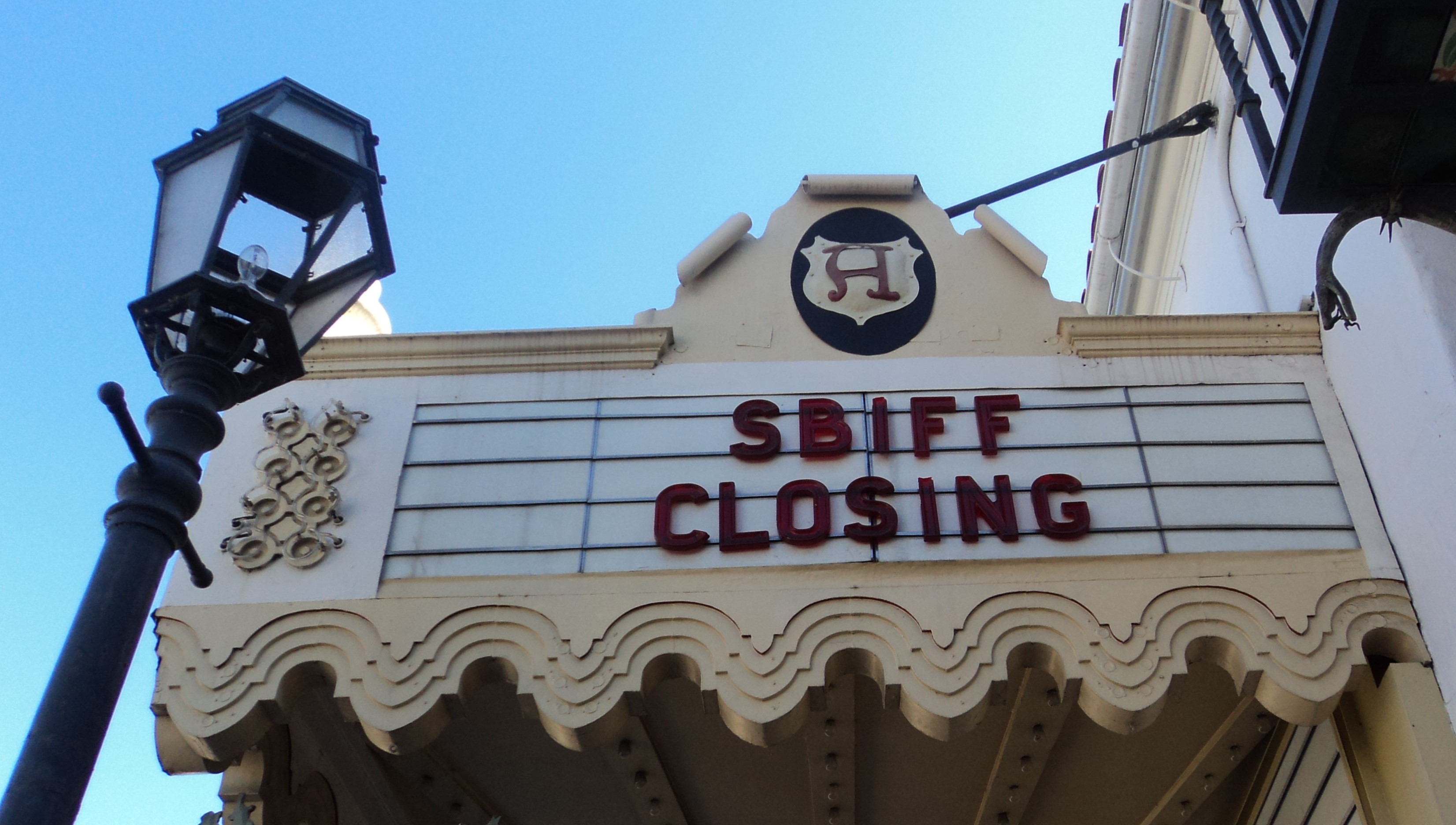 Day 11 – Closing Night - Terrance Malick's experiential KNIGHT OF CUPS had its US Premiere at the Arlington Theatre as the festival's Centerpiece Film. The highly anticipated film stars Christian Bale, Natalie Portman, Cate Blanchett, Frieda Pinto, Isabel Lucas, Imogen Poots, Wes Bentley, Brian Dennehy and Teresa Palmer, among others attended.
For kids SBIFF offered Mike's Field Trip to the Movies which is a gift to 4,000 5th and 6th grade students from throughout Santa Barbara County that provides an opportunity to experience the use of film making to stimulate creative, confident and culturally aware thinkers and empower students and teachers with a novel approach to education. SBIFF provides FREE transportation to students from Title I schools.
10-10-10 Audience
10-10-10 Student Screenwriting and Filmmaking Competition sponsored by Montecito Bank & Trust, Final Draft, and The Riordan Foundation is a competition is comprised of 20 high school and college students chosen from 120 submissions. The filmmakers and screenwriters were then paired and produced a 10-minute film during the days of the festival. On Tuesday, February 2 the 10-10-10 Press Conference introduced the screenwriting and filmmaking finalists. On Saturday, February 13 at the Arlington Theatre, eight completed films were screened and the winners were announced. They included Any Color Under The Sun, Ride, Table for One, Lost & Found, Hat's Off, Soul'd, Boxes, A Fight for Tolerance.
Congratulations to Festival Executive Director Roger Durling, the SBIFF Board and Staff on yet another great festival honoring the world of film. A heart felt thank you to the army of Santa Barbara volunteers who donated their time to keep everything moving, the local restaurants participating in the Festival Film Feast that provided delicious bites and sips to festival attendees, and the media from around the world who came to cover the festival. For more details visit: www.sbiff.org.
___________________________________________________________________
ROGER NEAL LEADS THE CROWD IN OSCAR STYLE 2016
200 Stars & 16 Oscar Nominees Attend to Benefit The John Ritter Foundation
by Bonnie Carroll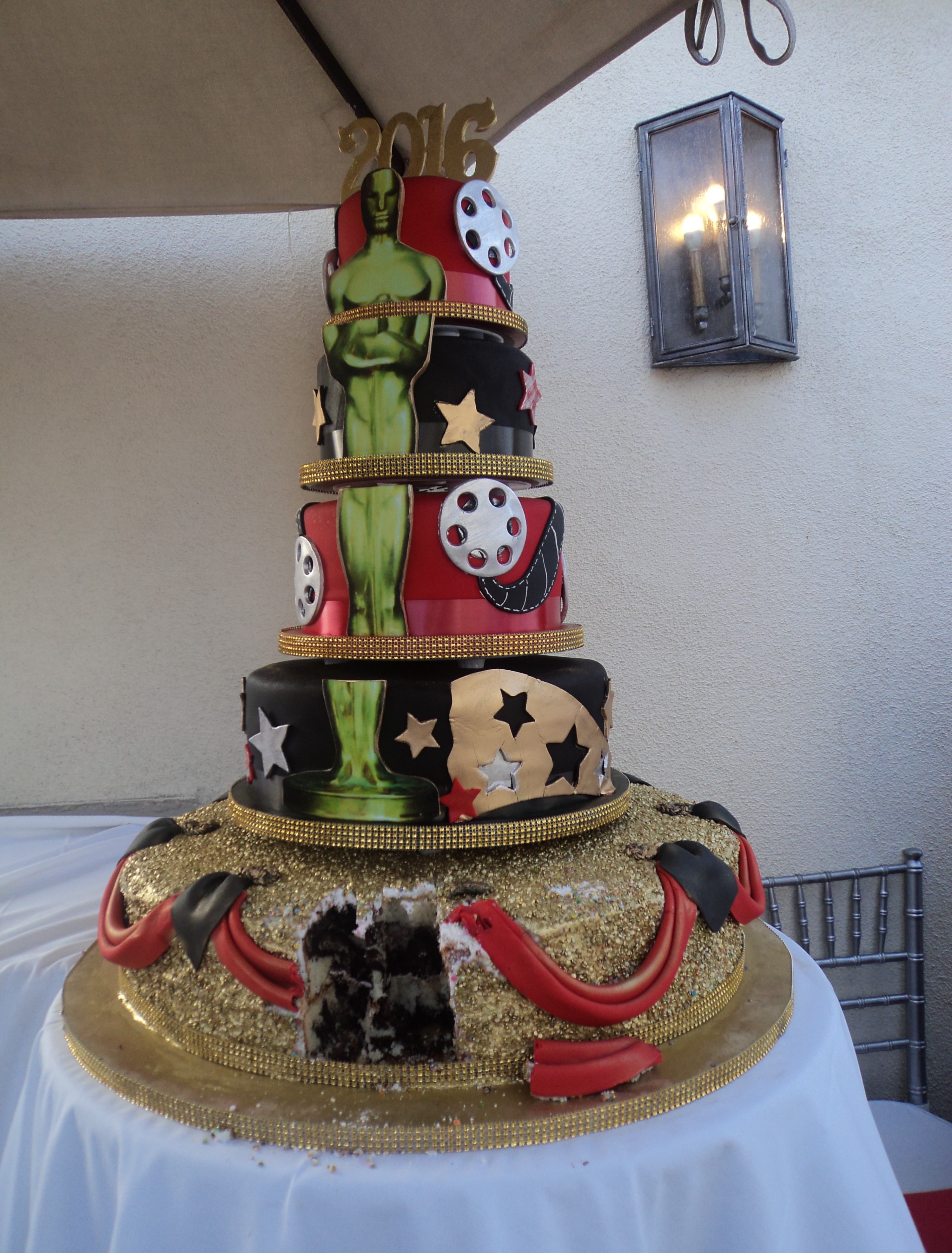 Celebrating 34 years, Roger & Lynn Neal, Neal public Relations, attracted major stars, Oscar nominees and VIPs to their 88th Academy Awards Style Hollywood Beauty & Couture Suite on the Penthouse of the LUXE Rodeo Hotel in Beverly Hills to celebrate the best in fashion, style, beauty and the John Ritter Foundation.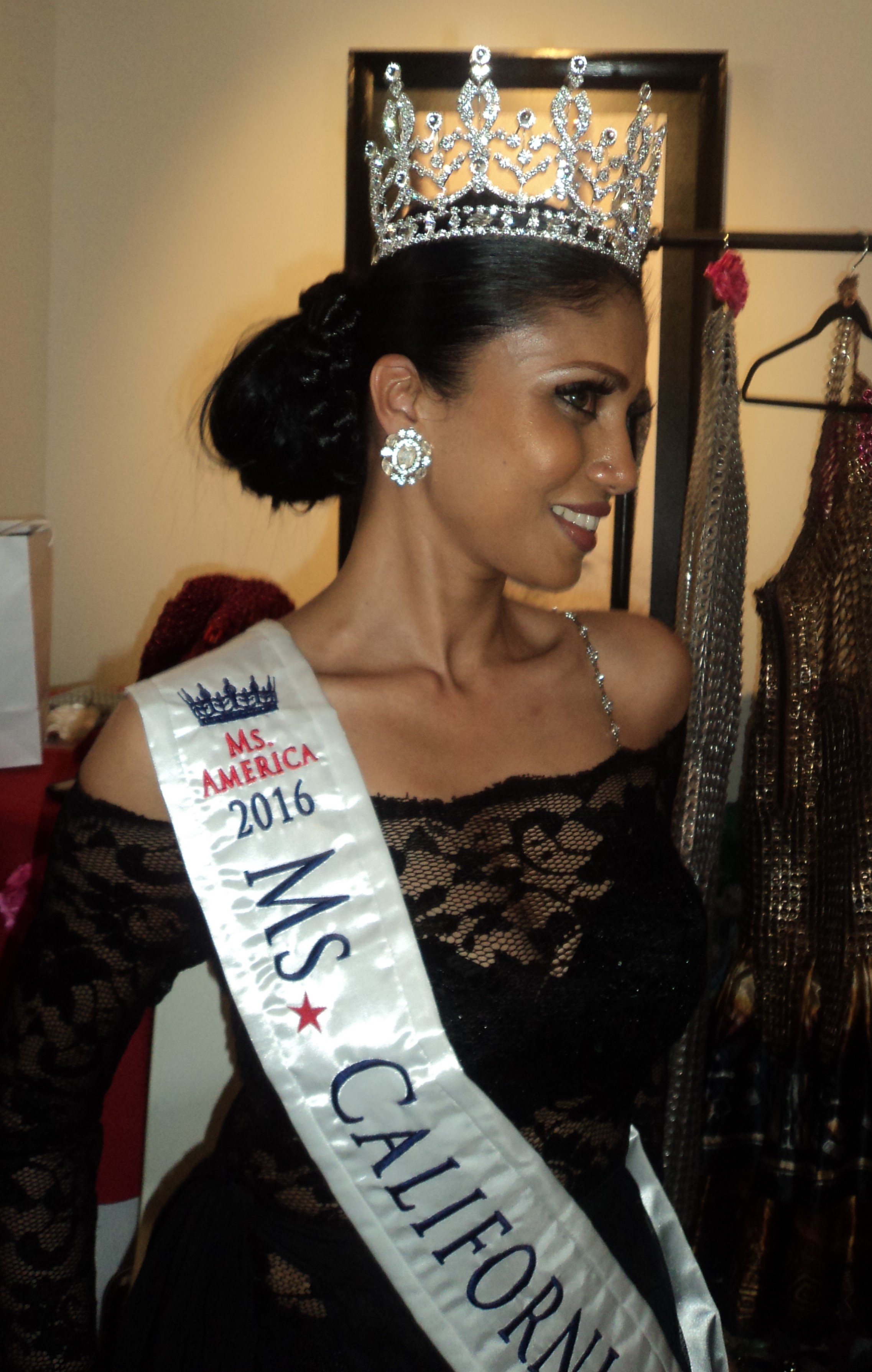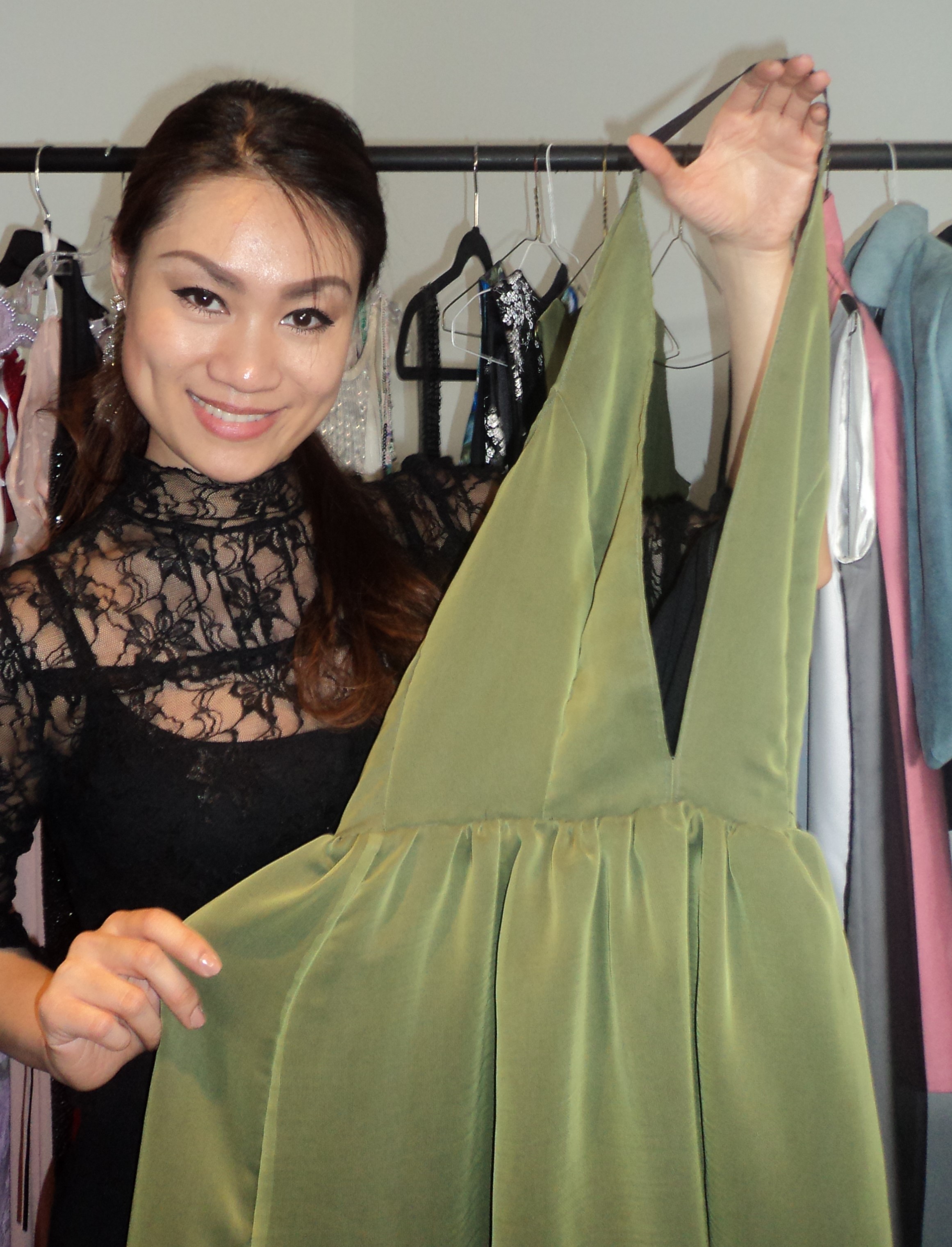 Guests at the RNSH Academy Award suites were treated to beauty treatments as they prepared for the biggest night in the world. Stars attending included Nicole Rockin and Blye Faust from the film Spotlight, Oscar Nominee Rich McBride 0 Best Visual Effects for The Revenant, Oscar Nominated producer Ed Guiey from the Oscar Nominated film ROOM, Love Larson Eva Von Bahr Oscar nominees for best makeup for the 100-year-old man who climbed out of the window and disappeared. Short From Live Action nominees Stutterer nominated prducers Benjamin cleary & Serena Armitage, Sean Christopher Oligilvie, Everything Will be OK producer, writer Patrick Vollrath. Nominee Robert Pandini Best Makeup and Hair, The Revenant. Nominee Tom McCathy director and writer for Spotlight, James Dumont nominee film Trumbo, Alan Wenkus nominee best original screenplay Straight Outta Compton, Layla Alizada - "Day One" nominated short film-Live Action. Reginald Hyudlin, producer of the 88th Annual Academy Awards and so many more arrived to enjoy the sunny afternoon on the penthouse at the LUXE Beverly Hills.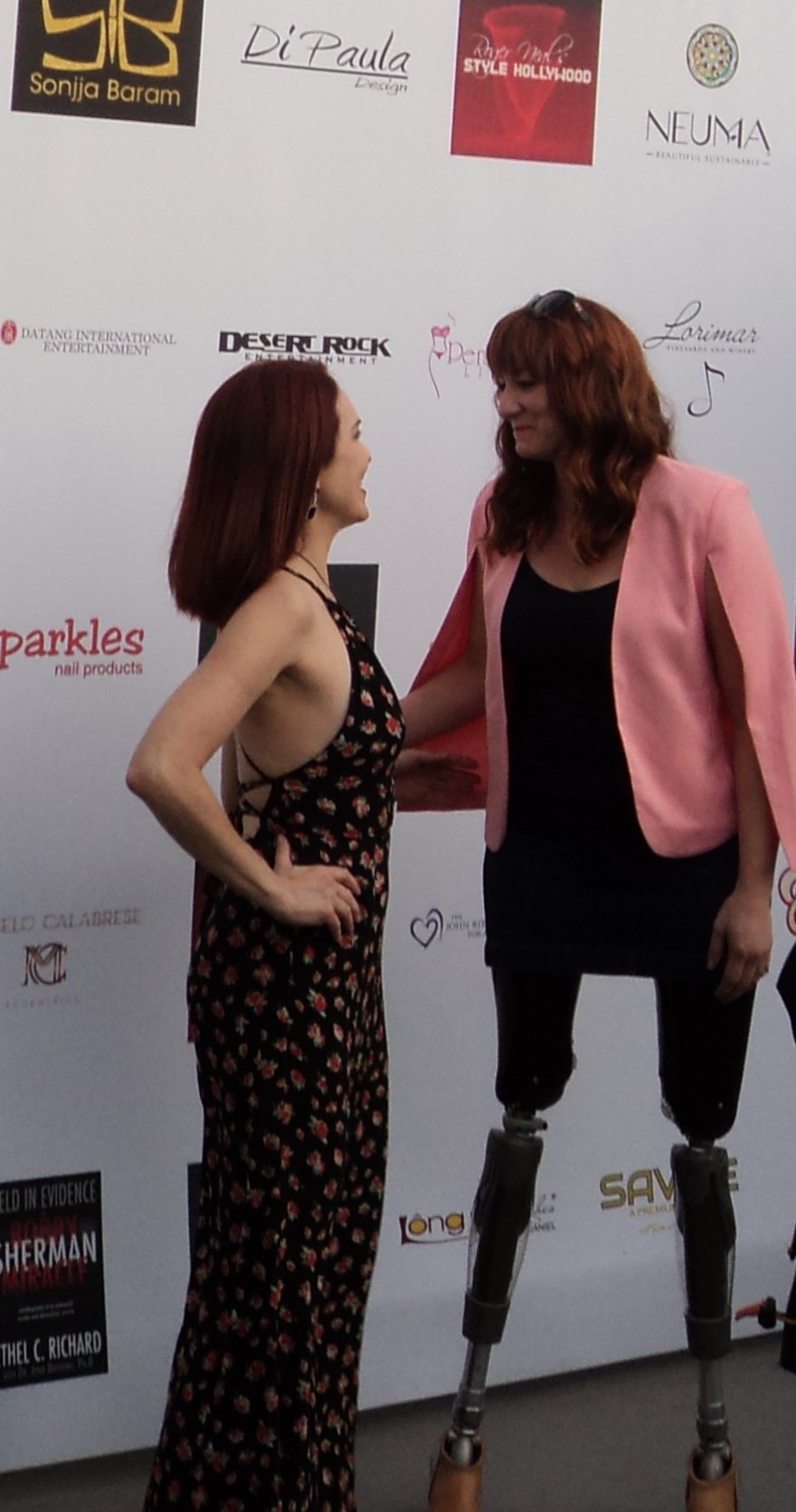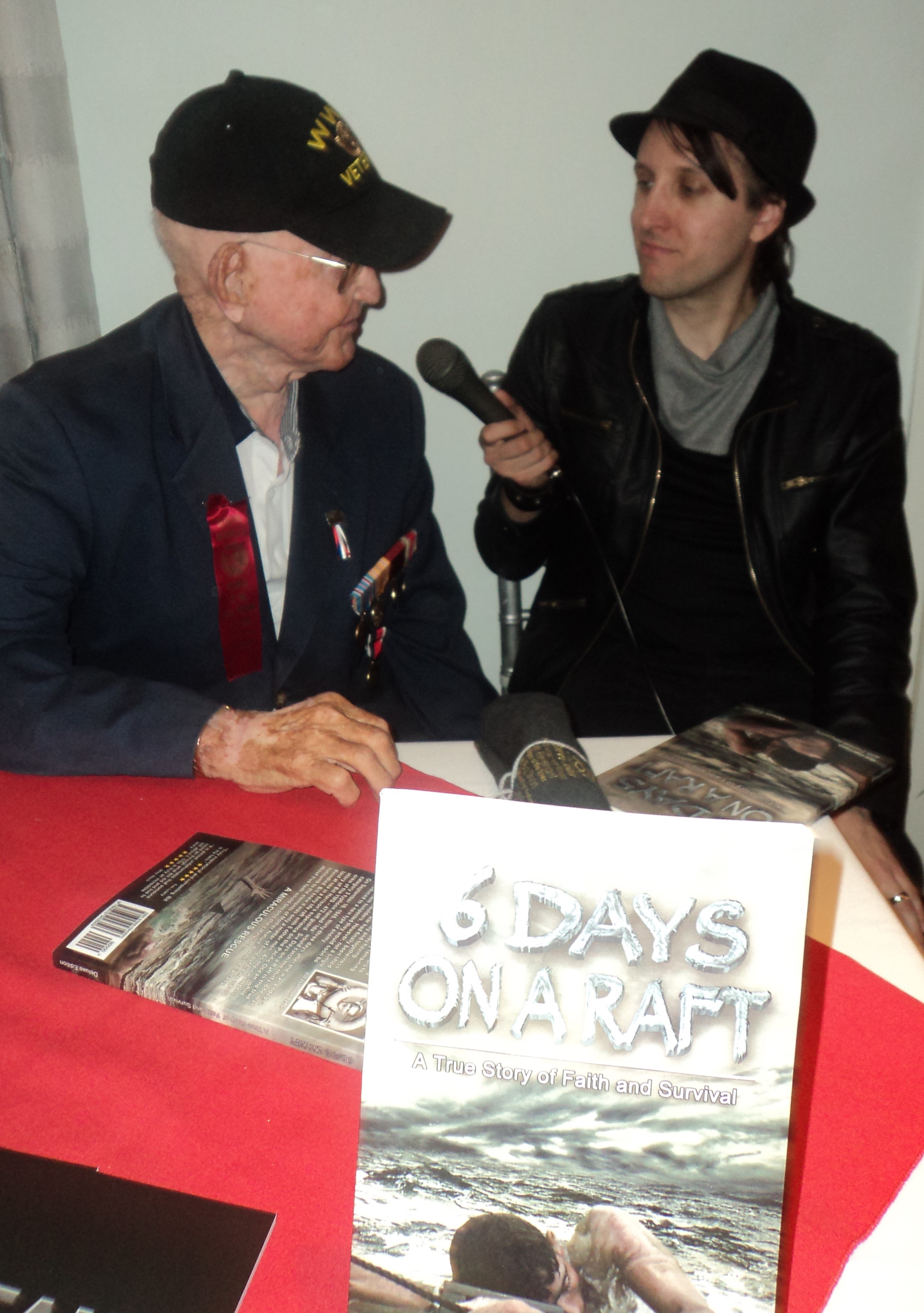 The official charity for the event was The John Ritter Foundation, and John Ritter's wife was sharing information on her charity and posing for photos with guests. Premiere Oscar collections of gown designers sonjjia Baram, Maragrat Di Pala of Di paula Designs and Olga Blanc of O'Blanc Couture were on view in Roger Neal's suite.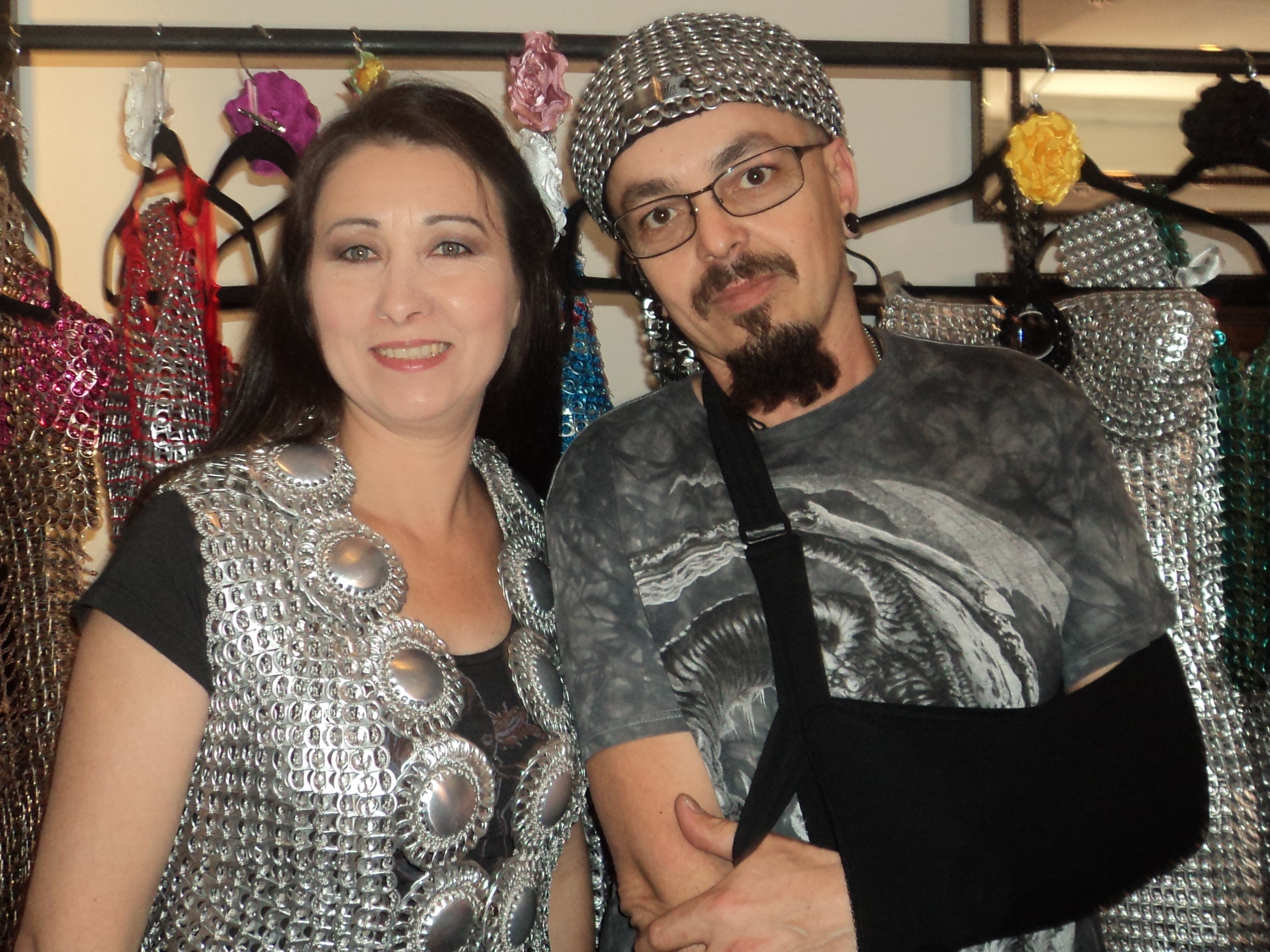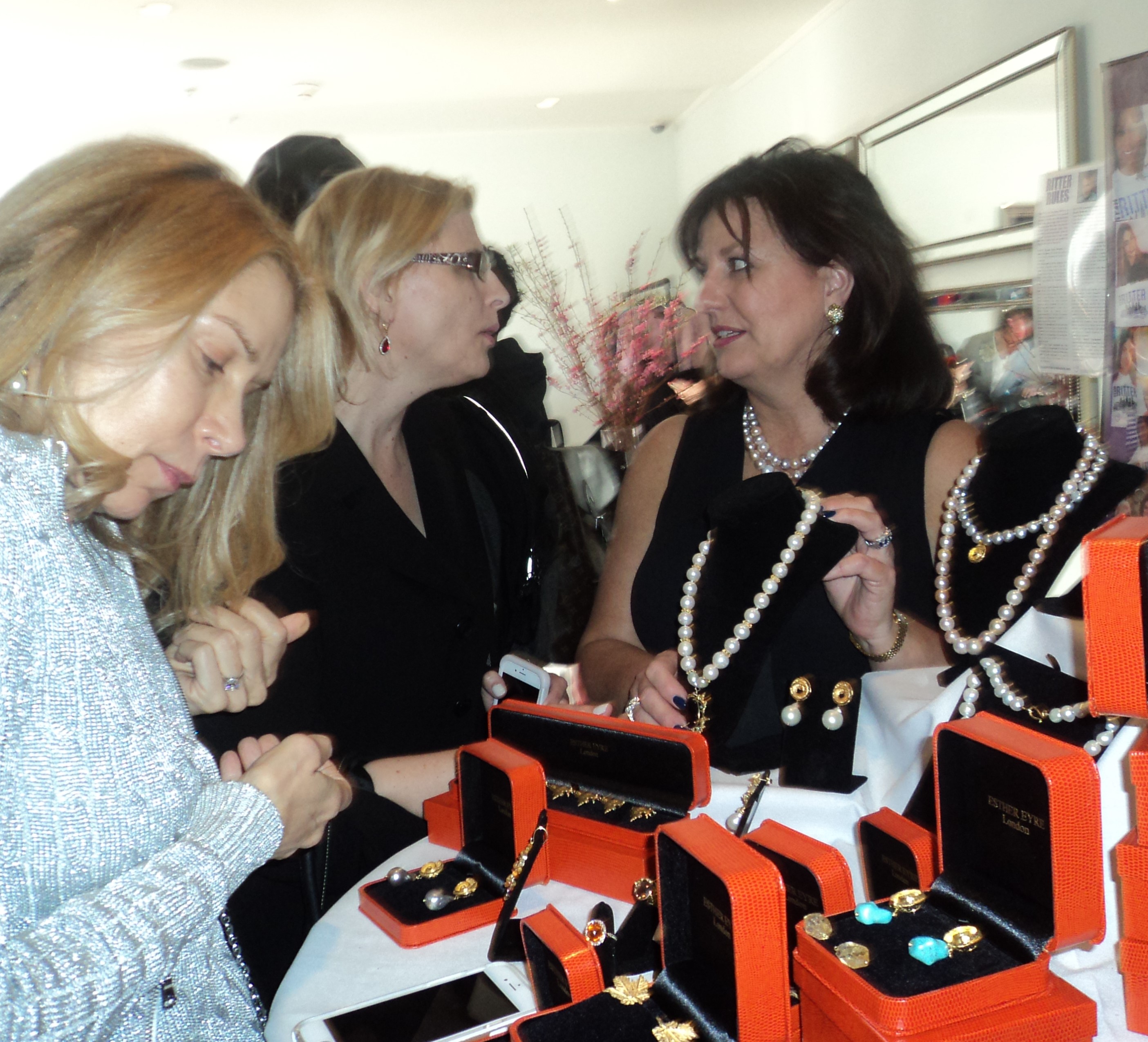 Timmy Woods handbags, Smart Scarf by Fur Frenzy, Katrine Roussell-Stylist & Room Makeover Guru, IC Trends, Author Ethel Richards, neuma Beauty Hair are, and more were being gifted to celebrities. A fantastic cake was on display from Mary's Cake Shop with beverages by Hint Water and Lorimar Wine & Champagne. Guests were also offered a visit at Belleek Castle in Ballina, Ireland.
Congratulations to Roger & Lynn on a wonderful 34th Oscar event, and congratulations to all the nominees and winners for 2016.
_________________________________________________________________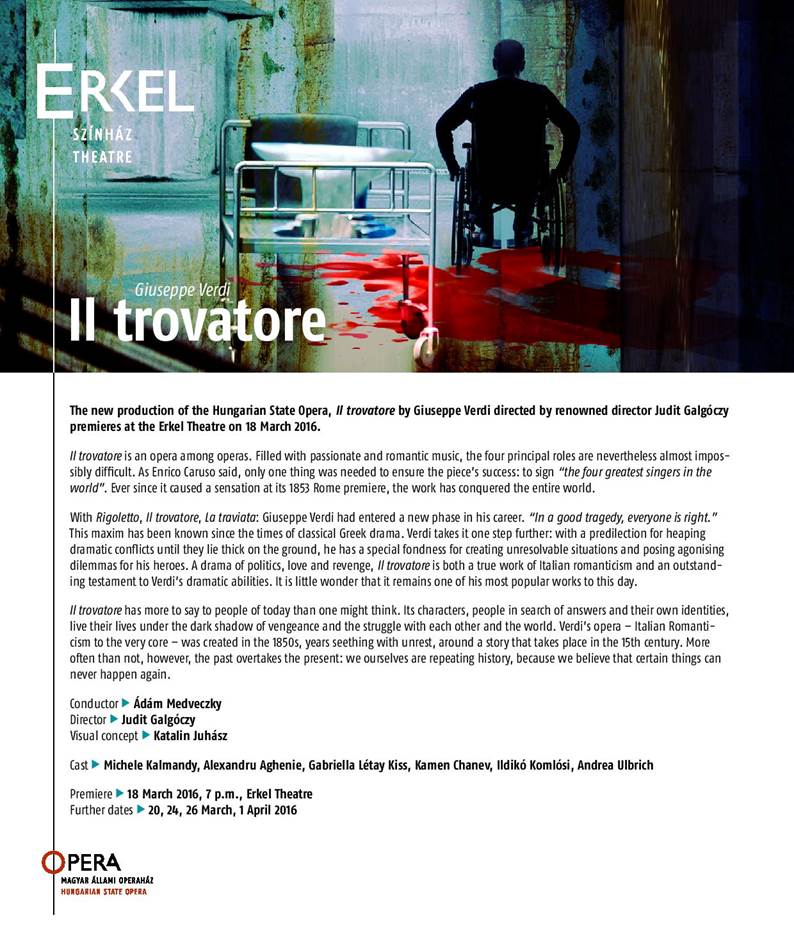 ---