Vallarta Film Festival Announced Opening Film

Robert James Roessel, Artistic Director of the 4th Vallarta Film Festival has recently returned from Los Angeles having secured the opening film and other titles for the upcoming film festival slated for December 5-9, 2007 at Cinemark Theaters. The Vallarta Film Festival will open with the film "The Grand", directed by Zak Penn and starring Woody Harrelson, Ray Romano, Werner Herzog, Jason Alexander and Richard Kind. The comedy centers around a high stakes poker game in Las Vegas. Several of the cast members are expected to attend the opening celebration at Cinemark Theaters and Playa del Sol Grand where Mexican actor Aaron Diaz will be the host.
Roessel also secured the film "The Darjeeling Limited" starring by Anjelica Huston, Adrien Brody, Jason Schwartzman, Owen Wilson and Natalie Portman. The film, directed by Wes Anderson, is about three brothers and their spiritual quest throughout India. Another comedy entitled One Long Night and directed by David Siqueiros focuses on a Mexican/American whose life is changed one night following a series of encounters while on business in Mexico City. The film stars Pedro Armendairz, Jr., Itati Cantoral, Hector Suarez Gomiz, Ed Begley, Jr. and Paul Rodriquez. Comedian Paul Rodriquez is scheduled to emcee the closing awards ceremony at El Tigre Country Club.
Other highlights include "Trade" is a film about a 13 year old girl from Mexico City who is kidnapped by sex traffickers. The film is produced by Roland Emmerich (who owns a home in Conchas Chinas) and stars Kevin Kline and Kate del Castillo. "Good Time Max", the directorial debut of James Franco (Spiderman), who is scheduled to attend as wellas "Amexicano", a winner at Tribeca Film Festival. Probably the most anticipate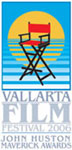 d section in the festival is the Environmental Section which will be announced at a later date. This promises to bring an outstanding selection of new films with a subject matter that is somewhat difficult to digest…problems with the world around us, especially global climate change.
In addition, other major films and the closing night film are under discussion and will be announced soon. Save the dates – Decemeber 5 – 9 for a festival you will not want to miss. The Vallarta Film Festival would not be possible without the following major sponsors: OCV Nayarit, the State of Nayarit, the University of Nayarit, Playa del Sol, Paradise Village and Cinemark.
---
SANTA BARBARA FILM FESTIVAL HONORES TOMMY LEE JONES
- FESTIVAL JANUARY 24-FEBURARY 4
The Santa Barbara International Film Festival will honor Tommy Lee Jones with the American Riviera Award at the 23rd edition of the Fest, which runs January 24-February 3, 2008,it was announced today by SBIFF.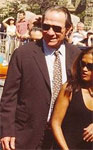 The American Riviera Award, an award the SBIFF established to recognize an actor who has had a strong influence on American Cinema, will be presented to Tommy Lee Jones on Friday, February 1, 2008. Previous recipients include Forest Whitaker and Philip Seymour Hoffman, both of whom went on to win Academy Awards.
Jones' performances in the critically acclaimed film In the Valley of Elah by director Paul Haggis, and No Country for Old Men from Joel and Ethan Cohen have both been applauded by critics and audiences alike this year. Elah, which also stars Charlize Theron, is about a career officer who investigates the disappearance of his son, an exemplary soldier who went AWOL after his recent return from Iraq. Jones also quietly shines in the Cohen Brothers tale.
Jones, one of the most acclaimed and accomplished actors in Hollywood, brings a distinct character to every film that he's in. In his career, Jones has been in memorable dramatic films such as Cobb, Blue Sky, The Client, Heaven and Earth and Coal Miners Daughter- for which he received his first Golden Globe nomination. His first Oscar nomination came from his role as Clay Shaw in JFK, three years later Jones was awarded the Best Supporting Actor Oscar for his portrayal of U.S. Marshal Sam Gerard in The Fugitive. Jones made his feature directorial debut with The Three Burials of Melquiades Estrada, in which he also starred and subsequently won Best Actor at the Cannes Film Festival. He has also shown his flair for comedic timing in films like Space Cowboys and A Prairie Home Companion, and the mega blockbuster hits Men in Black and the sequel Men in Black 2. Following In the Valley of Elah, audiences will next see Jones star in the film based on the Cormac McCarthy novel, No Country for Old Men.
The tribute will take place at the Lobero Theatre at 8pm on Friday, February 1 with a multimedia presentation produced by Paul Fagen of P. Fagen Productions. Tickets for the event are on sale now and can be purchased for $65 through or through the Lobero Box Office, 805.963.0761 and the Arlington Theater Box office, 805.963.4408. Festival Platinum and Cinema Passes are currently on sale exclusively at the Lobero Box Office. Box Office fees will apply for all Film Festival Passes, Mini-Paks, and event tickets.
The Santa Barbara International Film Festival, set to run January 24 through February 3, 2008, is a non-profit organization dedicated to enriching local culture and raising consciousness of film as an art form. The SBIFF presents quality American and world independent films, Latin American and Asian sidebars as well as documentary cinema within the beautiful setting of downtown Santa Barbara, a premier tourist destination. The SBIFF is also committed to education through its Student Filmmaking and Screenwriting Competitions, Field Trip to the Movies, and educational seminars. With a projected audience of over 60,000 viewing more than 200 films over its eleven-day run, the SBIFF attracts an affluent local and national consumer base, while maintaining strong ties with the entertainment industry in nearby Los Angeles. For more information, please visit www.santabarbarafilmfestival.com.www.sbfilmfestival.org.
---
JON STEWART TO HOST 80TH ACADEMY AWARDS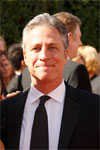 Jon Stewart has been set to host the 80th Academy Awards. This is the second time Stewart will host Oscar's.
Stewart has been host and executive producer of Comedy Central's "The Daily Show with Jon Stewart," winner of four consecutive Emmy® Awards for Outstanding Variety, Music or Comedy Series, since 1999. The show has also been bestowed with two Peabody Awards. In 2004 Stewart and the writers of "The Daily Show" also authored America (The Book): A Citizen's Guide to Democracy Inaction, which was awarded the Thurber Prize for American Humor and was a staple on The New York Times best seller list for 46 consecutive weeks.
Stewart has appeared in more than a dozen motion pictures. His television credits include a one-hour HBO comedy special, "Jon Stewart: Unleavened," a recurring role as himself on HBO's series-within-a-series, "The Larry Sanders Show," as well as an upcoming appearance on "The Simpsons." Stewart hosted the Grammy Awards in 2001 and 2002.
Academy Awards for outstanding film achievements of 2007 will be presented on Sunday, February 24, 2008, at the Kodak Theatre at Hollywood & Highland Center®, and televised live by the ABC Television Network.

---
POPULAR HOLIDAY ICE SHOW RETURNS
TRIUMPHANTLY TO THE ARLINGTON THEATRE
"IT'S CHRISTMAS SNOOPY! ON ICE!"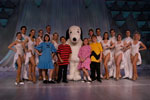 "You're going to put real ice on stage at the Arlington?" That was the question on everyone's lips last year for the first "It's Christmas Snoopy! On Ice!" and it's coming back by popular demand on Saturday & Sunday, December 1 & 2, for five shows this year to kick-off the holiday season at t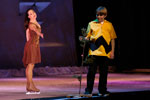 he Arlington Theater. And you'll see snow falling on the ice too!
If you didn't see last years' show, then as Charlie Brown would say, "Good Grief, you have to make plans for this year." As audiences learned, the show is not just for kids, even though Snoopy, Charlie Brown and the gang are all present and accounted for in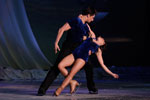 the production. The show has a cast of international ice skating stars including: Melanie Lambert & Fred Palascak, who earlier this year were in the U.K. where they starred as professional partners to celebrity skaters in the highly successful ITV network show "Torville and Dean's Dancing on Ice." In fact, Melanie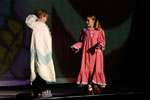 and her partner retired English Rugby captain Kyran Bracken, were the champions of the entire season. The show received the highest ratings, and was viewed by nearly 10 million people every Saturday night between January & March. Following the success of the TV show, Melanie and Fred joined Jayne Torvill and Christopher Dean in a live version of the TV show that toured the UK for six weeks. The high caliber of talent amon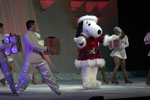 g the skaters in this Woodstock Ice production is top-notch and director/choreographer Karen Kresge, gets the most from her skaters.
New this year – will be the addition of the extreme trampoline team from Russia who will be integrated into the entire show and will be sure to take your breath away. Wait till you see Vladi Tevlovski, a member of the extreme team, do his unique routine of hand-skating. Yes, like a handstand, Vladi is skating on stilt-like skates for this highly entertaining feat, using no fe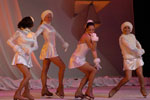 et. Returning this year, are the kids from the Adderley School to play the Peanuts gang: Jonathan Bommerez, Olivia Fanaro, Sam Kulchin and Emma Steinkellner.
Produced by Woodstock Ice Productions, principals are Jill Schulz Transki and her husband Aaron Transki, residents of Santa Barbara. Jill is the youngest daughter of PEANUTS creator, Charles M. Schulz and she is continuinga tradition he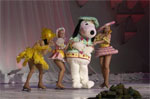 r dad started up in Santa Rosa nearly 30 plus years ago. Production values are high with set, lighting and costumes to dazzle and delight. Make plans now to make "It's Christmas Snoopy! On Ice!" your newest Santa Barbara holiday tradition. Showtimes Dec. 1 are 1 p.m., 4 p.m. & 7 p.m.; on Dec.2 showtimes are 1 & 4 p.m. Call the Arlington Theatre (805)963-4408 for tickets; or any Ticketmaster outlet. For more information about the show, log onto :
www.snoopyiceshow.com.

---
QUEEN LATIFA NOT "TRAVLIN' LIGHT" AT THE ARLINGTON
IN SANTA BARBARA
by Bonnie Carroll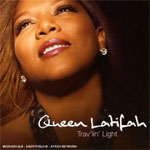 Well, the old historic Arlington Theatre in Santa Barbara may never be the same following the 'blow out' performance of Queen Latifa and her big band. With two drummers, a brass section, fabulous back up singers, and an entourage that filled the entire stage she was really in a musical dharma, singing old hip hop numbers, latin jazz, rock n' roll, and beautiful blues jazz numbers.
People were standing and dancing in the isles, and everyone 'plugged in' to the easy and fun style of the renowned actress turned blues singer. Latifa performed several numbers from her album "Trav'lin Light", which the audience completely enjoyed.
This was a special treat for the Santa Barbara community, and it would be real nice if 'the Queen' comes back real soon. Everybody loved her!