George Clooney signed to star in and direct "Leatherheads"

Clooney will do it all, star in and direct Universal's new project "Leatherheads",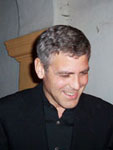 It is said that Clooney will also re-write the script while his Smoke House Productions partner Grant Heslov is set to produce with Casey Silver.Renee Zellweger is said to be in negotiations to co-star the picture.
The 1920s romantic comedy is set against the backdrop of pro football's formation in that era, and revolves around an aging football player who persuades a college star to pass on his education and take a chance on a new professional league.
---
WHAT WEDDING?
Cruise Wedding Never Happened for Italian Locals
by Bonnie Carroll

The Italian press described it as the 'Invisible Wedding' in Bracciano, Italy. A precious lake town had hosted the wedding of Tom Cruise to Katie Holmes, and then never saw them. According to reports photos of the two were pasted up all over the town, and restaurants were serving dishes in their honor. The Italian's who traveled from all around the area to see or experience some small part of this celebrity wedding went home very disappointed, and I am sure the Pappirazzi, who had literally taken over the town, were very said as well.
I am just relieved that they stayed away from Villa d' Este on Lake Como. It had been reported early on that they planned to be married there, but later moved the wedding to Bracciano. These elegant historic resorts are renowned for providing privacy to the privileged, and the sweet Italian's who reside around these pristine lakes deserve some respect as well.
I wish the Scientology focused couple happiness, and although they dropped nine million in Italy, which will help the economy, it seems they left people there feeling slightly used. But, I guess that's show business!
---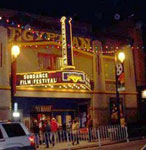 SUNDANCE FILM FESTIVAL

The Sundance Film Festival will take place January 18 – 28th, 2007. For information Visit:Sundance.org.
---
THE WHO
Pete Townsend - 1 March 2007
The Who are on the road in the US, having released Endless Wire, their first new album since 1982. This date is at the San Diego Sports Arena.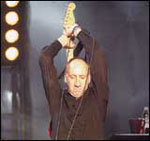 Legendary British rock band The Who formed in London in 1963. Guitarist and songwriter Pete Townshend gave youth a voice, epitomised in the anthemic My Generation, which was the foundation for the group's 1965 debut album.
Four years later, the rock opera Tommy was hailed by the critics as genius. In 1973 the band released Quadrophenia, Townshend's brilliant elegy to the Mods, while ever-more spectacular stadium gigs staged throughout the Seventies brought their popularity to a peak.
In 1982, four years after the alcohol-related death of drummer Keith Moon, the band played a farewell tour. Having reformed in the Nineties, they now perform regularly, usually with drummer Zak Starkey and bass player Pino Palladino, replacing John Entwistle, who died in 2002.
---
BOBBY


by Bonnie Carroll
Emilio Estevez Has His Day

Demi Moore,and Sharon Stone

Celebrate Award with Writer,

Producer, Director Emilio Estevez

Robert F. Kennedy
Congratulations to Emilio Estevez! How wonderful it is to see that the young boy I knew in Malibu during the late 70s, a boy who directed plays in the family garage for the entertainment of the neighbors, has manifested his talent in the production of the award winning "Bobby", a magnificient film on everything surrounding the sudden death of Robert F. Kennedy during his campaign for President. Kennedy is only seen in archival films, but the cast of highly respected actors create a mosaic of characters that let us recapture that tragic day in history at the Ambassador Hotel in Los Angeles.

The film is getting rave reviews and I will be jumping up and down when this amazingly talented Sheen family member goes with the big gold guy!

Cast: Anthony Hopkins, Sharon Stone, Harry Belafonte, William H. Macy, Christian Slater, Freddy Rodriguez, Lawsrence Fishburn, Demi Moore, Emilio Estevez, Martin Sheen, Helen Hunt, Lindsey Lohan,Elijah Wood, Nick Canon, Aston Kutcher, Brian Geraghty David Krumholtz, Heather Grahmj, Jacob Vargus, Joshua Jackson, Joy Bryant,Mary Elizabeth Winstead, Orlando Seal, Shia LeBeouf, Svetlana Metkina.
---
DAME HELEN MIRREN TO RECEIVE
"OUTSTANDING PERFORMANCE OF THE YEAR"
AT 22ND SANTA BARBARA INTERNATIONAL FILM FESTIVAL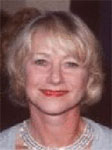 Dame Helen Mirren will be honored with a tribute and receive the award for Outstanding Performance of the Year for her role in "The Queen" at the upcoming 22nd annual Santa Barbara International Film Festival, it was announced today.
Dame Helen Mirren will be honored on Friday, January 26th in recognition of her portrayal of Her Majesty Queen Elizabeth II in this year's acclaimed film "The Queen," directed by Stephen Frears. "The Queen" is an intimate behind-the-scenes glimpse at the interaction between HM Queen Elizabeth II and Prime Minister Tony Blair during their struggle, following the death of Diana, to reach a compromise between what was a private tragedy for the Royal family and the public's demand for an overt display of mourning. Mirren's Elizabeth is an intriguing combination, showing both the public performer and the intensely private person who lives inside.
"It is an honor to celebrate Dame Helen Mirren's performance in this role. She beautifully captured the conflict this woman felt in a time of personal tragedy and public loss. The way she was able to balance power and vulnerability with this portrayal was incredible," stated Roger Durling, Executive Director of the SBIFF.
With a varied career spanning decades, Mirren has compelled audiences with her choices for decades. From her roles in television, including "Prime Suspect," to her Oscar-nominated roles in Robert Altman's "Gosford Park" and "The Madness of King George," directed by Nicholas Hytner, Mirren continues to take her audience on a new journey with each role. She has donned the crowns of various Queens, both fictional ('The Snow Queen") and very real, being the only actress to portray both Queen Elizabeth I and II. Past recipients include Kate Winslet, Charlize Theron and Heath Ledger.
All tributes will be produced by Paul Fagen of P. Fagen Productions. Pre-sale tickets for events are on sale NOW at Ticketmaster, www.ticketmaster.com or at the Arlington Theater Box office, 805.963.4408. Or visit www.sbfilmfestival.org. Festival Passes and packages are also currently on sale. Call the Lobero Box Office at 888.456.2376 or 805-963-0761 or log onto www.Lobero.com for more information.
The Santa Barbara International Film Festival, set to run January 25 through February 4, 2007, is a non-profit organization dedicated to enriching local culture and raising consciousness of film as an art form. The SBIFF presents quality American and world independent films, Latin American and Asian sidebars as well as documentary cinema within the beautiful setting of downtown Santa Barbara, a premier tourist destination. The SBIFF is also committed to education through its Student Filmmaking and Screenwriting Competitions, Field Trip to the Movies, and educational seminars. With a projected audience of over 60,000 viewing more than 200 films over its eleven-day run, SBIFF attracts an affluent local and national consumer base, while maintaining strong ties with the entertainment industry in nearby Los Angeles.
For festival information, log onto www.sbfilmfestival.org.
---
LAUGH FACTORY FEEDS HUNGRY COMEDIANS AND ACTORS
by Bonnie Carroll


Jamie Masada, owner of the Laugh Factory in Hollywood, California, came to America at the age of 14 with little money and a dream of becoming a comic. In 1979 Masada opened a small store front on Sunset Boulevard, and built his club from the ground up. Known as a home for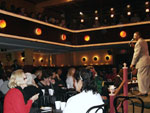 up-and-coming comedians, this fun venue has a list of performers and guests that are the who's who of comedy.

Every year on Thanksgiving Jamie and his staff provide a free Thanksgiving dinner with comedy performances throughout the day and evening. This year I joined a group of friends to visit the Laugh Factory, meet Jamie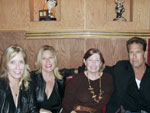 and his staff of volunteers, and enjoy the show.

Many thanks to Jamie and everyone at the Laugh Factory for making our Thanksgiving one off fun, humor, good food, and something special to remember!

For reservations or performance schedules
visit: www.laughfactory.com.