MICHAEL JACKSON . . . KING OF POP DIES AT 50
The entire planet seemed shocked and deeply moved by the death of one of the most talented music greats of our time. Jackson was preparing to do a series of concerts in the fall, and was said to have died from a heart attack on June 25. The entertainer leaves three small children, who are being cared for by his mother.
Barry Gordy, Lisa Minelli, Elizabeth Taylor and a bevy of close friends of Jackson shared their stories of his amazing talent and his dear heart. Depak Chopra, a friend and spiritual advisor to Jackson has encouraged an investigation to discover what physicians had prescribed medications that may have played a part in Jackson's sudden death.
---
FARRAH FAWCETT - A FINAL GOODBYE TO CHARLIE'S ANGEL
Farrah Fawcett lost her three year battle with cancer on June 25th. The actress became a shooting star when she played a detective named Jill on the Charlie's Angels television series, and during her career she was nominated for many awards honoring her for outstanding work. She was married to actor Ryan O'Neill and the couple have a son. Services were held at the Our  Lady of Angels Cathedral in Los Angeles.
---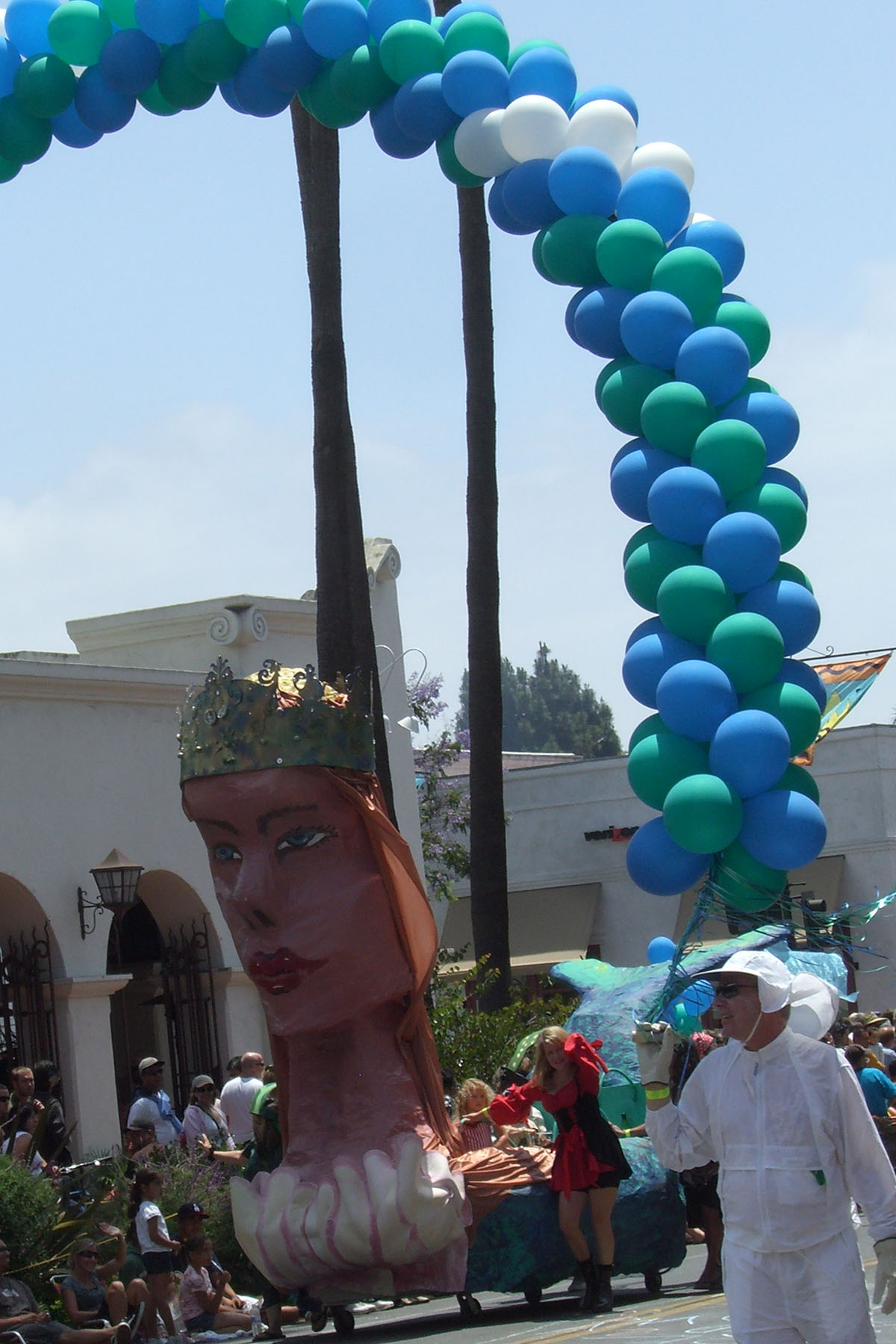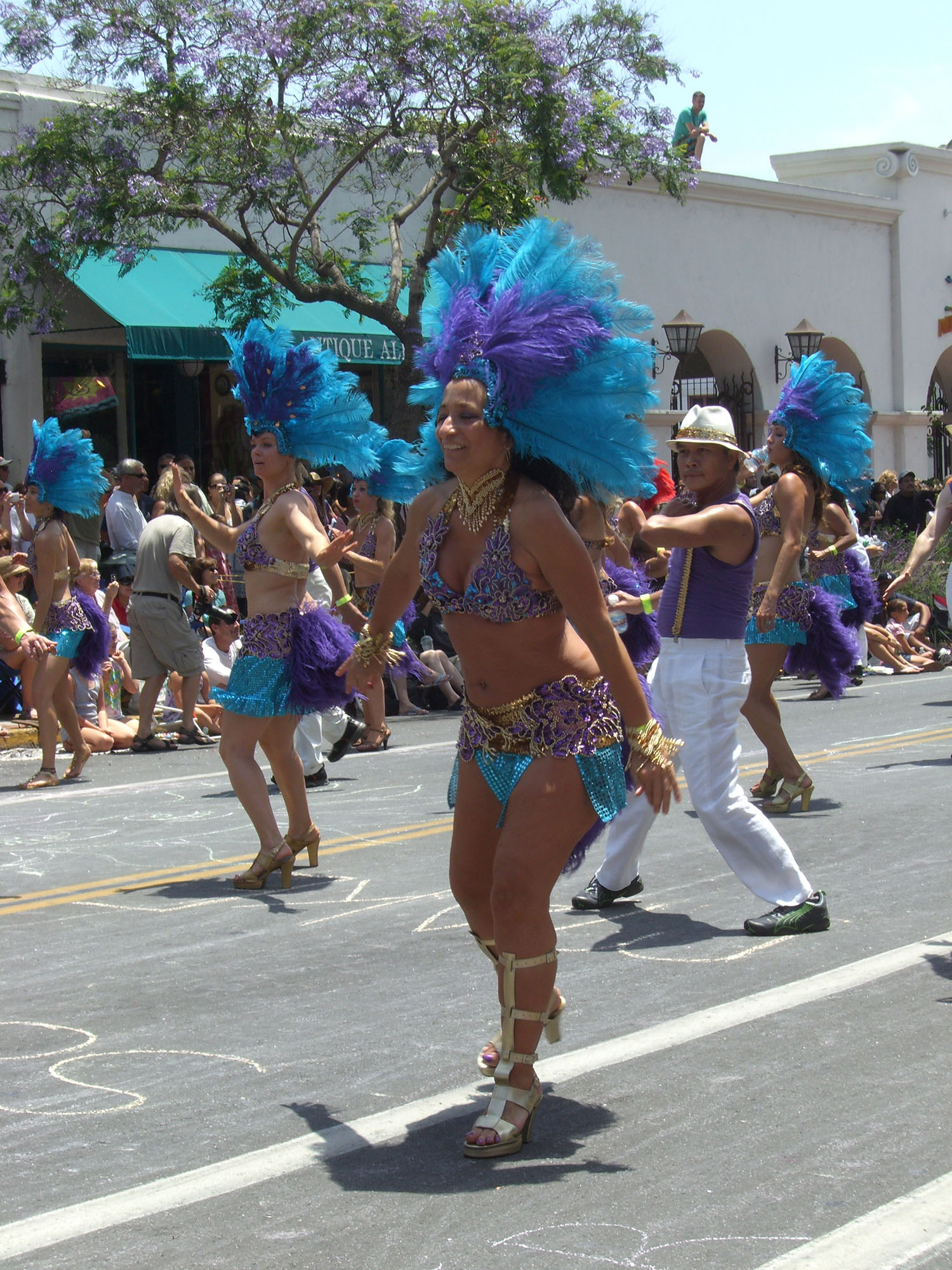 Solstice Parade Stars 2009 . . . Summer Sensation on State Street
by Bonnie Carroll
Mayor Marty Blum and her husband lead the parade down State Street dressed as Mayor Mer and Mr. Mer. They were accompanied by darling little mermaids and authentic looking pirates. Following the mermaids came a milieu of performers, dancers and colorful floats with original themes.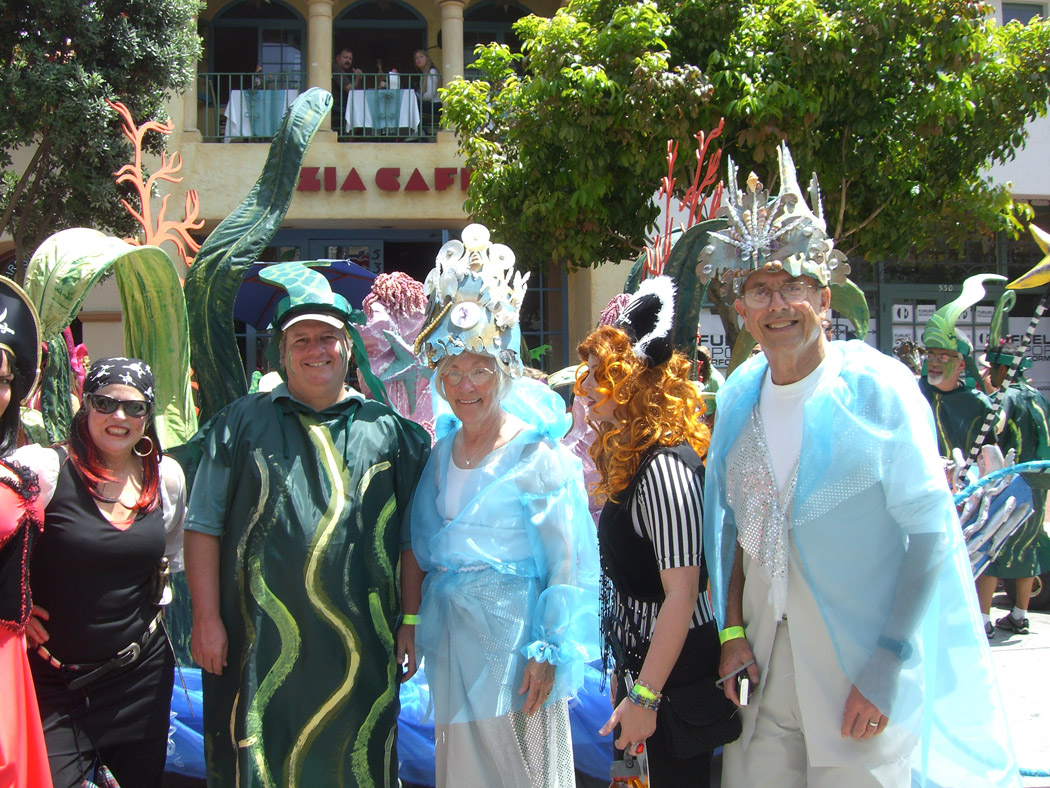 The Brazilian dancers wore spectacular costumes made of turquoise and purple feathers and beads. Their scintillating routines have achieved world renown over the years, and this year was no exception. They danced intricate routines to the beating drums, as crowds applauded from Cota Street to the children's park on Arellaga, where the parade ended. These talented artists, dancers and musicians devote countless rehearsing and preparing for the Solstice parade each year.
It was expected that this year the crowd would exceed the over 1,000 attendees of 2008, and I think they may have done it. The weather was perfect for a parade, and Mayor Blum, who just returned from a Mayor's Conference, said she was delighted to again be a participant in the parade, but was looking forward to the time when she would be a spectator once again.
---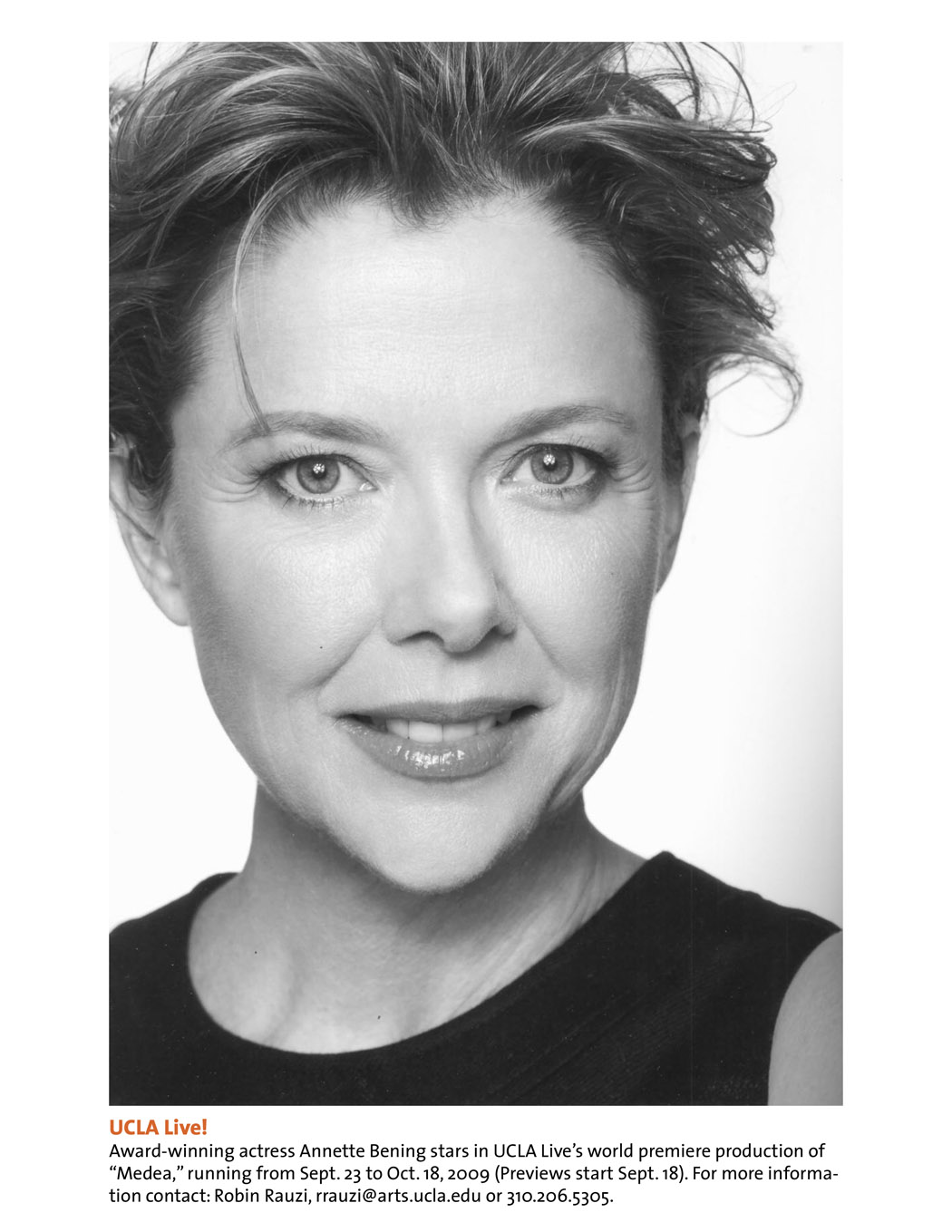 UCLA Live Features U.S. and World Premiere
Performances with Global Reach in 2009-10
Annette Bening in 'Medea' launches new season
A world premiere production of "Medea" starring Annette Bening will kick off UCLA Live's 2009-10 season, announced artistic and executive director David Sefton Wednesday evening at Royce Hall. The play, the first-ever original production created by UCLA Live, will be directed by Croatia's Lenka Udovicki who is known for her opera and theater creations throughout Europe.

"When Lenka brought this project to me, I was thrilled. And the fact that an actress of the caliber of Annette Bening had signed on to play the lead just confirmed what a tremendous opportunity this was," said Sefton, who typically spends months traveling each year to find performances for UCLA Live.  "For nine years we have been bringing extraordinary work to Los Angeles — this project lets us stretch in new directions as a producer. I am certain audiences are going to be blown away by the results."

Discounted series subscriptions to UCLA Live's 2009-10 season — a wide-ranging slate of pop music, jazz, world music, dance, spoken word and theater — are on sale now. Tickets to individual events go on sale July 22. Performances are in Royce Hall or the Freud Playhouse, both on the UCLA campus.

"Medea's" four-week run from Sept. 23 to Oct. 18 will anchor UCLA Live's Eighth International Theatre Festival, which includes six other productions through December.  The renowned Druid Ireland theater company returns to the festival this year with the West Coast premieres of two plays: "The Walworth Farce" (Nov. 11 to 15) and "The New Electric Ballroom" (Dec. 2 to 6). The two plays, which won back-to-back Fringe First Awards at the Edinburgh Festival Fringe in 2007 and 2008, are both by Enda Walsh, who is being hailed in the U.K. and Ireland as one of the great playwrights of his generation.

From Oct. 28 to 31, Italy's provocative Socìetas Raffaello Sanzio will present "Purgatorio," the visually and emotionally stunning centerpiece of director Romeo Castellucci's "Divine Comedy"-inspired theater trilogy. The series has attracted rapt attention from audiences and critics in London, Brussels and Avignon over the last year. UCLA Live was one of its co-commissioners, and this will be "Purgatorio's" exclusive U.S. engagement.

The International Theatre Festival also will include radical works by two Polish theater companies — TR Warszawa's "T.E.O.R.E.M.A.T." Nov. 18 and 19 and Teatr Zar's "Triptych" Dec. 1 to 3 — and the all-teenage cast production of "Once and For All We're Going to Tell You Who We Are So Shut Up and Listen" by Belgian theater company Ontroerend Goed Nov. 3 to 7.

L.A.-based Latino performance troupe Culture Clash will celebrate their 25th anniversary with a gala performance at Royce Hall on Oct. 30 featuring guest performers such as Zack de la Rocha of Rage Against the Machine, comedian Carlos Mencia, singer-songwriter Michelle Shocked, actor Edward James Olmos and many others. In addition to music and comedy, the evening will include a preview of the next Culture Clash theater project, "Palestine, New Mexico."

Building on the tremendous success of spoken word events last season, UCLA Live this year will offer two series of readings, lectures and conversations with leading writers. The first features literary icons Afghanistan-born novelist Khaled Hosseini (Sept. 30), Canadian poet and novelist Margaret Atwood (Oct. 9), Mexico's essayist and novelist Carlos Fuentes (Dec. 12) and Pulitzer-winning American poet Mary Oliver (Feb. 25). The second series is focuses on the world of graphic novels, and includes a rare appearance by R. Crumb (Oct. 29), Neil Gaiman (Feb. 4),  and Harvey Pekar with Allison Bechdel (April 23). David Sedaris, for the 12th consecutive season, also will return to Royce Hall on May 5.

UCLA Live will continue to present a broad offering of concerts, including classical orchestras, pop stars, jazz masters and world music leaders.  Just for fall, highlights include the Jazz at Lincoln Center Orchestra with Wynton Marsalis (Oct. 2), Spanish flamenco giant Paco Peña, a genre-defying concert featuring banjo virtuoso Bela Fleck, Indian tabla master Zakir Hussain and award-winning bassist Edgar Meyer (Oct. 22), Brazilian songstress Gal Costa (Oct. 24),  bluegrass legend Ralph Stanley, jazz pianist McCoy Tyner (Nov. 12), and a double bill of singer-songwriter Loudon Wainwright and folk-rock star Richard Thompson (Nov. 13).

For family audiences, two rock groups — They Might Be Giants (Nov. 14) and Los Lobos (Jan. 30) — will perform matinee concerts tailored for parents and children, in addition to their full-length evening concerts.

Two contemporary dance companies— Hofesh Shechter Company and Cedar lake Contemporary Ballet— will make their Los Angeles debut this season at UCLA Live. London-based Hofesh Shechter, a onetime member of the Batsheva Dance company, created not only the choreography but also the score for his works (Oct. 16 and 17). Cedar Lake is led by artistic director Benoit-Swan Pouffer (a former Alvin Ailey American Dance Theater star) and it will present a mixed repertory of works May 7 and 8. 

The documentary-influenced dance-theater piece by Britain's DV8 Physical Theatre titled "To Be Straight With You" (Nov. 6 and 7) deals head-on with issues of tolerance and intolerance, religion and homosexuality.  Also that month, Reggie Wilson/Fist & Heel Performance Group will unveil a new work, "The Good Dance — dakar/brooklyn," a collaboration with a Congolese choreographer, on Nov. 20 and 21.

UCLA Live's series subscriptions —which include International Theatre, Jazz, World Music, Roots, Dance, Family, Organ, Spoken Word A and B, and the cross-genre Royce Choice series — are on sale now. Patrons also may pick any four events to create a "choose-your-own" series to buy at a 10% discount.  Series may be purchased by calling UCLA's Central Ticket Office at (310) 825-2101, at www.uclalive.org, or in person at the UCLA Central Ticket Office at the southwest corner of the James West Alumni Center on the UCLA campus.

Individual tickets go on sale July 13 for subscribers and donors, and July 22 to the general public. After July 22, tickets also will be available at all Ticketmaster outlets.

 

COMPLETE SCHEDULE

The complete 2009-10 season, organized by genre, is on the following pages. A chronological schedule is also available for download at: http://files.performingarts.ucla.edu/uclalivepress/
---
Summer theater in L.A. in July
By Laurence Vittes
Monty Python's Spamalot
Ahmanson Theatre
The gang of British goofs is back in concentrated musical form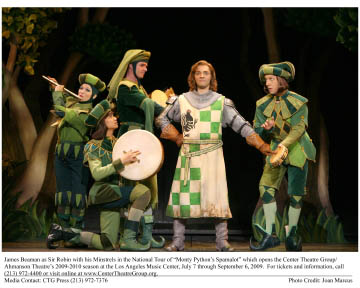 The biggest news may be the invasion of L.A. by Monty Python's Spamalot, the popular musical lovingly ripped-off from the comedy gang's most popular motion picture, Monty Python and the Holy Grail.
Scheduled at the Ahmanson Theatre, July 7-September 6, this production marks the first time the Tony Award-winning Best Musical and Grammy Award Best Musical Show Album, will show its head in Los Angeles after popular runs in New York, London and across America. Monty Python, of course, is that group of British actors and writers (there is one American) who performed the famous comedy show "Monty Python's Flying Circus" on the BBC from 1969 to 1974
In addition to the many legitimate theatrical awards with which Monty Python's Spamalot has been honored, it also holds The Guinness World Report for "World's Largest Coconut Orchestra" which was set on April 23, 2007, when 5,567 fans gathered in Trafalgar Square and accompanied original Python members Terry Jones and Terry Gilliam in "Always Look on the Bright Side of Life."
Monty Python's Spamalot recounts the legendary tale of King Arthur and the Knights of the Round Table and their quest for the Holy Grail, featuring a chorus line of dancing divas and knights, flatulent Frenchmen, killer rabbits, and an armless and legless knight. Also, catapulting cows, the voice of God and a weaponized herring.
Obviously, a don't miss!
Pericles Redux
Kirk Douglas Theatre
A radical adaptation of Shakespeare's adventure play Pericles, Prince of Tyre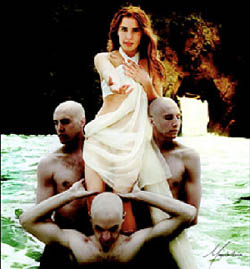 An epic Shakespearean odyssey performed on a bare stage by a cast of athletic performerswhose bodies transform the space into the vast and mythic backdrop of a timeless story. In the artistic tradition of Grotowski, Pilobolus, Felini, Cirque du Soleil and Monty Python comes an innovative brand of storytelling. A production from the Not Man Apart physical theatre ensemble and director John Farmanesh-Bocca presenting an electrifying reconstruction that literally flies from the sublime to the ridiculous.
Pericles Redux will run July 17-26. For information and tickets to the rental production of Pericles Redux at the Kirk Douglas Theatre, July 17-26, visit www.periclesredux.com. Tickets On Sale July 3 through the Center Theatre Group Box Office - 213.628.2772. For more information, please email your contact information to: notmanapart@gmail.com.
Crowns
Pasadena Playhouse
The Playhouse's groundbreaking first collaboration with Ebony Repertory Theatre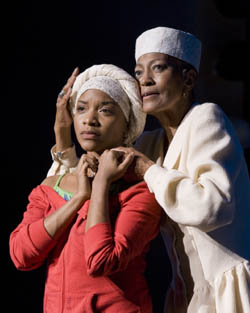 Winner of four Washington D.C. Helen Hayes awards including Best Regional Musical, Crowns explores the lives of the "hat queens," six women in the South whose stories of love, loss, identity and sisterhood are woven into the hats that crown their heads and the songs that speak their truth. Based on the acclaimed coffee table book, Crowns captures the thrill of self expression with a series of intimate musical portraits.
A special note about this landmark co-production from Pasadena Playhouse Artistic Director Sheldon Epps: "I am pleased and honored to enter into what I hope will be the beginning of a long and rewarding collaboration with Ebony Repertory Theatre. It is a great joy to be a participant in the Los Angeles premiere of Regina Taylor's joyous paean to African-American women, which fits so well into the Playhouse season celebrating women onstage."
Crowns will run July 10-August 16. 39 South El Molino Avenue, Pasadena, CA 91101. Phone: (626) 356-7529. Hours: 12:00 p.m. to 6:00 p.m., Daily.
---
The Eighth  International Theatre Festival
Oct. 28-31, 2009
Purgatorio — Italy's influential and controversial director Romeo Castellucci  and his company Socìetas Raffaello Sanzio have freely interpreted Dante to create a "Purgatorio" where sin and forgiveness are embodied in a father and son's appalling ritual. Using a non-narrative, visual language, as the increasingly disturbing scenes unfold, the hyper-realistic set gives way to a hauntingly beautiful nightmare. "Purgatorio" is part of an ambitious and critically lauded "Divine Comedy" trilogy that Castellucci and Socìetas Raffaello Sanzio recently presented at major theater festivals in Europe, including Avignon, Brussels and London. This is its exclusive U.S. presentation. Mature audiences only. In Italian with English supertitles. UCLA Live's International Theatre Festival, Freud Playhouse, Macgowan Hall, 245 Charles E. Young Drive East, Westwood.  Wed.-Sat., Oct. 28-31 at 8 p.m. $28-$42.  (310) 825-2101, www.uclalive.org.
Nov. 2-7, 2009
Once and For All We're Gonna Tell You Who We Are So Shut Up and Listen — The raw urges and untamed thoughts rattling around in teenagers are let loose  in this raucous production from Belgium's Ontroerend Goed.  Thirteen teenage actors begin sitting on old chairs, as if students in a badly behaved class, and then the lessons of adolescence explode on stage.  "It's not a play about adolescence, it is adolescence itself," wrote the Guardian, "making out, fighting, getting high, dancing, and defying its adult audience not to be utterly absorbed." For mature audiences. UCLA Live's International Theatre Festival, Freud Playhouse, Macgowan Hall, 245 Charles E. Young Drive East, Westwood.  Tues.-Sat., Nov. 3-7 at 8 p.m. $28-$42.  (310) 825-2101, www.uclalive.org.
Nov. 11-15, 2009
The Walworth Farce — At 11 a.m. in a grotty London flat, Dinny and his two adult sons begin their daily routine. Iron the dress. Get the roast chicken. Brush the wigs. Start the show.  Then, over the course of two hours, kill off five people, as usual. Winner of the prestigious Fringe First Award at the 2007 Edinburgh Festival Fringe, this tragedy wrapped in farce upends all cozy, homespun Irish-immigrant tales of the old country. Enda Walsh, one of the leading new Irish playwrights,  hilariously but unsparingly unravels why Dinny left Ireland and why his sons haven't left him. Director Mikel Murfi leads the cast from the groundbreaking company Druid Ireland.  UCLA Live's International Theatre Festival, Freud Playhouse, Macgowan Hall, 245 Charles E. Young Drive East, Westwood.  Wed.-Sat., Nov. 11-14 at 8 p.m.; Sun., Nov. 15 at 7 p.m. $28-$42.  (310) 825-2101, www.uclalive.org.
Nov. 18-19, 2009
T.E.O.R.E.M.A.T. — An unexpected visitor descends upon the home of a wealthy industrialist and his family and rips apart their structured lives.  Writer-director Grzegorz Jarzyna, artistic director of Poland's always-adventurous TR Warszawa, took his inspiration from Pier Paolo Pasolini's 1968 cult-favorite film "Teorema" (theorem).  In a series of near-wordless scenes, the visitor will seduce the whole household—the children, the wife, even the maid—and leave each wondering if he delivered salvation or destruction. In Polish with English supertitles. Mature audiences recommended.  UCLA Live's International Theatre Festival, Freud Playhouse, Macgowan Hall, 245 Charles E. Young Drive East, Westwood.  Wed.-Thu., Nov. 18-19 at 8 p.m. $28-$42.  (310) 825-2101, www.uclalive.org.
Dec. 1-3, 2009
Triptych —Teatr Zar's "Triptych" is less a play than an intimate, haunting experience. The resident company at the Jerzy Grotoski Institute in Wroclaw, Poland, Teatr Zar  employs a revolutionary theatrical method emphasizing ritual movement, ancient sacred songs and visceral acting techniques that dissolve the separation between actors and spectators. Presented in three discrete sections—"Gospels of Childhood," "Caesarean Section" and "Anhelli"—these ingredients meld into primal expressions of love, death, suicide and redemption.  Director Jaroslaw Fret and his international cast have been developing "Triptych" for several years; UCLA Live presented the first segment to critical acclaim in 2007. This staging is presented in multiple locations in Royce Hall for a limited audience.  UCLA Live's International Theatre Festival, Royce Hall, 340 Royce Drive, Westwood. Tues.-Thurs., Dec. 1-3 at 8 p.m. $28-$42.  (310) 825-2101, www.uclalive.org.
Dec. 2-6, 2009
The New Electric Ballroom — Humiliated by gossip after a dancehall scandal during their halcyon days, 50-something sisters Breda and Clara have retreated into isolation and obsession. With their much-younger sister Ada, they recount the fateful day and the choices that followed in this funny and tenderhearted production from the renowned troupe Druid Ireland. Written and directed by Enda Walsh, a standout among the current crop of Irish playwrights, "The New Electric Ballroom" reveals how much we are defined by the stories we tell and how compelled we are to tell them. UCLA Live's International Theatre Festival, Freud Playhouse, Macgowan Hall, 245 Charles E. Young Drive East, Westwood.  Wed.- Sat., Dec. 2-5, at 8 p.m. and Sun., Dec. 6 at 7 p.m. $28-$42.  (310) 825-2101, www.uclalive.org.
---
THE JUDDS MUSEUM TO OPEN JUNE 11th - 14th
Wynonna and Naomi Judd to made a special
appearance together Saturday, June 13th


Not all good things come to an end.  The Judds, one of country music's most awarded and beloved duos of our time, are the perfect example.  Credited with "single-handedly saving country music" according to Time Magazine, Wynonna and Naomi Judd have paid homage to their fans and their illustrious career by transforming a vacant building - formerly occupied by Gray's Drug Store at 332 Main St in historic downtown Franklin, Tennessee - into a museum highlighting the 25th Anniversary of their career in music.

Opening was Thursday, June 11th, through Sunday, June 14th, the museum hours coincide with the CMA Music Fest (formerly known as "Fan Fair")  which officially kicked off Wednesday. The museum was open from 9am - 6pm on June 11 - 13 and noon - 4pm on June 14. Wynonna and Naomi made a special appearance together to sign autographs from 1 - 3pm on Saturday, June 13th.  
The museum exhibits include never-before-seen photographs, costumes, tour memorabilia, a unique fan photograph tribute and more.  It re-creates The Judd's meteoric rise to stardom including their highly successful touring career and their cross- generational recording history for their fans.  Together or apart, their legacy lives on in more than just music.

About Wynonna:
Wynonna Judd first gained fame as part of one of the most successful musical duos of all time, The Judds, selling over 20 million records.  On top of that amazing feat, she also holds multiple gold, platinum and multi-platinum certifications from the RIAA in excess of 10 million units sold for albums released throughout her solo career.  In 2005 Wynonna became a New York Times best selling author with the release of her long-awaited autobiography, Coming Home to Myself, released in conjunction with her live CD and DVD Her Story: Scenes from a Lifetime; the latter of which having been certified Gold.

Wynonna recently released her seventh solo studio album, Sing: Chapter 1, an eclectic assortment of standards paying homage to all the different genres and songs that have formed the soundtrack to her life. Visit www.wynonna.com to learn more!

Naomi Facts:
First known to the world as half of the famous mother/daughter duo, The Judds, Naomi Judd is an accomplished singer/songwriter, spokesperson, best selling author and television personality. After selling over 20 million albums, garnering numerous No. 1 singles, winning five GRAMMY® awards and a vast array of other honors, The Judds bid farewell in 1991, but Naomi did not step out of the public spotlight.  She was recently invited back as a judge for Season Two of CMT's hit show "Can You Duet" and sits along music industry heavyweights Big Kenny and Scott Borchetta, President of Big Machine Records to find country music's next great duo.  The popular music competition series premieres on Saturday, June 20 at 8pm ET/PT.

Judds Facts:
The Judds are lauded as one of the most celebrated success stories in country music history.  In just six short years, they had sold more than twenty million records worldwide and had won over sixty industry awards including five Grammy's, nine Country Music Association Awards and eight Billboard Music Awards.

---
MADONNA TO PERFORM IN ISRAEL THIS SUMMER
International music icon Madonna has chosen Tel Aviv's Hayarkon Park as the venue for the final concert of her record-breaking 'Sticky & Sweet' tour on September 1st, and due to unprecedented demand for tickets, the pop superstar will play a second show on September 2nd. The highly anticipated performances will mark the pop superstar's second concert series in Israel.


Madonna's music-and-dance spectacle will include a 17-member dance troupe, a custom-designed stage, hundreds of costumes and state-of-the-art special effects.

"I'm very excited about returning to Israel for my last and final shows," says Madonna. "I know it will be unforgettable."

Other world-renowned musical acts taking the stage in Israel this summer and fall include the Pet Shop Boys (June 21), Faith No More (August 19-20) and Leonard Cohen (September 24). The performances follow 80s pop stars Depeche Mode's performance in Israel last month and continue the tradition of summertime concerts in Israel, which last year hosted performances by Blondie, Chris Cornell, Morrisey and Bjork.

For tickets to Madonna's performances in Israel, please visit www.012netvision.net.il. For more information on travel to Israel, visit www.goisrael.com.

---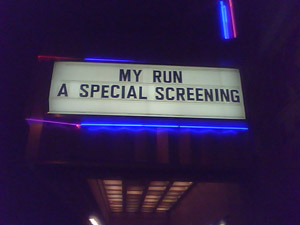 MY RUN:  REAL LIFE FORREST GUMP GOES ON A RUN, 75 CONSECUTIVE MARATHONS FOR SINGLE PARENTS
Baby boomer dad chases down a dream after losing wife to breast cancer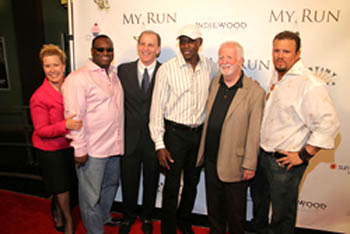 Indiewood Pictures in Association with Destiny Pictures held a special screening of their inspirational documentary MY RUN.
MY RUN is the story of Terry Hitchcock's mega-marathon from St. Paul to Atlanta and the life experience that prompted him to take on this amazing challenge. The film is directed and produced by Tim VandeSteeg, produced by Mark Castaldo, written by Kim Pederson and narrated by Academy Award winner Billy Bob Thornton.  The documentary screening was held June 25 in Los Angeles to a full house in honor of single parent families. 
After the death of his young wife to breast cancer, Terry was responsible for raising their three children alone. Inspired by the difficulties that face single parent families, he seized on an idea.  In 1996, this fifty-six- year old ran from Saint Paul, Minnesota to Atlanta, Georgia to draw attention to the lives of these true everyday heroes. Terry covered a distance of over 2,000 miles by running the equivalent of 1 marathon every day for 75 consecutive days. He ran in spite of heart problems and bone fractures, freezing rain and unbearable heat.  He just kept running—each day, every day until he made it to the opening ceremonies of the 1996 Summer Olympics.
Tim VandeSteeg is CEO of Indiewood Pictures. He sees My Run as a touching and inspiring depiction of grief, tragedy, strength, love and family: "This is a film about an ordinary person accomplishing extraordinary things. It is a story that everyone should see and everyone can learn from." Tim got noticed initially when he secured over 50 corporate sponsors (including SUBWAY Restaurants, LifeTime Fitness and Sun Country Airlines) to finance his first feature, Mulligan. In 2005, he completed the award-winning indie love story Fall Into Me.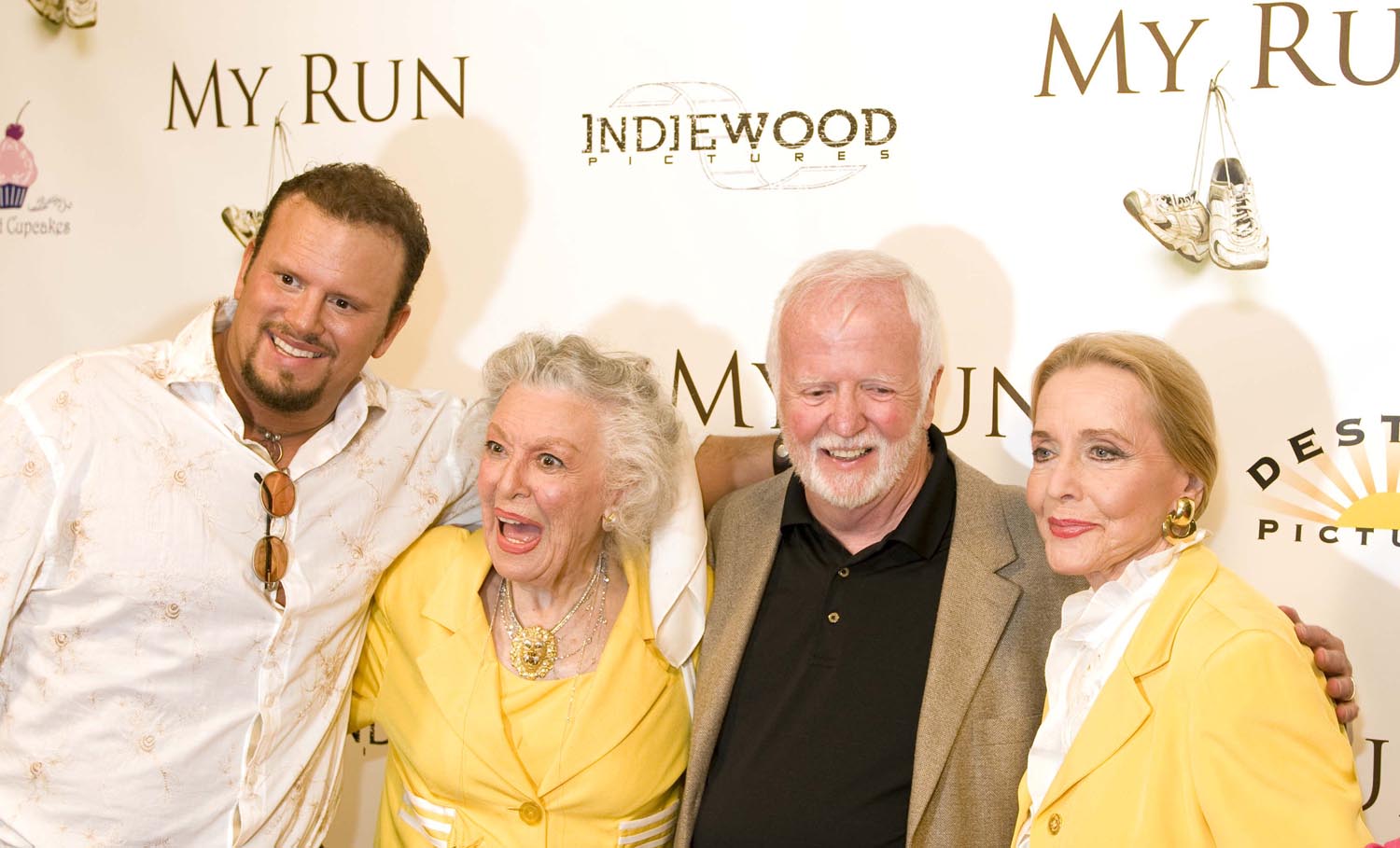 Mark Castaldo is Producer and CEO of Destiny Pictures. He is also the co-executive producer on the horror/thriller Psych 9, starring Sara Foster, Cary Elwes and Michael Biehn. Past produced film projects include thrillers "The Perfect Nanny" and "The Perfect Tenant." Both have premiered on the USA and HBO networks respectively.
                                         Hollywood Royalty Ann Rutherford & Anne Jeffreys joined Director/Producer Tim VandeSteeg and Terry Hitchcock on the red carpet.
The official My Run website is www.myrunmovie.com
---
---