TINSELTOWN TIDBITS  . . .
Santa Barbara International Film Festival
11th Annual Kirk Douglas Award
honoring Warren Beatty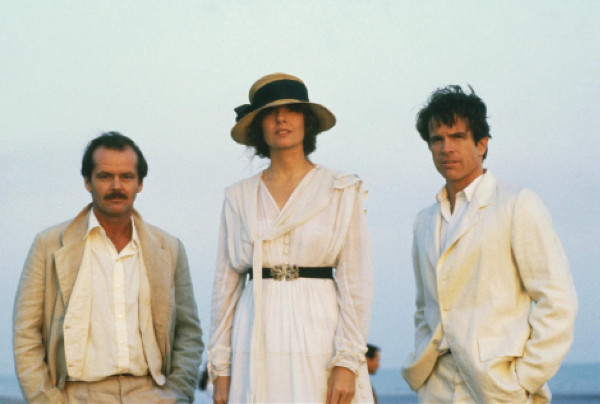 and celebrating Kirk's 100th Birthday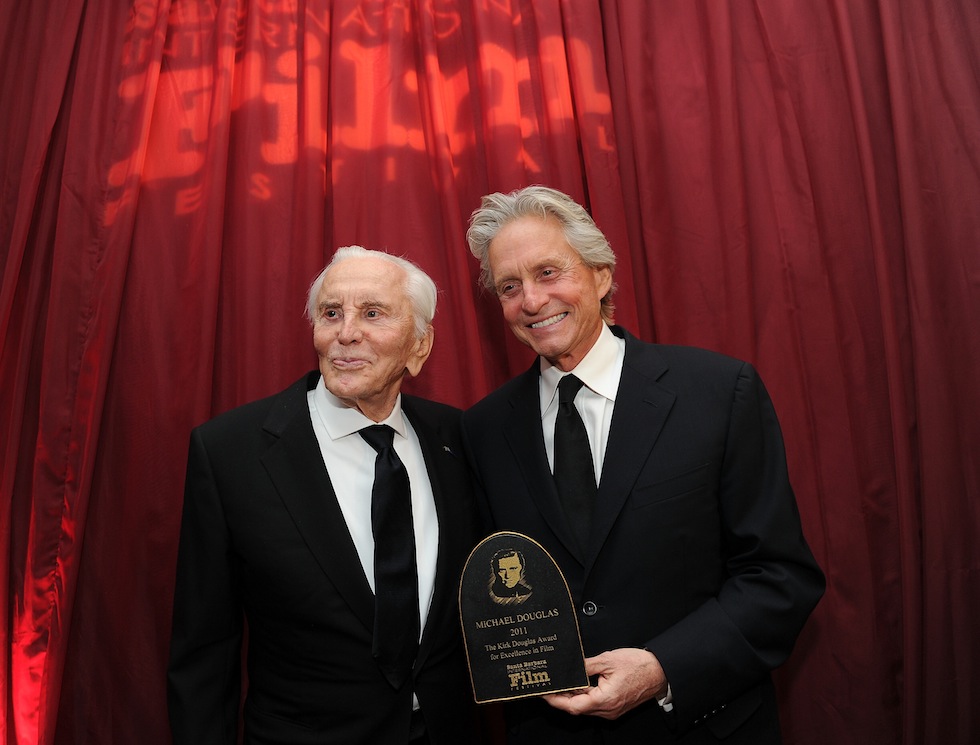 Kirk & Michael Douglas, Photo by Bonnie Carroll
Thursday, December 1, 2016
Bacara Resort & Spa
6:00pm – Red Carpet Cocktail Reception
7:30pm – Dinner and Tribute
Black Tie Fundraiser for SBIFF's educational programs
SPONSORSHIP LEVELS AND BENEFITS:
PRODUCER – $20,000 ($12,00 tax deductible)
• Preferred table for ten
• Red carpet cocktail reception for all guests
• Acknowledgment in the tribute journal
• Two Concierge Passes to SBIFF ($10,000 value)
DIRECTOR – $10,000 ($6,500 tax deductible)
• Preferred table for ten
• Red carpet cocktail reception for all guests
• Acknowledgment in the tribute journal
• Two Platinum Passes to SBIFF ($3,400 value)
STAR – $5,000 ($3,500 tax deductible)
• Table for ten
• Red carpet cocktail reception for all guests
• Acknowledgment in the tribute journal
INDIVIDUAL TICKET – $500 ($350 tax deductible)
Visit: www.sbiff.org for tickets and information.
____________________________________

DIANE KEATON TO RECEIVE 45TH AFI LIFE ACHIEVEMENT AWARD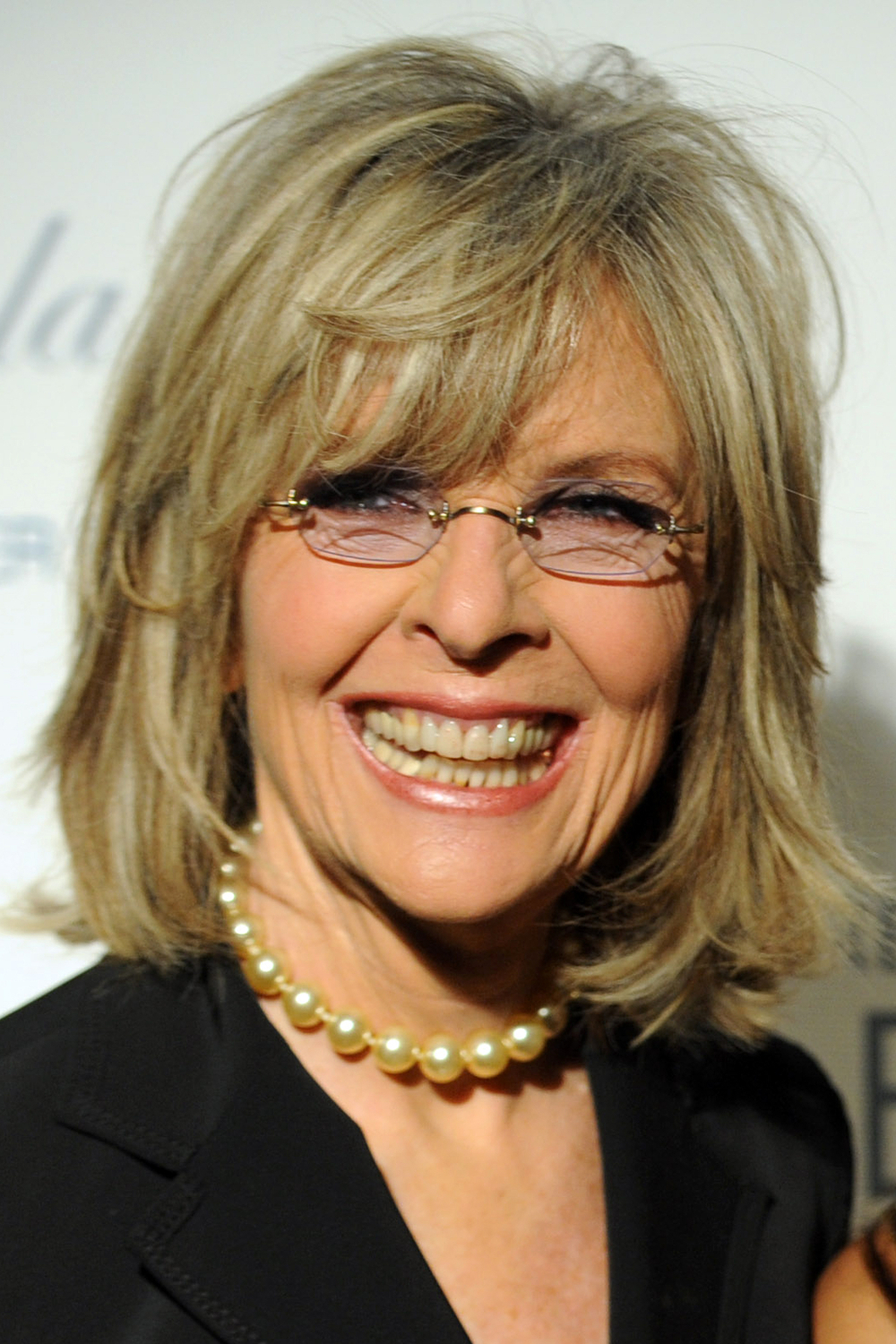 America's Highest Honor for a Career in Film to Be Presented June 8, 2017
Tribute Will Air on TNT and Turner Classic Movies
The American Film Institute (AFI) Board of Trustees announced today that legendary actress Diane Keaton will be the recipient of the 45th AFI Life Achievement Award, the highest honor for a career in film. The award will be presented to Keaton at a Gala Tribute on June 8, 2017, in Los Angeles, CA. The AFI Life Achievement Award Tribute special will return for its fifth year with Turner Broadcasting to air on TNT, followed by encore presentations on sister network Turner Classic Movies (TCM).
"Diane Keaton is one of the most beloved leading ladies of American film," said Sir Howard Stringer, Chair, AFI Board of Trustees. "Peerless in her mastery of both comedy and drama, she has won the world's heart time and again by creating characters of both great strength and vulnerability. Her career as a director and producer is even further evidence of her passion for the art form and her seemingly boundless talents. AFI is proud to present her with its 45th Life Achievement Award." 
Diane Keaton — multifaceted actor, director, producer, author, real estate developer and photographer — can boast more than 60 diverse credits across five decades. Her iconic roles span the cinematic spectrum, from long-suffering mob wife Kay Corleone in Francis Ford Coppola's THE GODFATHER (1972) to the "la-di-da" heroine of Woody Allen's ANNIE HALL (1977) — a role which earned her an Academy Award® for Best Actress and turned her into a national fashion icon. Perhaps best known for her long comedic collaboration with Allen — including PLAY IT AGAIN, SAM (1972), SLEEPER (1973), LOVE AND DEATH (1975), MANHATTAN (1979) and more — she has proved herself equally adept at dramatic roles, with powerhouse performances in films such as LOOKING FOR MR. GOODBAR (1977), REDS (1981), THE LITTLE DRUMMER GIRL (1984) and MARVIN'S ROOM (1996). During the 1980s, Keaton turned to directing — from feature narratives and documentaries to music videos and television. A perennial box office favorite, she's maintained her popular profile with films including BABY BOOM (1987), FATHER OF THE BRIDE (1991) and FATHER OF THE BRIDE II (1995), THE FIRST WIVES CLUB (1996), SOMETHING'S GOTTA GIVE (2003), MORNING GLORY (2010), THE BIG WEDDING (2013), AND SO IT GOES (2014) and Pixar's FINDING DORY (2016). She will continue to grace the screen with her unique presence in the upcoming HBO miniseries THE YOUNG POPE.
About the AFI Life Achievement Award
The highest honor given for a career in film, the AFI Life Achievement Award was established by the AFI Board of Trustees in 1973. It is presented to a single honoree each year based on the following criteria as mandated through a resolution passed by the AFI Board of Trustees:
"The recipient should be one whose talent has in a fundamental way advanced the film art; whose accomplishment has been acknowledged by scholars, critics, professional peers and the general public; and whose work has stood the test of time."
Most recently, the 44th AFI Life Achievement Award Tribute brought together the film and music communities to celebrate John Williams, the first composer honored in the award's history. AFI Life Achievement Award recipient Steven Spielberg (1995) presented the award, while J.J. Abrams, Drew Barrymore, Kobe Bryant, Chris Columbus, Gustavo Dudamel, Will Ferrell, Harrison Ford (2000), Morgan Freeman (2011), Mark Hamill, Tom Hanks (2002), Bryce Dallas Howard, Cloris Leachman, Seth MacFarlane, Steve Martin (2015), Idina Menzel, Lin-Manuel Miranda, Itzhak Perlman and Daisy Ridley paid tribute to Williams in an evening filled with music and memories.
About Diane Keaton
Born Diane Hall, she grew up in Los Angeles, CA, her mother a homemaker and her father a civil engineer and real estate broker. Because there was already one Diane Hall in Actors Equity, she adopted the name Keaton in tribute to the great silent comedian, Buster Keaton. In New York, she sang in nightclubs, appeared in plays and studied acting at the Neighborhood Playhouse.
At first a stage actor, Keaton was a member of the original Broadway production of "Hair." In 1972, she broke into film with Francis Ford Coppola's THE GODFATHER and Woody Allen's PLAY IT AGAIN, SAM, reprising a role she had performed on stage. In addition to appearing in all three THE GODFATHER movies, she starred in eight Woody Allen films, including SLEEPER, ANNIE HALL, MANHATTAN, RADIO DAYS (1987) and MANHATTAN MURDER MYSTERY (1993).
Keaton expanded her range throughout her career, moving beyond the loopy free spirits of her early comedies to dramatic roles. She ventured into producing with THE LEMON SISTERS (1989) and LOVE THE COOPERS (2015), and several television projects, including the series PASADENA (2001–2002). She wrote and directed the documentary HEAVEN (1987) and went on to direct the feature films UNSTRUNG HEROES (1995) and HANGING UP (2000).
AFI Life Achievement Award Recipients
Diane Keaton joins an esteemed group of individuals who have been chosen for this distinguished honor since its inception.
1973   John Ford

1974   James Cagney

1975   Orson Welles

1976   William Wyler

1977   Bette Davis

1978   Henry Fonda

1979   Alfred Hitchcock

1980   James Stewart

1981   Fred Astaire

1982   Frank Capra

1983   John Huston

1984   Lillian Gish

1985   Gene Kelly

1986   Billy Wilder

1987   Barbara Stanwyck

1988   Jack Lemmon

1989   Gregory Peck

1990   David Lean

1991   Kirk Douglas

1992   Sidney Poitier

1993   Elizabeth Taylor

1994   Jack Nicholson

1995   Steven Spielberg

1996   Clint Eastwood

1997   Martin Scorsese

1998   Robert Wise

1999   Dustin Hoffman

2000   Harrison Ford

2001   Barbra Streisand

2002   Tom Hanks

2003   Robert De Niro

2004   Meryl Streep

2005   George Lucas

2006   Sean Connery

2007   Al Pacino

2008   Warren Beatty

2009   Michael Douglas

2010   Mike Nichols

2011   Morgan Freeman

2012   Shirley MacLaine

2013   Mel Brooks

2014     Jane Fonda

2015     Steve Martin

2016     John Williams
About TNT
TNT, a division of Turner, is one of cable's Top 5 networks with young adults and home to cable's most popular slate of original series, including Animal Kingdom, The Last Ship, The Librarians, Major Crimes, Murder in the First and the upcoming Good Behavior, Will, Foreign Bodies, The Alienist, Tales from the Crypt and The Race Card. TNT is also the cable home to popular shows like Arrow, Grimm, Supernatural, Hawaii Five-0, Bones and Castle; primetime specials, such as the Screen Actors Guild Awards®, the iHeartRadio Music Awards and the AFI Life Achievement Award; and championship sports coverage, including the NBA and the NCAA Division I Men's Basketball Championship. 
Turner, a Time Warner company, creates and programs branded news, entertainment, sports, animation and young adult multi-platform content for consumers around the world. Turner brands and businesses include CNN/U.S., HLN, CNN International and CNN.com, TBS, TNT, TCM, truTV, Cartoon Network, Boomerang, Adult Swim, Turner Sports, Bleacher Report, iStreamPlanet and ELEAGUE. 
About Turner Classic Movies (TCM)
Turner Classic Movies (TCM) is a two-time Peabody Award-winning network that presents great films, uncut and commercial-free, from the largest film libraries in the world highlighting the entire spectrum of film history. TCM features the insights of hosts Robert Osborne and Ben Mankiewicz, plus interviews with a wide range of special guests and serves as the ultimate movie lover destination. Currently in its 22nd year as a leading authority in classic film, TCM offers critically acclaimed series like The Essentials, along with annual programming events like 31 Days of Oscar® in February and Summer Under the Stars in August. TCM also directly connects with movie fans through events as the annual TCM Classic Film Festival in Hollywood and the TCM Classic Cruise, as well as through the TCM Classic Film Tour in New York City and Los Angeles. In addition, TCM produces a wide range of media about classic film, including books and DVDs, and hosts a wealth of material online at tcm.com and through the Watch TCM mobile app.
About the American Film Institute
AFI is America's promise to preserve the heritage of the motion picture, to honor the artists and their work and to educate the next generation of storytellers. AFI programs include the AFI Catalog of Feature Films and the AFI Archive, which preserve film heritage for future generations; the AFI Life Achievement Award, the highest honor for a career in film; AFI AWARDS, honoring the most outstanding movies and TV series of the year; AFI's 100 Years...100 Movies television events and movie reference lists, which have introduced and reintroduced classic American movies to millions of film lovers; year-round and special event exhibition through AFI FEST presented by Audi, AFI DOCS and the AFI Silver Theatre and Cultural Center; and educating the next generation of storytellers at the world-renowned AFI Conservatory. For more information about AFI, visit AFI.com or connect with AFI at twitter.com/AmericanFilm, facebook.com/AmericanFilmInstitute, instagram.com/A
mericanFilmInstitute and youtube.com/AFI.
---