TINSELTOWN TIDBITS  .   .   .
WONDER WOMAN IS COMING TO DC UNIVERSE: THE EXHIBIT
AT WARNER BROS. STUDIO TOUR HOLLYWOOD
FEATURING AUTHENTIC COSTUMES AND PROPS FROM THE BLOCKBUSTER FILM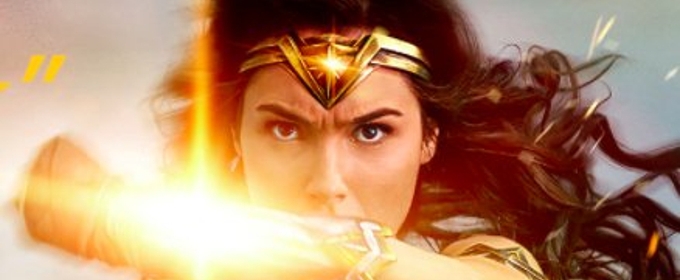 Warner Bros. Studio Tour Hollywood will celebrate Wonder Woman—the summer's hottest movie release with more than $726 million at the global box office—with a new behind-the-scenes experience to be showcased as part of the Studio Tour located in DC Universe: The Exhibit. The new Wonder Woman exhibit will provide fans the opportunity to fully immerse themselves in the world of the film.  Wonder Woman stars Lucy Davis (Etta), Eugene Brave Rock (The Chief), Samantha Jo (Euboea) Caitlin Dechelle (Stunt Double to Gal Gadot), and Michaela Facchinello (Stunt Double to Robin Wright) will kicked off the Press Preview on July 31 at 11AM at Warner Bros. Studio Tour Hollywood, 3400 W. Riverside Drive, Burbank.
For the first time, fans will be able to view a collection of authentic props and costumes worn by Gal Gadot (Diana Prince /Wonder Woman), including her Lasso of Hestia, armor, tiara, and her signature sword. Props and costumes worn and utilized by Chris Pine (Steve Trevor), Danny Huston (General Ludendorff), Elena Anaya (Dr. Maru), Said Taghmaoui (Sameer), Ewen Bremner (Charlie), and Eugene Brave Rock (The Chief) will be on display for visitors to enjoy as well. 
The new Wonder Woman exhibit will showcase a variety of memorable set design elements from the film, including a recreation of the Amazon armory, complete with costumes, props, and décor; the relic display with Diana's sword; the No Man's Land vignette, with gas masks and Dr. Maru's Laboratory; and the ornate London department store set with original costumes and props from the sequence in the movie where Diana, Princess of Themyscira is transformed into Diana Prince.
The Wonder Woman exhibit at the Warner Bros. Studio Tour Hollywood opened to the public July 31, 2017.
Warner Bros. Studio Tour Hollywood
3400 W. Riverside Drive
Burbank, CA 91522 
About Wonder Woman
Before she was Wonder Woman, she was Diana, princess of the Amazons, trained to be an unconquerable warrior.  Raised on a sheltered island paradise, when an American pilot crashes on their shores and tells of a massive conflict raging in the outside world, Diana leaves her home, convinced she can stop the threat.  Fighting alongside man in a war to end all wars, Diana will discover her full powers…and her true destiny. 
Wonder Woman hit movie theaters around the world June 2, 2017, when Gal Gadot returned as the title character in the epic action adventure Wonder Woman.  The film also stars Chris Pine, Robin Wright, Danny Huston, David Thewlis, Connie Nielsen and Elena Anaya.
Patty Jenkins directed the film from a screenplay by Allan Heinberg, story by Zack Snyder & Allan Heinberg and Jason Fuchs, based on characters from DC Entertainment.  Wonder Woman was created by William Moulton Marston.  The film was produced by Charles Roven, Zack Snyder, Deborah Snyder and Richard Suckle, with Stephen Jones, Geoff Johns, Wesley Coller, Jon Berg and Rebecca Steel Roven serving as executive producers.
Warner Bros. Pictures presents, in association with Tencent Pictures and Wanda Pictures, an Atlas Entertainment/Cruel and Unusual production, Wonder Woman.  The film is distributed worldwide by Warner Bros. Pictures, a Warner Bros. Entertainment Company. www.wonderwomanfilm.com
About Warner Bros. Studio Tour Hollywood
Warner Bros. Studio Tour Hollywood was a recipient of Trip Advisor's Travelers' Choice Awards and has been recognized as one of the Top 25 Attractions in the United States. Fans get to see the real sets and soundstages where the greatest names in entertainment made history as they touch, tour and explore the iconic 110-acre studio.
A visit includes a rare look inside many of the lot's production areas as well as the innovative Stage 48: Script to Screen. The interactive soundstage offers guests the unique opportunity to explore the full film and television production process, step onto the Friends set to sit on the iconic orange couch, and experience firsthand the glory of awards season. Guests explore the Archive, which currently showcases the tour's latest addition, the Harry Potter and Fantastic Beasts exhibit, offering an in-depth look at how J.K. Rowling's Wizarding World has been brought to life over the past 15 years. The Archive also houses DC Universe: The Exhibit, paying homage to the origins of DC Comics and featuring a display of original comic books representing all seven Super Heroes of the Justice League. Additionally, guests can explore authentic props and costumes from Batman v Superman: Dawn of Justice, Suicide Squad, and Wonder Woman. Guests also stop by the Property Department, which features one of the largest selections of rare antiquities and modern furniture, rugs, drapery, lighting, and hand props from Hollywood's golden era, followed by the Picture Car Vault, home to some of Batman's most famous vehicles.
Warner Bros. Studio Tour Hollywood is open Monday through Sunday, 9:00AM to 4:00PM, with studio tours departing every 30 minutes and extended hours offered during the summer, spring break, and winter holiday seasons. Reservations are recommended and all children eight years or older are welcome. Tickets can be purchased online at www.wbstudiotour.com or by calling 818-977-TOUR (8687).
__________________________________________________________________
CIRQUE DU SOLIEL BUYS BLUE MAN
Cirque du Soleil, the private equity-backed entertainment company famed for its contortionists and acrobats, is acquiring musical act the Blue Man Group in a genre-bending deal.
The acquisition of New York-based Blue Man Productions is the first step in Cirque's plan to diversify its productions and expand globally, Chief Executive Officer Daniel Lamarre said in an interview. The deal is valued in the tens of millions of dollars, he said, without being more specific.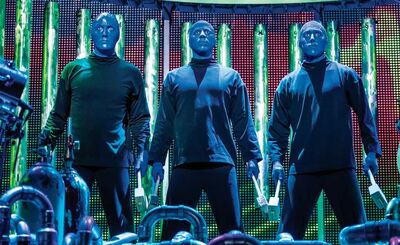 "Our strategy for the future is very, very clear," Lamarre said. "We want to become a leader, global leader, of live entertainment."
TPG, the San Francisco and Fort Worth-based private equity firm, acquired Cirque du Soleil in 2015 in a deal that Moody's Investors Service valued at $1.5 billion. Cirque's founder, Guy Laliberte, still holds a minority stake in the company.
Currently Cirque du Soleil shows account for 80 percent to 85 percent of the company's revenue, with the rest coming from merchandising and other sources. In the future, Lamarre said he wants to bring that number down to 70 percent by continuing to expand and diversify.
The company's portfolio will grow again in November through a partnership with the National Football League. The NFL Experience Times Square will remain separate from the Cirque du Soleil brand, similar to the Blue Man Group. Cirque is also expanding into China with a touring show and a residency in Hangzhou.
_________________________________________________________________
WONDER WOMAN NEWS . . .
X
---